Fort Myers Beach, Public Access 11, Florida
The town of Fort Myers Beach, Florida, is located on Estero Island in the Gulf of Mexico. Accessible by car via Estero Boulevard, the town has 25 public beach access points, many with accessibility and public parking. Sugar-sand, super shelling, and amazing sunsets await the sun-seeker along three and a half miles of beaches.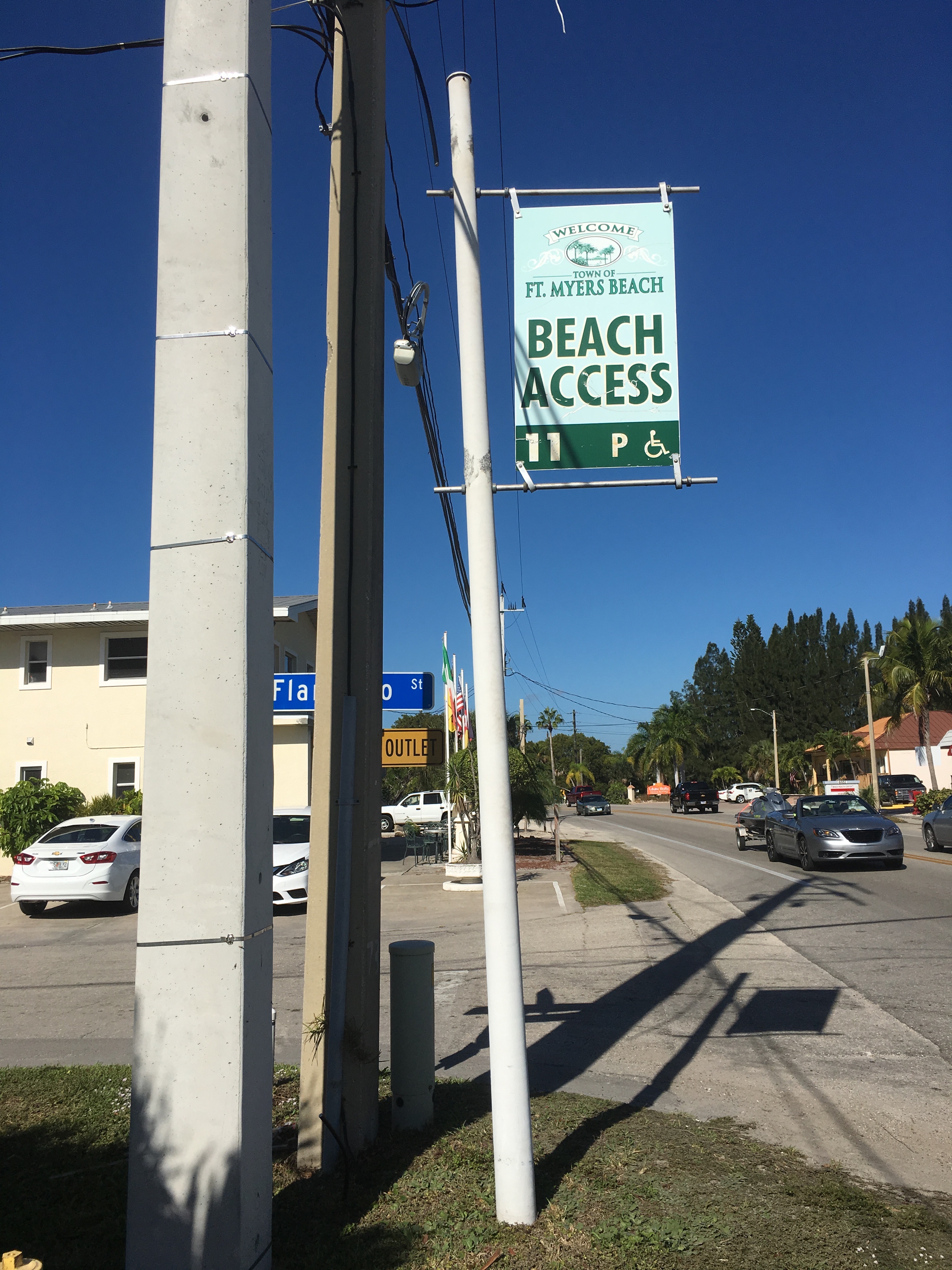 Public Access point no. 11 is the first of Fort Myers Beach's 25 public access points along Estero Boulevard. This image was taken at 11:30 am on Wednesday, December 28, 2016. The high temperature was 86 deg F and the low was 70. Alas, there are no amenities here.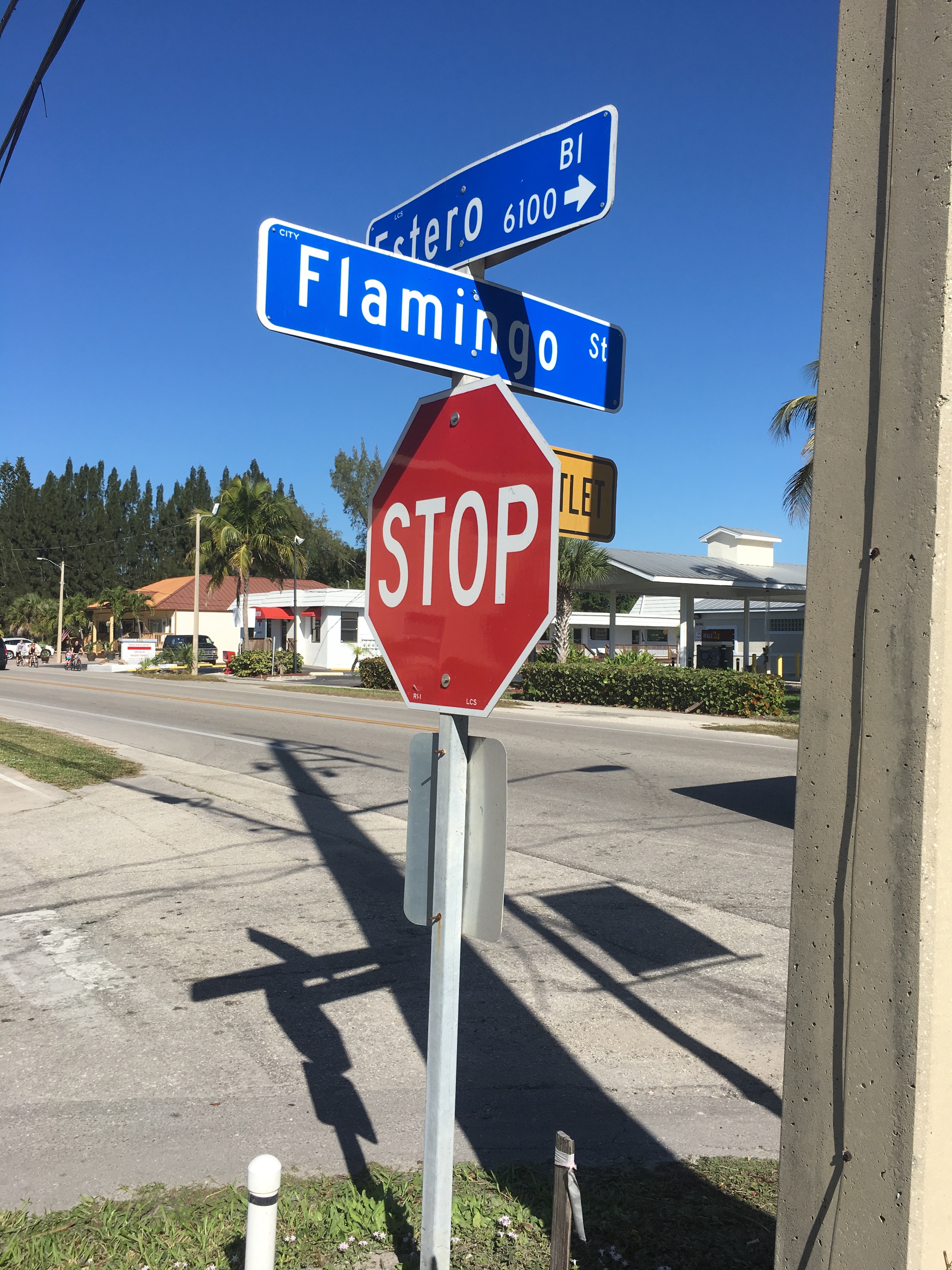 In the 6100 block of Estero Boulevard is the Flamingo side street. A small motel (no vacancy this week) of the same name is also right here. Public access points with parking run up 25 spaces toward Canal. North of Matanzas Bridge are additional public beach access points (37-43) for the Gulf of Mexico, but for foot traffic only.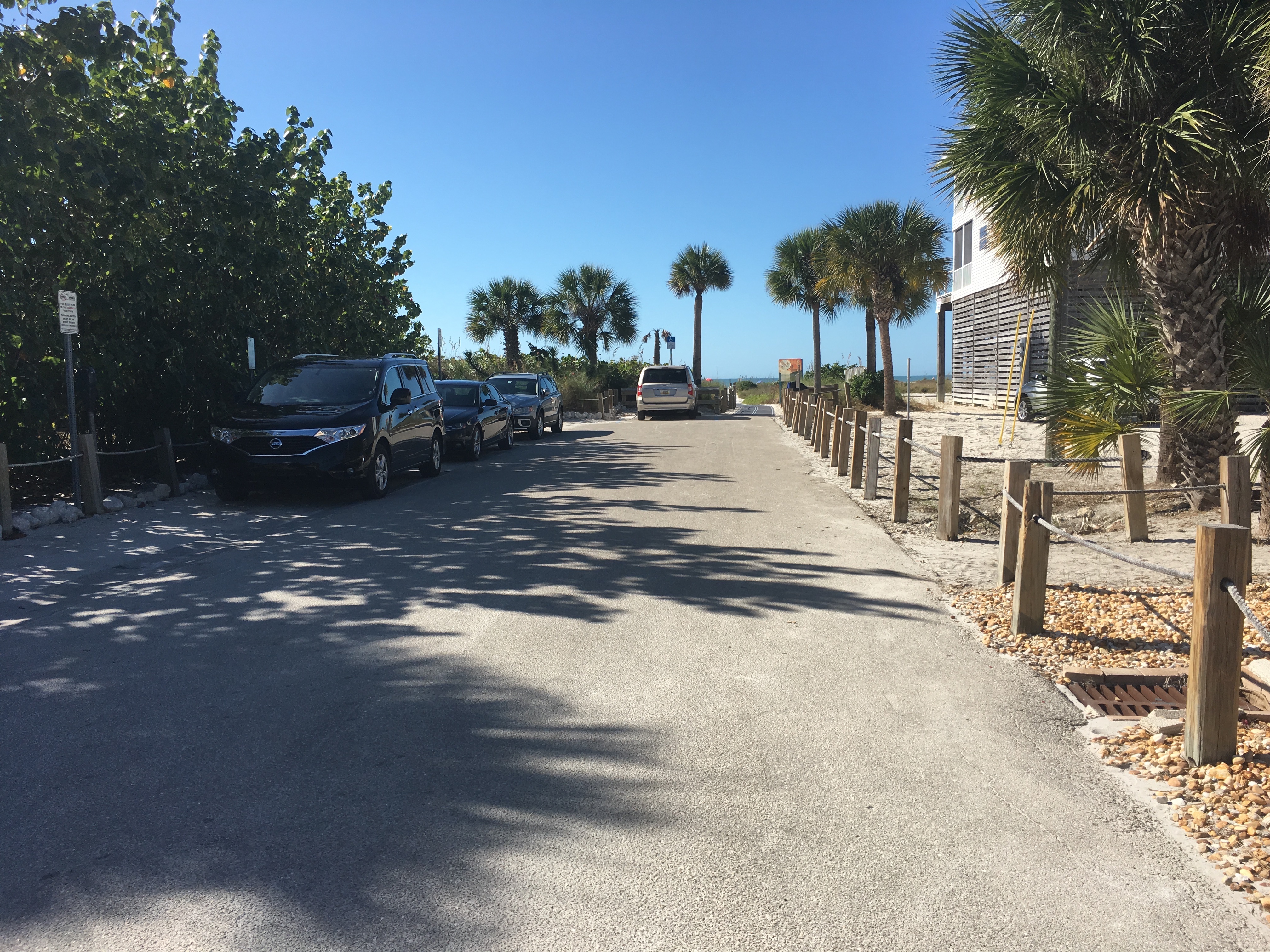 The Flamingo Street access point is as good a place as any to start a day at Fort Myers Beach. The town website has parking info: http://visitfortmyersbeach.co/parking-at-fort-myers-beach/. At No. 11, there were a handful of meters and one accessible space, with parking at $2 per hour, no limit.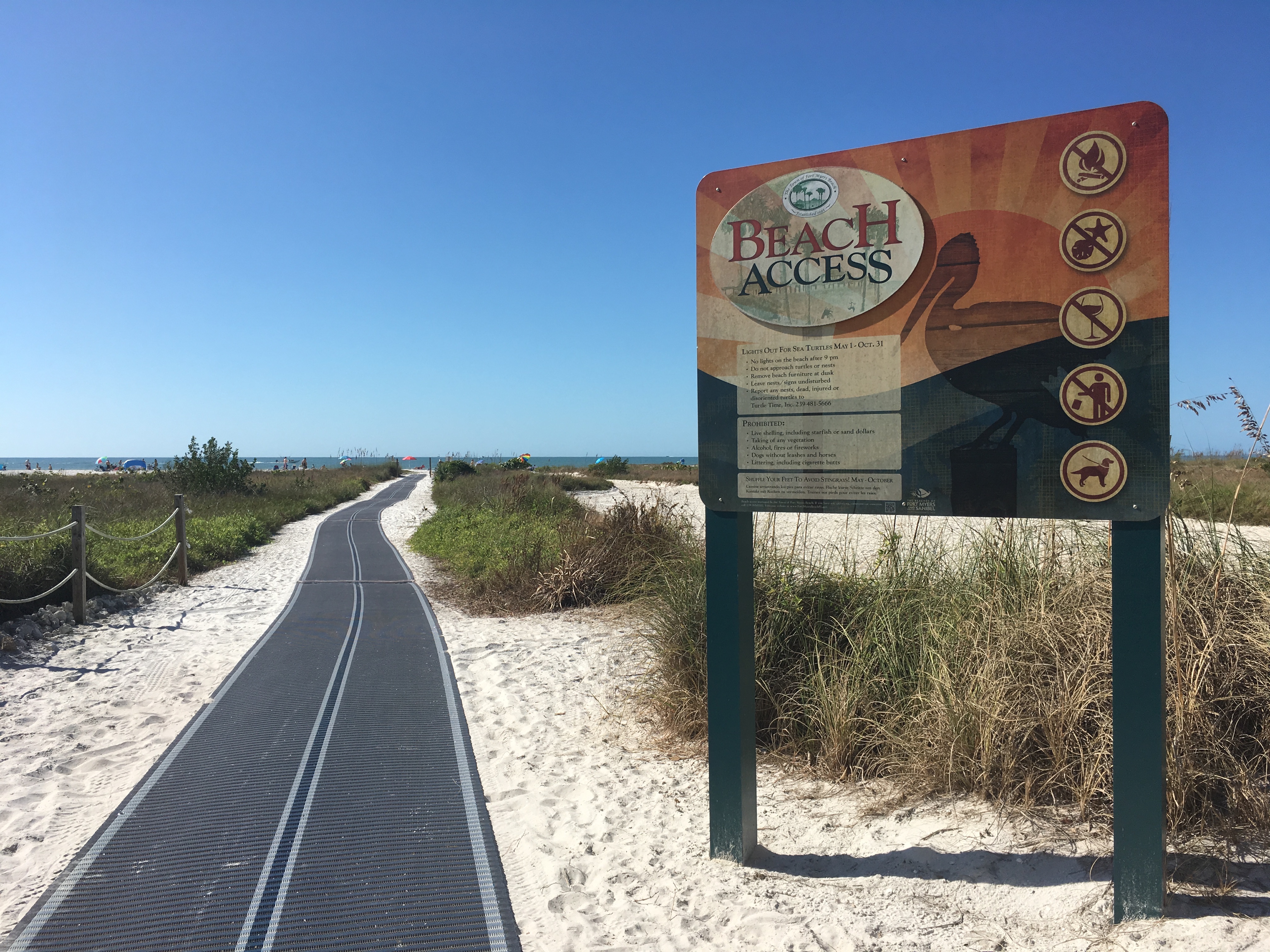 Here we go! Though the temperatures would dip considerably in the next couple of days, today was an absolutely great day for the beach. FYI: Visitors coming May through October may see Sea Turtles. Visitors at that time may also see Stingrays, and are advised to "shuffle your feet."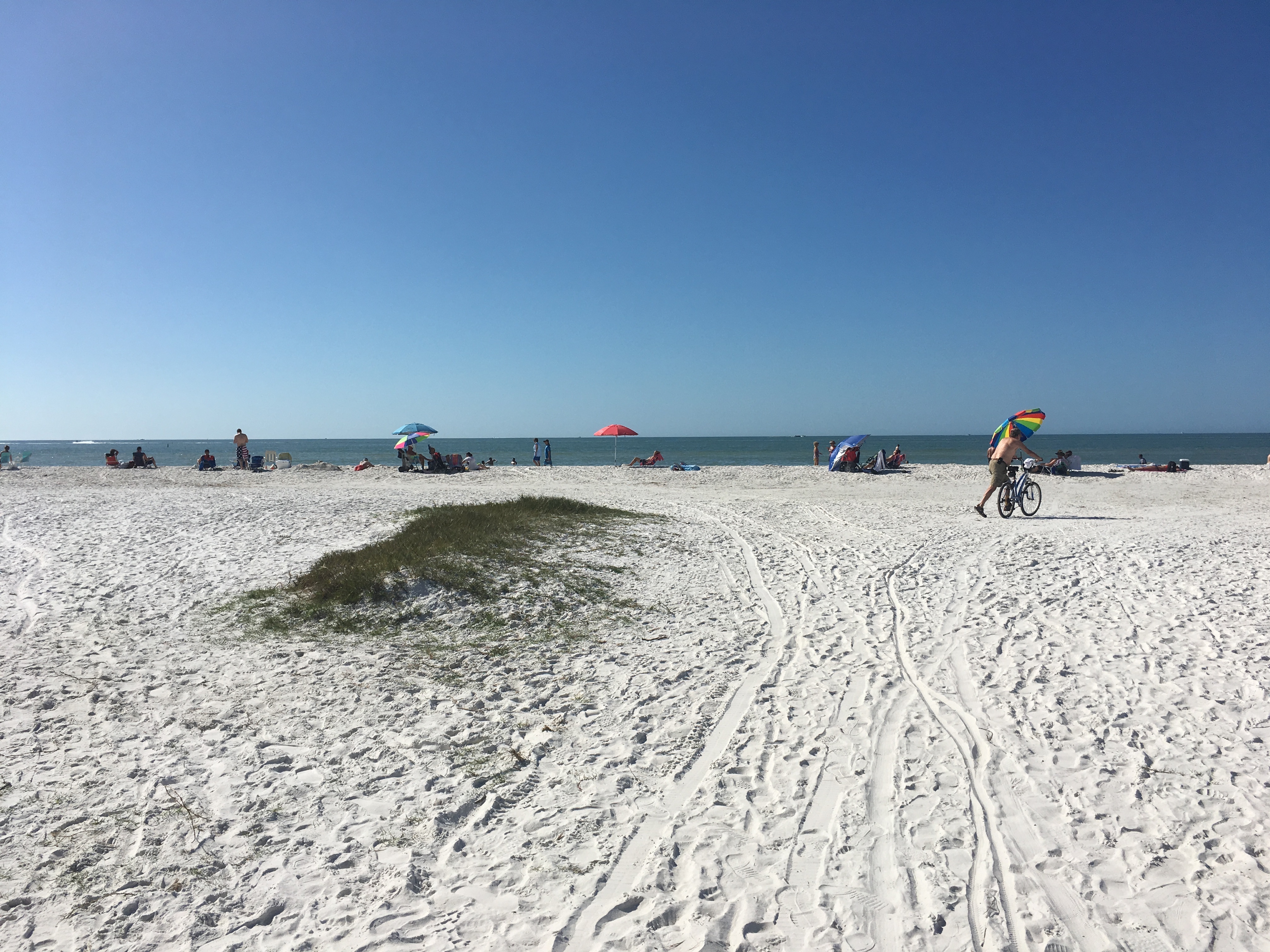 The curious snowbird might wonder why the beaches in the Gulf of Mexico have that wonderful white sand. This is because, according to Conde Nast Traveler, the sand is white quartz crystal, and only white quartz crystal. This type of sand feels like baby powder on bare feet.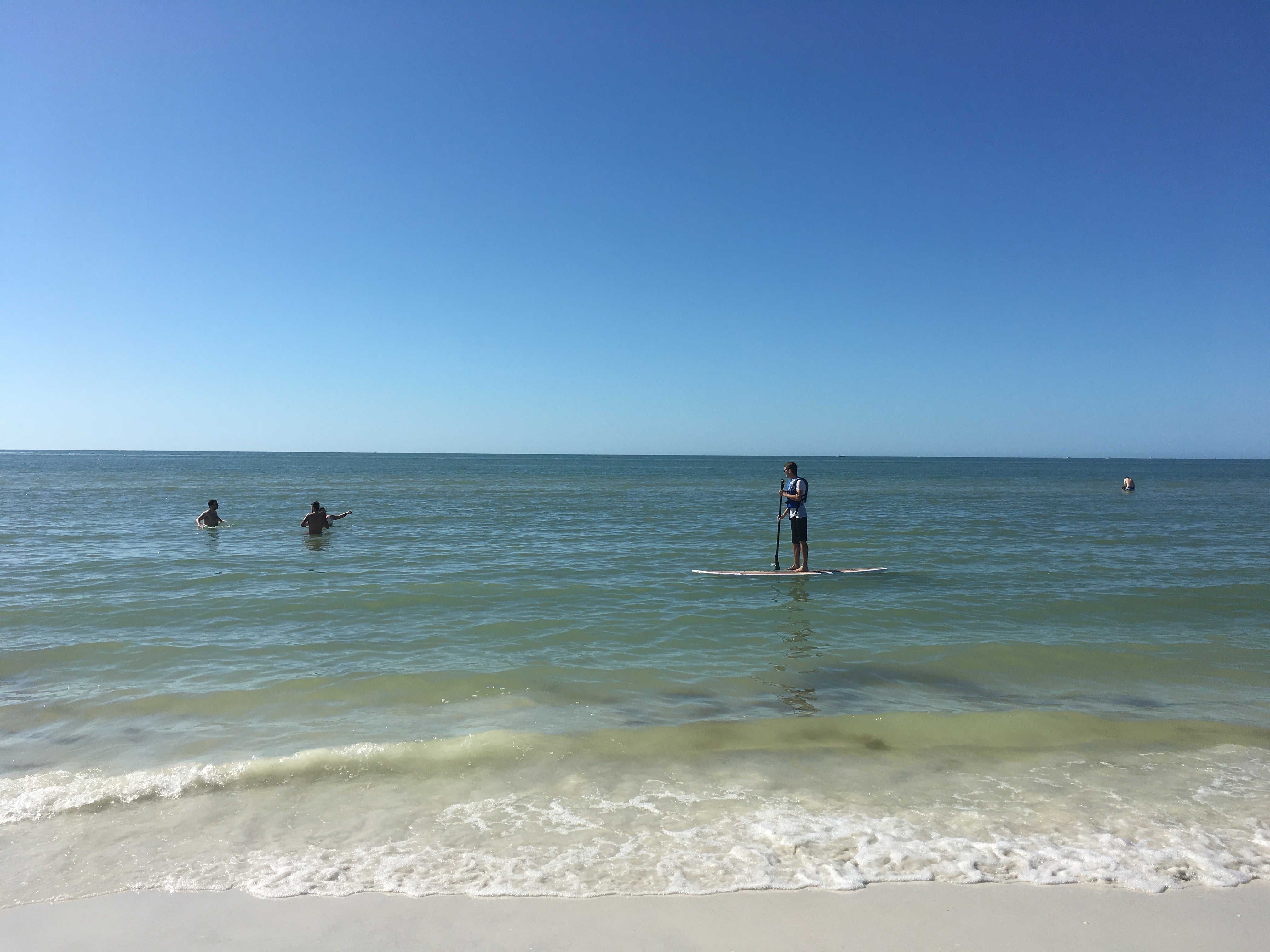 The town of Fort Myers Beach is a great place from which to explore Gulf of Mexico. Located in Lee County, Florida, on Estero Island, the town incorporated in December 1995 and has 6200 people on 6.2 square miles (more than half of which is water).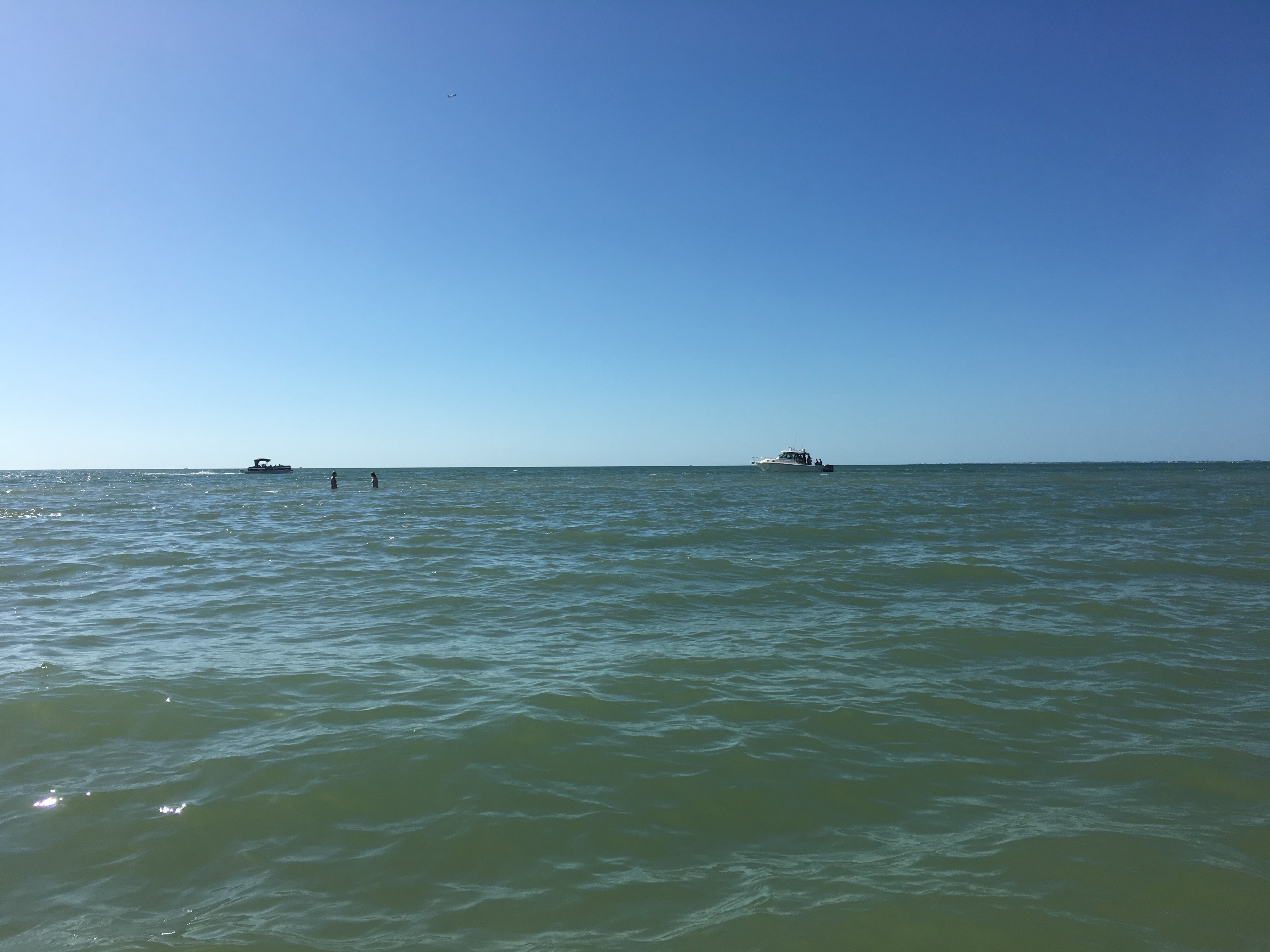 The water surrounding Fort Myers Beach at Public Access #11 was cool and shallow, and not at all crowded. This image was taken at about noon.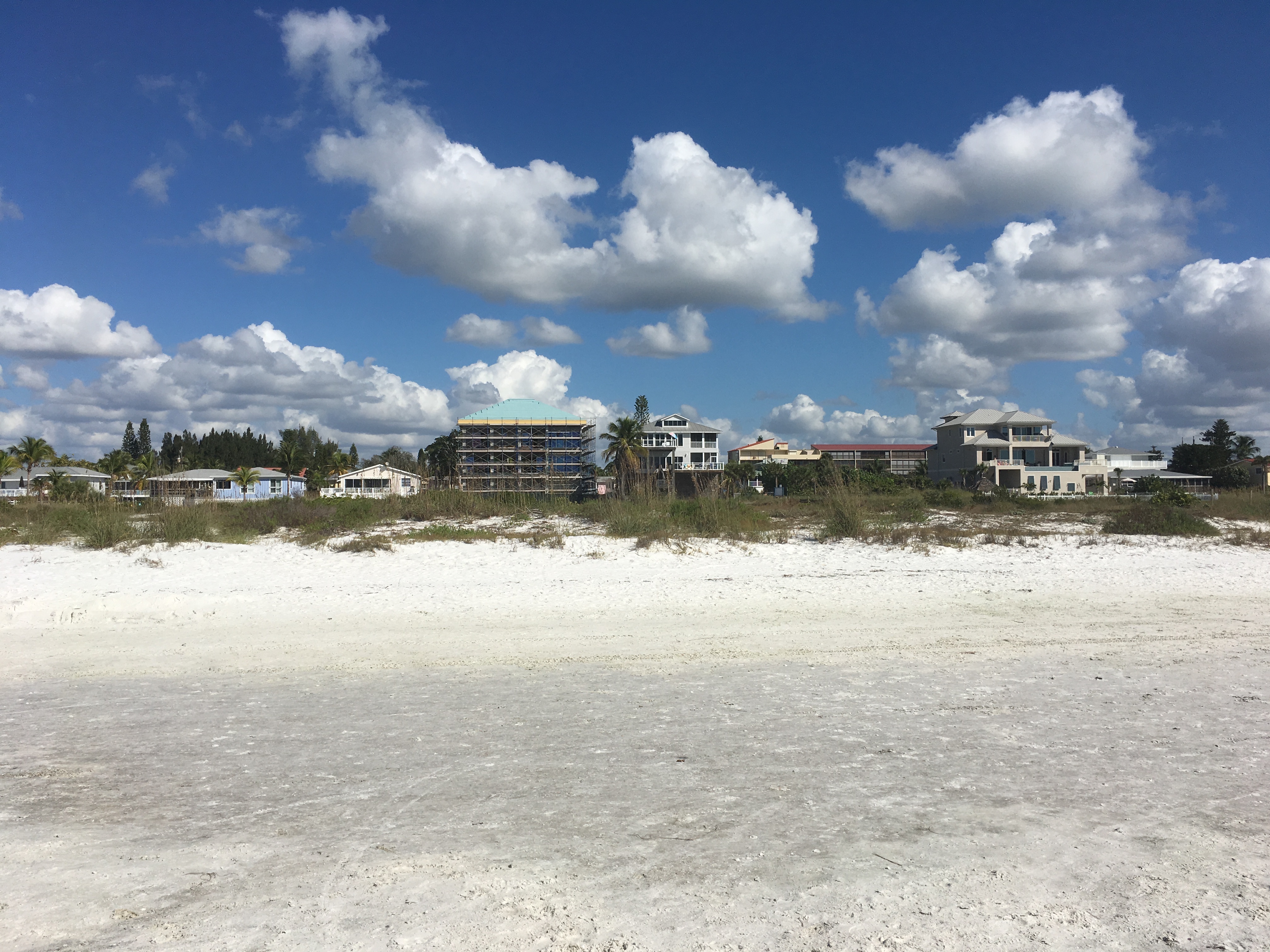 This is the view of the shore facing east. Cities nearby Fort Myers Beach include Bonita Springs, Cape Coral, Fort Myers, and Sanibel. The elevation here is three feet, and in Bonita Springs the elevation is ten feet; Bonita Springs has a population of almost 44,000.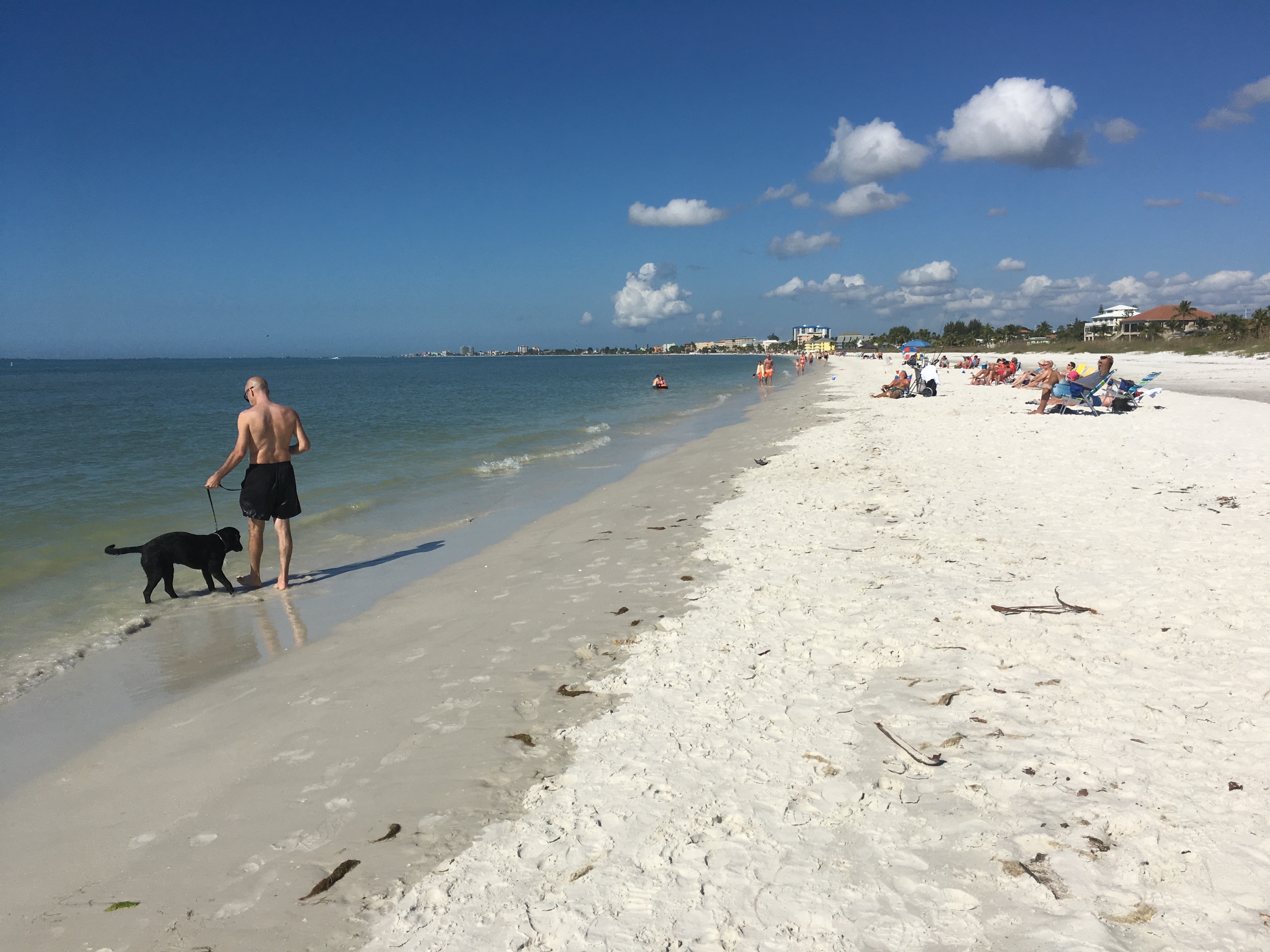 Dogs on a leash are welcome here; dogs seem to enjoy this beach as much as their owners! This furry frolicker was one of a handful of other dogs out today; this beach isn't too terribly crowded even during a peak season afternoon. Most of the activity is to the northwest, near the Lani Kai resort, as seen in the far background of this photo.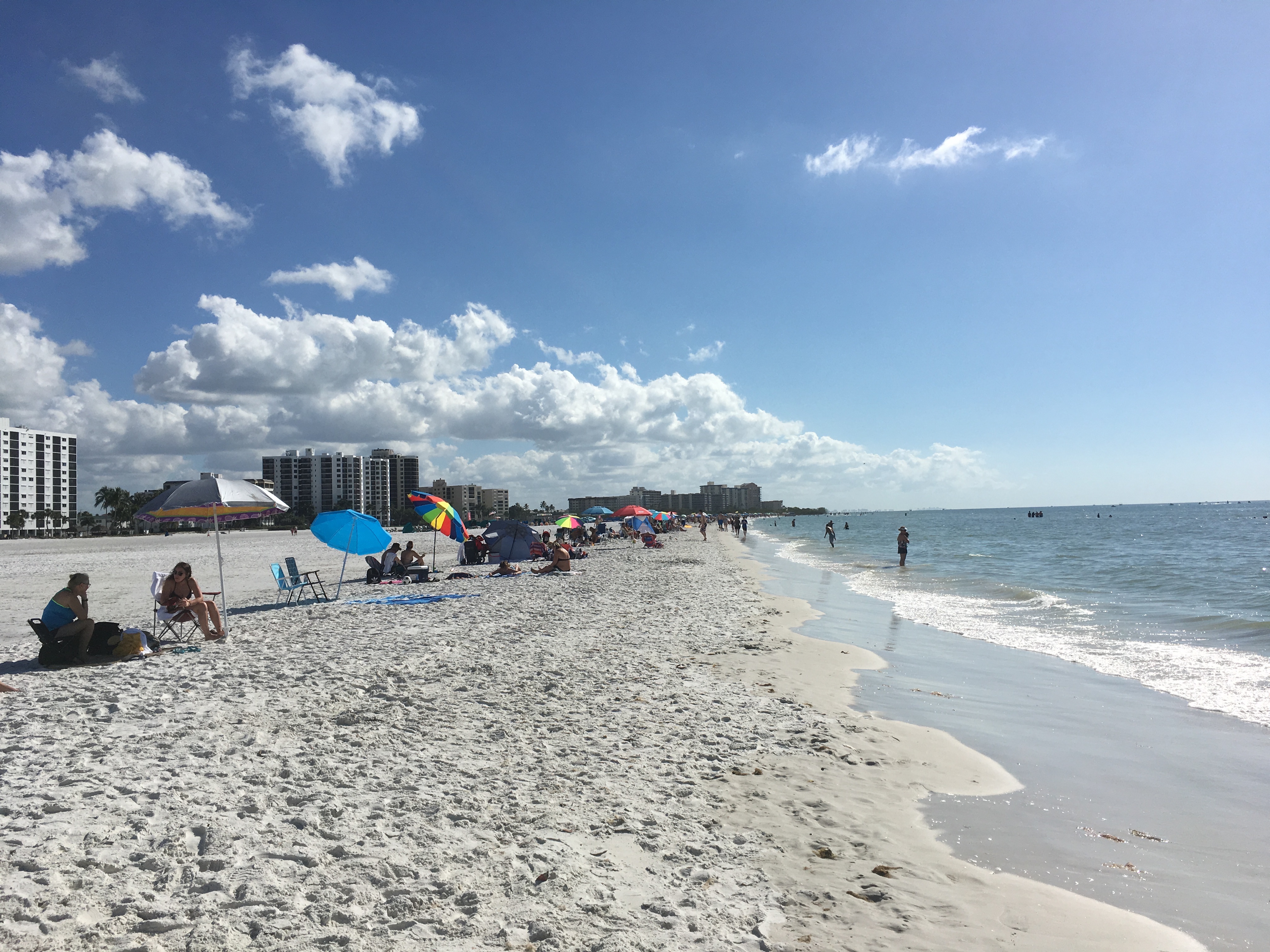 Estero Island is a barrier island. From Wikipedia: Barrier islands are coastal landforms and a type of dune system that are exceptionally flat or lumpy areas of sand that form by wave and tidal action parallel to the mainland coast. This view looks south, toward Lovers Key State Park.
Shore fishing is a big part of the beach scene at Fort Myers Beach. Florida residents can get a free license for salt-water fishing, and non-residents can get licenses valid for various lengths of time and for charter trips. The Pier at FMB's Times Square is another great spot to fish, as are Lovers Key and the South End Bridge.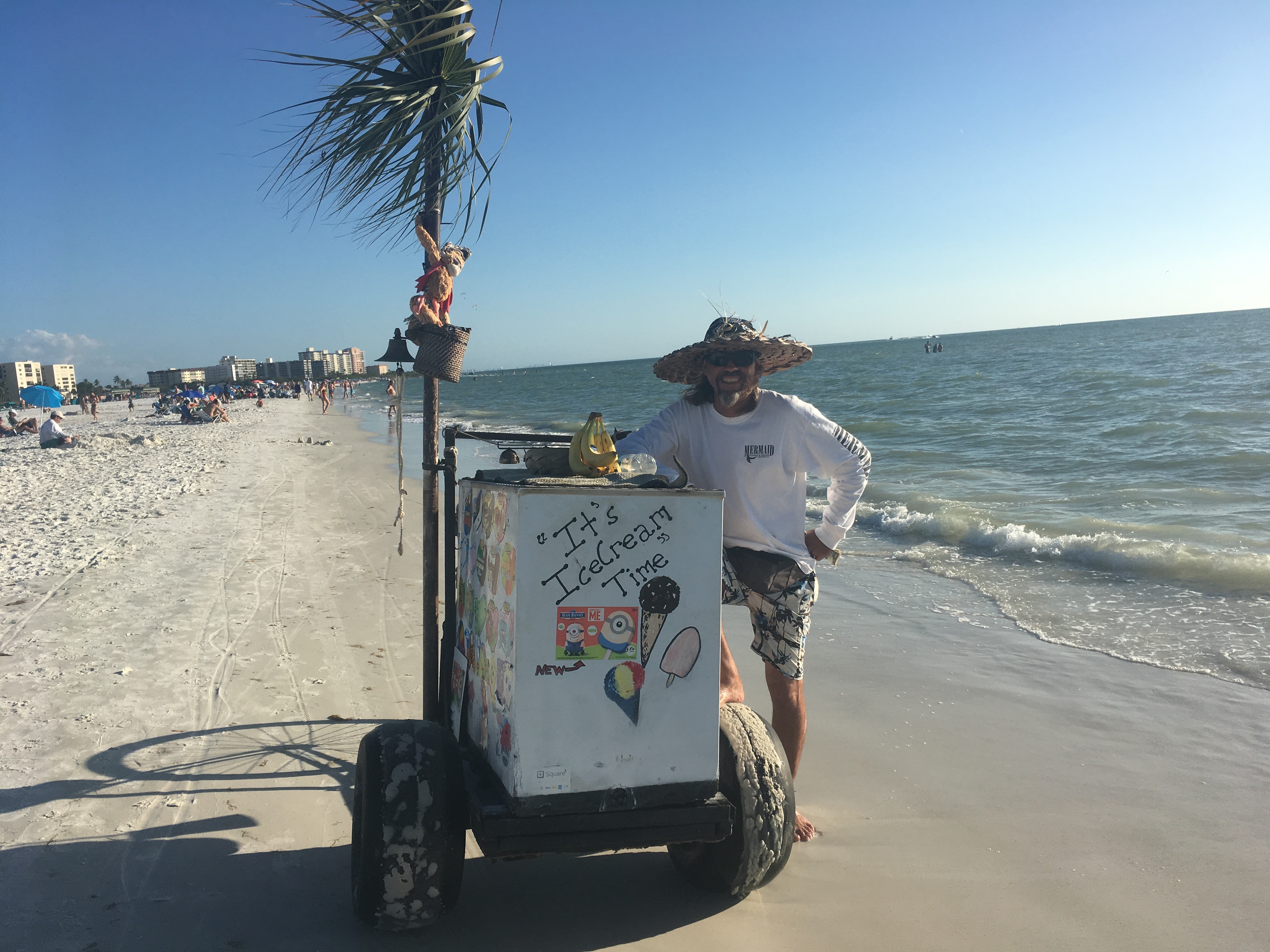 This vendor's ice cream cart was the only amenity available on the day my crew and I visited FMB PA 11. We had already gone through all of the goodies we brought, so we were glad when he rolled by around 4 pm. His bananas were delicious, which were much appreciated since that snack does not travel well.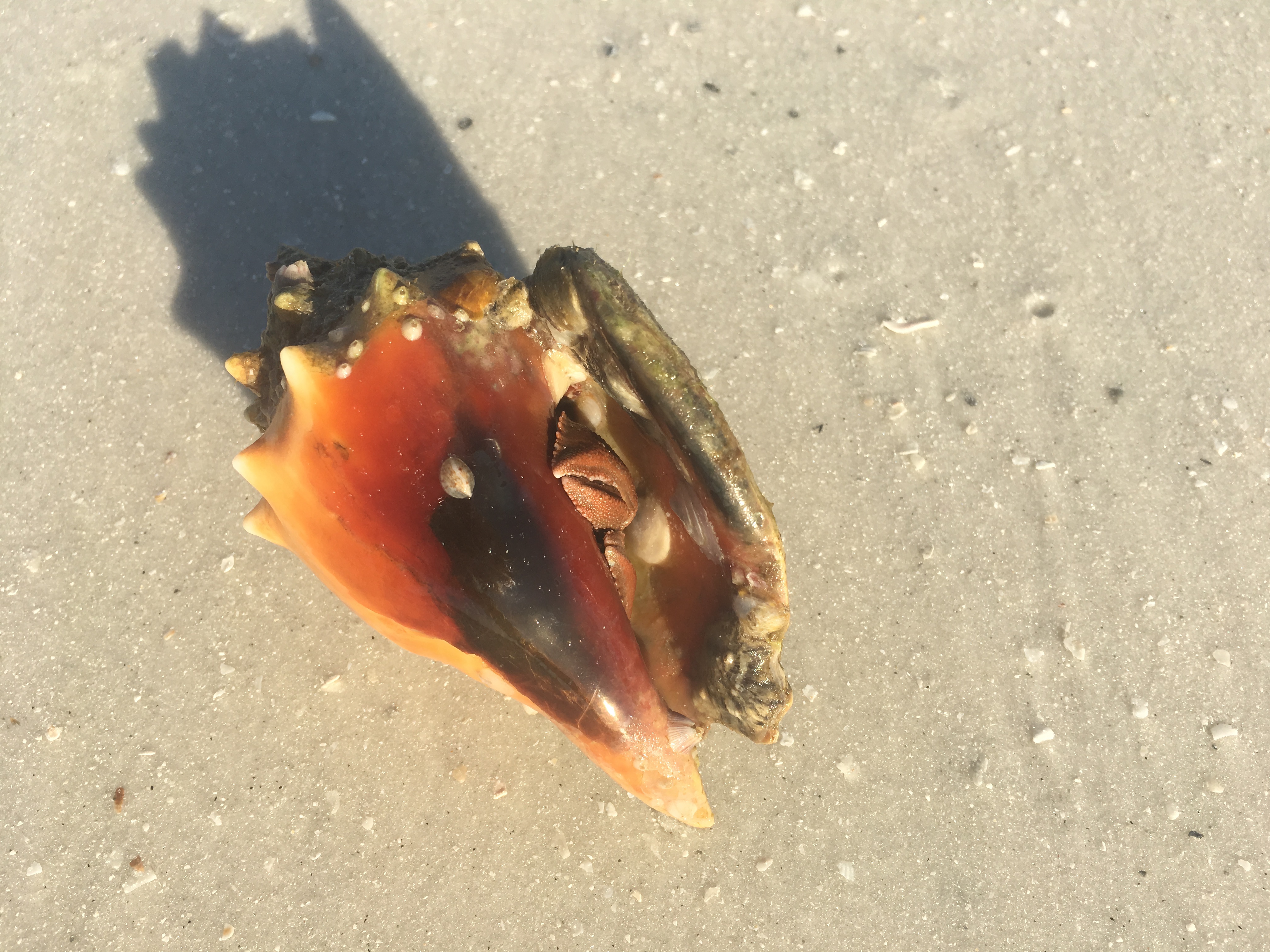 Getting back in the water at 4:30, it was time to head out a little further from the shore than earlier in the day. The excursion was well worth it, as more than half a dozen of these were discovered underfoot. Checking each one carefully for a resident, six left in a shell bag but this one was body-surfed back to its original location. According to SWFL's Shellmuseum.org, this is a Florida Fighting Conch, Strombus alatus, of the Family Strombidae.
It's 5:39 pm and the sun is sinking lower in the west. Once the sun goes down, the temperature drops quickly and is chilly by 6:15 pm. Most folks will be headed back to Naples or perhaps Fort Myers via Estero Boulevard, which will be quite clogged with traffic. The 20-mile trip back to the hotel would take about 40 minutes.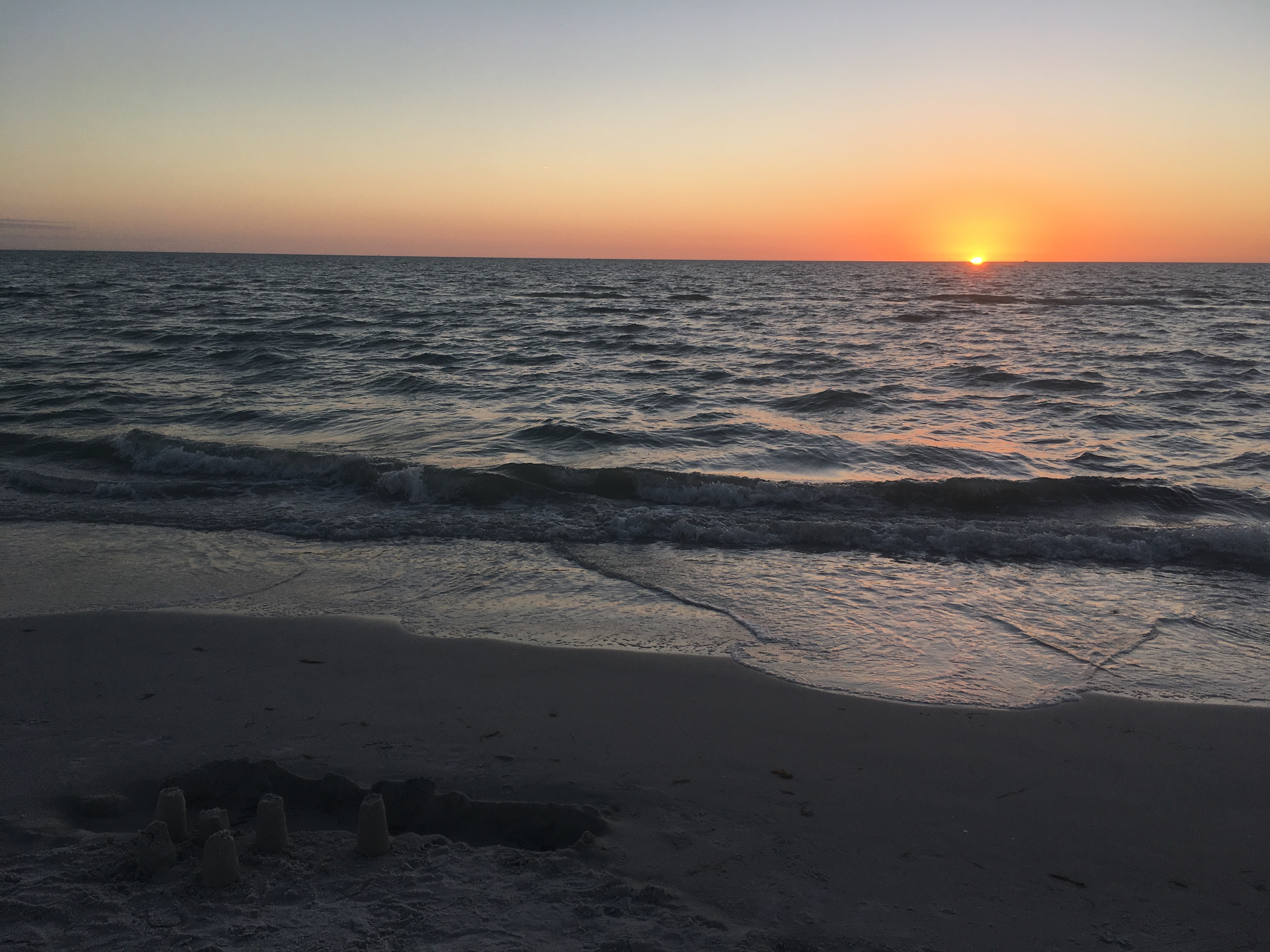 Sunset at Fort Myers Beach Public Access Point 11 occurred at 5:44 pm. Sunseekers had been replaced by good number of sunset-seekers, though they too would have almost all cleared out by 6 pm.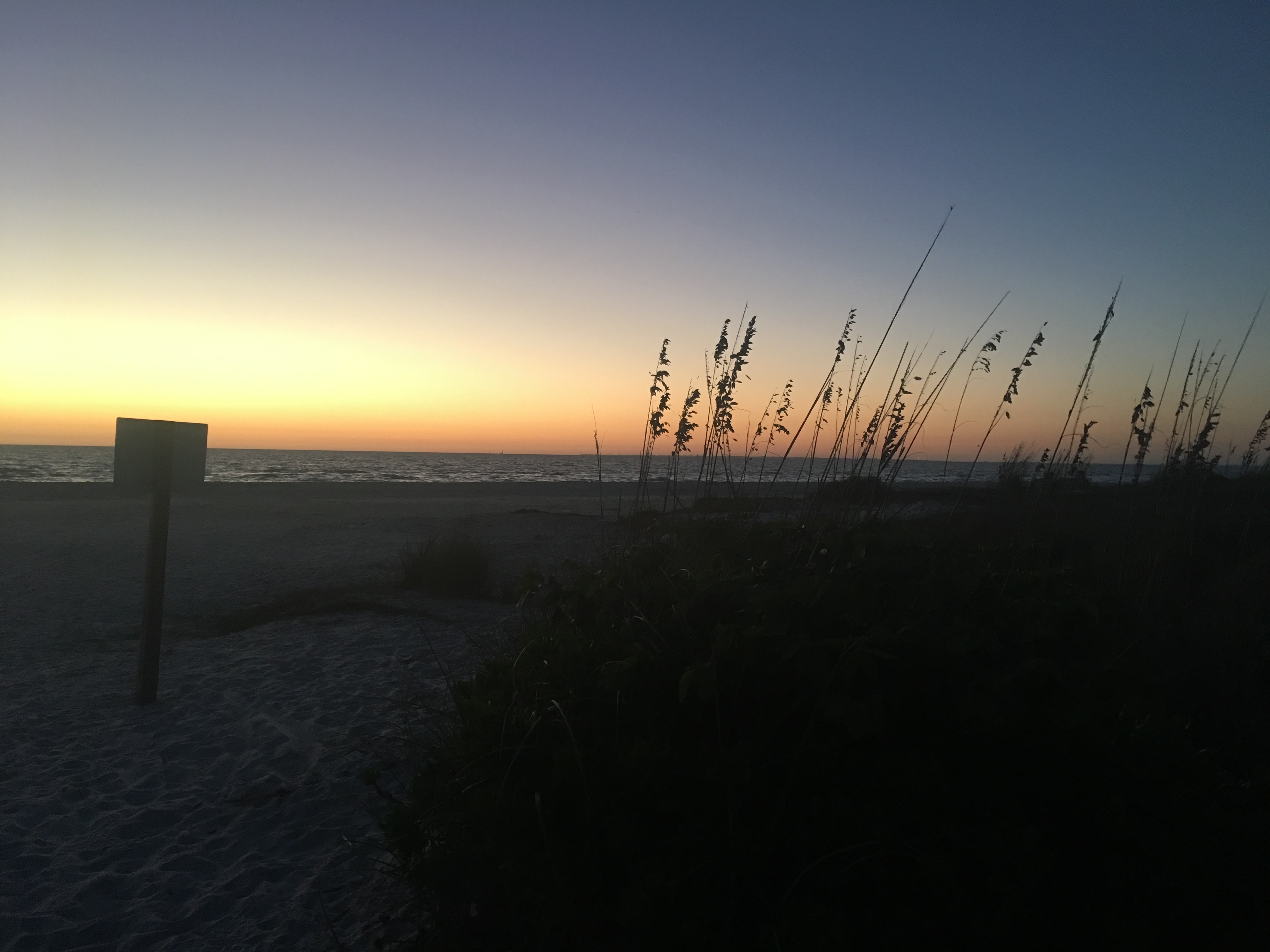 The beach is empty at 6:08 pm. So what's next for tomorrow? Delnor-Wiggins Pass State Park near Naples, Punta Rassa to the north, or perhaps Sanibel via the Causeway . . . they're all close by.