Jacksonville Beach Fishing Pier & Shoppes, Florida
Want to step away from the sand and waves for a little while? Fishing, shopping, and eating are three great ways to spend a day at Jacksonville Beach if the sun is hiding and the water is a bit chilly.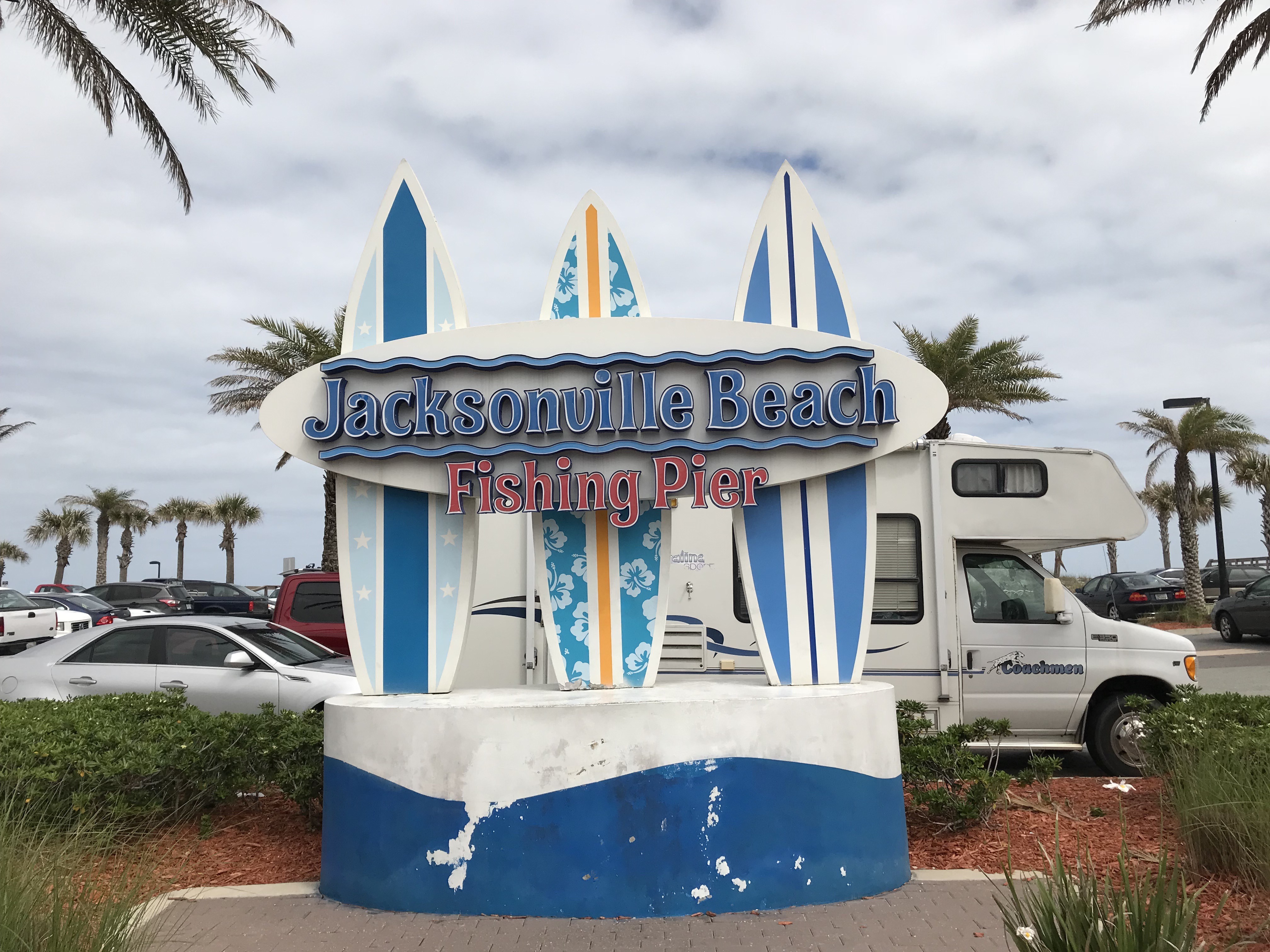 The Jacksonville Beach Fishing Pier has been through a lot lately, first damaged by Hurricane Matthew in October 2016 and then by Hurricane Irma last September. Just about 625 feet of the quarter-mile long structure is open. The rest is closed for repairs.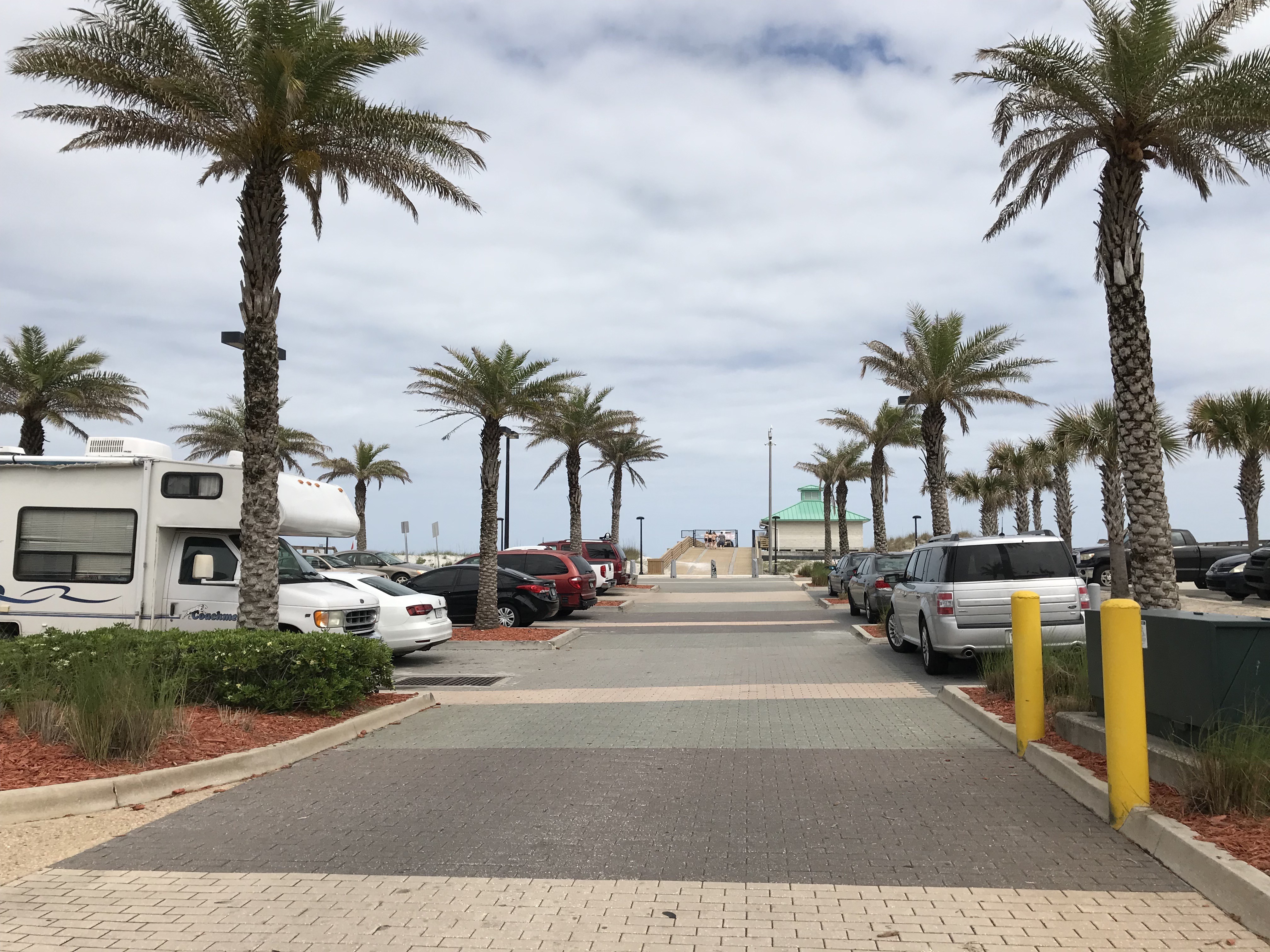 Looking at the parking lot for the Pier, no one seems to mind that half of it is closed. March 27th, 2018 looked to have a high of 73 and a low of 60. That means the water is going to be chilly even during the warmest part of the day, so that's why we're here instead.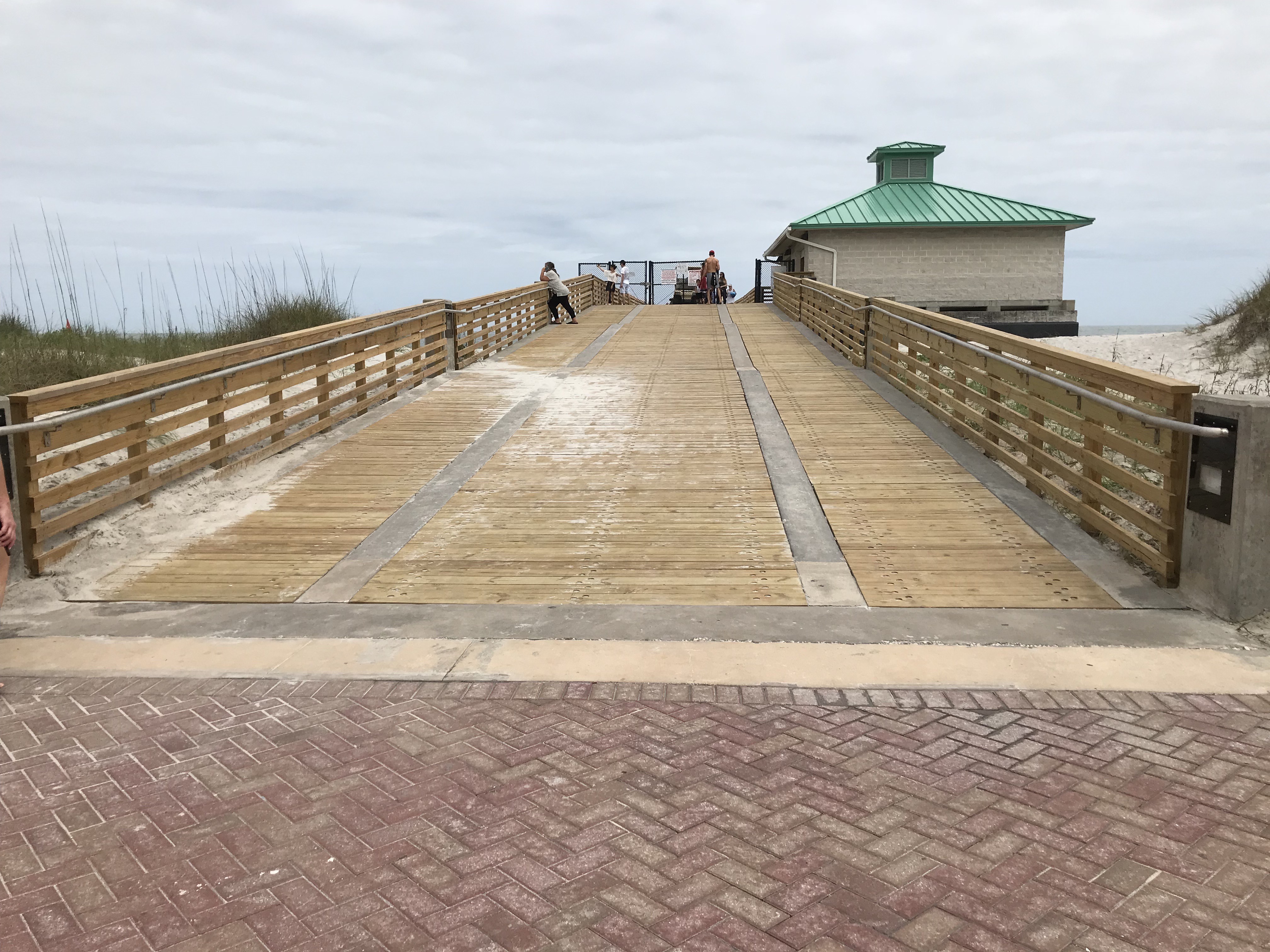 The Pier is located at 503 1st Street North, which is right on the ocean, between 4th Avenue North and 5th Avenue North. This pier has all the amenities anyone could want.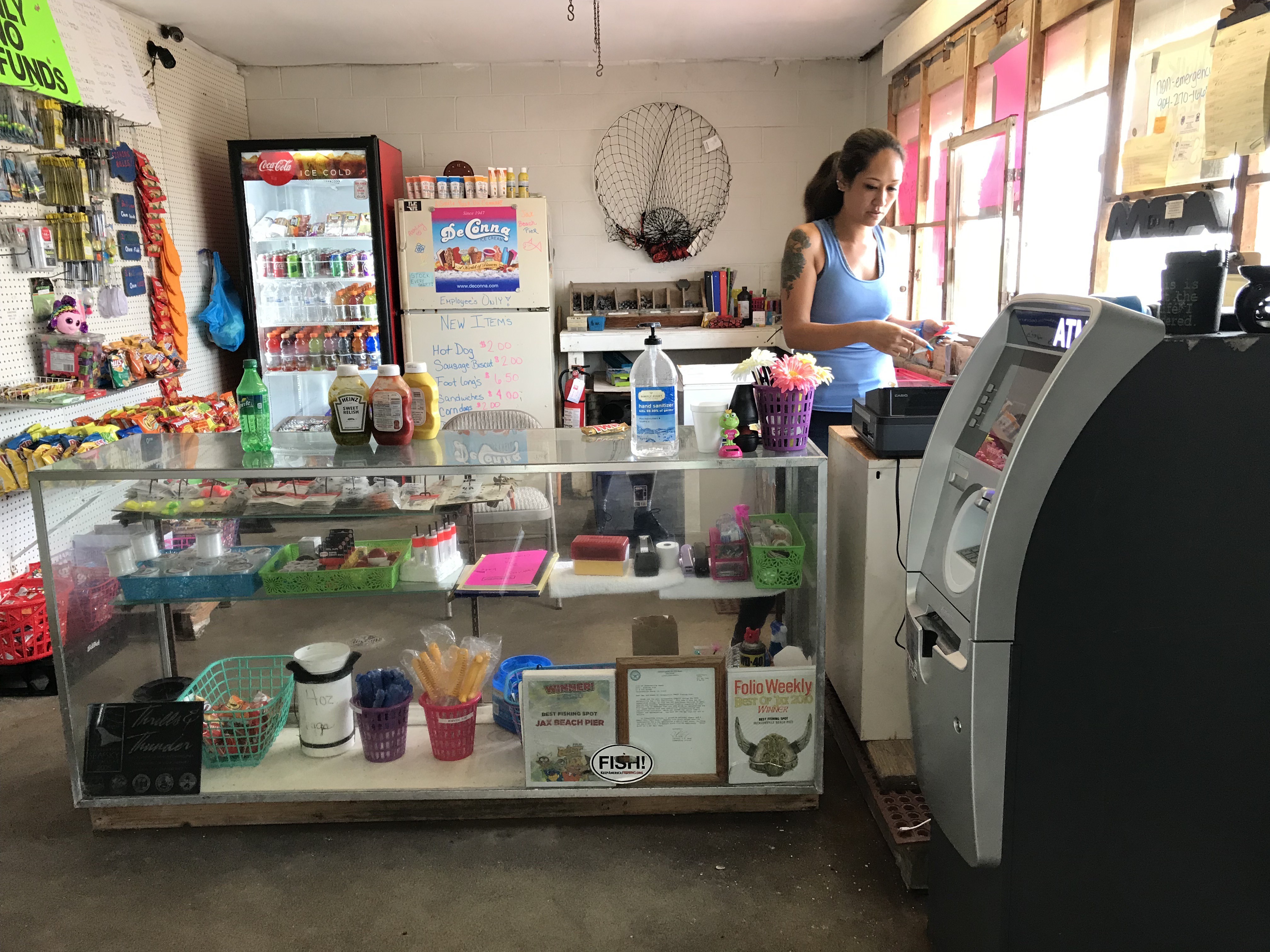 The attendant's hut has everything a fishing enthusiast could need and you can also get a hotdog and candy here. The amenities, which are clean and have soap, are right around the corner.
It costs three dollars to fish here and one dollar to walk the pier. The attendant posts what fish are biting everyday, plus tide information. These two men are looking in the direction of Neptune Beach, which is north.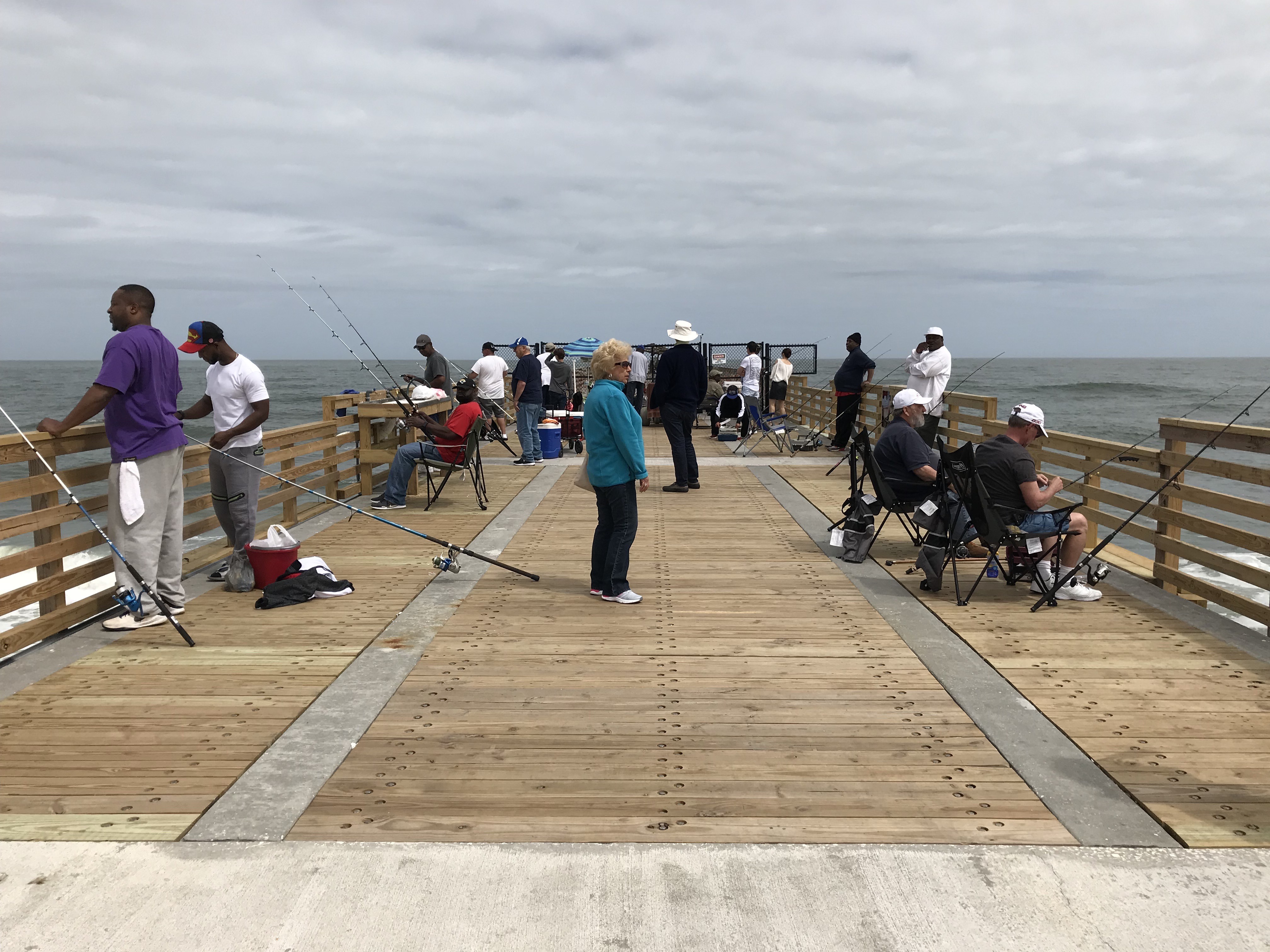 This is the business end of the pier until the rest of it re-opens. Folks are allowed three rods each and carts are indeed allowed, but fly rods, hand lines, and cast nets aren't.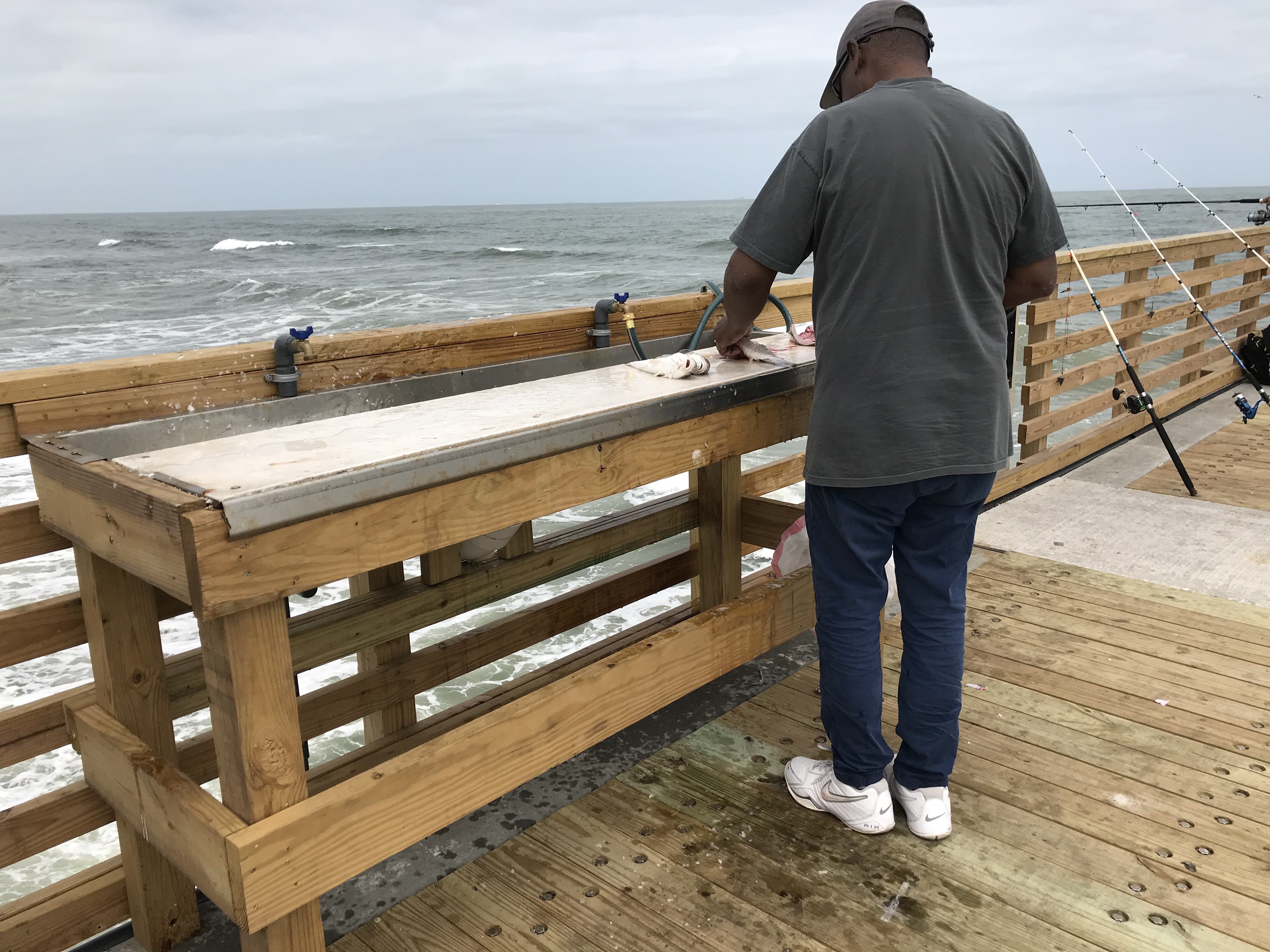 This lucky fisherman is making use of one of the tables here. The best thing about this pier is that no Florida salt water license is required here.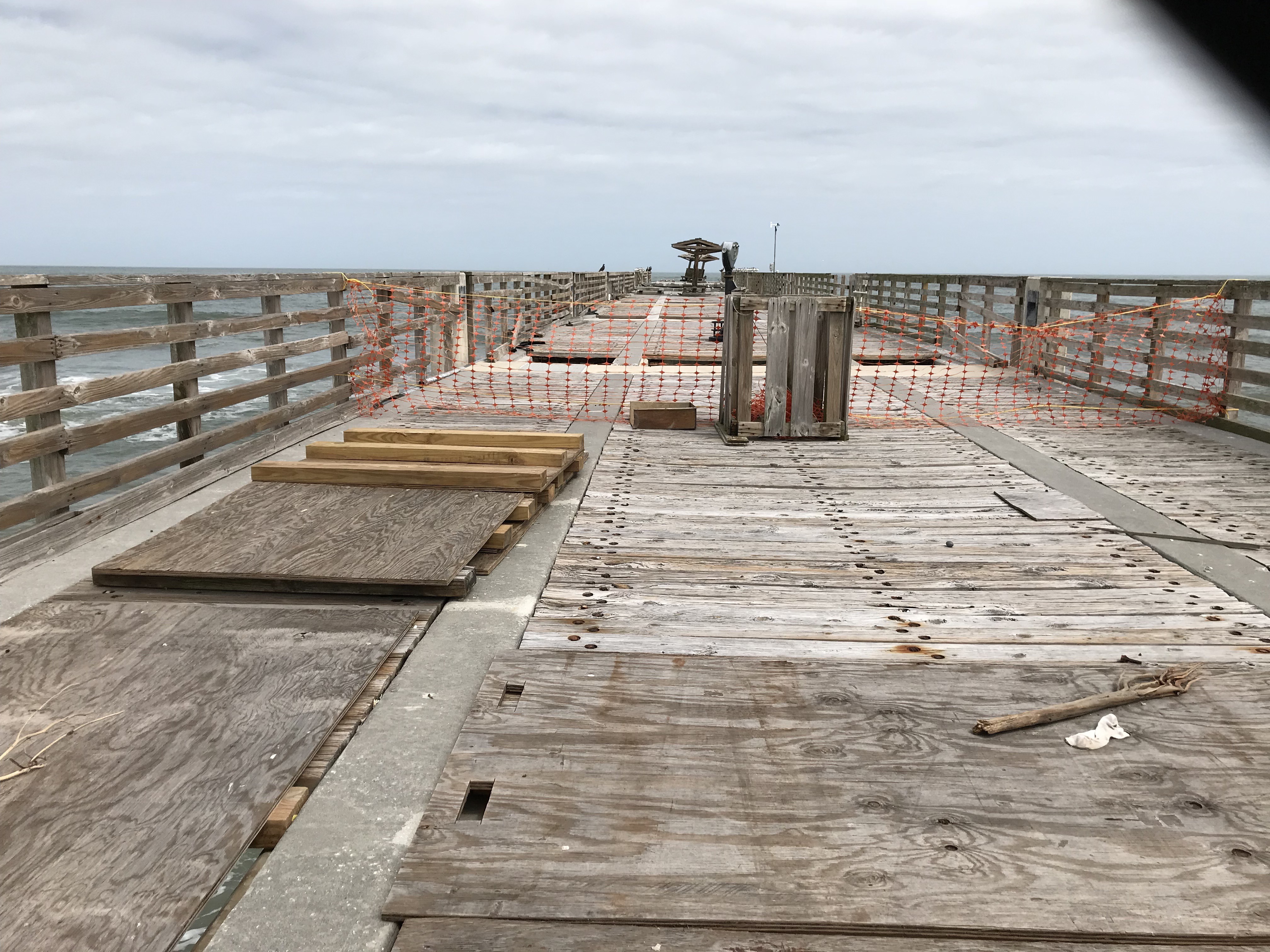 The Pier partially re-opened on March 1st, 2018, and, according to the attendant, probably will fully re-open in October 2019. Right now, construction supplies are piled up on the far end, along with dozens of seagulls, looking through the chainlink fence. During World War II, a German U-boat sank a loaded merchant oil vessel here, the SS Gulfamerica. Nineteen lives were lost.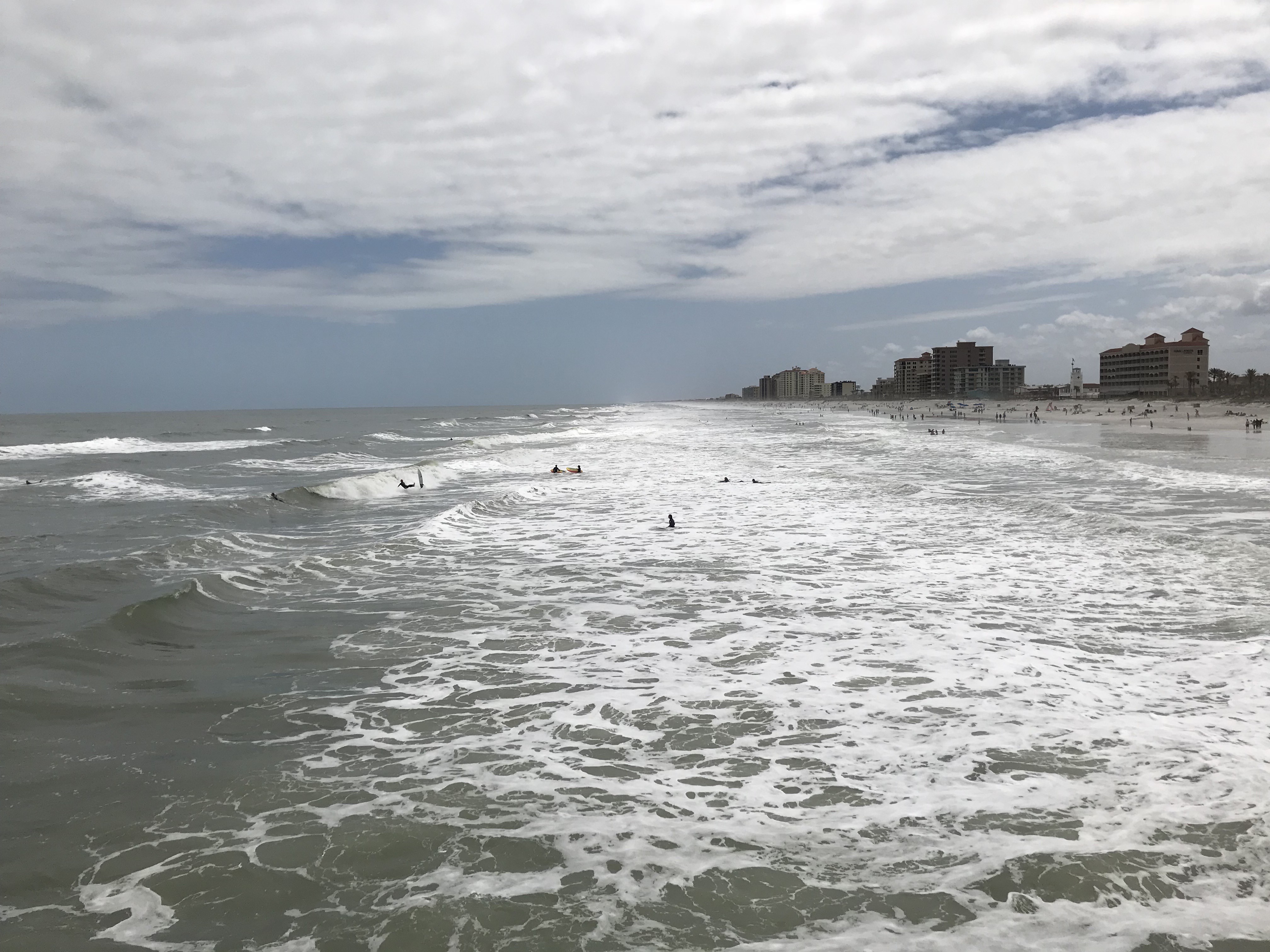 The view from either side of the Pier is breath-taking. This view looks south, in the direction of Ponte Vedra Beach. PVB was in the news in late March for an 18th century shipwreck that washed ashore one morning.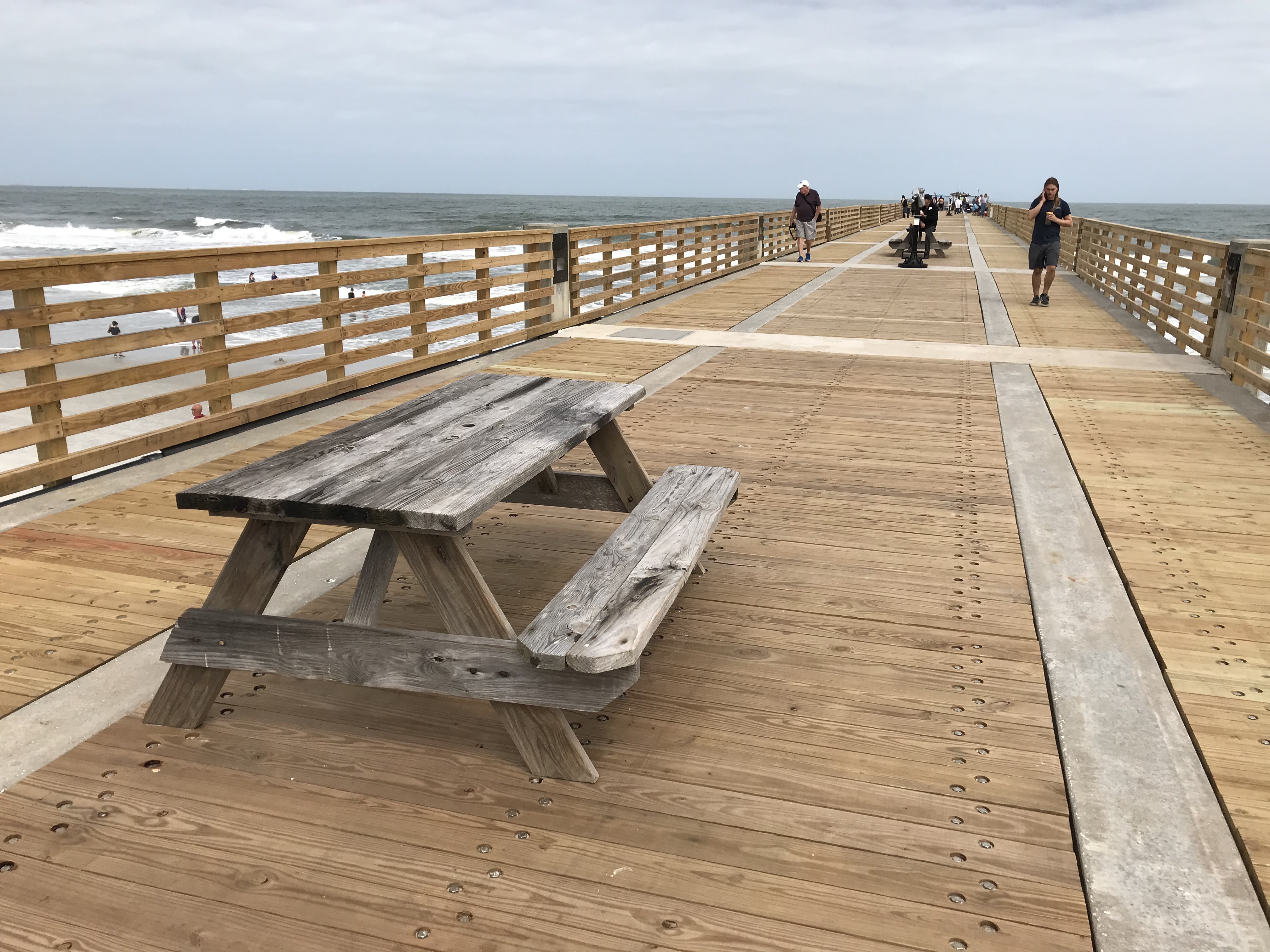 We'll take one last look eastward toward the Atlantic Ocean before heading out for ice cream and shopping. They have novelty ice cream sandwiches here, but we are going to walk a couple of blocks to Flava Moose for scoop ice cream.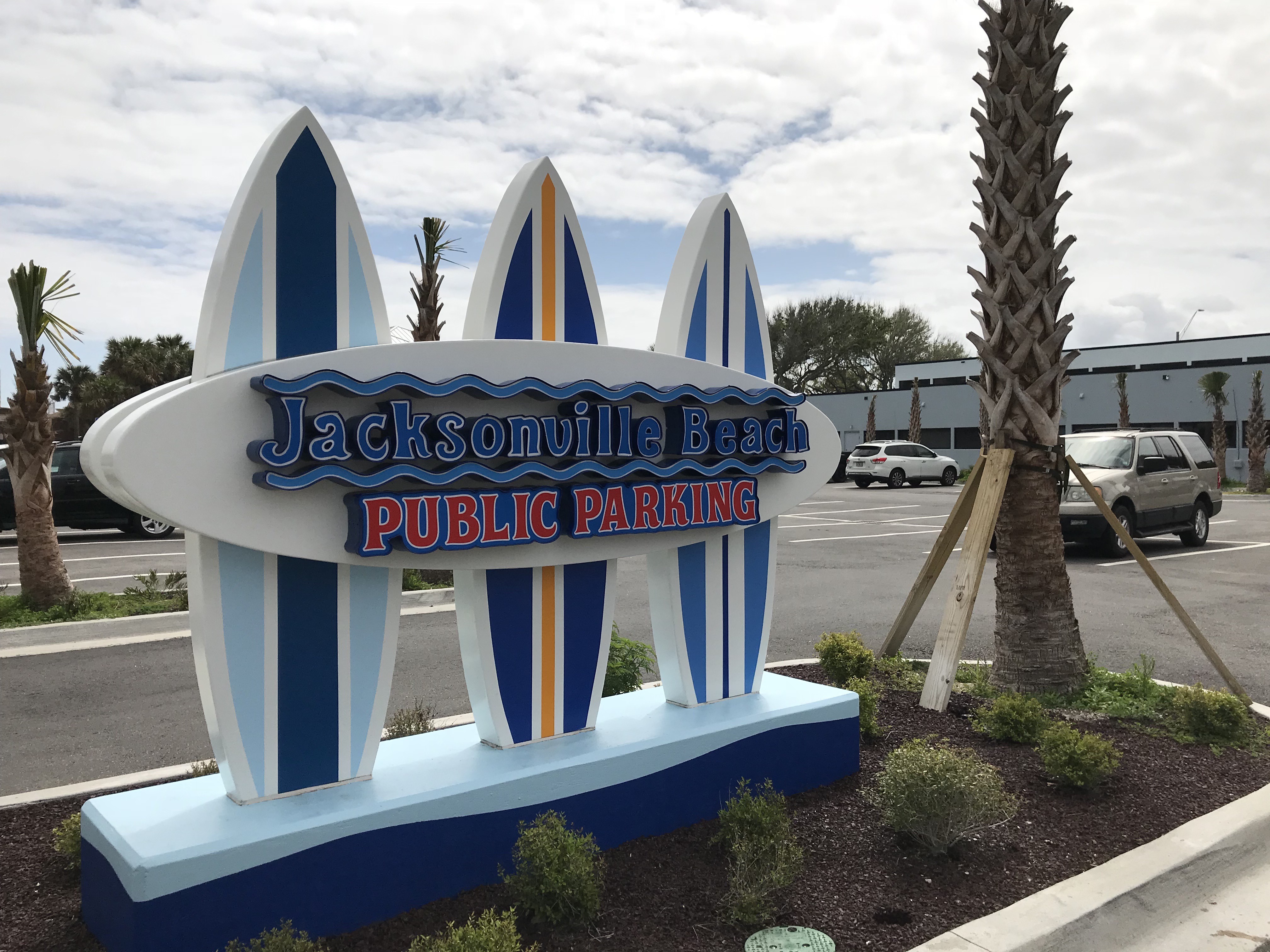 At the intersection of 3rd Avenue North and 2nd Street North, you'll find a huge sign with surfboards and a big public parking lot. Some lots are only two hours, but I saw no sign there was a time limit here.
Flava Moose is a small storefront scoop shop located at 311 North 3rd Street, Unit 106. There is a little bit of street parking out front, which is shared with other shops.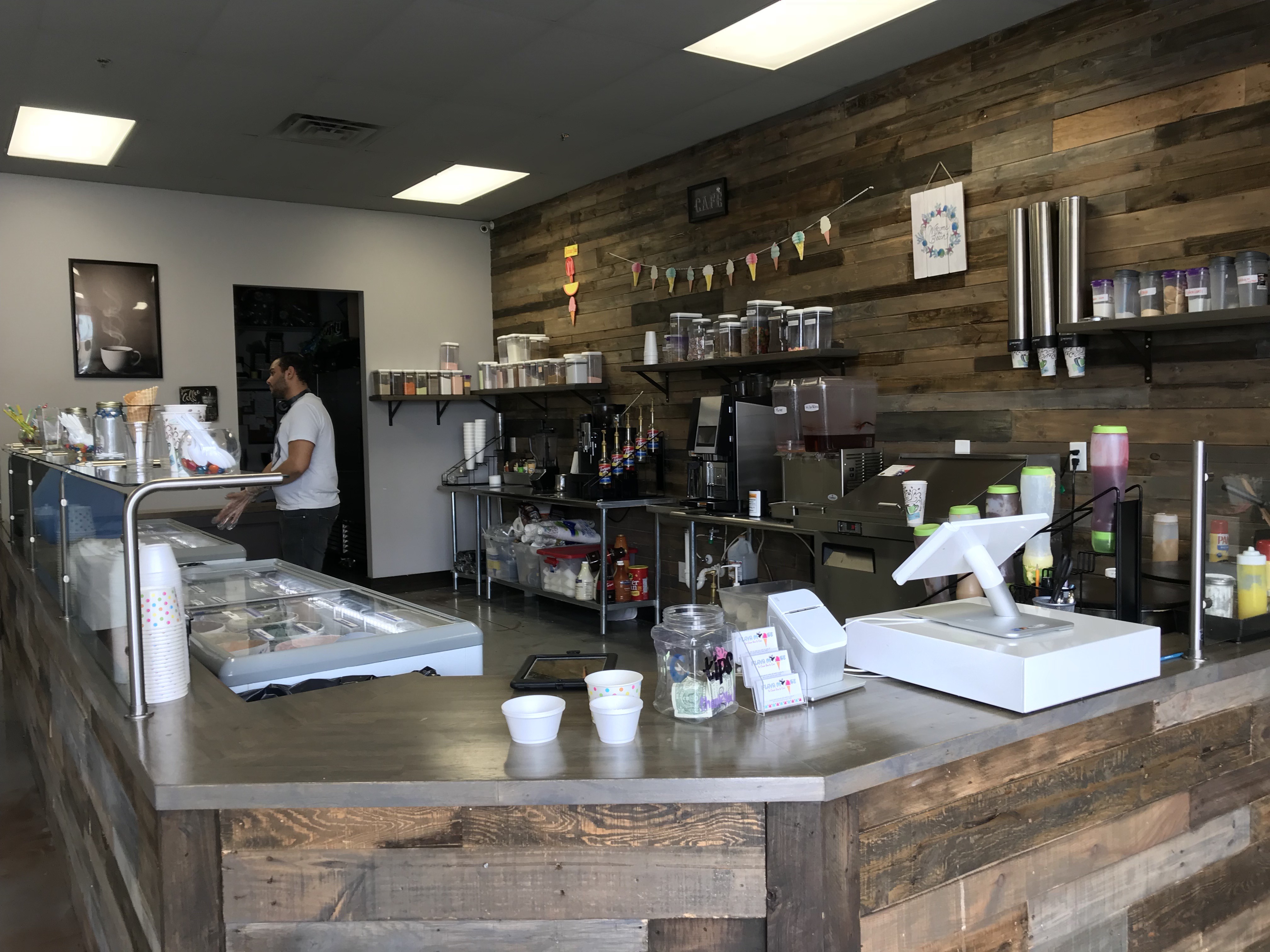 Flava Moose is a fun little place to go for hard ice cream. The counter service is wonderful: a trio of boys came in and he gave each cups of water, no question; great for tourist season or anytime at all.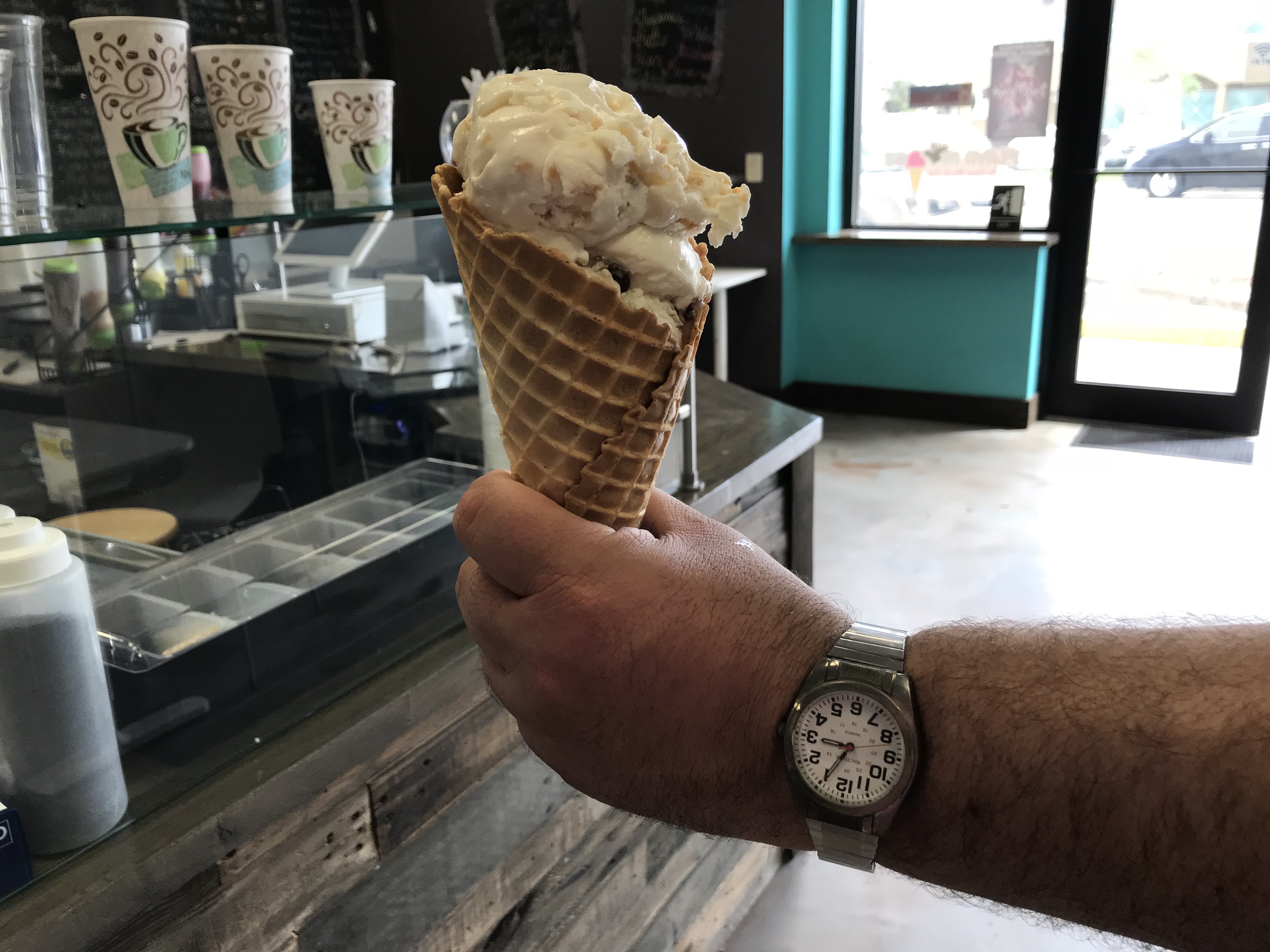 Three waffle cones with two dips each were $14.41 plus a dollar tip. The milkshake machine was down but the cone shown here--toasted coconut on top and then fun dough--was great. We sat down to eat, and then went shopping.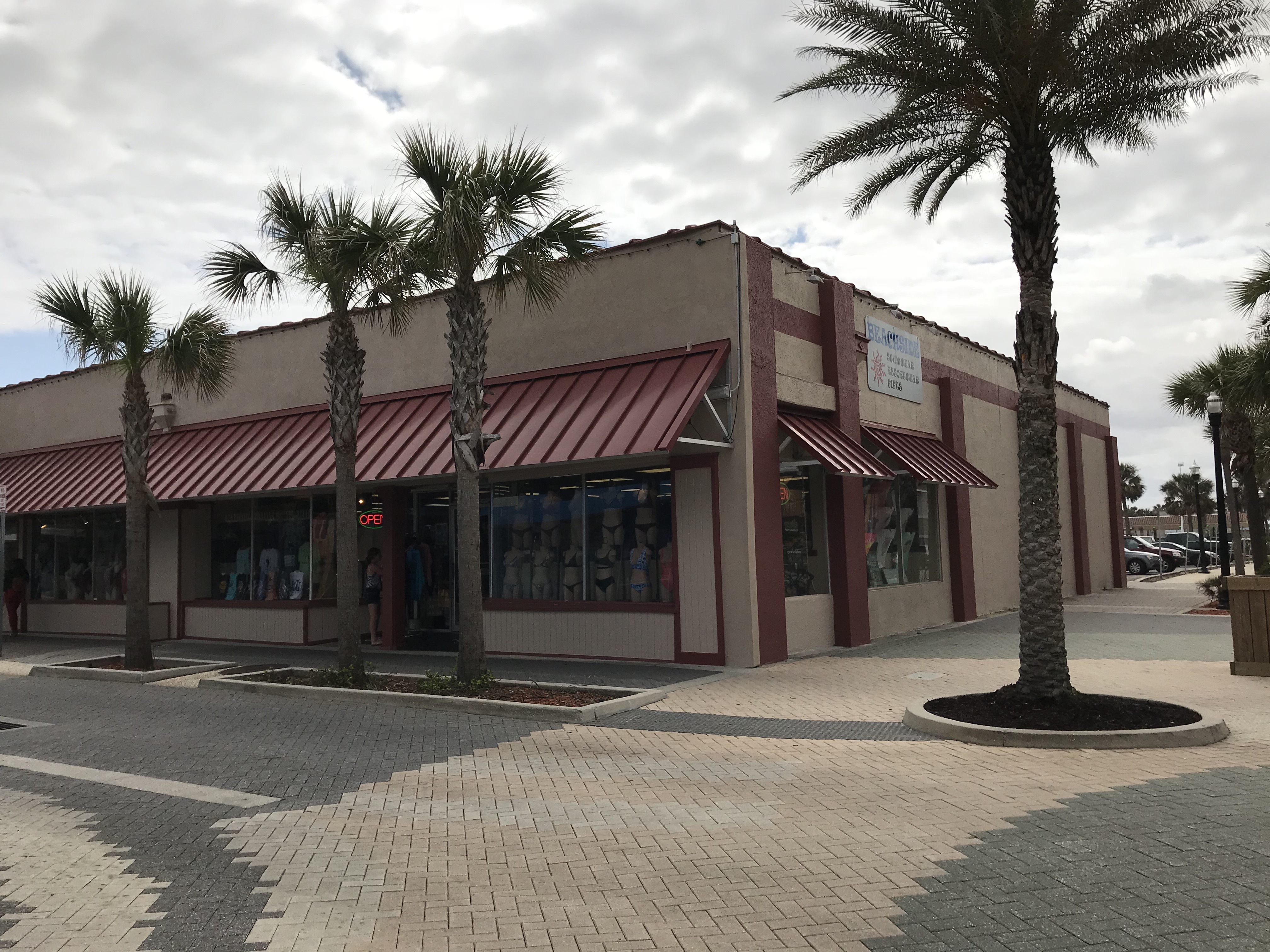 The Beachside souvenir shop is located right across a very pedestrian friendly street from the beach. They've got swimwear, t-shirts, flip flops, hats, and the like at their 234 1st Street North address.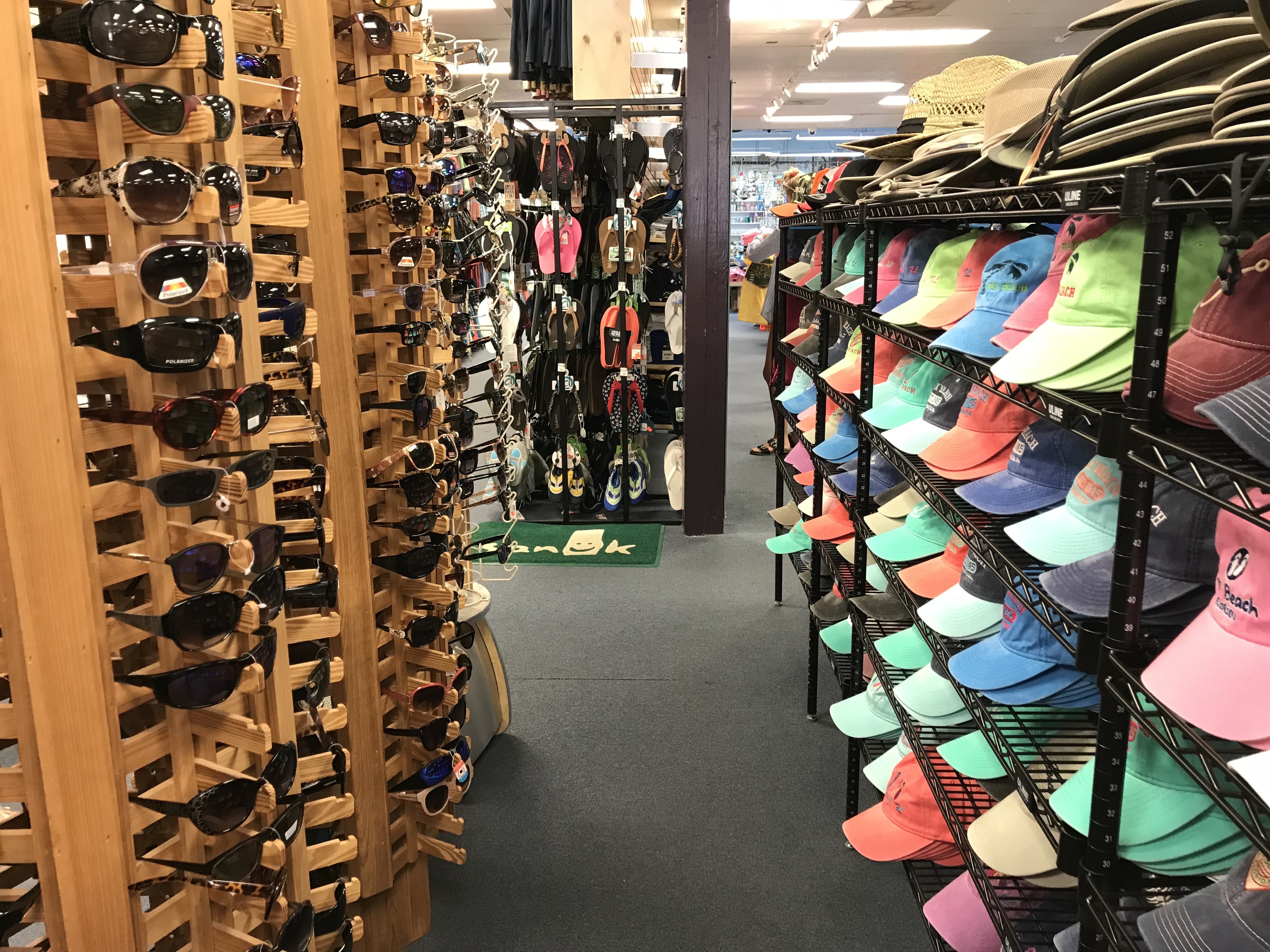 Between this shop and the two right across the street, plus the Walgreen's at 2nd Street North and Beach Boulevard, there just seems to be everything right here. There is a great variety of styles and sizes of just about everything.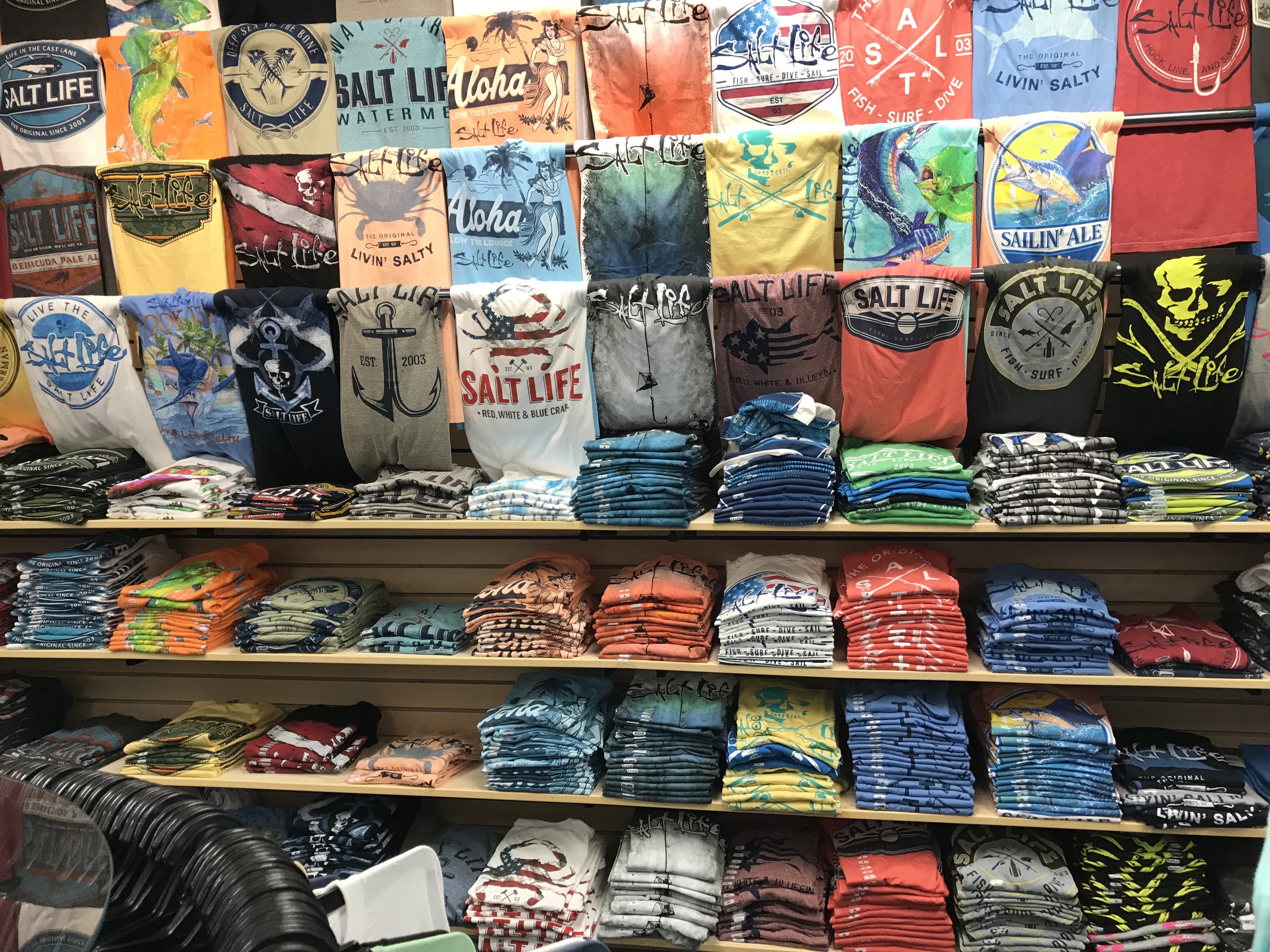 Beachside has so many great brands: Salt Life, FloMotion, Water Glamour, and many more. This shop, which has been here for almost 30 years, carries merchandise priced in the mid-upper range.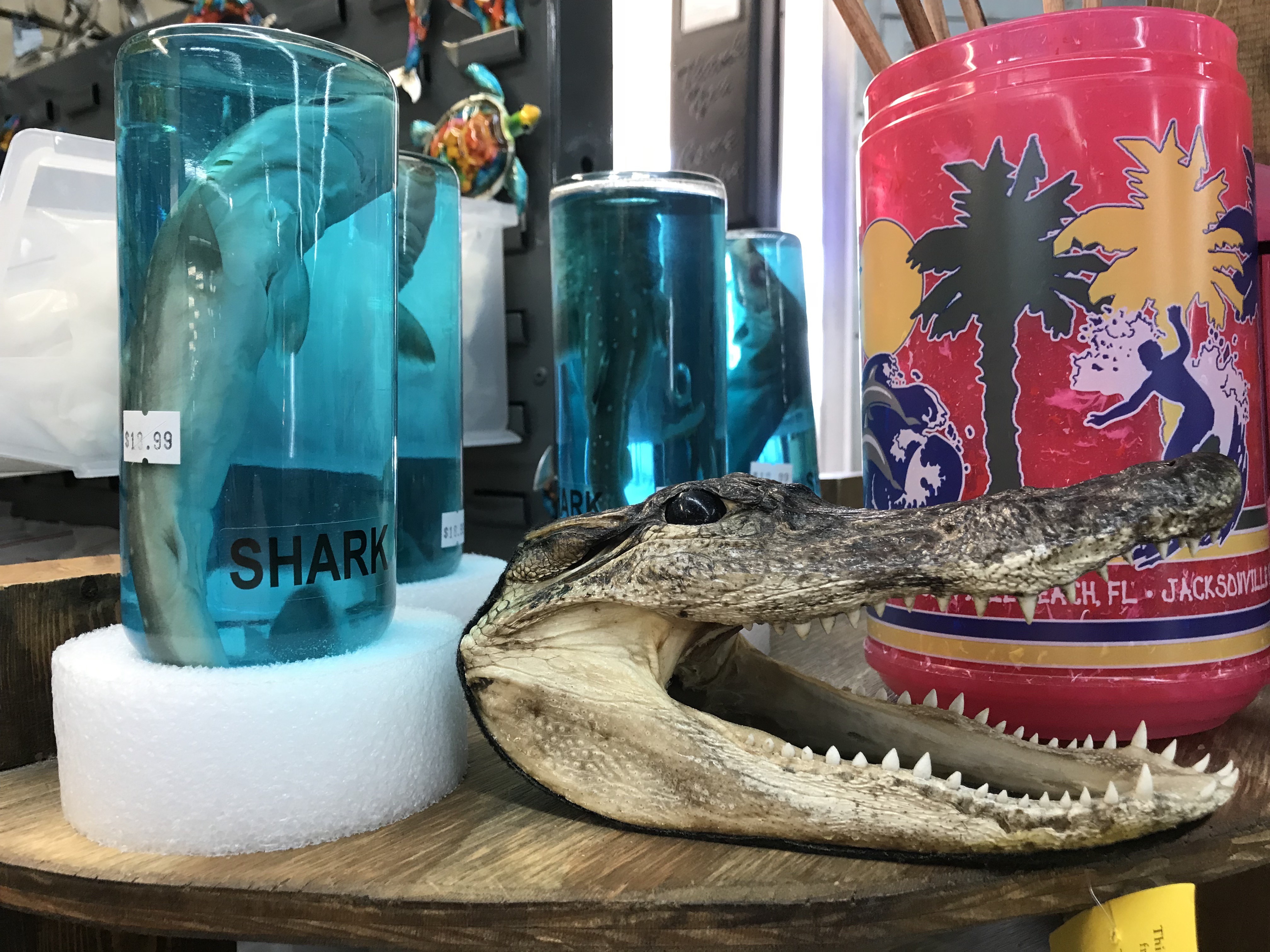 Well, you don't see this everyday in Ohio or in Ontario. These gator heads are right at home with the shark teeth and even the seashell ornaments and other fun knickknacks.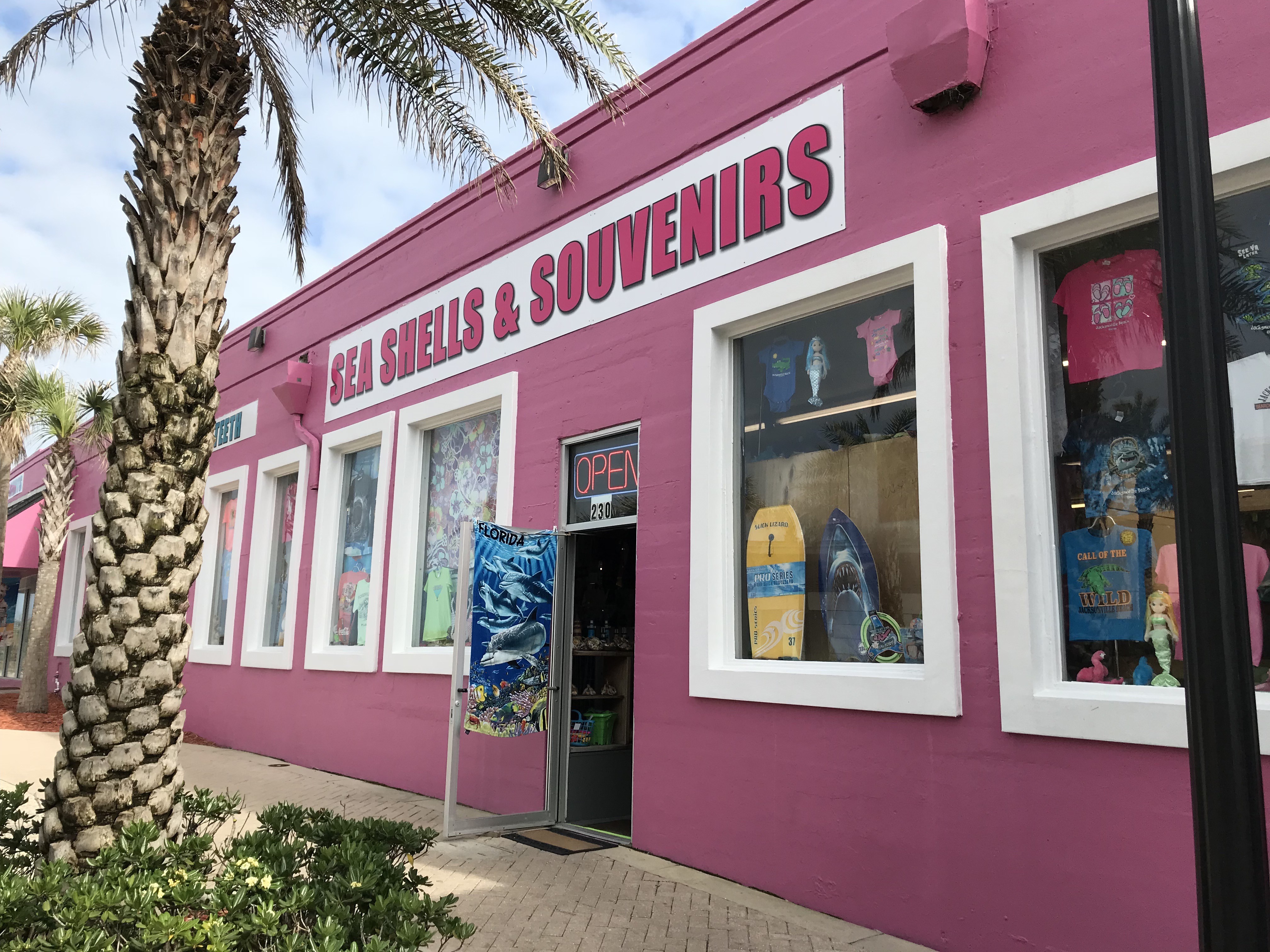 In search of cheap t-shirts, we headed across the street to Seashells & Coral at 230 Boardwalk. We found them in abundance, plus turtle bracelets, dipped coconut, and delicious Florida-made saltwater taffy.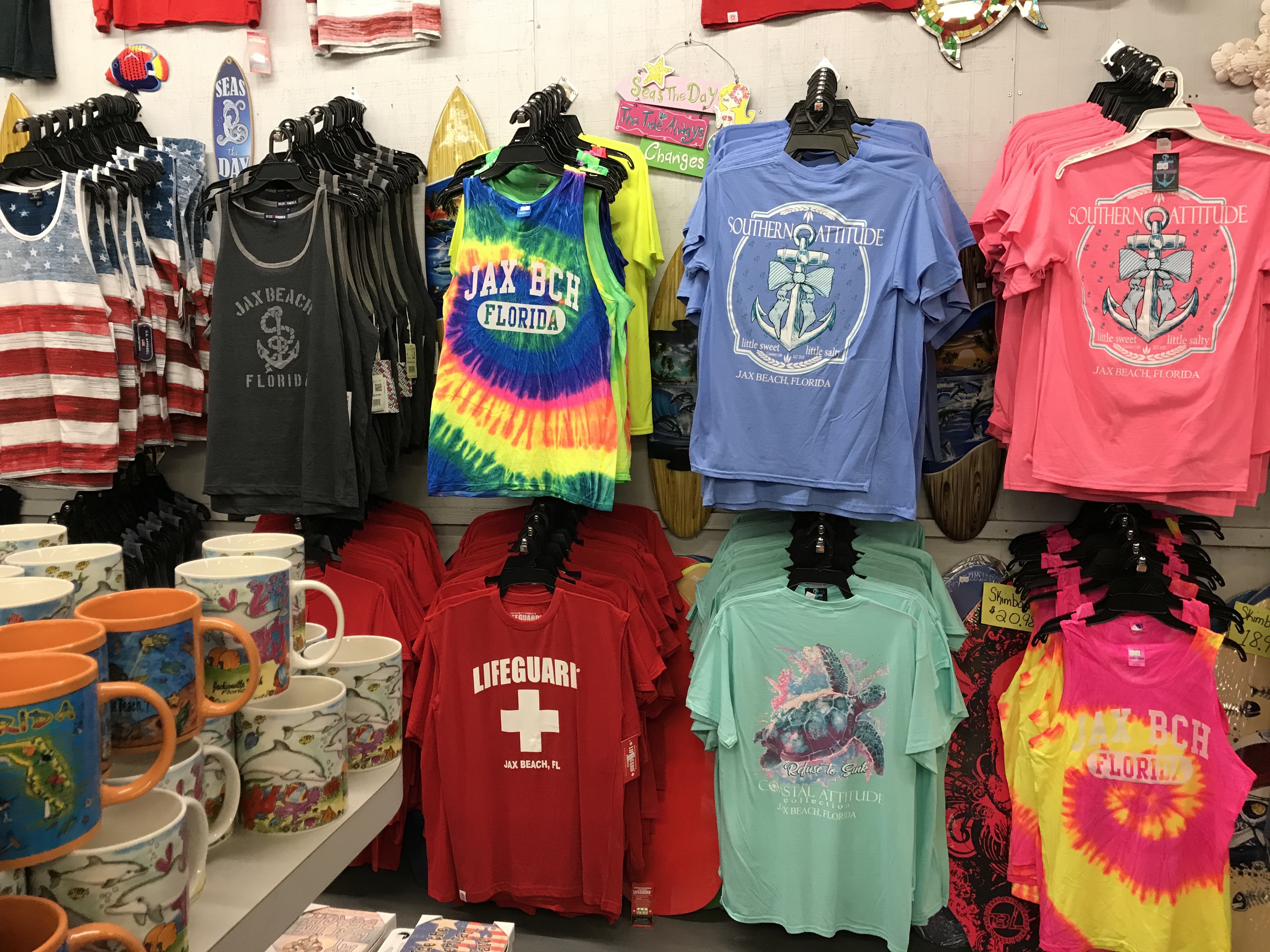 Southern Attitude t-shirts are among the higher end apparel items here. There were also nice shirts for $17 that didn't shrink but the all-cotton shirts for $7 shrank quite a bit. We also got a fun little boogie board for $15.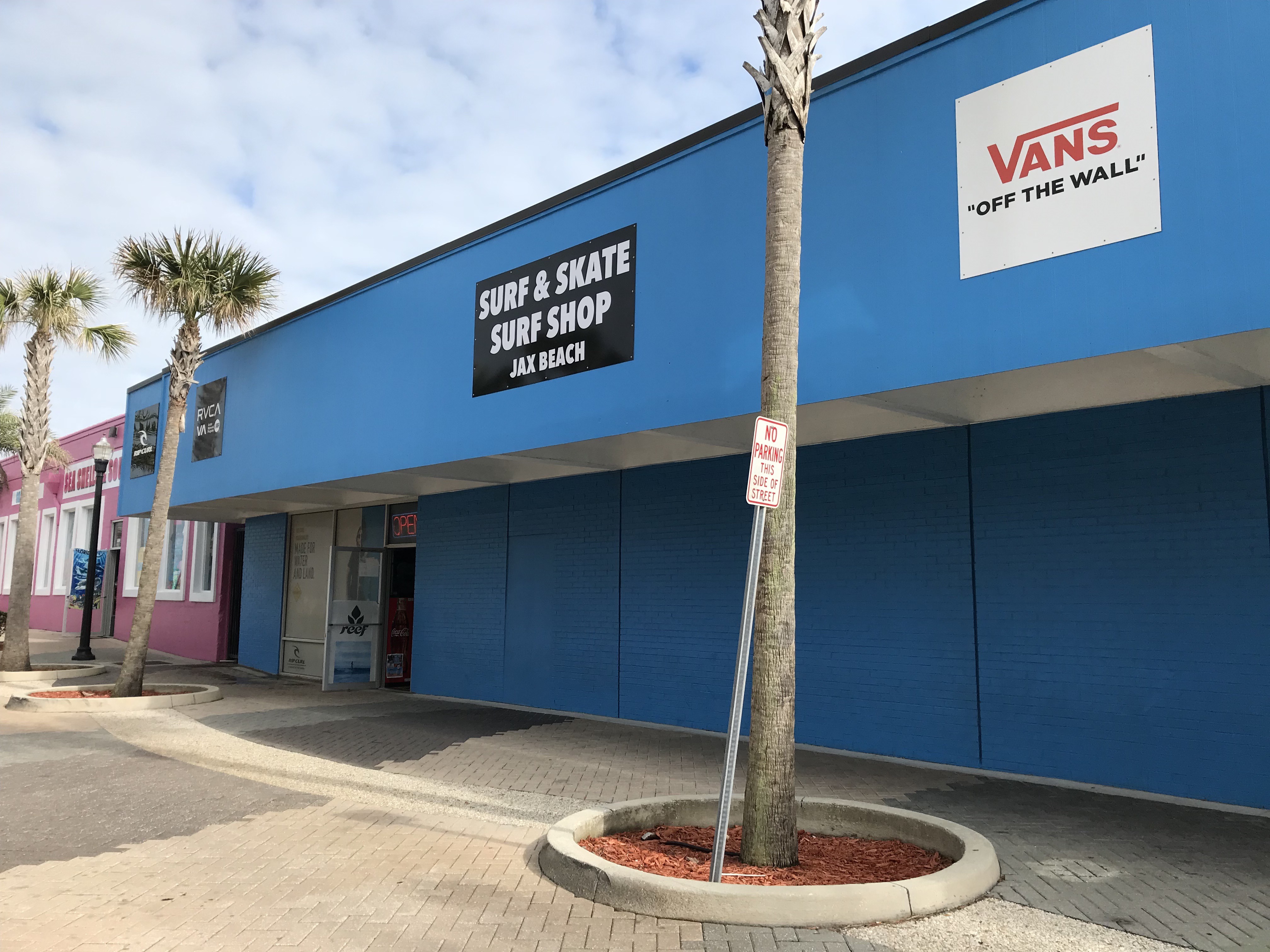 The name of this store--Surf and Skate Surf Shop--says it all. This shop is owned by the folks at Seashells, but there is very little overlap in merchandise.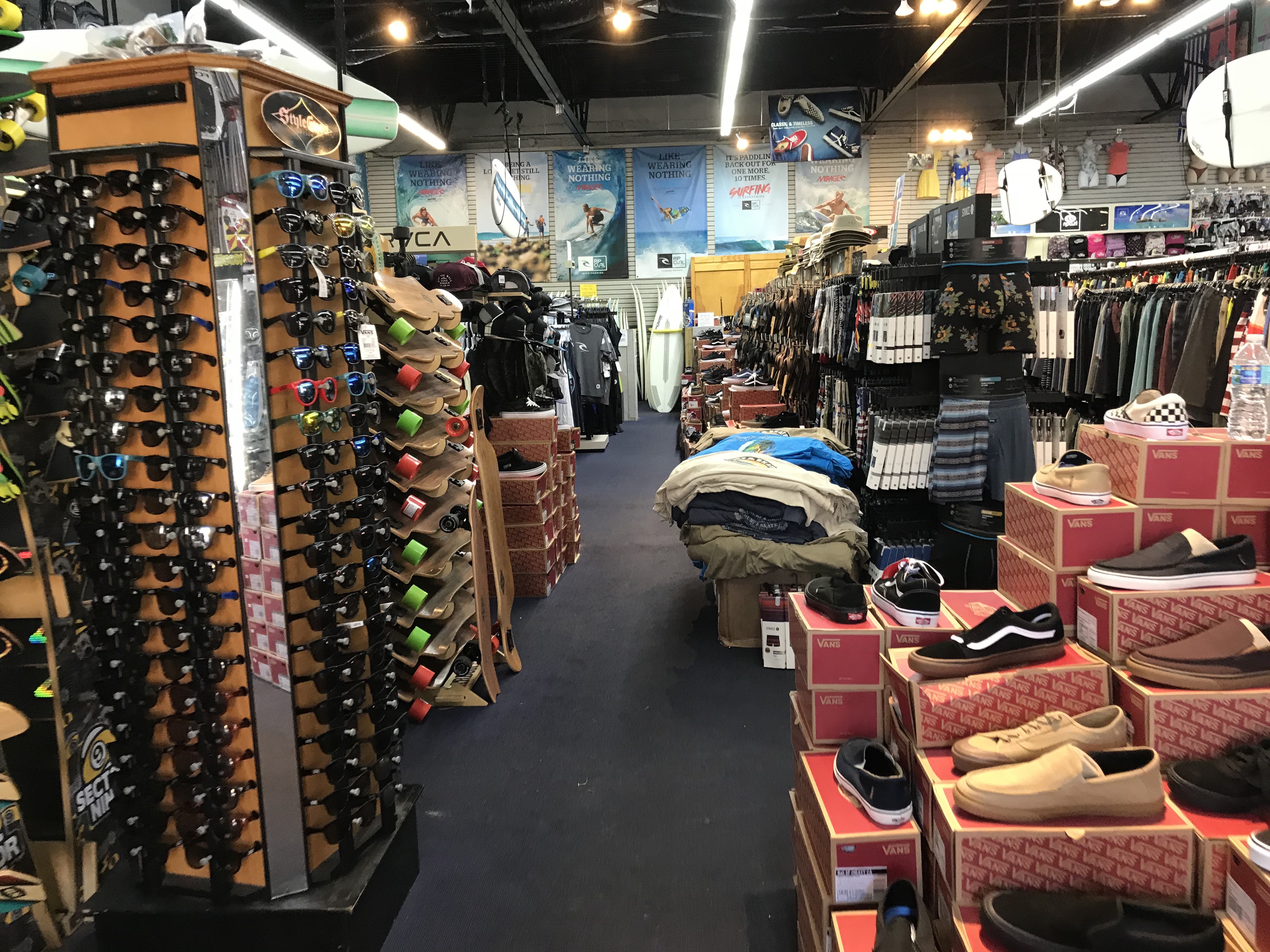 This high-end shop caters to trendy surfers and skateboarders and carries a huge selection of Vans shoes. There are other surf shops nearby; the staffers at this one are very good.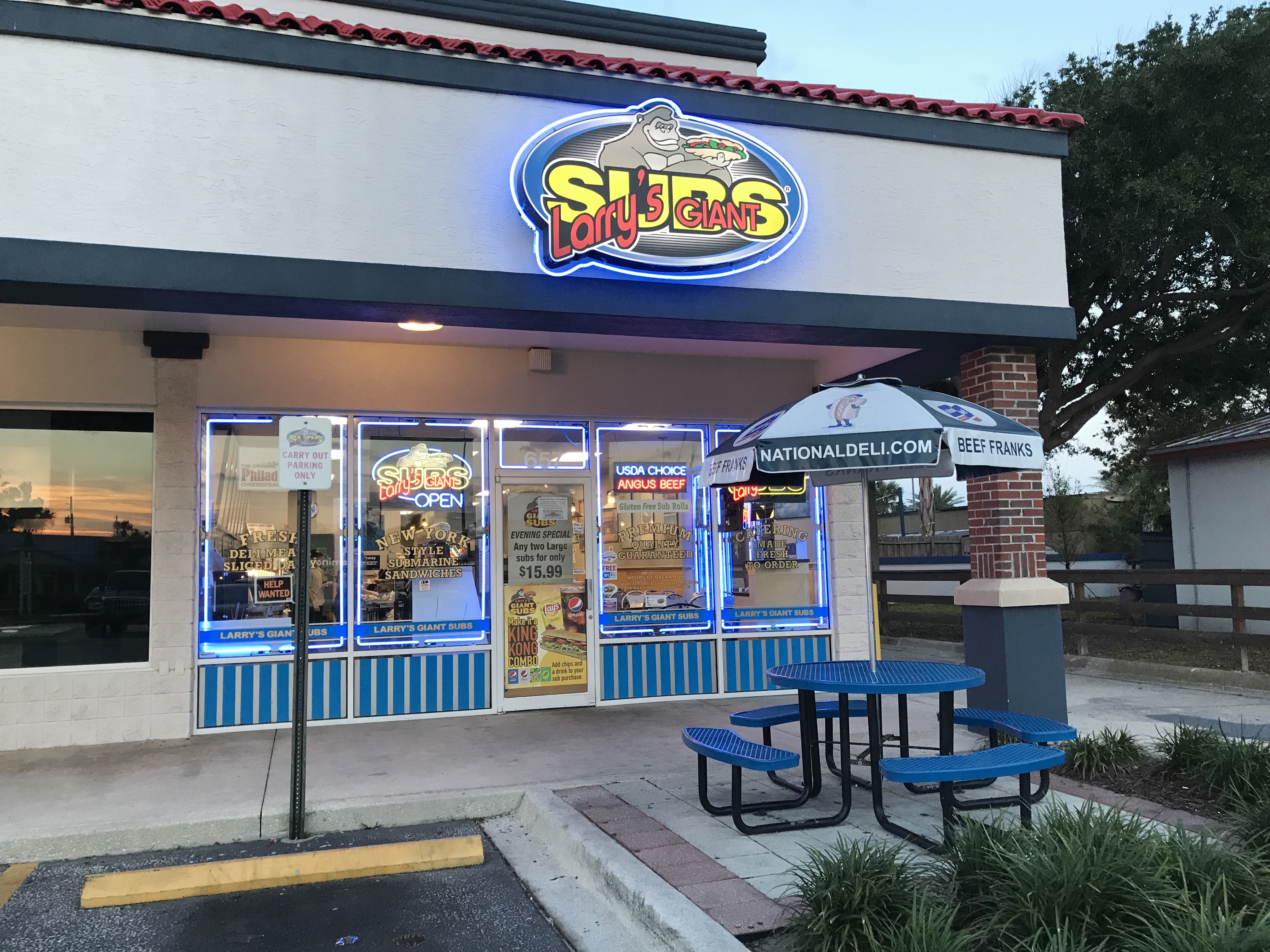 After buying t-shirts, taffy, and a boogie board, it was time for dinner. We didn't want a huge meal, so we headed to Larry's Giant Subs at 657 3rd Street North. Larry's, founded in Jacksonville in 1982, has 63 locations nationwide now.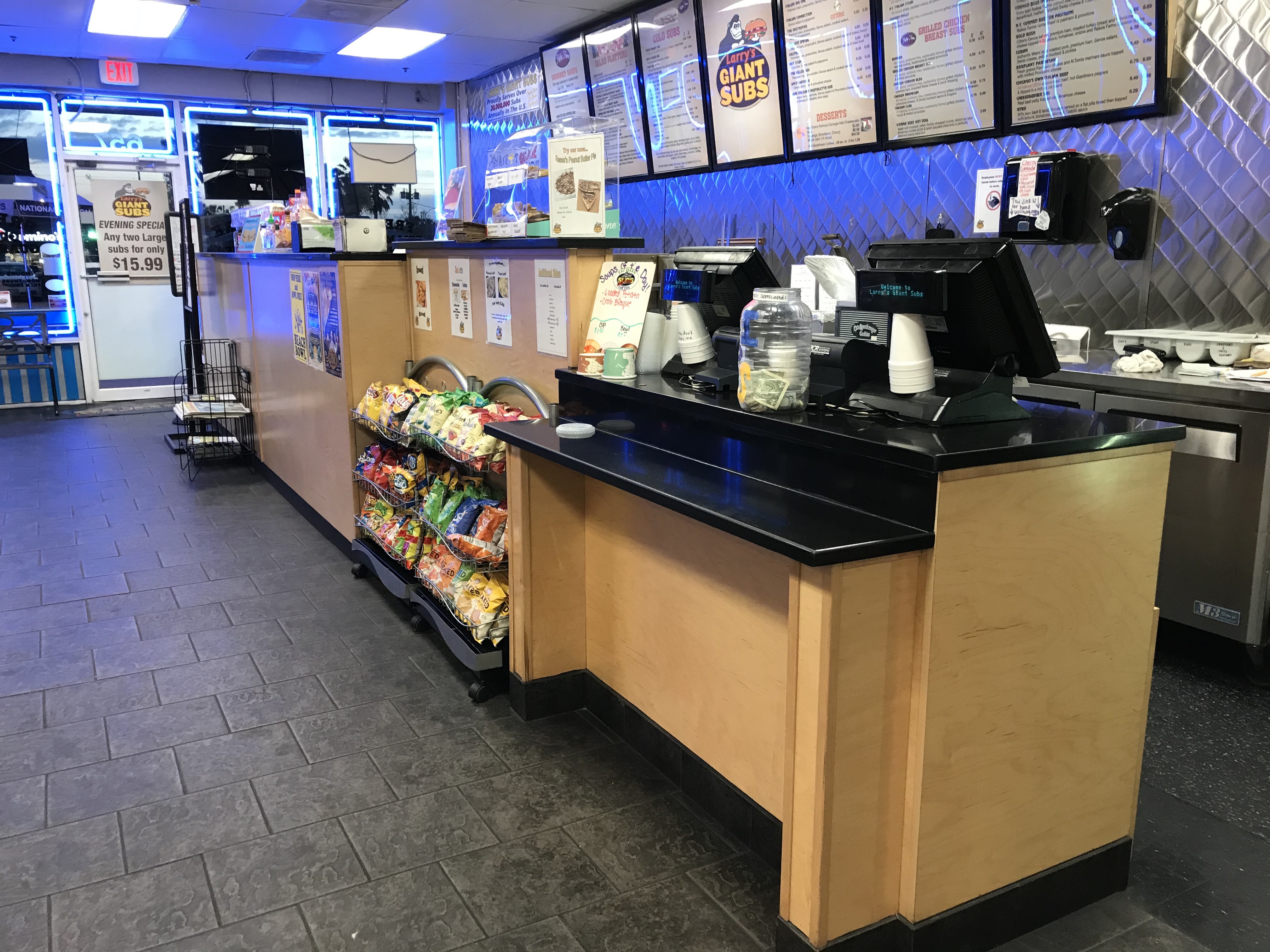 it's about 7:30 pm. A few customers are trickling in, as it's pretty much past the quick-eats weeknight dinner hour. This store is clean and smells wonderful, and the service was good. There is a lot of New York City memorabilia here.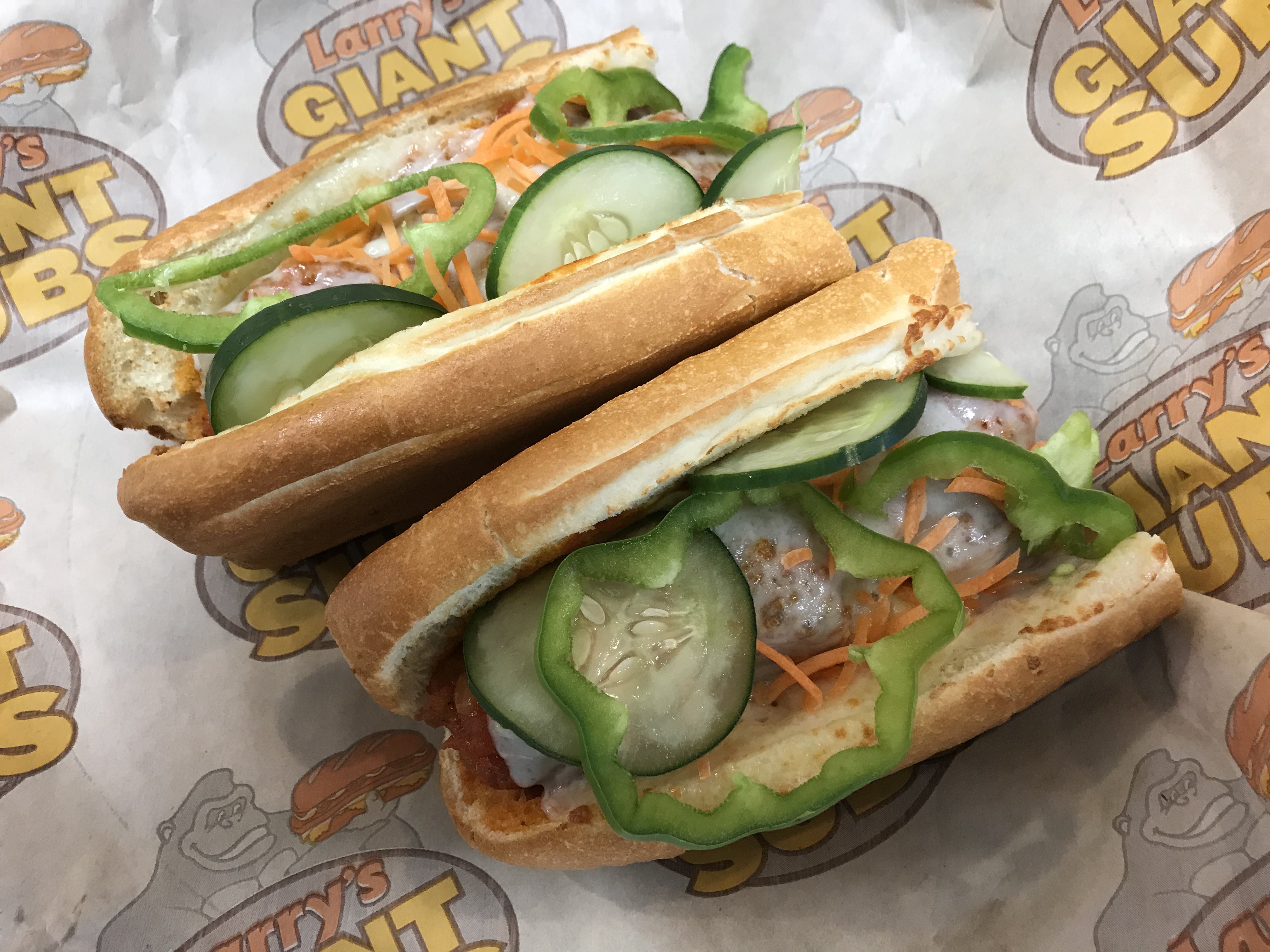 We ordered two giant subs, a meatball and a ham & cheese, plus a gyro, and the total was $29.91 for dine-in. The meatball sub was $8.69, the ham sub was $8.59, and the gyro was $6.29. Two medium fountain sodas were purchased at $2.19 each.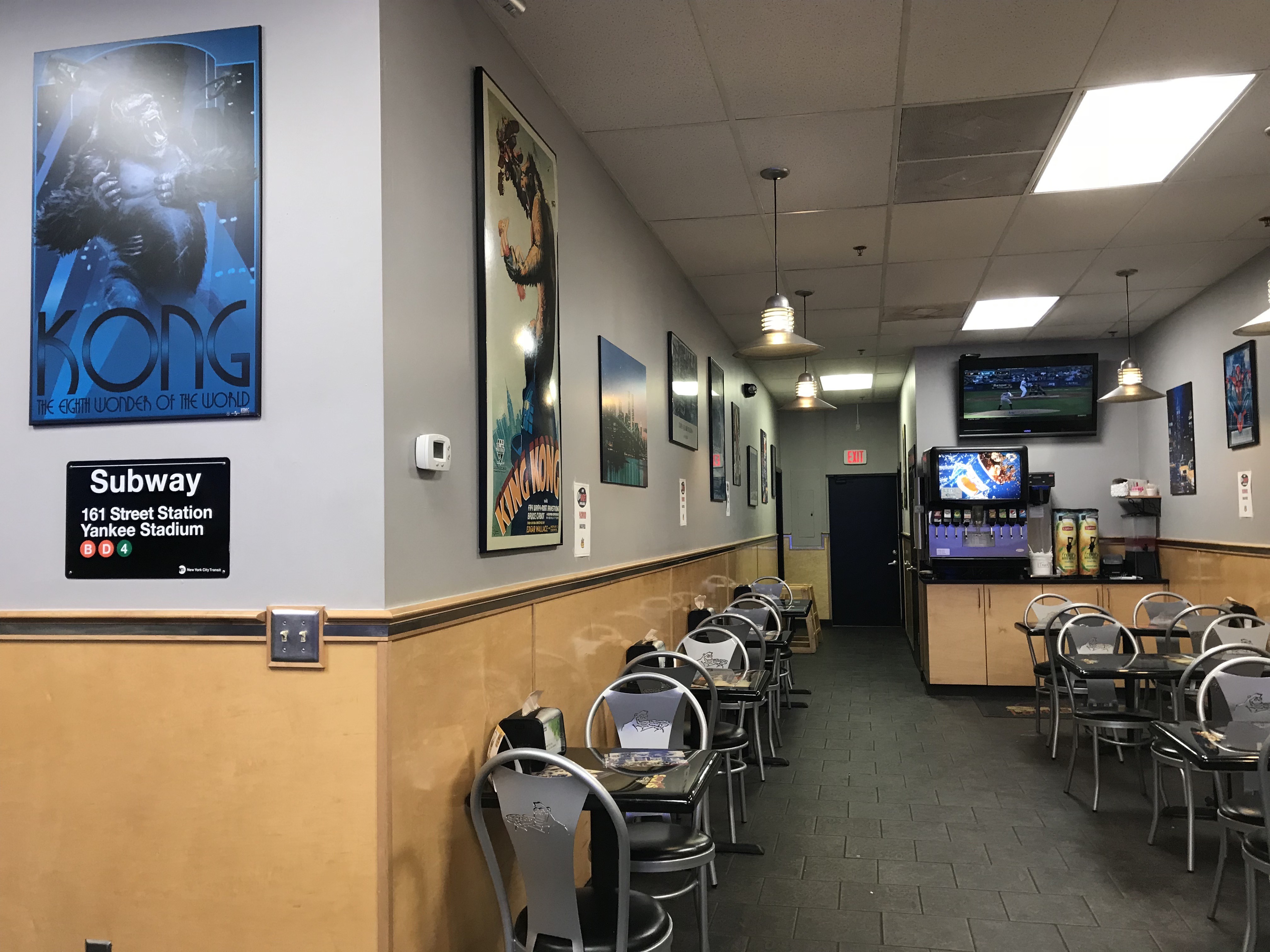 One last look around at Larry's before we head back to the hotel for chocolate chip cookies. We have to leave tomorrow morning for our two-day drive back to Ohio, but we'd like to eat here again if we come back to Jax Beach.