Jacksonville Beach Hoptinger's Bier Garden, Florida
Hoptinger Bier Garden & Sausage House in Jacksonville Beach, Florida, is an indoor, full-service restaurant sitting right at the intersection of cost and quality. Ready to head inside after a day in the sun? Go to Hoptinger's; just walk right in from the beach. There's also plenty of parking for cars.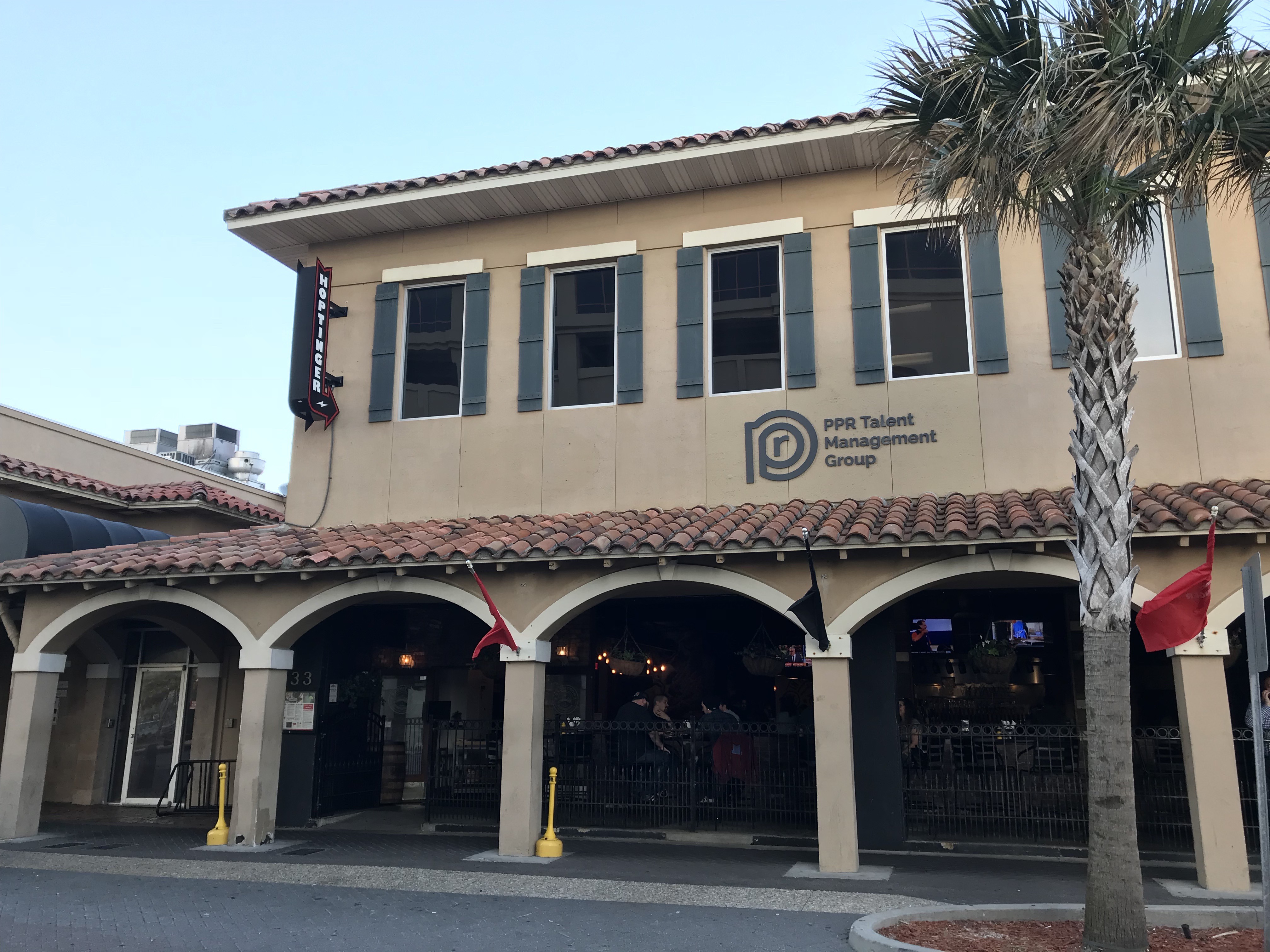 Hoptinger's in Jacksonville Beach is located at 333 1st Street North, which is two blocks east of the A1A Highway. It is also two blocks south of the pier, which has a good-sized parking lot.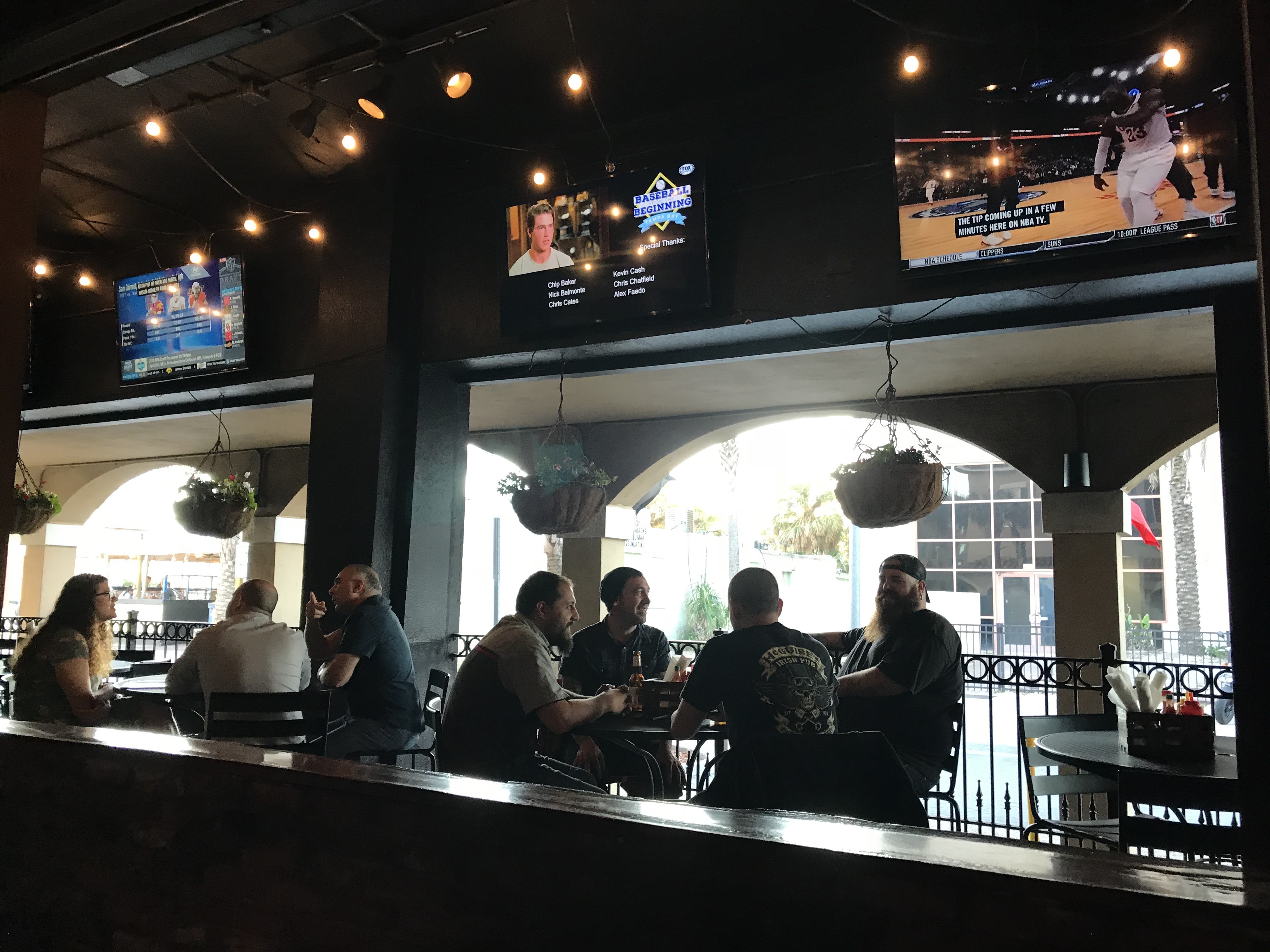 The patio filled up nicely on warmer evenings during fair weather, even during the week. Though not pictured here, the hostess stand in the front doorway has a big red box of Milk Bone dog biscuits for all the best friends that come by.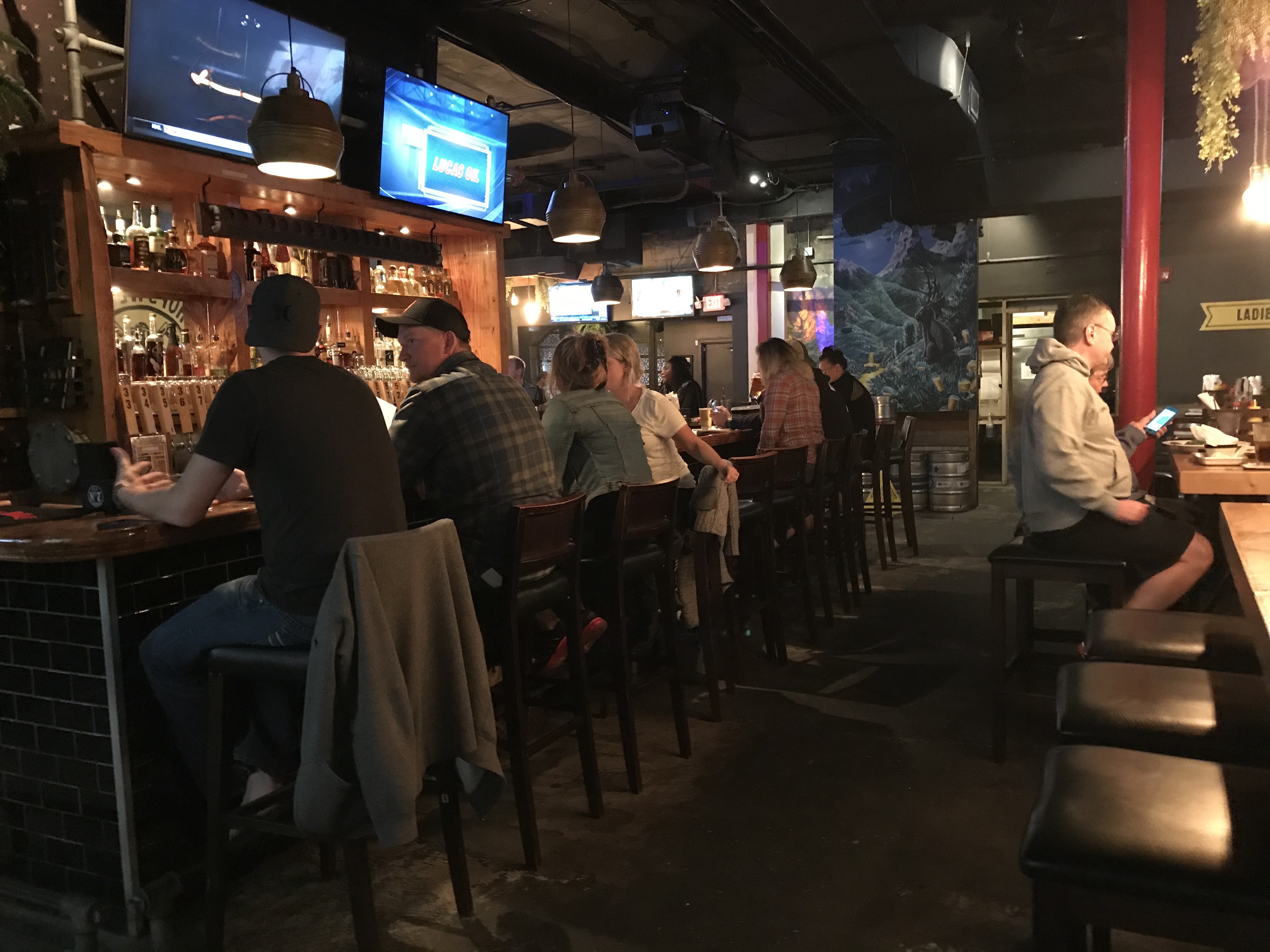 This combination pub and beer garden has a full liquor bar and 62 revolving craft beers on tap. Hoptinger's was founded in 2014 and has three locations: Five Points, St. Augustine, and of course, Jacksonville Beach. These images are from March 26 and March 28, 2018; Monday and Wednesday evenings.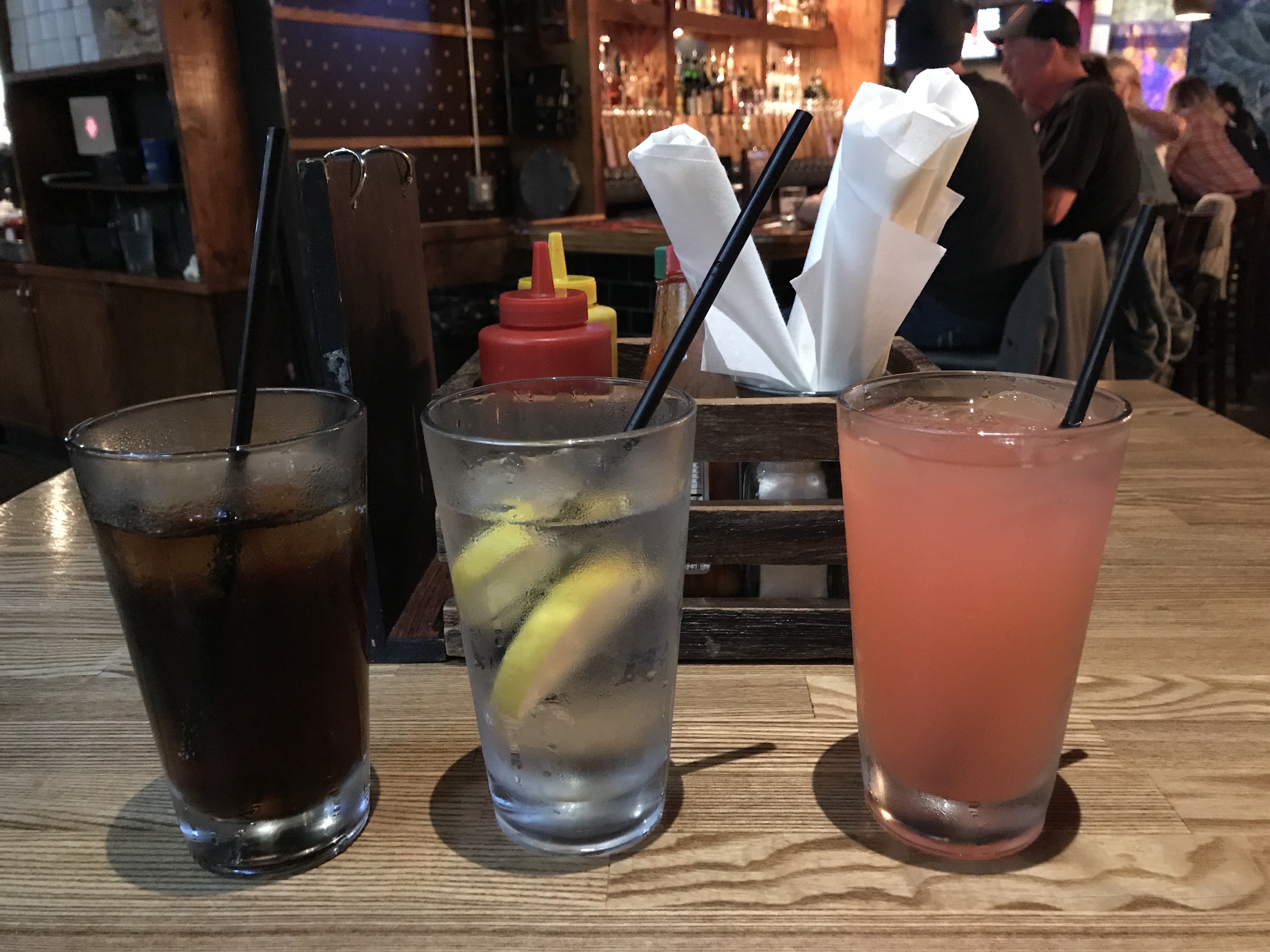 Soft drinks at Hoptinger's are only a buck-fifty with free refills. I myself ordered water with lemon and received several big wedges to squeeze into my glass.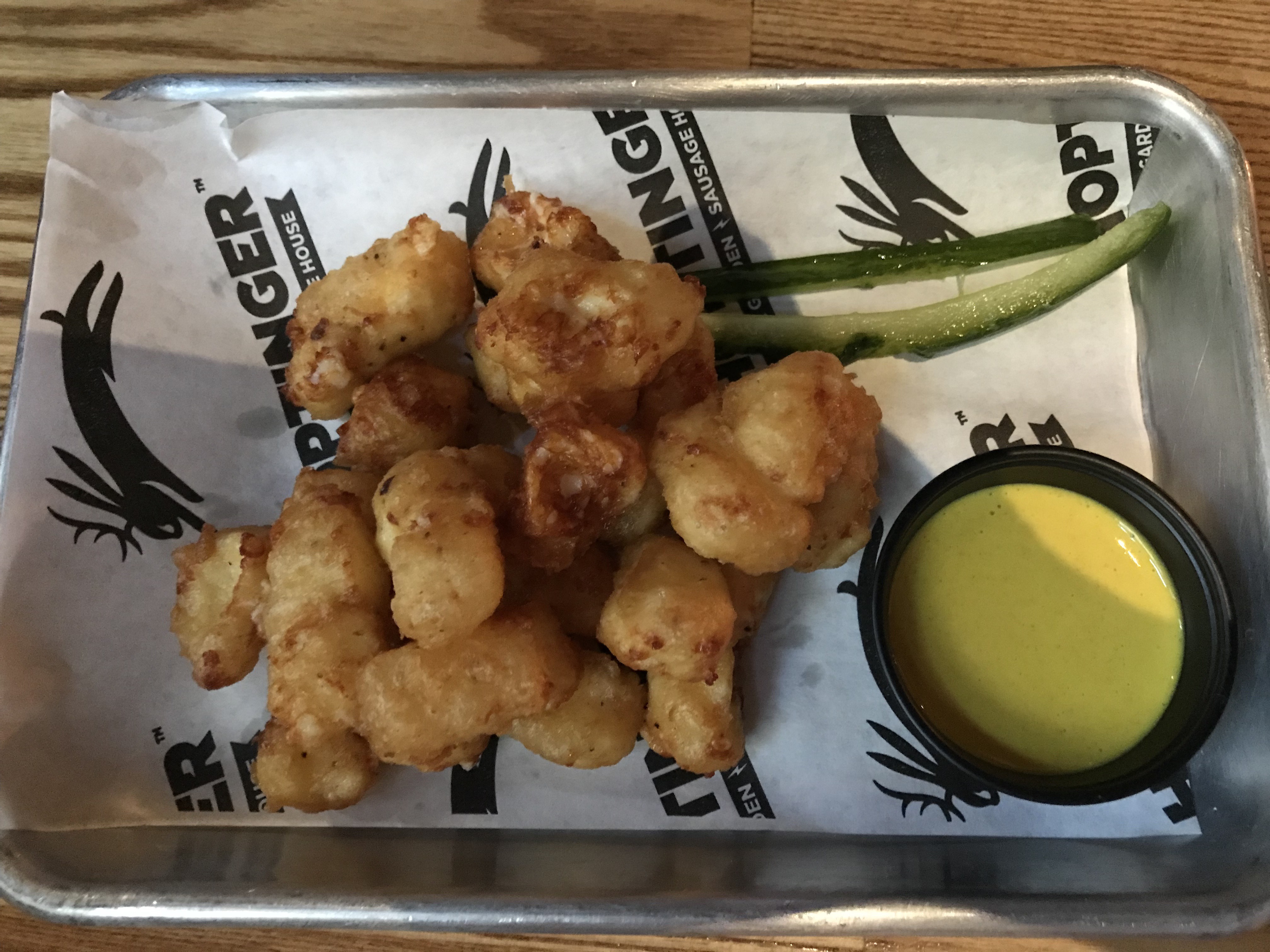 The cheese curds were hot, crispy, crunchy, and cheesy. Called "cheeseheads" on the menu, these Wisconsin cheddar bites were $6 ($3 during happy hour) and came with lager mustard dipping sauce.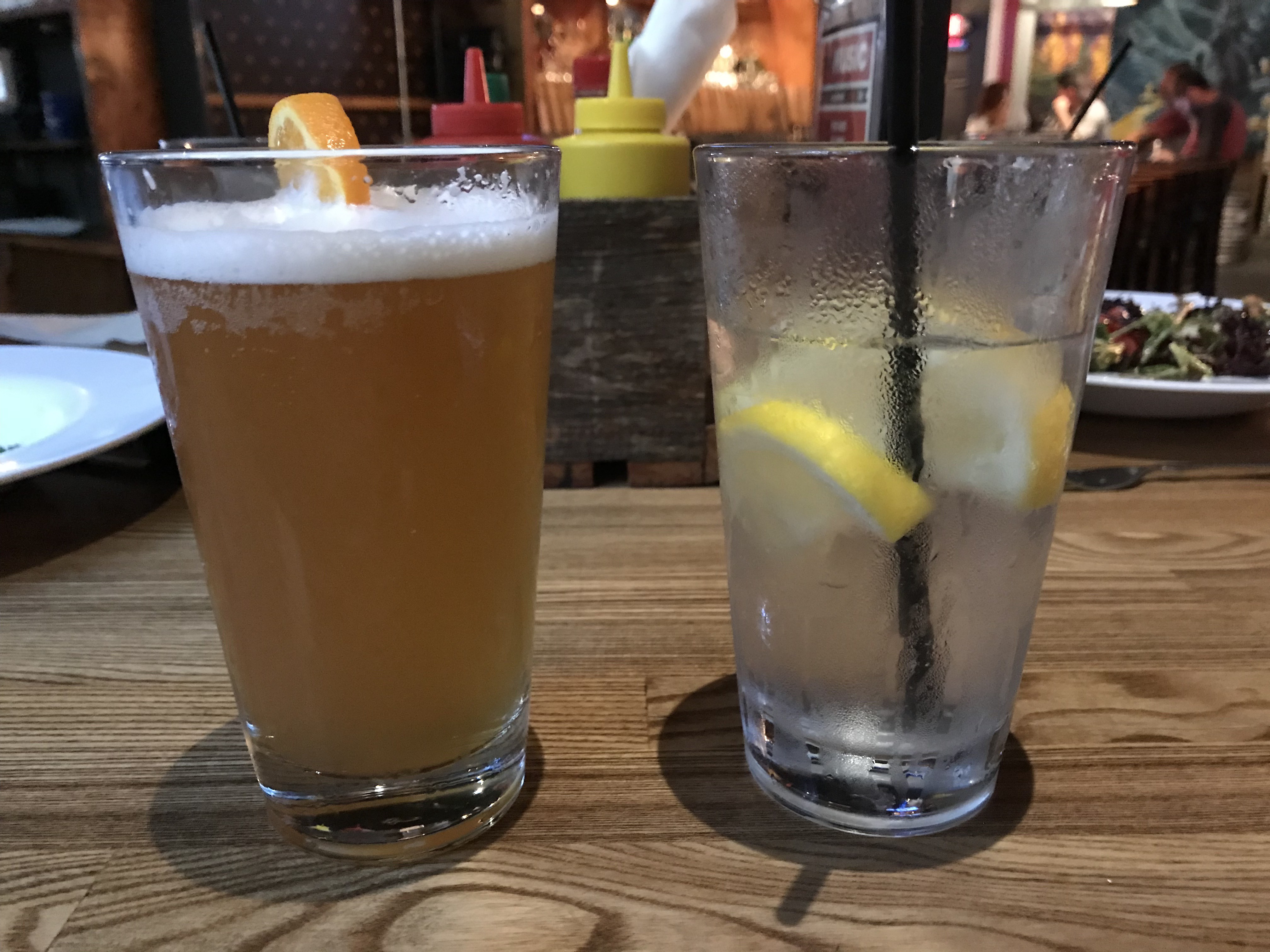 This is the Moon Lager, and our only service hiccup during our visits to Hoptinger's. Beer is $3 during happy hour, but the original beer ordered was out, but the waitress forgot to tell us, momentarily resulting in no beer. Quelle horreur!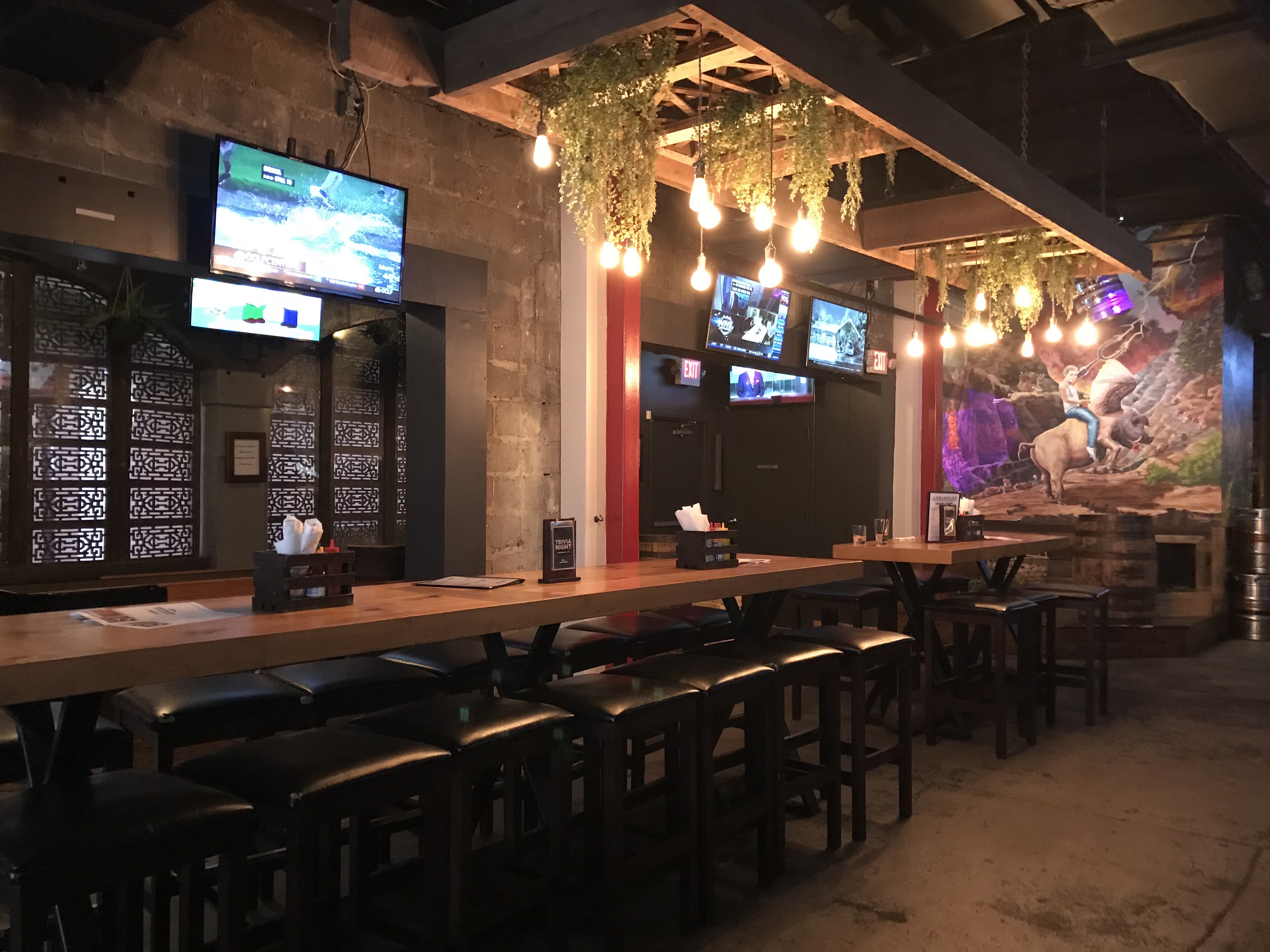 When we arrived on Wednesday, this table was reserved for a large gathering, reflecting the spirit of the bier garten. Looking at the mural at the right will set your mind whirling, if you ponder it for too long. Apparently, it is a scene from the kingdom of Bruvania, a land of beer and hops.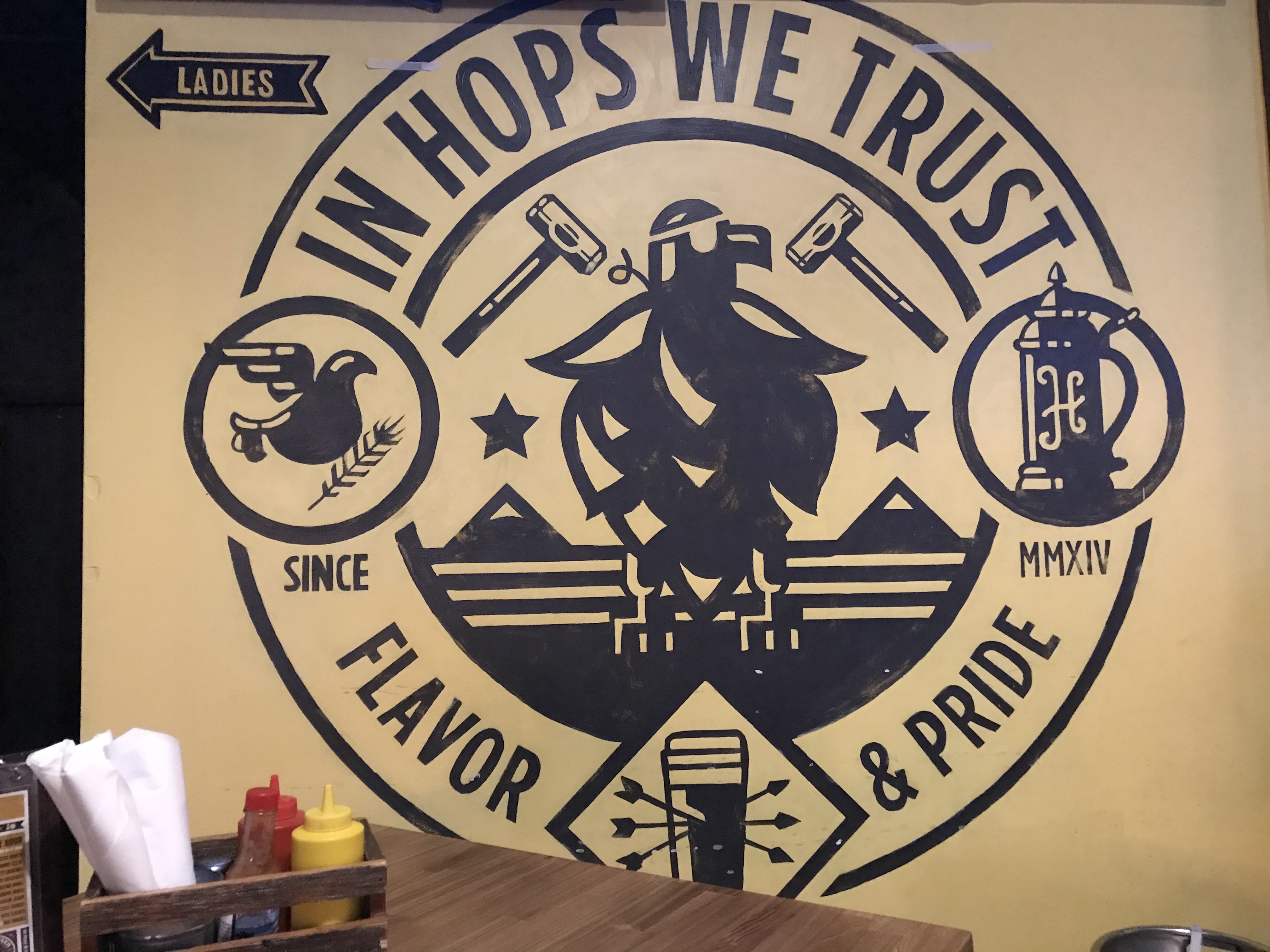 A "Hoptinger" is a "rabbit-like creature with wings and fangs." You can't make this stuff up . . . or maybe you can. Legend has it that a retired Gulf War colonel, Colonel Falke, would enlist the Hoptinger bunnies to save Bruvania from Evil Count Mundger and his pigataur minions.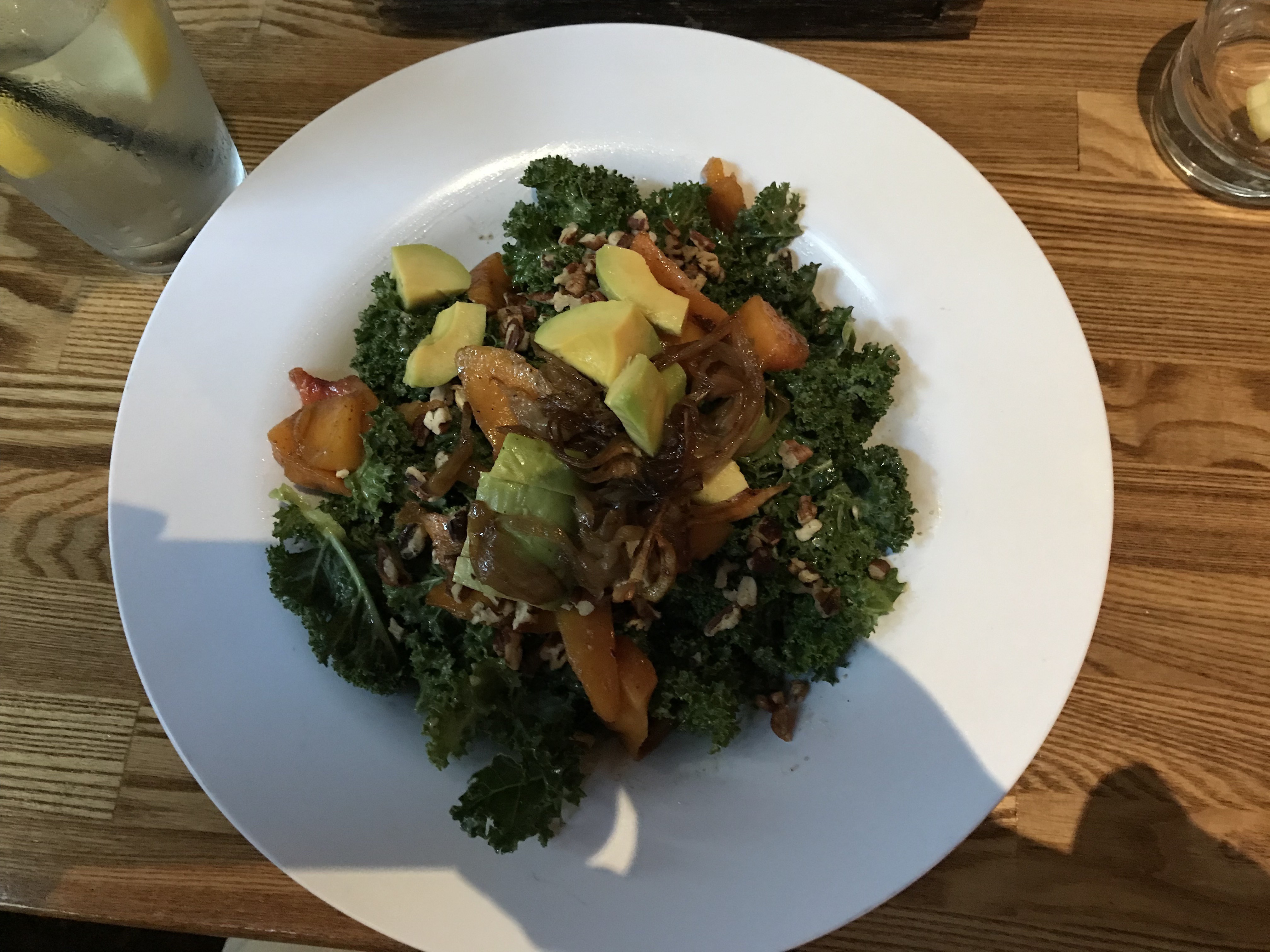 Not sure about the legend, but the salads were good. This is the roasted peach and avocado salad at $6.50. We also had the garden salad at $6.00. Each salad was large and had plenty of dressing and was delicious.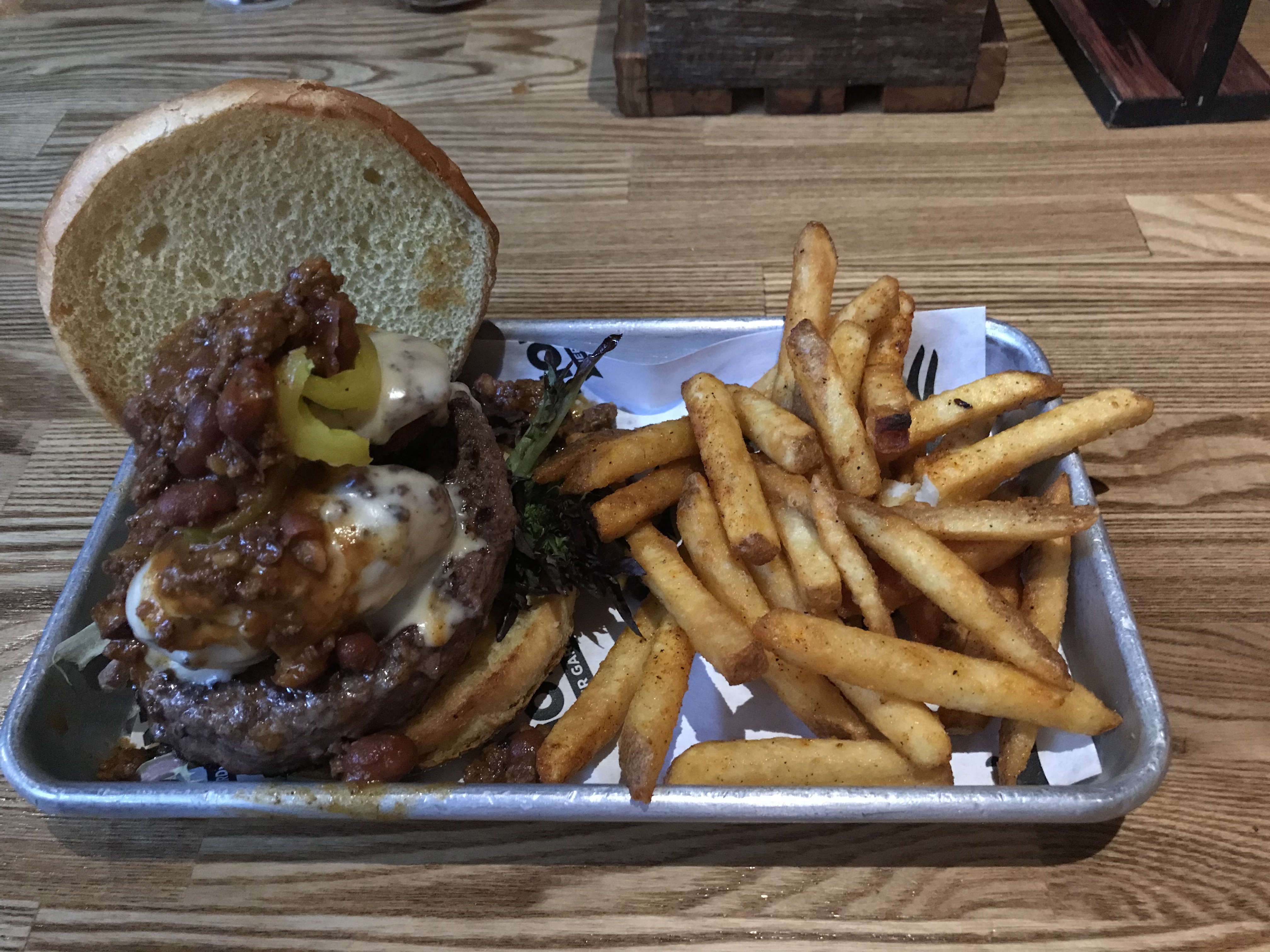 All of the burgers at Hoptinger's have funky names. The $13 Bang-a-Rang burger's claim to fame are toppings of jalapeno peppers filled with cream cheese and banana peppers. For an extra $1, you can "make it sloppy," with chili.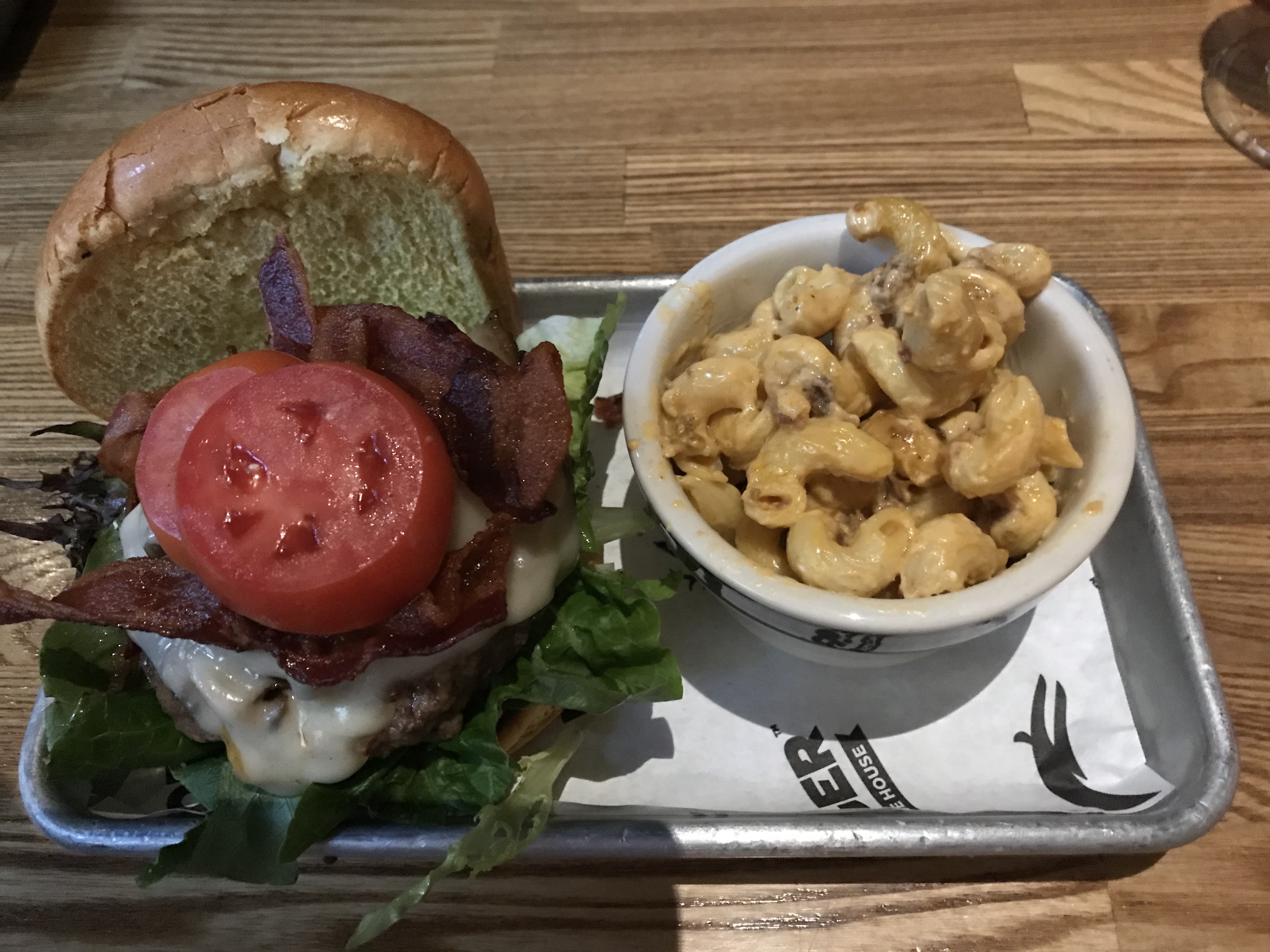 Even when cooked to well done, this Rocky Balboa burger was well done. It was "Philly style," with sauteed onions, mushrooms and Swiss cheese, plus lettuce, tomato, bacon and garlic aioli. You can get Mac n Cheese (with chorizo) instead of fries.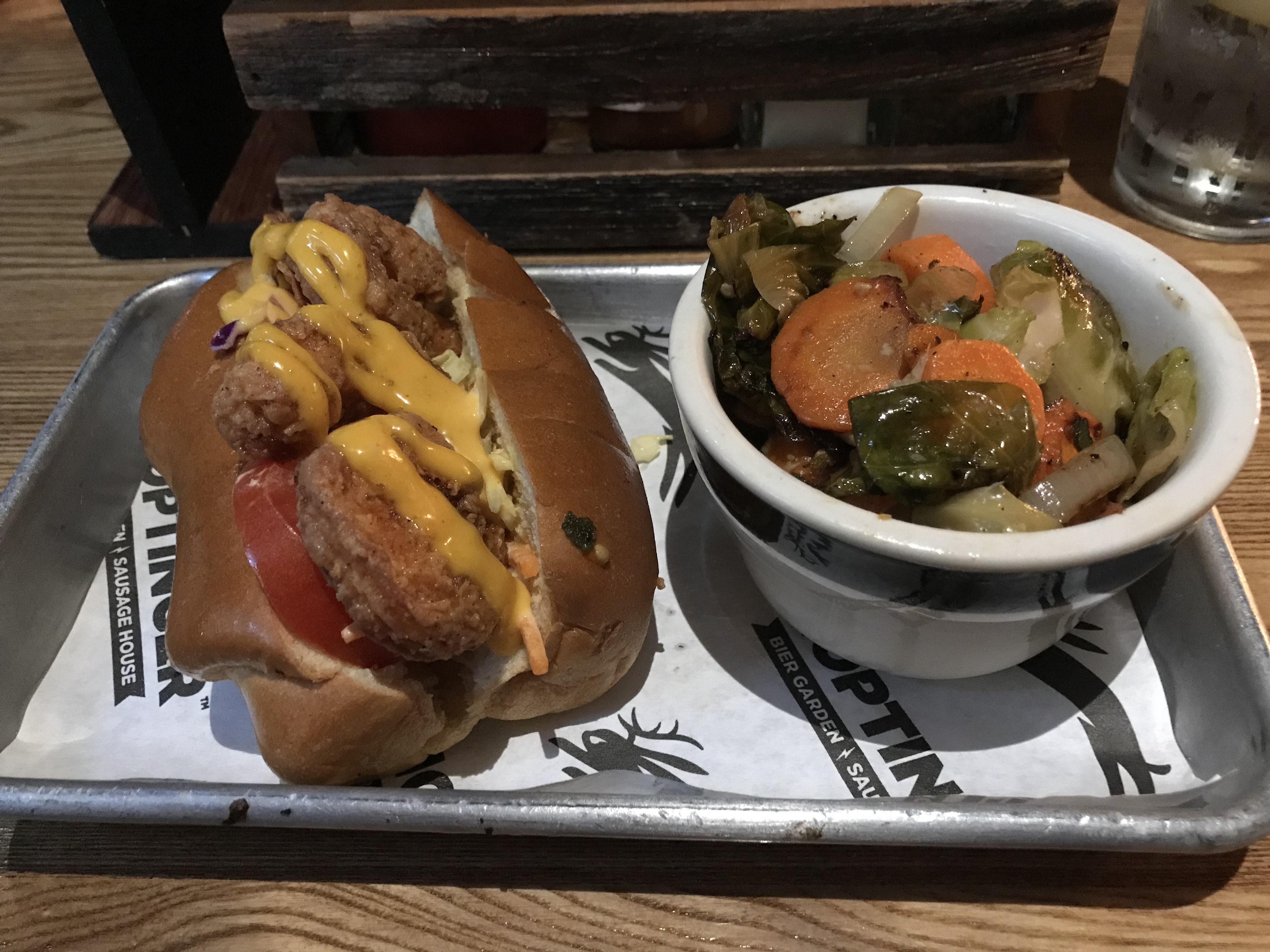 The $12 shrimp po boy sandwich is drizzled with a sweet and spicy aioli. The beer-battered shrimp sit in a potato roll on home-made coleslaw. There are also many styles of wurst sausage here, including beefwurst.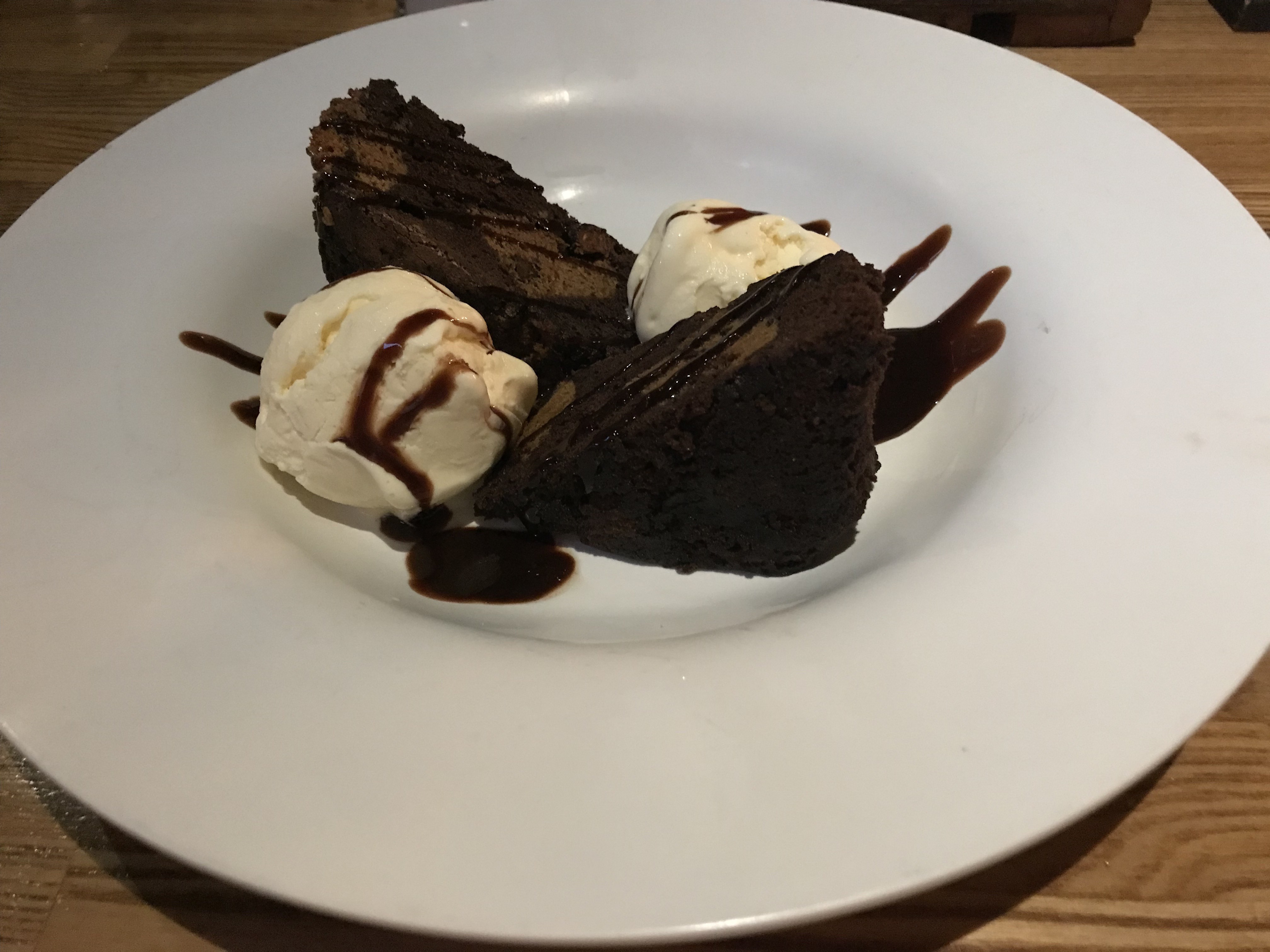 The brownie cookie a la mode shown here is $7 and really is large enough for two people. Another dessert choice (which we didn't order this time around) is the blueberry bread pudding a la mode, which is a custard dish.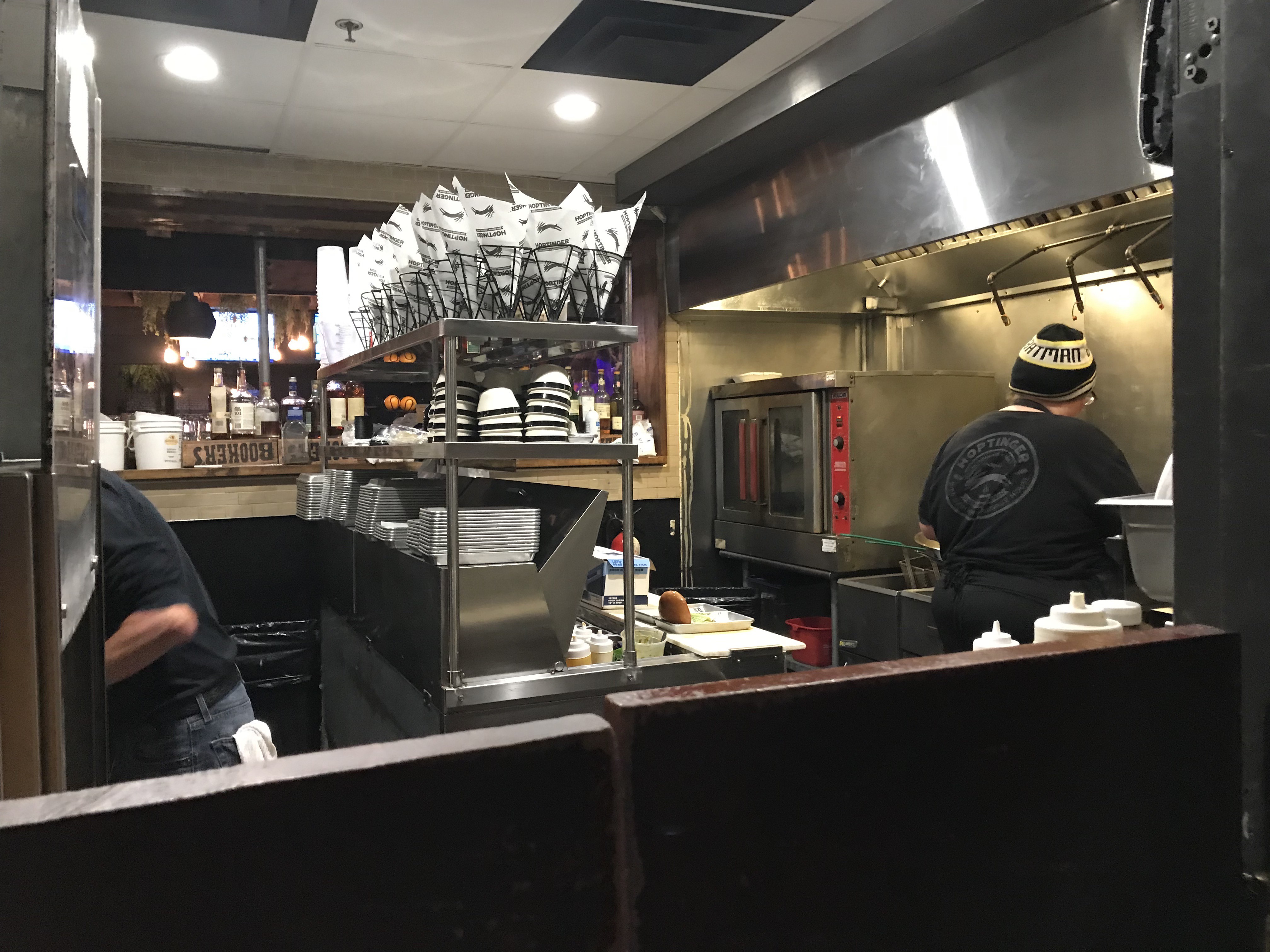 This is where the magic happens at Hoptinger's--the kitchen. Even the mustard here is magical: Jon Boat Bacon mustard, Hoptinger lager yellow mustard, Bavarian sweet mustard, and spicy German mustard, just to name a few.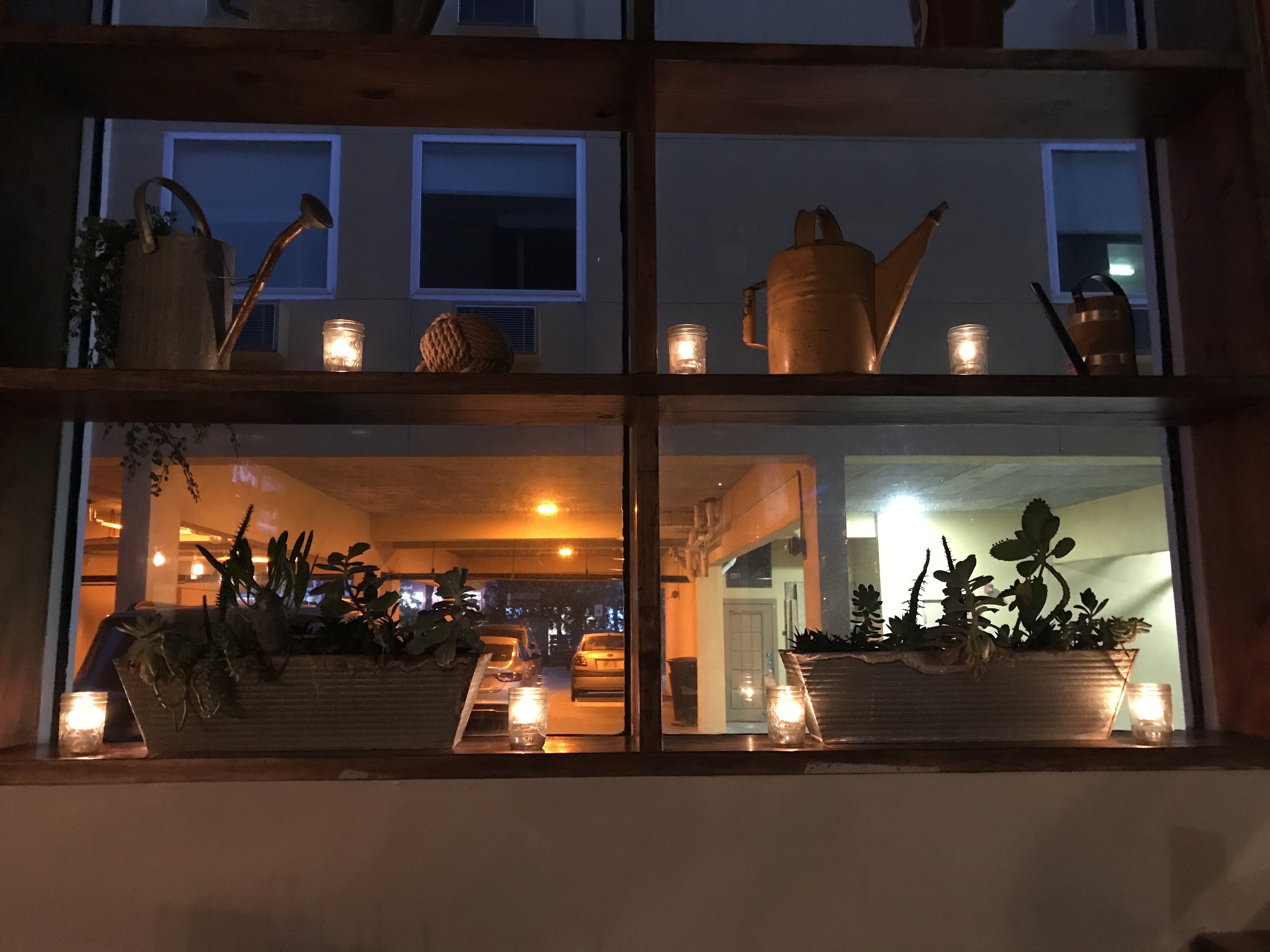 This venue does its best to re-create the atmosphere of a traditional German bier garten in a big city restaurant format. Although this restaurant is somewhat loud, the candles and the cactii give the small back tables a chill vibe. This is near the kitchen.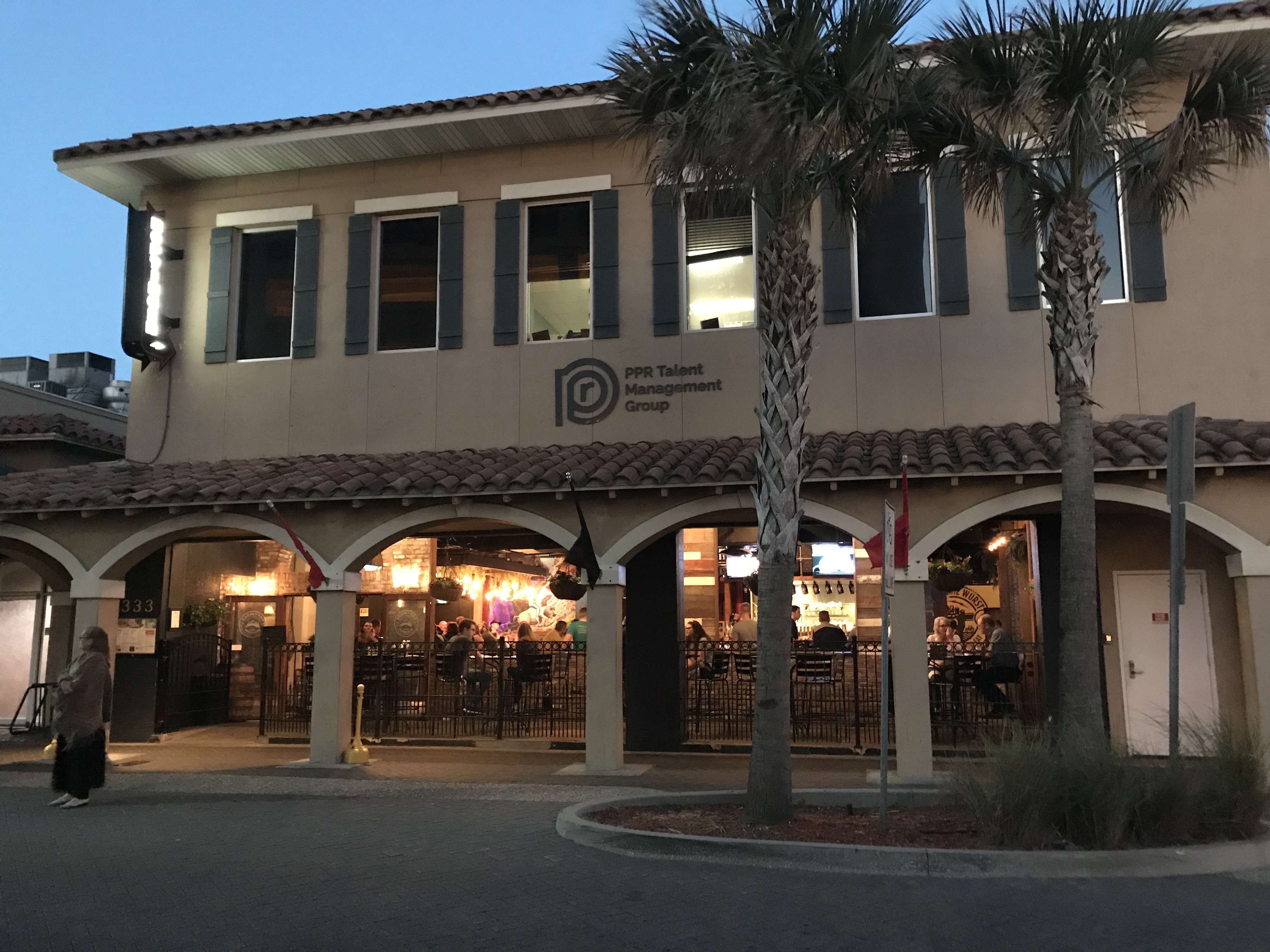 We finished our dinner and dessert at eight o'clock and stepped across the pedestrian-friendly 1st Street North to head back to our hotel on the beach. We'll watch kids play with glow-in-the-dark frisbees in the sand.