Jacksonville Beach 2nd Avenue North, Florida
Jacksonville is a huge city of 875 square miles in northeast Florida on the Atlantic Coast at St. John's River. Jacksonville Beach is a small coastal resort town with a lot of beach fun packed into a few blocks on the oceanfront.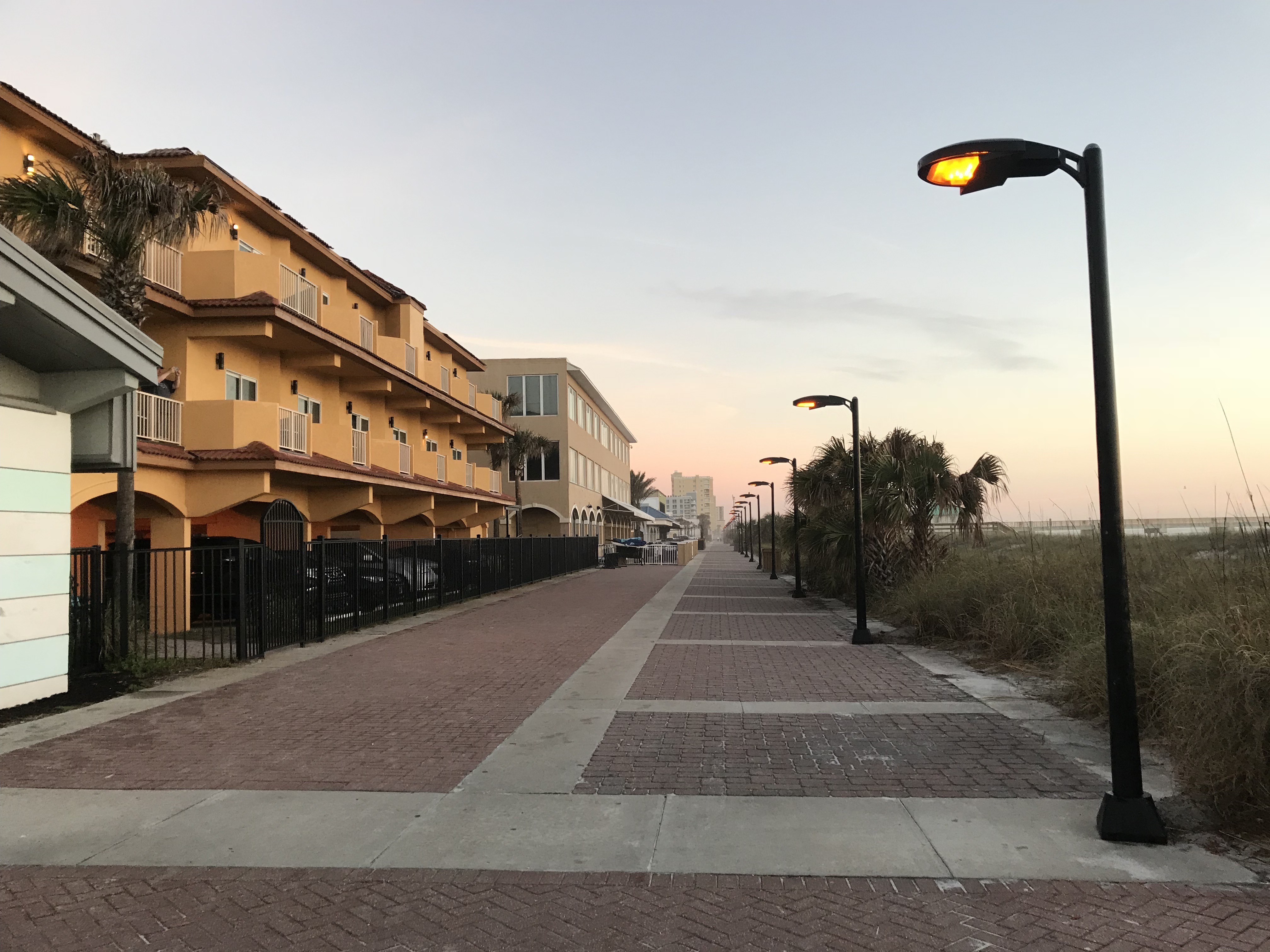 Jacksonville Beach encompasses the communities of Mayport, Atlantic Beach, Neptune Beach, and Ponte Vedra Beach. This walkway is located in Jax Beach at the intersection of 2nd Avenue North and First Street North.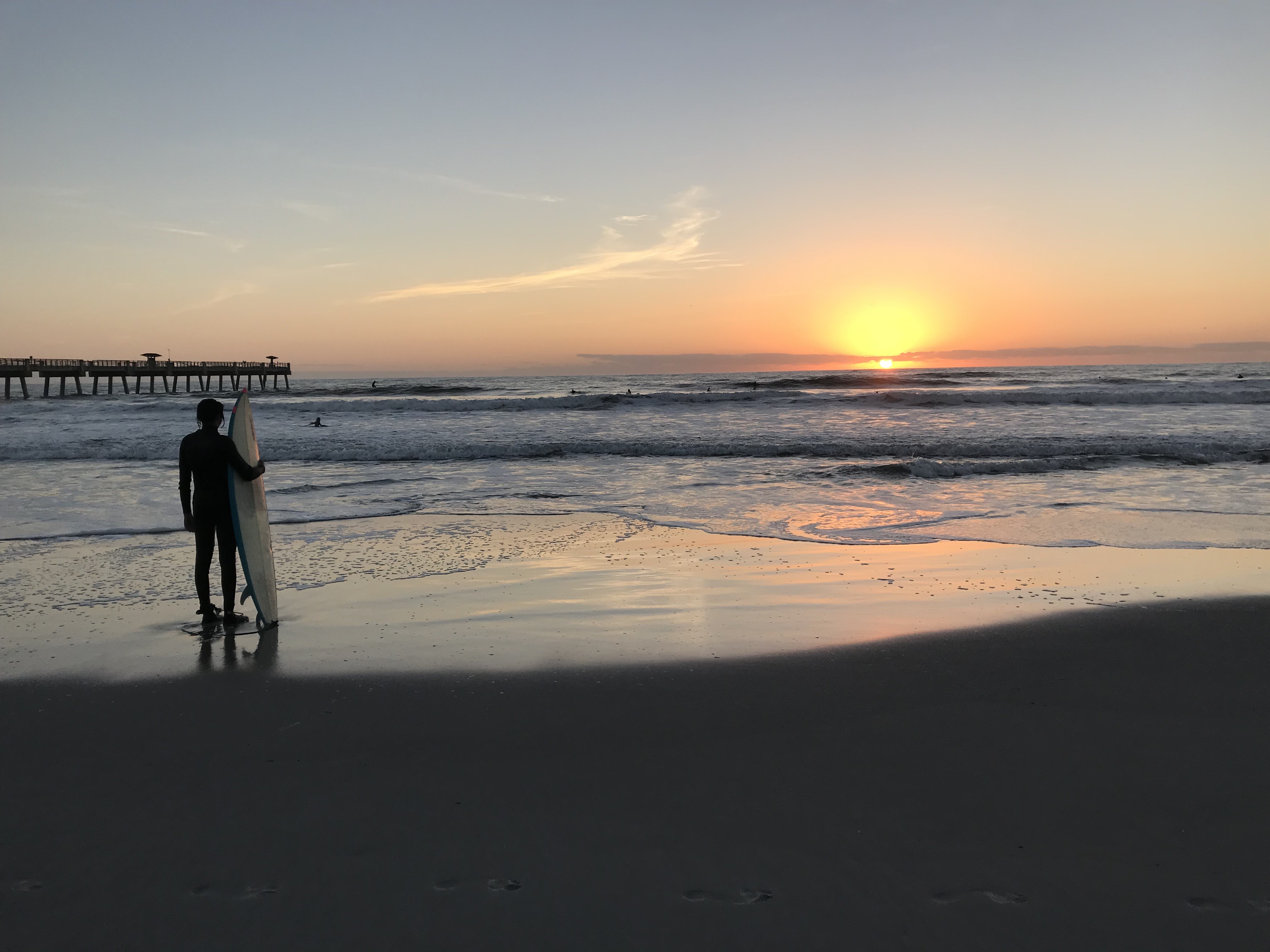 There are already a handful of surfers in the water at three minutes past sun-up on Wednesday, March 28, 2018. The Atlantic Ocean is incredibly cold this morning.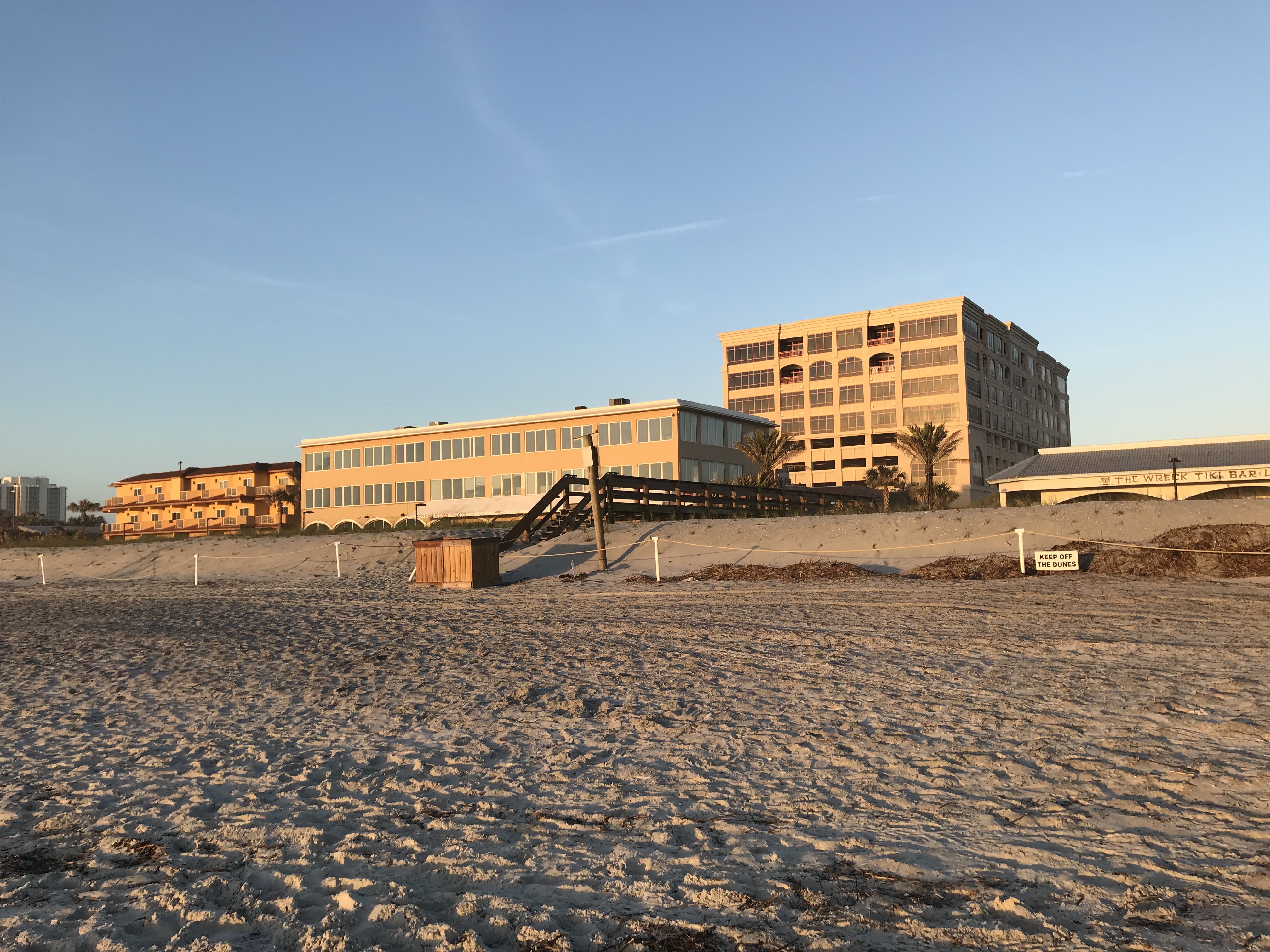 It's 7:38 in the morning on America's First Coast; the sun's been up for 19 minutes. The boardwalk leading from 3rd Street North is shown here.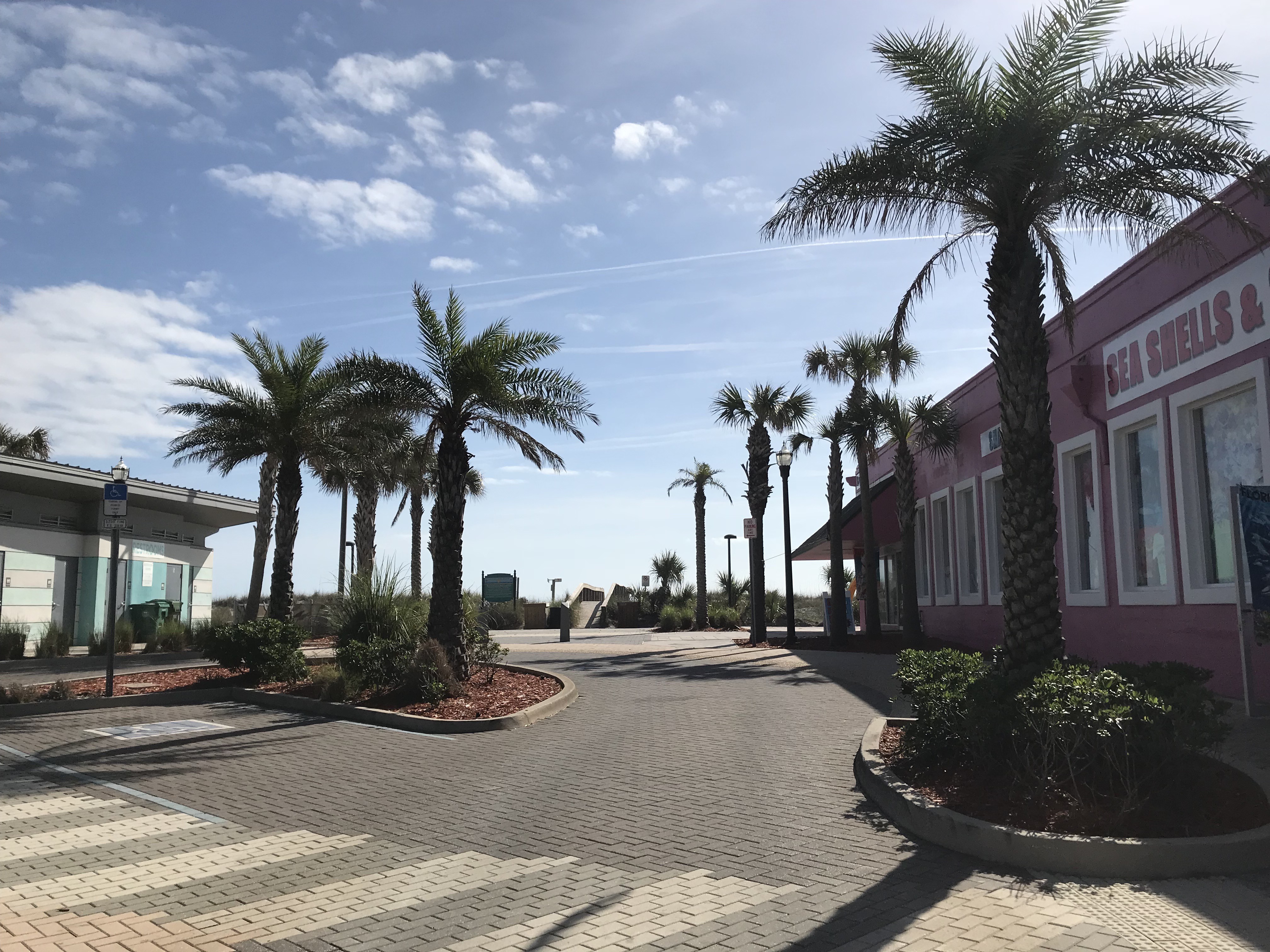 Between 9 am and 9 pm, there is a limit of two hours' parking here at the 2nd Avenue North lot. Second Avenue North intersects with 1st Avenue North behind the camera. Two blocks west is the A1A Highway (3rd Street North).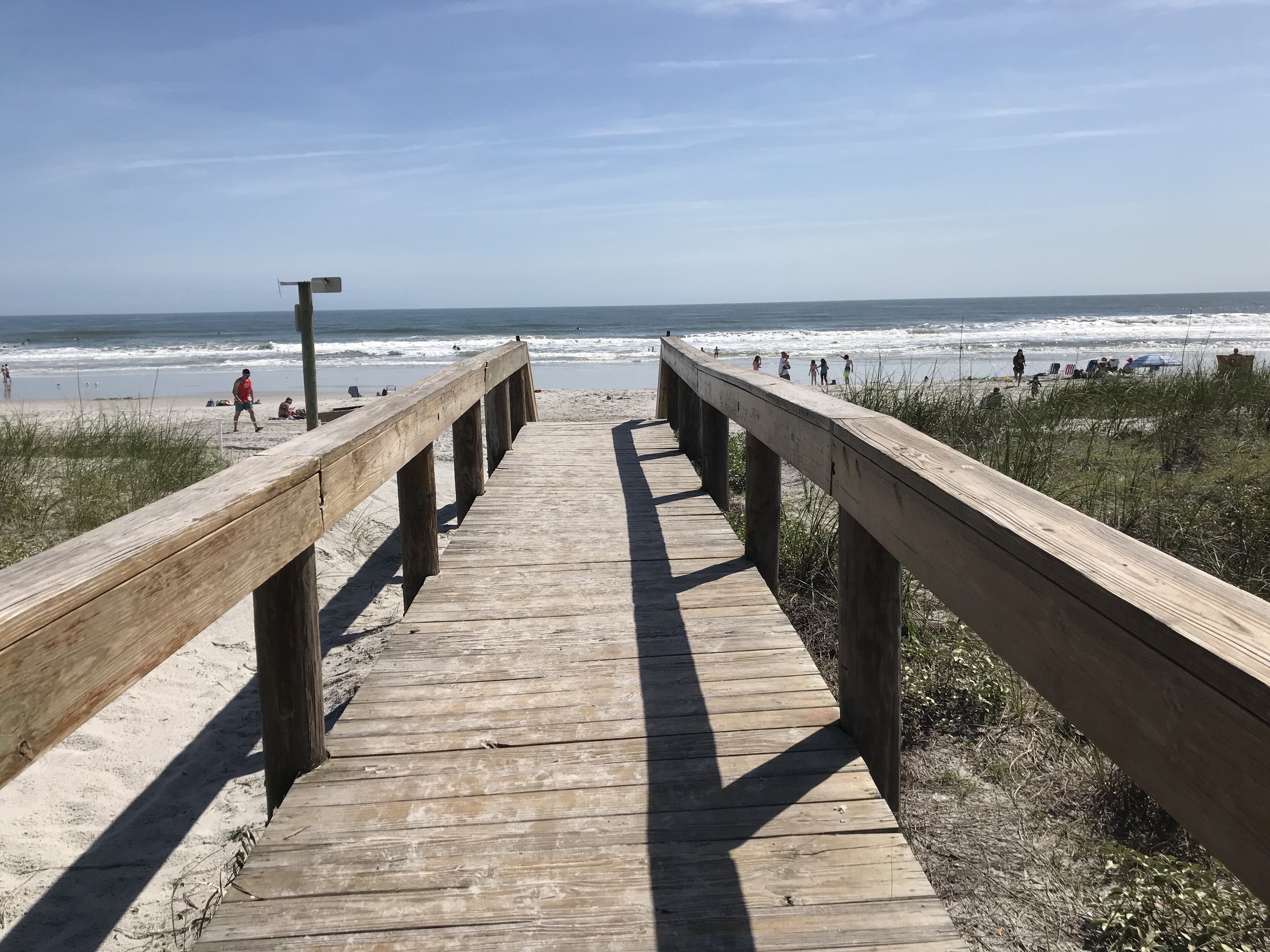 This boardwalk takes beach goers directly to the beach. There are a lot of park-like amenities right here, plus stores, restaurants and reasonably priced hotels nearby.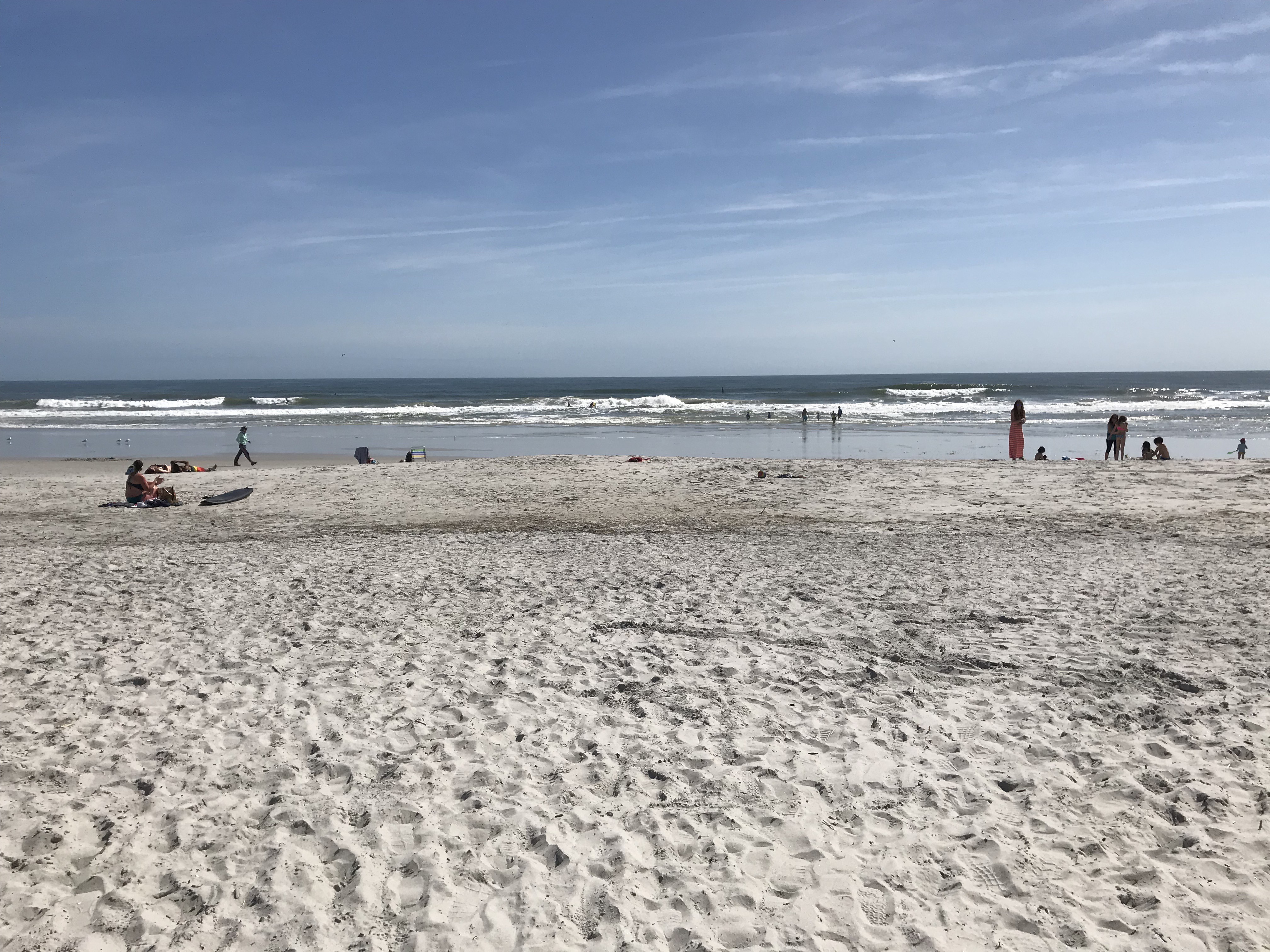 Welcome to the Atlantic Ocean. You have now arrived at a relaxing salt-water beach for a relaxing salt-water vacation in Florida.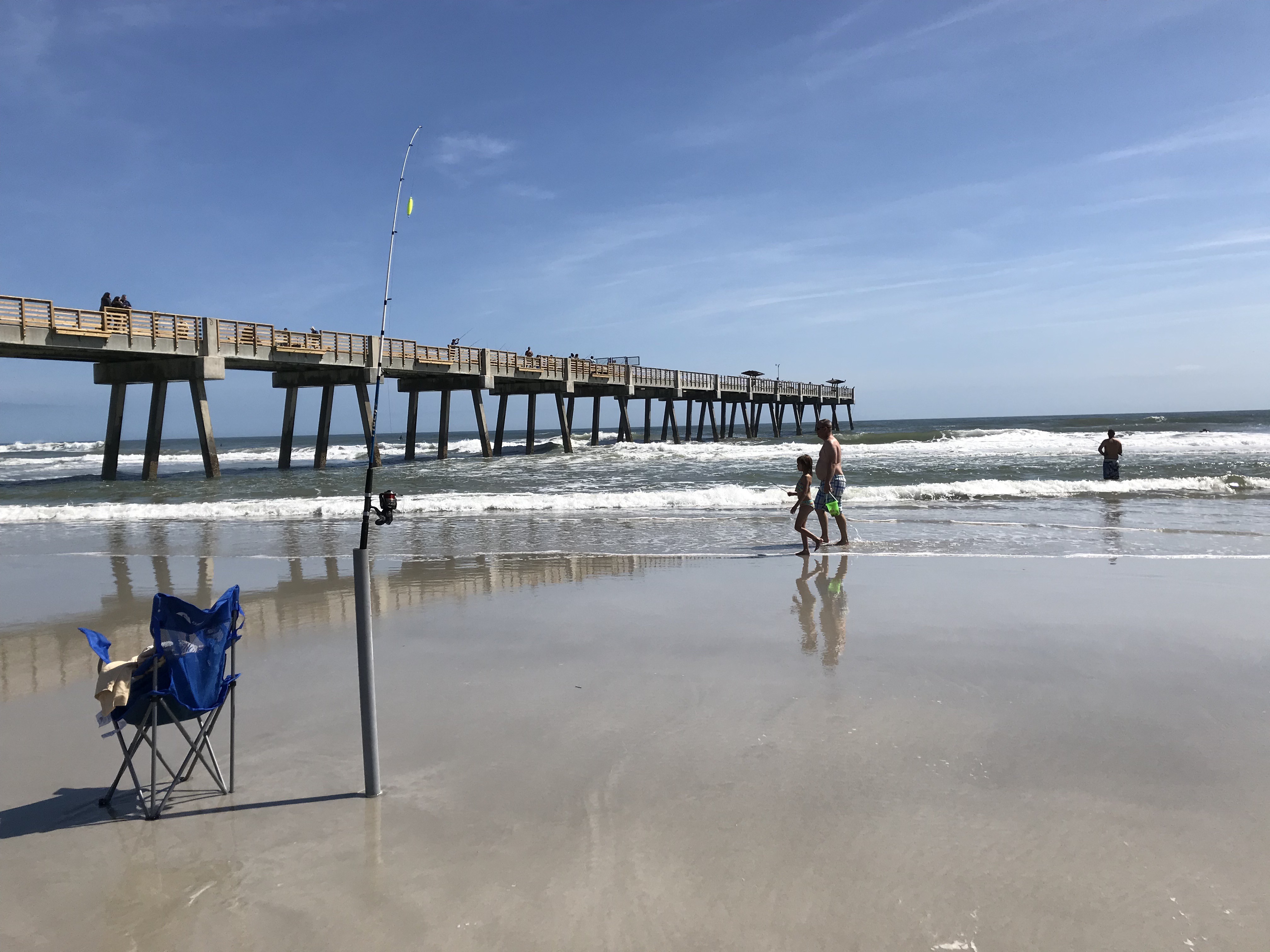 Jacksonville Beach is an incredibly relaxing, chilled out place. This fisherman near the Jax Beach Fishing Pier at 11:30 am will find the tide going out at 12:36 pm. High tide had previously occurred at 6:23 am and would occur again at 6:43 pm.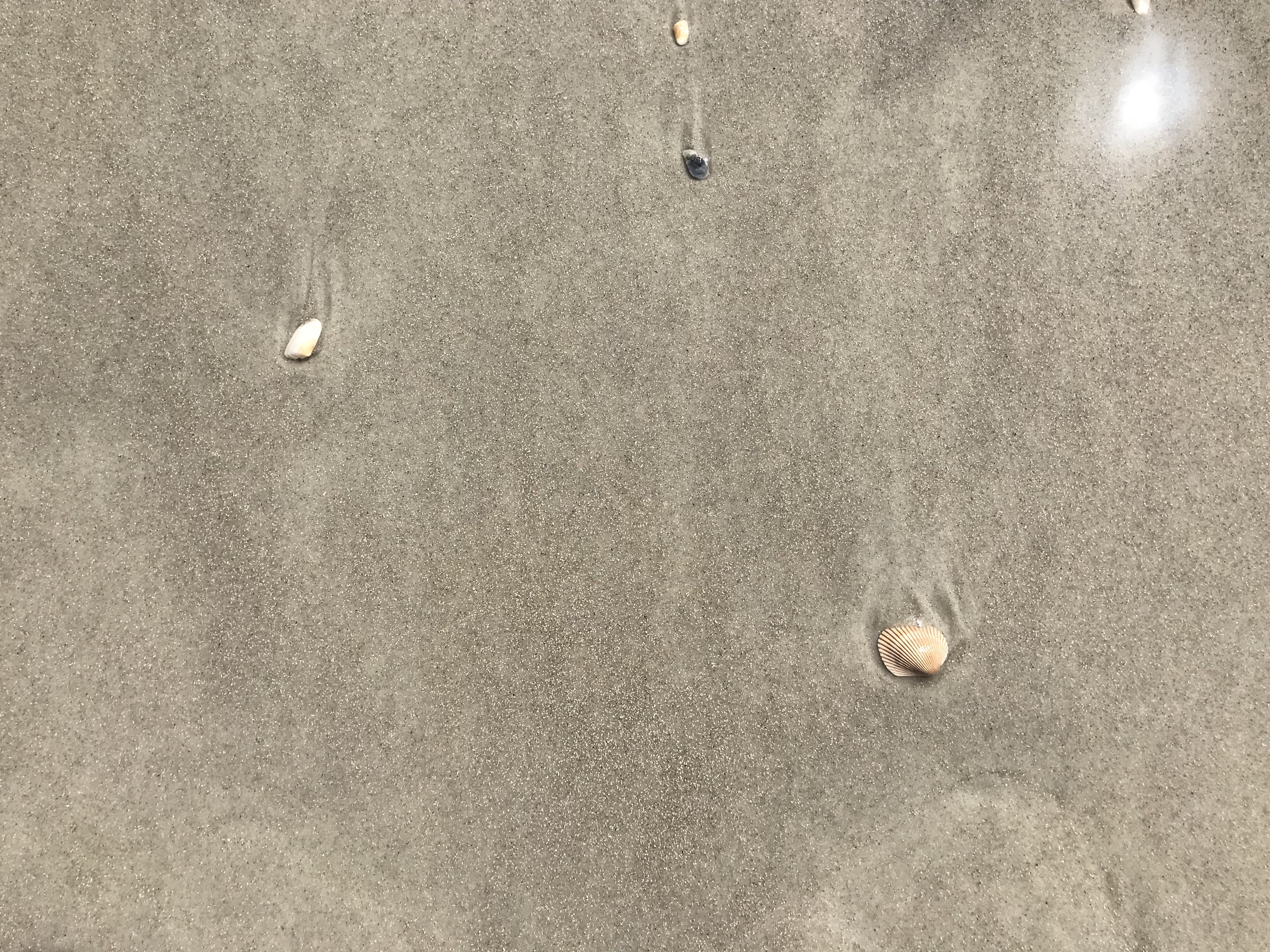 Although the best shelling seems to be at Bonita Springs on the Gulf Coast, there are some pretty shells at Jax Beach, such as scalloped shells, augers, and baby's ears.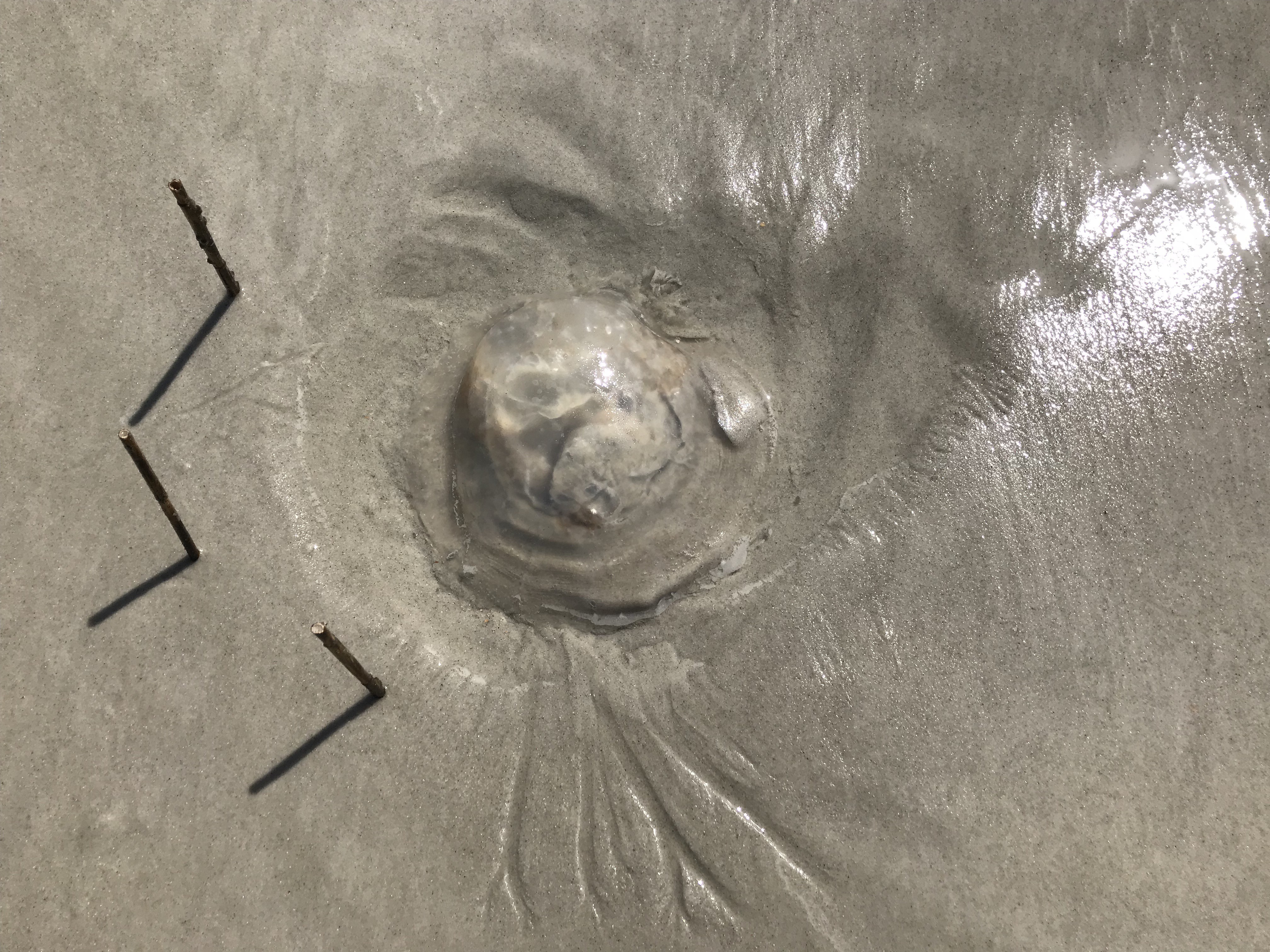 The jellyfish encountered here on Jacksonville Beach between the pier and Second Avenue North were enormous. One was the size of an XL pizza. For this one, some nice folks put sticks in the sand to say, "hey, watch your step."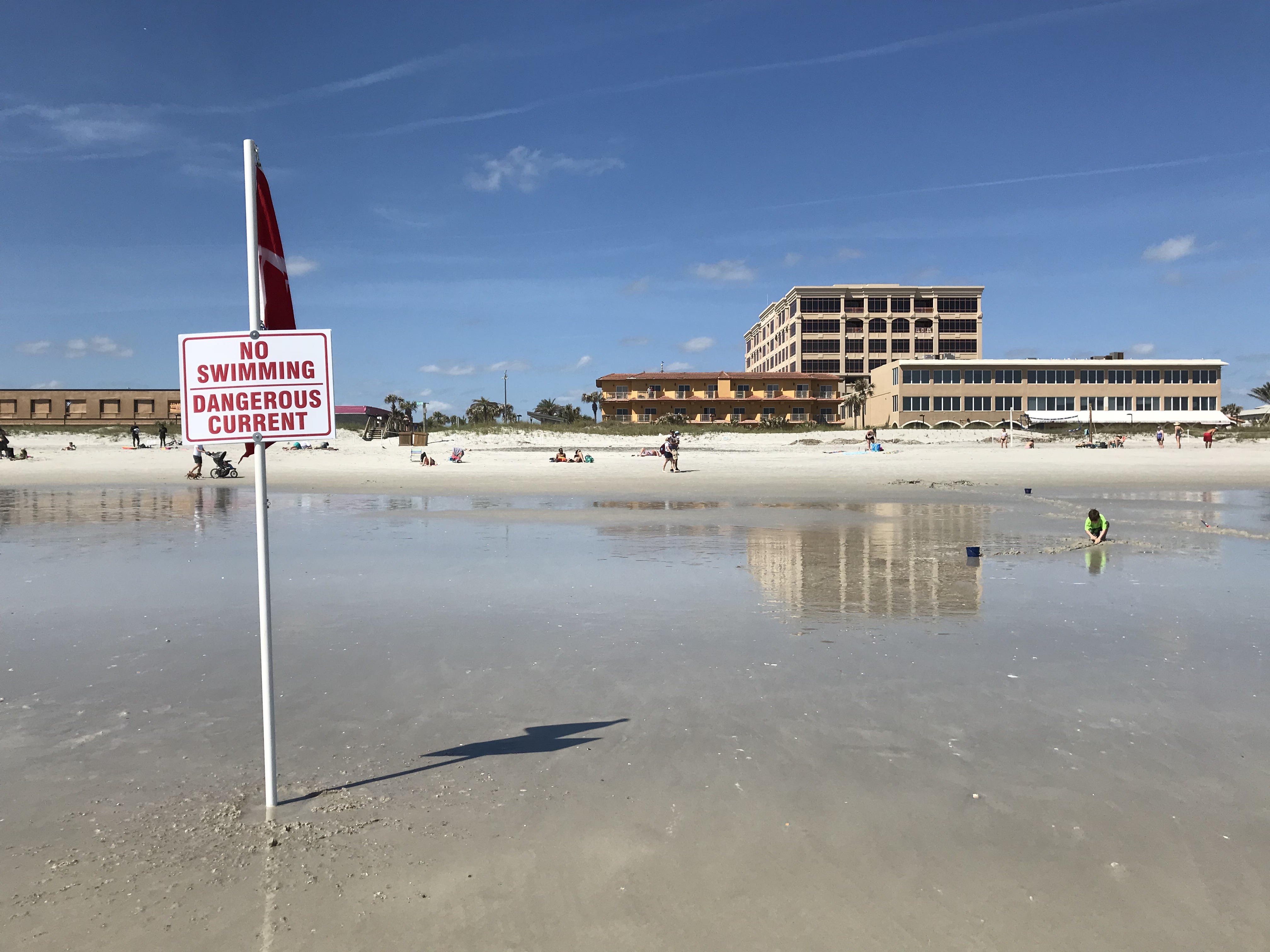 Beach Patrol came by at about 11:45 am to post this flag, due east of the 2nd Avenue North boardwalk. This sign was up for the remainder of the day. That meant folks who wanted to enjoy the beach would be fishing, shelling, playing paddleball, volleyball or strolling along but not swimming.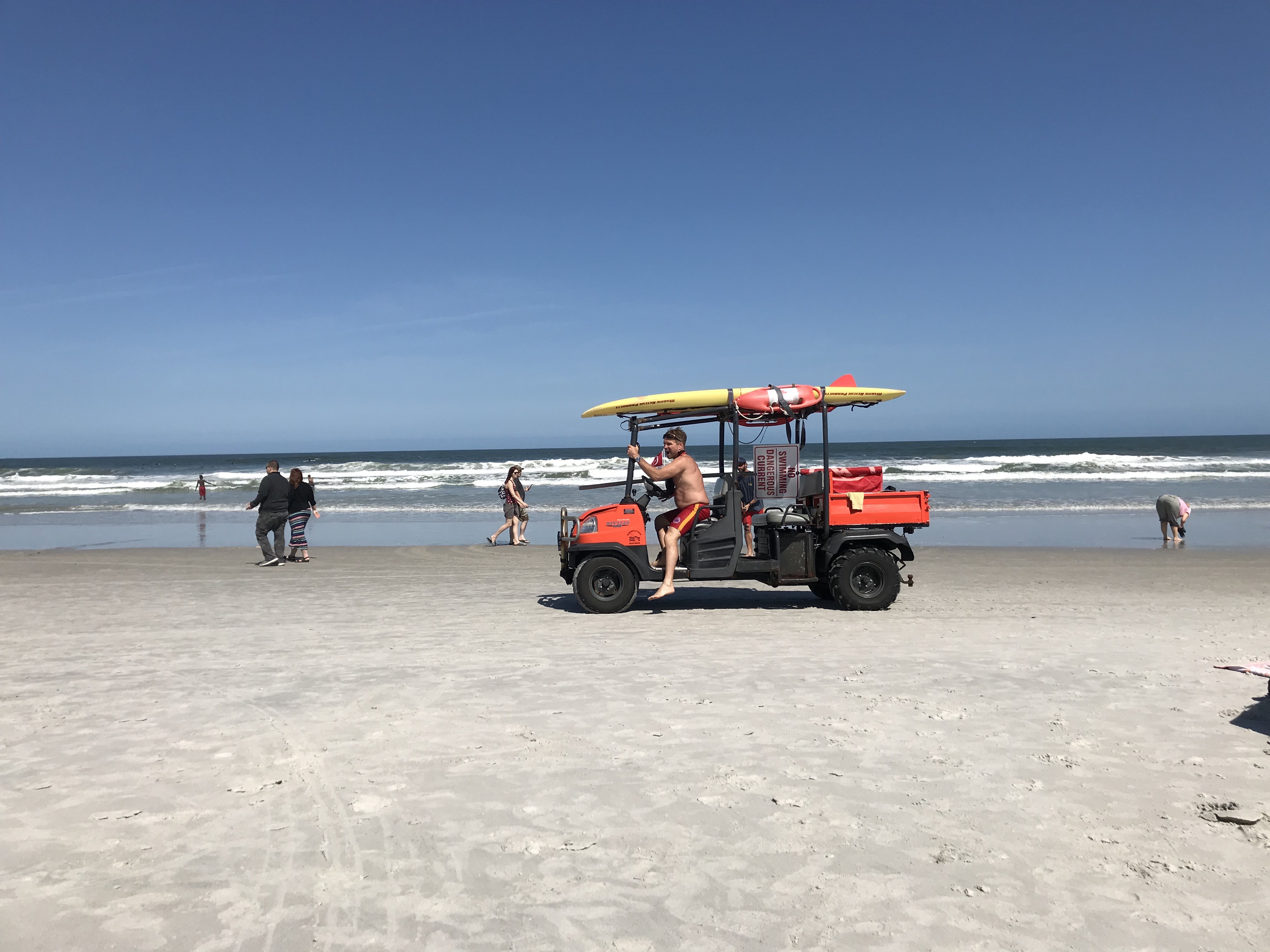 Beach Patrol came by again at noon because folks were getting back in the water when they shouldn't have. This truck came from the Red Cross life-saving station a couple of blocks south at Beach Boulevard. (Solar noon was 1:31 pm.)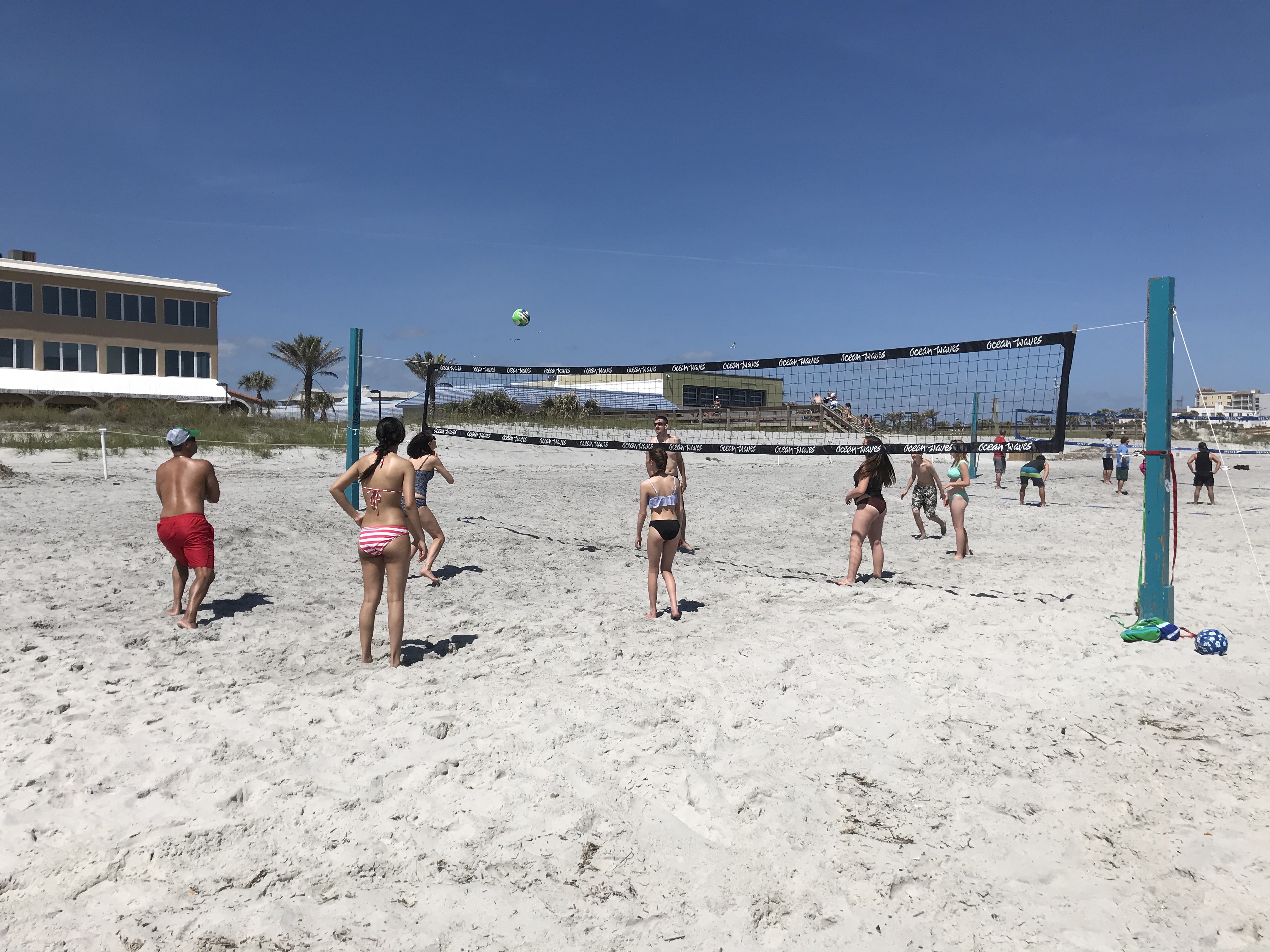 Three volleyball nets are set up just south of the Jacksonville Beach Fishing Pier. Sometimes groups of players would just form on each side of the net; "sports buddies" for an hour or so.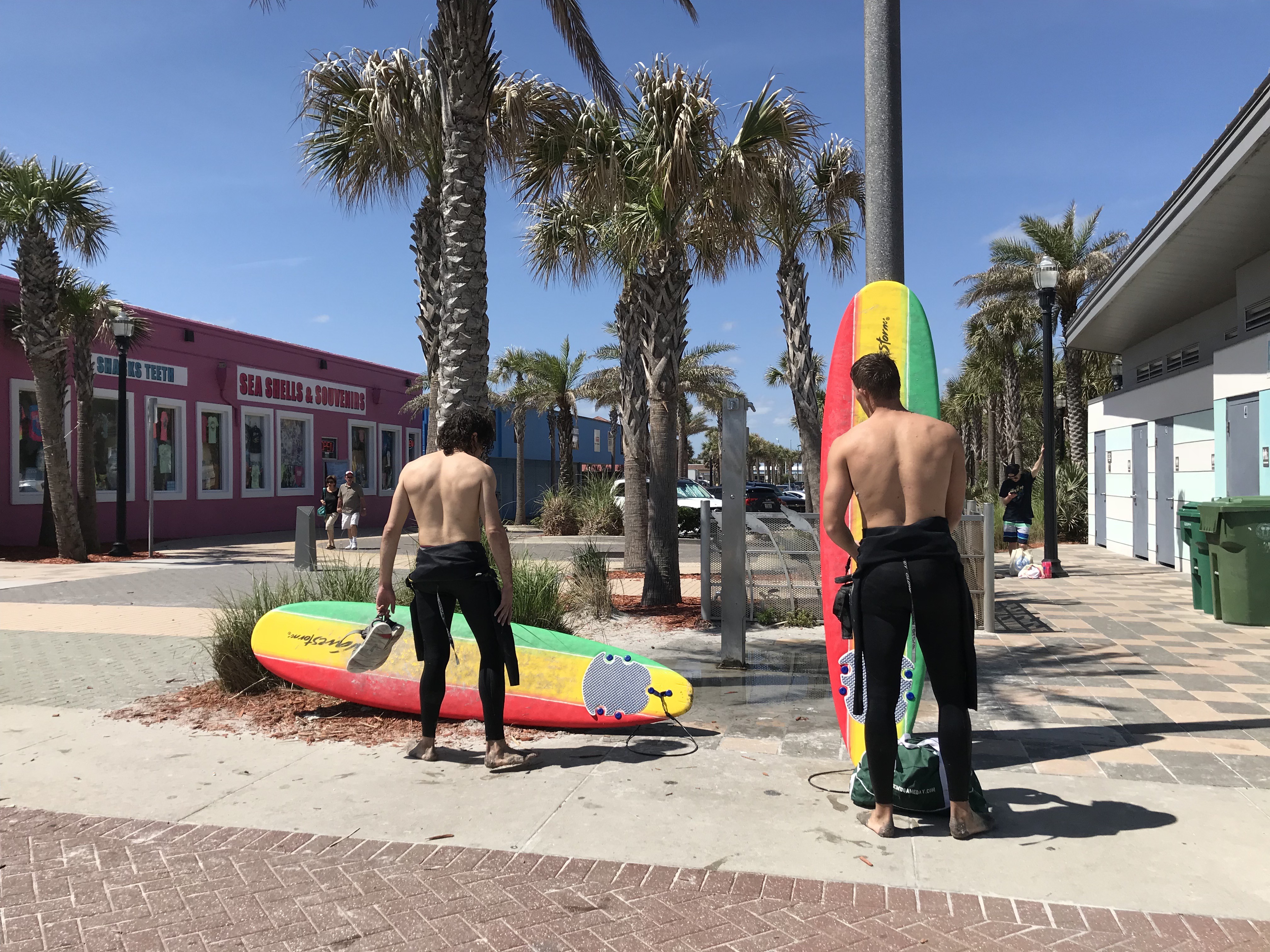 This beach has an abundance of park-like amenities. On the right are restrooms. There was no soap, but they were clean and a traveler should always carry necessities. The tall metal post in the center is a footbath to wash off the sand. This place also has several well-placed trash bins. Note the fun shops on the left.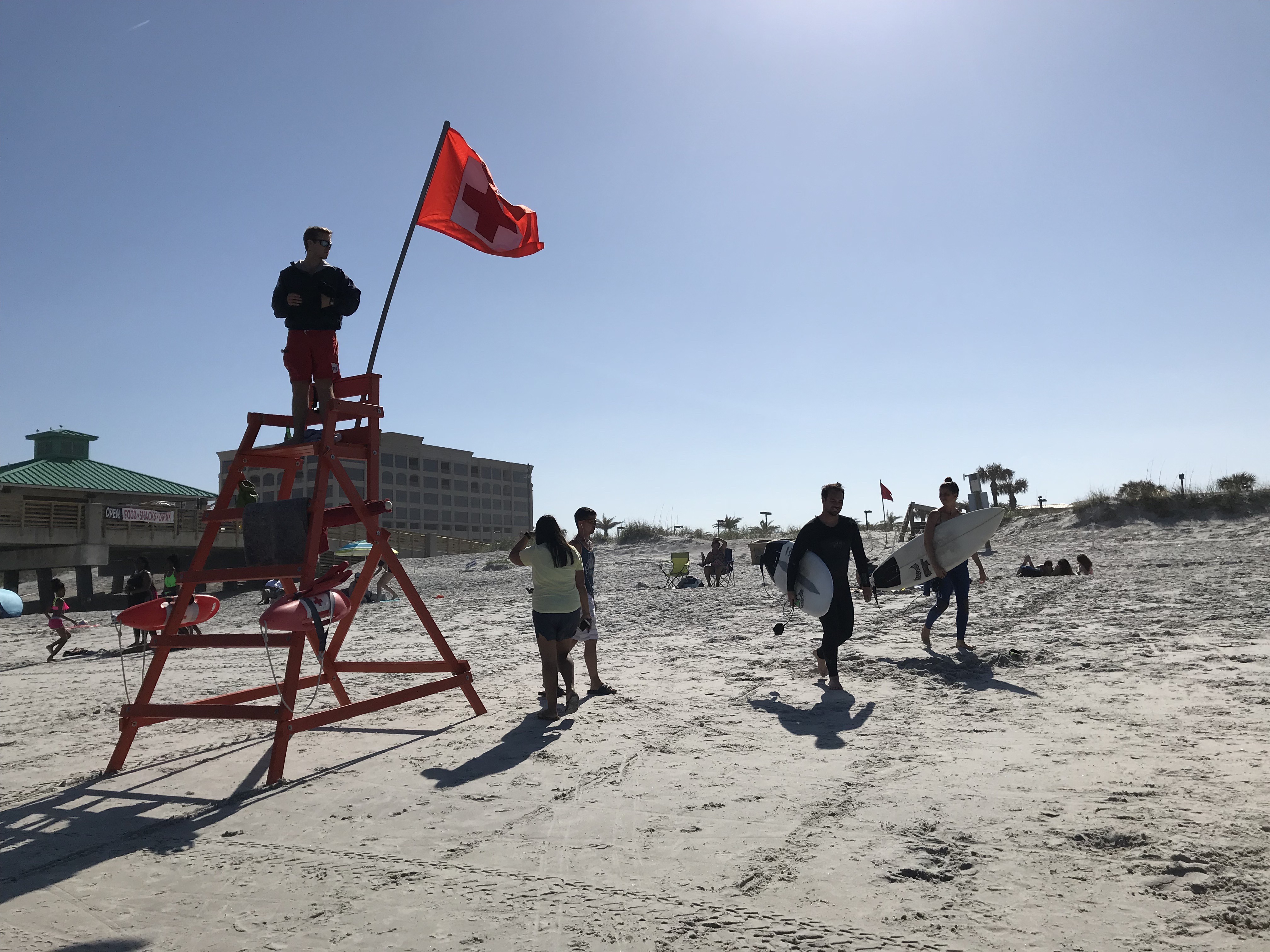 Just north of the Fishing Pier was a posted guard chair, which meant that it was okay to get in the water. It's almost 4:30 pm and the temperature has reached its daily high of 75 degrees F.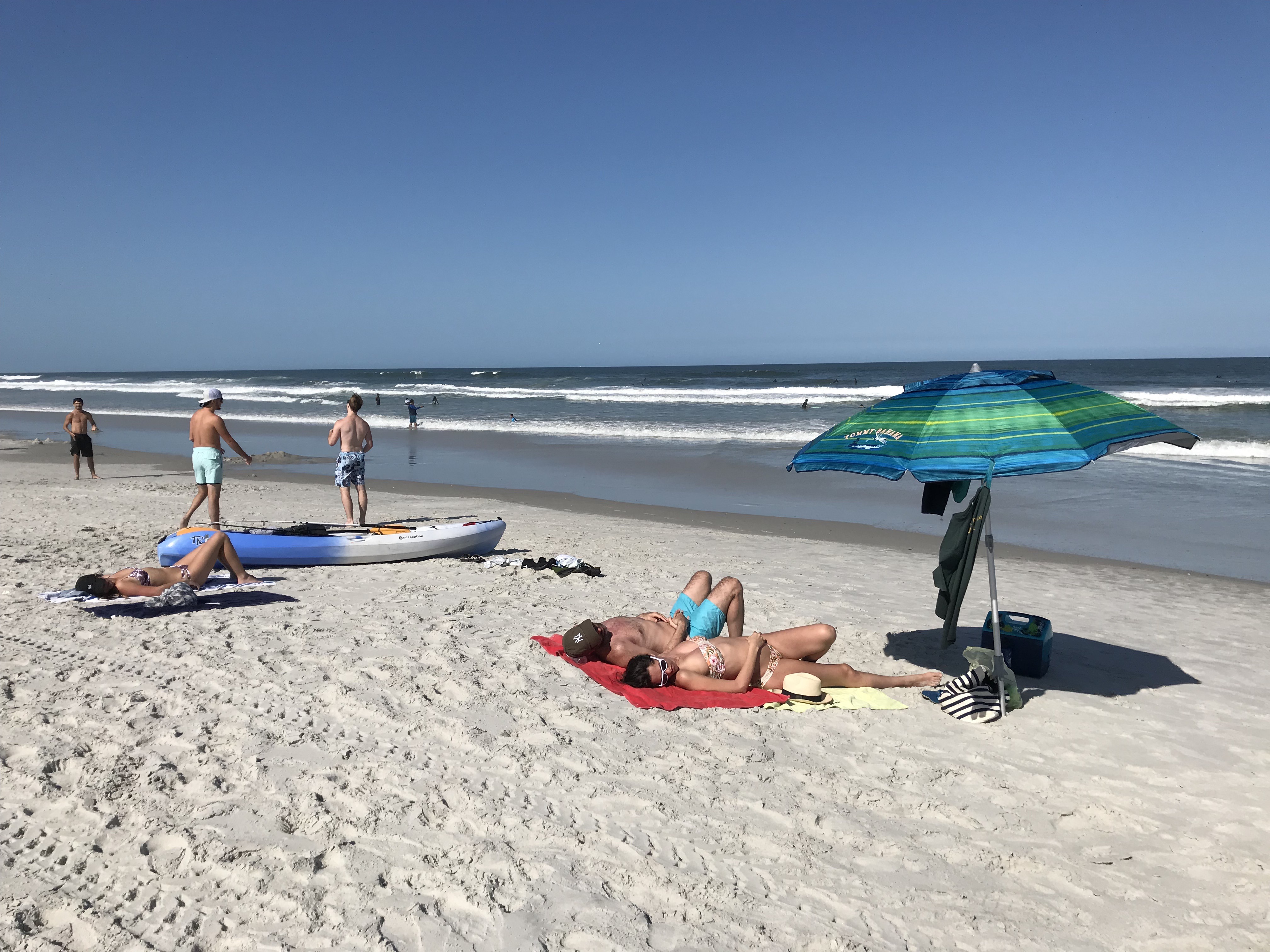 A relaxing afternoon at Jacksonville Beach is soon coming to a close, but the sun is still warm and the water feels a little warmer than it did this morning. You might see Navy aircraft occasionally in the skies overhead as Jax NAS and Mayport are nearby.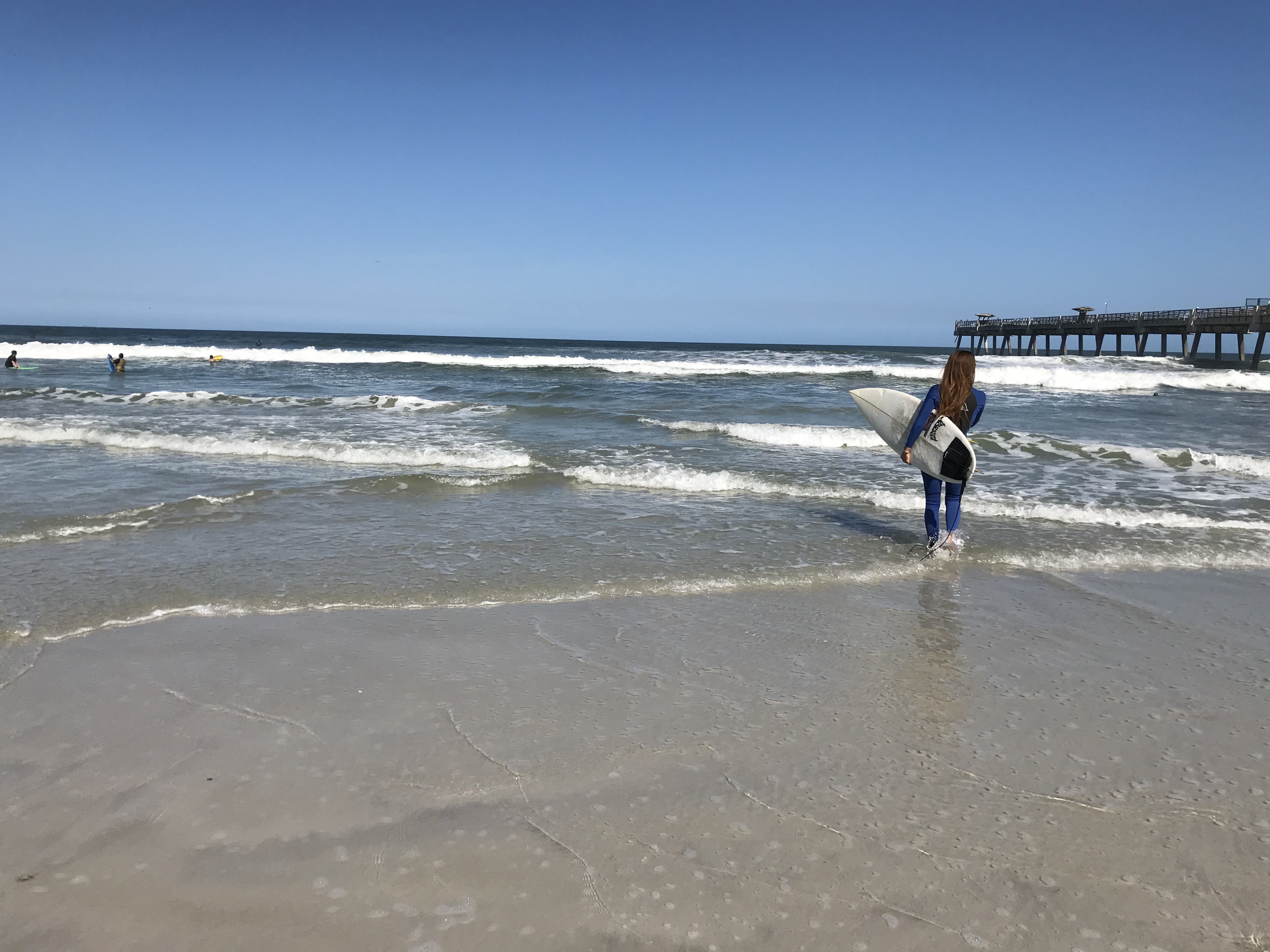 This young lady is making the most of the waves here as she stands just to the north of the fishing pier, looking east. According to the locals, there is a great love of surfing here for pure sport, even though the Atlantic is not as glamorous as the West Coast.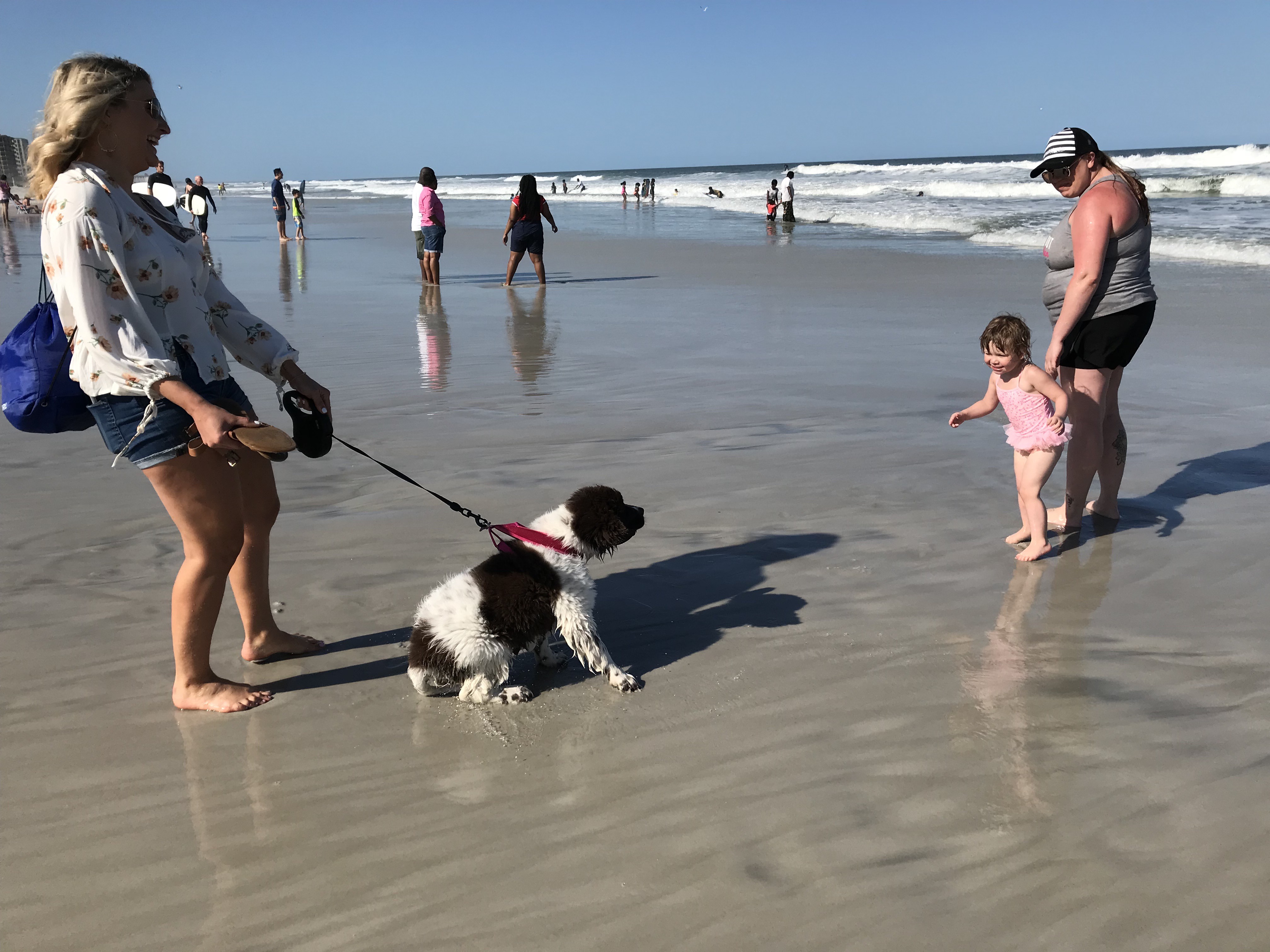 It's a dog's life at Jacksonville Beach, especially when five o'clock rolls around. Dogs are welcome before 9 am and after 5 pm, and they love it here.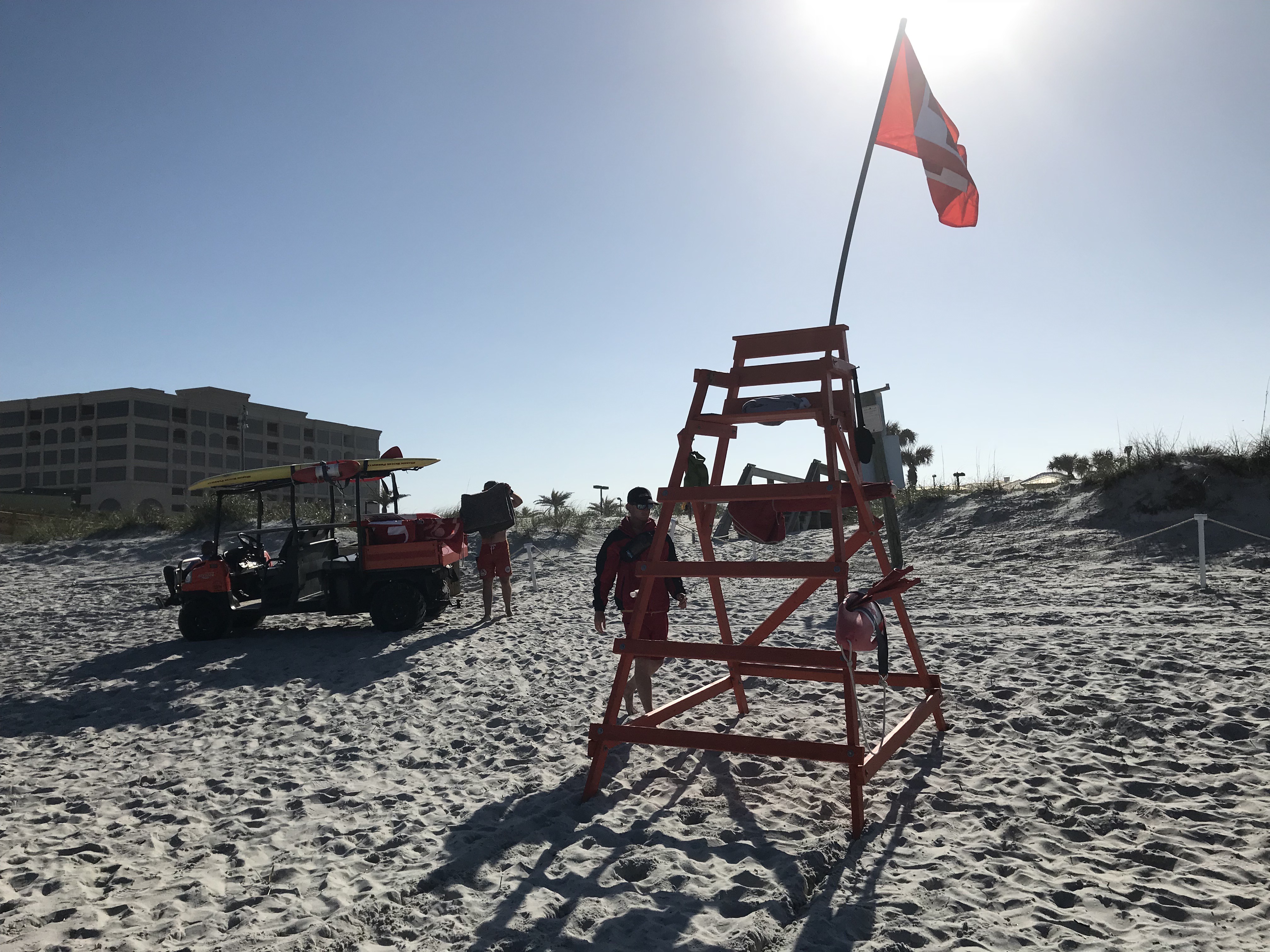 Quarter after five and it's time for the lifeguards to head back to the station and that means the flags posted on the chairs will come down. The beach patrol will be back in the morning, rotating guards on and off-duty all day.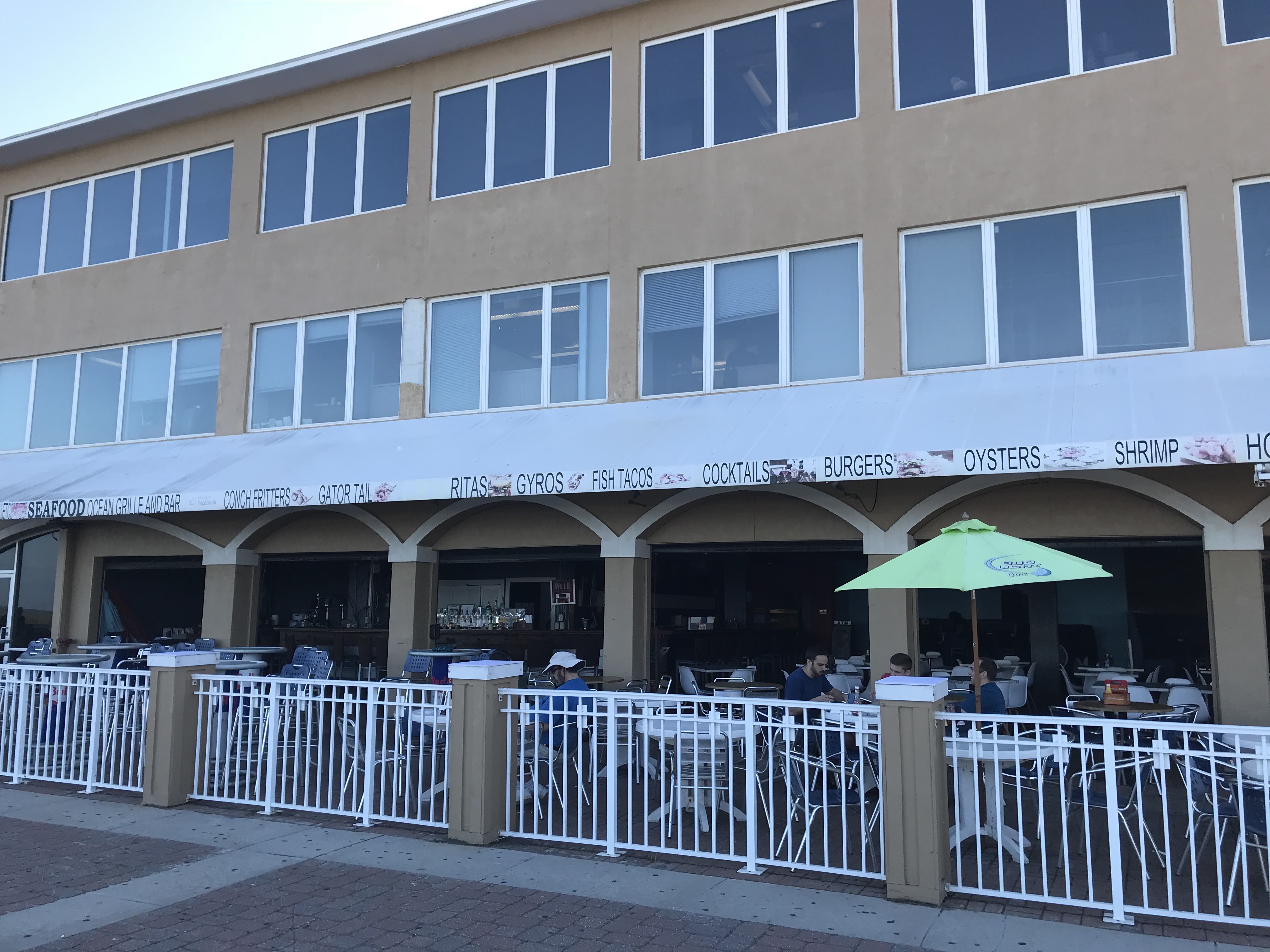 The Ocean Grille and Bar is one of the many eateries located right on the beachfront just south of the Fishing Pier. (The address is 333 1st Street North, #110.) This open-air place has piped in music in the early evening, good if expensive food, and adequate service.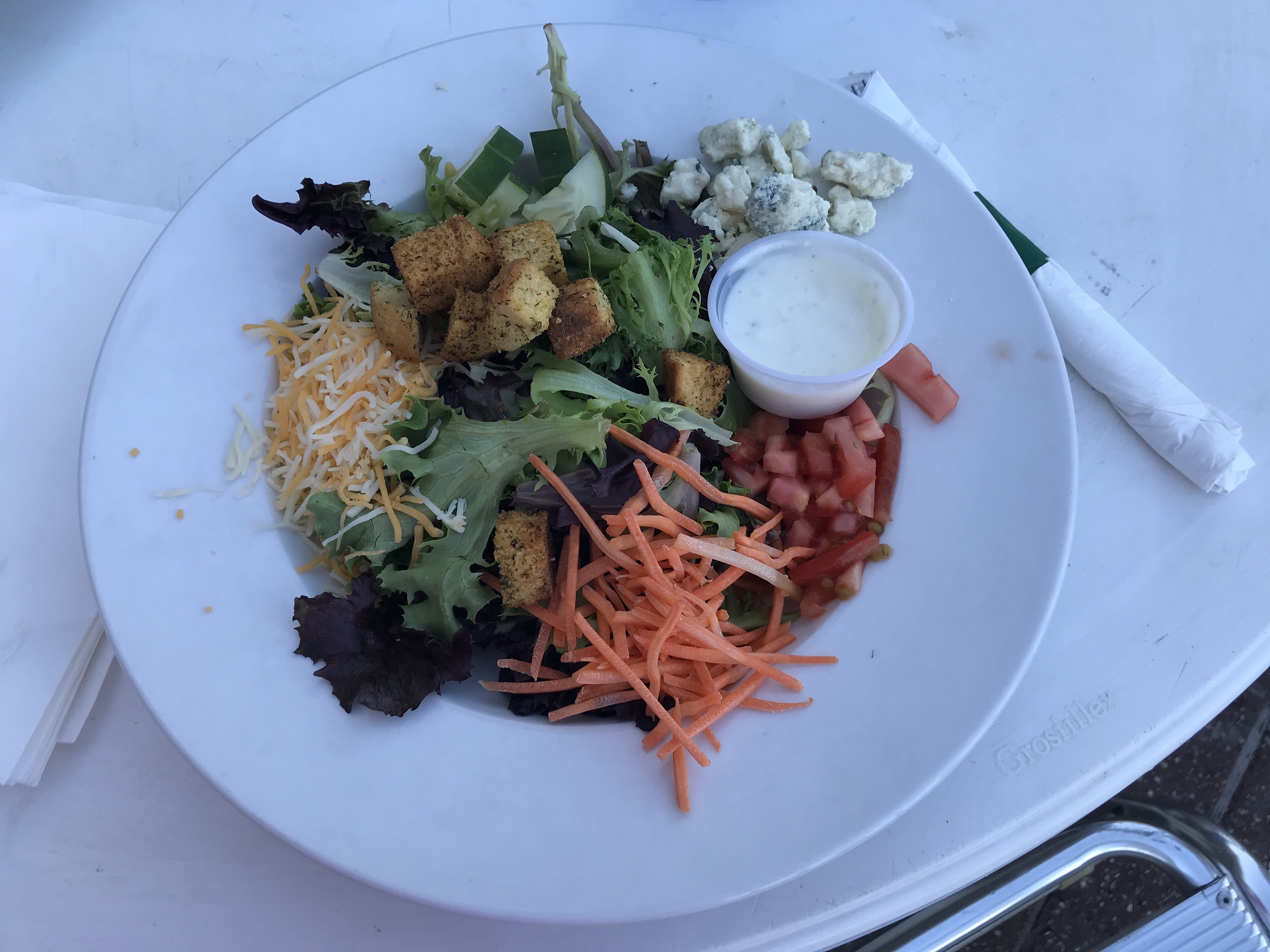 OG&B has several types of salads, in both side salad and dinner salad sizes. The Caesar salad was tasty, as were both of the dinner-sized House salads that were ordered. Bleu cheese crumbles can be added, but you definitely want to ask for extra dressing.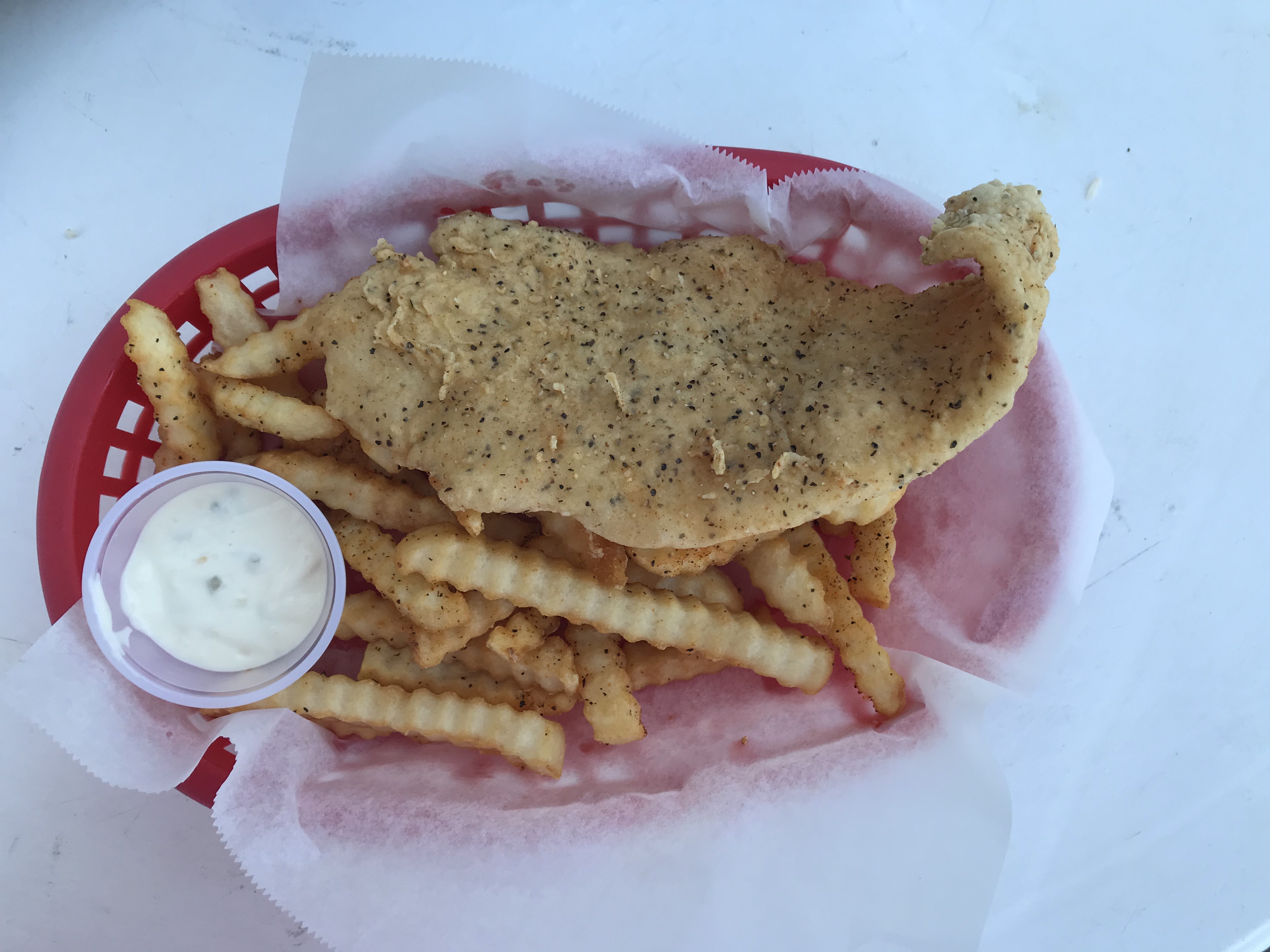 The fish and chips basket shown here was simply labeled as whitefish. This meal was hot, crispy, and quickly served, but undistinguished for its price of $11.99.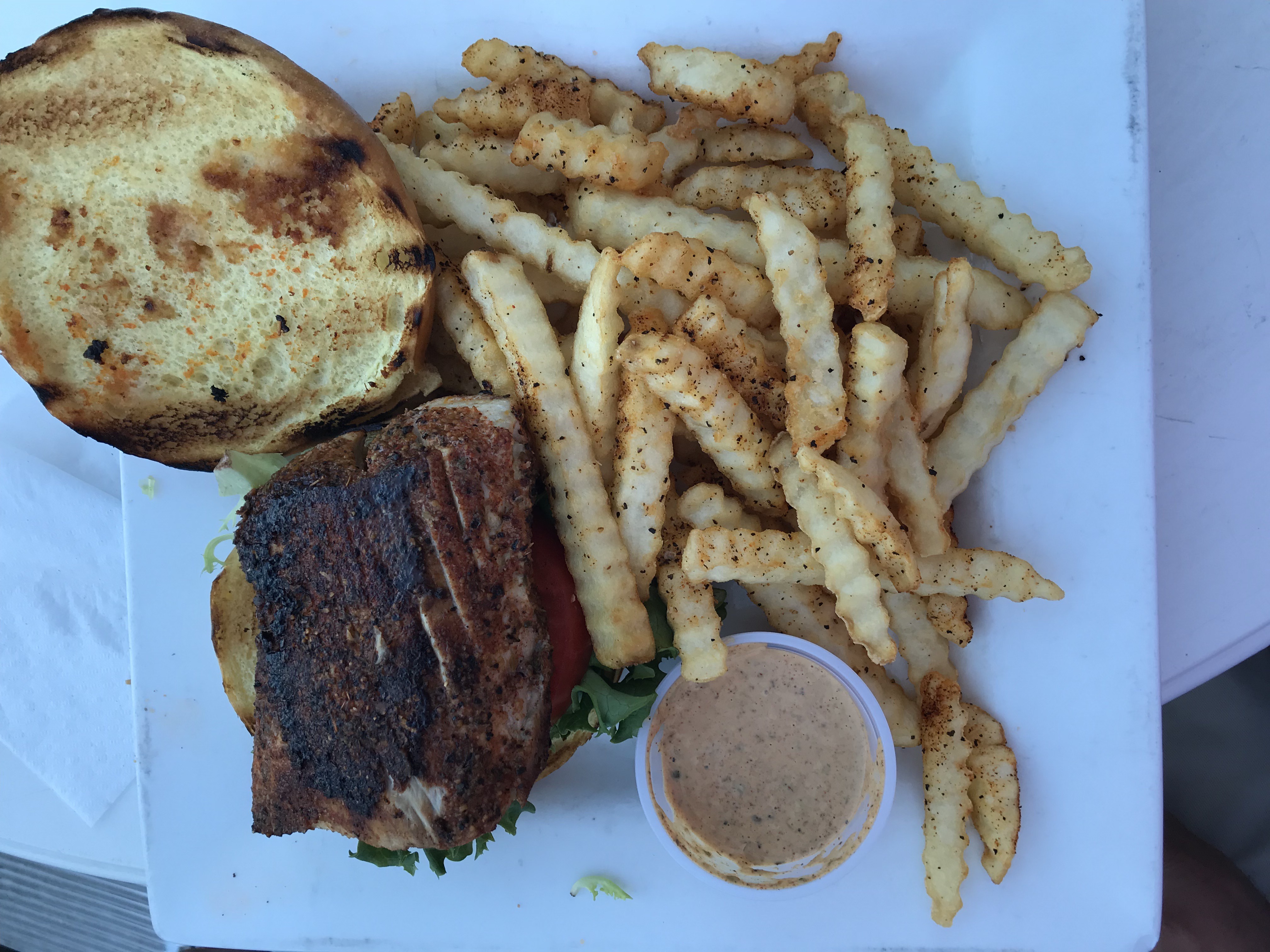 The mahi mahi sandwich, at $13.99, as shown here was also overpriced. Taste wise, it was hot and delicious. A good cheeseburger will be $11.99, and a Pepsi is $2.99. Another good restaurant choice is Hoptinger's Bier Garden right around the corner.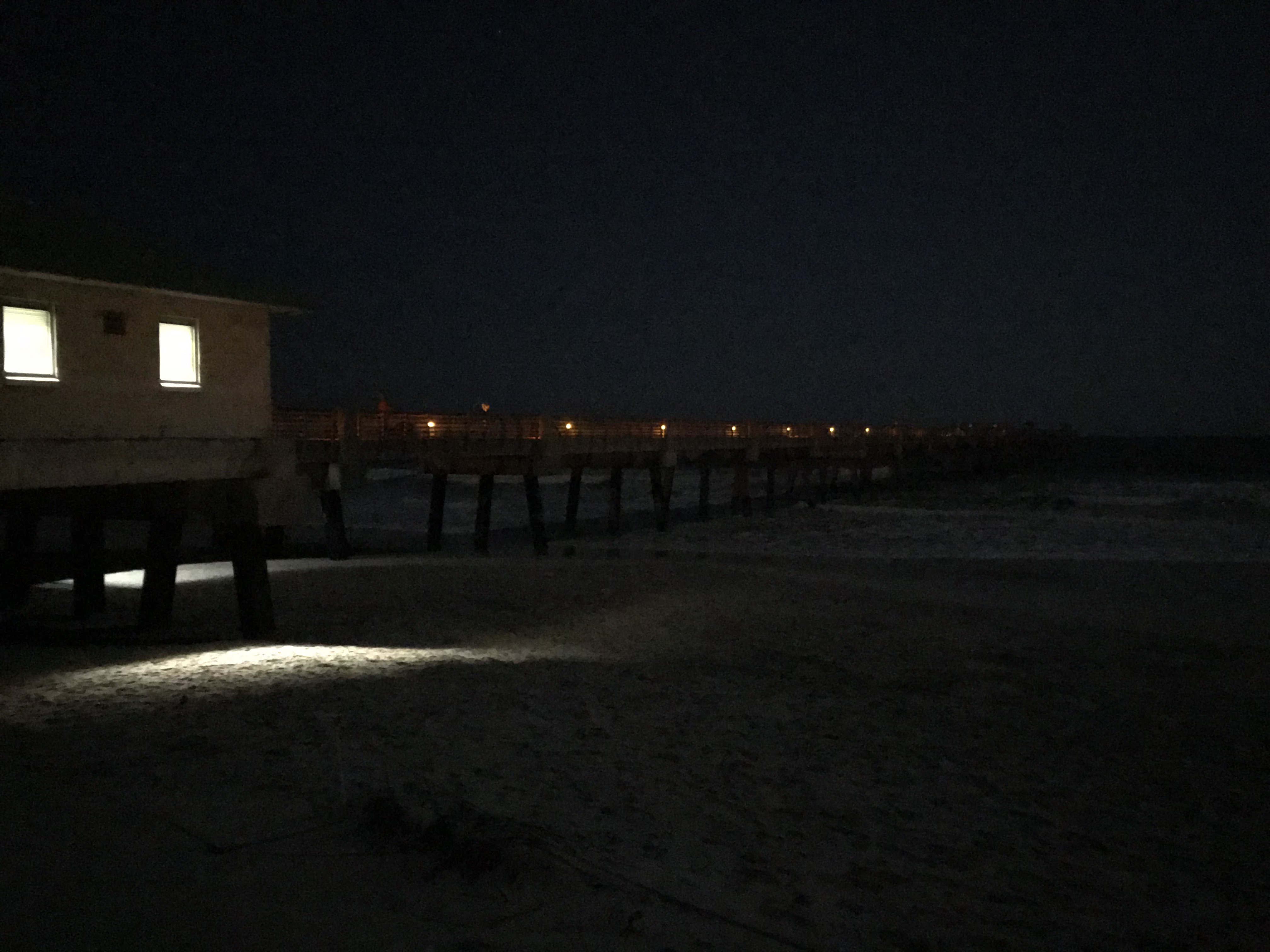 Sunset came at 7:43 pm on this date, and now it's 8:37. The Fishing pier will close in twenty minutes and the last fishermen are leaving. The catch of the day is whiting, black drum, pompano, sheep head, and trout.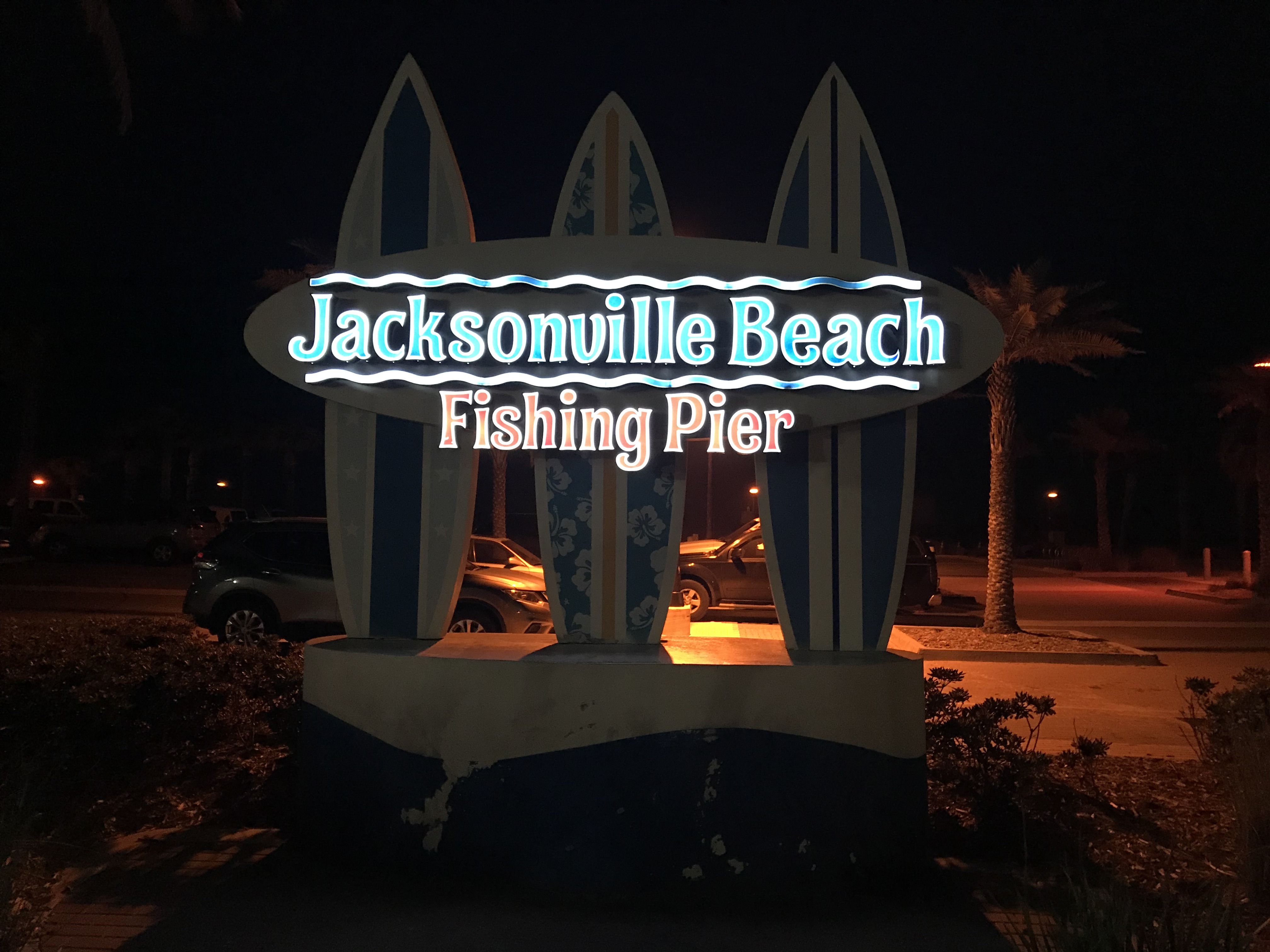 The tide is still high at a quarter till nine, but the day is done for early risers. The parking lot behind the sign is filling up for the bar and restaurant goers who are going to enjoy a later night out this evening at Jacksonville Beach.