Kings Dominion, Doswell, Virginia
The autumn days at the end of October can bring relief from summer temperatures, which means pleasant weather on sunny days. The Kings Dominion amusement park in Doswell, Virginia, would be a great place to spend a crisp fall weekend while enjoying Halloween-themed attractions and musical entertainment. As the sun slowly sets, pumpkins and spiderwebs give way to ghouls and fog, with haunted mazes and performers filling the night.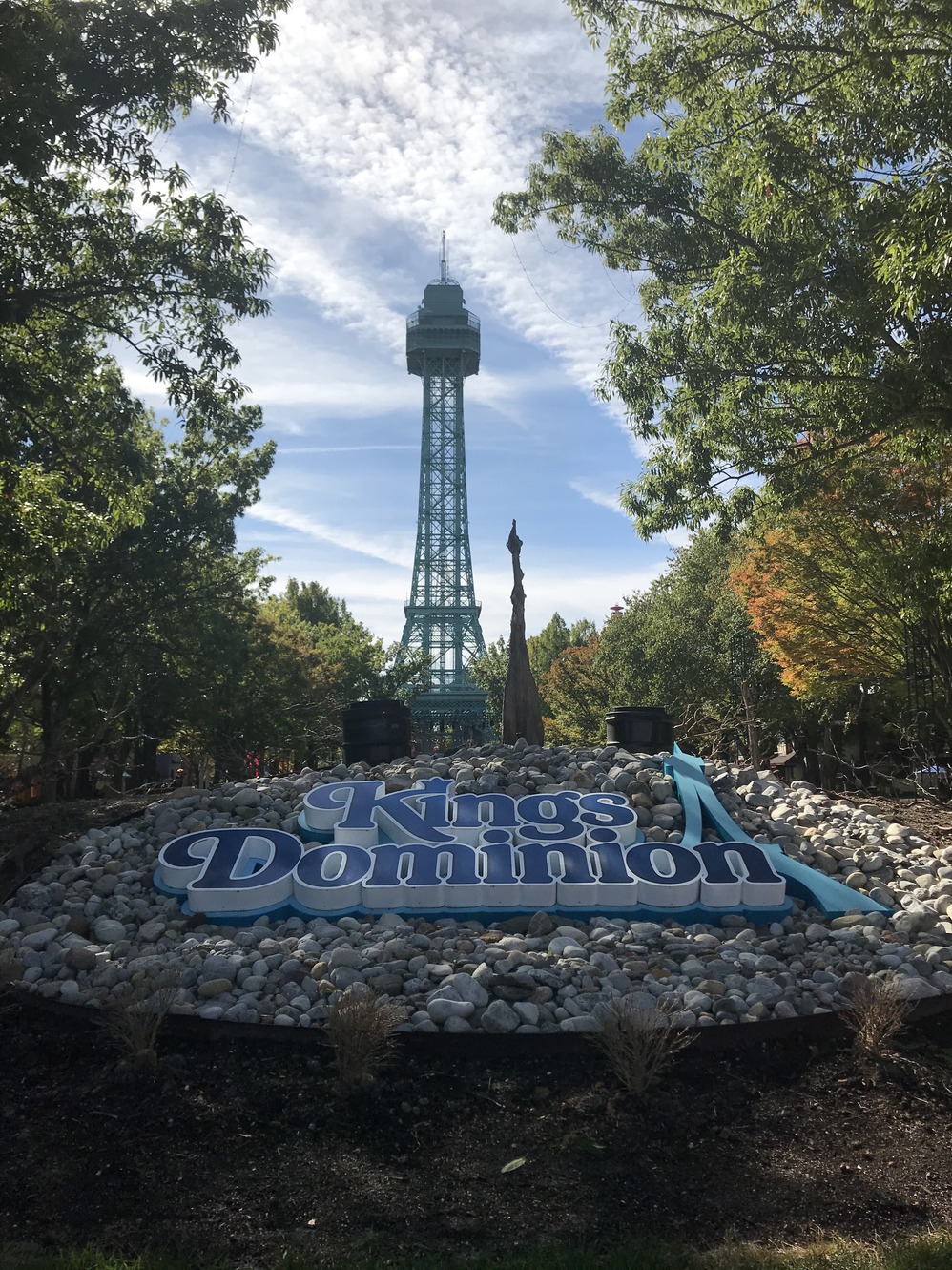 Welcome to Kings Dominion . . . this 400-acre amusement park is located between Washington D.C. to the north and Richmond to the south. Kings Dominion has a dozen roller coasters, and a 20-acre waterpark during the summer. During the autumn season, Kings Dominion is transformed into the family-friendly Great Pumpkin Fest in Planet Snoopy, and then into the scary Halloween Haunt after dark. Kings Dominion's Haunt was voted the No. 2 slot for the best Halloween theme park attraction in 2017 by USA Today.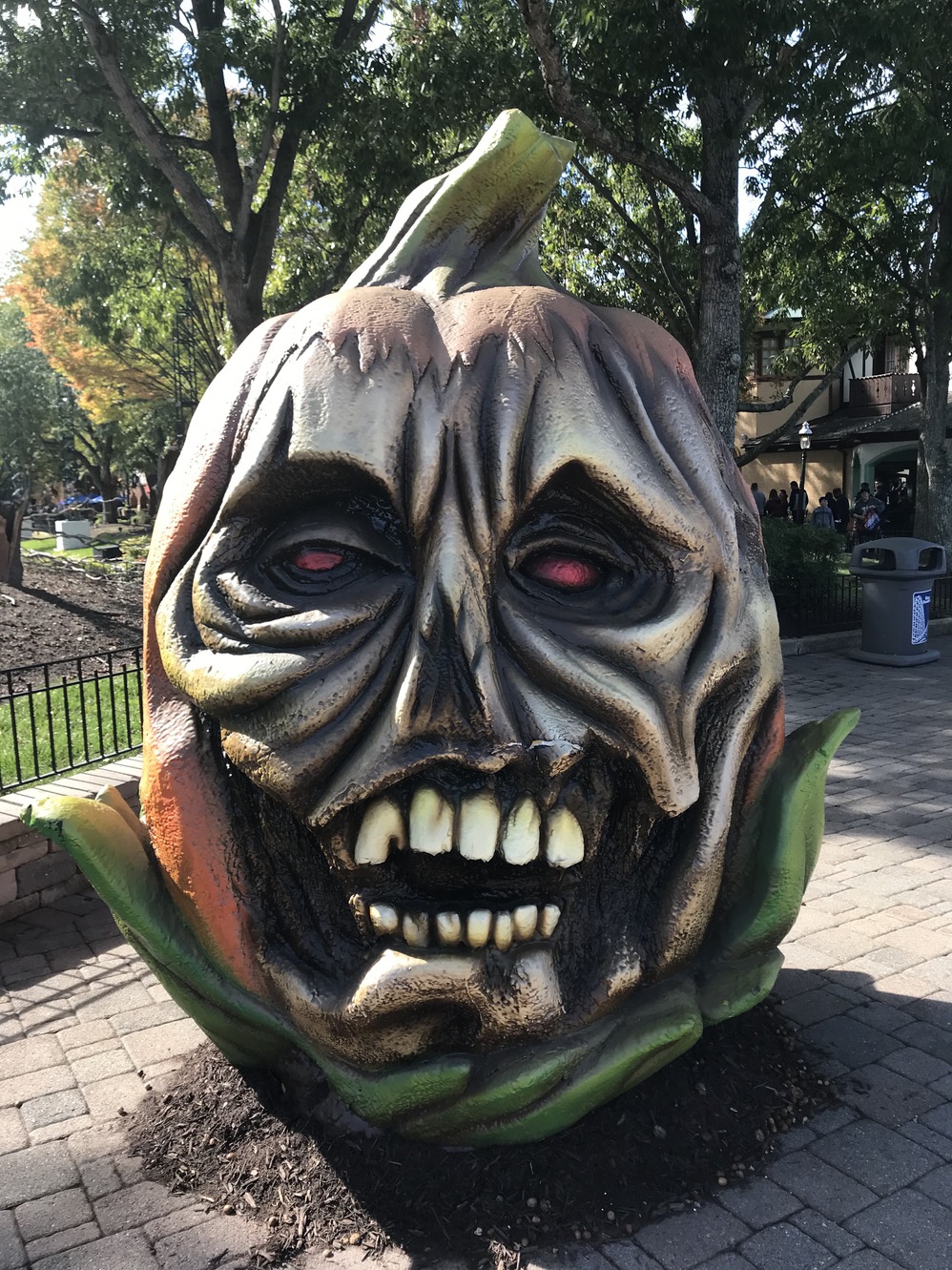 Halloween at Kings Dominion starts at the front gate on International Street. This life-size ghoulish pumpkin face is one of the reasons why Kings Dominion's Haunt was also voted second best theme park Halloween in 2018 by USA Today. (Another Cedar Fair park, in Mason, Ohio, Kings Island, took the top spot last year.) International Street is all sunny now, and the candy stores are all open, but just wait till nightfall. Scary demons will jump out of nowhere.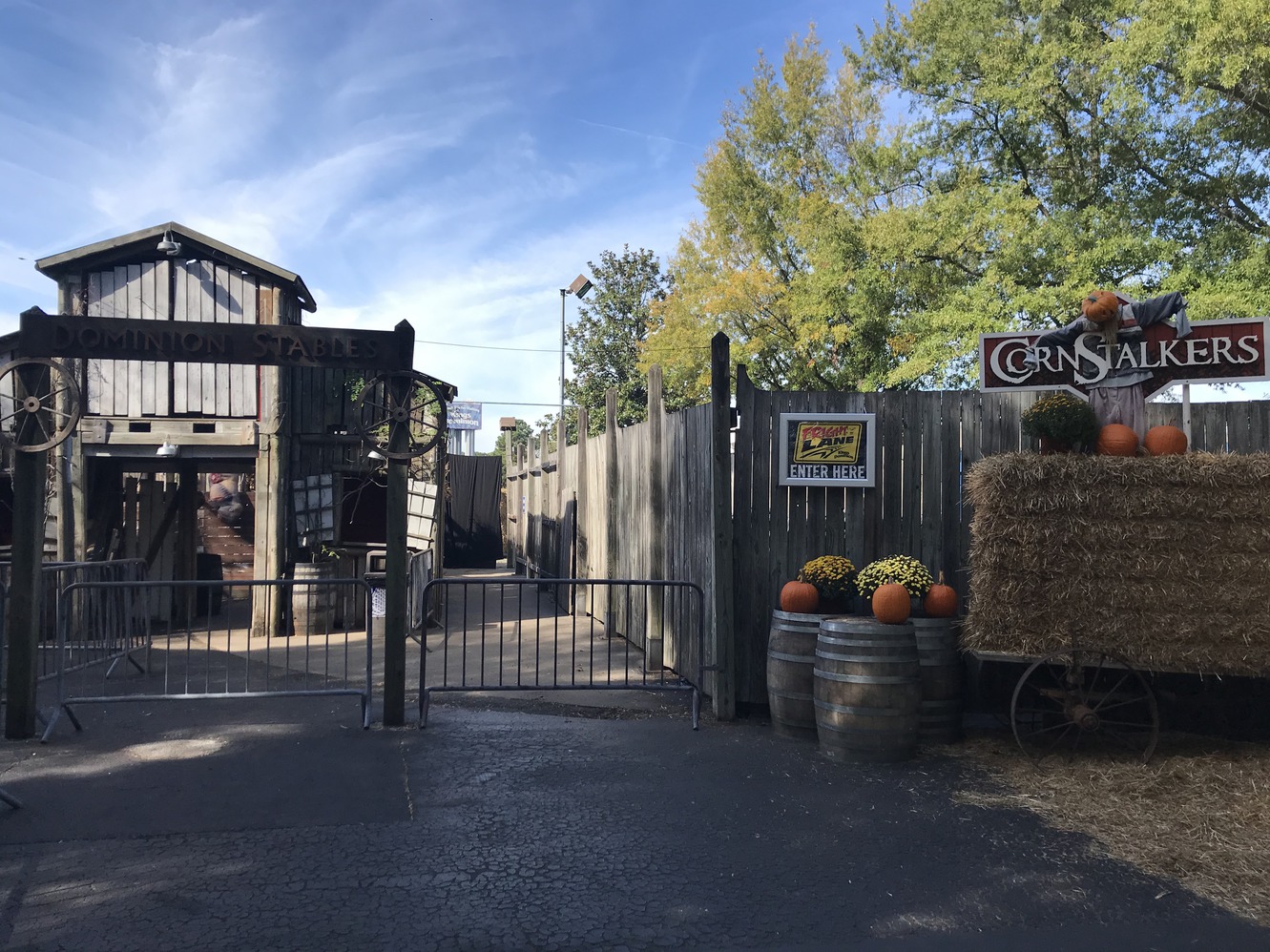 The Haunt experiences at Kings Dominion are designed for an over-13 audience, and some of these mazes are pretty intense. (Kings Island in Mason, Ohio, has some interactive HalloTween experiences.) Cornstalkers is a maze on International Street that opens at 7 pm, well after the sun has set. Most Haunt attractions open at 7 pm, and run till the park closes at 1 am.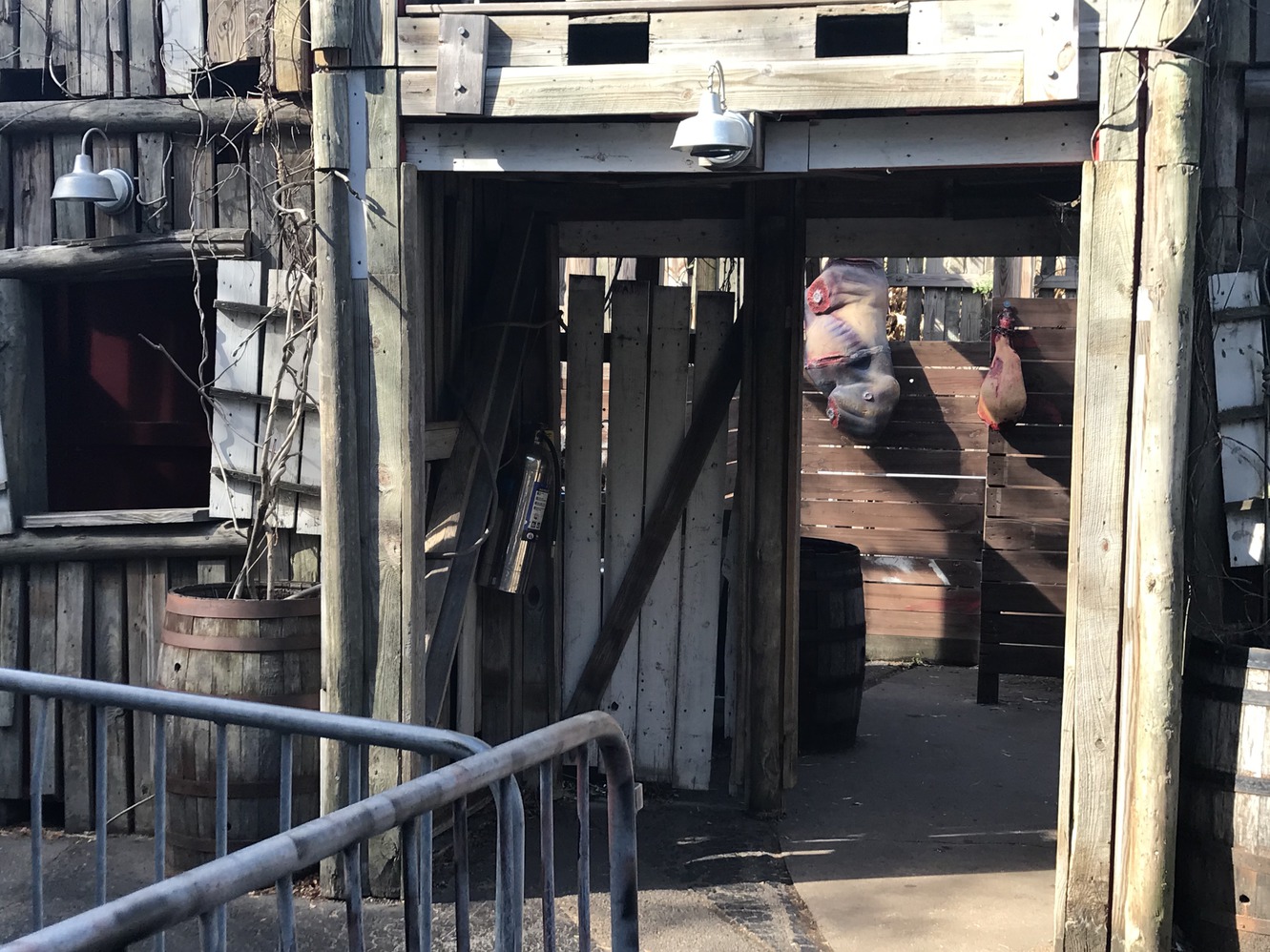 Here's a close-up image of the Cornstalkers maze. This outdoors maze has a mashed-up vibe of a twisted Wild West slaughterhouse, with a butcher's block on the side. "Scare actors" are theme park workers who are paid to scare people silly, and there will be plenty of them inside, all with menacing faces. Again, this attraction will open at 7 pm.
"Condemned" is the only haunted maze that opens at 6 pm, and this one is indoors. This hotel has no vacancy because it is filled with ghouls who will let you know that they are quite unhappy with this establishment. The ghouls who are confined here are made-up scare actors, who will not touch you. The desk clerk at Condemned explained to all of the living guests that "don't touch them and they won't touch you."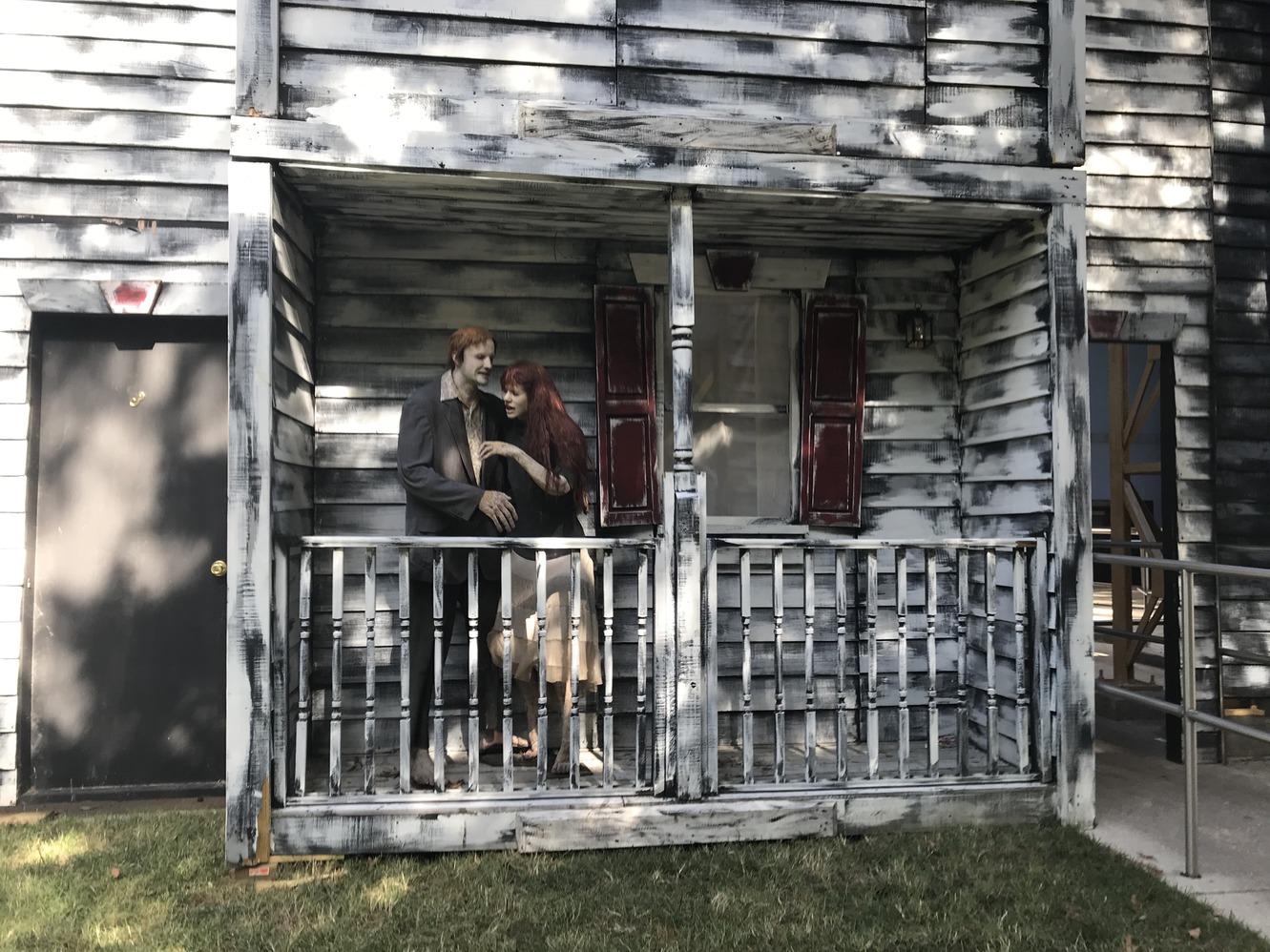 These two dummies had the misfortune to spend their honeymoon at Condemned, which is located just to the right of the Eiffel Tower. Once the sun sets, the facade of this building will be glowing blood red, and the bellhop will be showing his fangs. Don't touch the luggage in the lobby as there may be a body in the steamer trunk.
The Eiffel Tower at Kings Dominion is a one-third replica of the Eiffel Tower in Paris, and is exactly like the Eiffel Tower at Kings Island in Mason, Ohio. Both Towers have a macabre Louis XVI & Marie Antoinette scene of French royalty at the time of the bloody Revolution. (There is also a bar here, in case the party-goers get thirsty.) This scare zone is called Masquerade, and opens at 7 pm. This is new here this year, though Kings Island has had a Louis XVI zone for a few years now.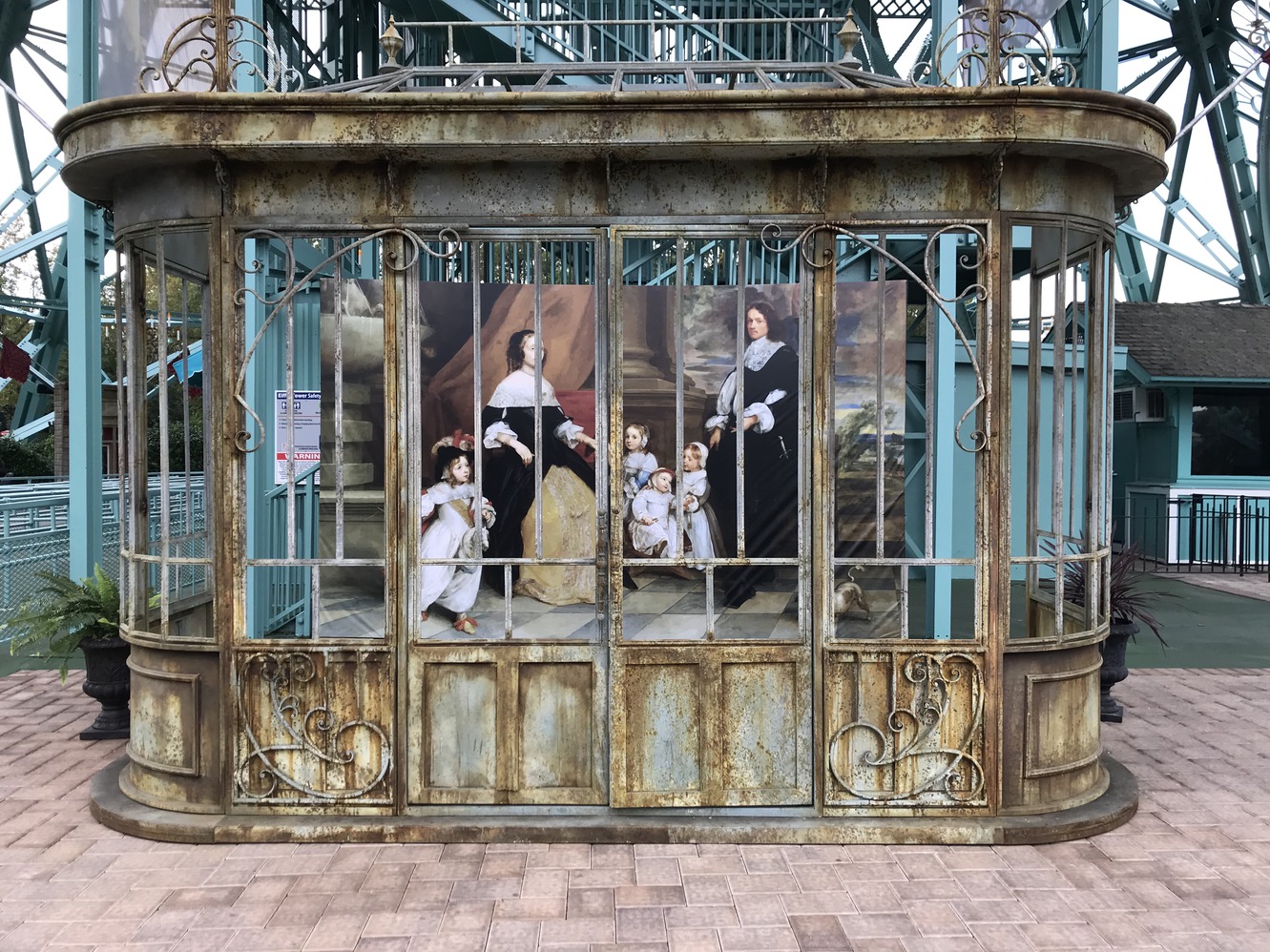 All around the base of the Eiffel Tower (the viewing platform up top is closed today) are areas where the Haunted can take pictures of themselves with the unfortunates who are confined here. There is this condemned family, as well as a French noblewoman who has lost her head. Again, this zone gets even scarier after dark when the street performers known as The Coven make their rounds through the park.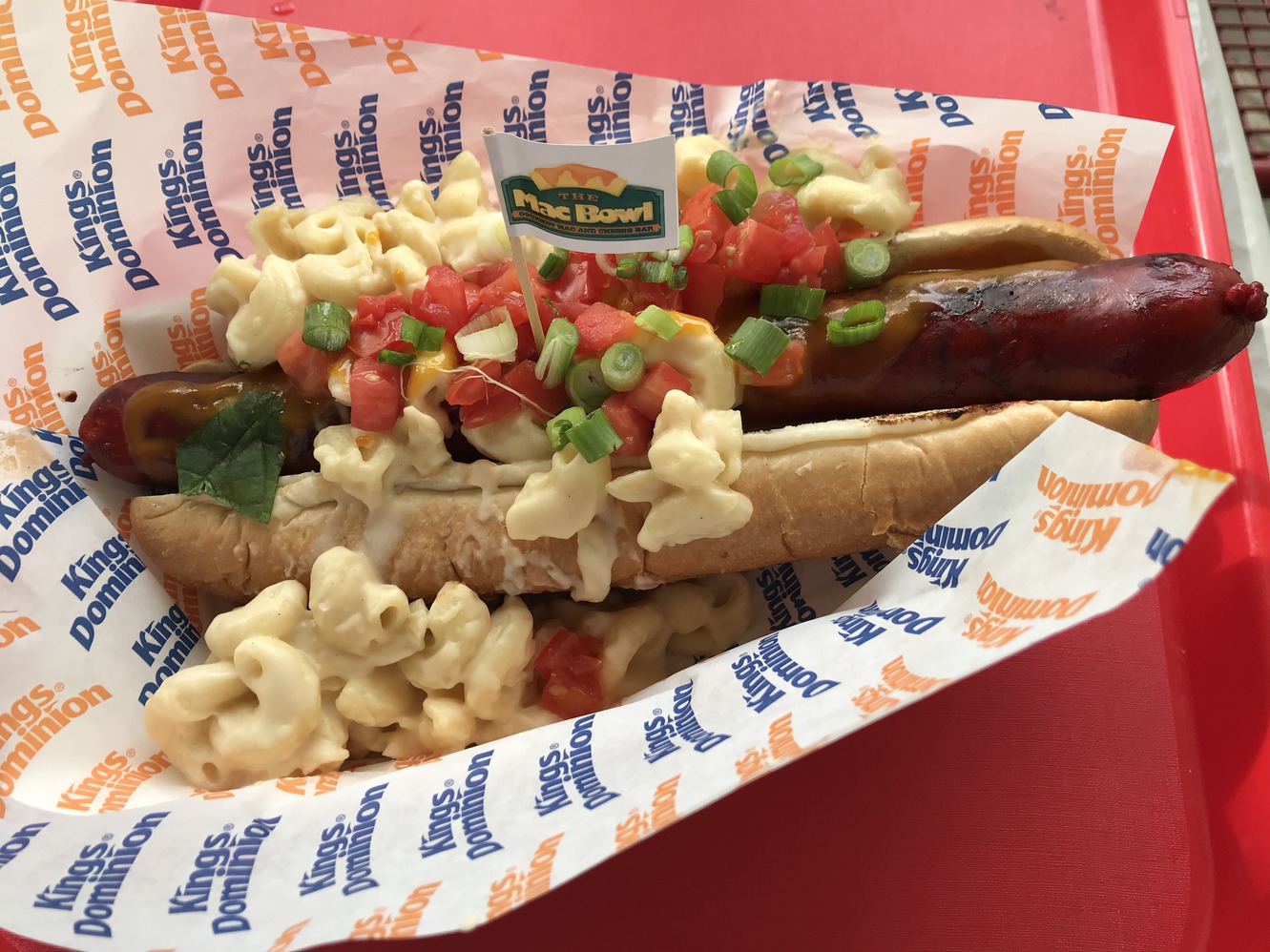 After visiting the Eiffel Tower, it was time to get some lunch. There is a food stand in the Candy Apple Grove section of the park called the Mac Bowl. The Mac Bowl has gourmet Mac & cheese, hot dogs, salads, etc. This food stand is included in the Season-long Meal Deal plan, which means two meals per day, four hours apart. (Gold and Platinum Passholders also get ten percent off most food and merchandise.) It's basically a hot-dog bar here, with a lot of choices for toppings.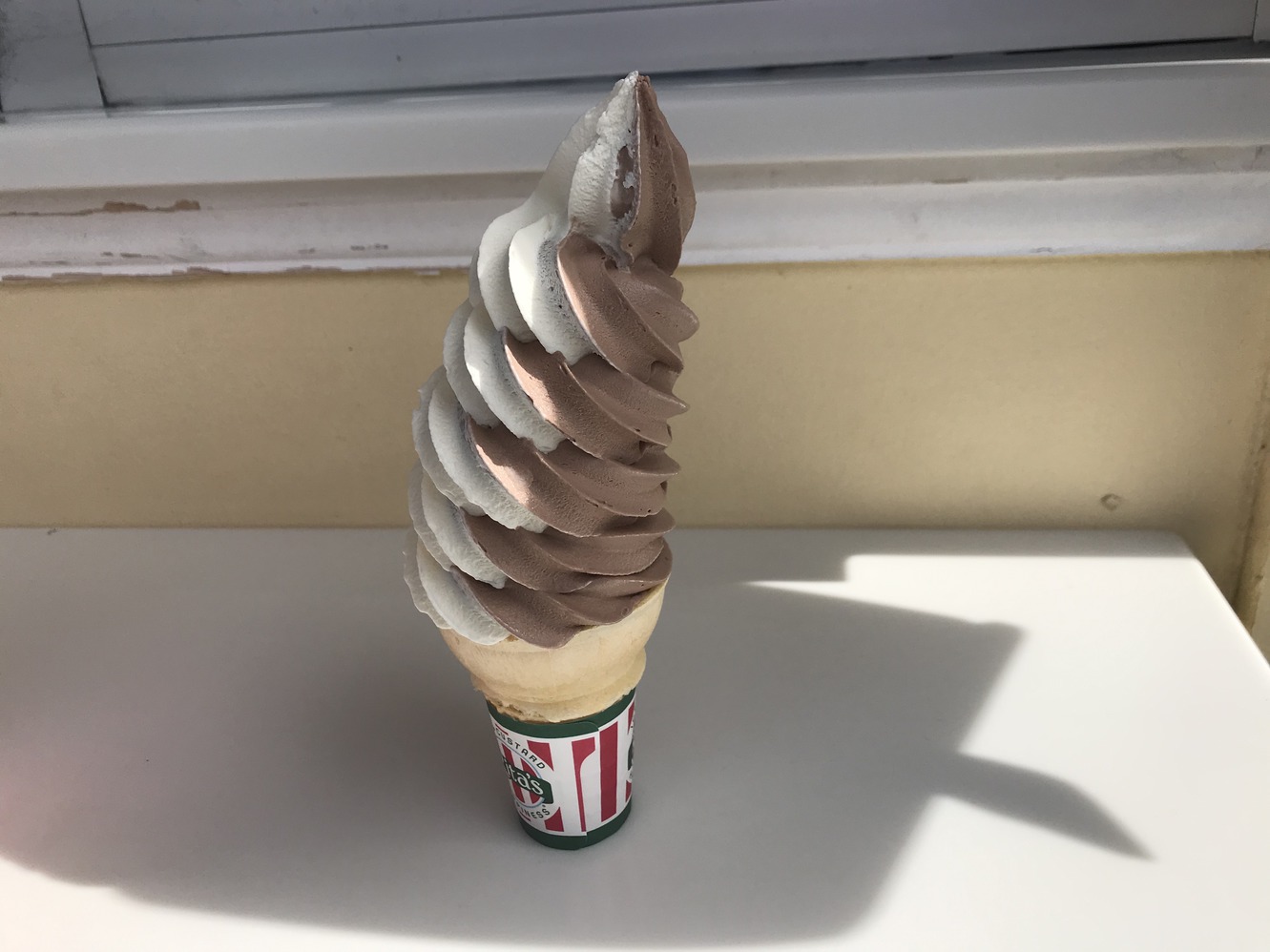 The Rita's Italian Ice stands are enough of a reason to visit this park by itself. Kings Island in Mason, Ohio, does not carry frozen custard, and Cedar Point in Sandusky, Ohio, carries a different variety. Only here can you get a chocolate and vanilla swirl custard cone. You can really taste the egg yolk in this dessert, but the flavor is just right. This cone was purchased in Candy Apple Grove; there is another Rita's on International Street and one more in Soak City.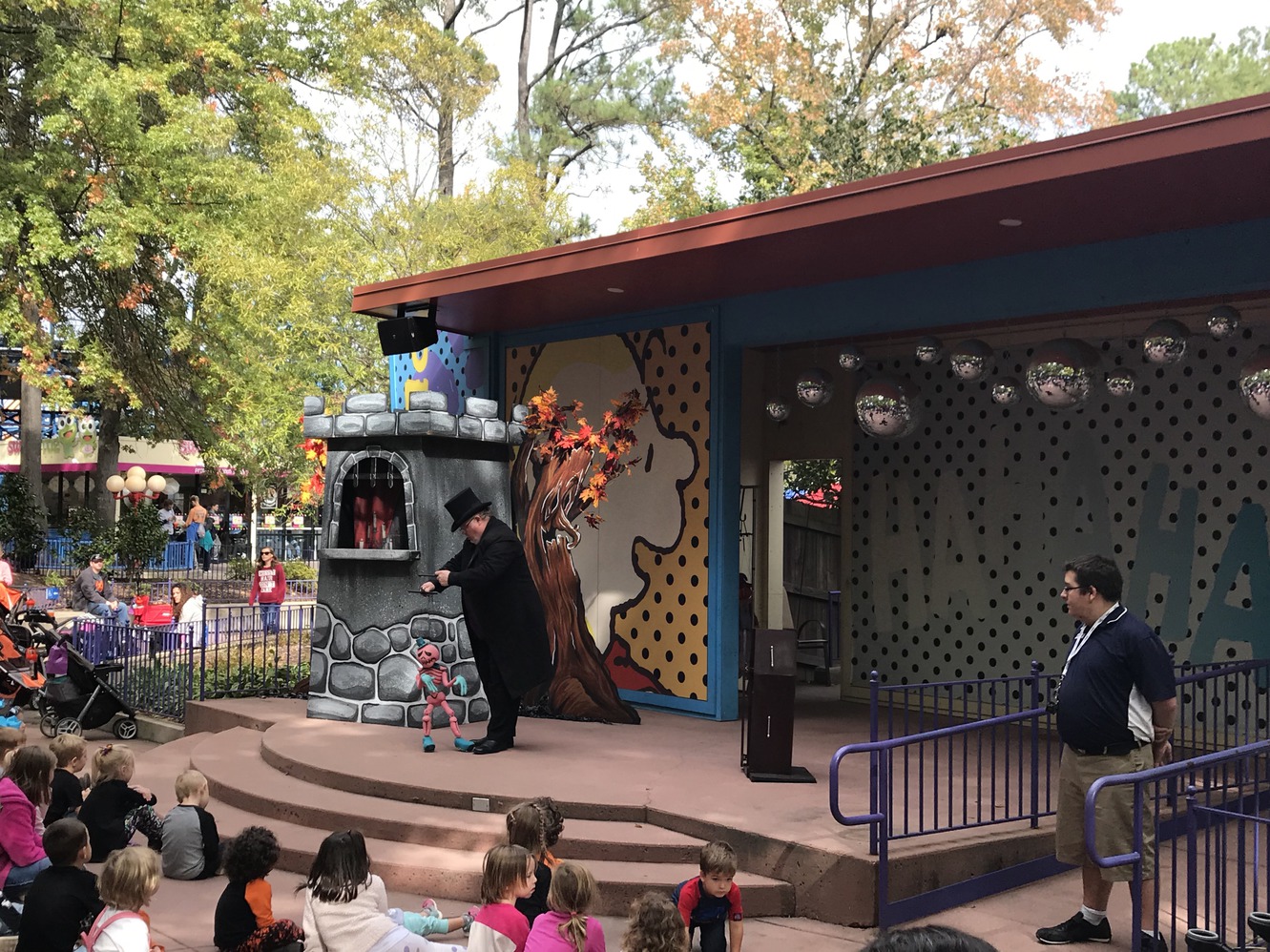 This is the Great Pumpkin Fest in Planet Snoopy at Kings Dominion. In addition to this puppet master, there were young employees on stilts in fantastic purple costumes with conical hats, to entertain the park-goers. There were also little game booths, where kids wielded the mighty mallet on the Power Tower to win little prizes. Most of the workers here look to be in their first-ever jobs.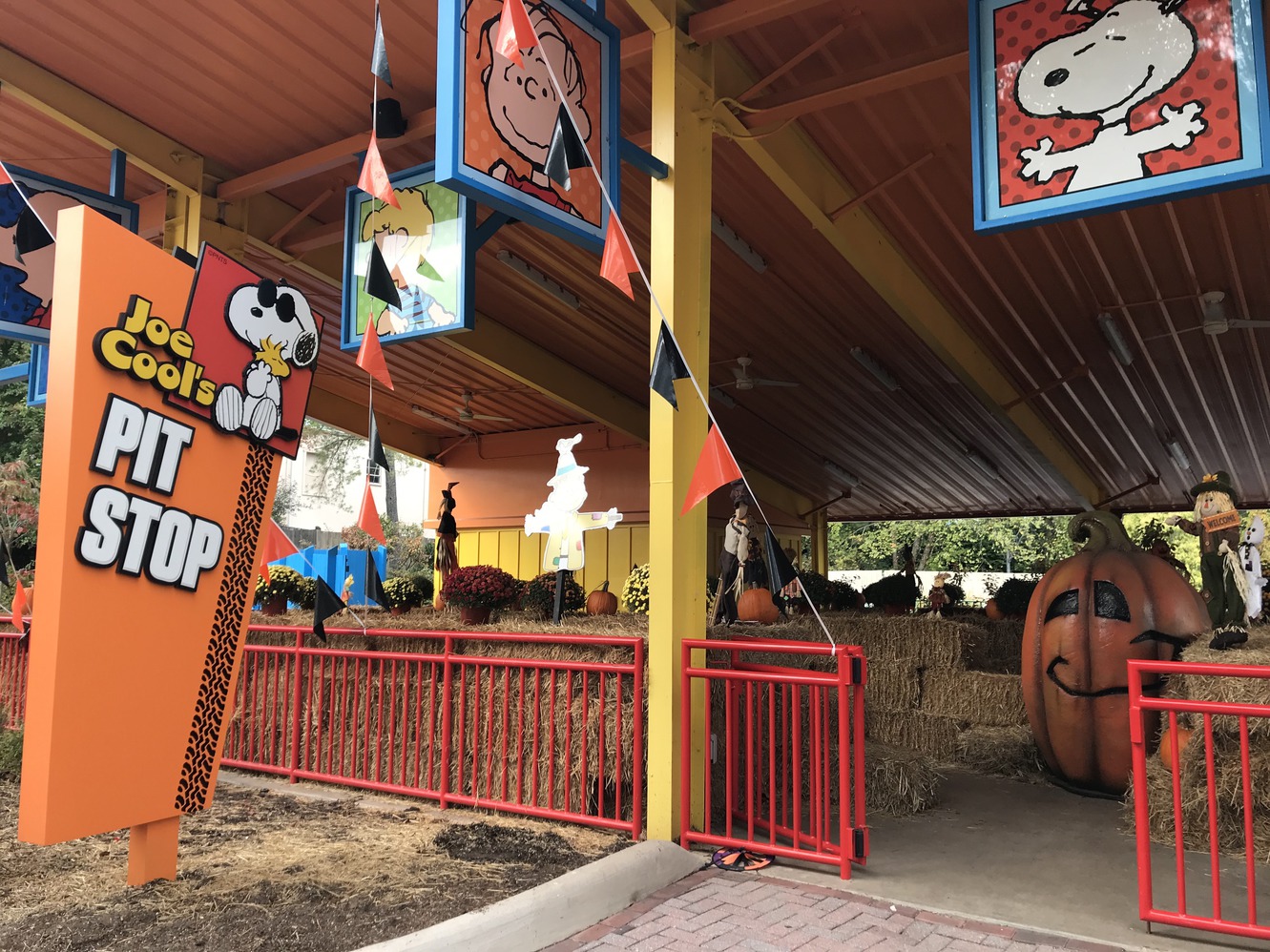 Joe Cool's Pit Stop haystack maze is under a shelter and is a lot of fun, even for grownups. The attendants (looking to be high-school kids) were happy to take photos of us as a memento. There was also an attendant at the end of the maze handing out stickers. Joe Cool's Driving School is also open for kids who want to get behind the wheel of a mini-car.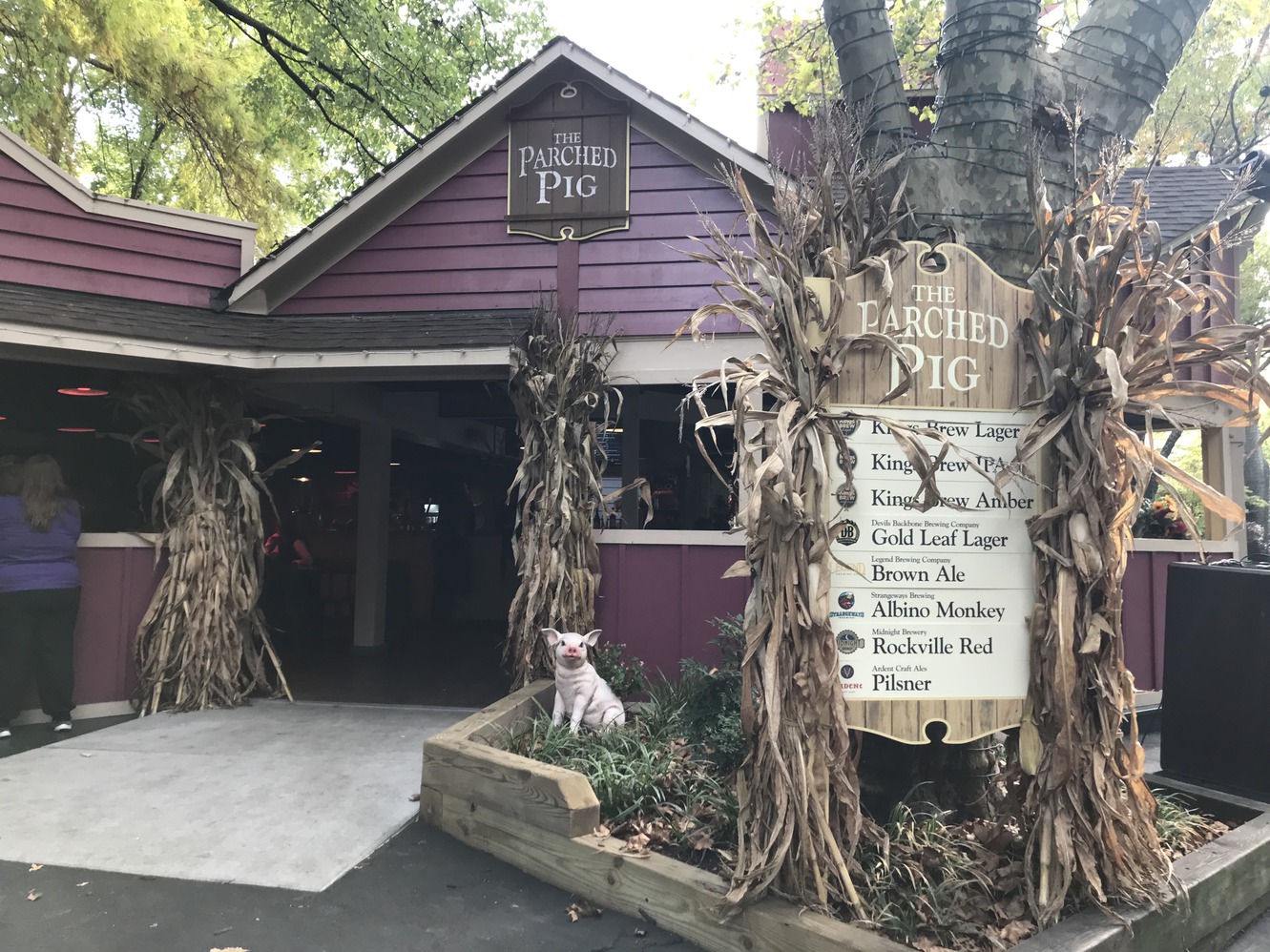 The Parched Pig beer stand features local craft beer and wine and is new this year. This airy sit-down spot is located in the Old Virginia section of the park (number 22 on the park map) and is decorated with pumpkins, sunflowers, and cornstalks. The Wayside Grill (number 23) is just across the path, and you can bring food from other stands in here, as you can at almost all stands.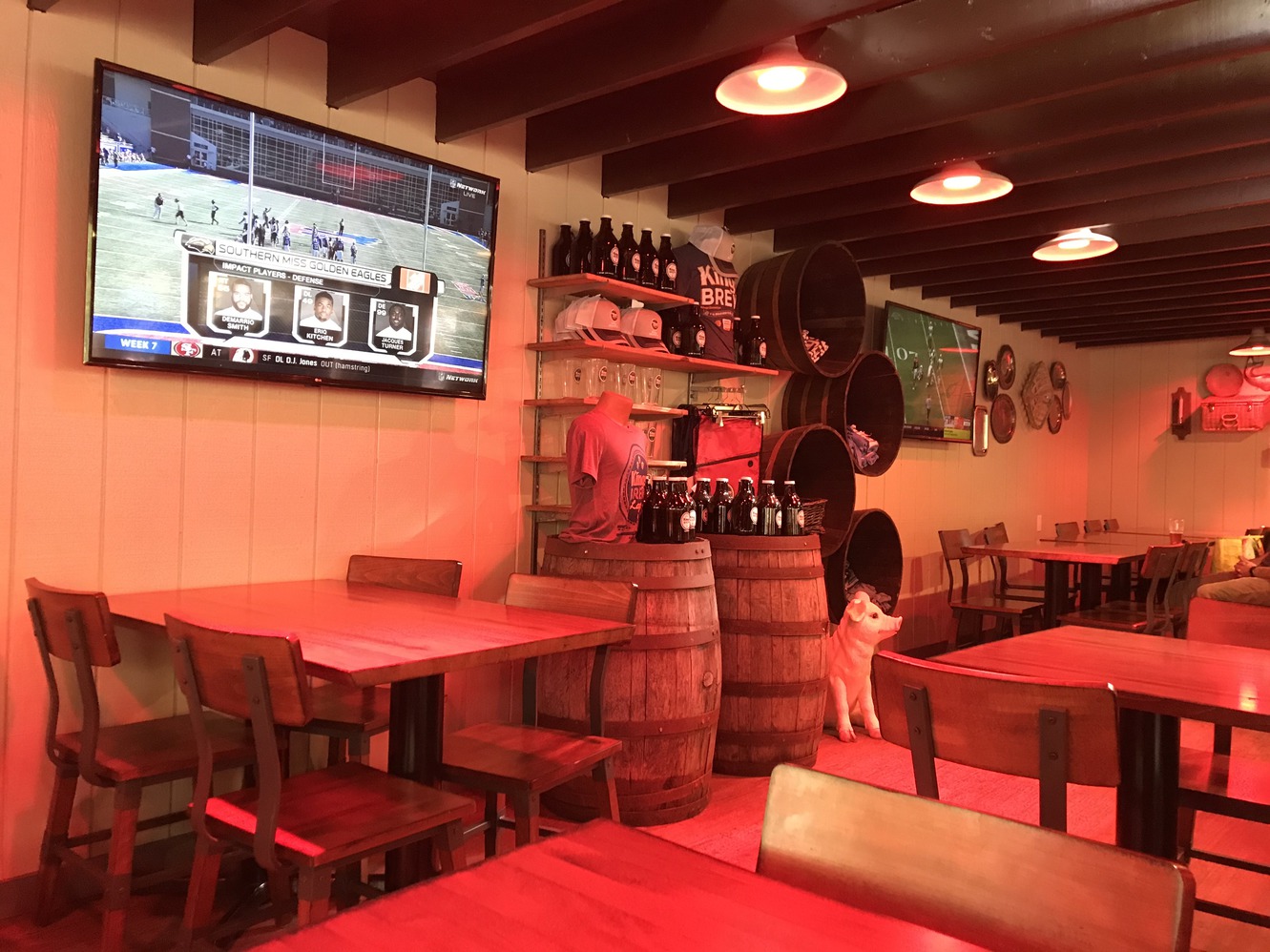 The Parched Pig is a great place to watch TV. This section of the stand was almost completely enclosed, next to an ice water dispenser. Other tables are more open to the elements, which is great on a sunny day. Some of the seating even faces out toward the walkway and the flume rides. Kings Dominion Theatre is also nearby.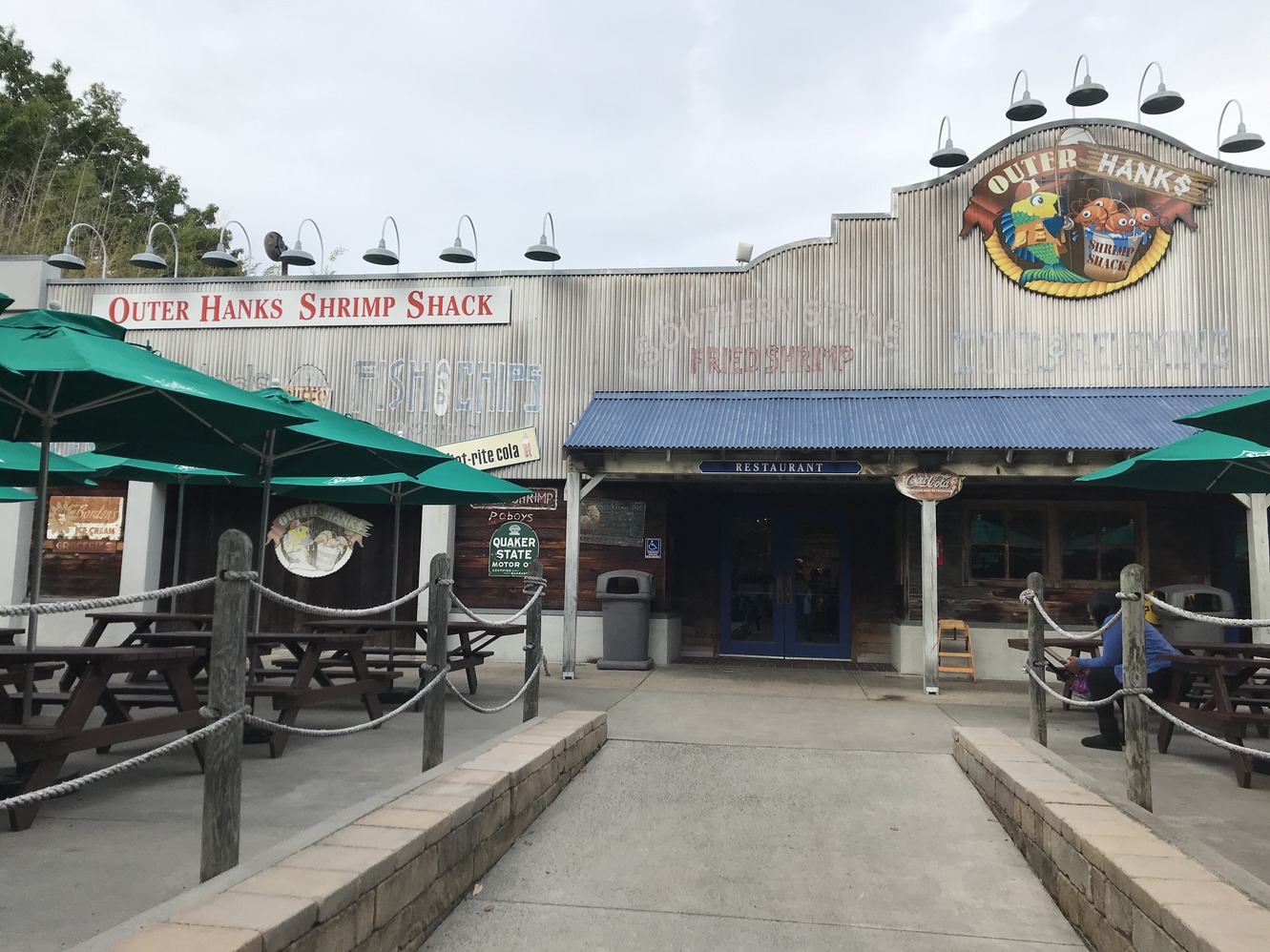 Outer Hanks is a fun place to eat and the tables were pretty clean. The condiments were well stocked. There is a lot of memorabilia on the walls, including signs for Fender guitars, Gulf Oil, and old photos of World War II soldiers. The seafood is hot and fresh, but the wait can be 15-20 minutes. You'll also have to ask an attendant for cocktail sauce and tartar sauce.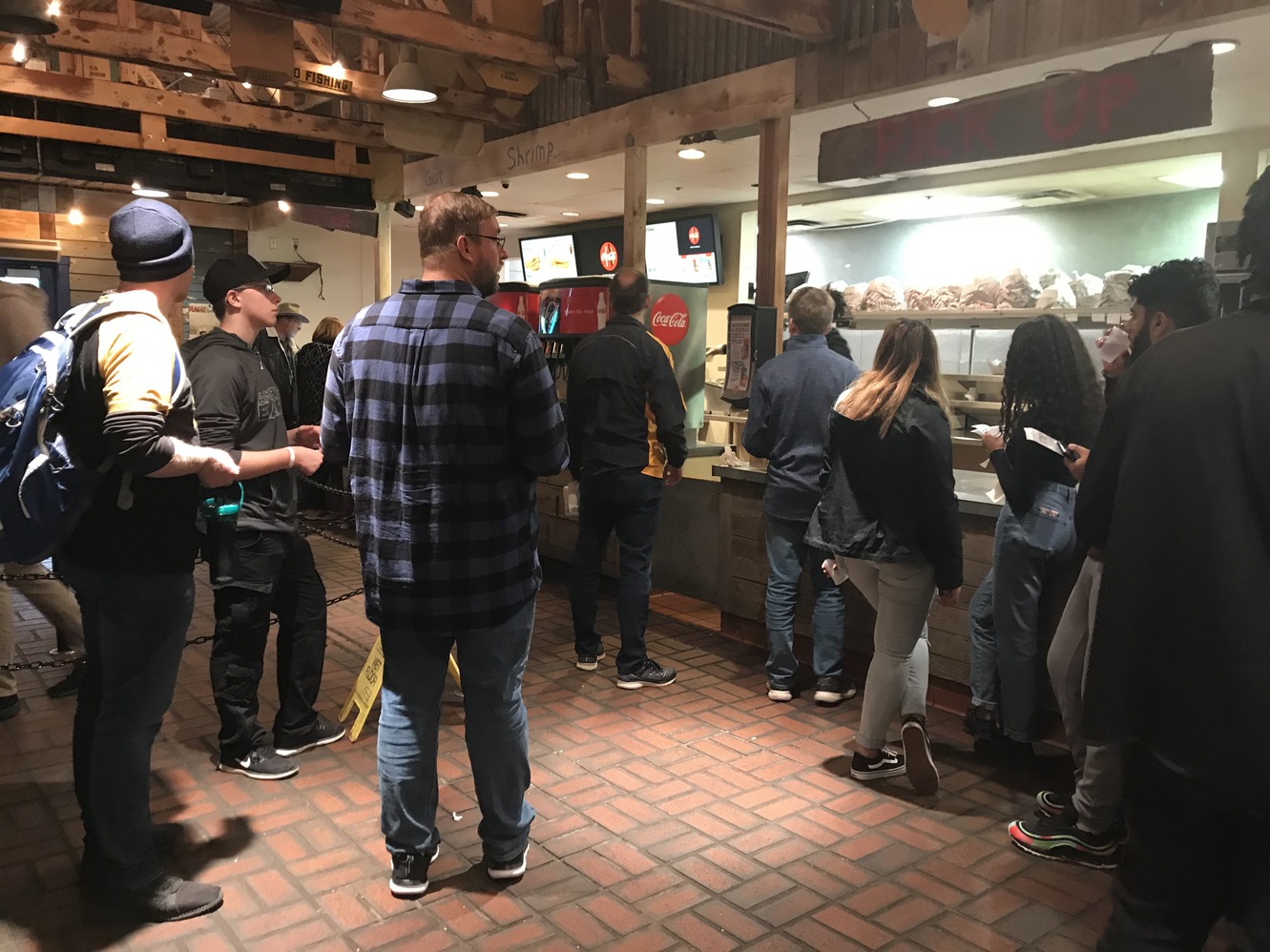 The Outer Hanks shrimp shack is located in Safari Village, number 51 on the park map, right next to The Crypt. This is one place where you can order an adult beverage with a meal and sit down indoors. There are shrimp baskets, fish baskets, chicken tenders and loaded fries. If seafood is not your thing, the Hungry Hippo across the path has burgers of all kinds.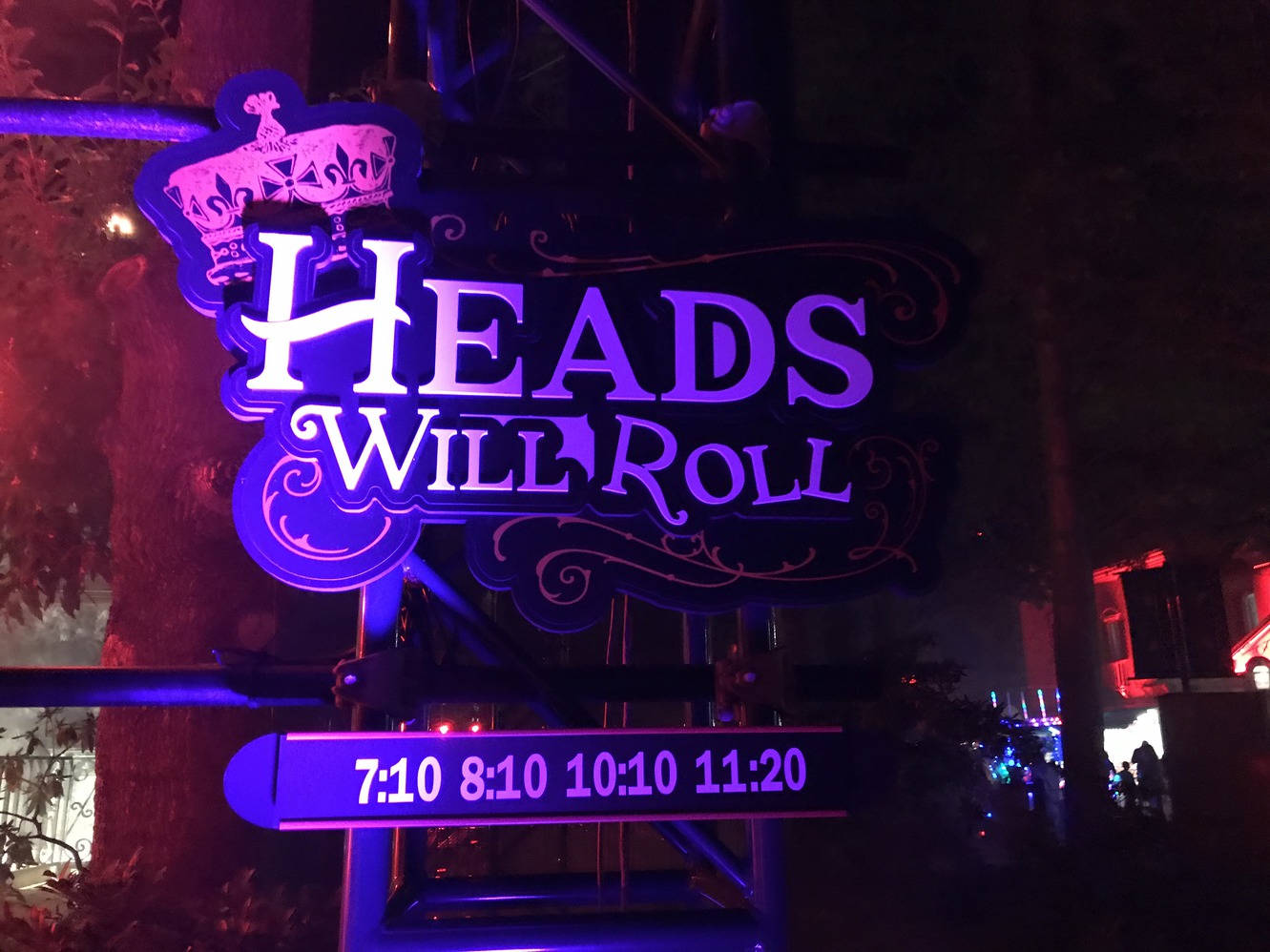 There is a lot of musical entertainment at Cedar Fair parks throughout the season and that is true of the Haunt. The show called Heads Will Roll takes place during the evening and features the use of a guillotine. Apparently, the plot of this show revolves around a queen who has grown tired of one of her minions. This show takes place in front of the Eiffel Tower.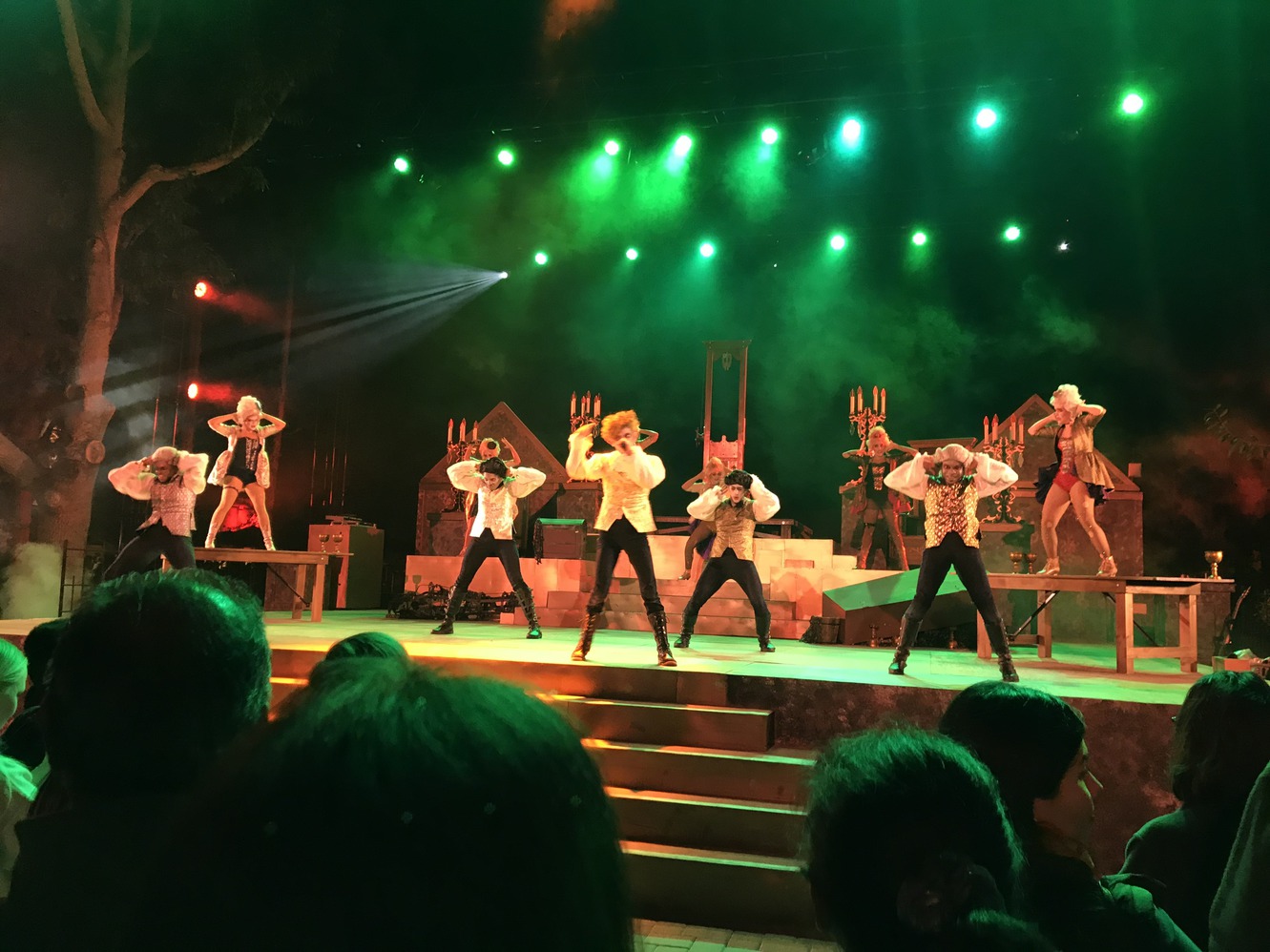 Halloween shows at Cedar Fair parks feature the usual singing and dancing, but Haunt shows have more of a PG-13/R vibe than other shows throughout the year. These shows have strobe lights, fog, loud booms, and horror-movie themes. People start gathering at the Bandstand a half-hour before showtime to get a good spot.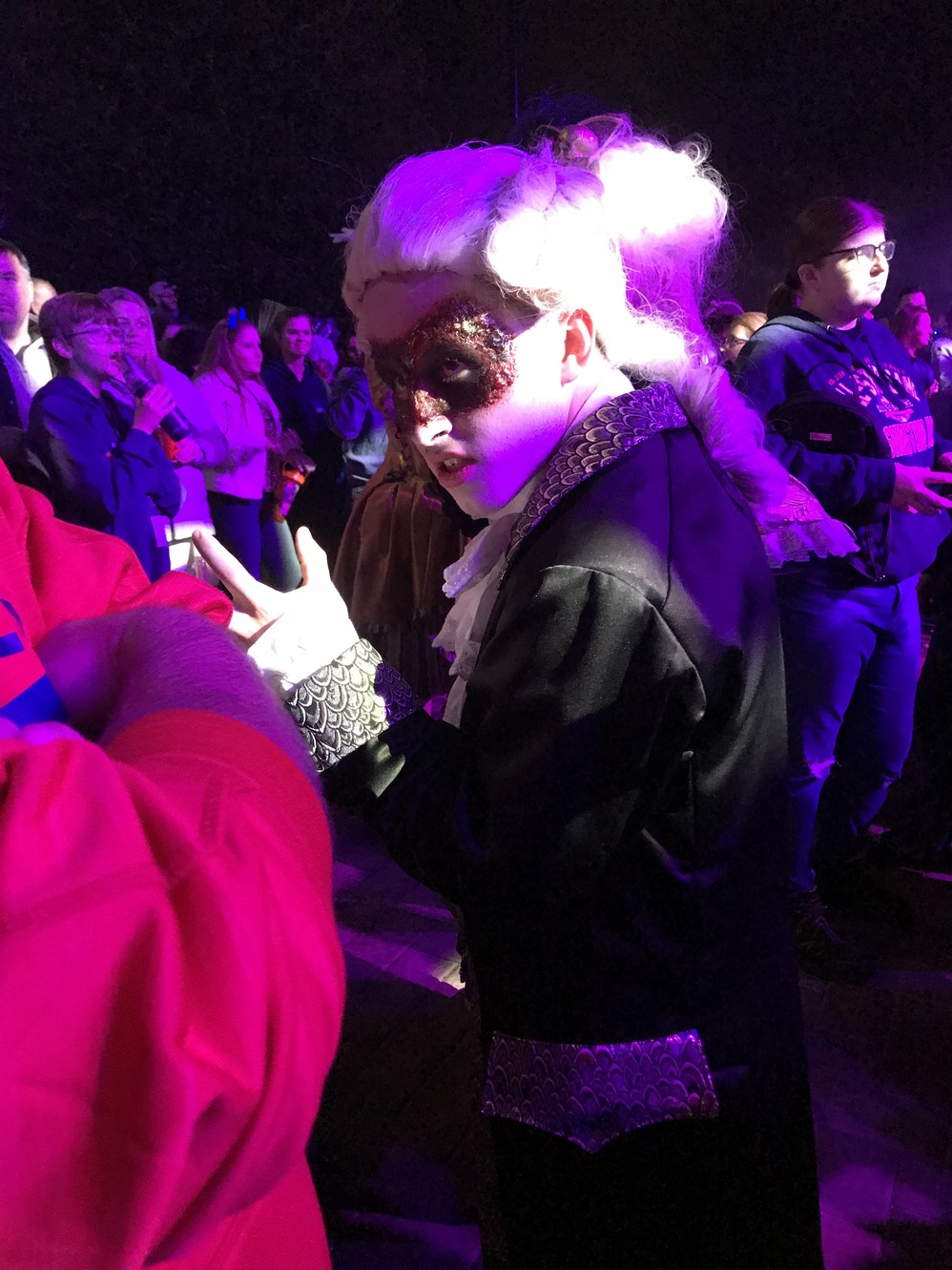 This Haunt actor has crossed over to the Bandstand from the Masquerade Scare Zone at the Eiffel Tower to partake of the Heads Will Roll show. He's showing off his mad boogie skills, but soon he'll have to go back to his evil Queen Majesty at the end of this 20-minute show.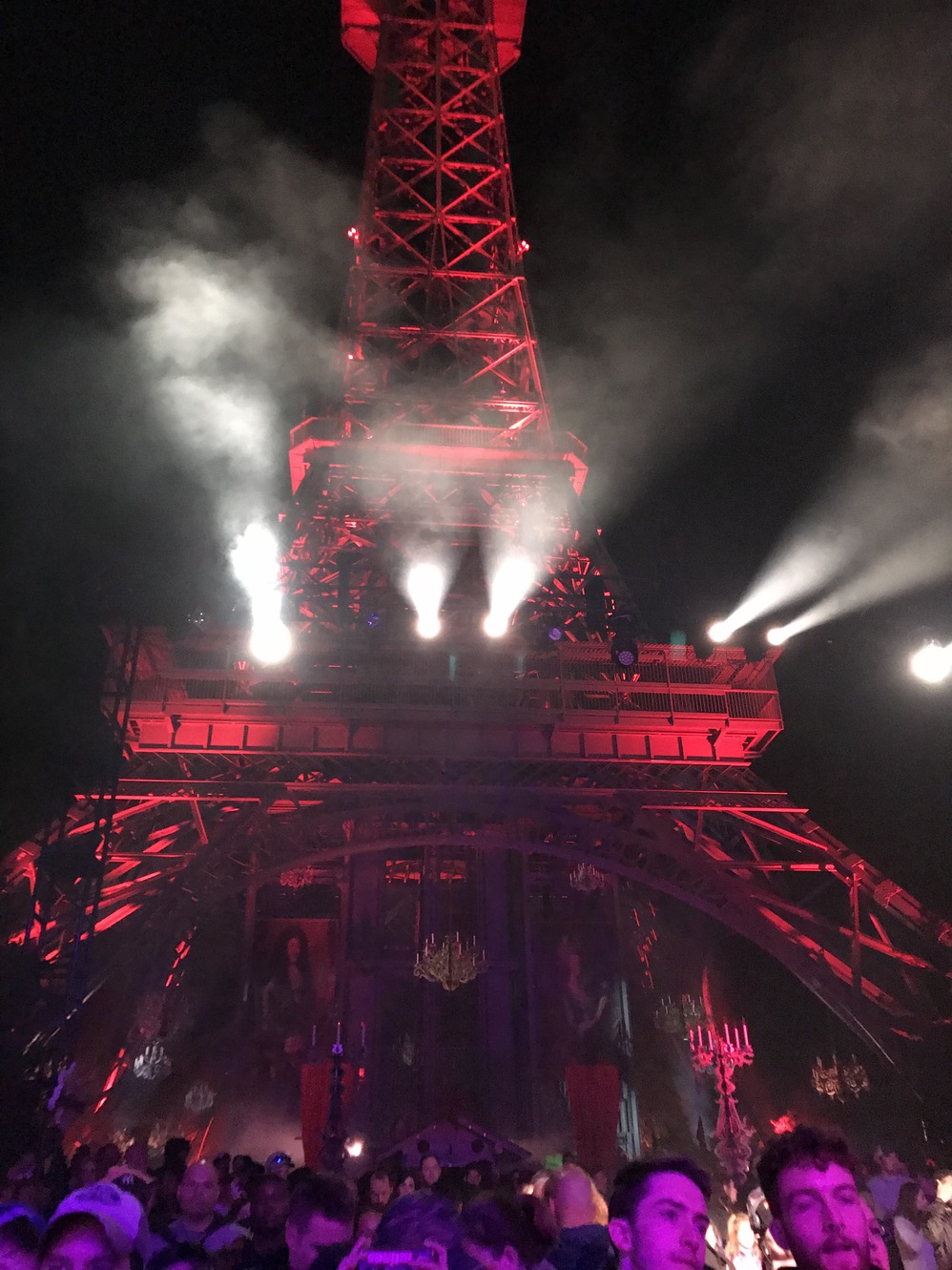 The moon has risen over the Eiffel Tower on this wonderful October evening, and these haunted weekends will stretch into early November for the 2019 season. People are streaming in for the fun, some wearing costumes. The menacing yellow eyes on the Tower are wide open, taking in the night. The park will close at 1 a.m., but will open again tomorrow.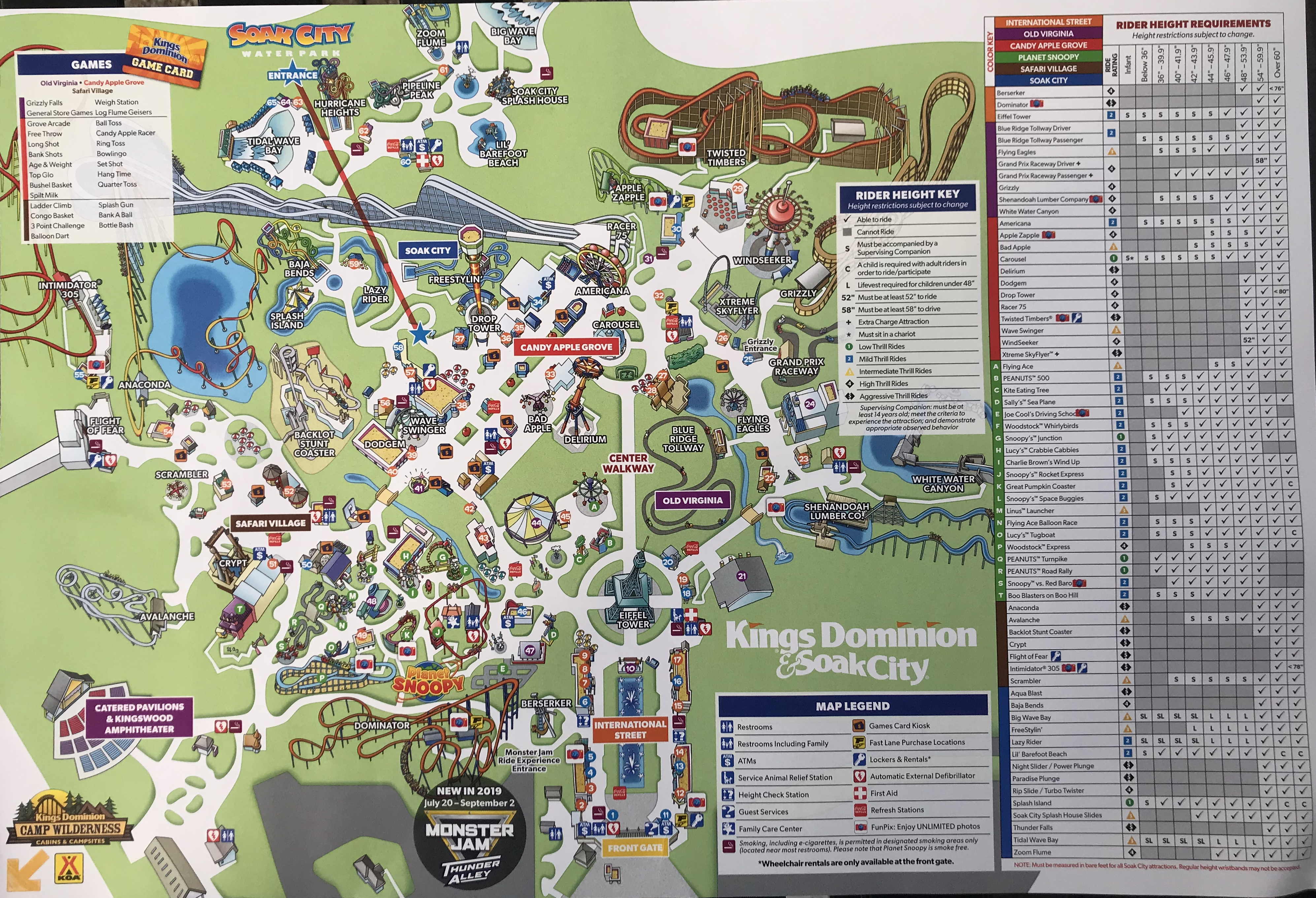 These maps are available all over the park during the spring and summer, but are a little harder to find during Halloween season. The front gate and its shops had them, but that was about it. The major areas of the park are named, like Old Virginia, as are the rides, such as Blue Ridge Tollway. Food stands and shops are numbered.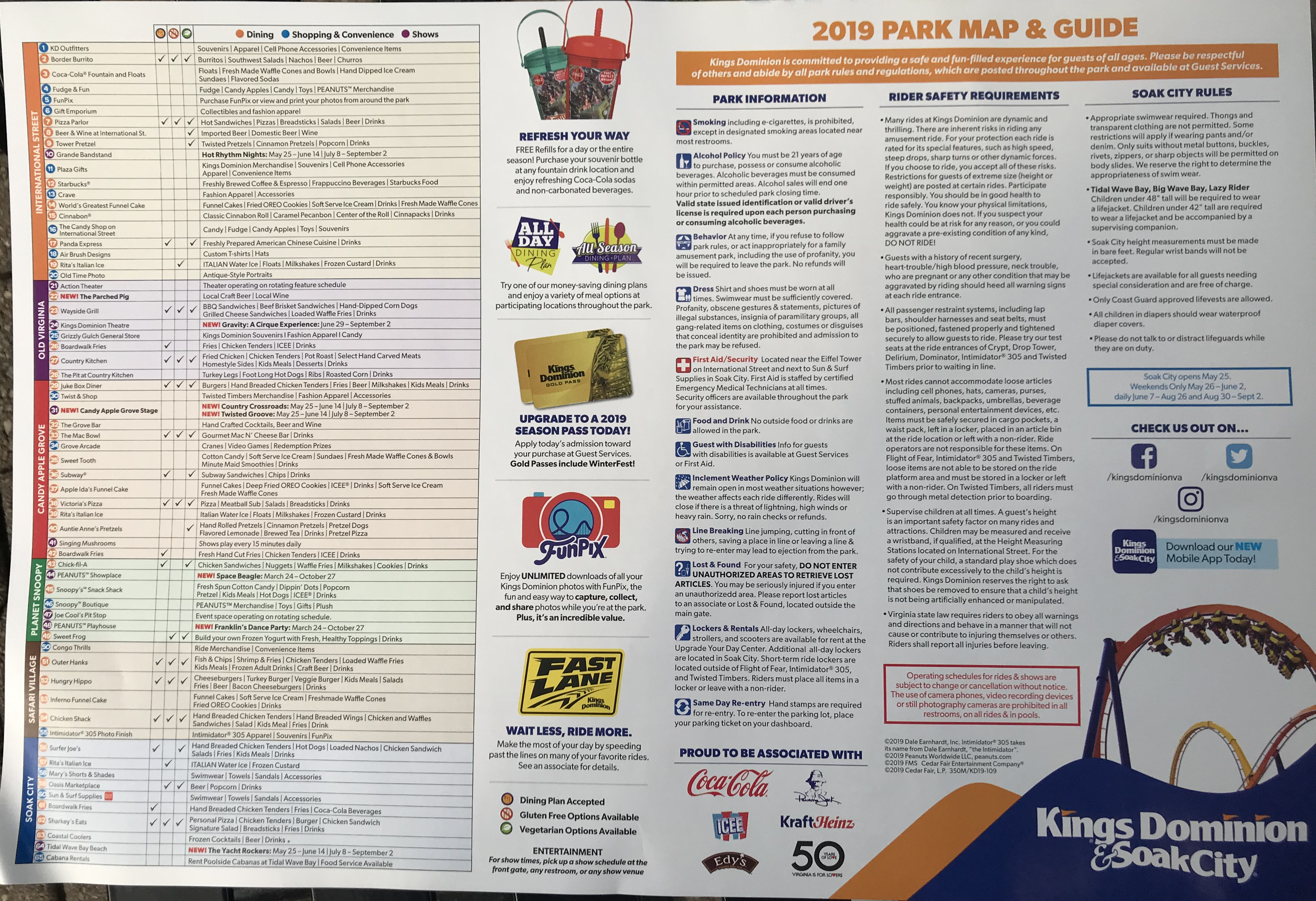 The back of the 2019 season has the full list of Kings Dominion's food stands, shops, and showplaces. Food and drink spots are in orange, shirt shacks are in blue, and entertainment venues are in purple. This list is organized by park section; for instance, the Mac Bowl is in Candy Apple Grove.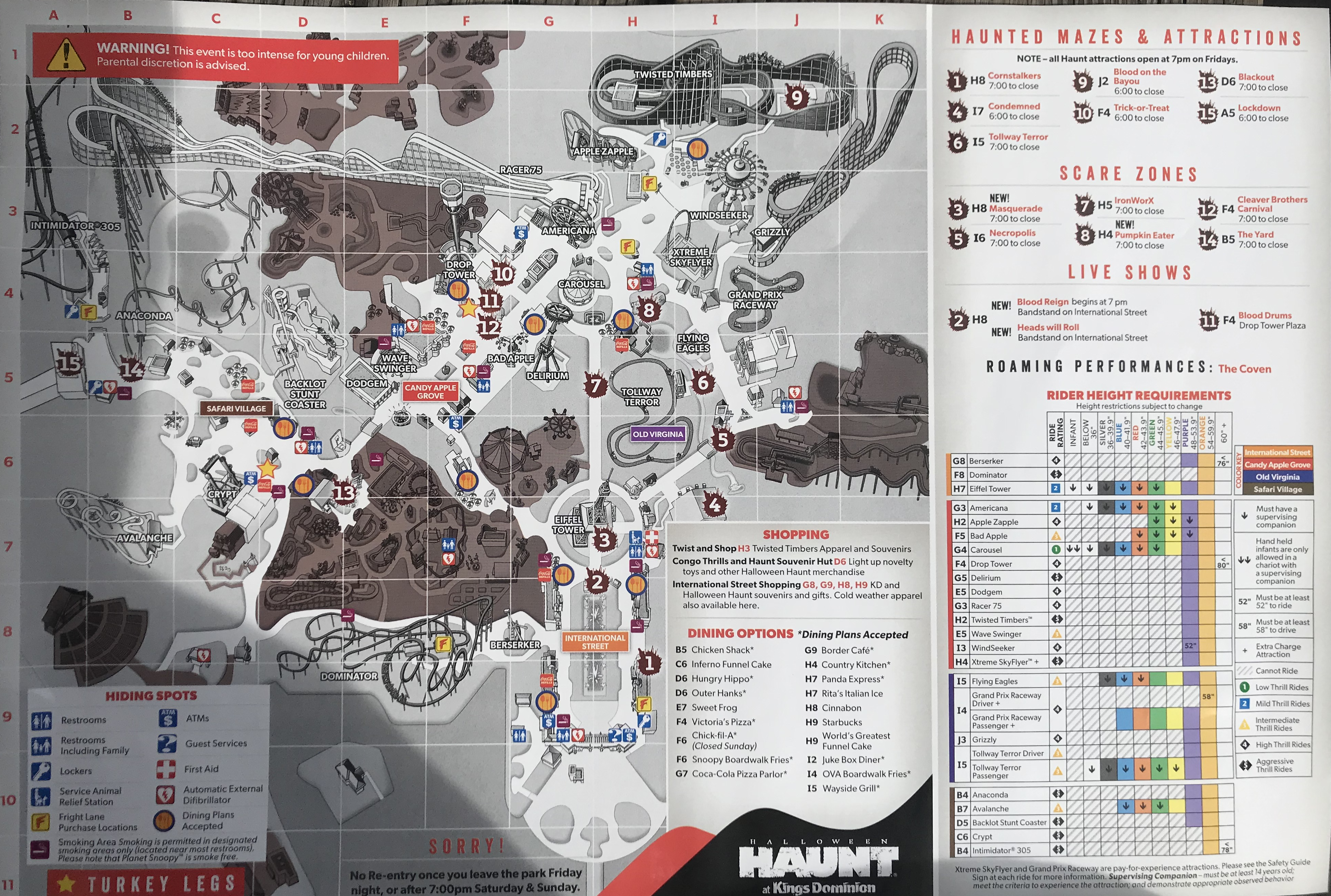 Halloween Haunt maps are all over the park, and are easier to find than regular park maps. All of the Haunt attractions are listed, and some rides like the flume rides are grayed out because they are closed. It's important to remember that there is no re-admittance after 7 p.m.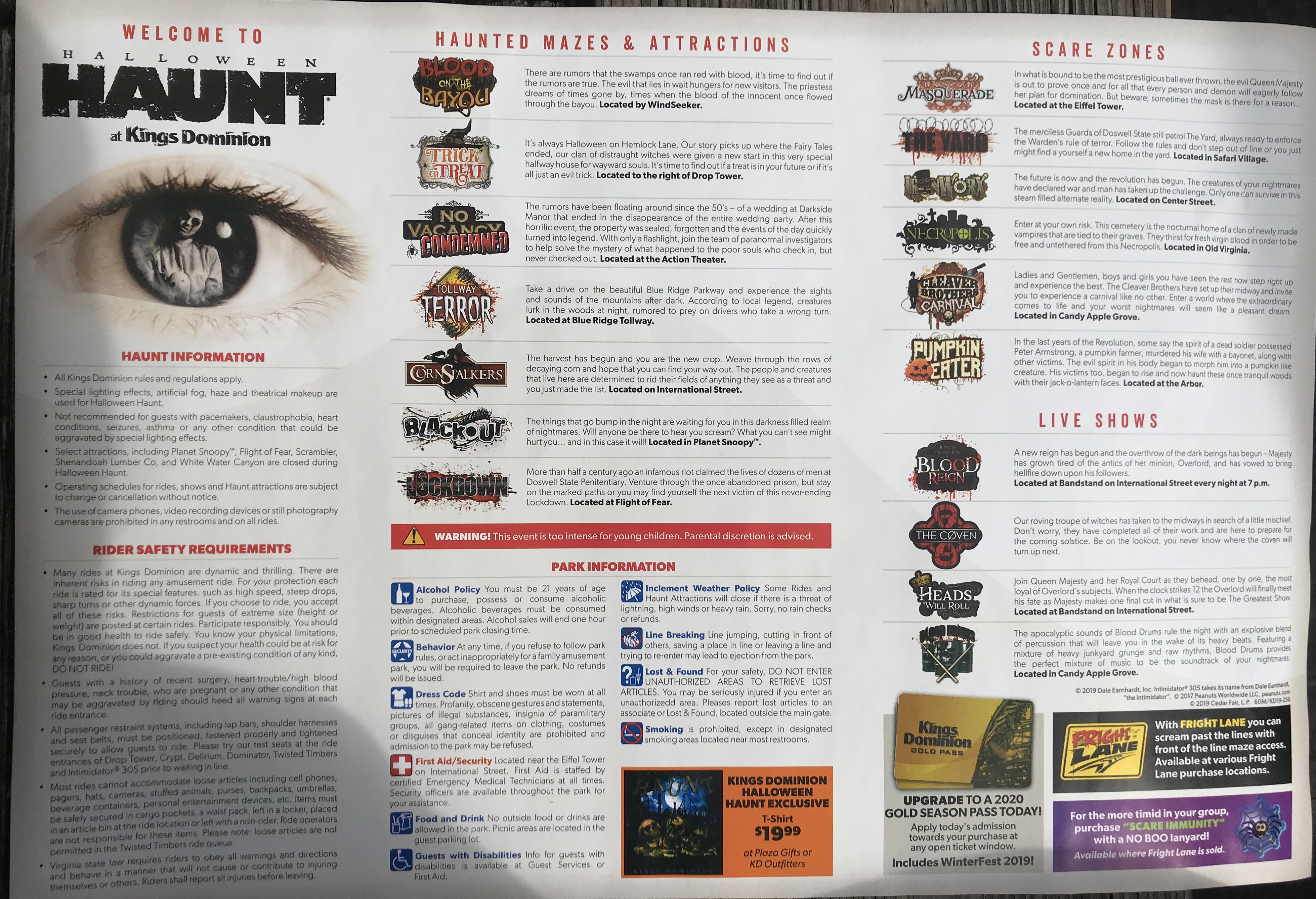 Everything a park-goer needs to know about the Kings Dominion Halloween Haunt is on the back of this map. All of the mazes, scare zones, and shows are listed. Important health information is printed here, too. The 2019 Winterfest season starts in a few weeks, and it will have its own map, too.