Lovers Key, Fort Myers Beach, Florida
Lovers Key was once accessible only by boat, so local lore has it that this park was a secret rendezvous for lovers, hence the name. This Florida State Park is located on the Gulf of Mexico near Bonita Springs now via Estero Boulevard. Lovers Key offers biking, kayaking, shelling, many shoreline amenities, fishing, and natural education for any and all two-legged beach creatures.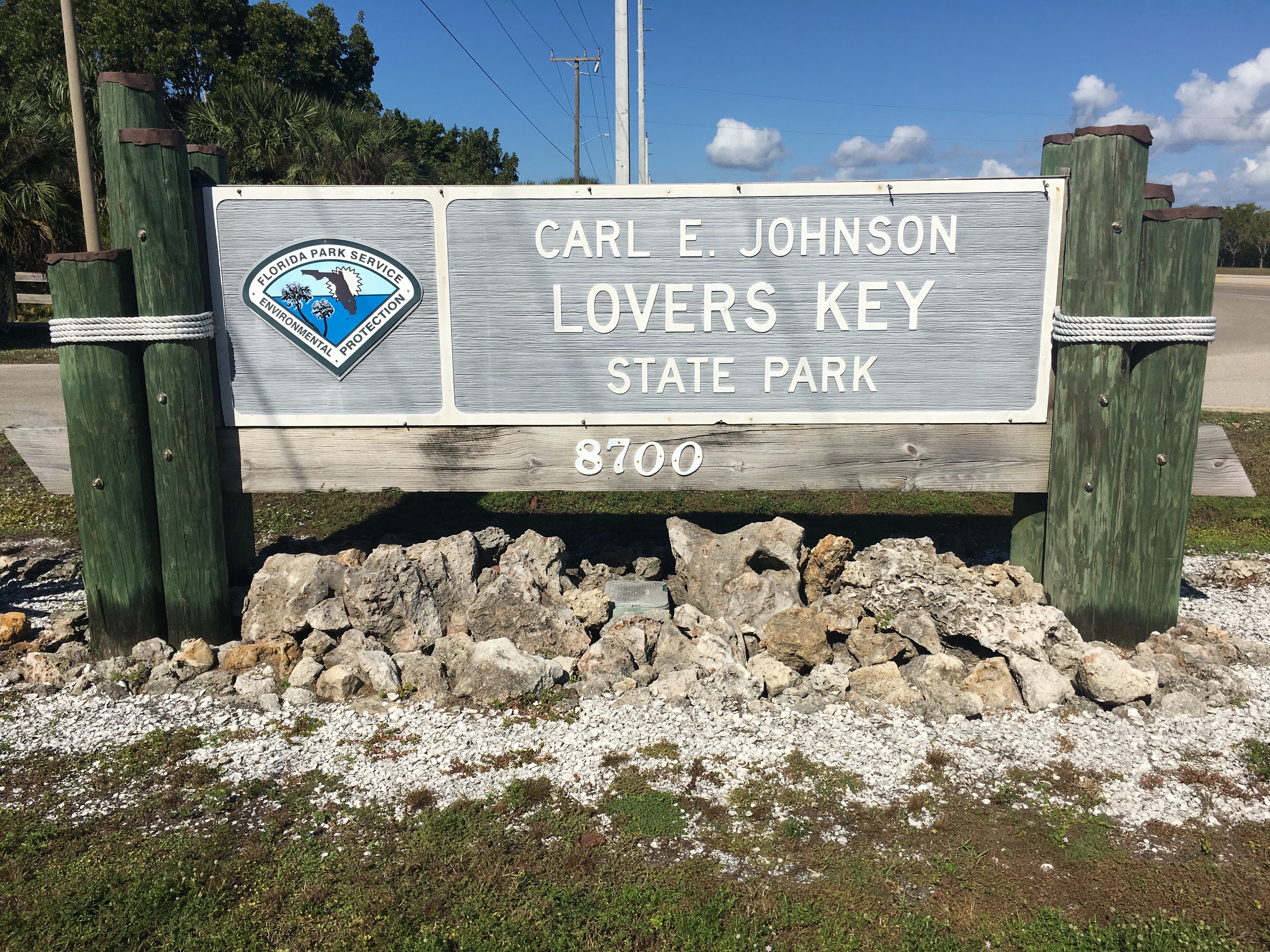 Lovers Key State Park is located at 8700 Estero Boulevard in Fort Myers Beach, Florida. This Florida state park is located south of FMB's Estero Island, and north of Big Hickory Island and Bonita Springs. Lovers Key is a barrier island, and there are three additional barrier islands here: Inner Key, Black Island, and Long Key. That means there are 1616 acres of fun here, with two-and-a-half miles of white-sand beaches.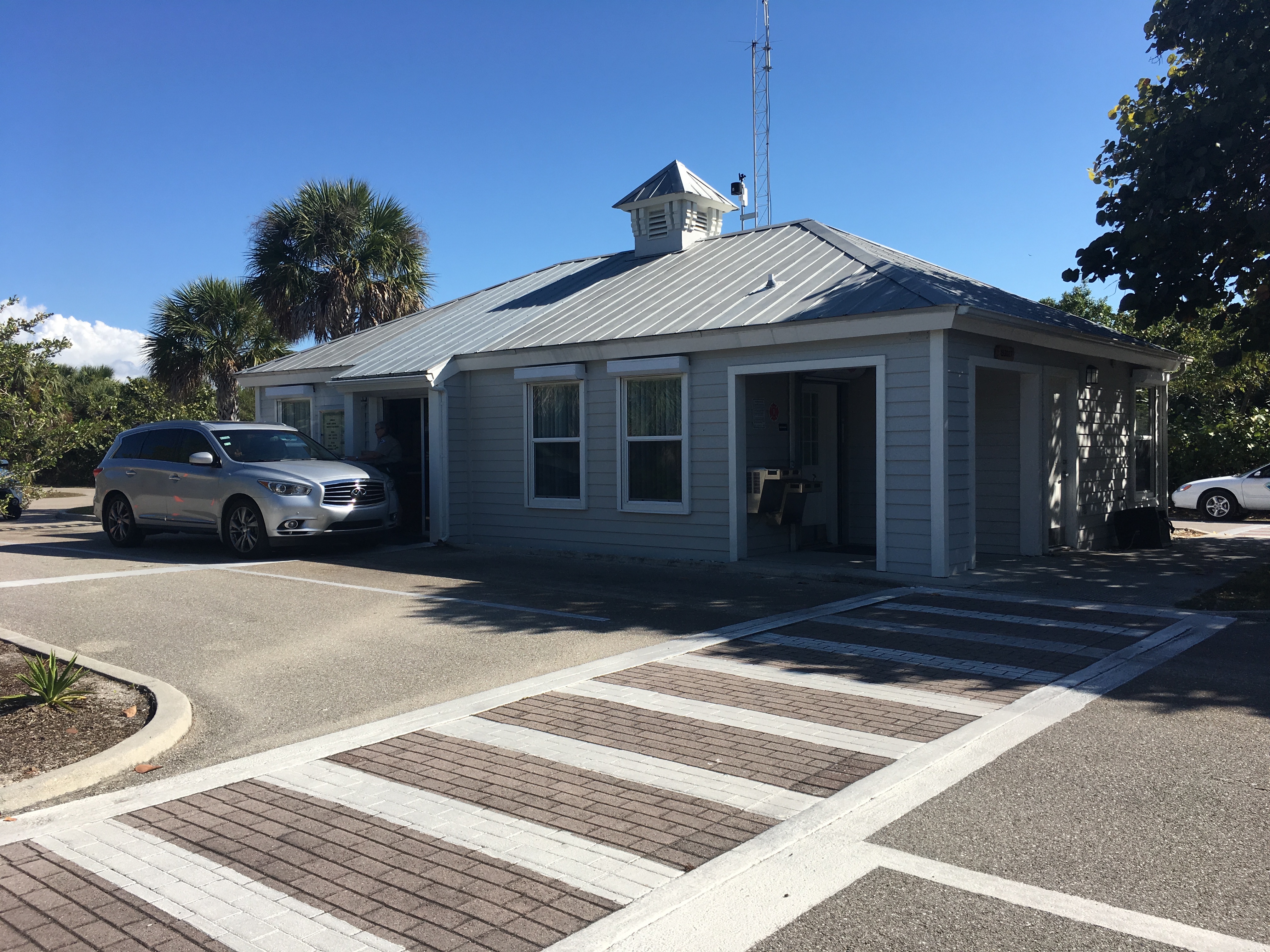 Heading north to Lovers Key from Naples includes passing over Long Key via Estero Boulevard (County Road 865). Lovers Key is only ten-and-a-half miles west of I-75, exit 116 Bonita Beach Road. The park entrance is between New Pass to the south and Big Carlos Pass to the north. This is the ranger station; it cost $8 for a car to enter.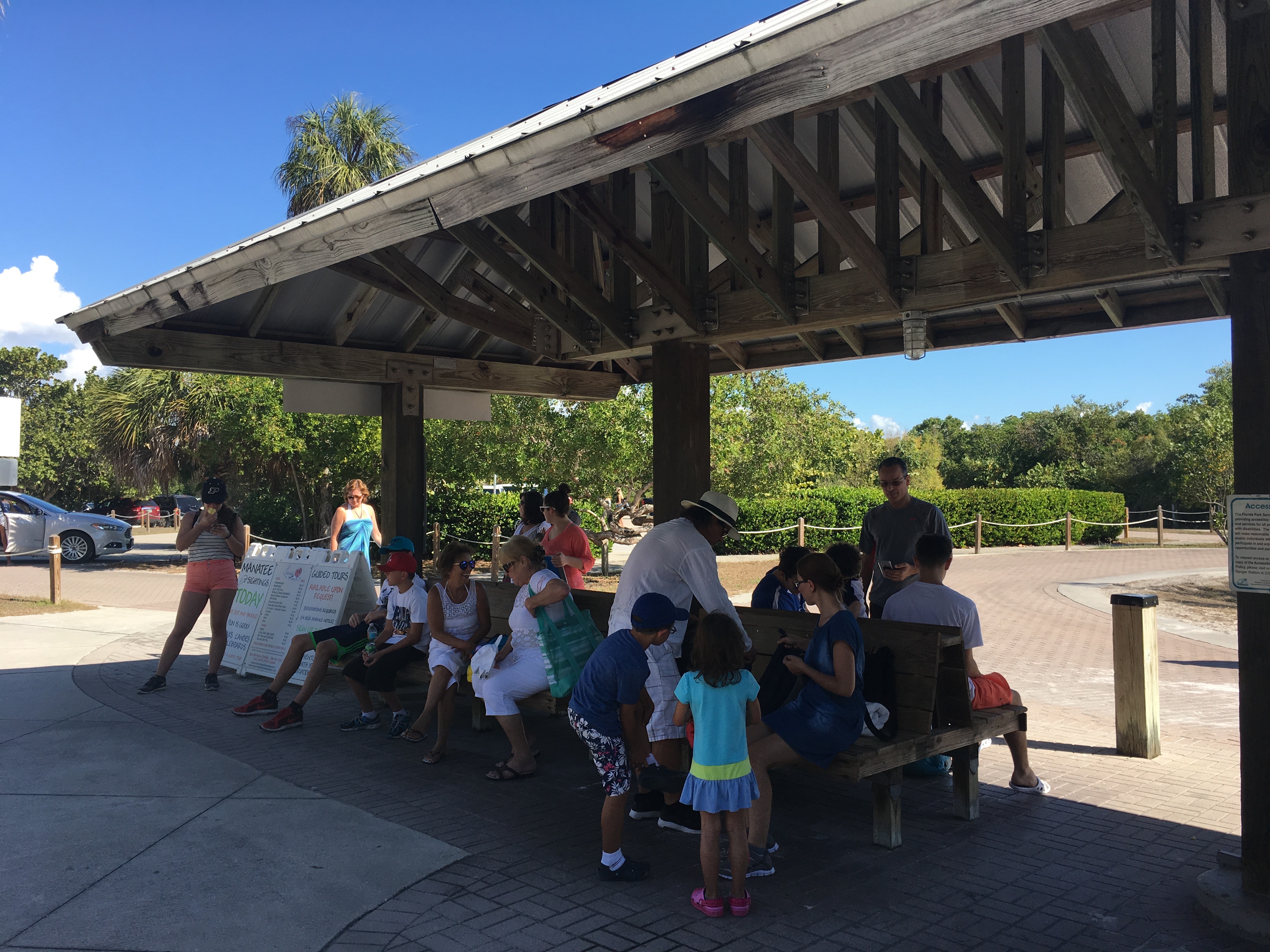 This is the tram station near parking lot no. 1 at Lovers Key. This free tram runs all day, until 4:45 pm. (There is a walkable path to the beach, however.) The park is open 8 am till sundown, every day. The tram runs frequently. It both picks up and drops off at shelters both with modern amenities like showers with food and activity concessions close by.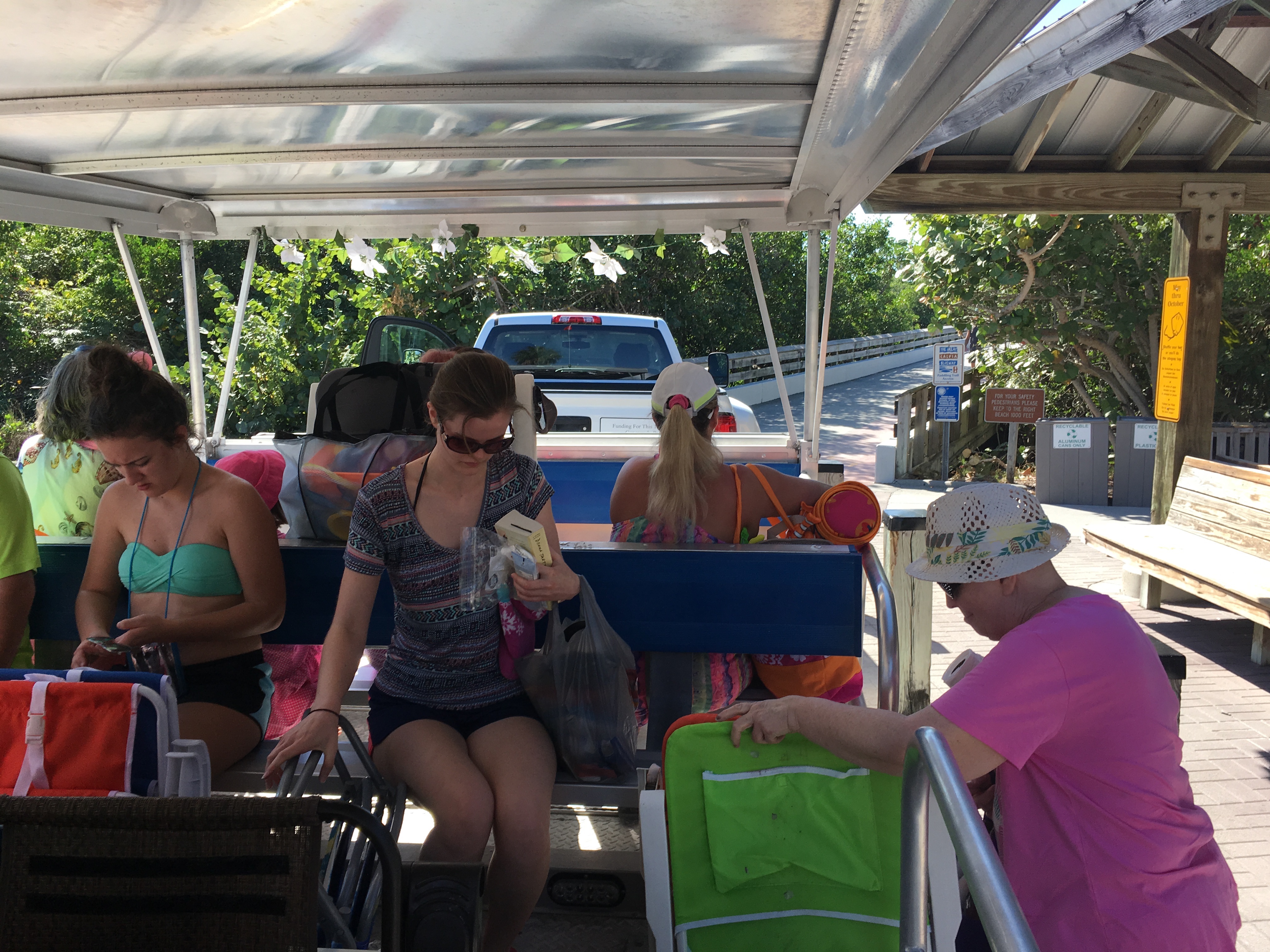 The tram has just picked up new arrivals at Lovers Key and is heading south over a pedestrian bridge (shown), then over Inner Key, and then over another pedestrian bridge to the shelter on Lovers Key proper. Most of the big activities and amenities are within sight of the second tram shelter.
Today is December 29, 2016, and this is the second tram shelter at Lovers Key Beach. The ride takes about 15 minutes. Lover's Key has three parking lots, and the first two were full today. This image was taken at 2 pm, and in about two hours, this station will be full of people heading back to their cars. Accessible restrooms are behind the shelter.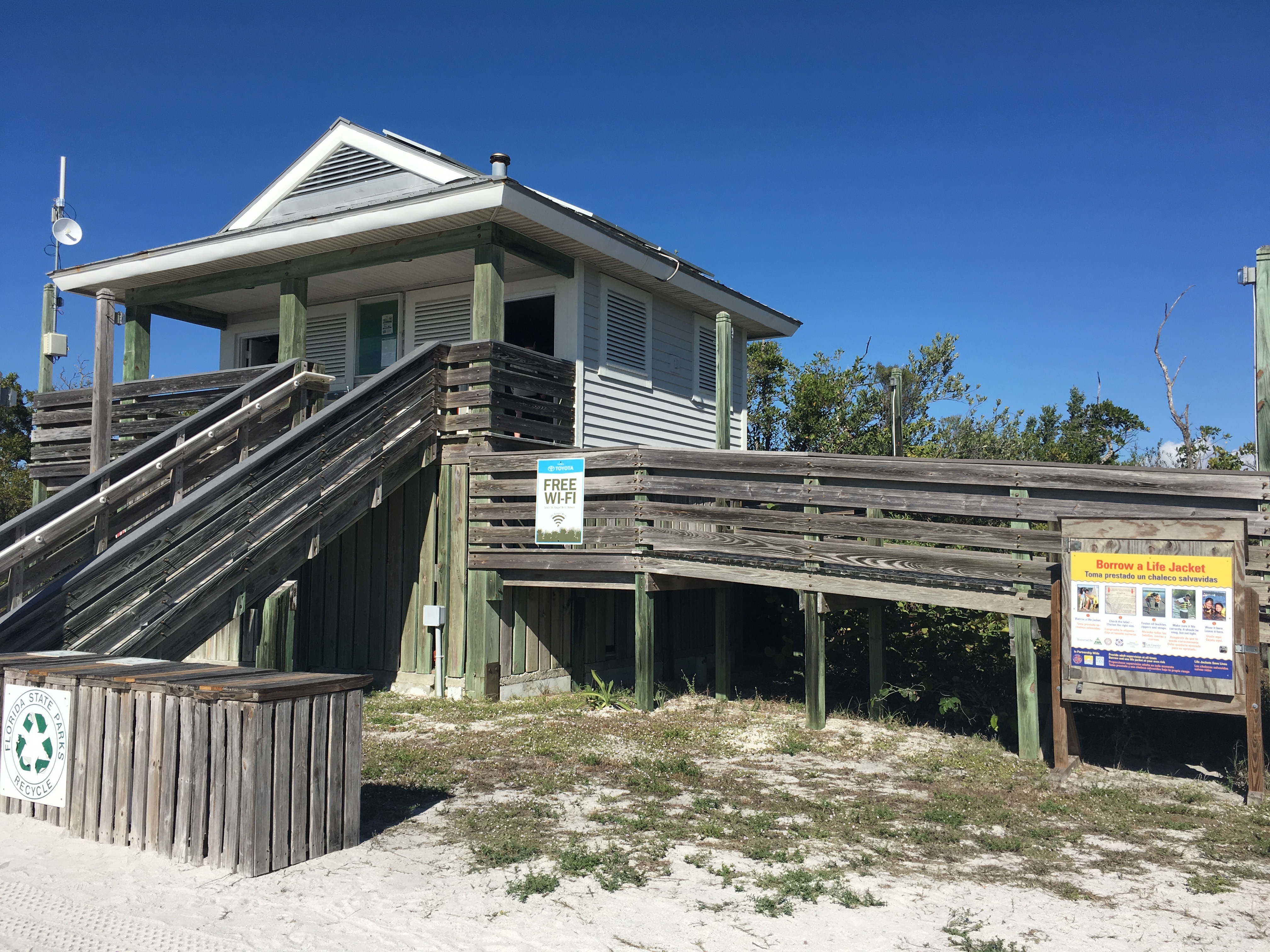 This modern, accessible shelter amenity has a recycling station that generates funds for Lovers Key. Also, the wi-fi here is pretty good. Off to the right of the accessible walkway is a country shower and a footbath. (There is an additional shower at the first tram shelter.) Ranger programming is also posted here.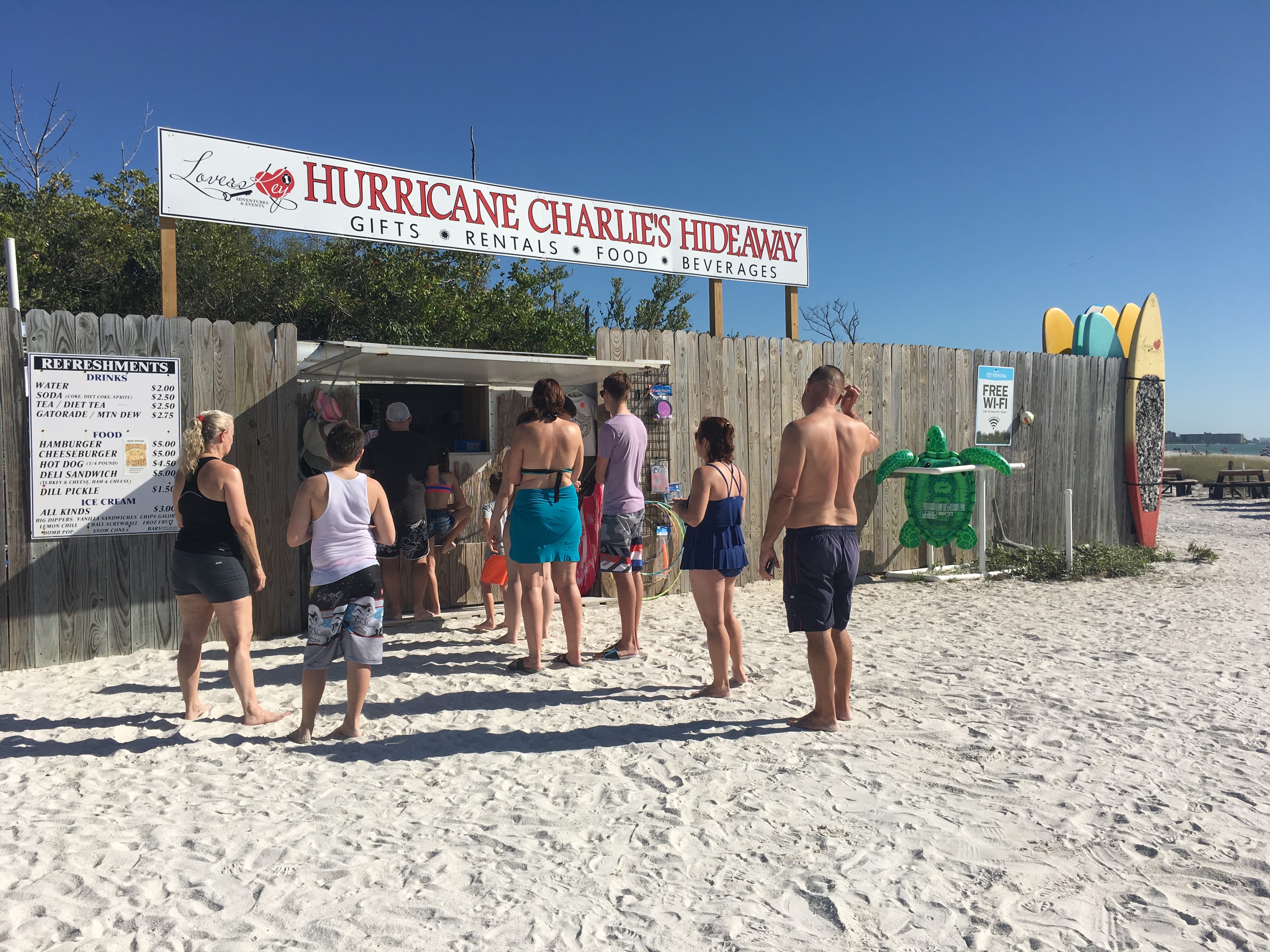 This is one of two concession areas. There were a lot of boards and turtles in the water today, and the lines here were long but were kept moving. Not shown in the image were the many tables for the people getting snacks at Hurricane Charlie's. To the left of this image is a picnic area that leads to a trail through a swamp and then to a wildlife viewing area and fishing pier.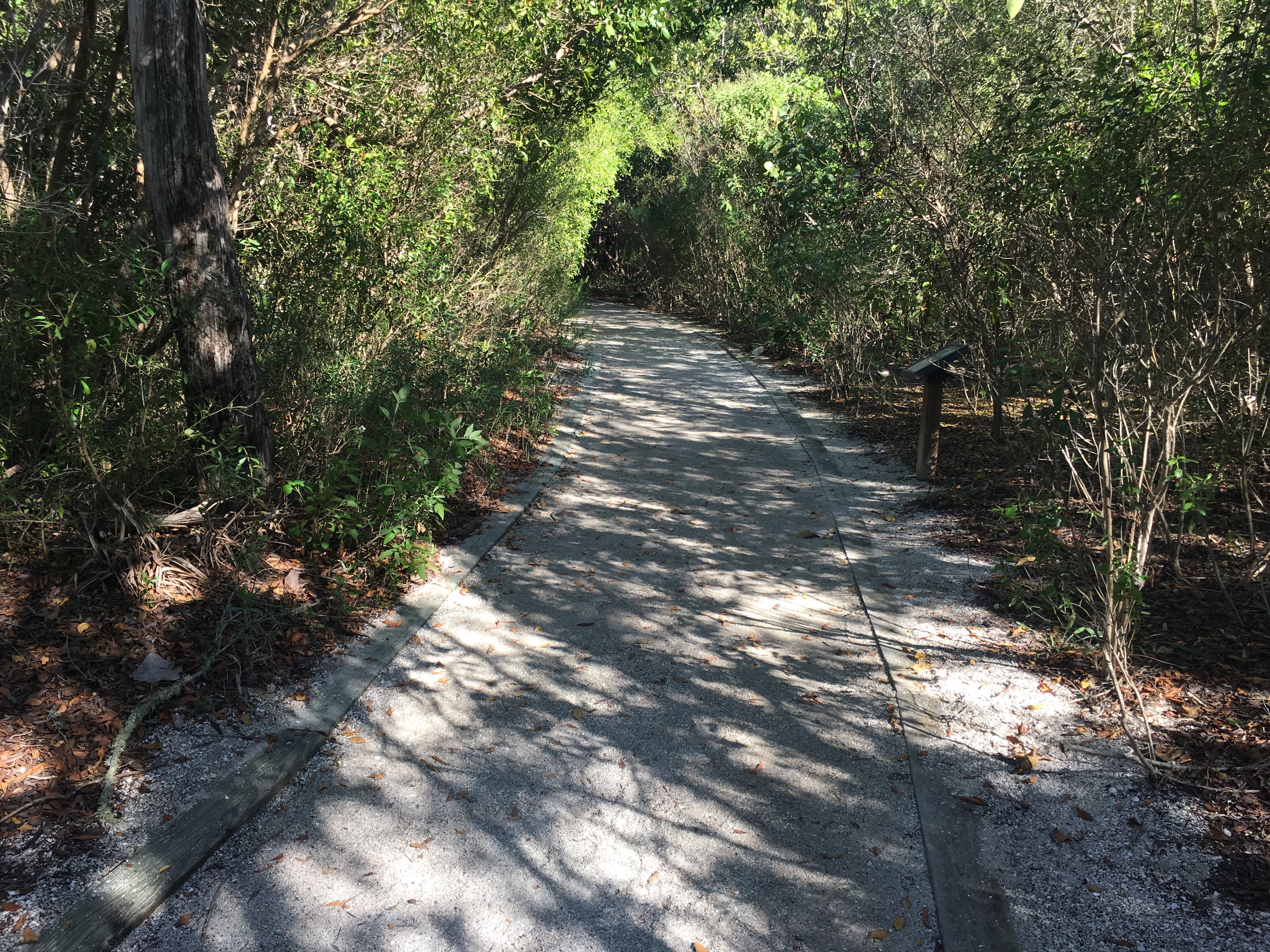 To the left of Hurricane Charlie's and the shaded picnic area is a mangrove forest with a walkway. The arching mangrove trees provide a cool, if brief, respite from the Florida sun. There are informative placards to read, and interesting bits of swamp wildlife to see and hear. They are elusive, so it takes a sharp eye.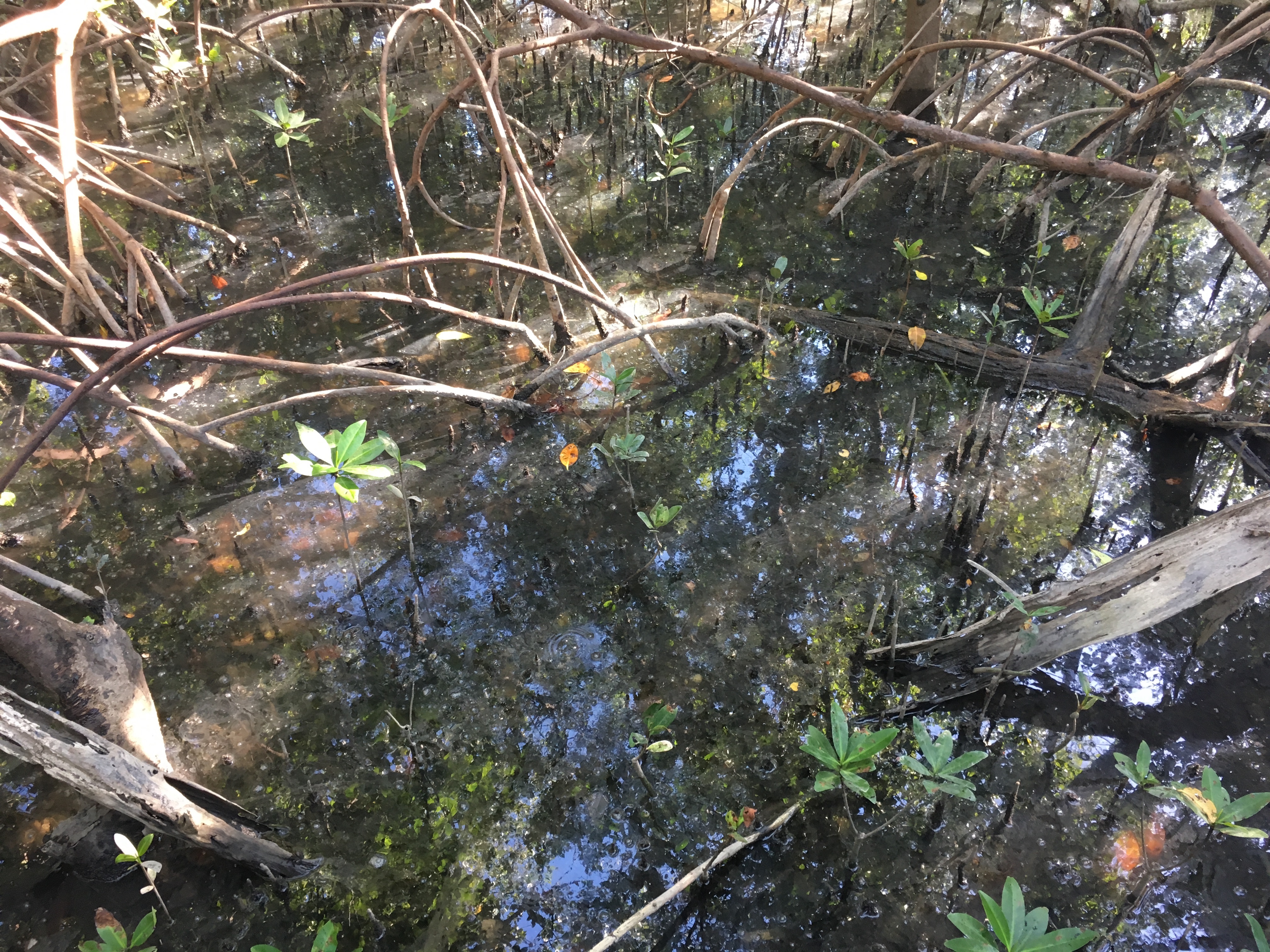 Florida mangrove swamps sure aren't pretty, but this is where a certain type of magic happens, saltwater turned to freshwater. From a placard: "[Mangroves] thrive in salty environments because they are able to obtain freshwater from saltwater. Some secrete excess salt through their leaves, others block absorption of salt at their roots." Mangroves swamps are breeding and nursery grounds for so much wildlife, including fish.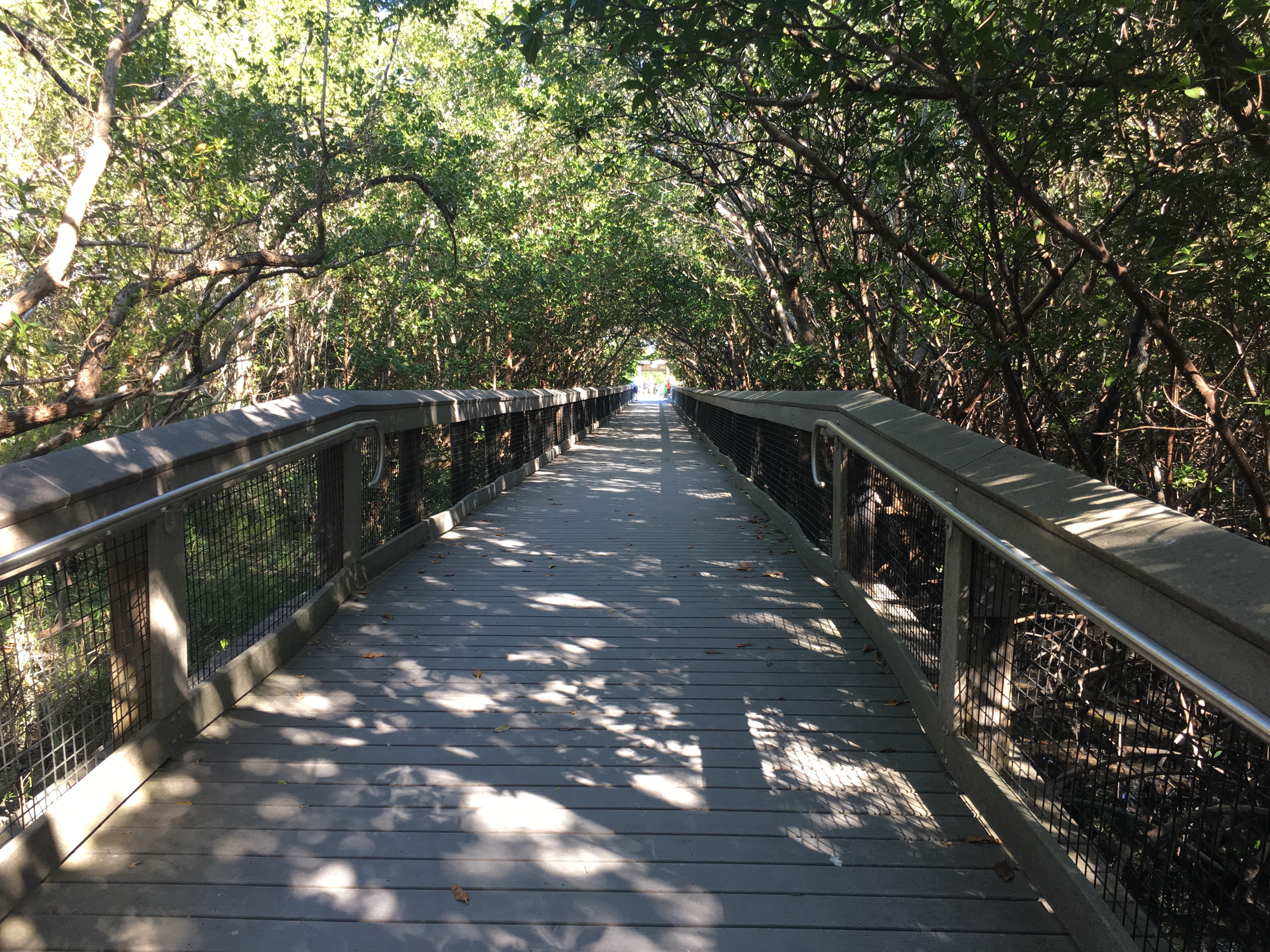 The journey along here is best taken with binoculars and a fishing pole, for the Florida leisure awaiting visitors at the end of the pier. Maybe a sun hat too, as the sun bouncing off the water is as strong as beach sun. Even still, this boardwalk is worth a pause, because of the critters that can be seen here and no where else.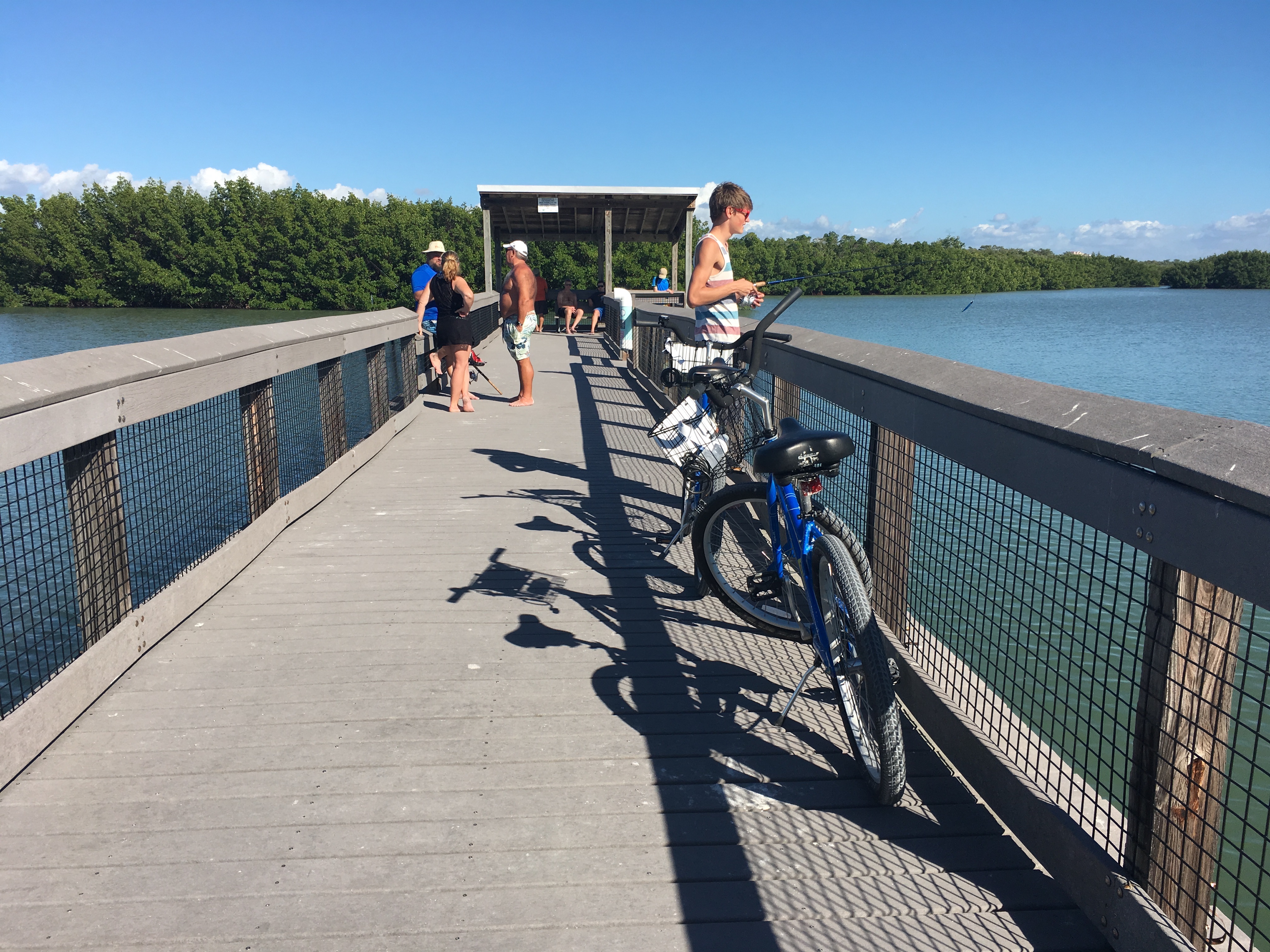 Looking east over the Long Key island, this pier is a great place for fishing and wildlife viewing. Due north on Black Island (not shown) toward the left, are two-and-a-half miles of hiking and biking trails that loop around the island. There are amenities. There is also a boat ramp, plus amenities, east of the ranger station on the other side of Estero Boulevard.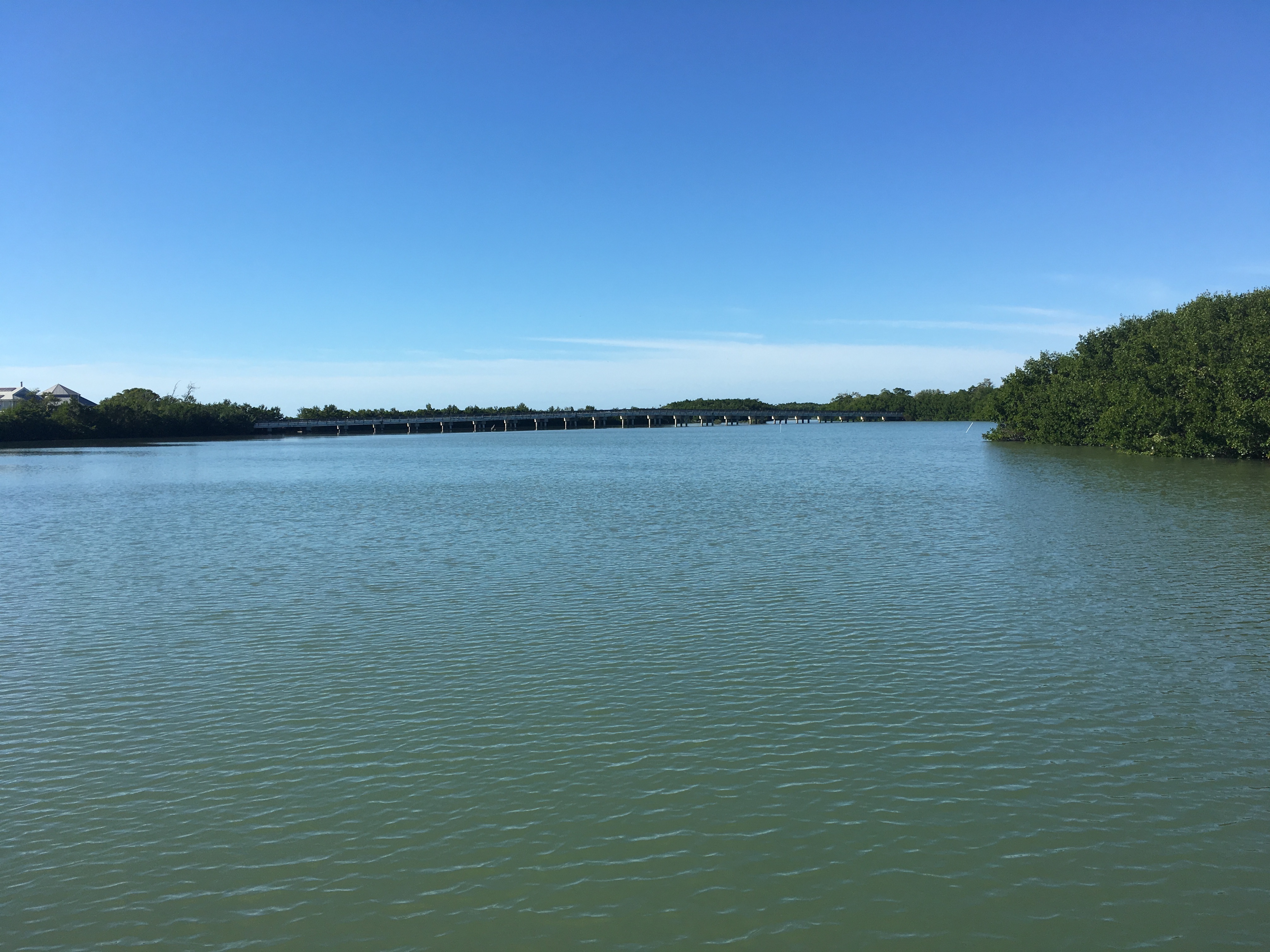 A good set of binoculars really brings this pier and its surroundings into focus. This image looks west toward the large tram bridge/foot bridge. A small, shaded area at the end of the pier provides some protection from the sun, and the journey here is most definitely worth an hour or two.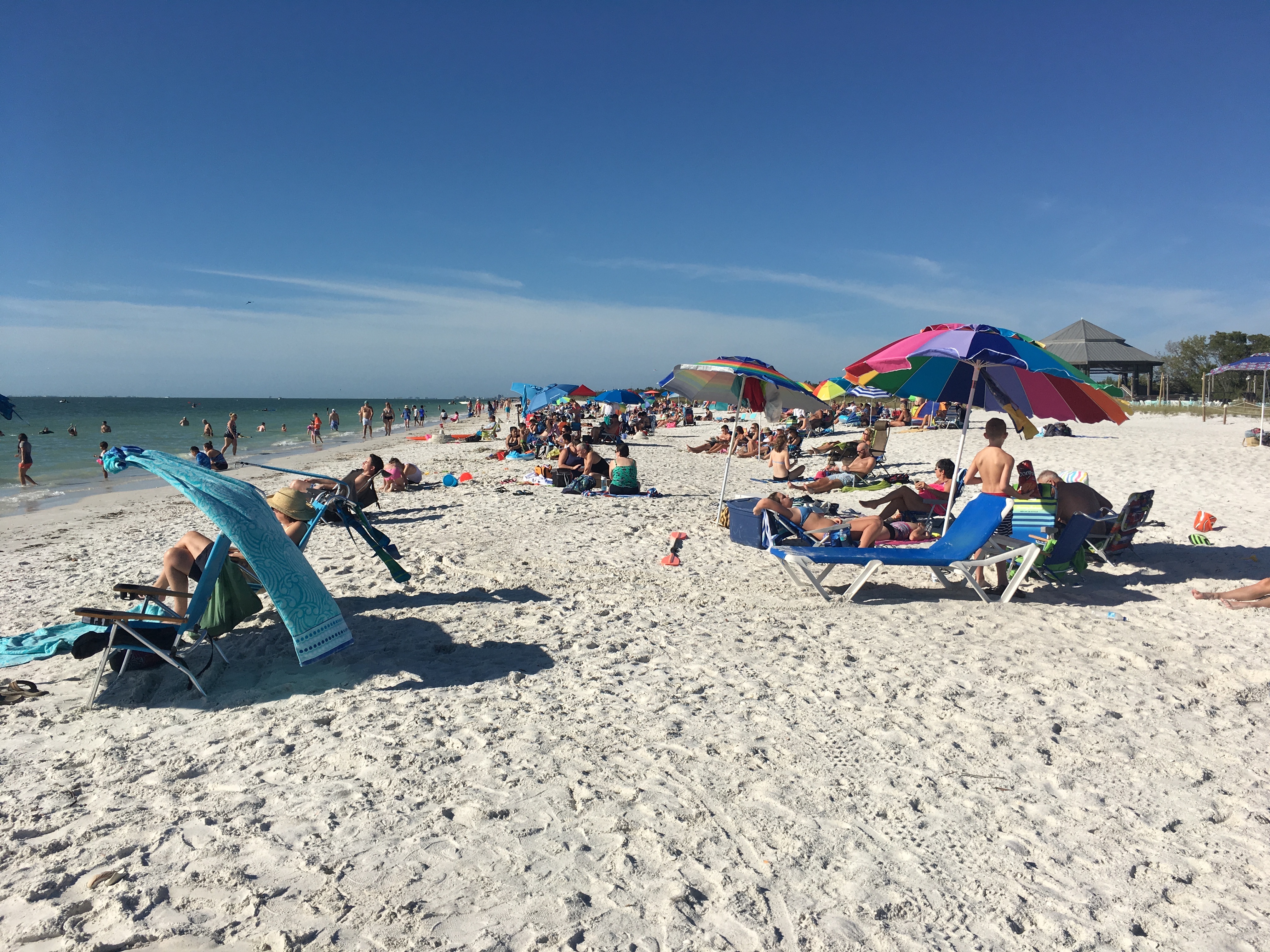 At twenty till three on the Thursday between Christmas and New Year's, this view looks northwest out toward Big Carlos Bay. The gazebo, in the background on the right-hand side of the image, has been reserved for an evening wedding.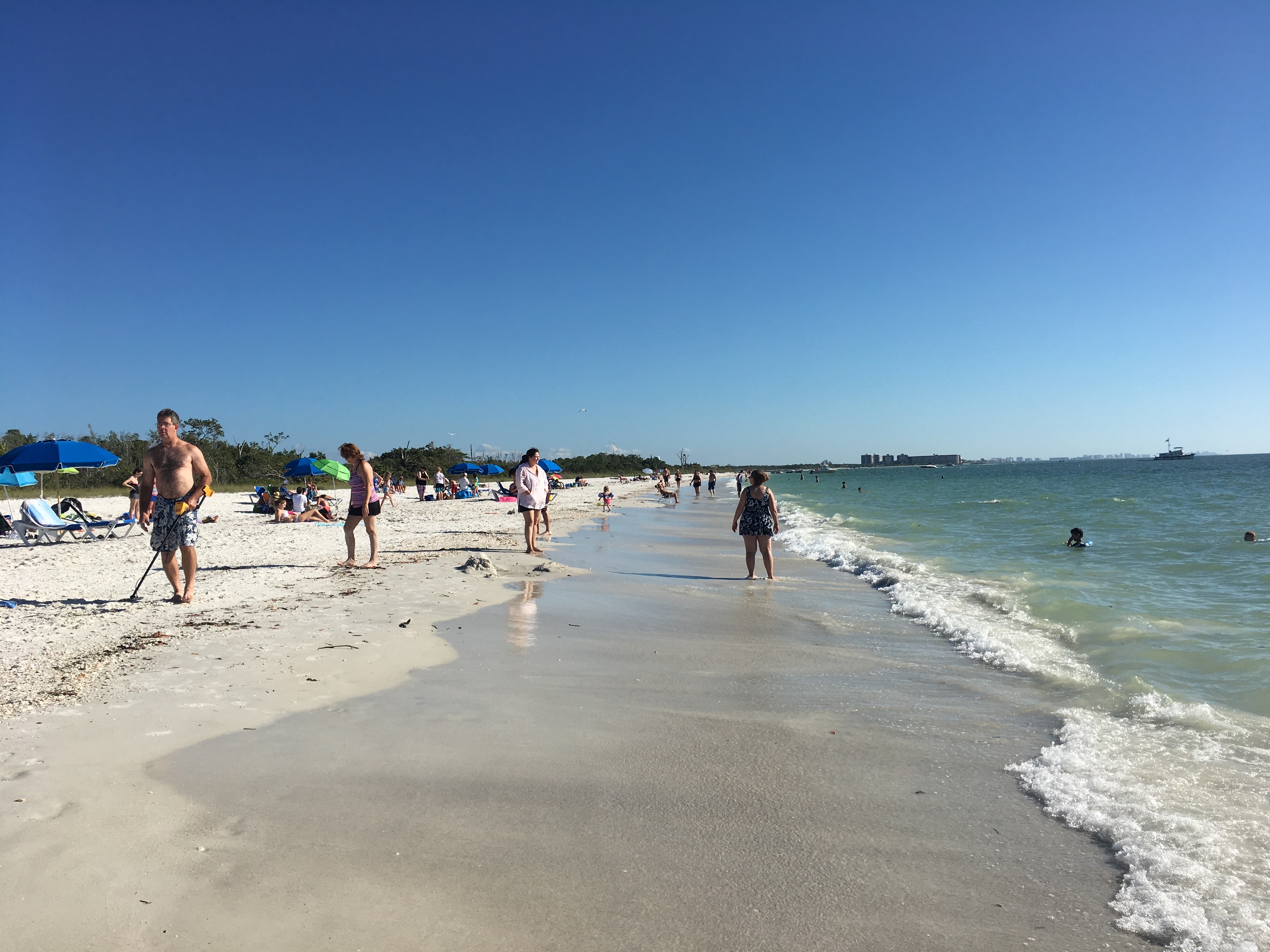 The royal blue umbrellas seen in this southward-looking view are part of the amenities offered at Lovers Key. There is no charge for using the umbrellas, but they are collected by staffers at 4:30 pm. In the right-hand side far background are Bonita Springs condo complexes.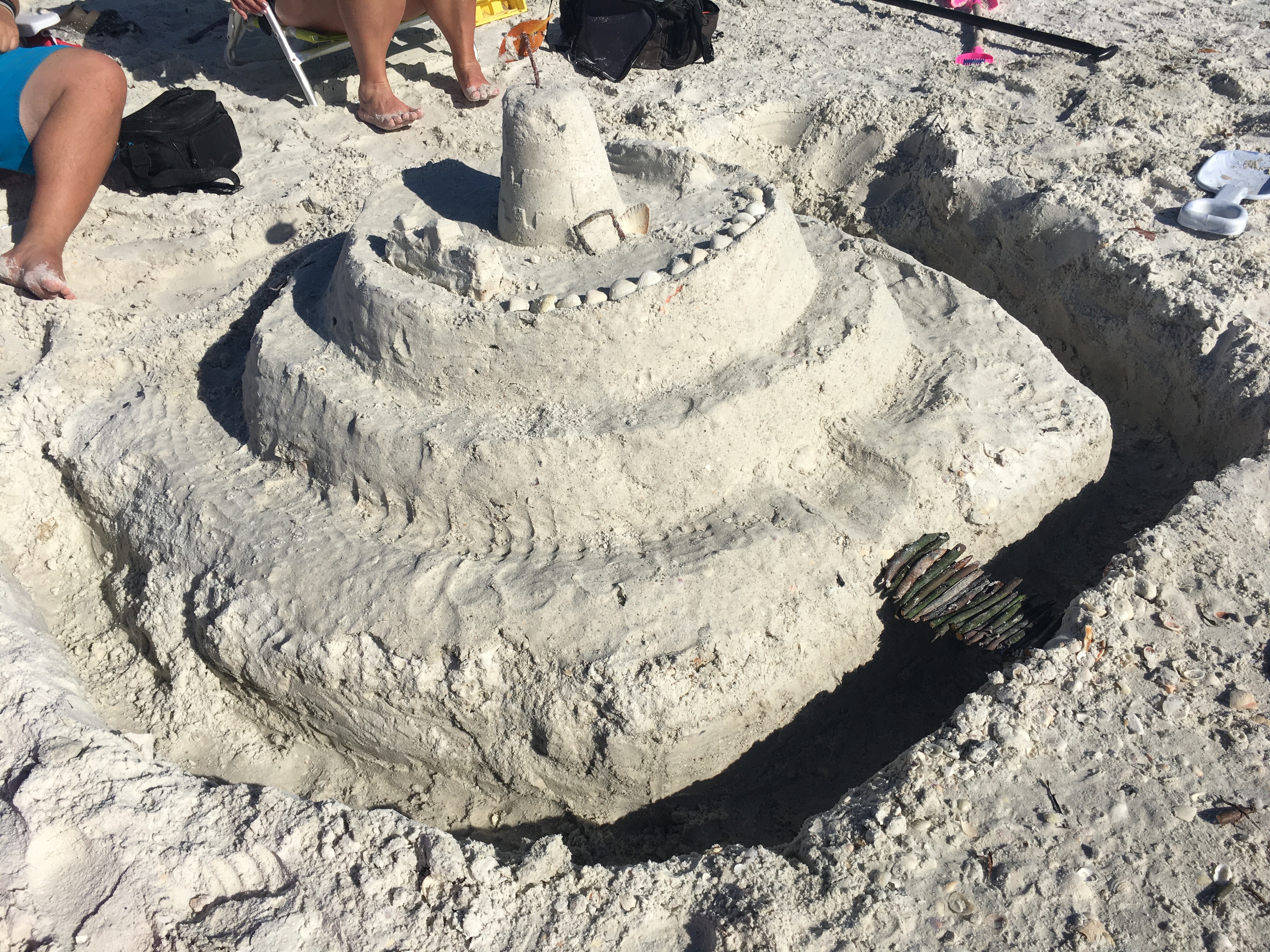 The people attached to the sun-baked feet in this photo spent all day working on this sandcastle, which stood proudly long after they left for the day. There were many other beautiful sculptures on the beach today.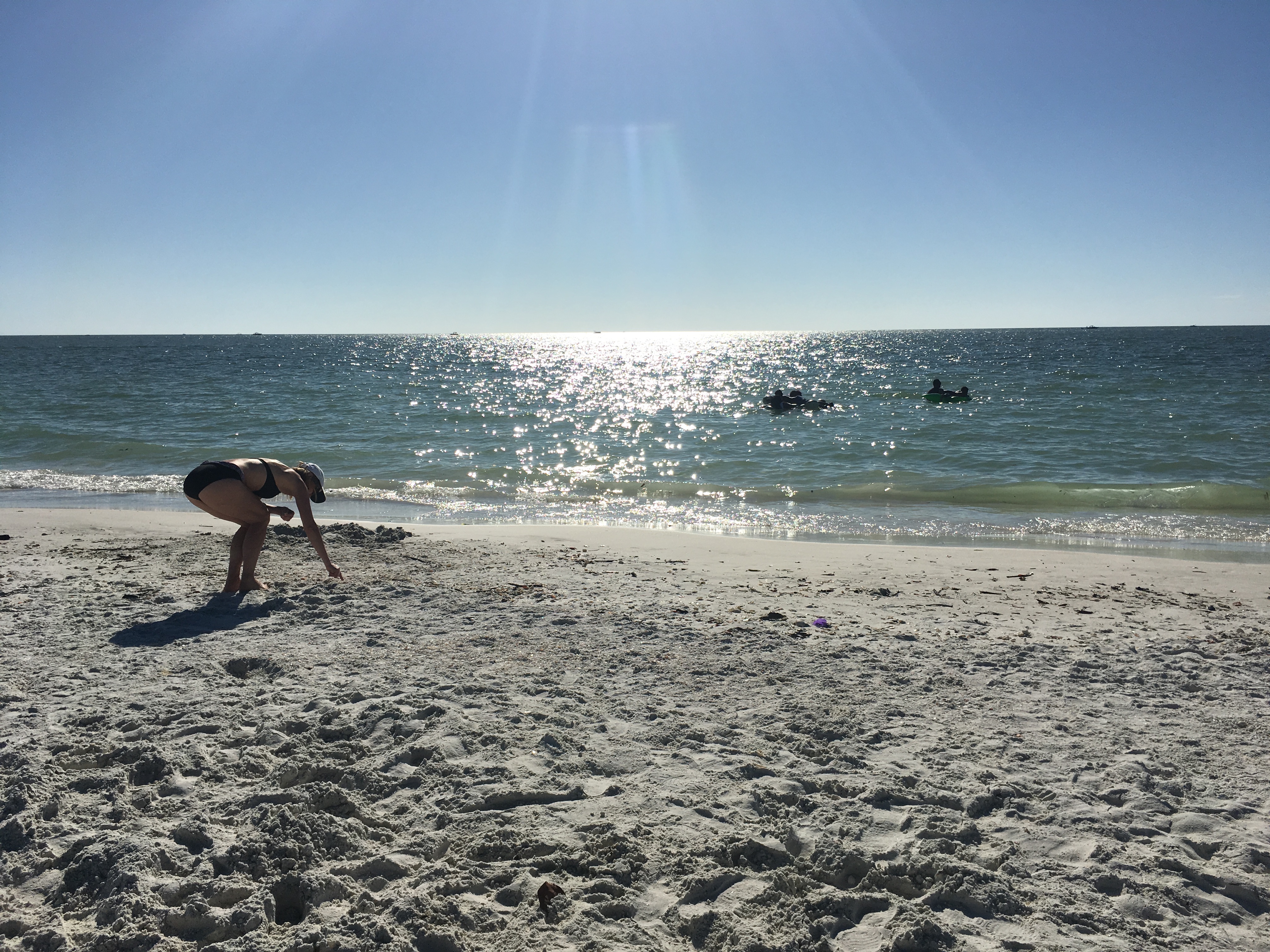 Mid-afternoon is the best time for both shelling and enjoying the water. The water sure is beautiful, but there are no lifeguards here, and swimmers should stay alert to rip currents.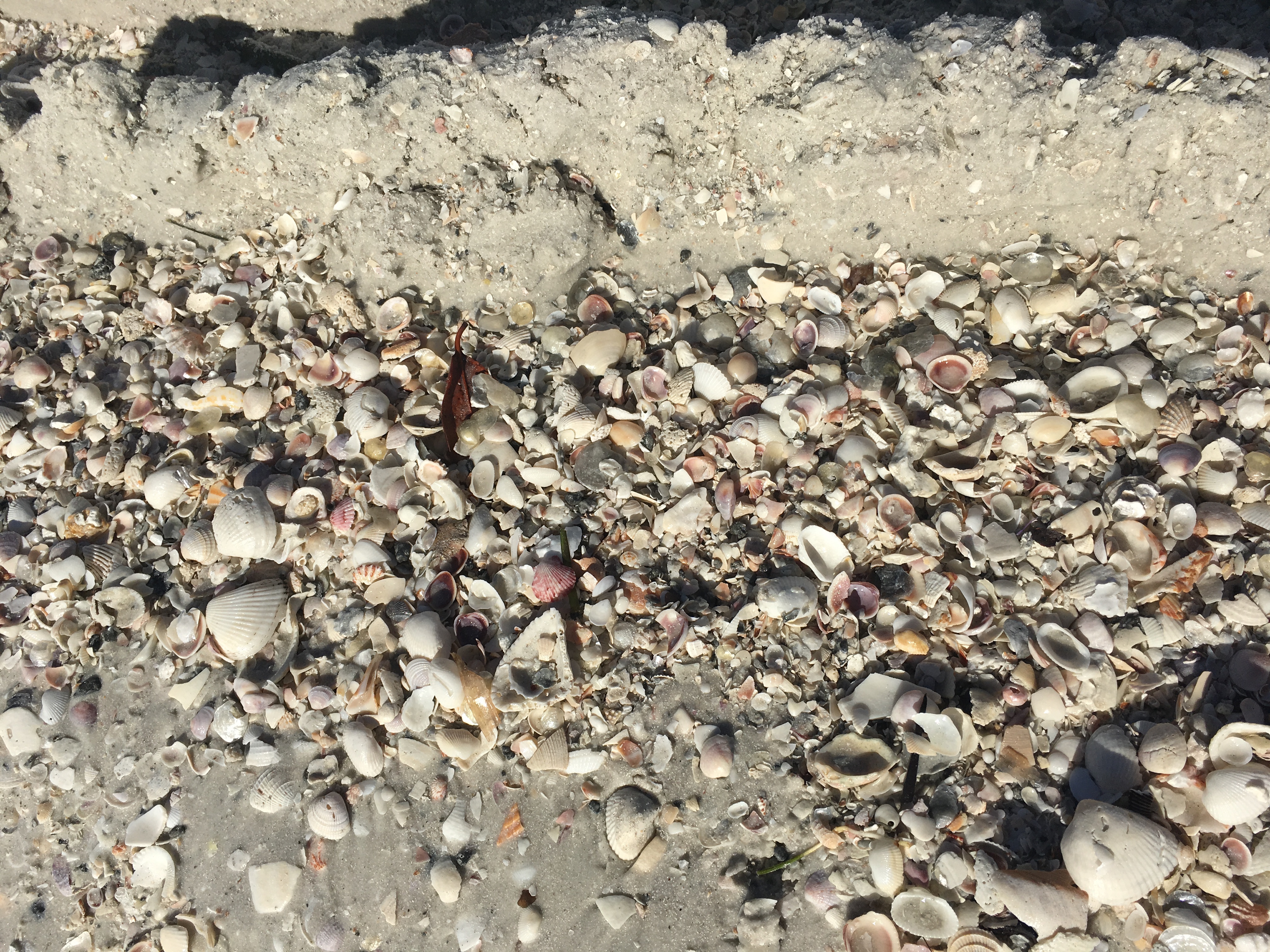 There are huge deposits of shells like this one all over Lovers Key beach. Some people decorate their sandcastles with them. As with Fort Myers Beach, shells with occupants need to stay put. Unlike FMB, sand dollars and sea stars of any type, even passed ones, must stay put.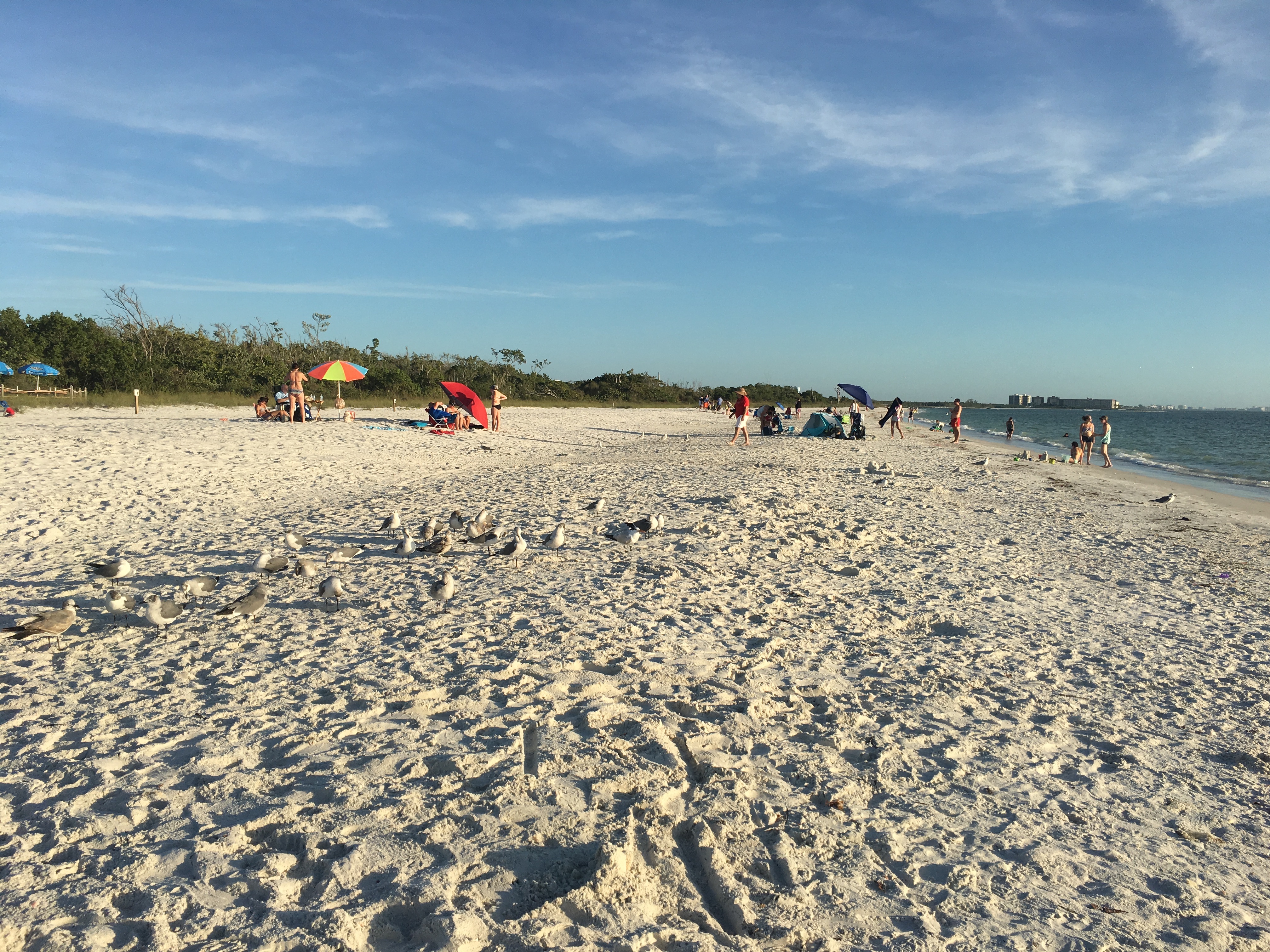 The last tram to the parking lot left five minutes ago, at quarter till five, but there are still people here who are awaiting the sunset, which will occur in about an hour. This is prime time for shore birds of all types to catch their dinner. On a side note, a dog beach is located to the south of Lovers Key beach, on the very south tip of Long Key island.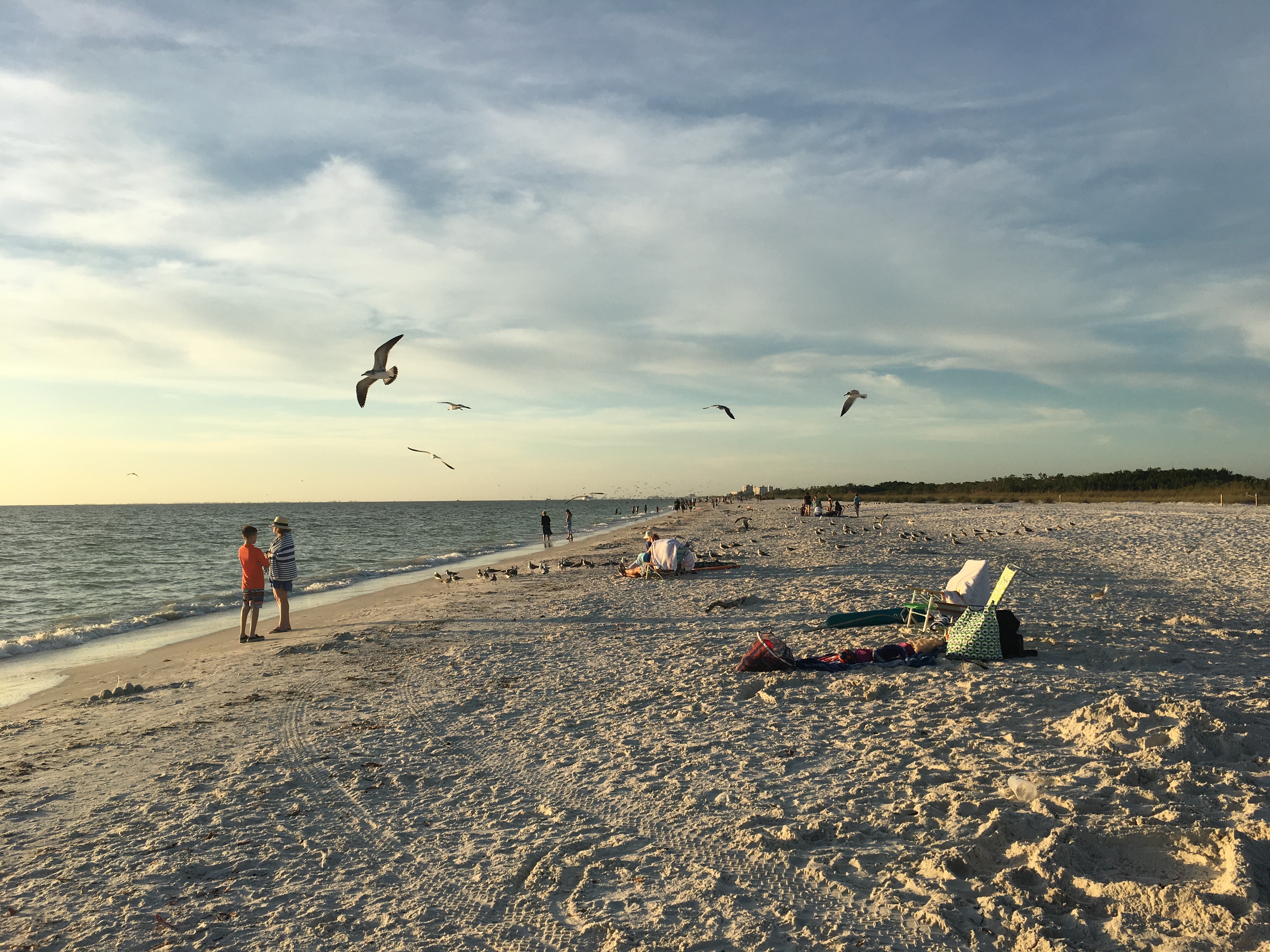 Sunset seekers may begin thinking about dinner plans. Bonita Springs to the south has many restaurants of all types to chose from: Coconut Joe's, which has its own boat dock; Doc's Beach House, which is right on the beach; and Taco Mix, which is just down Estero Boulevard, and has a drive-thru in addition to indoor seating.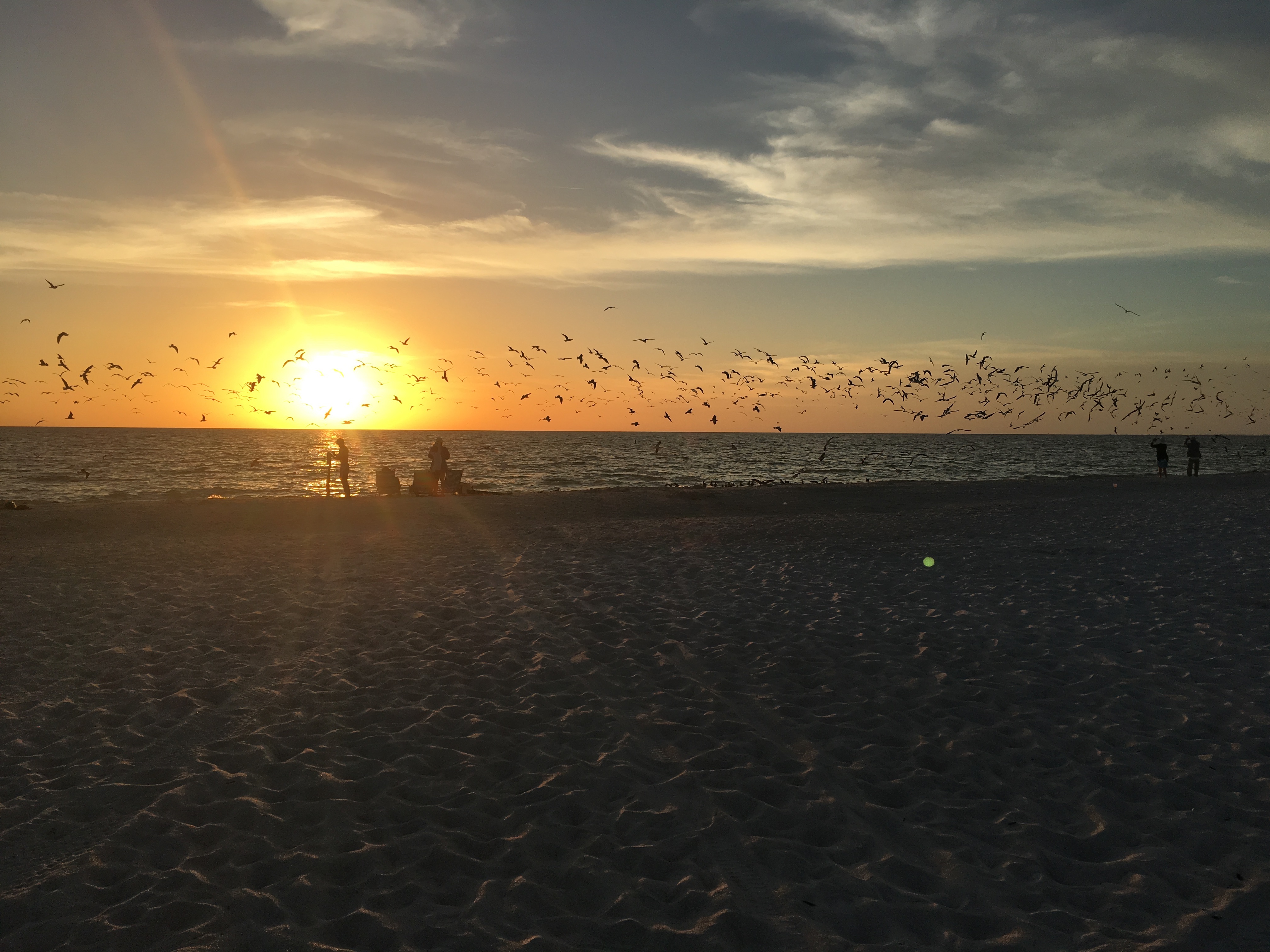 Another day has ended in the Gulf of Mexico; it will be a long walk back to the parking lots. The sun set this evening at 5:45 pm, and the sun will rise again tomorrow morning at a quarter after seven. Temperatures will drop tomorrow morning, and windbreakers will be needed, but the day will still be amazing.