Mel's Diner, Naples, Florida
Mel's Diner is a locally owned and operated American-style restaurant with five locations in Southwest Florida. This home-style diner has it all: steaks and seafood, pasta and salads, chicken and lamb and pork, holiday dishes, lunch offerings, drinks and desserts, and breakfast. Mel's Diner has locations in Naples, Golden Gate, Bonita Springs, Fort Myers, and Cape Coral. The atmosphere at Mel's is fun, casual, and big on nostalgia.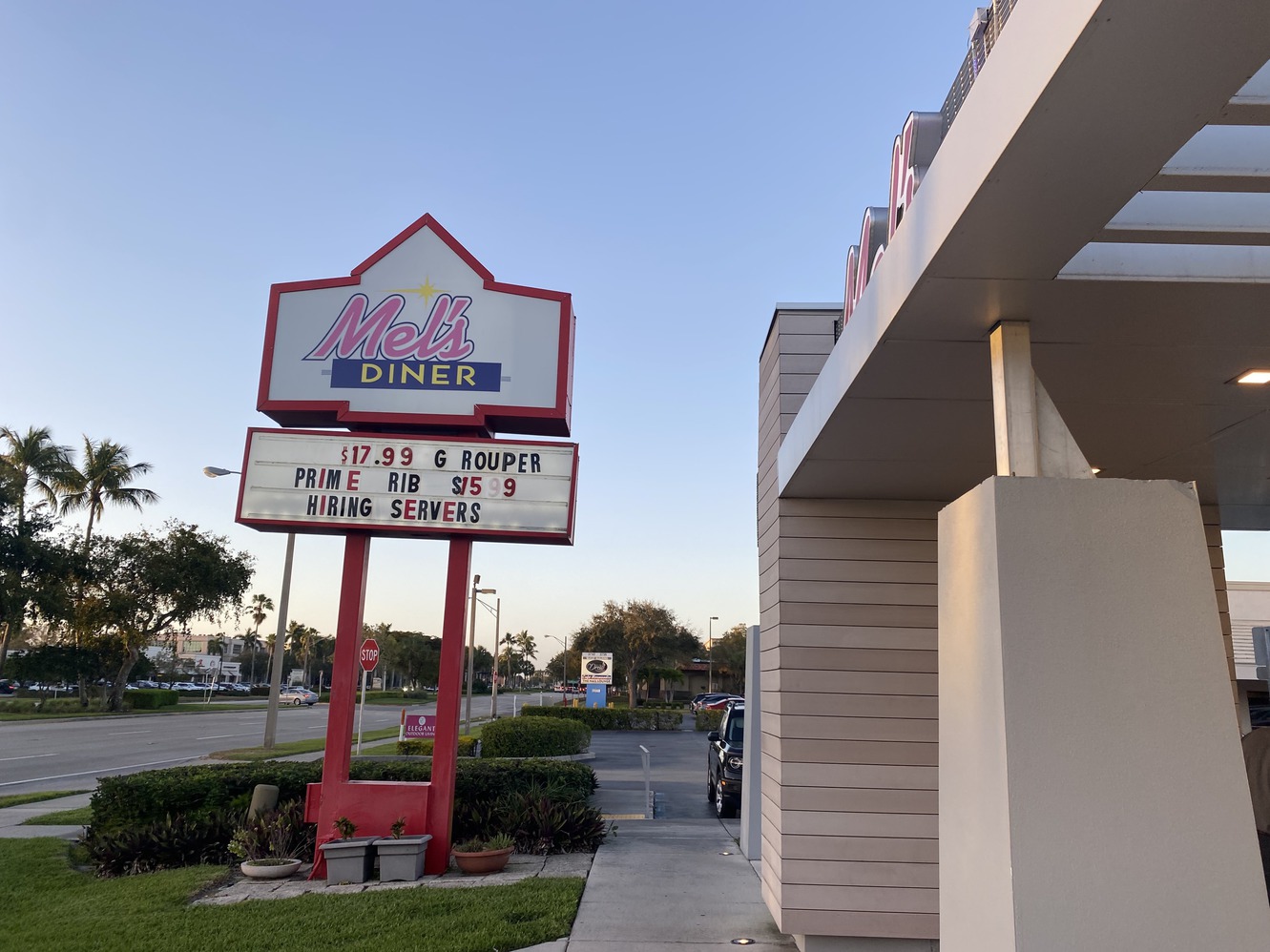 The five Mel's Diner locations are all close to Tamiami Trail and are easy to get to. The Naples location, pictured here, is right on Tamiami Trail, just a few blocks east of the Gulf of Mexico. The address is 3650 Tamiami Trail North. There's an old Studebaker perched in the restaurant lot, and there's plenty of parking. The daily specials are posted on the marquee sign, and there are more listed inside.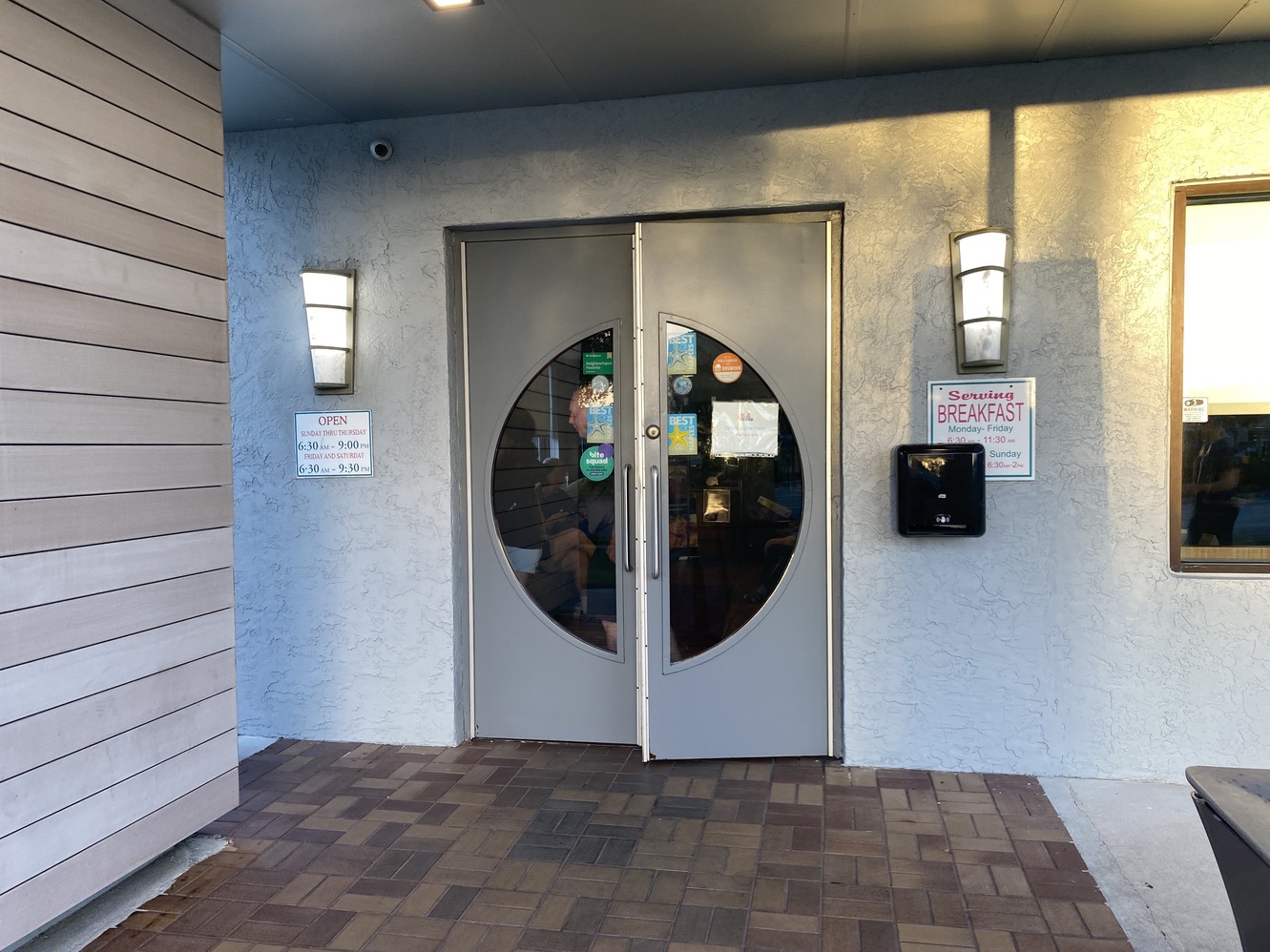 The door's open, so come in. Breakfast starts at 6:30 am everyday, and runs till 11:30 on weekdays, and much later on the weekend. Mel's is open till 9 pm Sunday through Thursday, and til 9:30 pm on Friday and Saturday. The breakfasts served here would make First Watch blush, as Mel's has all that and then some, plus a few extras like mimosas and a Bloody Mary. Plus, there are coffee drinks too.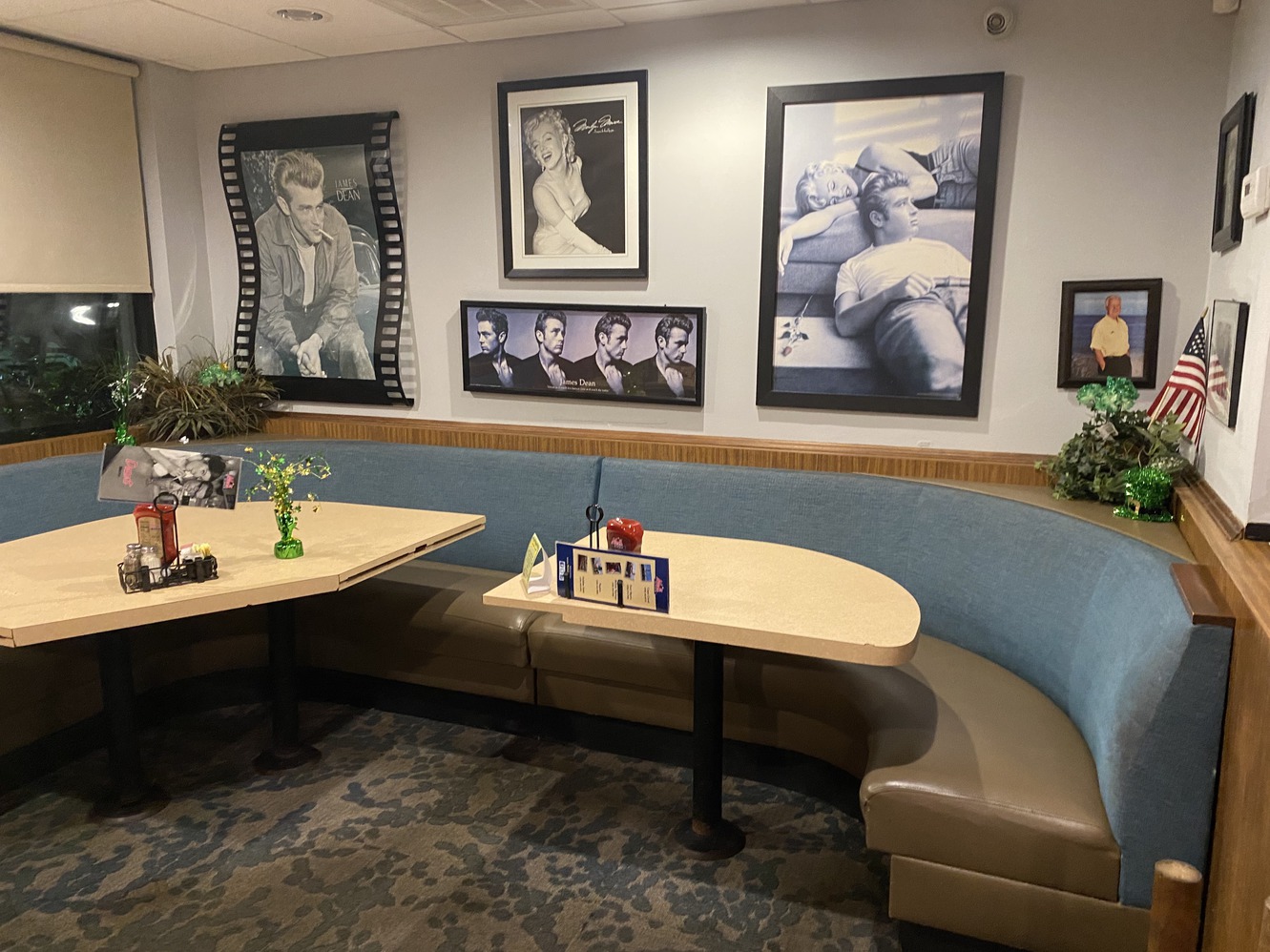 Mel's Diner has seating areas for parties large and small. This seating area is located just off the waiting area. James Dean and Marilyn Monroe figure largely into the decorative memorabilia at Mel's. Overheard on the restaurant speakers are popular songs from the 1950's, 60's, and 70's. While some of the food dishes and drinks are from this bygone era, Mel's uses the freshest ingredients in town.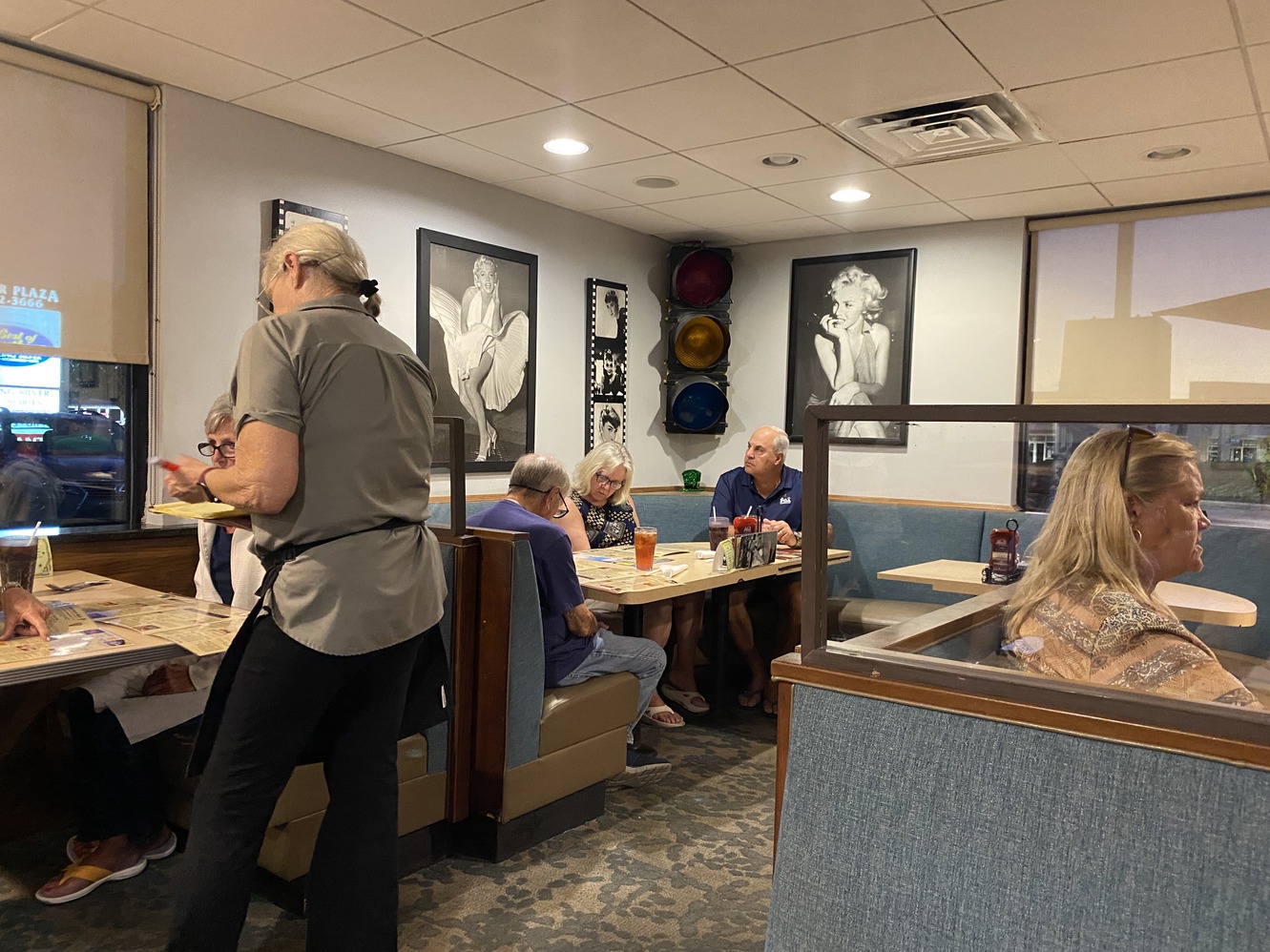 Marilyn Monroe posters are all over Mel's, but you'll find Audrey Hepburn and other big stars from decades past. The hostess seated everyone quickly, even when there was a wait. The booths and the seating are comfortable at Mel's, and the wait staff are friendly and thoughtful. The server seen in this image always made sure water glasses were filled and that there were always fresh biscuits and butter on each table.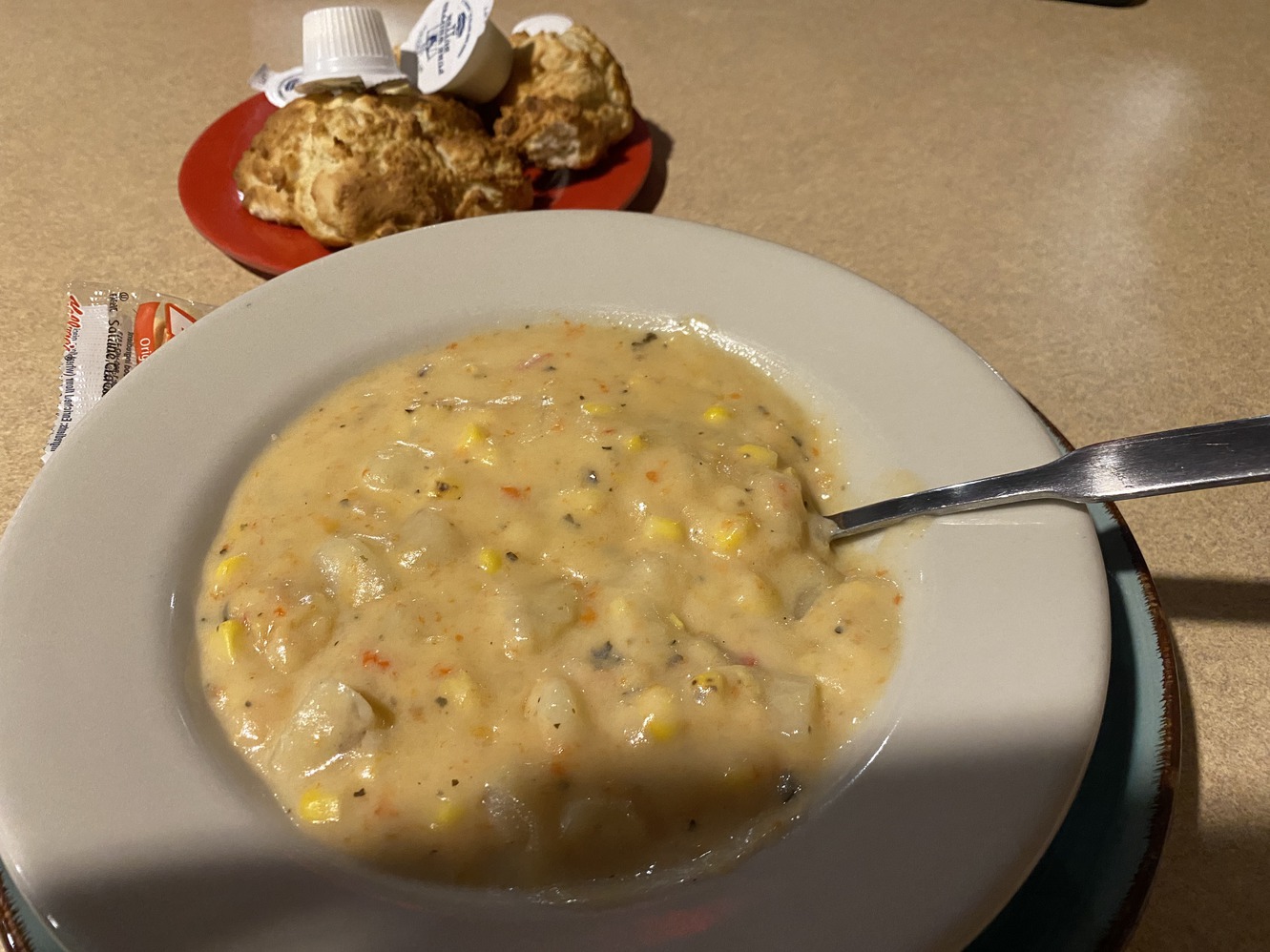 The shrimp and roasted corn chowder came with Mel's warm biscuits and butter. With the entree dishes like the half-pound shrimp there's a choice of a cup soup or salad in addition to French fries; Mel's has shrimp chowder as part of its seasonal menu. A bowl is $4.99. The biscuits were a tasty cross between buttermilk and yeast biscuits. The soups and salads arrived less than fifteen minutes after ordering.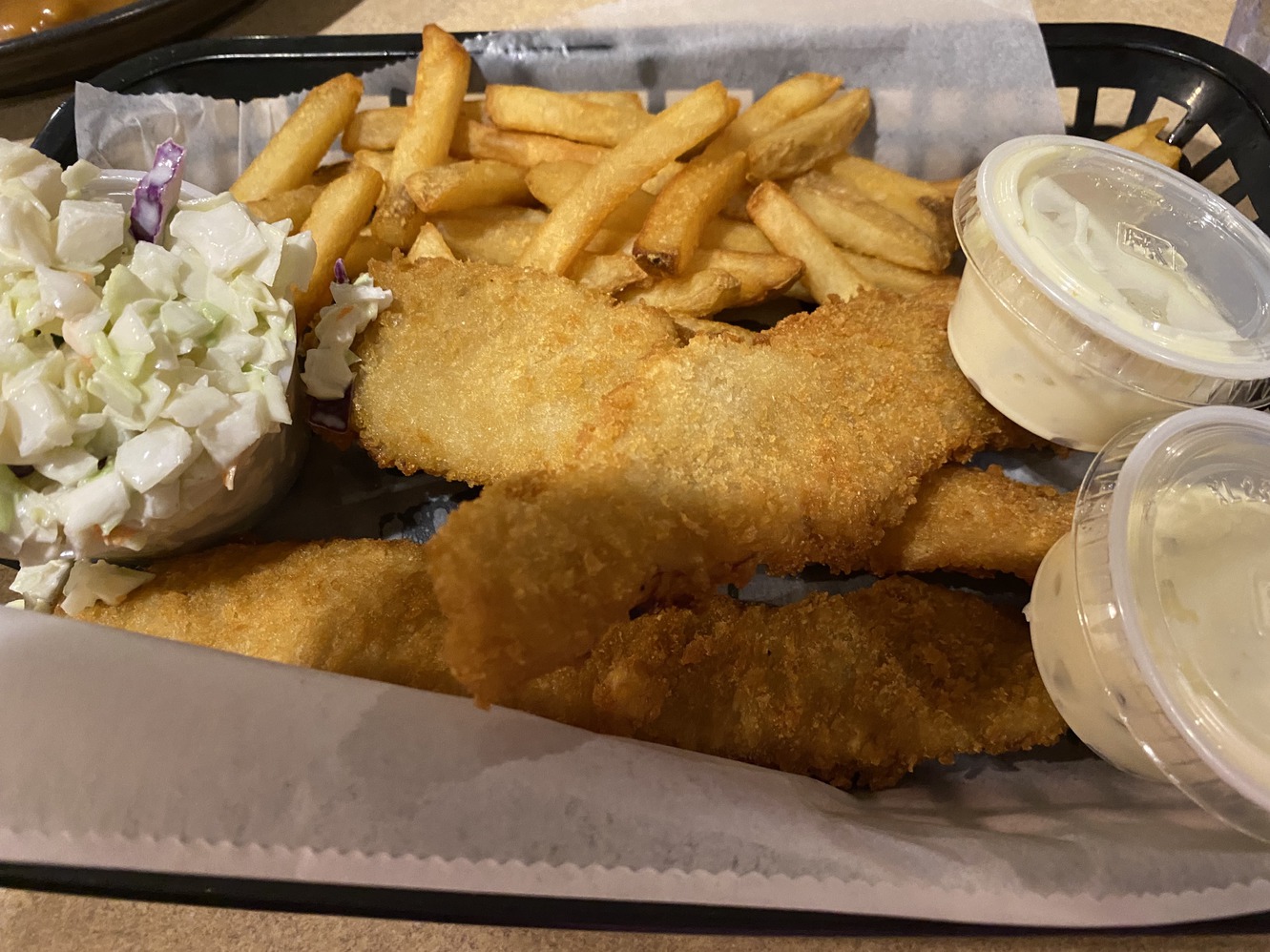 The All-You-Can-Eat fish fry comes in at $9.99. This basket includes cole slaw, Idaho-cut fries, and tartar sauce. The fish in the basket is a mild white fish, which arrived hot, crispy, and moist. The French fries were perfect in every way. The cole slaw was not distinctive, but delicious nonetheless. Two servings of fish are plenty for a hearty appetite. According to Mel's website, the food is fried in soybean oil, which is free of cholesterol and trans fat.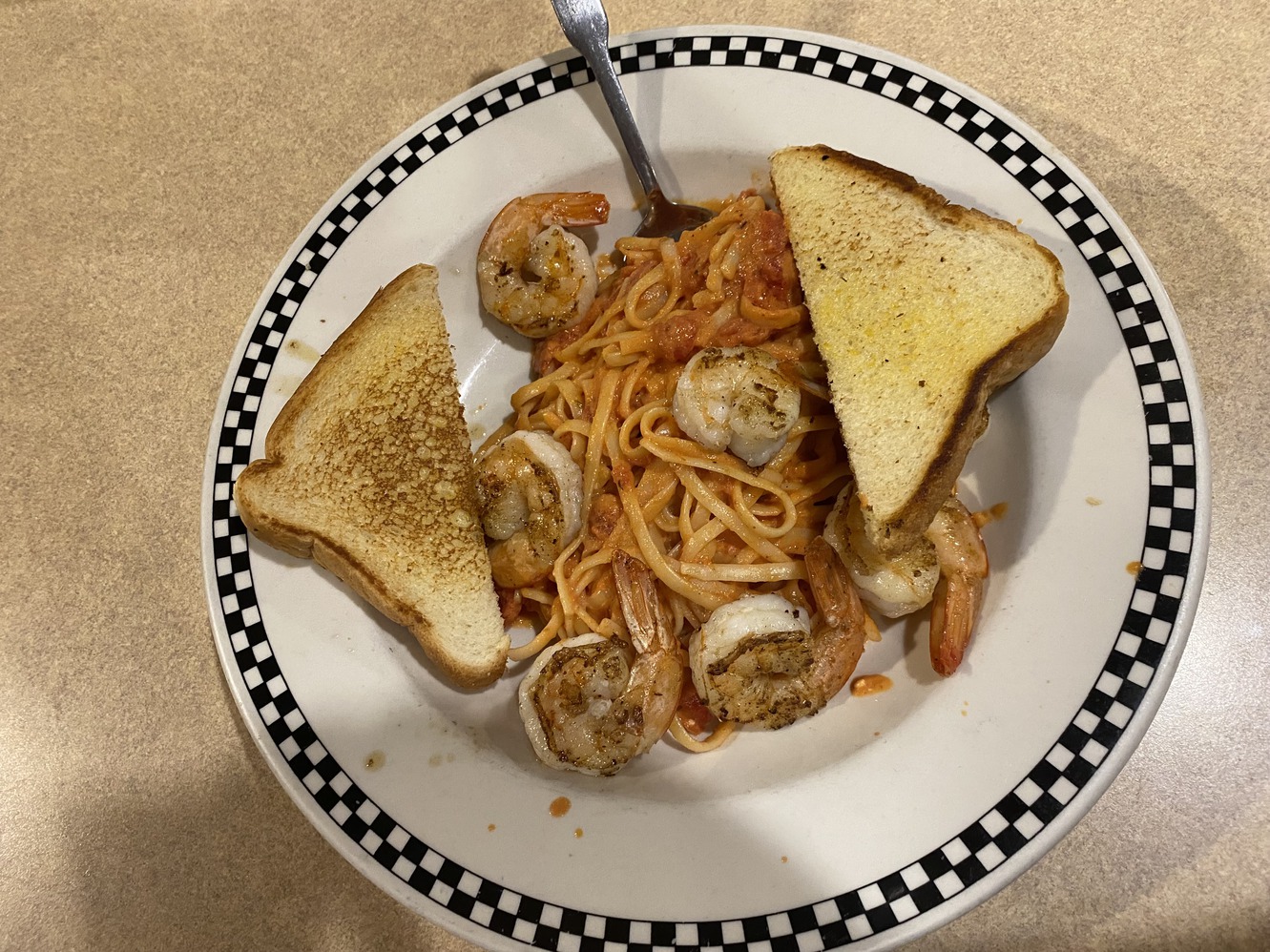 The Shrimp a la Roma Parmesan came in at $12.59. From the menu: "Fire roasted shrimp tossed with linguini in a light and creamy marinara sauce with grilled tomatoes, parsley and shredded parmesan." Sounds yummy and it was. The garlic toast was so good that it was almost a side dish in itself. This dish is on Mel's regular menu and not the seasonal offerings. Dishes like this make it easy and fun to trade bites with other people.

The lamb chop dinner special was $15.99. It came with a huge baked potato and real butter and sour cream, plus a salad. (A Caesar salad was swapped out for an additional dollar.) The veggies added a lot of flavor to the meat: carrots, tomatoes, and celery. The bay leaf added a minty touch to this meal, as lamb dishes often have mint sauce or mint jelly. Budget-concious diners should know that tax on restaurant food at this location is seven percent.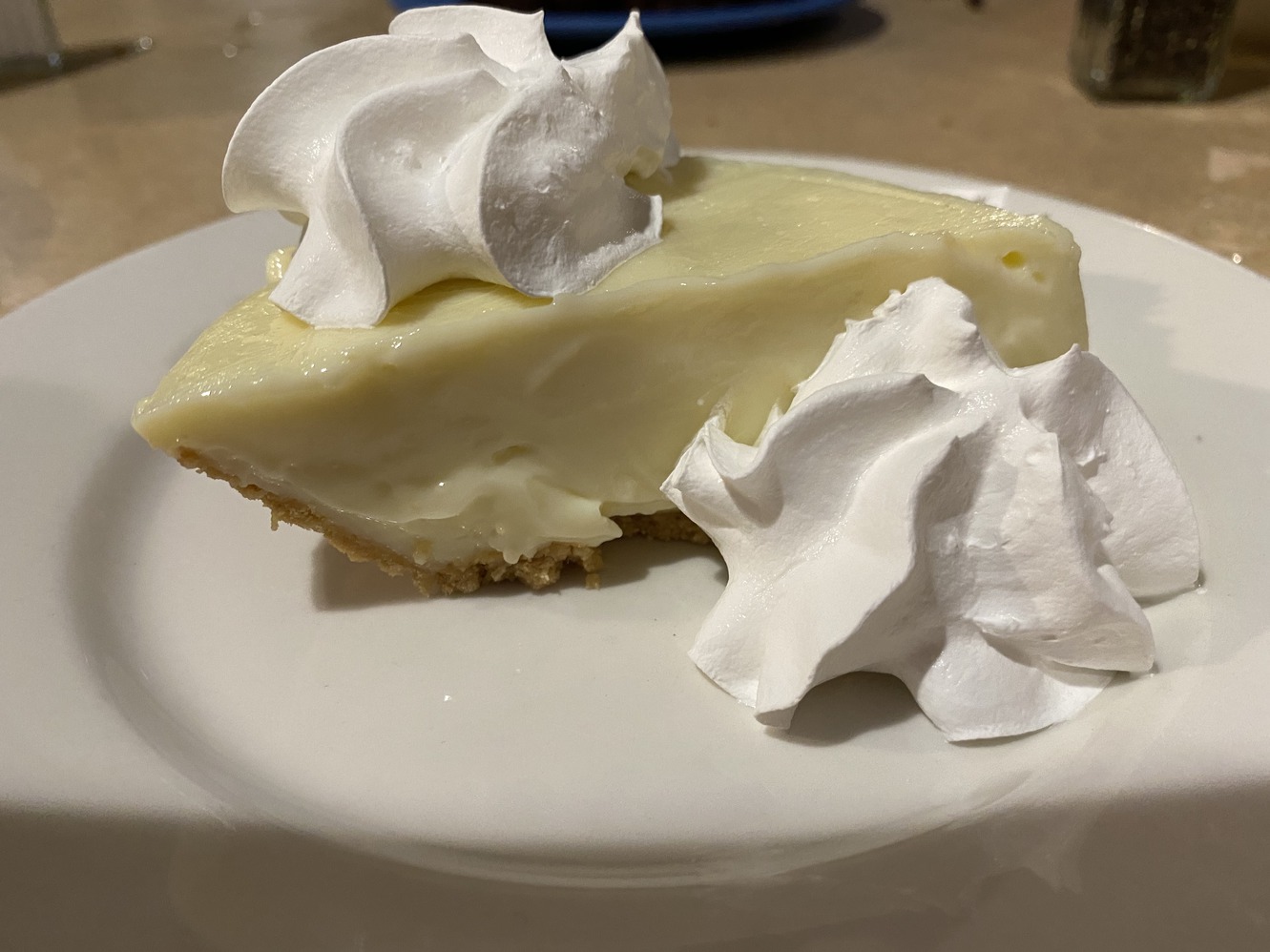 Mel's Diner has its own dessert guy and the desserts here look and taste great. This is Mel's homemade Key Lime Pie. (This lists for $2.99 on the menu, but on the check-out receipt it was billed as $3.99.) Mel's has a dozen items on its dessert menu, and ice cream can be added to some. Mel's has desserts of varying sizes, too. The Mini Creme-Brulee is $1.99, and Rice Pudding is $2.99, while the Mile High Coconut Pie is $6.99 a slice and is meant to be shared.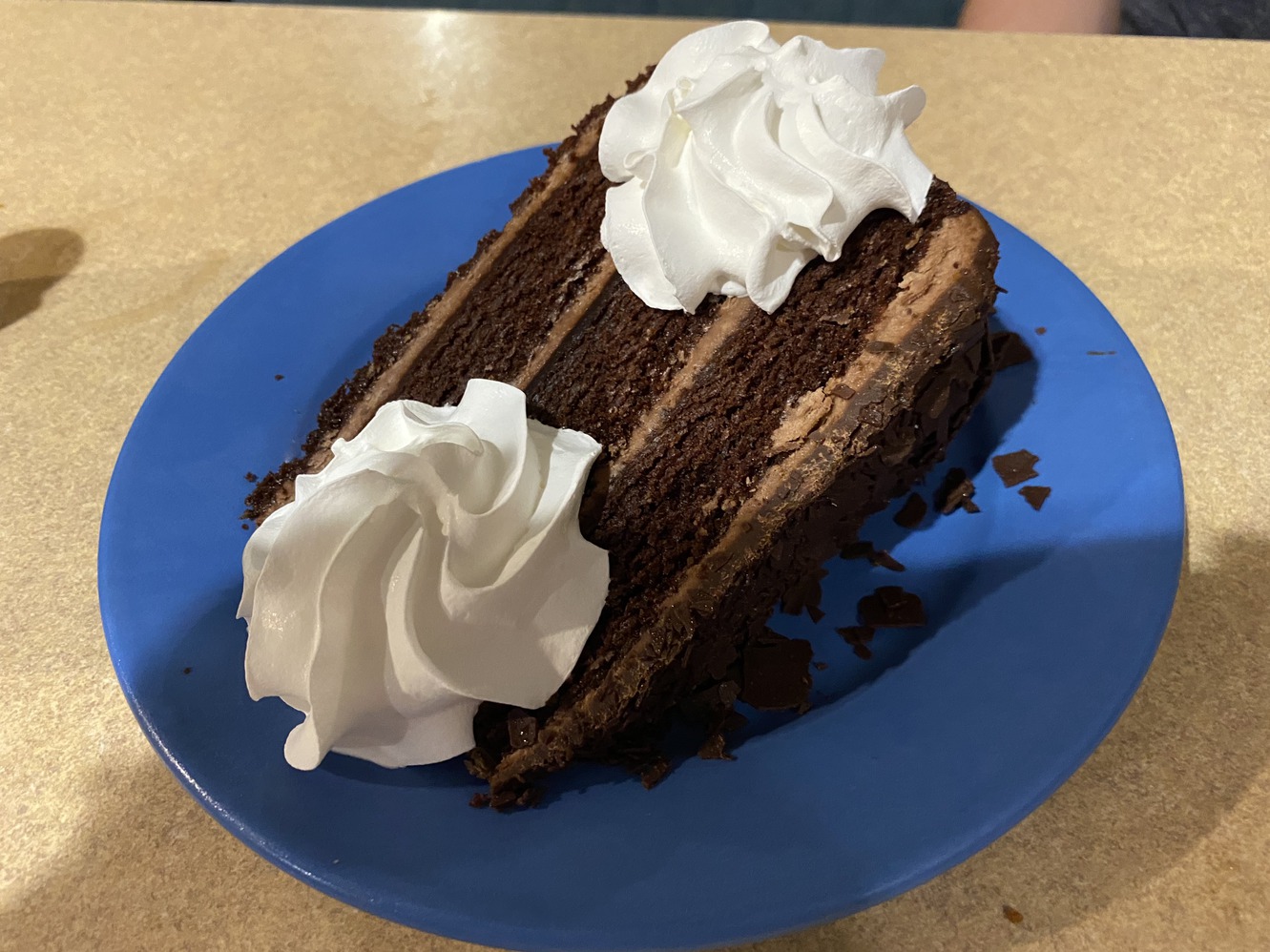 A slice of chocolate cake is $5.99. This is steep for cake, but it's absolutely delicious. (The slice looks small in the photo but it is indeed a thick slice.) Mel's desserts are great, but sometimes it's a good idea to have one or two back-up choices when ordering. For instance, on a no-busier-than-usual Wednesday evening in mid-March during the 2022 season, Mel's was out of the Coconut Pie and the Funnel Fries. The hand-dipped milkshakes are always a great second choice, though.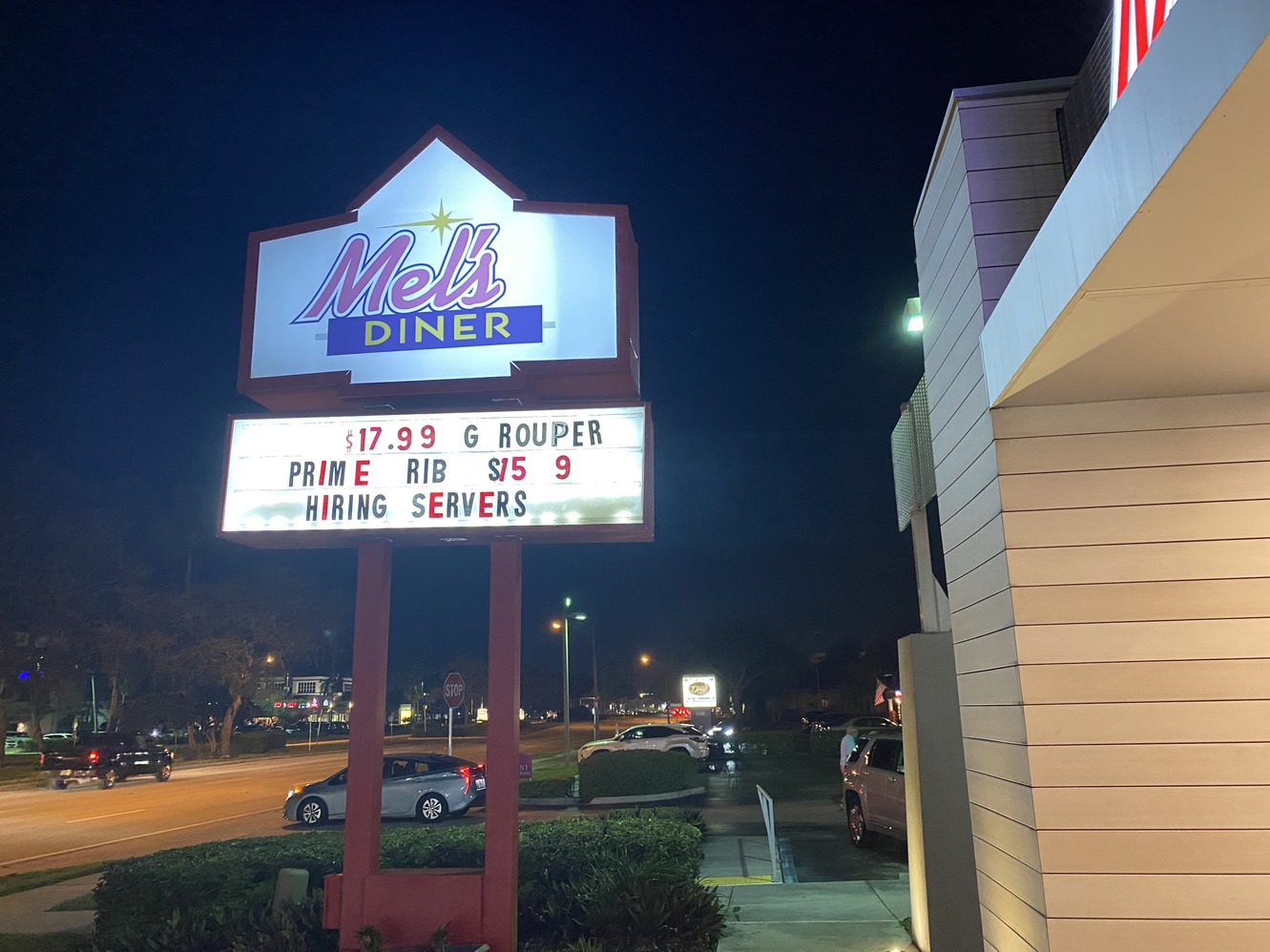 As the evening of March 10th draws to a close in Naples, Florida, so does the 2021-2022 snowbird season. Food and beverage spending by tourists in Florida amounted to $22.2 billion dollars in 2019. Figures for the latest season remain to be seen, but Mel's seemed to have its fair share of guests. The wait at suppertime was about 15-20 minutes, but the host or hostess will be happy to let folks peruse the menus in the lobby. (And yes, the Prime Rib is really good.)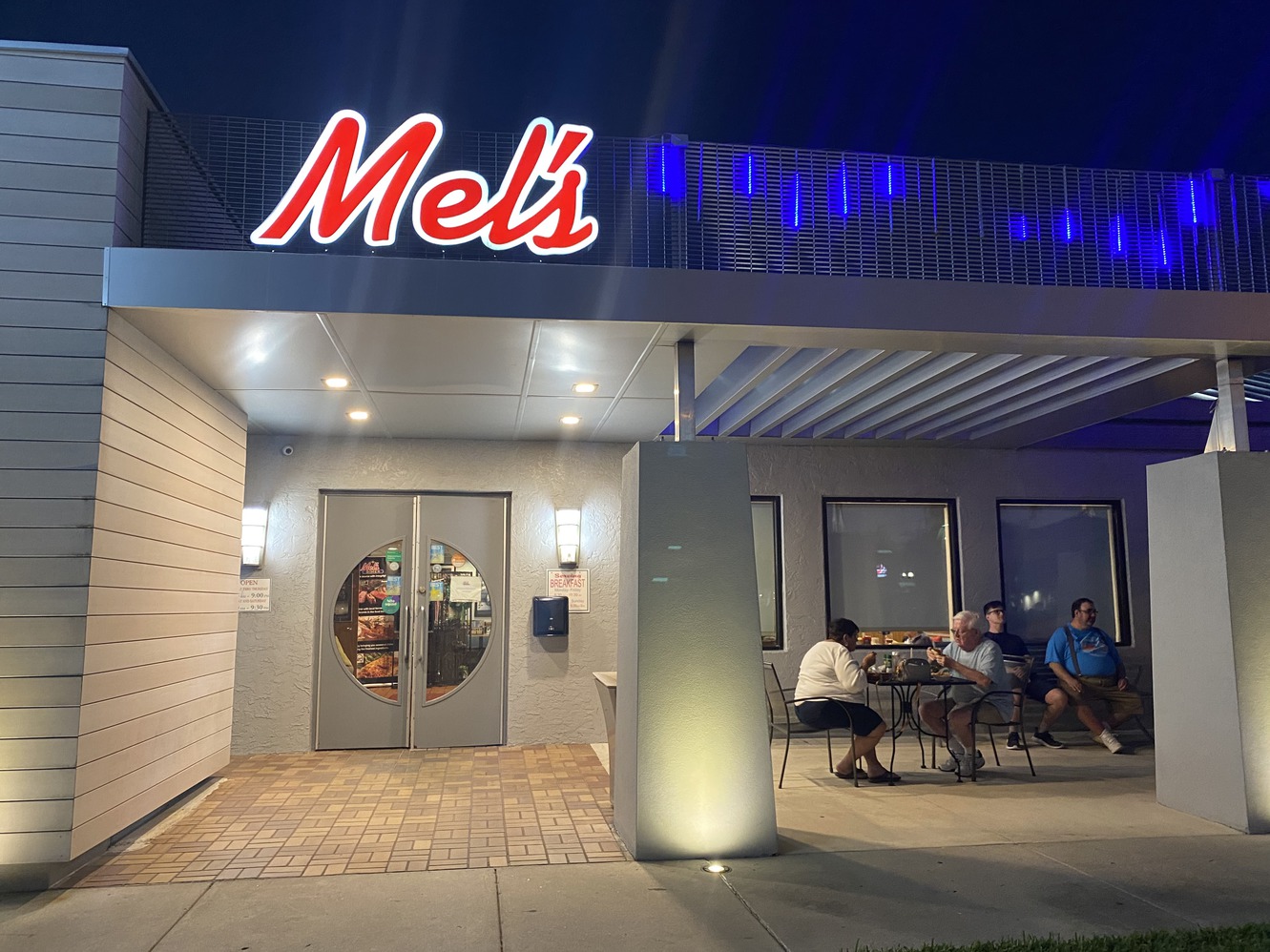 Mel's Diner has been up and running for 33 years, according to its website, which means it's been in business since 1989. Times have changed since then. Mel's fans can order food online and pick it up curbside; or, it can be delivered through one of its four delivery partners. It began in an old truck stop, and now has over 300 employees and 300 menu items. The food here is best described as fresh and come-as-you-are home-cooked dining.