Naples Botanical Garden, Naples, Florida
Naples Botanical Garden is located just three miles south of downtown Naples, Florida, on 170 acres populated with tropical flora and culture. Brazilian, Asian, Caribbean, and Floridian . . . it's all here. There's also a children's garden, a butterfly tunnel, a cafe, and unending delight along every path.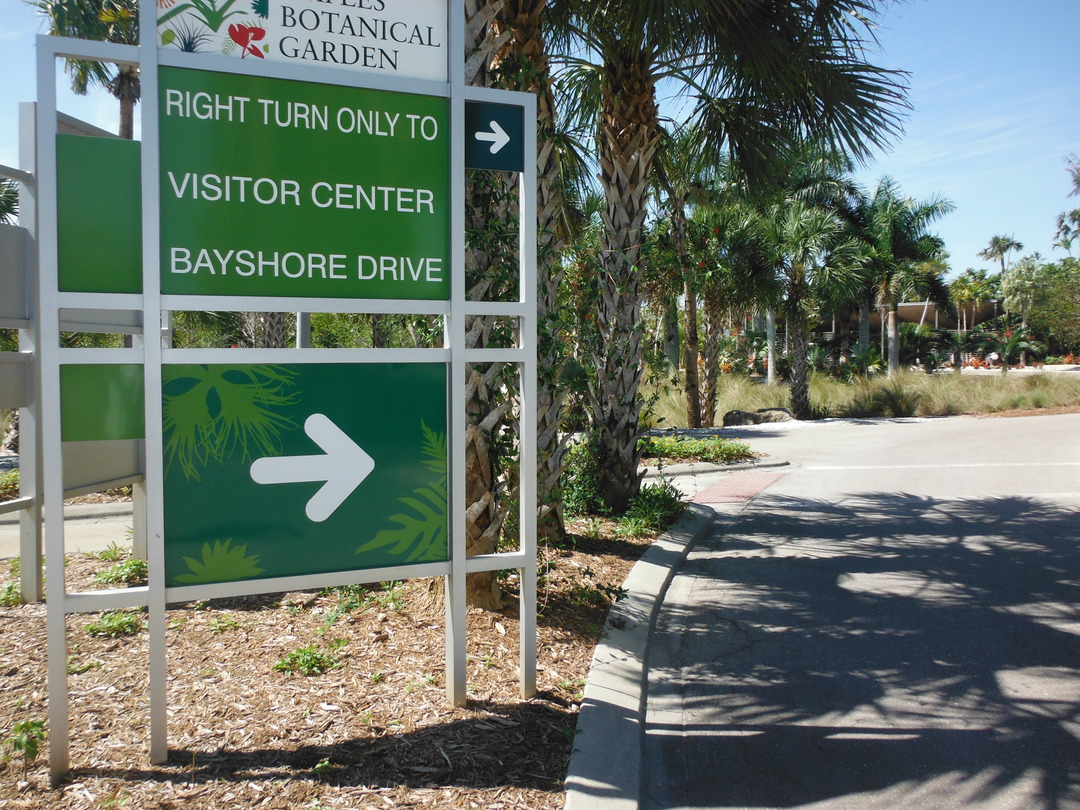 Naples Botanical Garden is located at 4820 Bayshore Drive at the corner of Bayshore and Thomasson Drives. US 41 is the main road to this venue. The Garden is also only a short ride from the Southwest Florida International Airport in Ft. Myers. There is plenty of parking, but the lot fills up.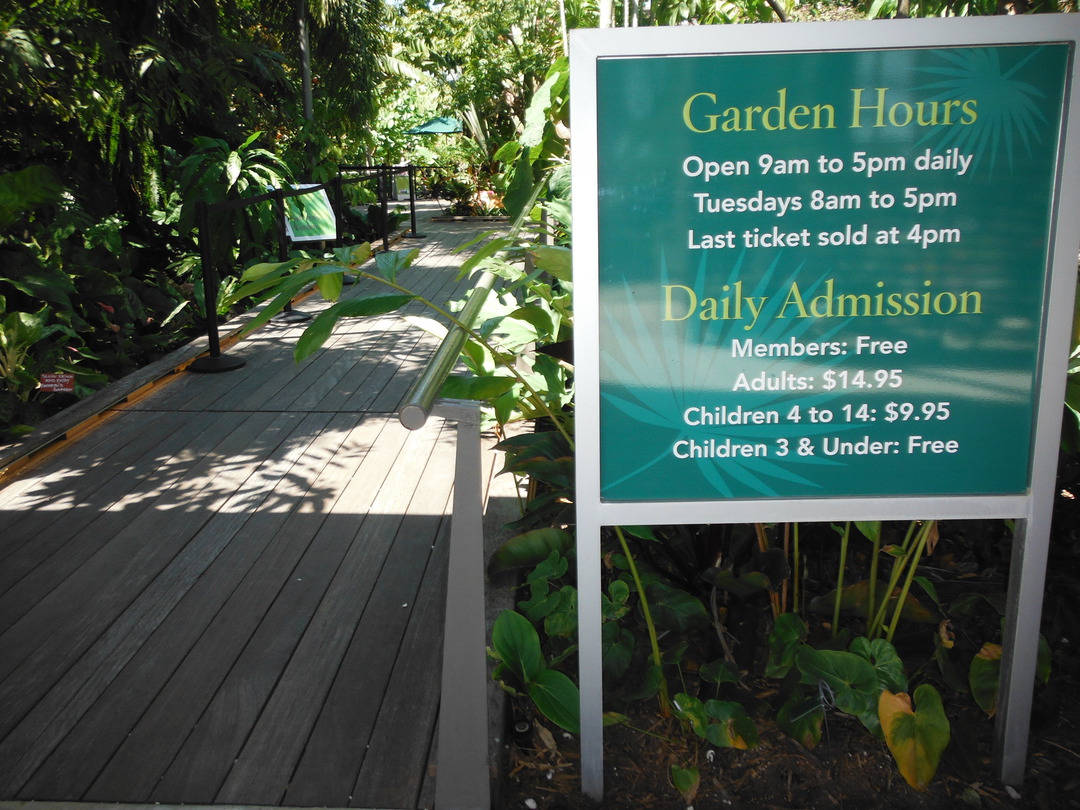 Naples Botanical Garden begins just a few steps from here. The Garden has a plan-your-visit page at naplesgarden.org with important notes. Tickets are good for one entry only (no in-and-out), copious amounts of food and drink are not permitted, and that the venue will close in the event of lightning.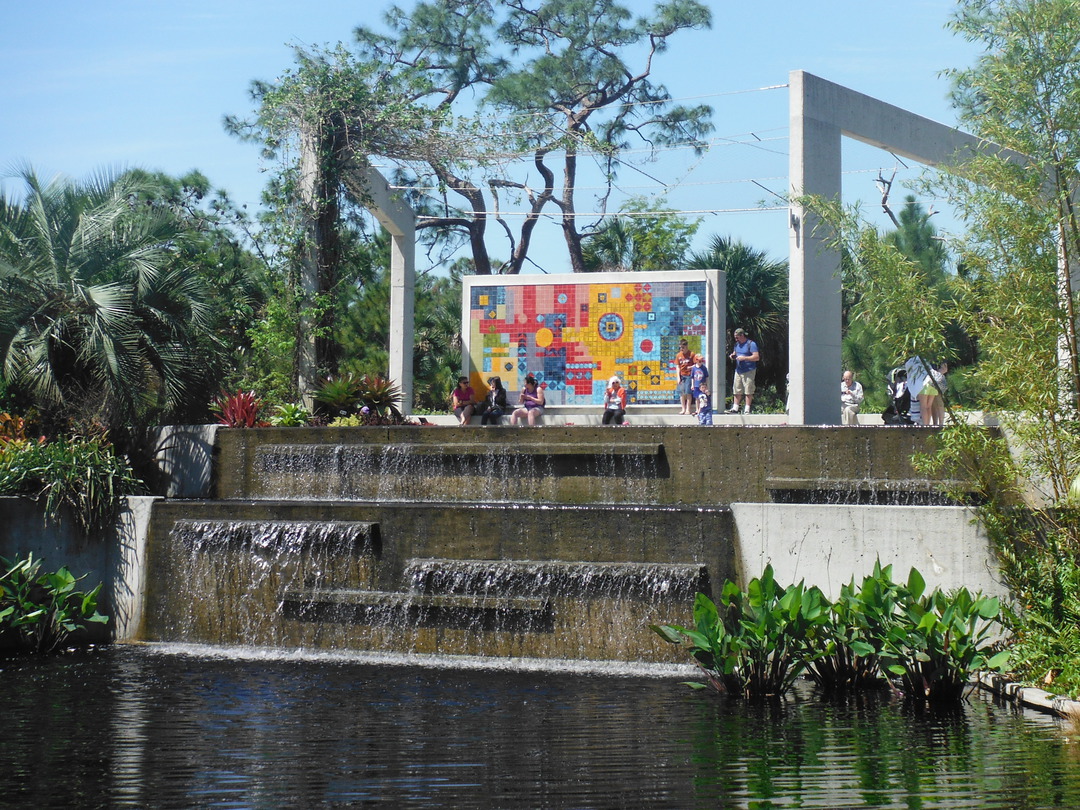 This is the Burle Marx Plaza in the Kathleen & Scott Kapnick Brazilian Garden. Visitors can see this area from the ticketing window, and is a fun first place to go. This area has many South American plants, including palms. The garden was designed by Raymond Jungles of Miami.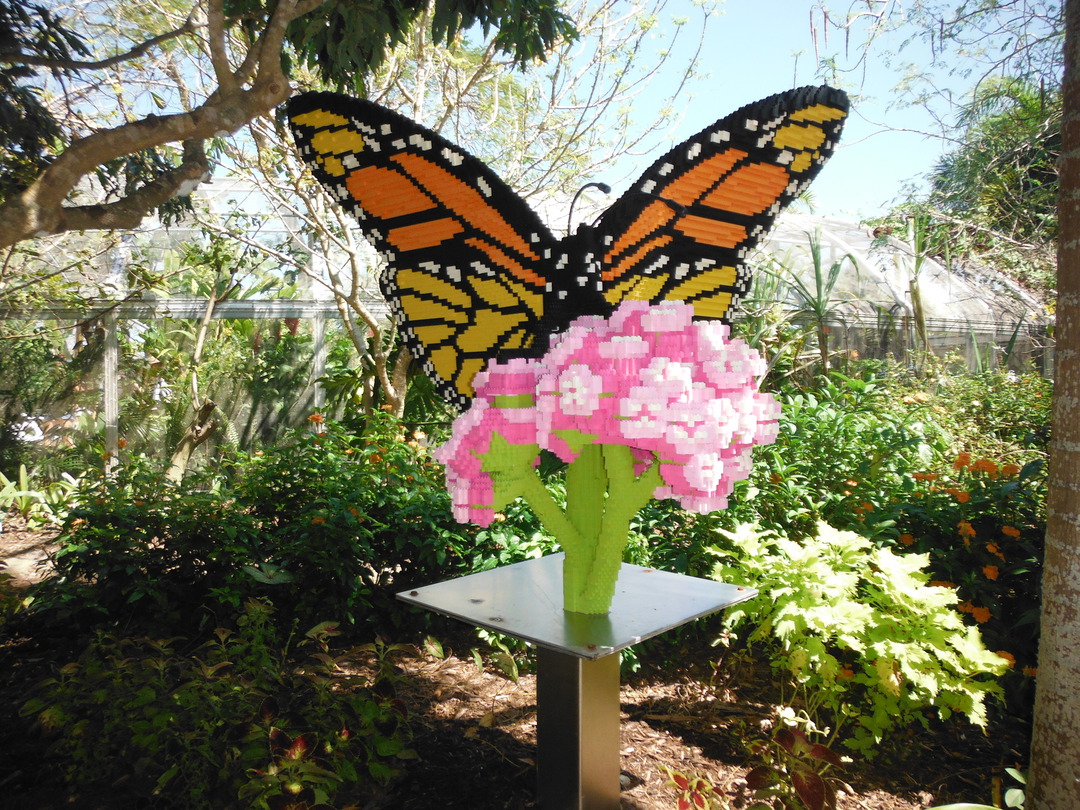 This is the number one reason to bring the whole family to this Garden. This monarch butterfly is made from more than 60,000 Lego bricks and was built by New York-based Lego artist Sean Kenney. This image was taken on March 22, 2016, and the exhibit would run through April 10th.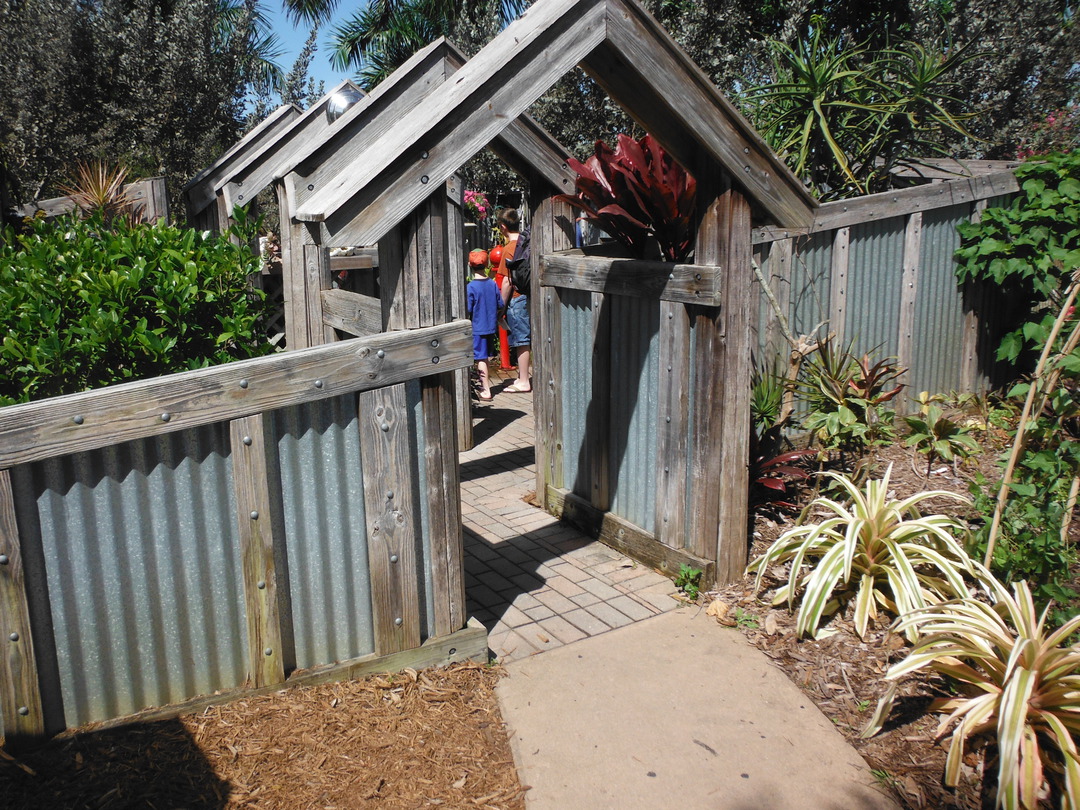 This is the Vicky C. and David Byron Smith Children's Garden, and it has a butterfly tunnel. (Solo adults with a single-day ticket might be advised to visit this area at another time due to the expanse of the other attractions.) Kids and grownups both love it here; there is just so much to see.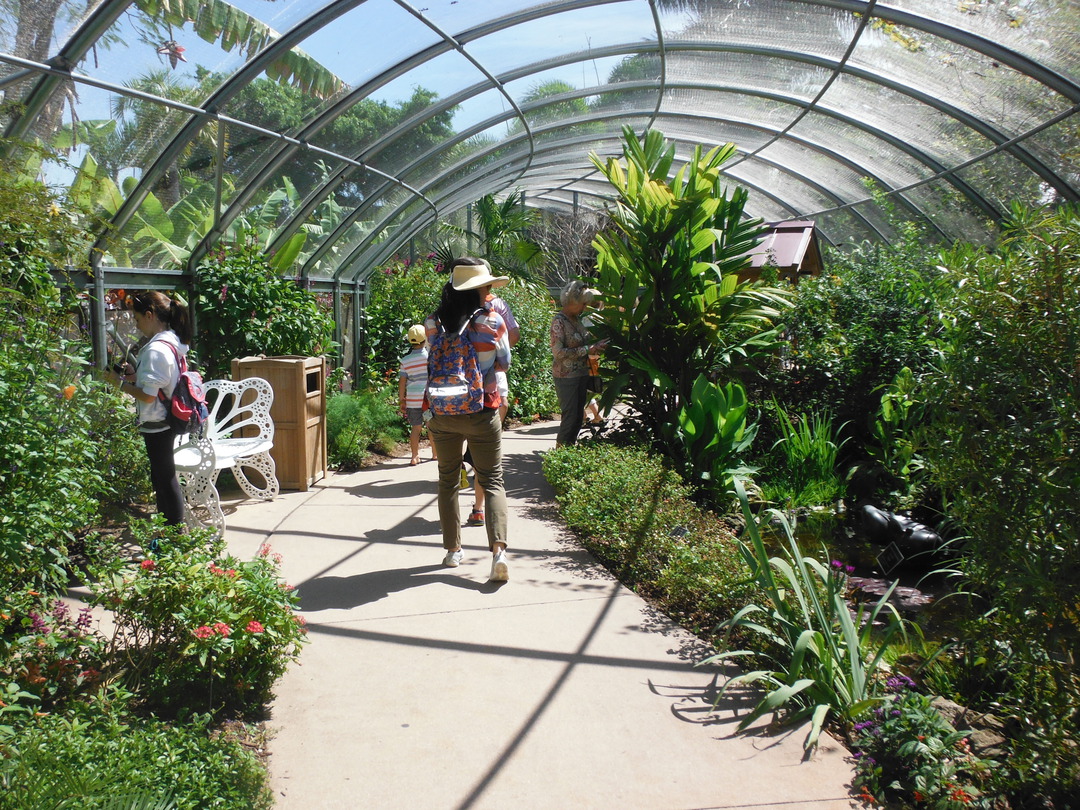 This is the Butterfly Tunnel in the Children's Garden; there are an unbelievable number of butterflies who will actually land on an unsuspecting shoulder or two. As a result, visitors should inspect themselves carefully before leaving this area. There are sally ports for this.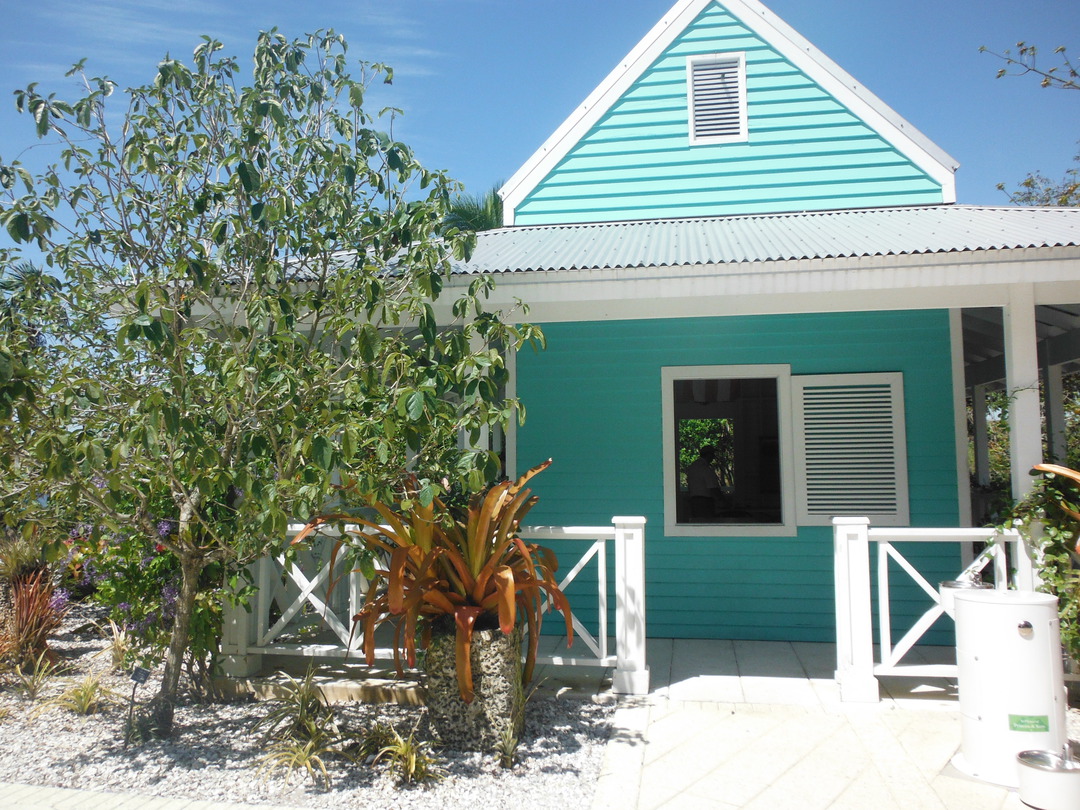 This is the Chattel House in the Caribbean Garden, and there is a drinking fountain here, among other things. It is a cool, comfortable place to stop and sit and learn about the cultural history of the Caribbean. There is a steel drum and a swinging bench (plus Legos to assemble during this visit).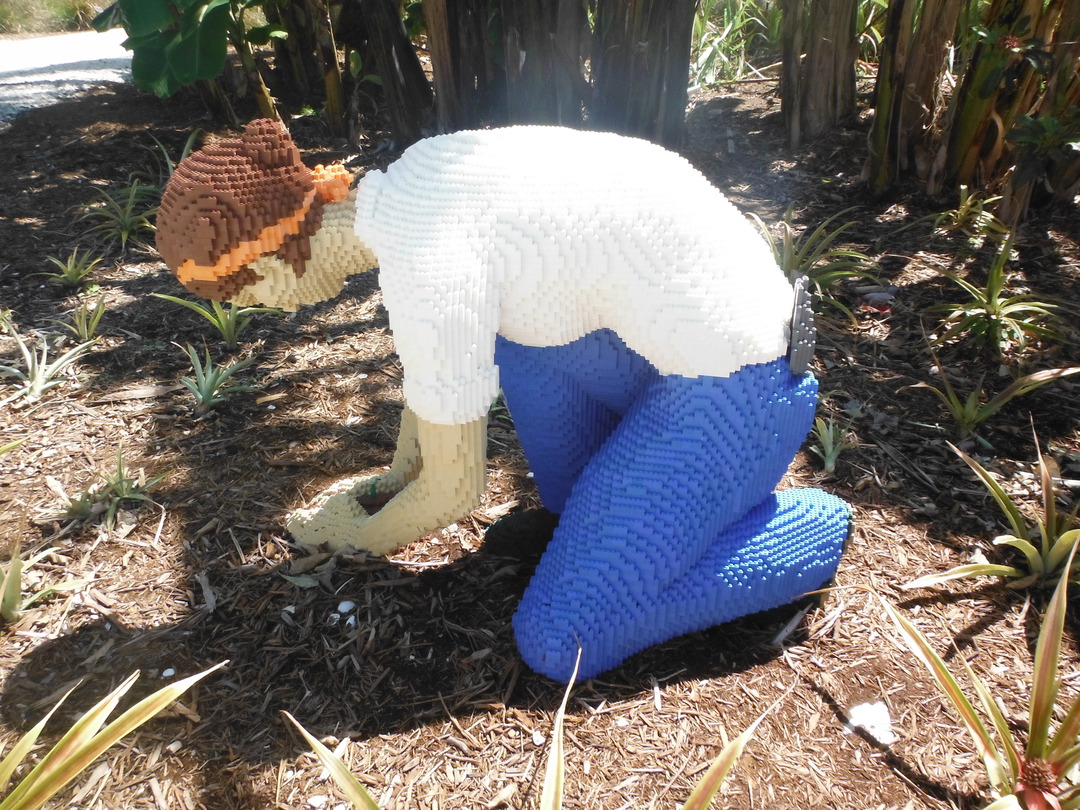 This is the "Kneeling Gardener" sculpture in the Caribbean Garden. This sculpture is part of the Nature Connects: Art with Lego Bricks trademarked exhibit. Each sculpture has a sign with details, such as how many bricks were used. In this case, it was 34,340.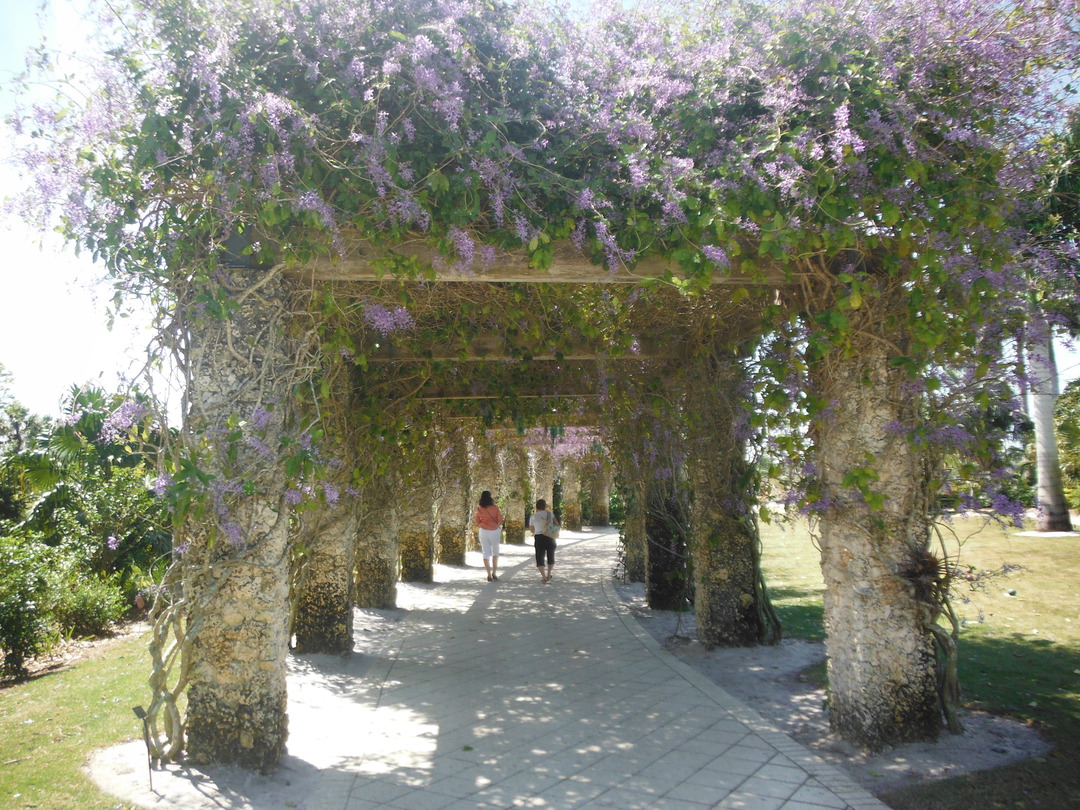 It is impossible to cover the entirety of Naples Botanical Garden in a single visit. (Though it is fun to try.) This magnificent structure is created with a plant called the Queen's Wreath (petrea volubilis, Verbenaceae) from the West Indies. Queen's Wreath takes the sun off the neck as good as any roof.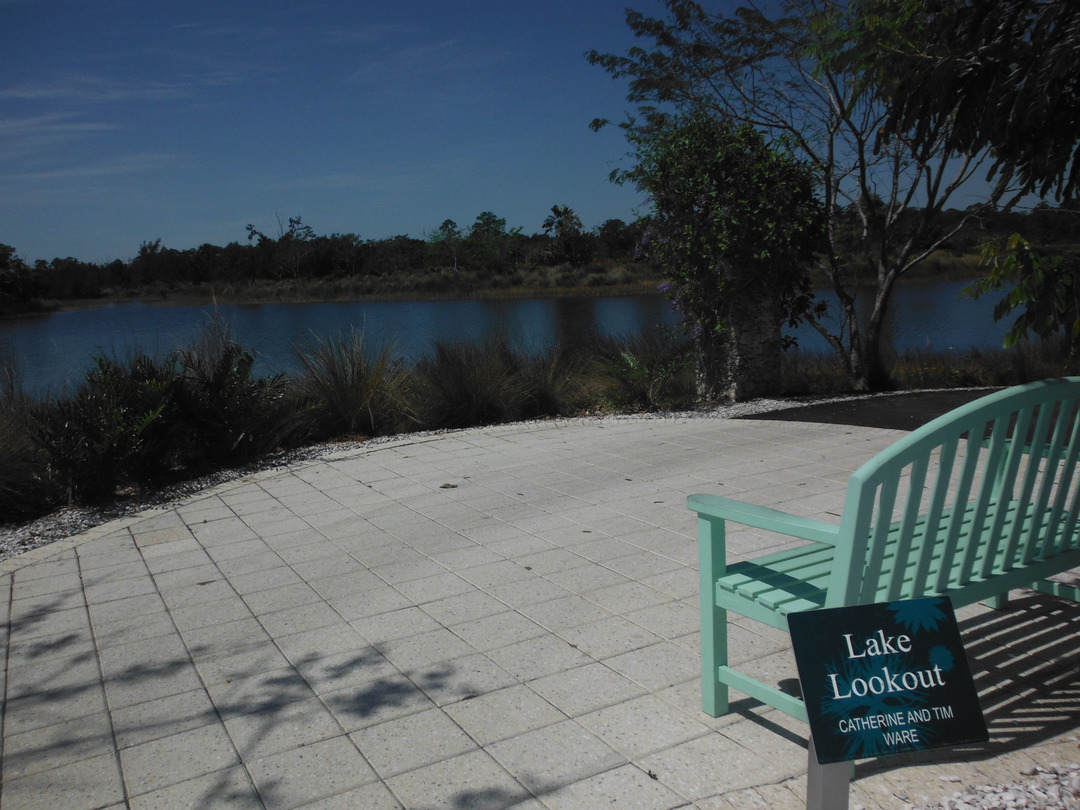 Naples Botanical Garden is only an hour away from the Everglades National Park, so it's only natural that there are alligators in this lake, Lake Tupke. The Garden asks that visitors not bother them or feed them, but visitors are welcome to bring cameras to photograph one—if one surfaces.

If the alligators find their lunch at Lake Tupke, two-legged visitors will find theirs at Fogg Cafe. Fogg Cafe is open from 9 am-5 pm for breakfast and lunch with a menu that changes seasonally. Beer and wine are available. Diners order their food from the cashier (not shown) and a waitperson delivers it to the table.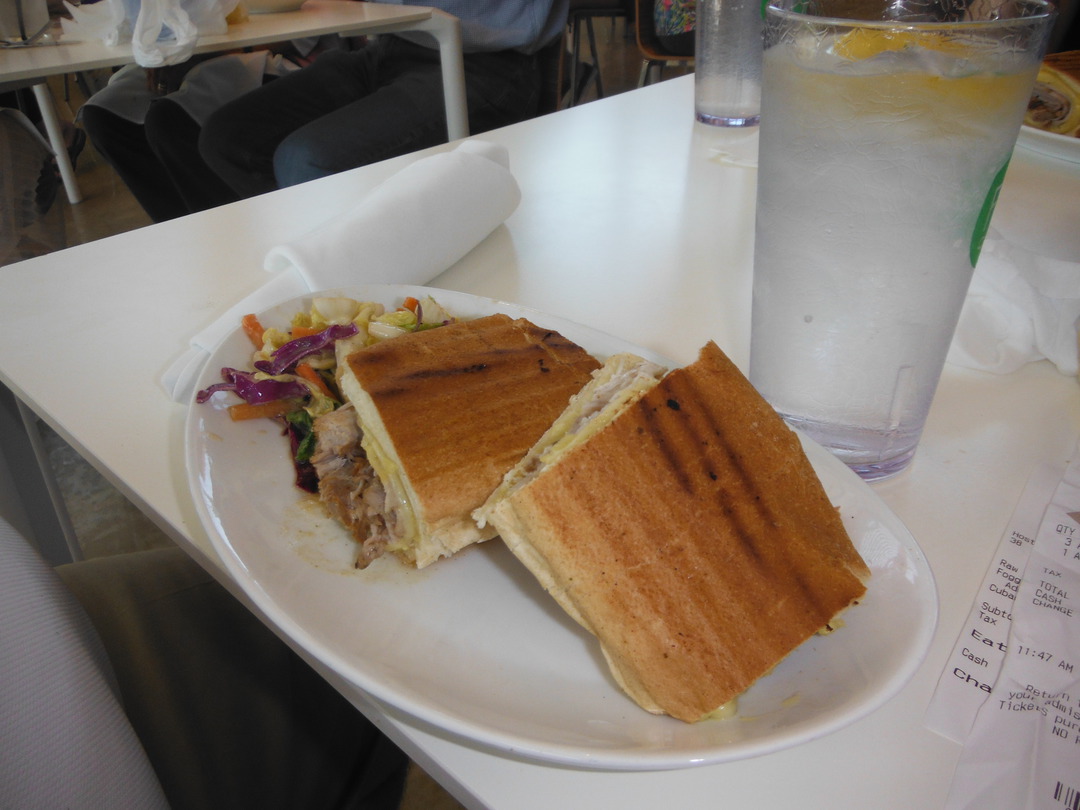 This cubans-and-carnitas plate at Fogg Cafe was $13. It came with pickled mango, pickles, mustard and mayo. Also delicious was the raw vegetable wrap with goat cheese at $10. Sodas are $3.

These are the Fogg burgers . . . ground sirloin and short rib. The dressing on the little salad had hints of citrus and mango. This plate was $13. Fries are available, hand-cut with ketchup and herb, for $7. The server had our food to us in about 15 minutes; we ate between 1:30-2 pm.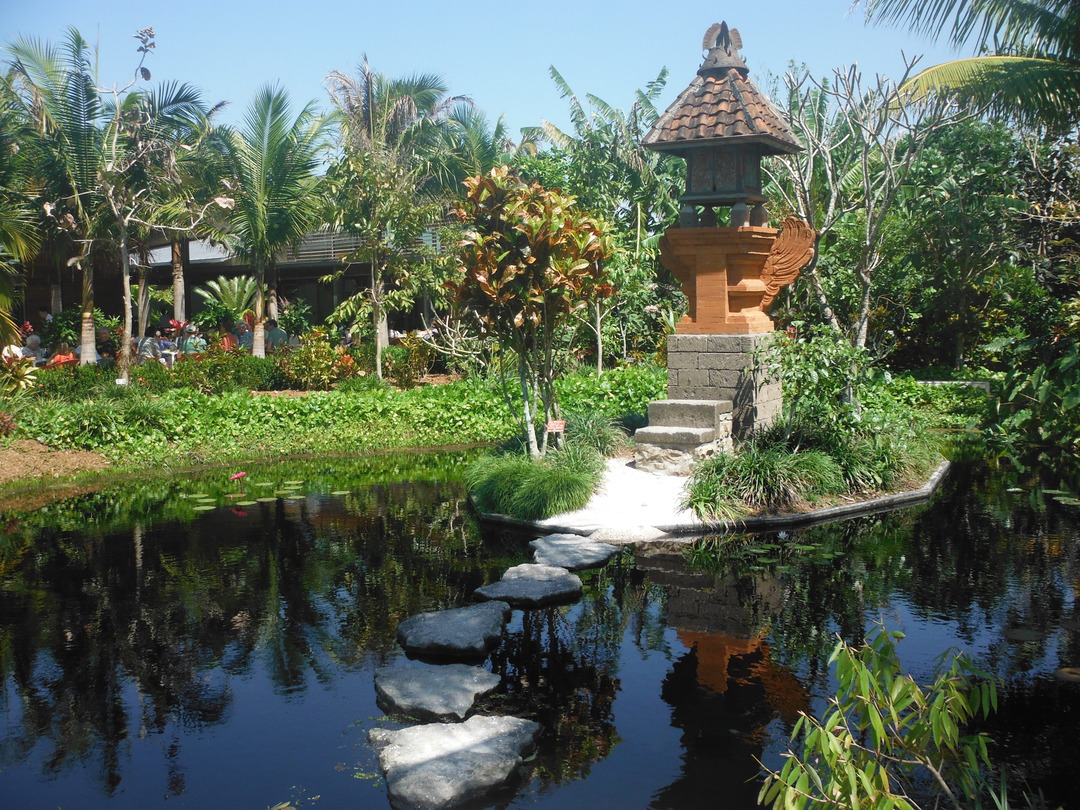 This Balinese temple, set to honor the goddess of rice and fertility, can be found in the Marcia and L. Bates Lea Asian Garden. Visitors are welcome to navigate the stepping stones. Both ornamental and edible tropical Asian plants are here. There are places to stop and rest throughout this garden, which was designed by Made Wijaya.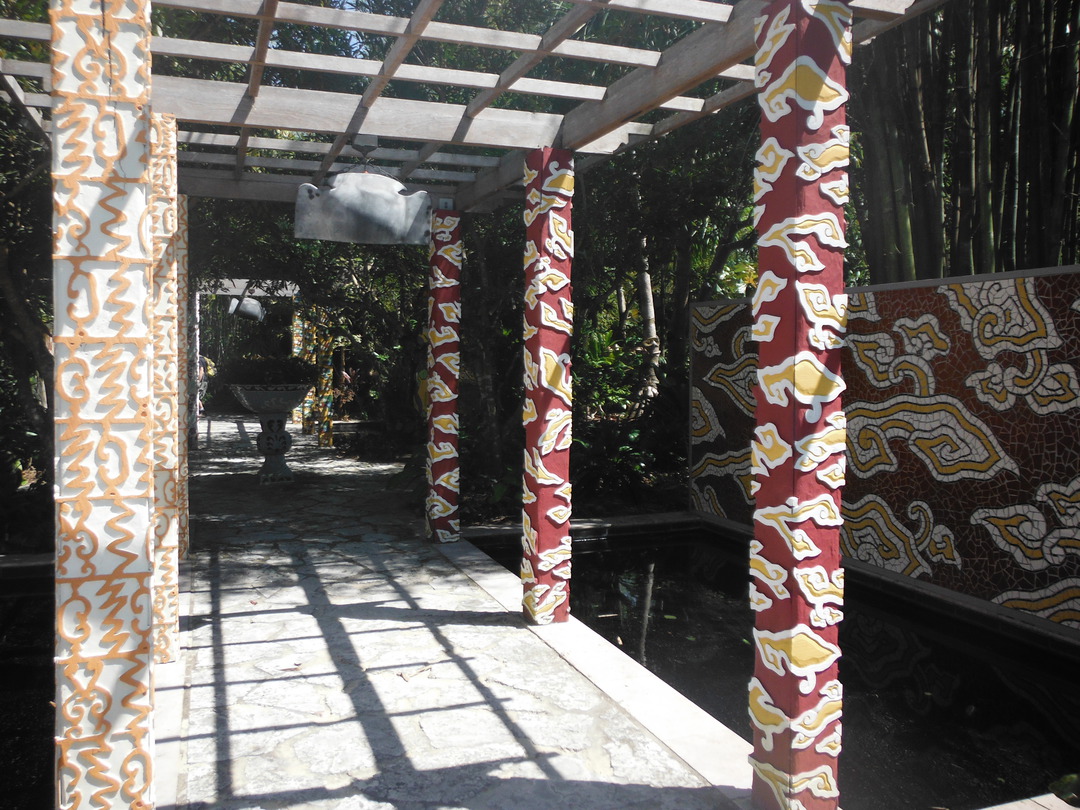 These mosaics and carvings are in the Asian Garden. Typical of NBG, there are so many interesting spaces that perhaps two or three days are necessary to see everything. Every step brings a new delight. The Thai pavilion and the Temple Ruin are two more interesting spots to be.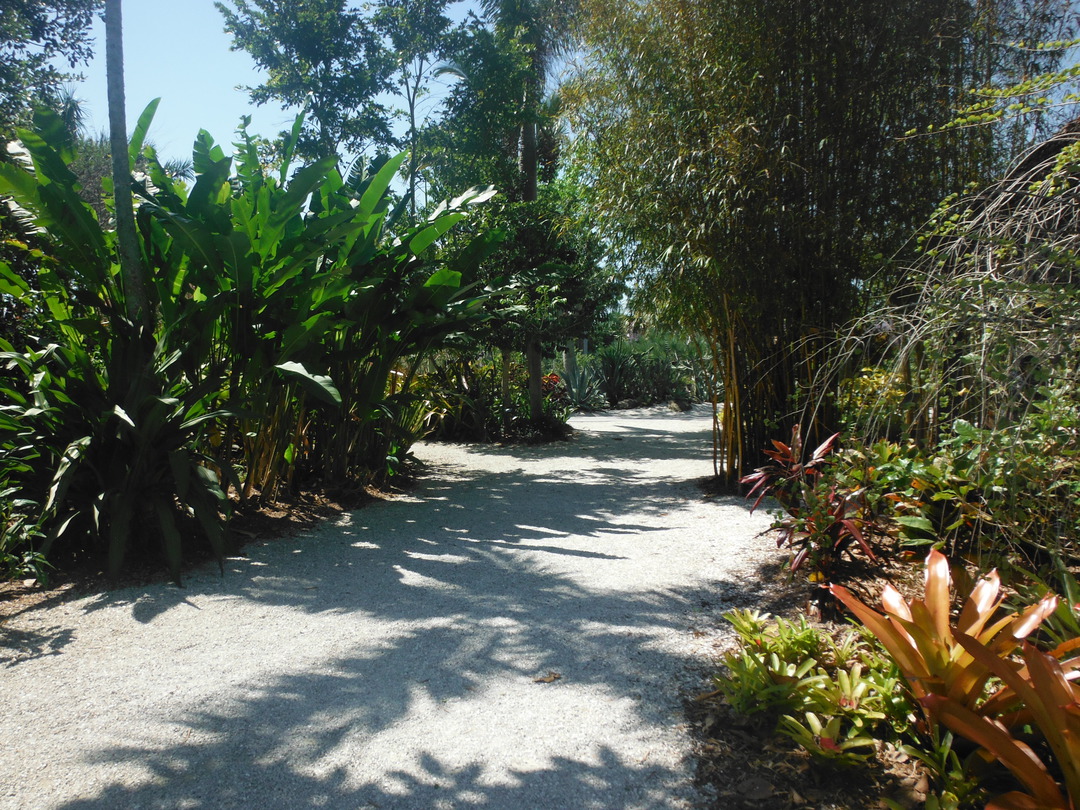 This pathway leads from the Asian Garden to the Florida Garden with its River of Grass, the South Grove with its Labyrinth, or through the Pinelands to the Birding Tower on Deep Lake. May both your feet and your camera battery last as long as your day at Naples Botanical Garden, where every trail is connected to the next.