Naples Pier, Cosmos Pizza, Naples, Florida
The Naples Pier in Naples, Florida, extends one thousand feet out into the Gulf of Mexico. The Pier has all of the amenities a beach-goer in flip-flops could possibly want: nearby parking, accessibility, modern restrooms and footbaths, incredible views and incredible fishing, covered and uncovered seating, and a restaurant—Cosmos—right on the pier with many choices and beach sundries. Cosmos at the Pier has it all: soft drinks, coffee, salads, pizza, sandwiches, frozen treats, and more.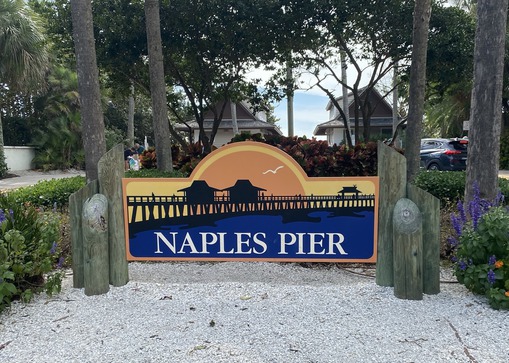 The Naples Pier is located at the western end of 12th Avenue South in Naples, Florida, off Gulf Shore Boulevard South. A large parking lot, open 5 am till 11 pm, is located at the intersection. There's also a passenger drop-off circle behind the sign. Parking is expensive at $0.25 per five minutes (quarters only and/or credit card) and the lot fills up quickly. Beach-goers who arrive later in the morning can circle around like a shark for a spot.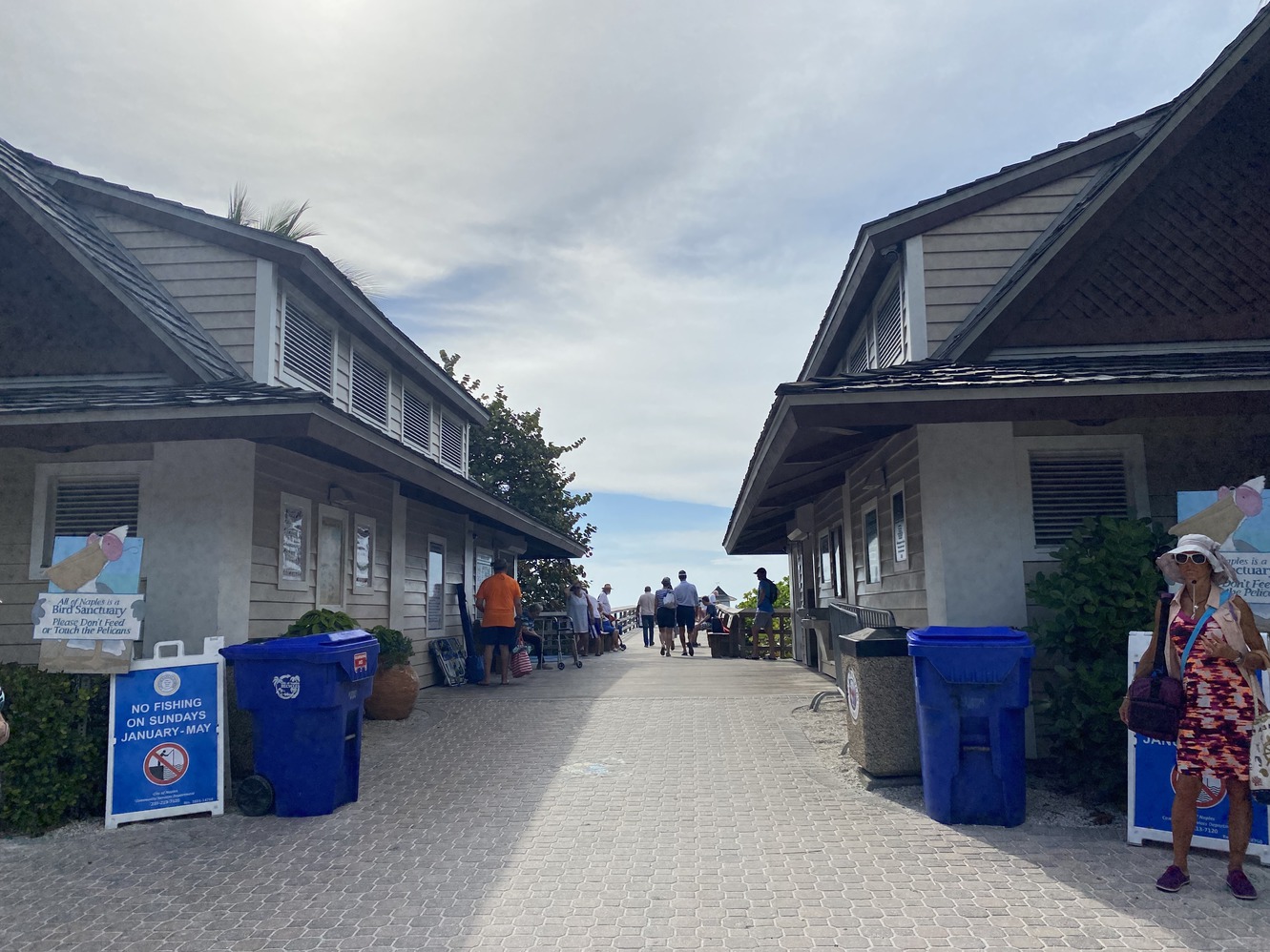 The Pier has modern amenities housed in these two structures, one for men and one for women, including footbaths and outdoor showers. This pier is very accessible, with smooth sidewalks and foot-friendly cobblestones leading from the passenger drop-off area up onto the Pier itself. Fantastical sea creature mosaics are embedded within the cobblestones. Beach-goers can bundle up trash and recycling here before heading back to their homes or hotels.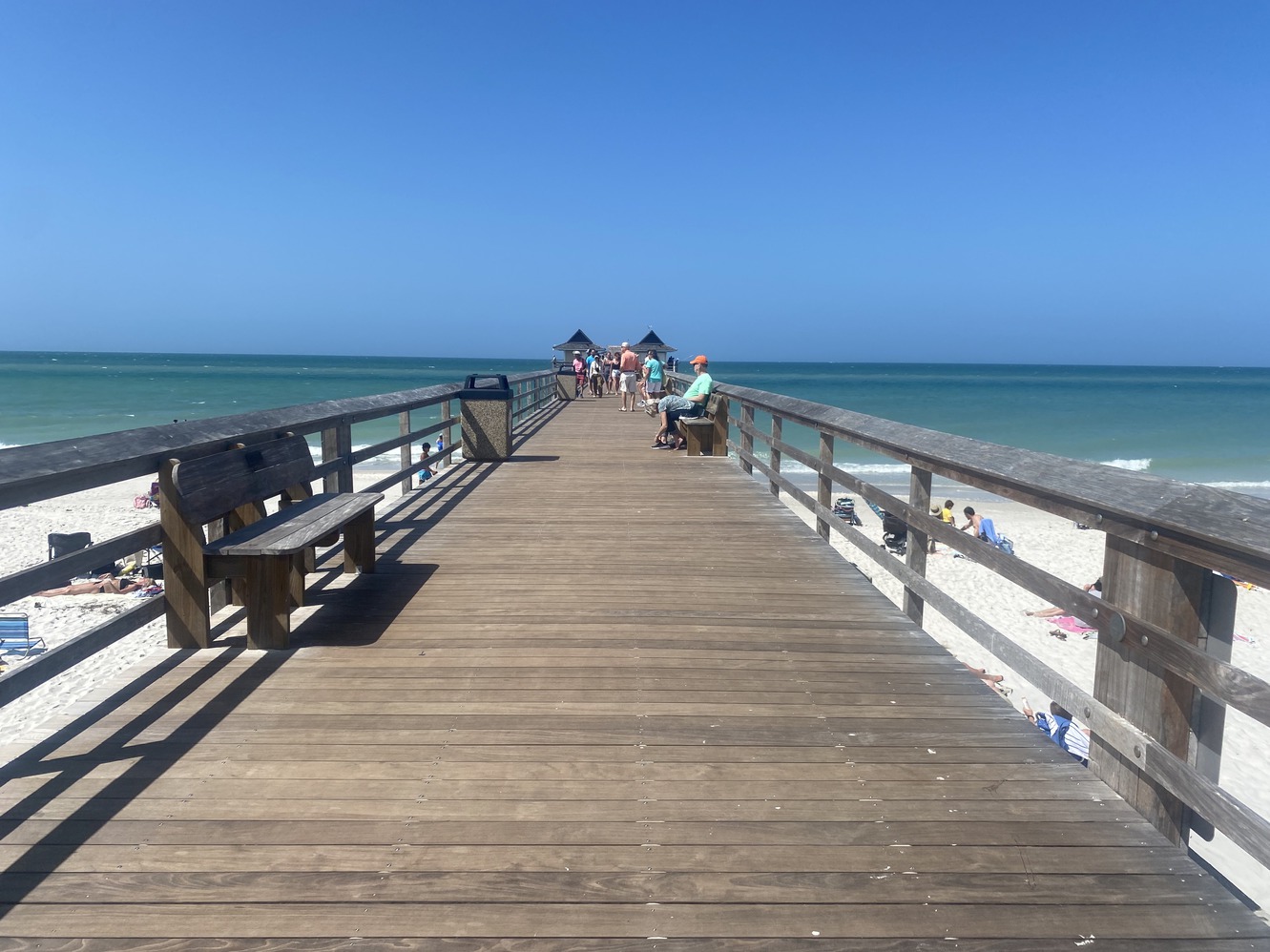 The Naples Pier is a great place for a lazy afternoon, but the word on the beach is that the pompano are really biting today. Today could be any day during the peak of Florida's tourist season, although today is Wednesday, March 9th, 2022, and the temperature reached a wonderful 87 degrees F (30.55 C) without a cloud in the sky. Just look at that blue sky, turquoise water, and white sand. Folks are heading down the Pier to catch the view out in the Gulf.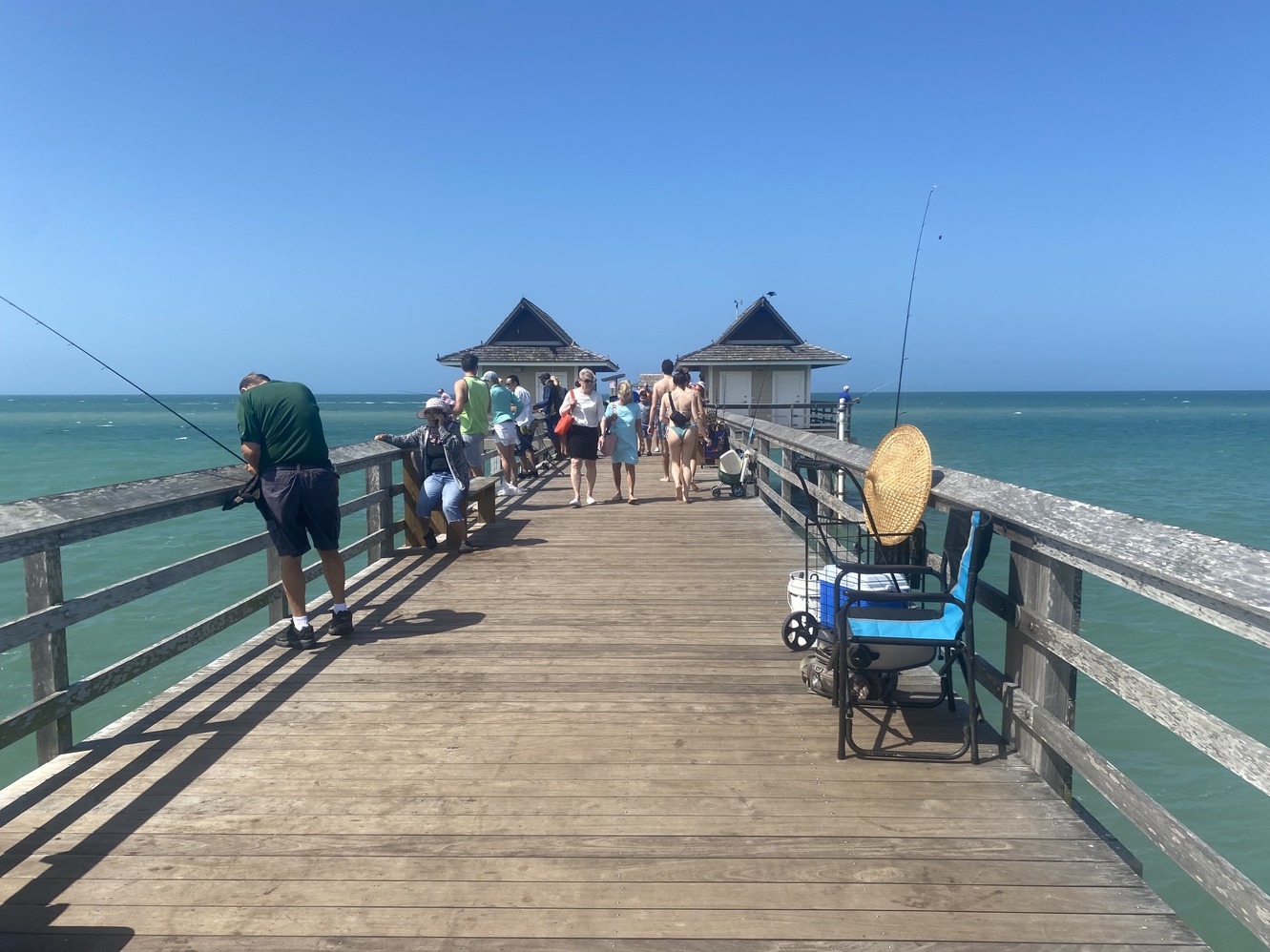 The Naples Pier was first built in 1888, as Tamiami Trail did not exist at that time. It has been destroyed and rebuilt after many hurricanes over the years and was refurbished in 2015. There used to be a Post Office here too. The view here is free, of course, and so is the fishing; no license needed. Fishermen and women will find plenty of spots to park a cart, bucket, and chair along the balustrade. There are also fish-cleaning stations with water hoses.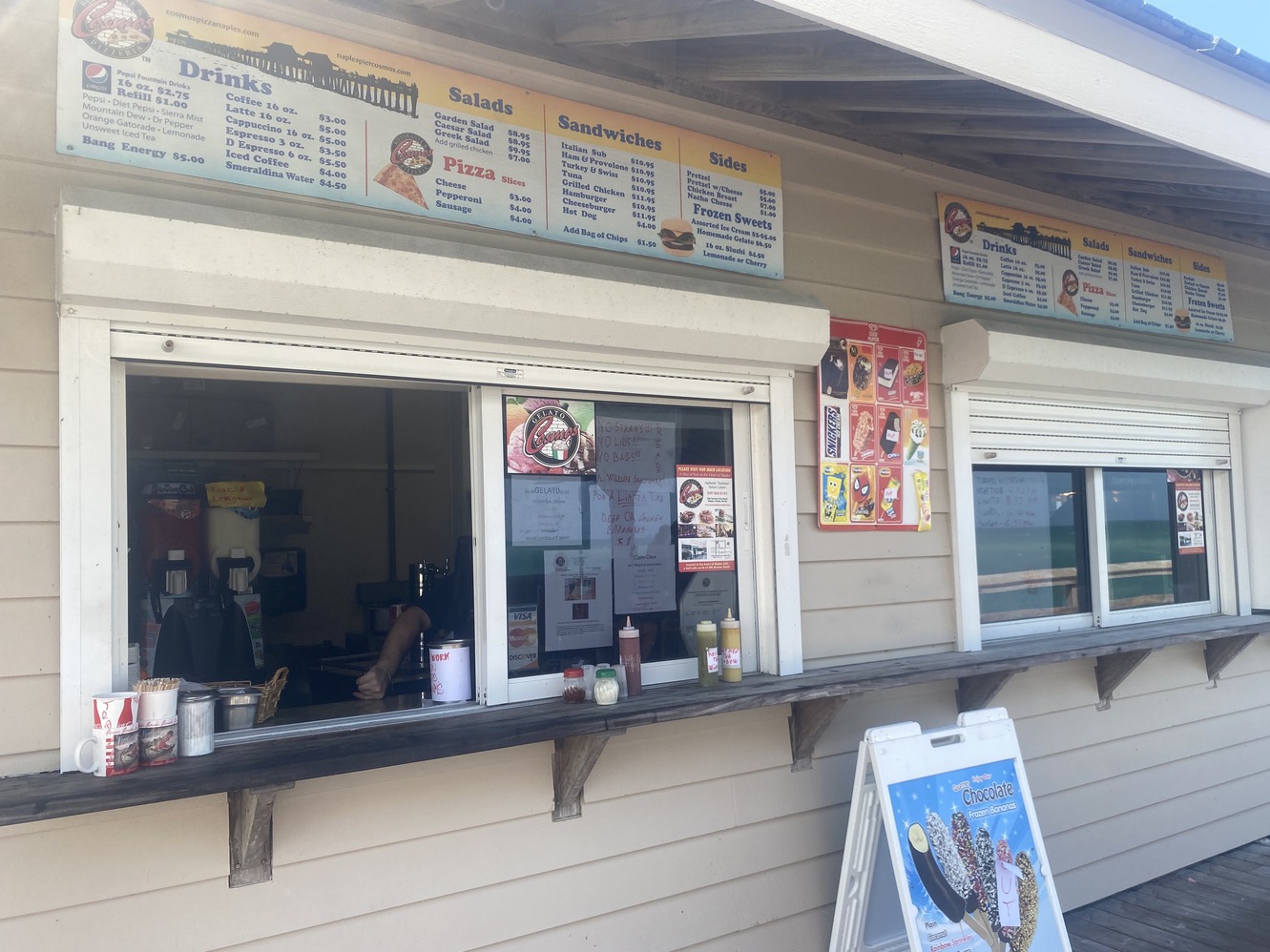 Cosmos Ristorante & Pizzeria has two locations in Naples, Florida. The main restaurant is located at 536 Tamiami Trail North, and the other location is on Naples Pier. While most piers have a sundry shack for bait, jerky, ice, soda, and roller hotdogs, Cosmos offers a range of food and drink. Energy drinks, soda, coffee hot and cold, plus salads, pizza, and sandwiches are sold here. There are also ice cream treats all day and adult beverages after 12 pm.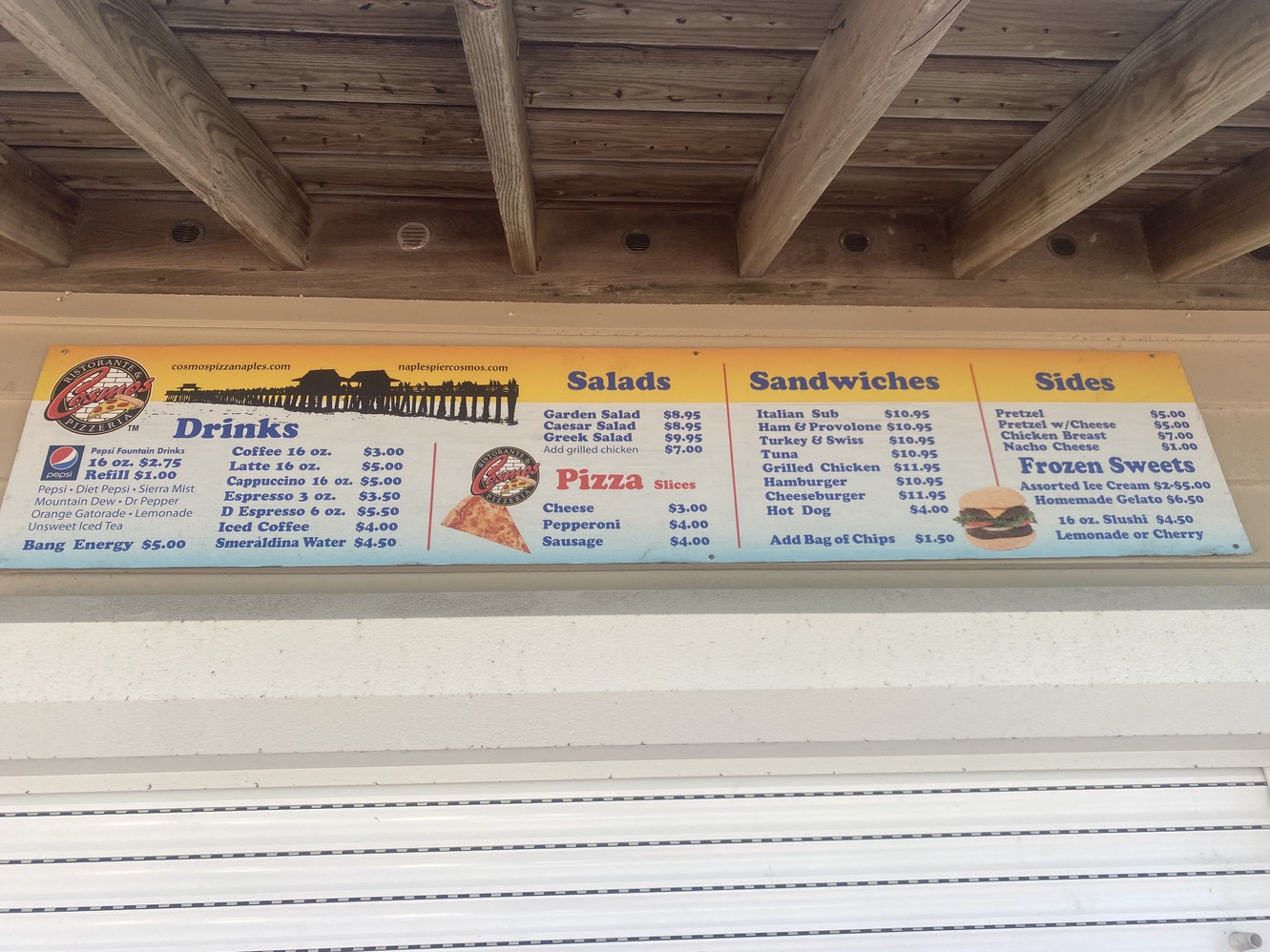 The street address for Cosmos at the Pier is 25 12th Avenue South, Naples, Florida, 34102. The Pier location has its own Facebook page, twitter handle—@NaplesPierCosmos—and phone number (239) 213-1000. (The website for the Pier place currently shows an old menu.) The hours are nine in the morning until eight at night. The Facebook page explains how Cosmos was getting ready to celebrate its 12th anniversary in January 2020, when the Covid pandemic started.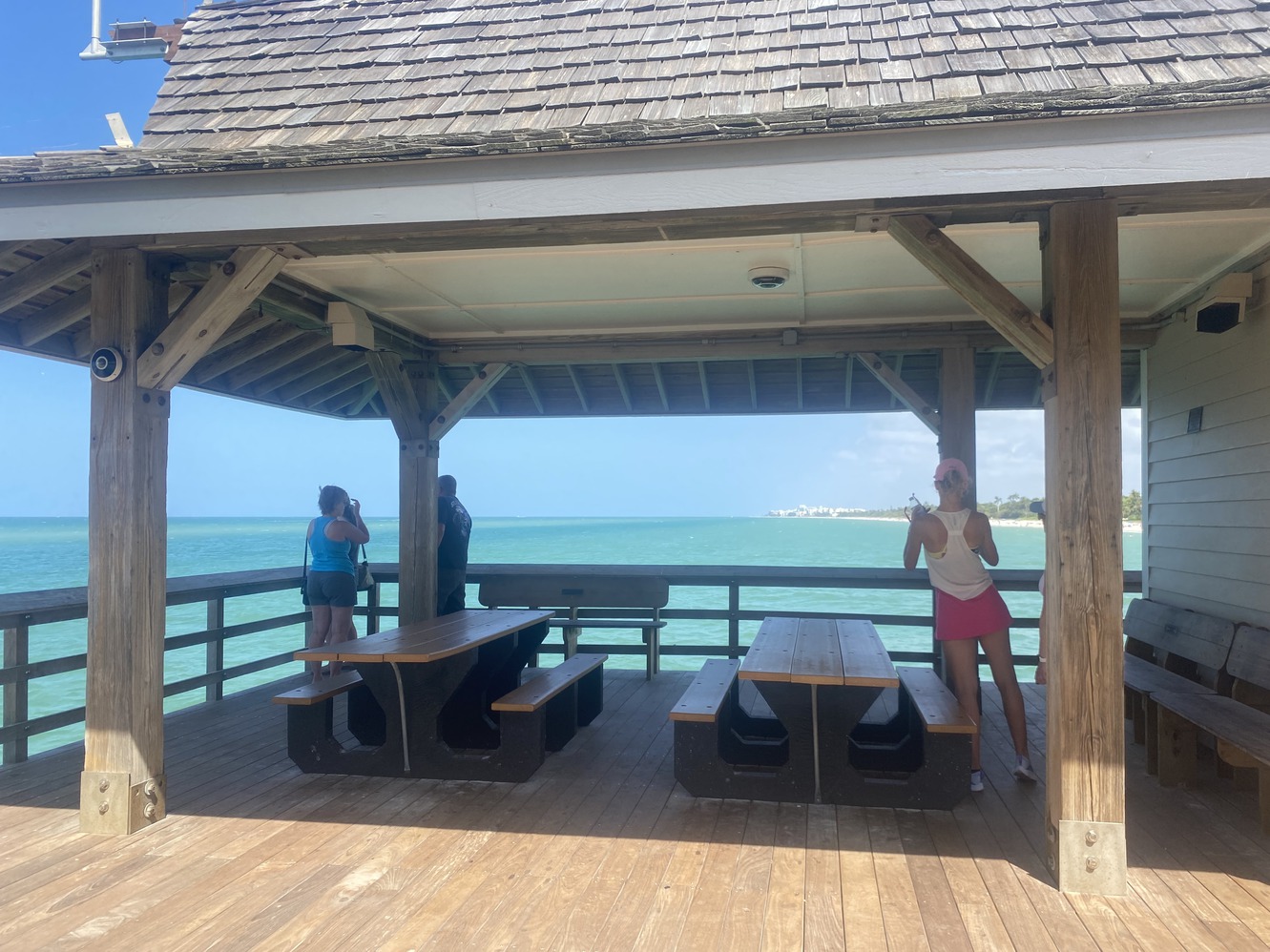 Comfortable, covered seating is adjacent to Cosmos' walk-up window. Cosmos was closed during the peak of the tourist season in the spring of 2020, but is open now with a steady stream of beach-goers picking up food to enjoy at the Naples Pier. This view faces north toward Lowdermilk Park and Bonita Springs. There are plenty of shore birds to watch from this spot, as they catch their own lunches. The water, of course, is beautiful.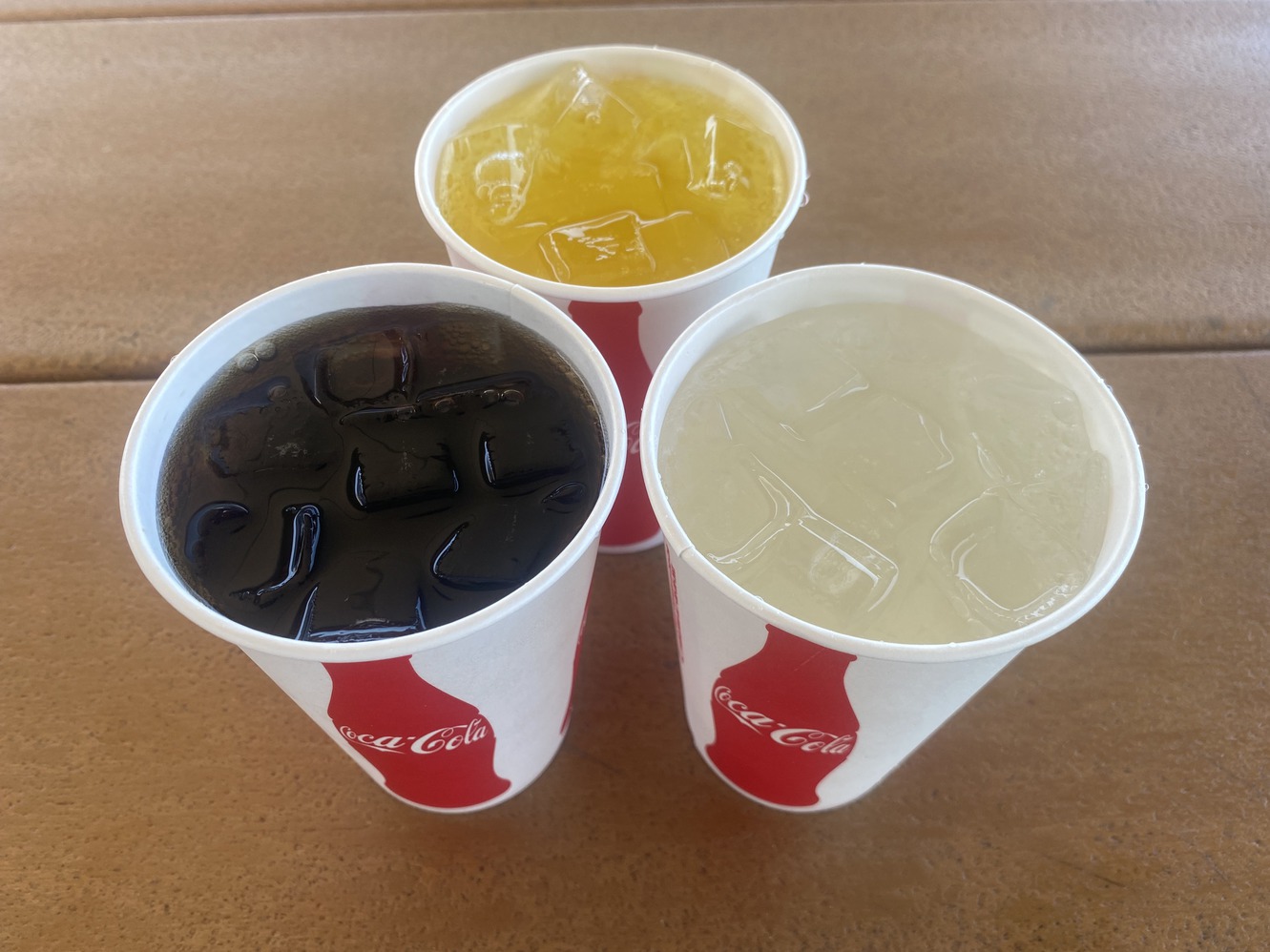 There was no wait at Cosmos's window at 11:30 am on Wednesday, March 9th, 2022. It was good to get away from the water and sun for a while. The water was 74 degrees F (23.33 C) with sunrise at 6:46. Cosmos has a white board in its window that shows high tide, low tide, water temperature, and sunrise and sunset. The sodas (Pepsi products) are $2.75 each, with refills at $1.00. The Pier is a wildlife sanctuary, so there are no lids, straws, or bags.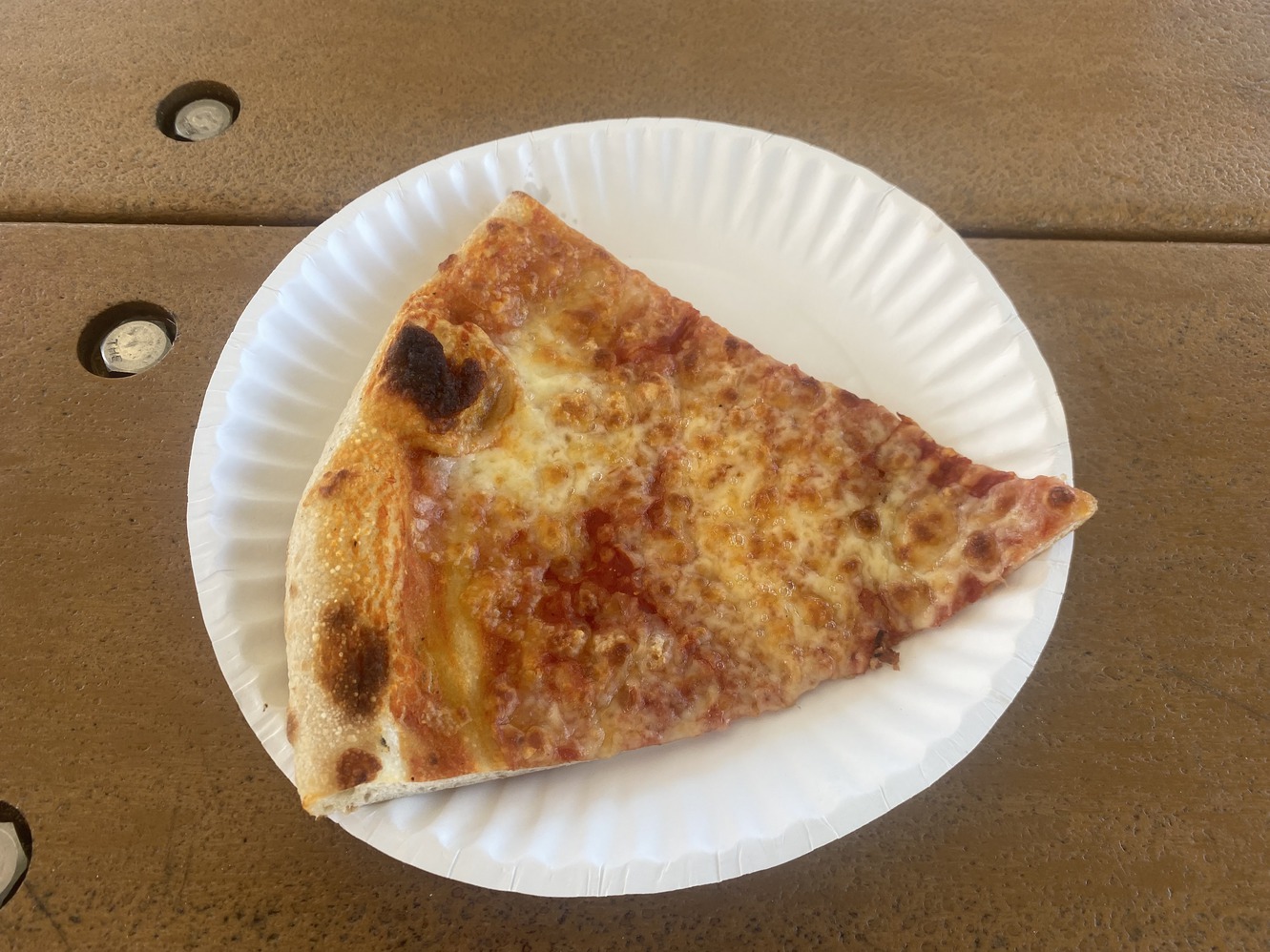 Cosmos at the Pier has three different types of pizza slices on its menu: Cheese ($3), Pepperoni ($4), and Sausage ($4). The slice here is shown on a ten-inch paper plate. Cosmos pizza has a thin crust, tasty sauce, and is filling. When placing a big order, it might take ten minutes or so to get the order ready. The staff members at Cosmos are friendly and efficient, and satisfied diners should put the change from their orders into the tip jar.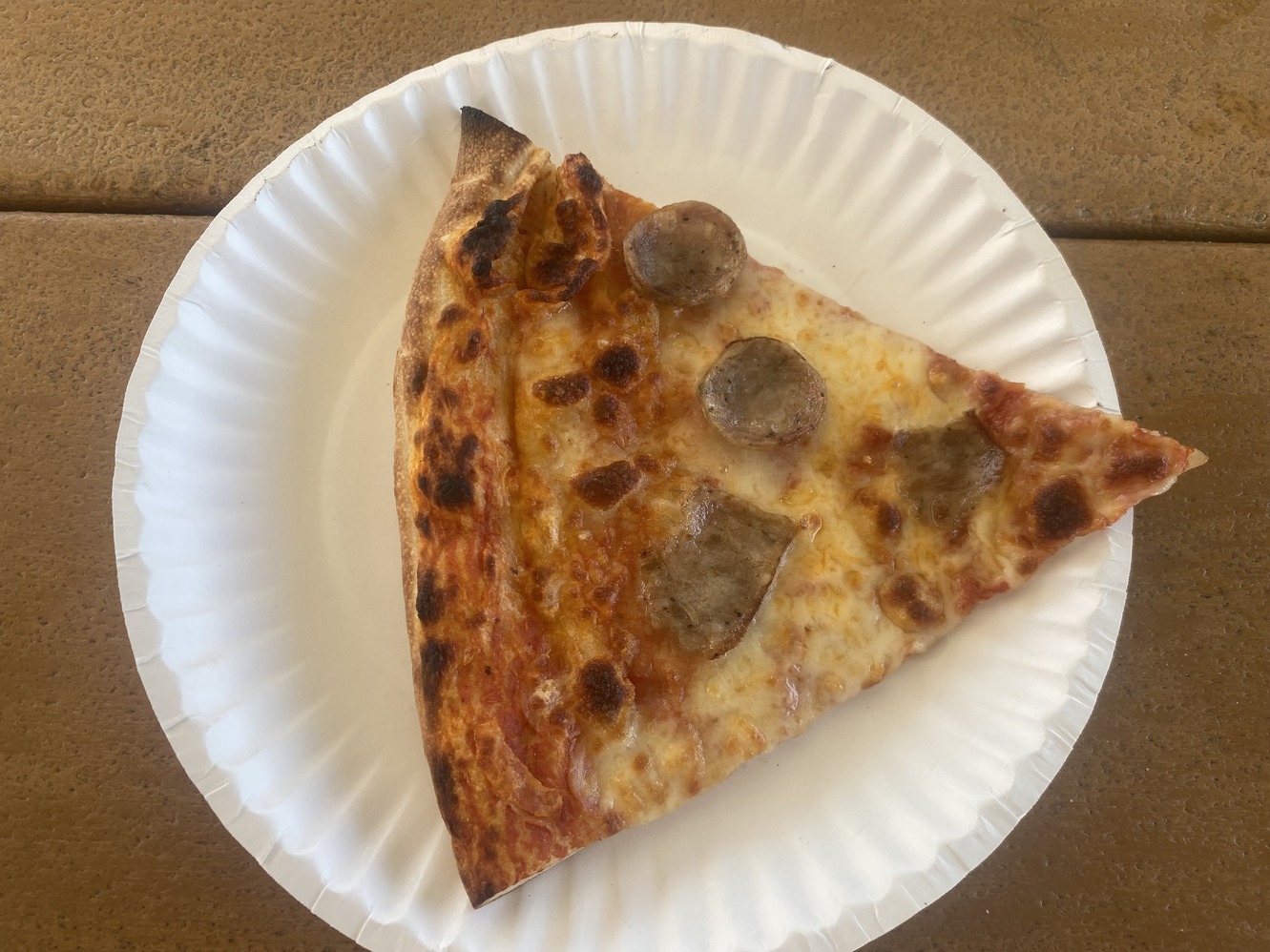 The sausage pizza at Cosmos was a little unusual. The sausage, instead of being crumbled, appeared as small slices on the pizza, like pepperoni. The sausage was flavorful, but not distinctive. Another tasty item on the menu—for a limited time only—is the empanada. Empanadas, at $5 each, are available in beef or chicken. Beer, Sangria, and Spiked Seltzer are available after 12 pm till close. The beer list includes Bud Light, Michelob Ultra, Corona, Modelo, and Channel Marker IPA.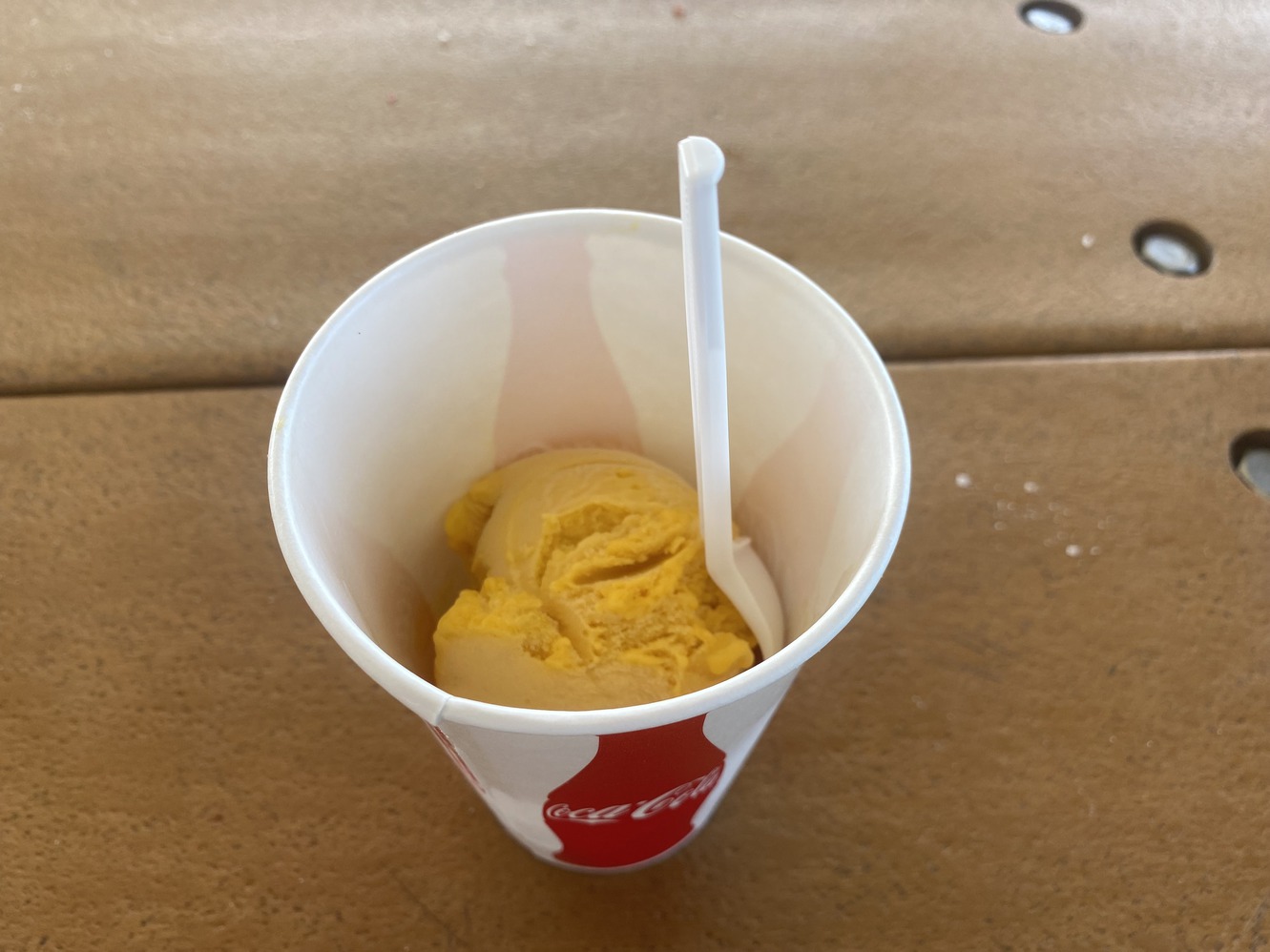 Mango gelato comes in a soda cup with a spoon. This is such an easy, breezy way to eat gelato on the Naples Pier. Cosmos' gelato is thick, rich, and flavorful; the taste of it is as good as the supermarket staple, Talenti. Gelato on the Pier is $6.50. Flavors offered here include Cookies 'n' Cream, Mango, Strawberry, Chocolate, Vanilla, and White Chocolate Berry. Folks wanting to order gelato should have a couple of back-up choices, just in case.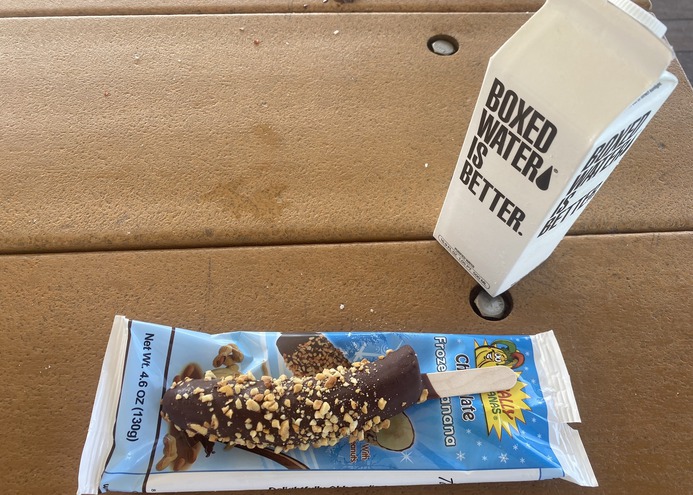 This silly snack comes from Davie, Florida; the brand is Totally Bananas. This chocolate-covered, peanut-encrusted, flash-frozen banana is dairy-free, gluten-free, and certified Kosher. The chocolate coating is fifty percent cocoa. Cosmos carries other varieties of this chocolate-coated treat, including plain chocolate, coconut-dusted, sprinkles, cookies n cream (not gluten-free), and strawberry (also not gluten-free). The frozen banana under all the coatings was delicious.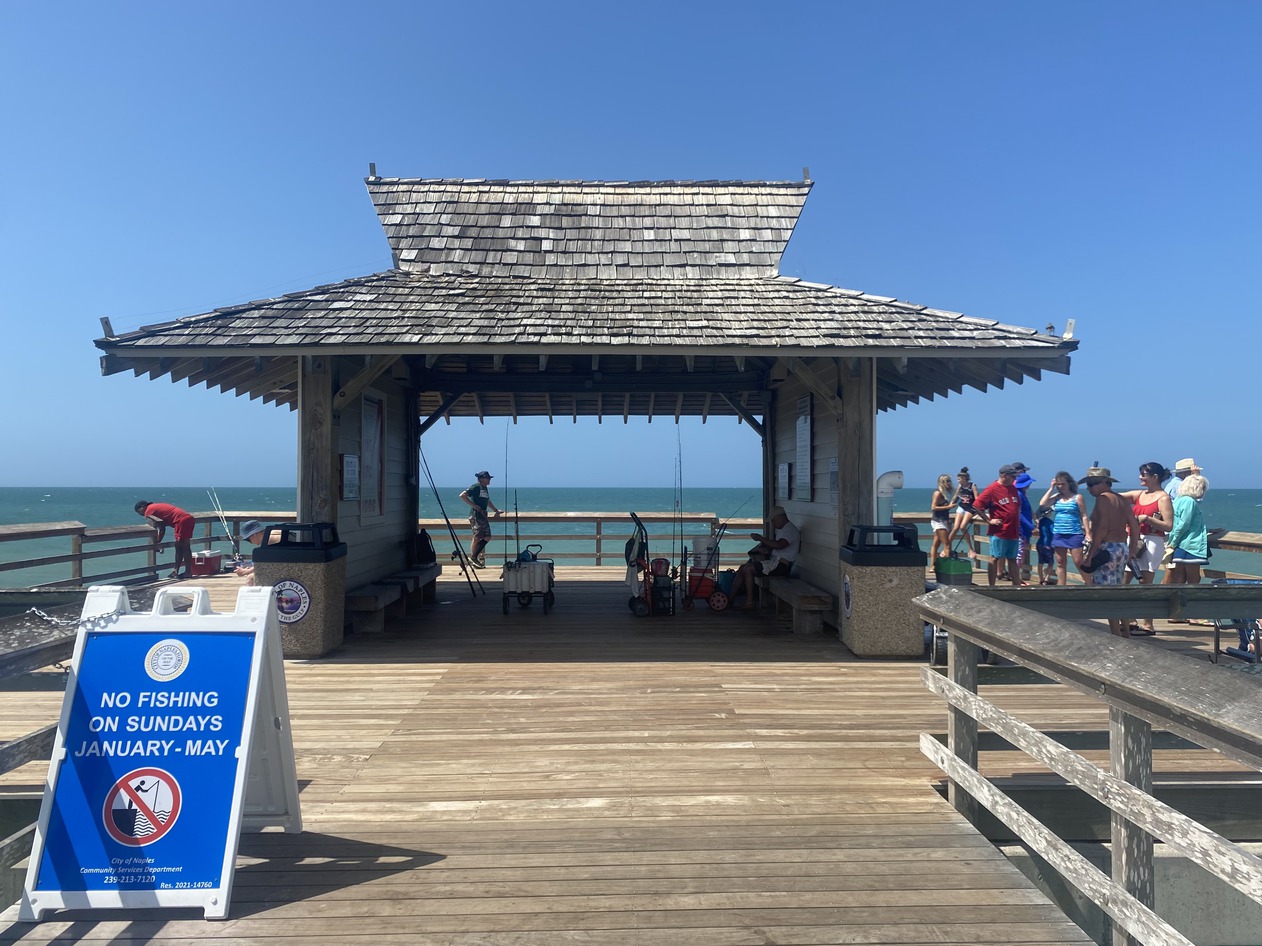 The Naples Pier is open 24 hours a day, seven days a week. There are some changes happening this year in 2022, however. Since the New Year and until May 31, there will be a trial period where fishing is prohibited on Sundays, all day. Fishing will be prohibited from 11 pm through 5 am Monday through Saturday. (Remember that the Pier parking lot is closed during those hours.) Any disability permit holder may park at any space without payment, but not during off hours.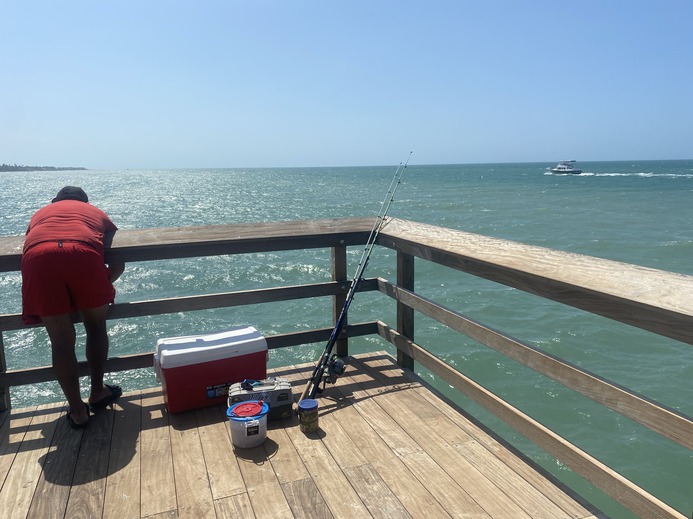 This fisherman has been working hard to reel in a tasty catch out here on the tail end of the Naples Pier. Boats of all types have been going by all day, almost as numerous as the shore birds. Naples Municipal Beach goes five miles to the north and five miles to the south. This view looks toward the south, with a visibility of ten miles today, toward Gordon's Pass and Keewaydin Island. Tigertail Beach and Marco Island are beyond that.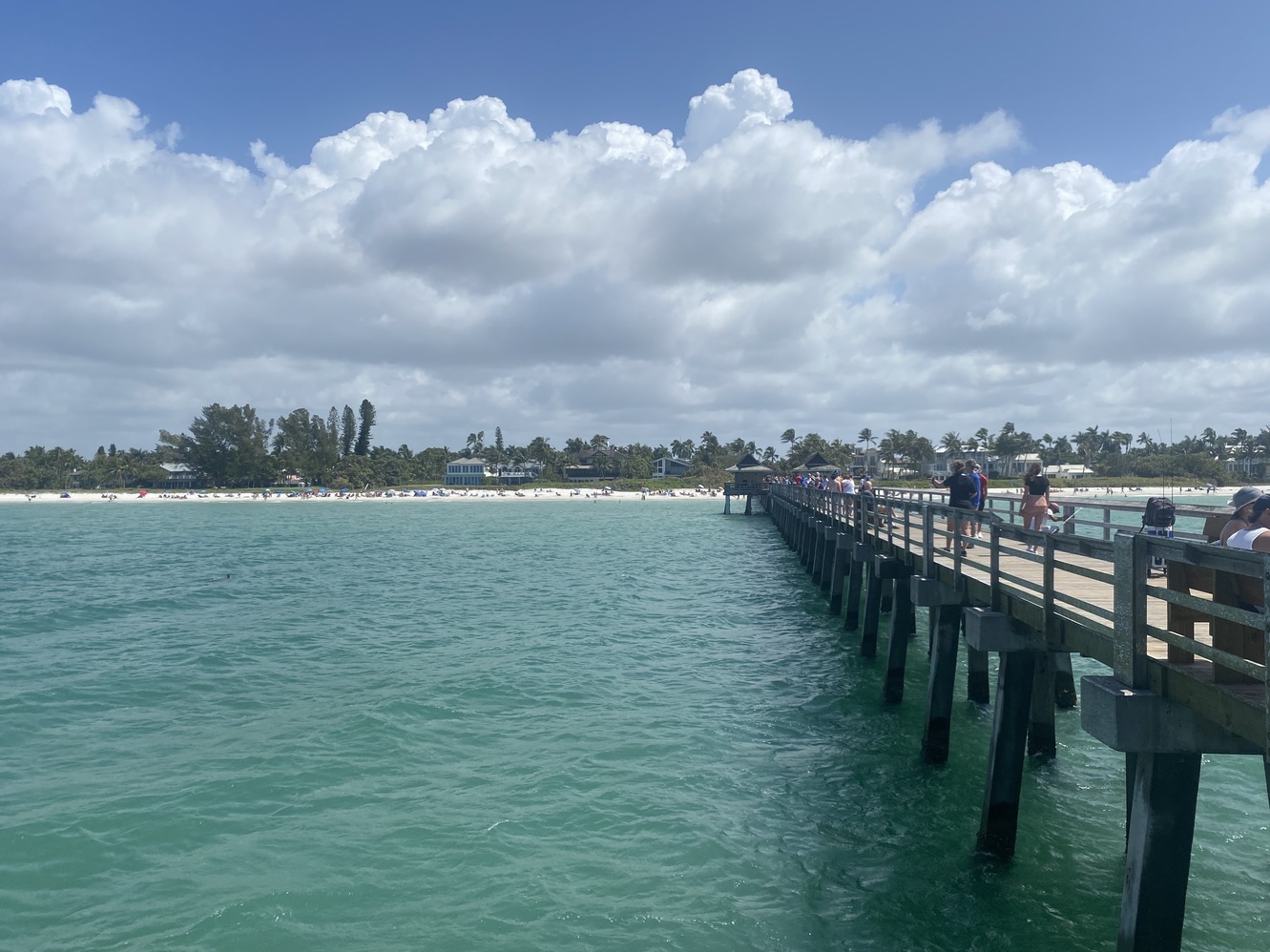 Naples beach is wonderful, but parking is a challenge. The 12th Avenue South lot at the Pier is the best for out-of-town visitors, and has the only handicap ramp. There are other locations to park for out-of-towners, but without the ramp: Seagate Drive beach access, Horizon Way, Vedado Way, Via Miramar, Lowdermilk Park, 8th Avenue North, 5th Avenue South,* 8th Avenue South,* Broad Avenue South – 100 Block, Broad Avenue South – 200 Block, 13th Avenue South, 13th Avenue South – 100 Block, and 14th Avenue South. Asterisks indicate outdoor showers.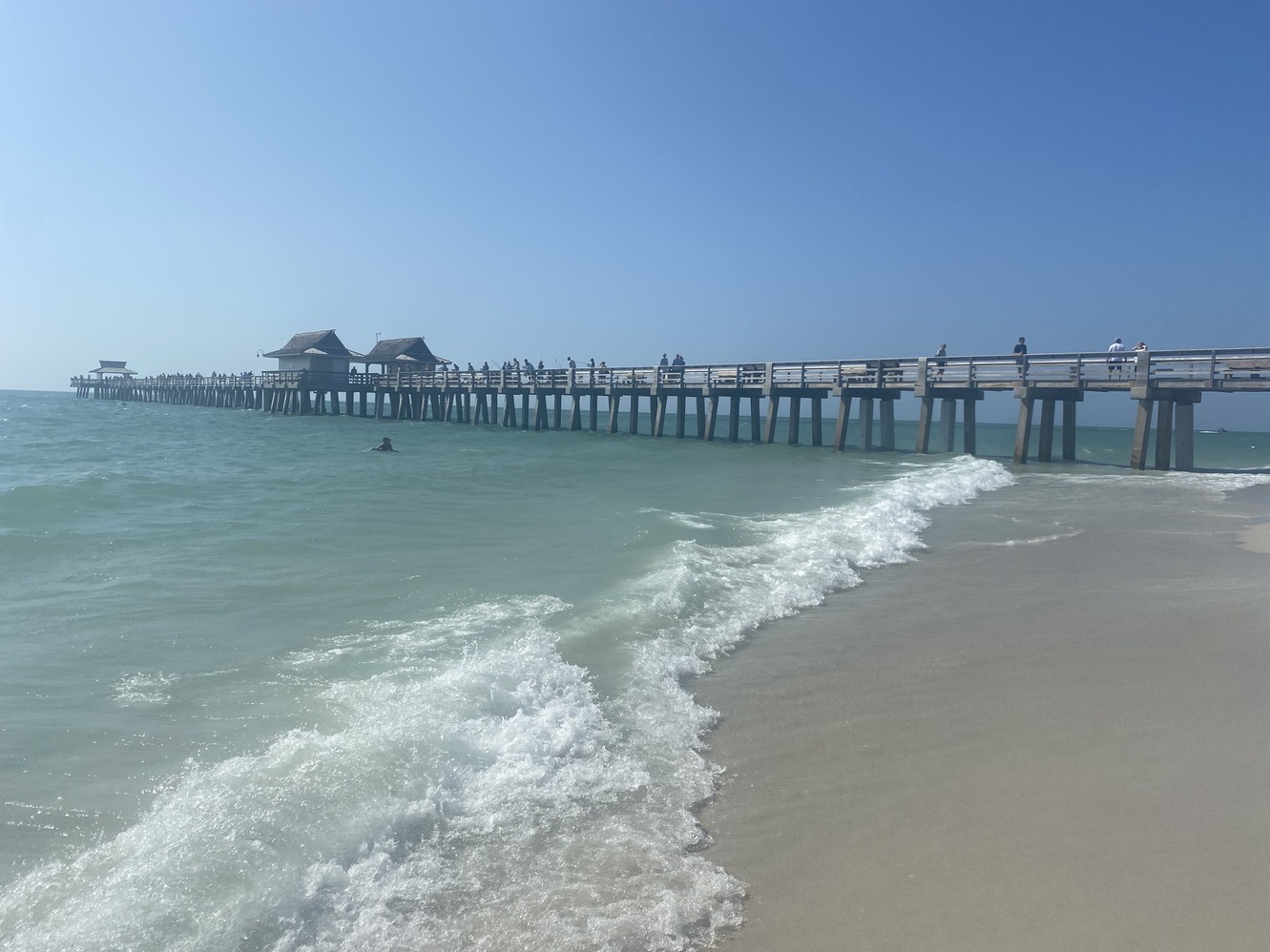 It's just past three o'clock. High tide will come in less than one hour, at 4:02 pm. Some beach-goers are heading out, which will open up a few parking spaces for sunset-seekers. Sunset occurs at 6:33, with almost twelve hours of daylight. Twilight on the Pier is a peaceful time, with astronomical twilight finally ending at 7:49 pm. The Pier has lights along the footboards, and softly lit homes on the shore twinkle in the darkness.