Naples Pier, Naples, Florida
The Naples Municipal Beach and Fishing Pier has it all: a ten-mile white sand beach on blue water with a newly renovated pier that extends a thousand feet into the Gulf of Mexico. This location provides amazing Florida fishing and sunsets.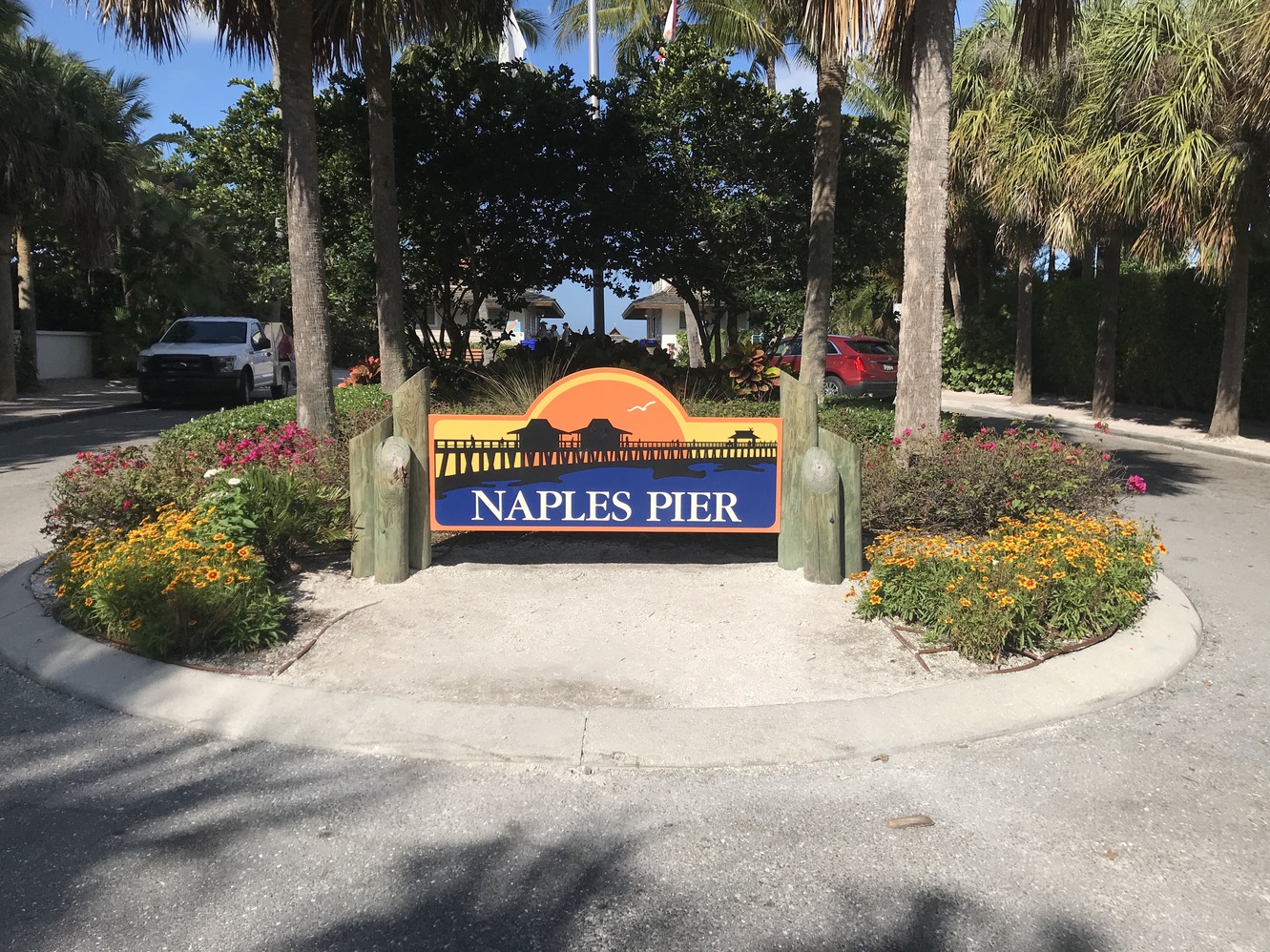 The Naples Pier is located at 25 12th Avenue South, in Naples, Florida. This attraction sits at the intersection of Gulf Shore Boulevard South and 12th Avenue South. There are several paid lots nearby ($2.50 per hour) with pay stations that accept either quarters or credit cards. A single quarter will get you six minutes, and $1.25 will get a half-hour.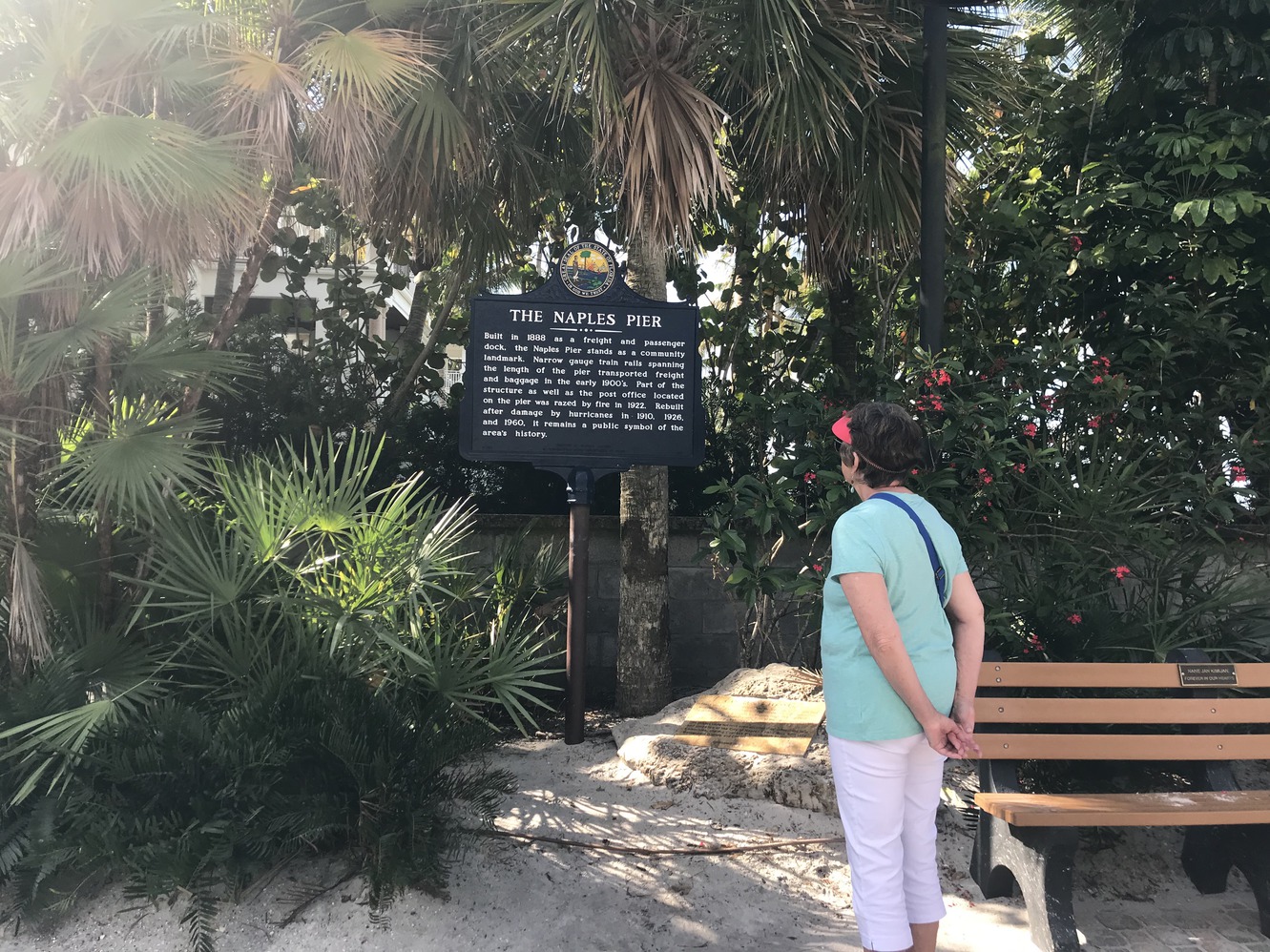 There is so much of Old Florida history at the Naples Pier, which was first built in 1888. Naples was only accessible by boat until the Tamiami Trail (US 41, "Tampa to Miami") was built in 1928. The pier originally had narrow-gauge train tracks for passengers and their luggage.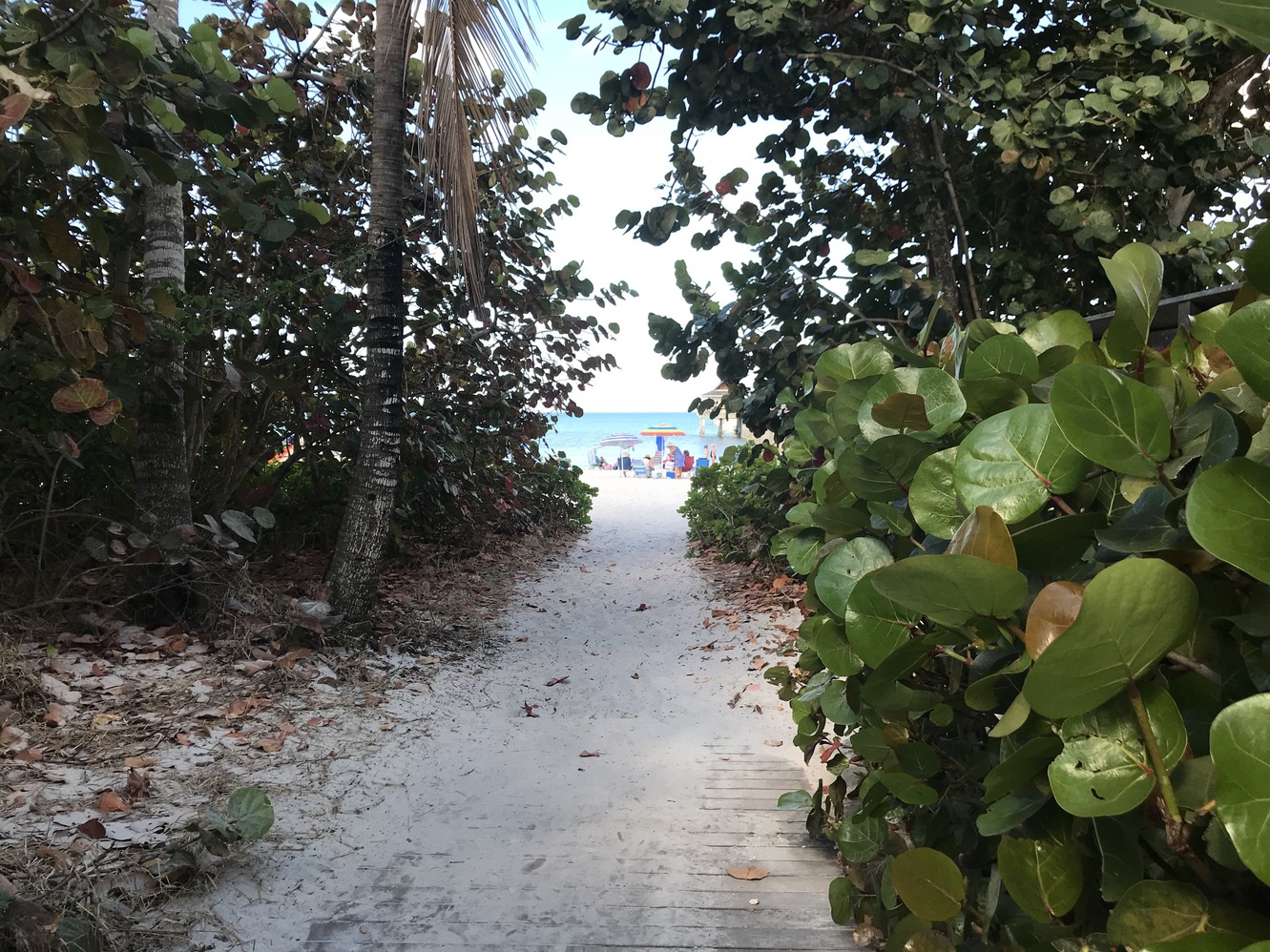 Between the street and the beach is a mangrove environment. The tough, tropical mangrove tree survives in saltwater and wading birds nest in them. Mangrove leaves drop and decompose and attract small creatures, and which then attract birds and fish. Mangrove roots help stabilize the shoreline.
Welcome to Naples Municipal Beach at the pier. This view looks due west out into the Gulf of Mexico. The high today-March 17, 2020-will be 86 degrees F with sunset at 7:37 pm. Happy Saint Patrick's Day to all.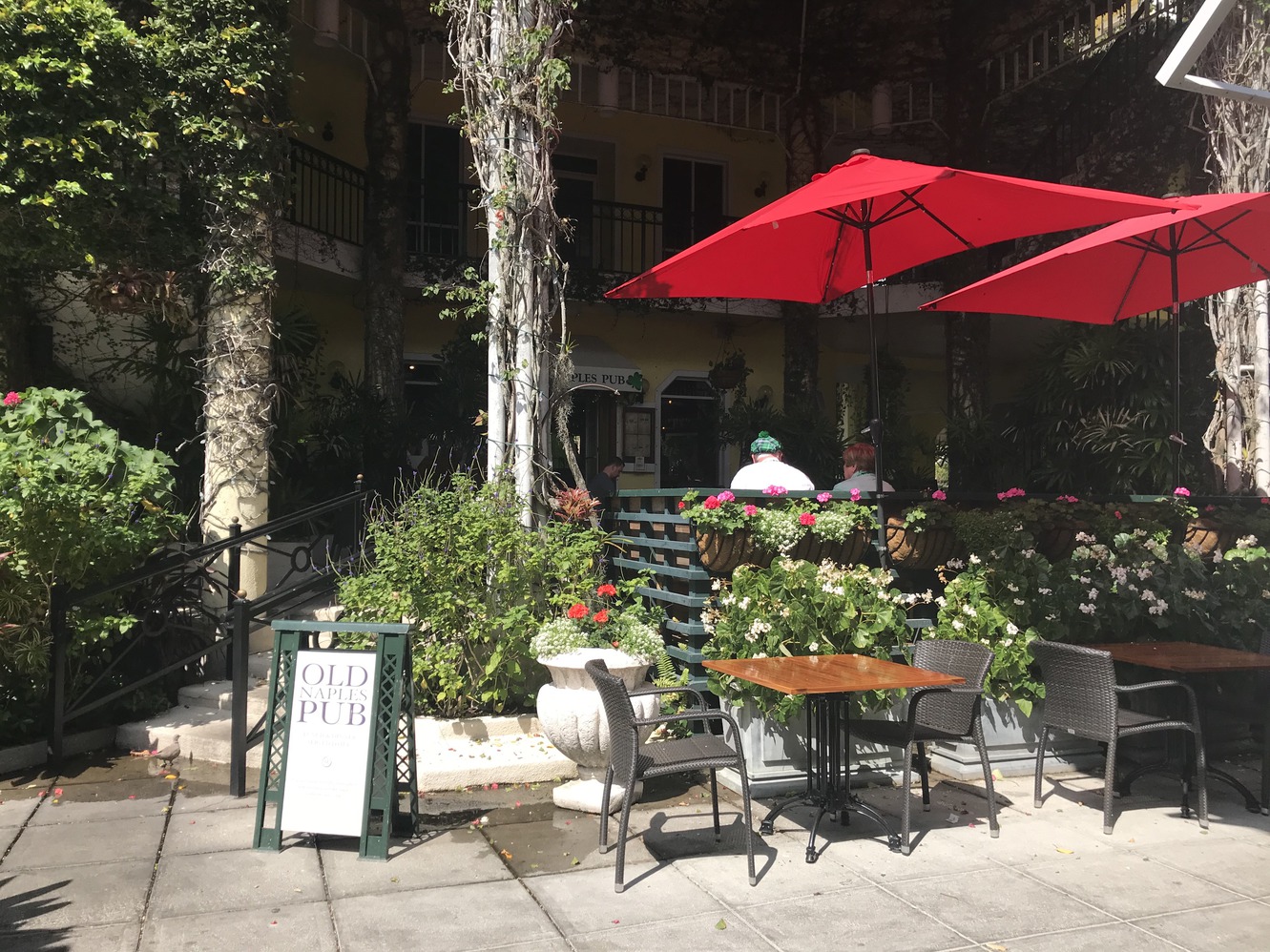 Naples has a lot of fun restaurants near the beach. Old Naples Pub is located in Historic Old Naples at 255 13th Avenue South. This American-style eatery was a ten-minute walk from the beach behind an Italian trattoria and gelato place.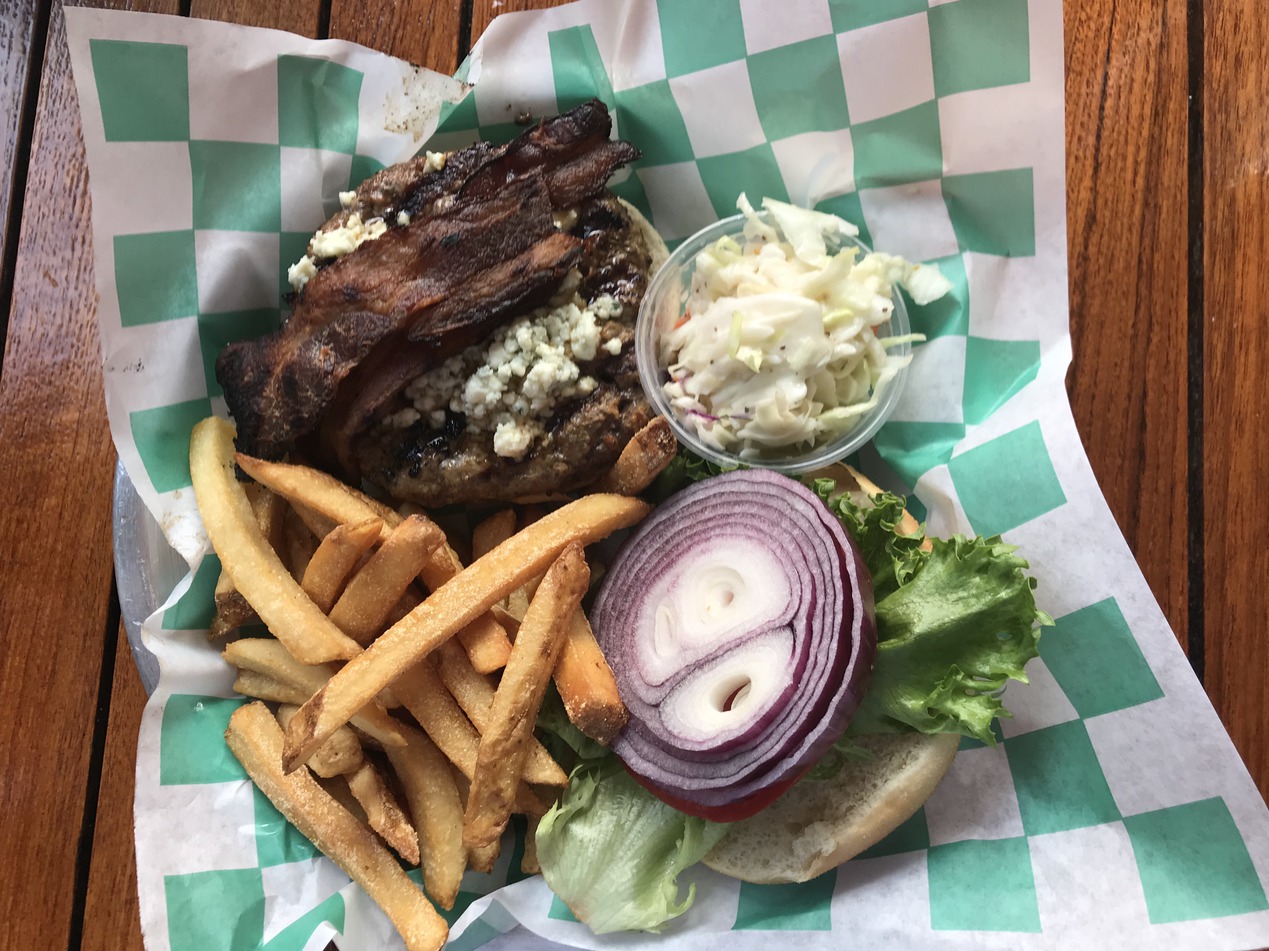 All of the Old Naples Pub Angus burgers are a half-pound blend of short rib, brisket, and chuck beef. The Naples Pier burger shown here has bacon and Gorgonzola cheese (bleu cheese substituted today) at $10.99, with an upcharge of $2.99 for slaw and fries. The slaw and fries were fresh and flavorful.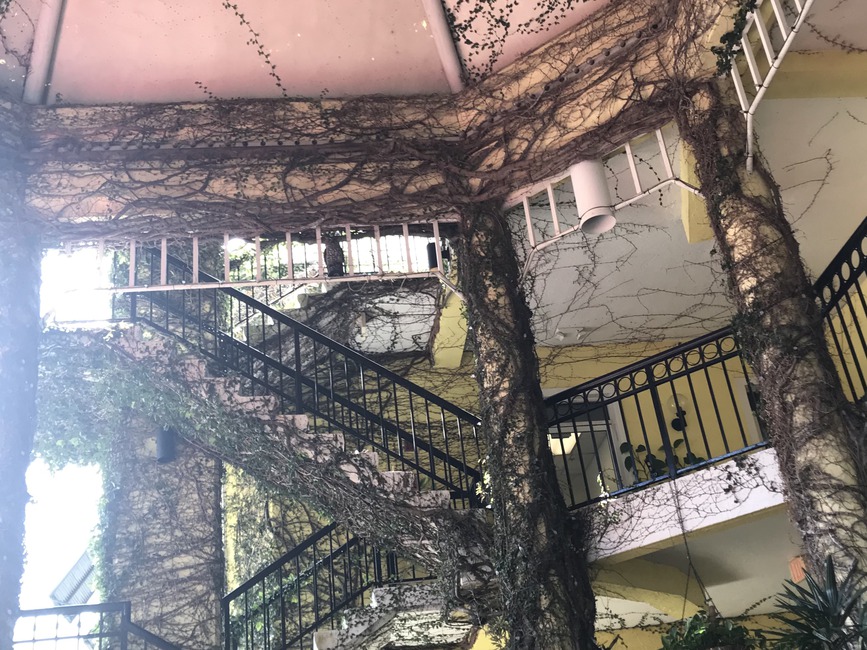 The Pub is located in Old Naples, which is usually thought to be located between South Golf Drive to the north, 14th Avenue to the South, and Tamiami to the west. There are no condos here, just old beach cottages, and hotels, with palm and banyan trees.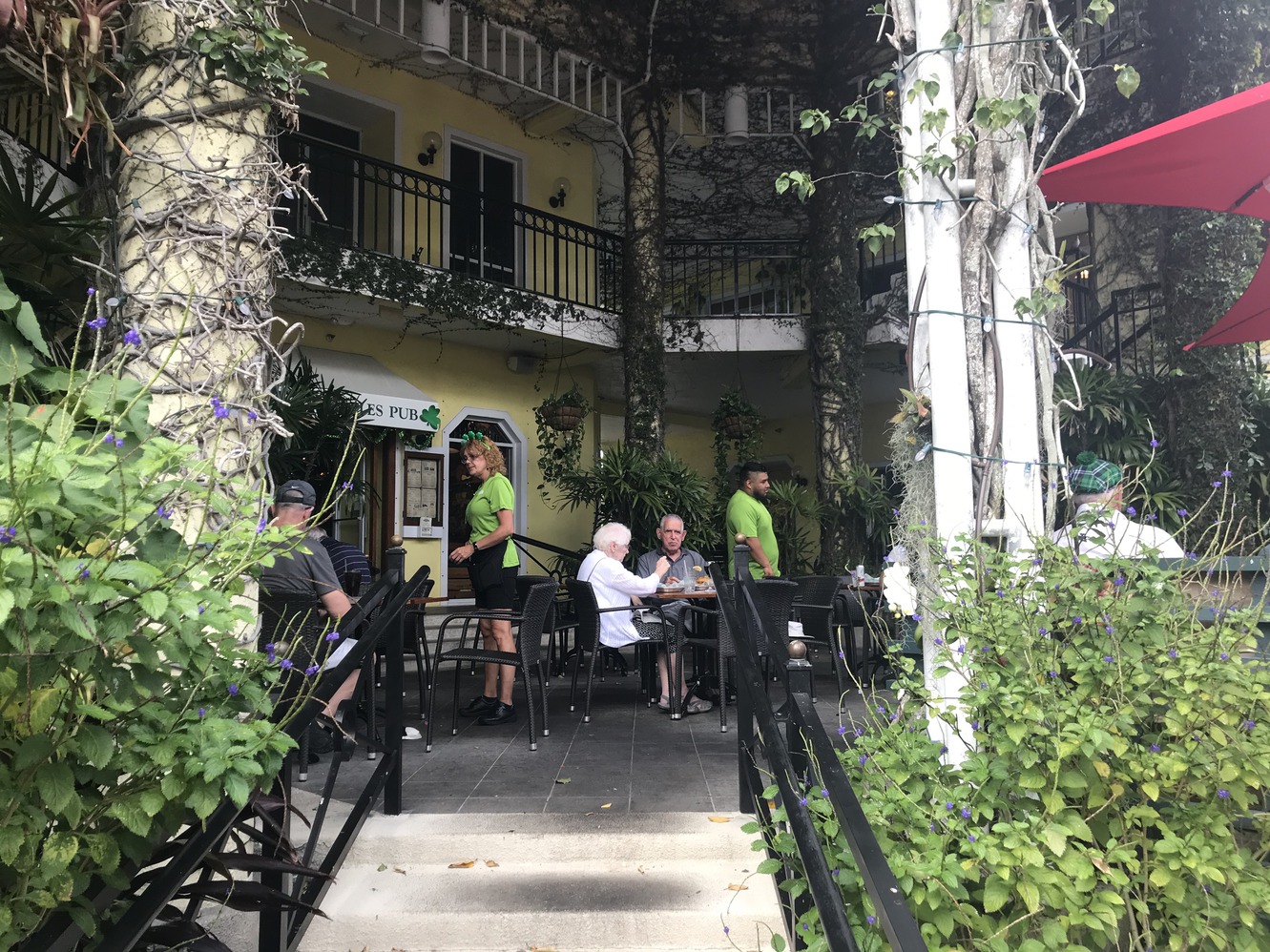 Besides the Naples Pier burger, the Original Cheddar burger was also delicious, on a Kaiser roll with white cheddar. The burgers, with sides, and water to drink, was $28.85 with tax. The food came in 20 minutes and a $6.15 tip was given for excellent service.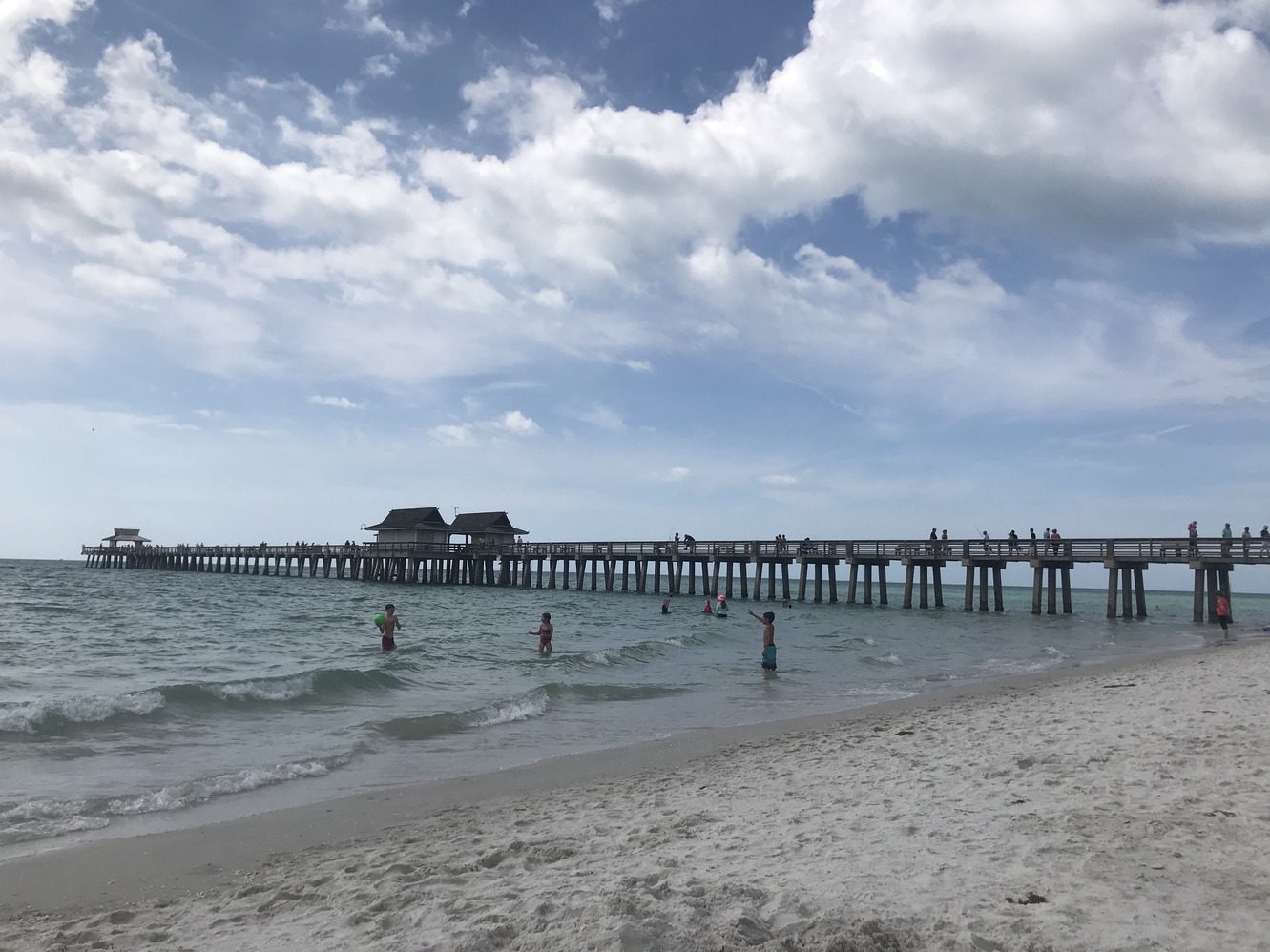 The Naples Pier is one thousand feet long and was refurbished in 2015. There are men's and women's washrooms, a family washroom, two outdoor showers with foot baths, concessions for food and fishing, fish cleaning stations, covered seating and tables, benches, and a foot-friendly walkway.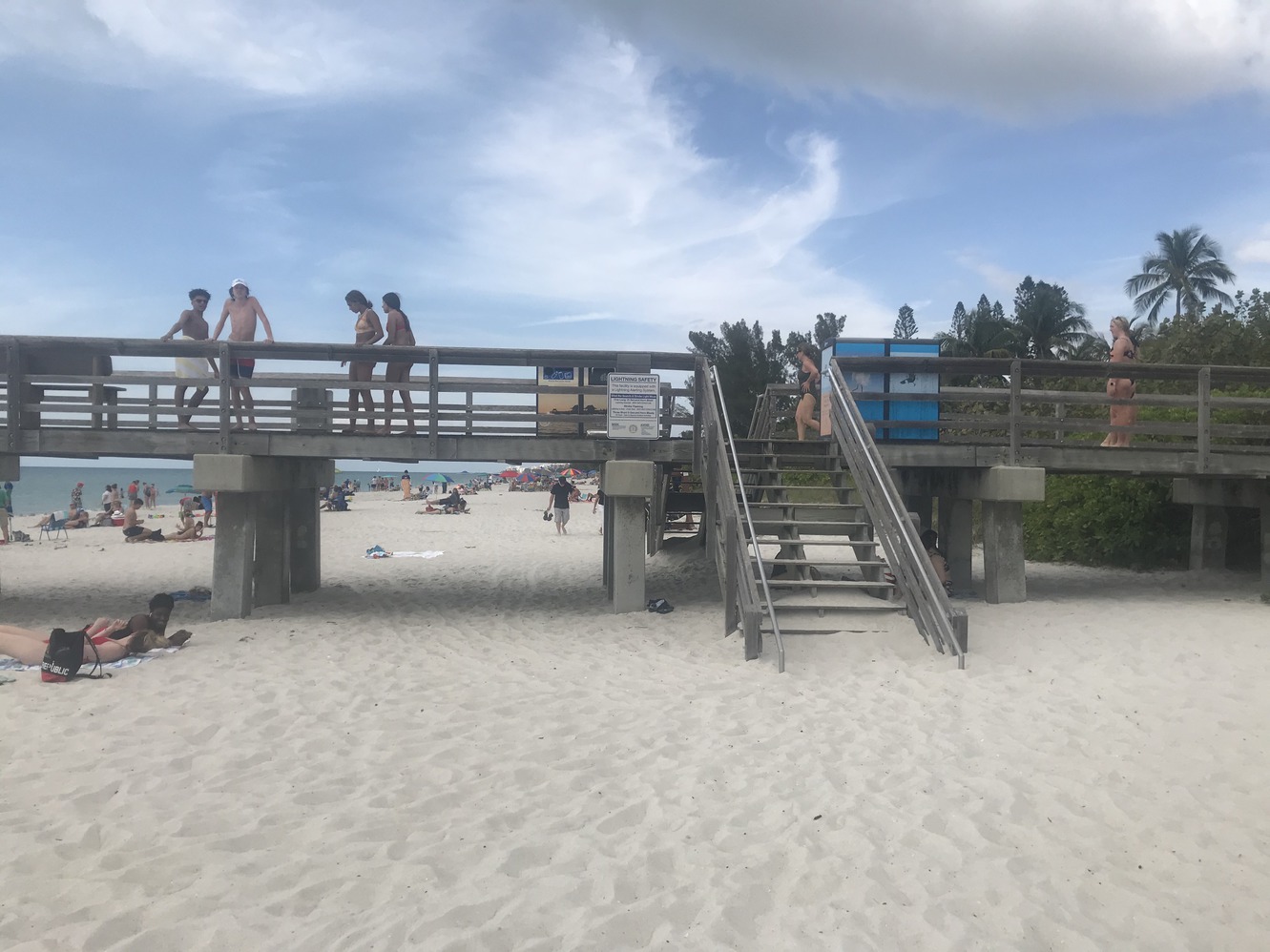 There are two entrances for the pier; a set of stairs each on both the north and south sides plus an accessible entryway leading in from the 12th Avenue South drop-off entrance. The entrance to the beach is also accessible. The pier, inside and out, was very clean.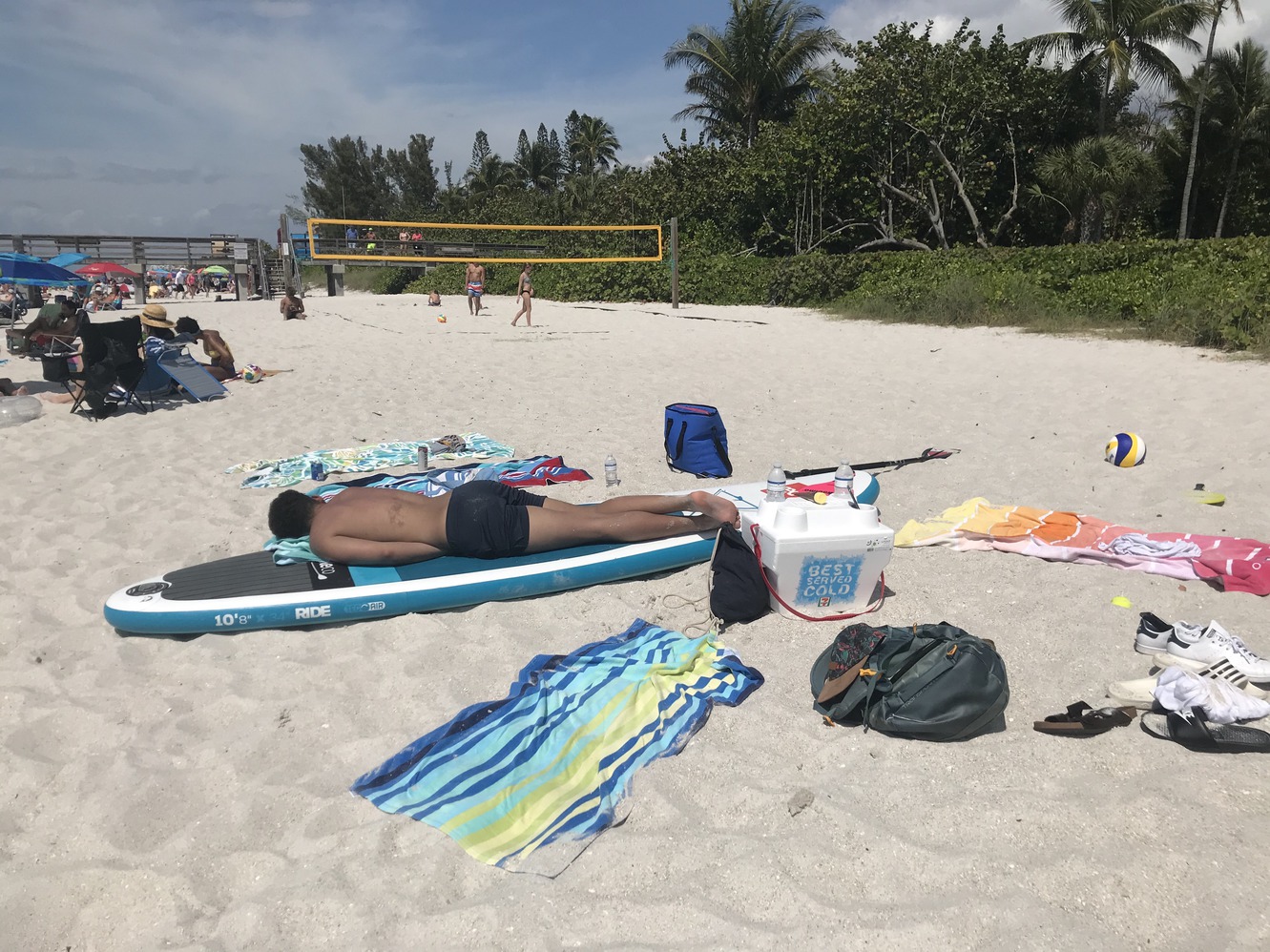 There was a variety of watercraft at Naples Beach today. Young adults glided along on their SUPs and kids jammed out on their boogie boards. Men in outboard-motor boats chased their next catch and majestic sailing boats moved along the horizon.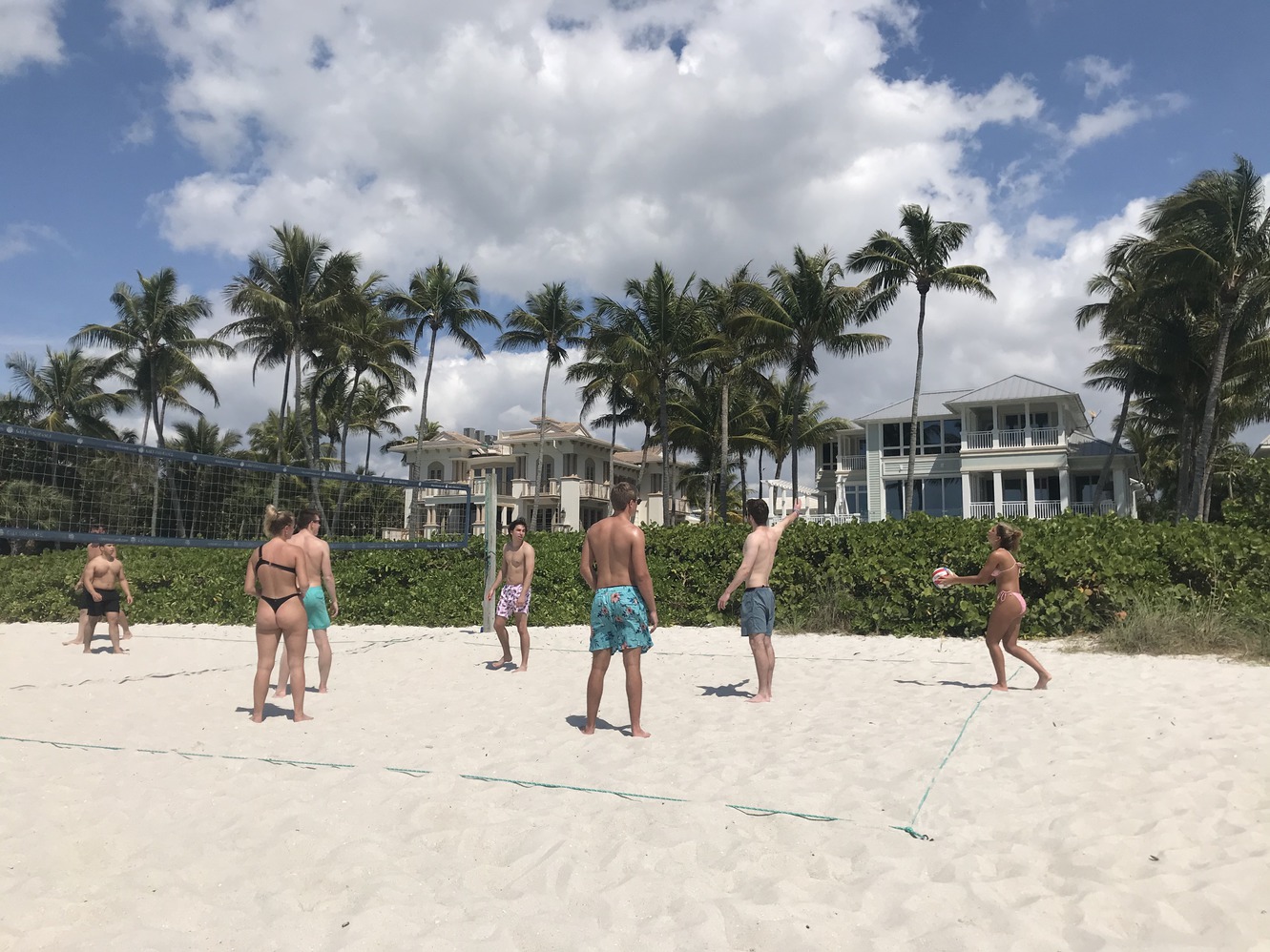 Both volleyball nets at Naples Beach were full today, for most of the day. The nets are on the south side of the pier and have a great view of magnificent homes with their own private beach access. There are also public access points coinciding with the numbered avenues albeit with limited parking.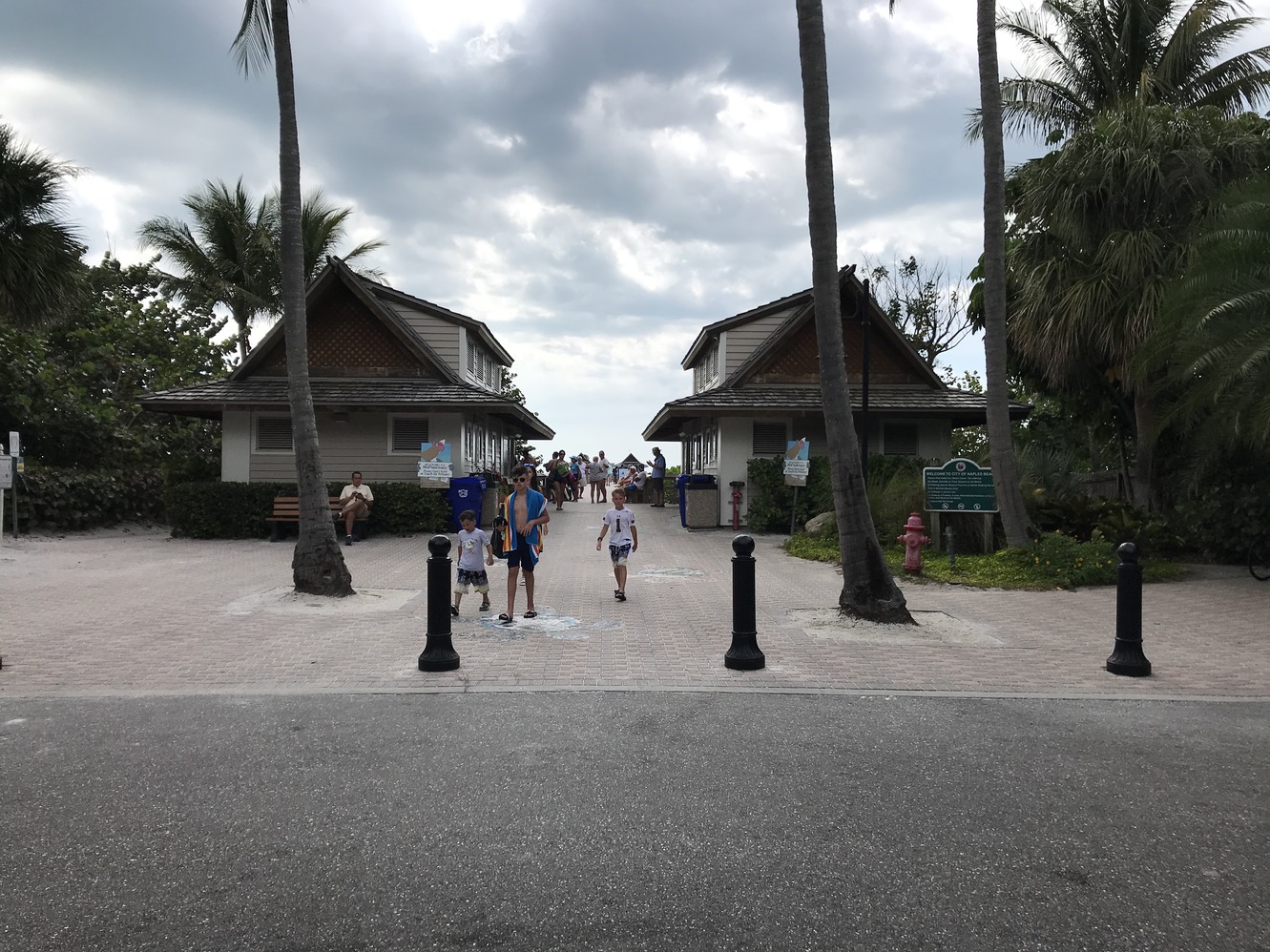 This is the accessible entrance to the Naples Pier. Cars can pull right up to drop people off. There are also several handicapped parking spots just out of view. Though not visible here, there are sea turtle mosaics pressed into the walkway.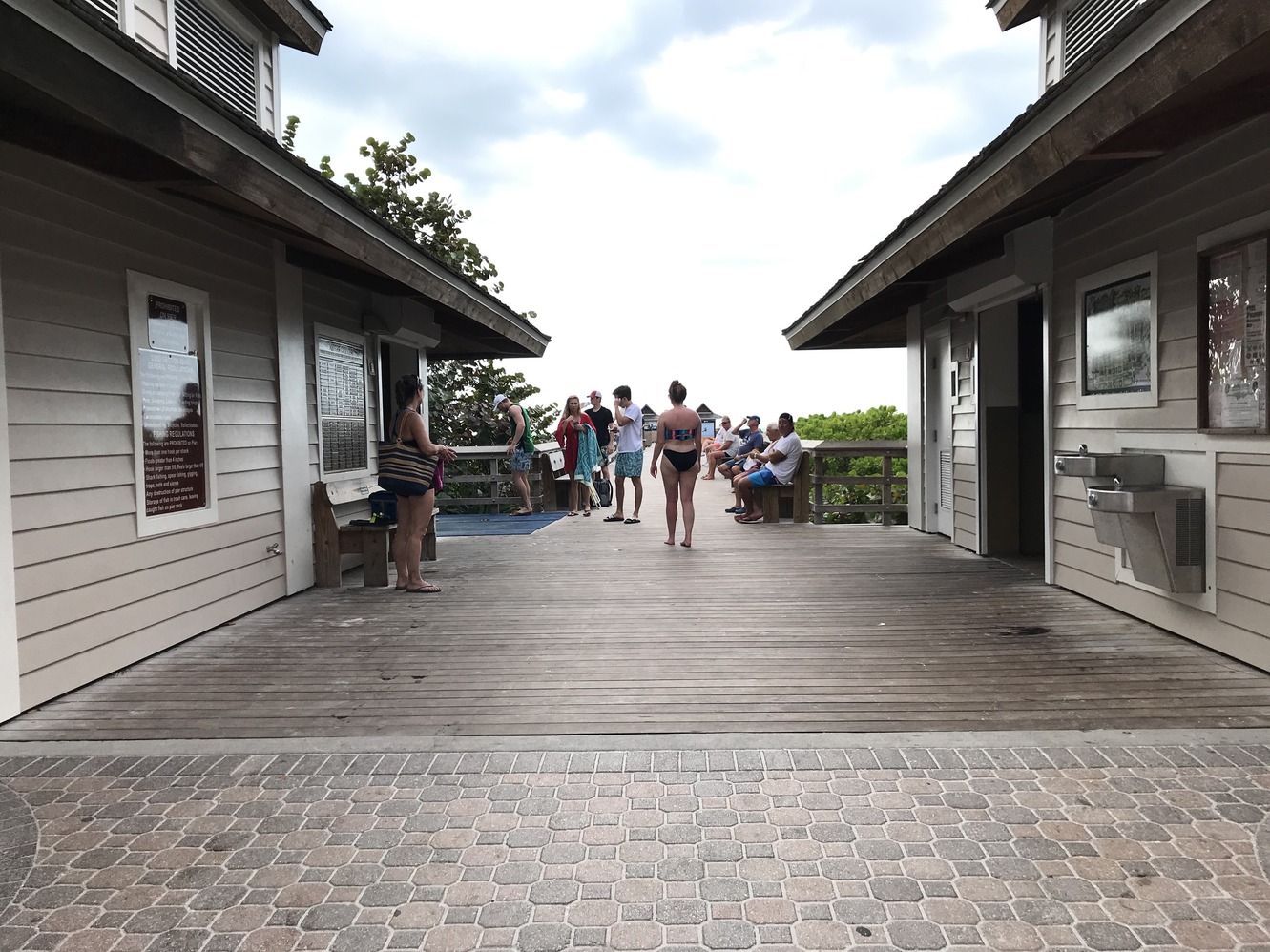 There is a lot of information here for first-time visitors to the pier. There is a helpful city map to the right, above the drinking fountain. There is a shelling poster and a fish poster too. Perhaps the most-read poster of all is the one stating that no fishing license is required on the pier; snook stamp included.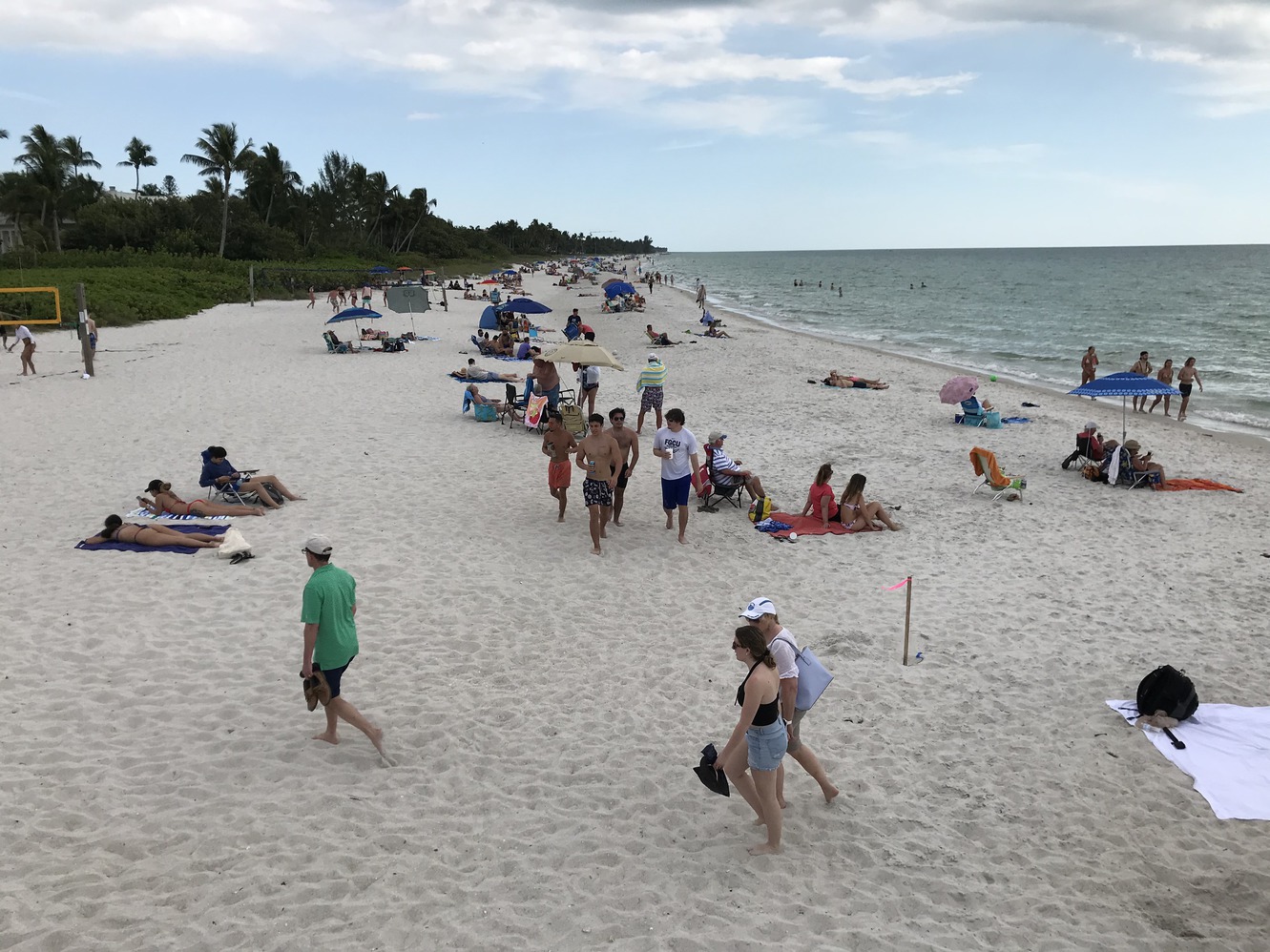 This view from the Naples Pier looks south and there are spring-breakers here of all ages. There was a low-key, relaxed atmosphere at Naples Beach. There is better shelling at other beaches, particularly the Fort Myers Beaches, but calico scallops and olive shells are plentiful. Any live creature should be returned to the sea, though.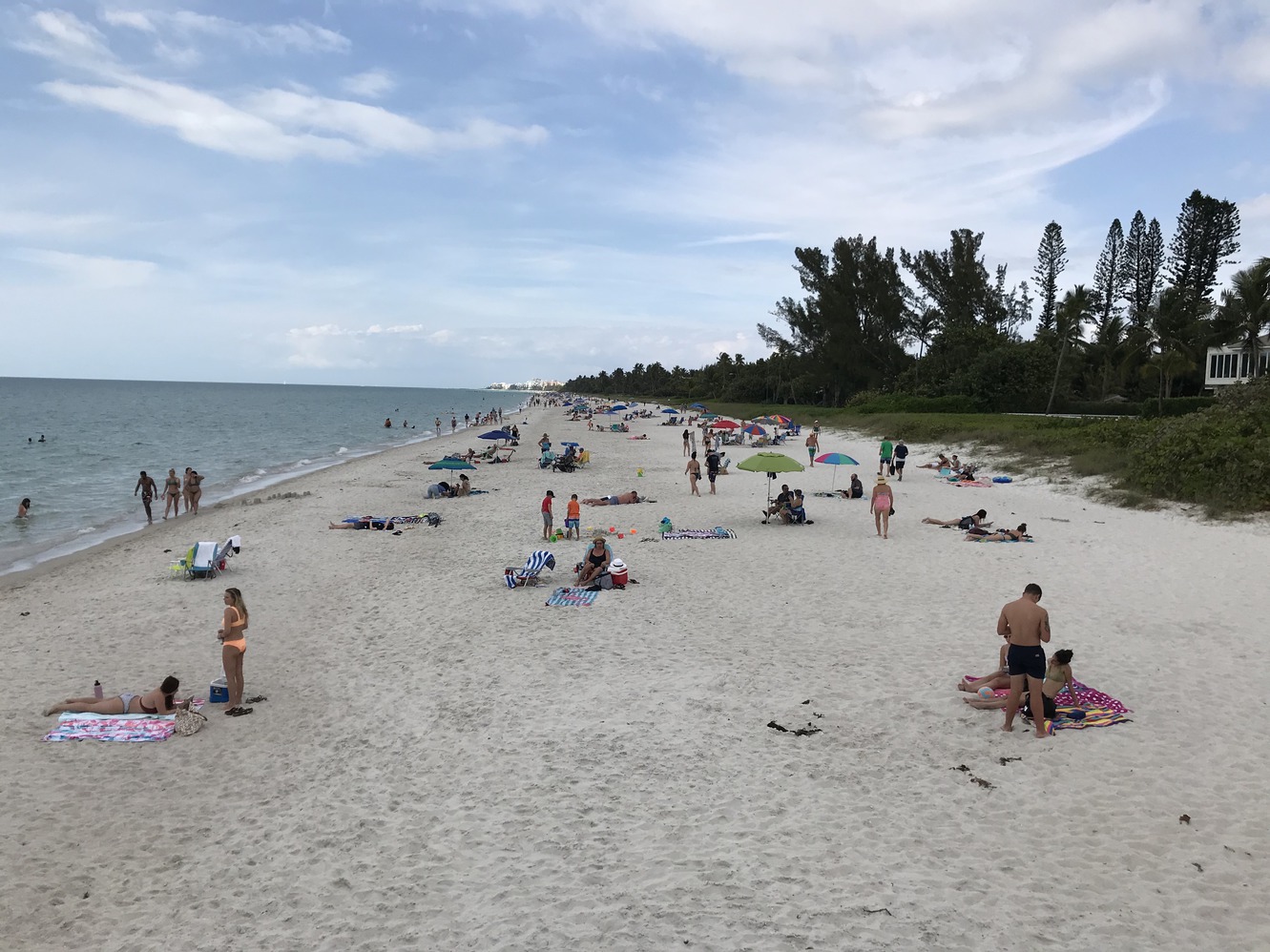 Looking north toward north toward Doctors Pass, the Naples Pier is in the middle of Naples' spectacular ten miles of white sand and turquoise water. Just out of view on the right is a large stand of life jackets on loan to any parent that wants one for their child for the day.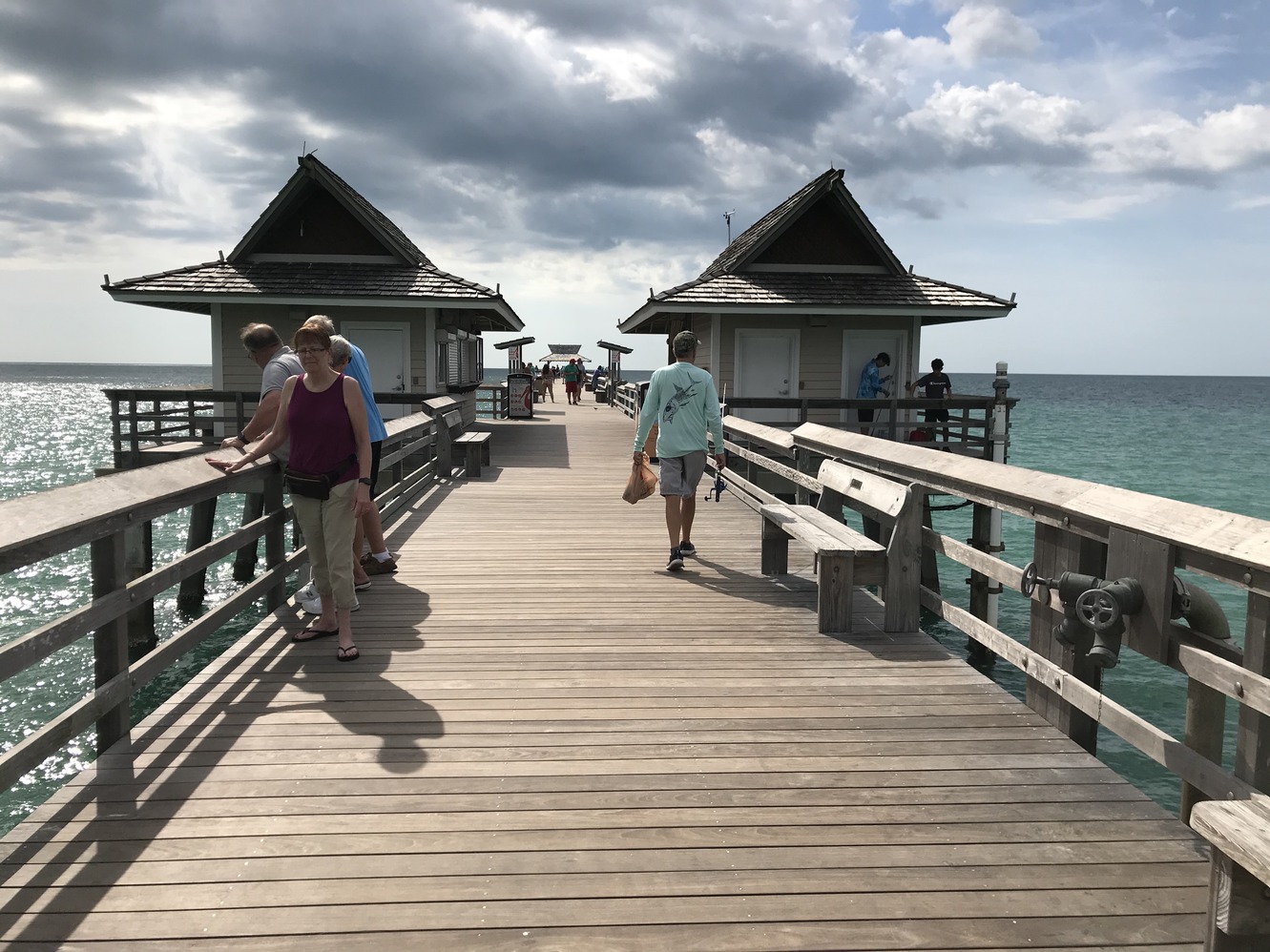 The midway point of the pier is a concession stand with a lot of amenities. There are food and fishing concessions on the left plus covered tables and seating on the right. There is also a "call for aid" button on the right. T-shirts are also for sale.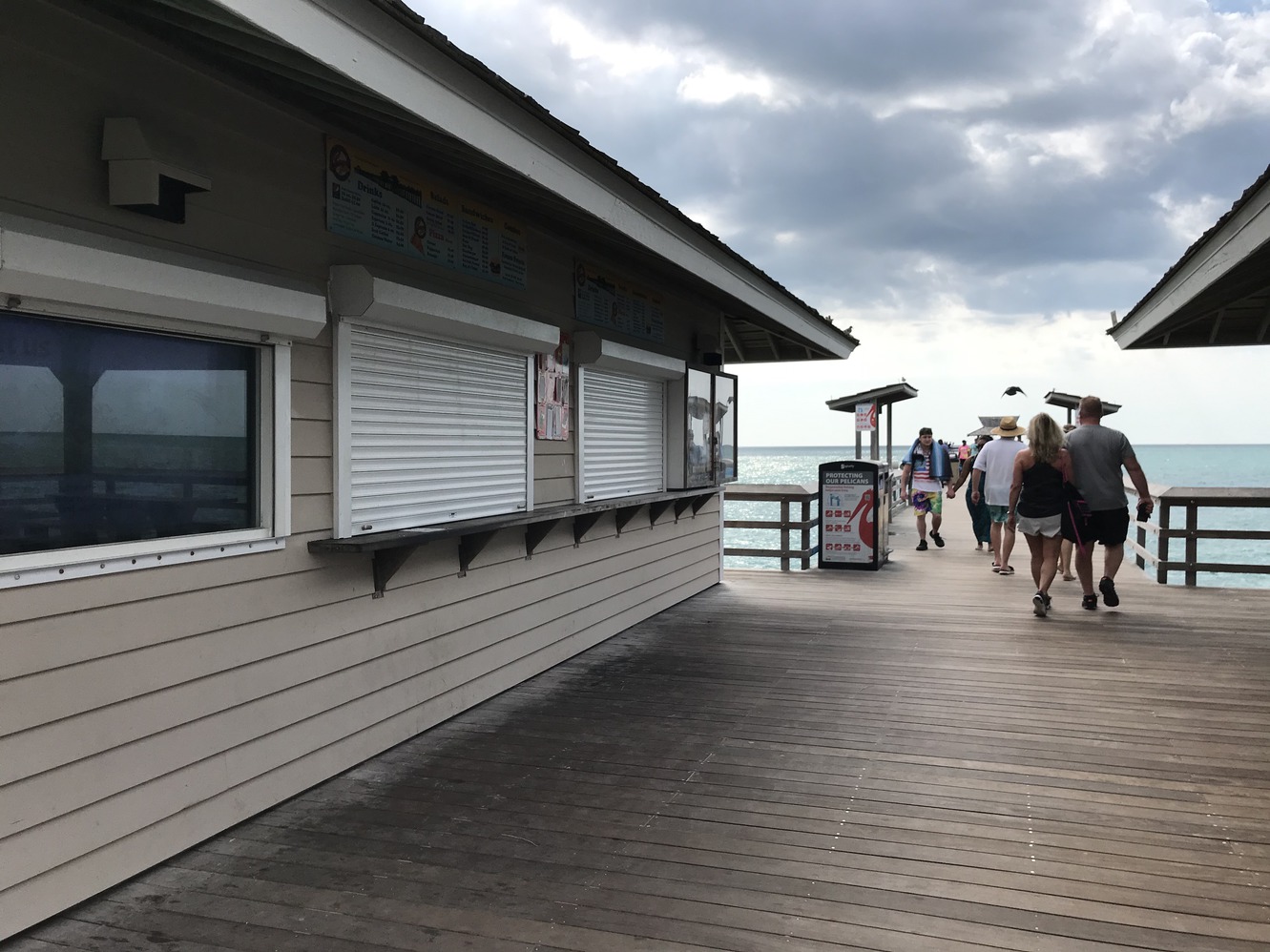 Though it was closed today due to Coronavirus, the vendor here is Cosmos Ristorante & Pizzeria. There are still many restaurants within walking distance in Old Naples that are open for either dine-in or take-away. This is a great spot for getting out of the Florida sun for a bit.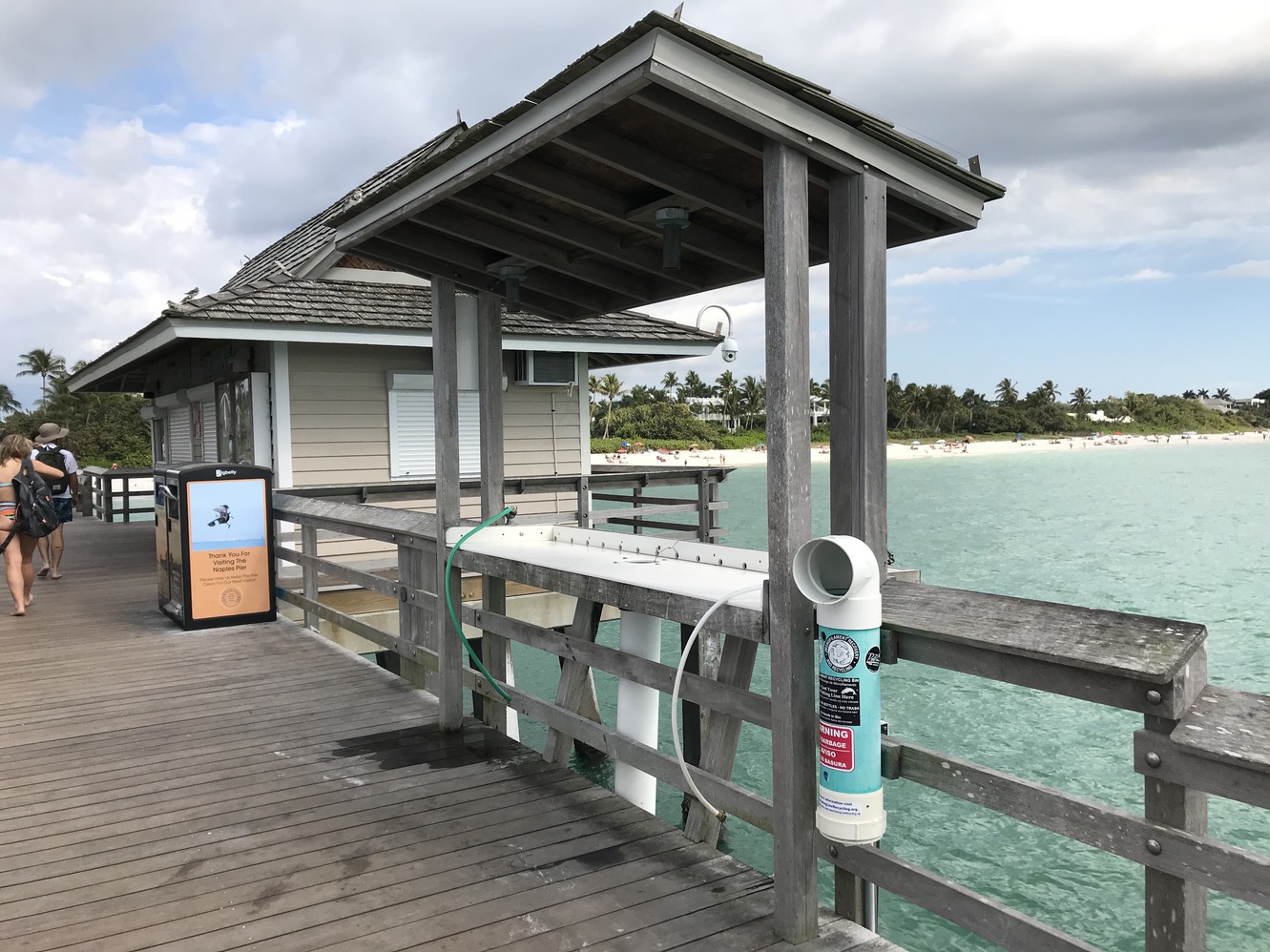 There are two fishing cleaning stations here. The "Pelican Man" who works for the city says that he carries pliers with him to remove fishhooks from the bills of pelicans. "Don't cut your line," he says. "Use the big net that we've got up here to bring him in and bend the hook to get it out."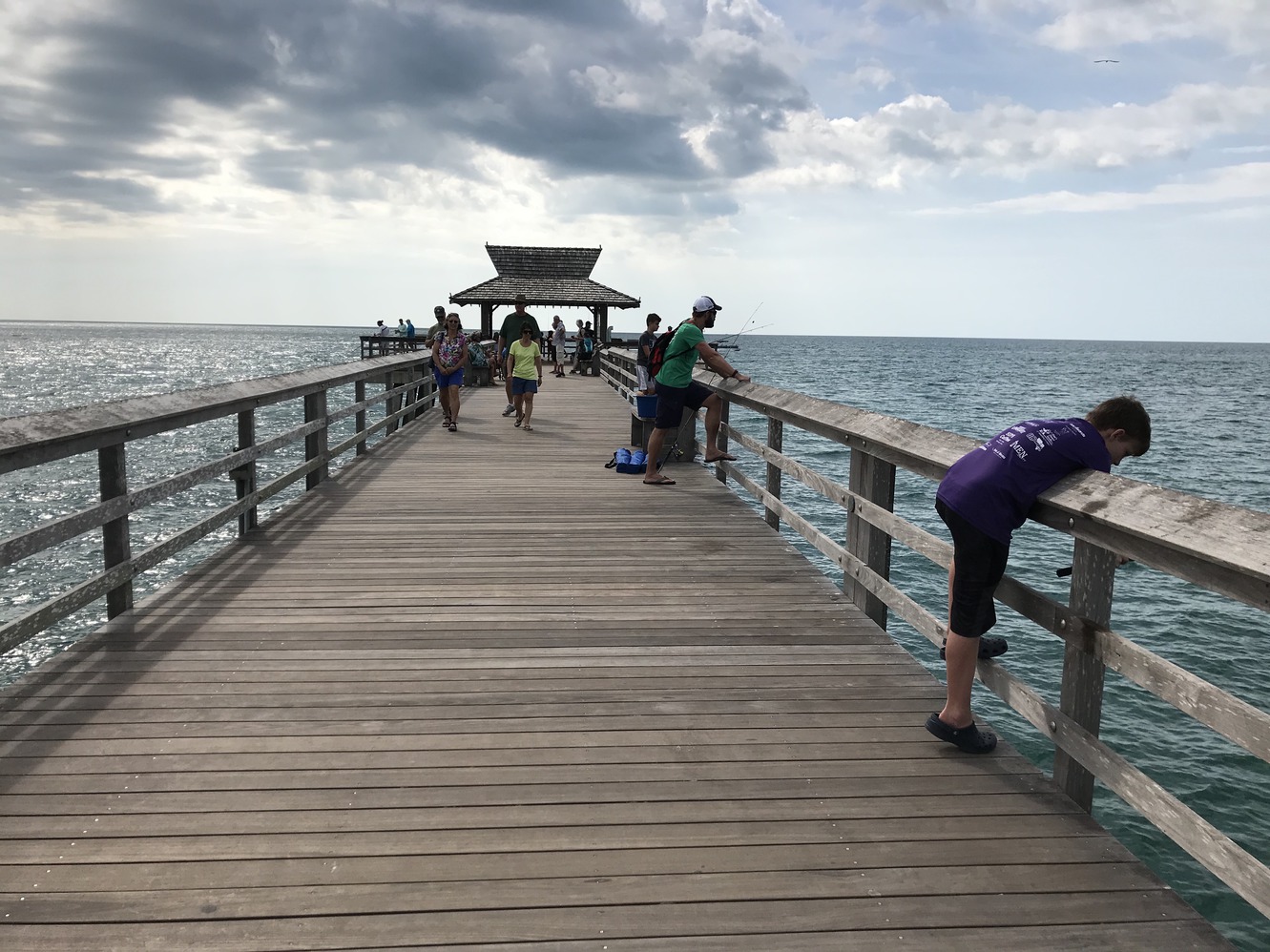 In about two hours, this pier will be lined on both sides with folks who are fishing and catching buckets full of them—no license needed. There will be cheers when a big fish is pulled up from the water and jeers when a dolphin snatches it away.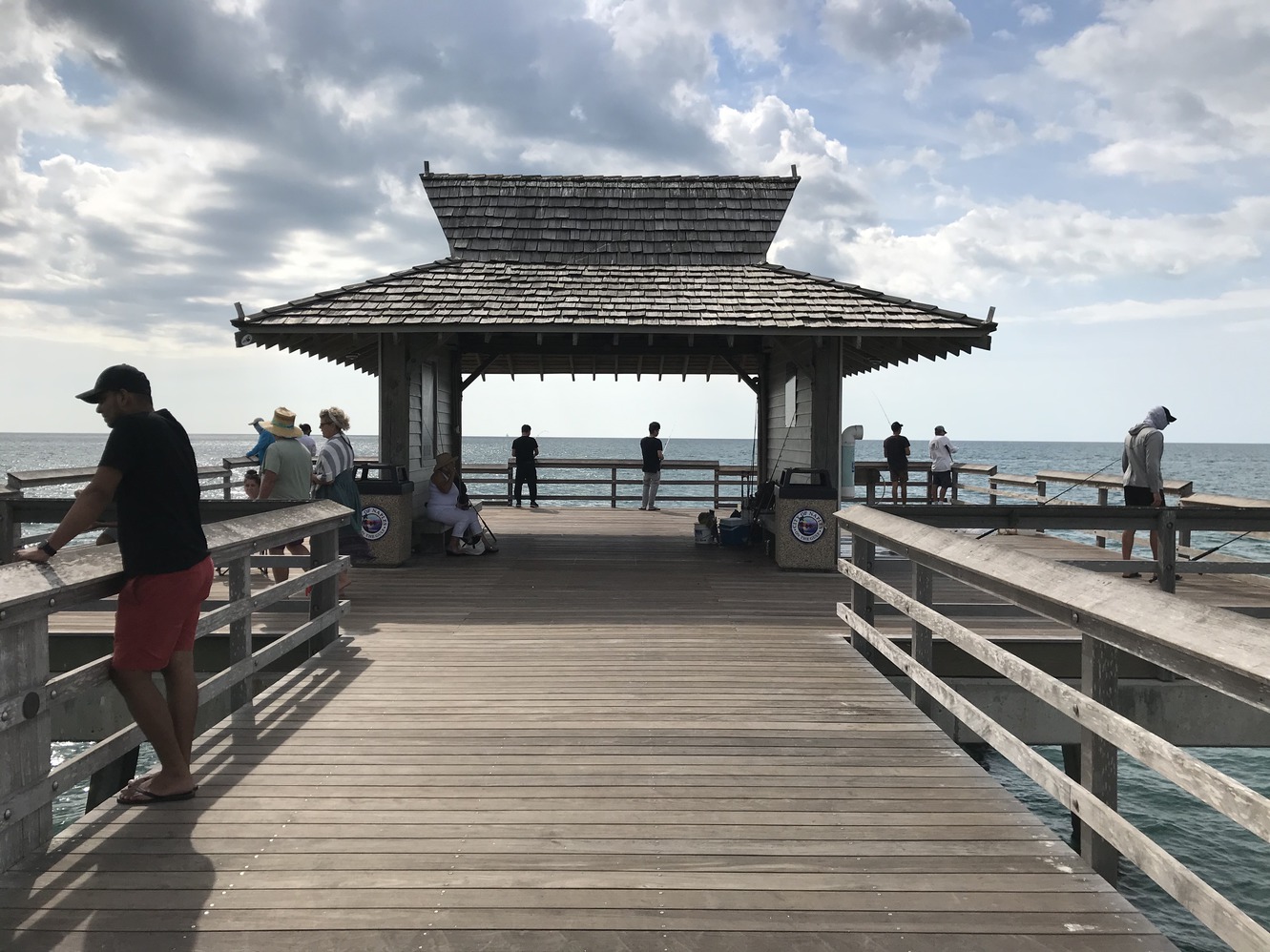 The Naples Pier Western Point is a thousand feet out over crystal clear water. There are comfortable benches under the roof to sit on out of the Florida heat. The pier has been rebuilt many times, including after Hurricane Donna in 1960.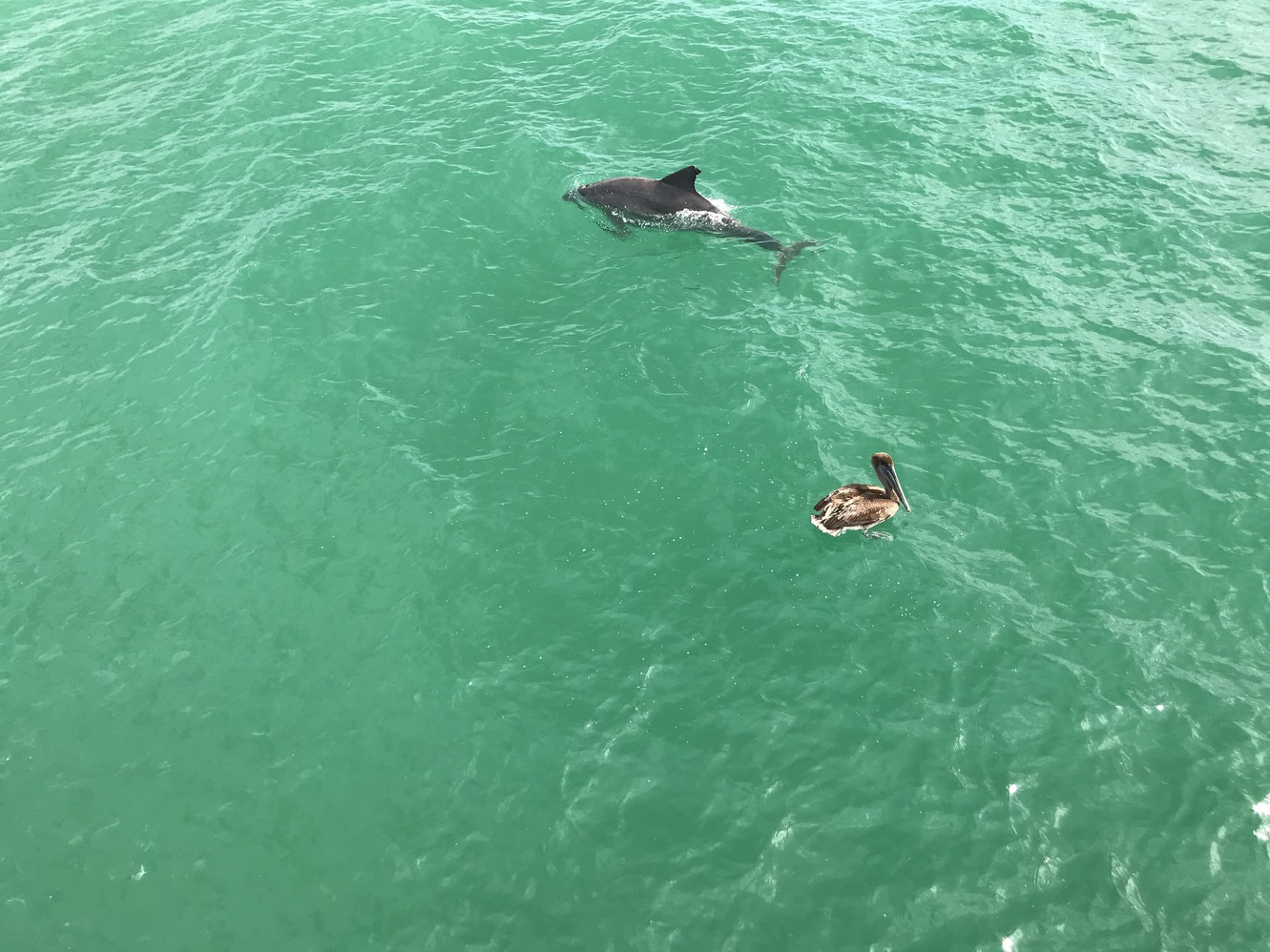 The pier is a great place to view wildlife. Entire schools of fish swim alongside the pier just below the water's surface. Pelicans take advantage of the easy dinner. Dolphins swim close to the pier, also. Swimmers at the beach will see dolphins up close and will feel fish swimming around them.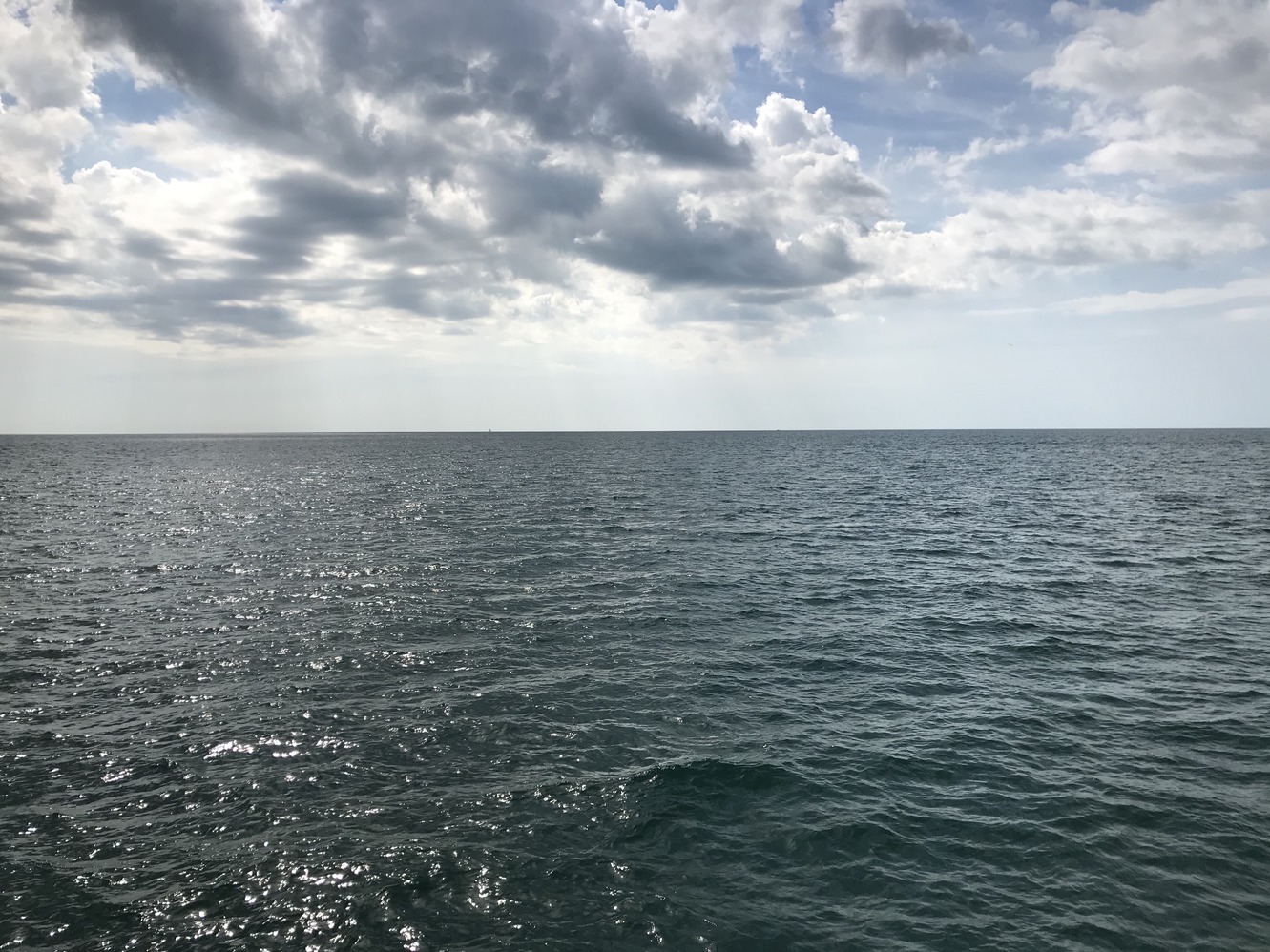 Looking west from the Naples Pier, it's 4:24 pm with sunset coming in three hours. Some people are leaving for the day, while some folks are just now coming in. The water is still great for swimming, with hot and cold currents mixing over the wavy sand. It's more than five feet deep here.
Sunset on March 17, 2020 will come at 7:37 pm, which is in seven minutes. The Western Point is the place to be to capture a Gulf of Mexico sunset. It's best to get here a half-hour early to get a good place at the westernmost rail on the pier. Legend has it that a green flash will appear on clear evenings.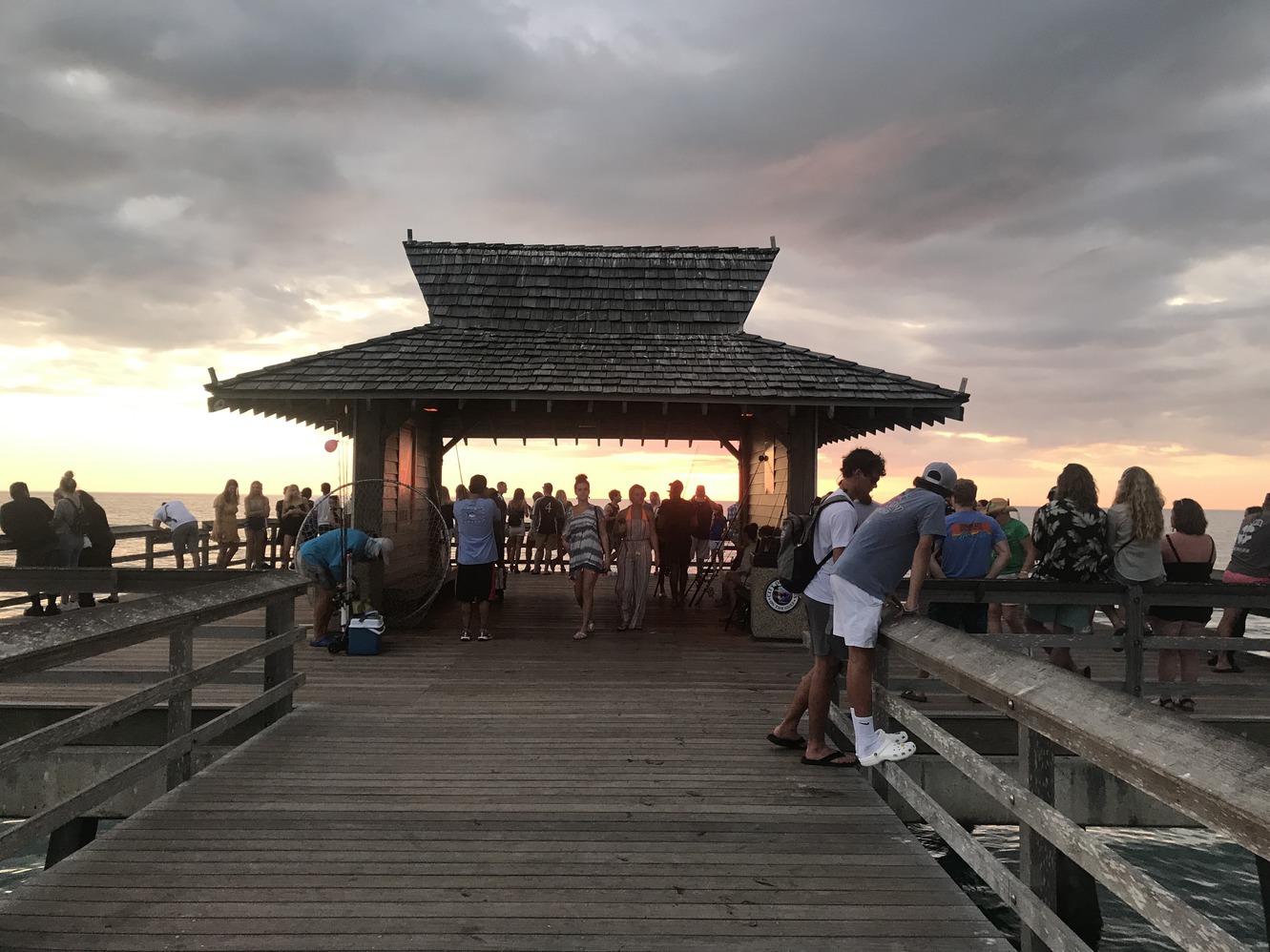 The sun is now below the horizon but most sunset-gazers are still enjoying the view. Fishing poles are idle and people are starting to leave the pier's Western Point. Some will head for the beach and some will head for their hotels. It's pleasantly warm out, making for a pleasant walk home.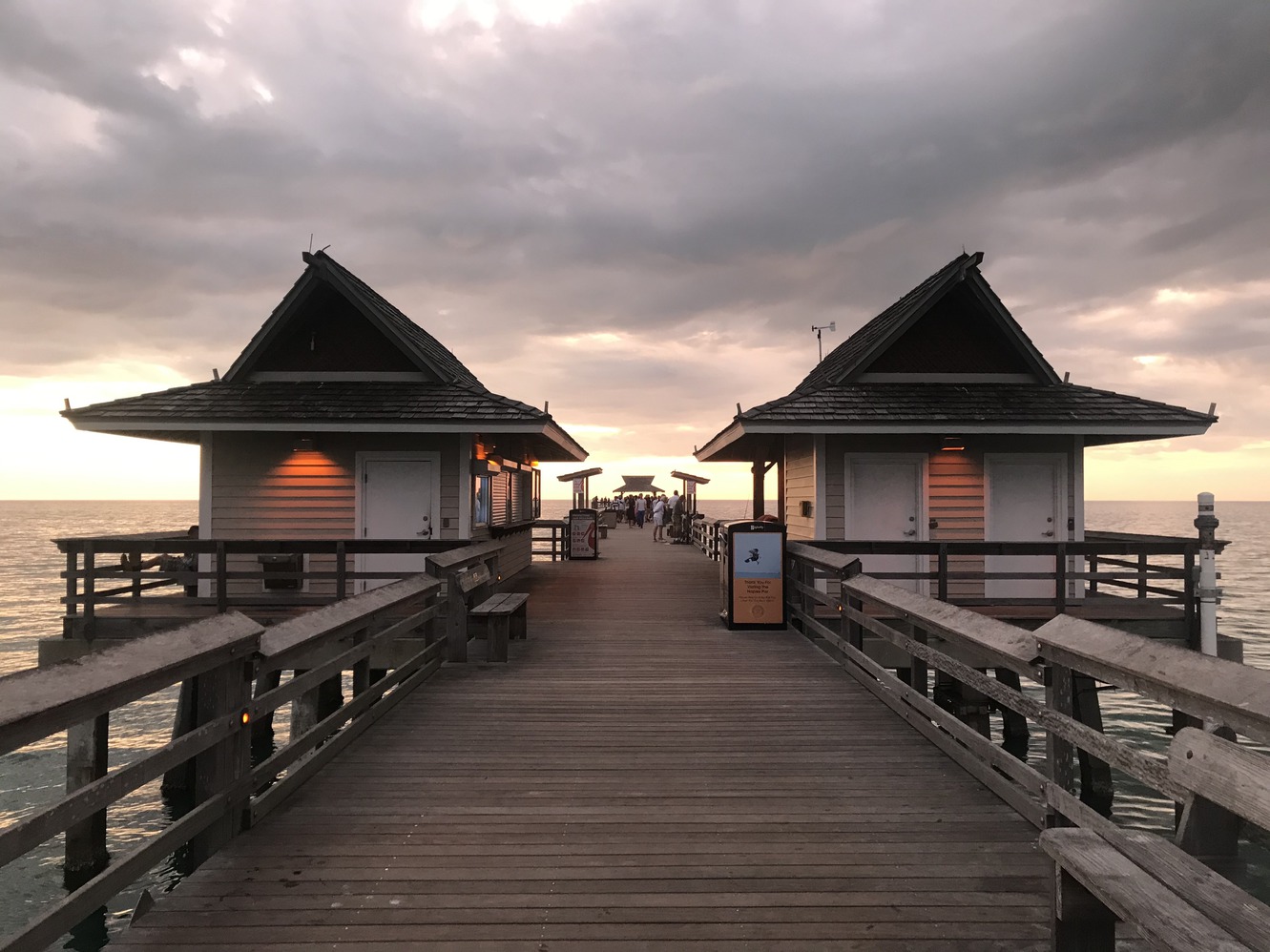 It's 79 F degrees right now and will stay in the mid to upper seventies through the evening. The pier is open 24 hours a day. If out-of-towners decide to stay longer than planned, they can add time via cell phone if they had added their cell number when parking was first purchased.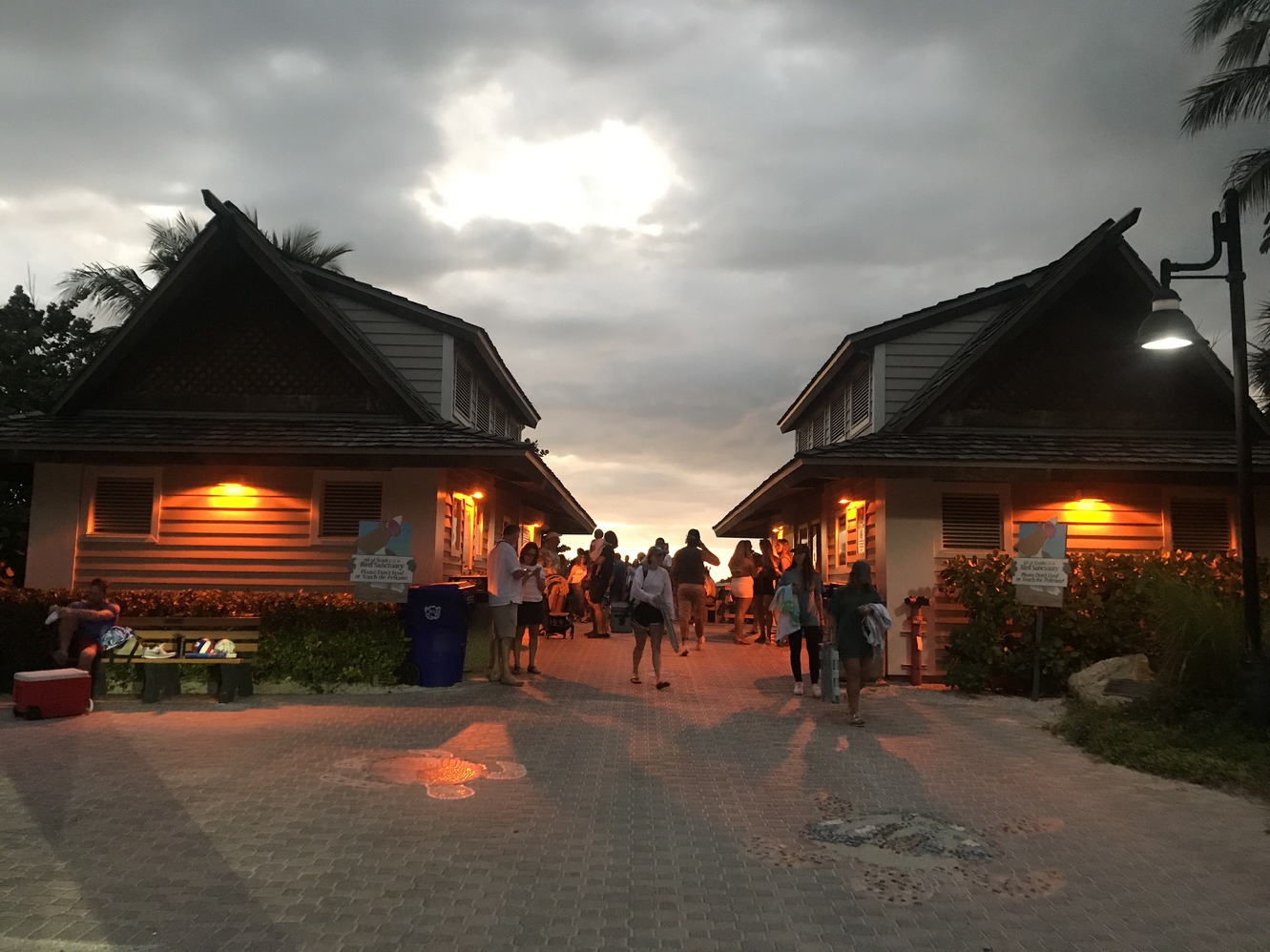 There are a lot of highly rated beach areas to the north and south of Naples Municipal Beach and Pier. Clam Pass State Park and Delnor-Wiggins Pass State Park are just to the north. Tigertail Beach on Marco Island is to the south.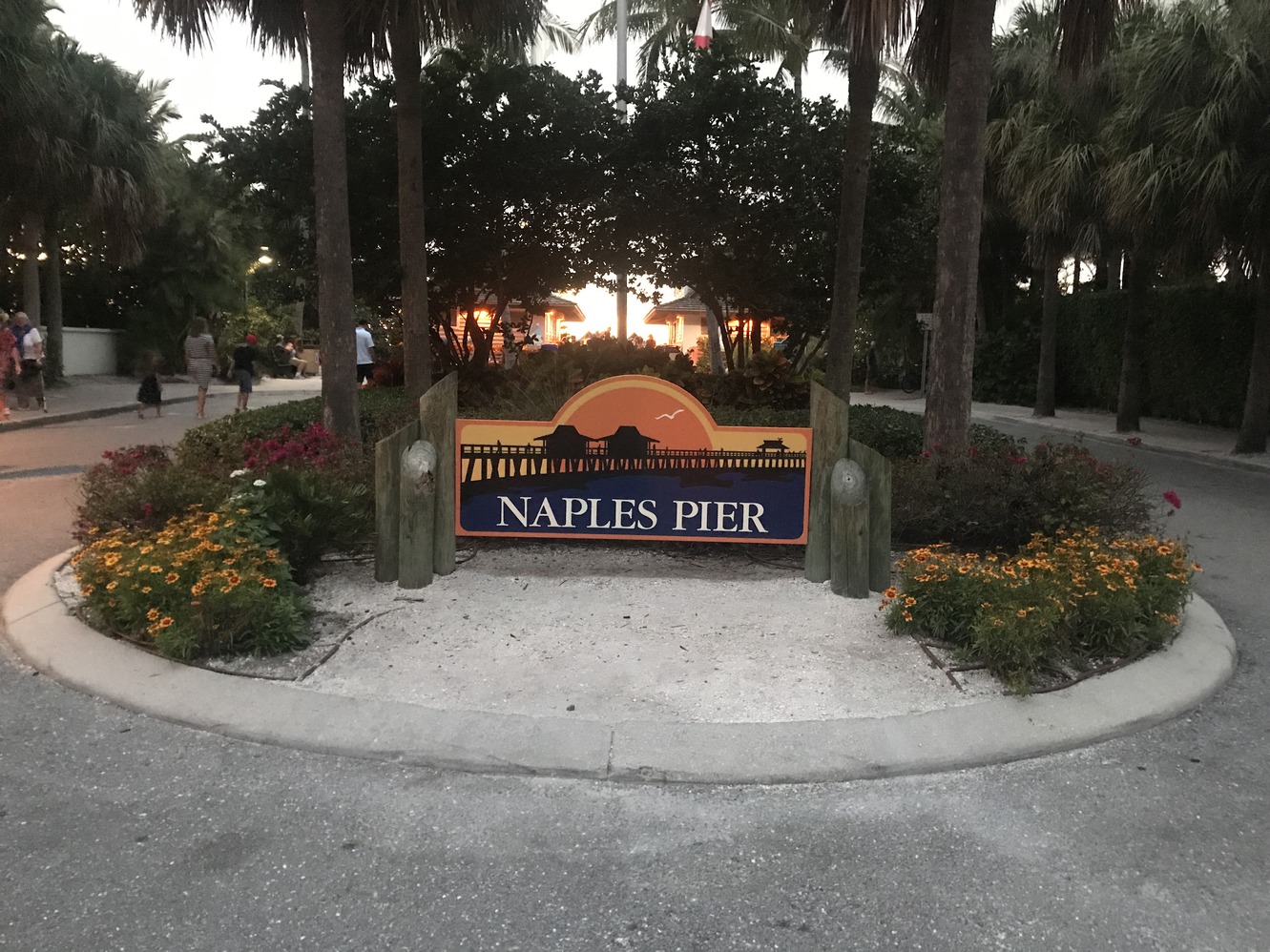 Most folks leaving Naples Pier look to be tired but happy, a little sun drenched, and carrying a beach chair or a fishing pole and a cooler full of fish. These fish include sawfish, sharks, grouper, tarpon, and snook. The fish bite year 'round. See you again soon.