PierSide Grill, Fort Myers Beach, Florida
Morning and mid-day, evening and night-time, or basically anytime, is a good time in and around the Fort Myers Beach Fishing Pier in Fort Myers, Florida. The Gulf water is beautiful in the late morning and early afternoon, and then beach-goers are treated to a fantastic sunset. Night-time is a great time, too. The water still sparkles under the lights as the waves roll in on the beach. Folks are out for a late dinner and some entertainment too; it's all a difference between day and night.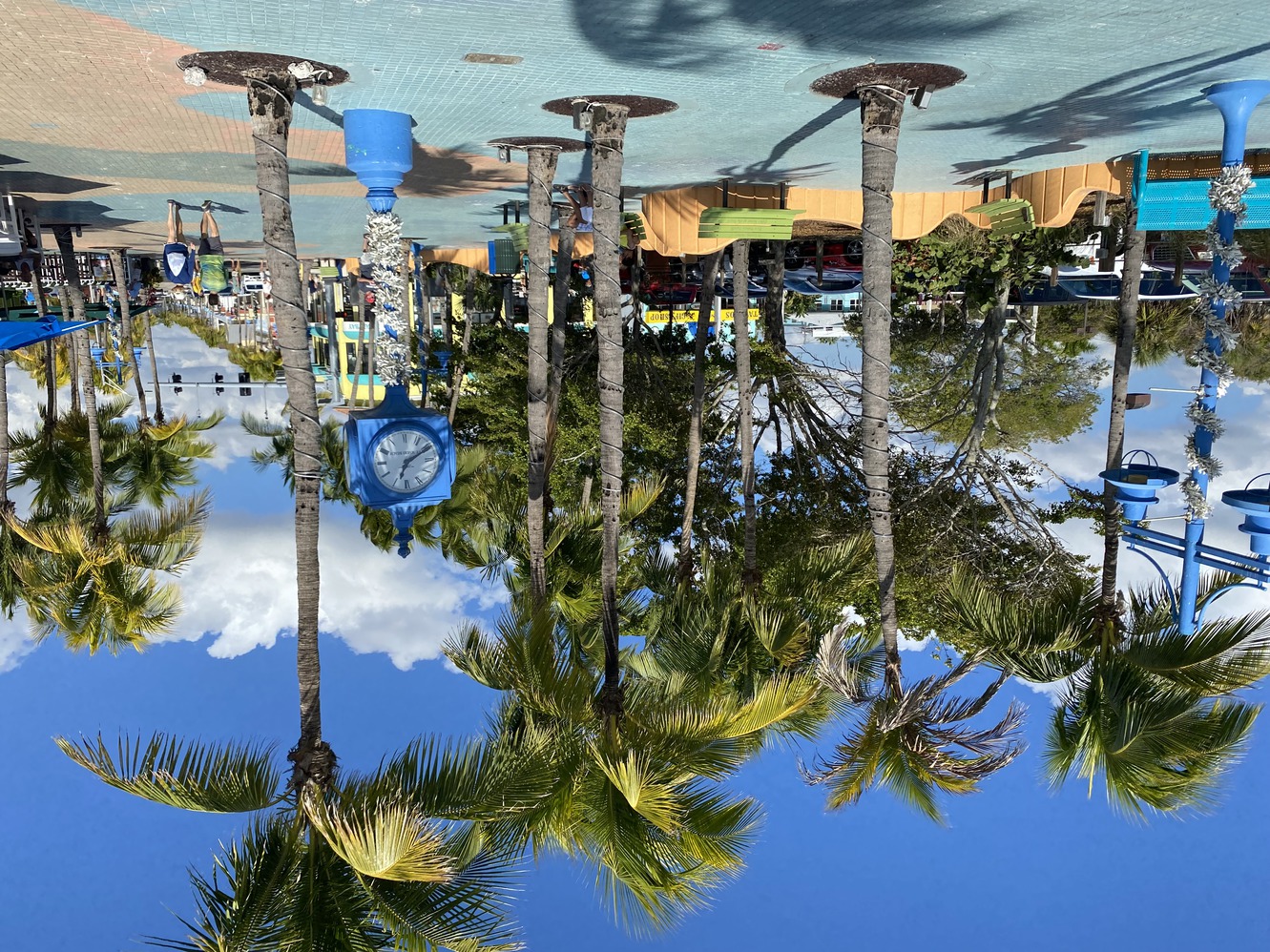 The Fort Myers Beach fishing pier has a lot to offer in and around the pier whether day or evening. The pier is located at 10 Old San Carlos Boulevard. There is parking close by, plus public washrooms. There are shops, restaurants, and nite-spots, and places to just sit and watch the other people-watchers. In this photo of Times Square there are parking spots and benches, plus a fun clock to help keep an eye on the time. This area really transforms itself at night.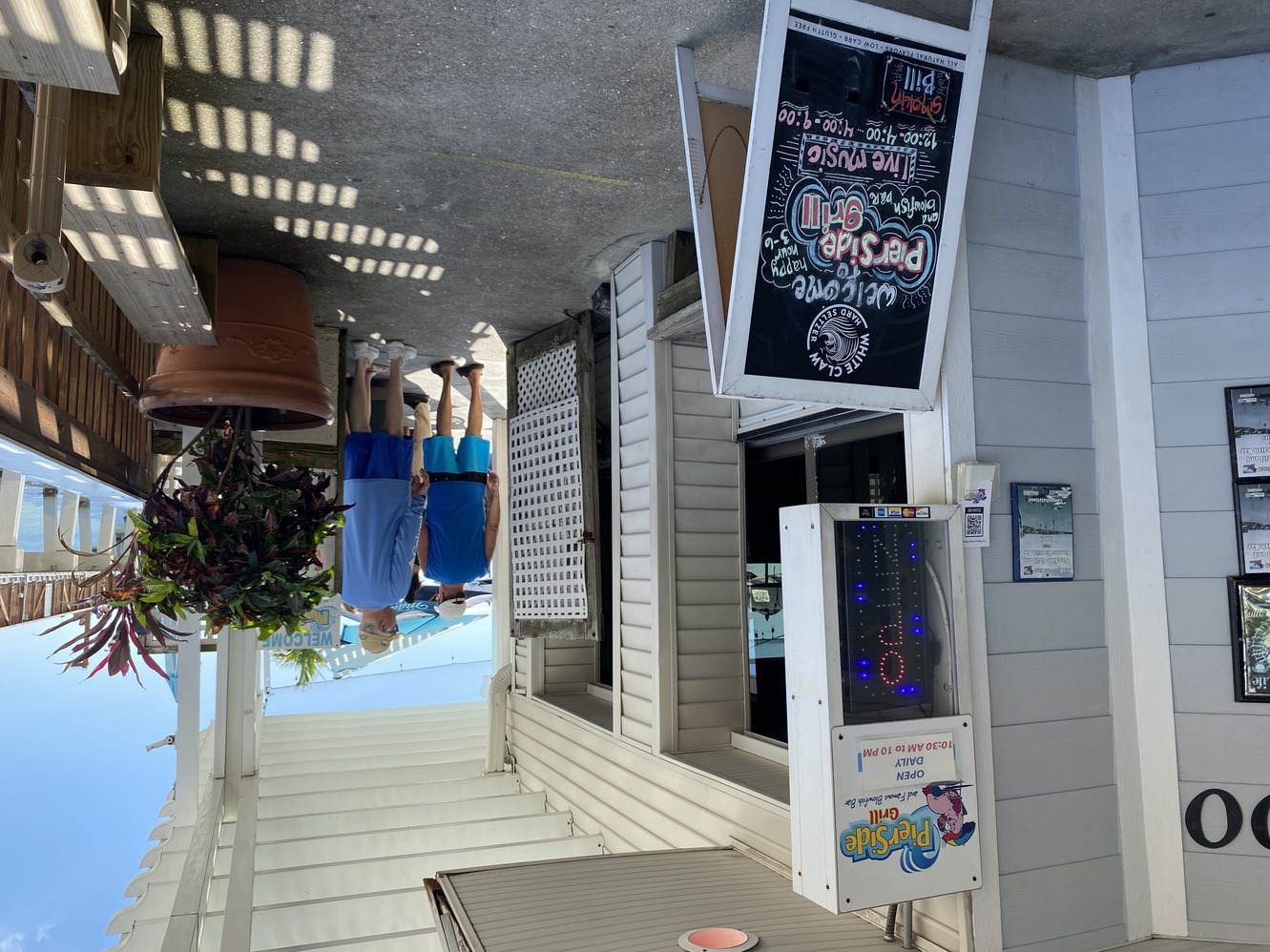 The PierSide Grill is located right at the Fort Myers Beach Pier. In fact, the patio looks right out onto the Pier itself. Right now, it's time for lunch, and people are coming in to get a plate of shrimp or fish or maybe a cheeseburger. As the 2021-2022 snowbird season starts next week, PierSide is not too crowded today. There's live music, though, on this third Wednesday in December 2021, the 15th. There's plenty of seating at either the bar or closer to the Pier.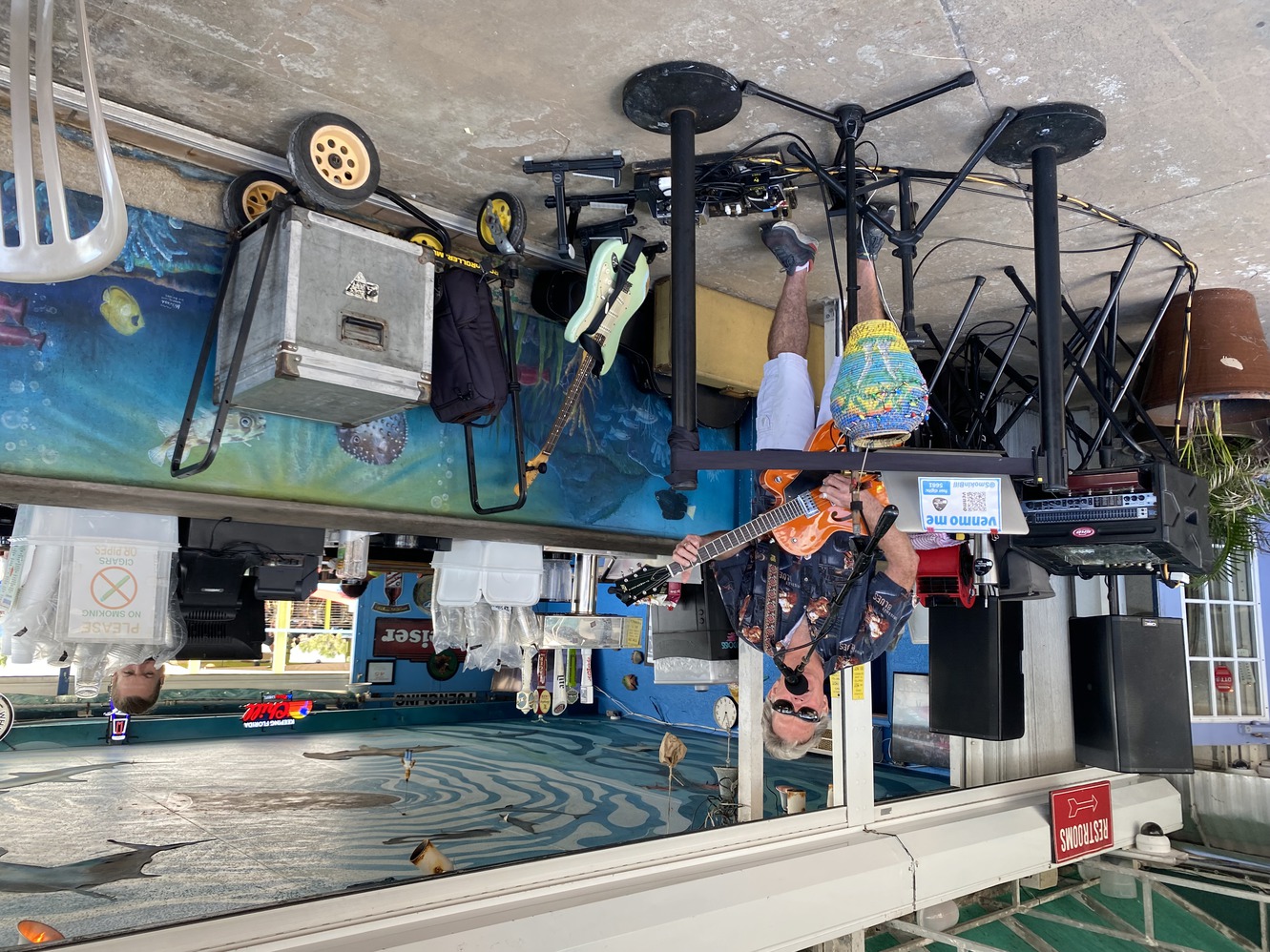 The PierSide Grill and Blowfish Bar has live music most of the time it is open. In fact, most open-to-the-air establishments along the Gulf Coast and in Key West will have live entertainment during their hours of operation. This entertainer here is Smokin' Bill. In addition to cash in his tip jar, smartphone users can scan a QR code to show their appreciation for his music. The setup at PierSide is that the entertainer will sing and play over a backing track of popular songs.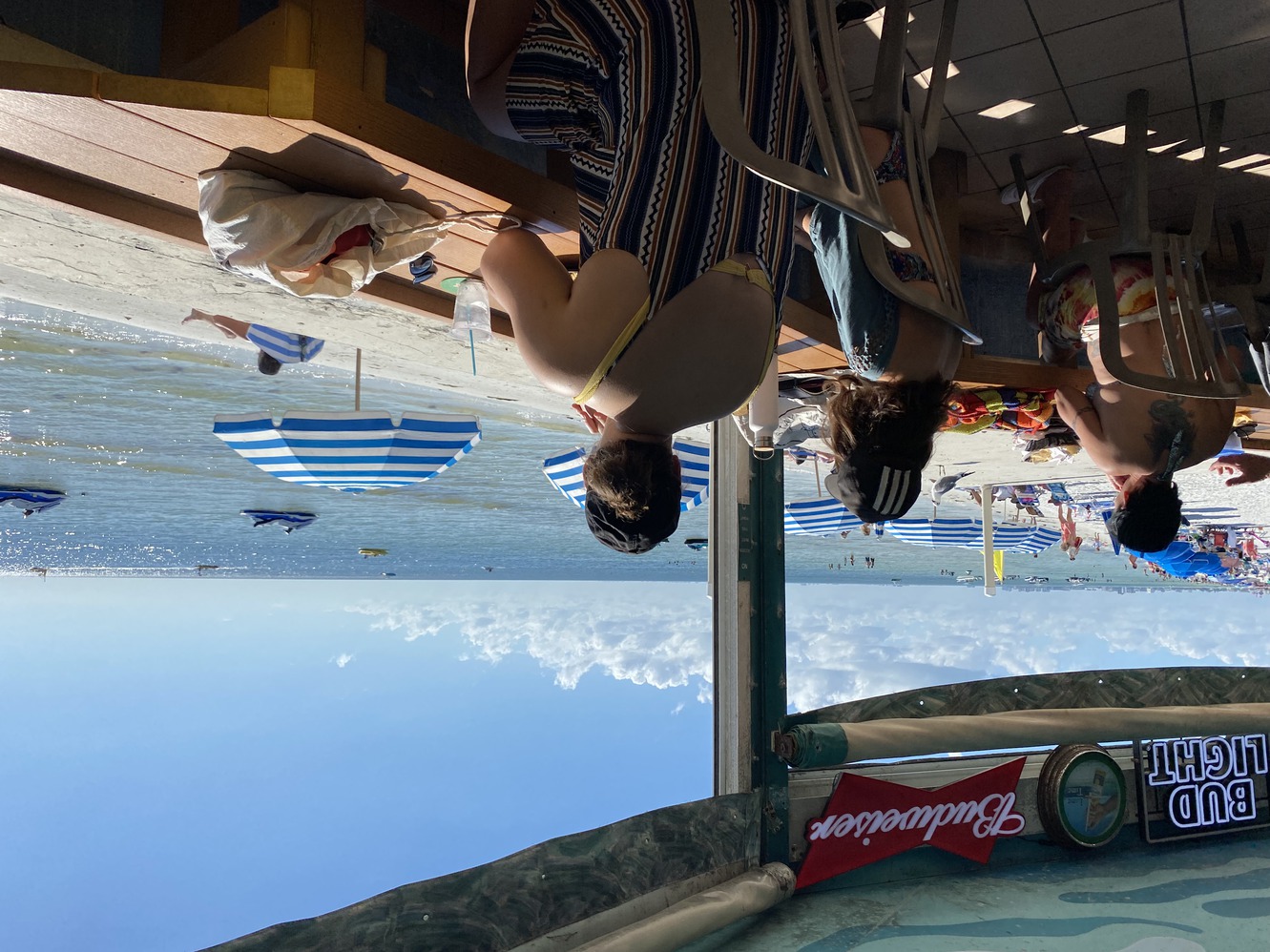 What a view at PierSide! This image looks southerly along Estero Island's western shore. Imagine sitting here, watching the jet skis, with food and drink brought out while enjoying the view. The time is almost one o'clock and lunch is in full swing with the wait for food at about fifteen minutes. Being so close to the start of snowbird season in southwest Florida, PierSide was still fairly busy even during mid-afternoon.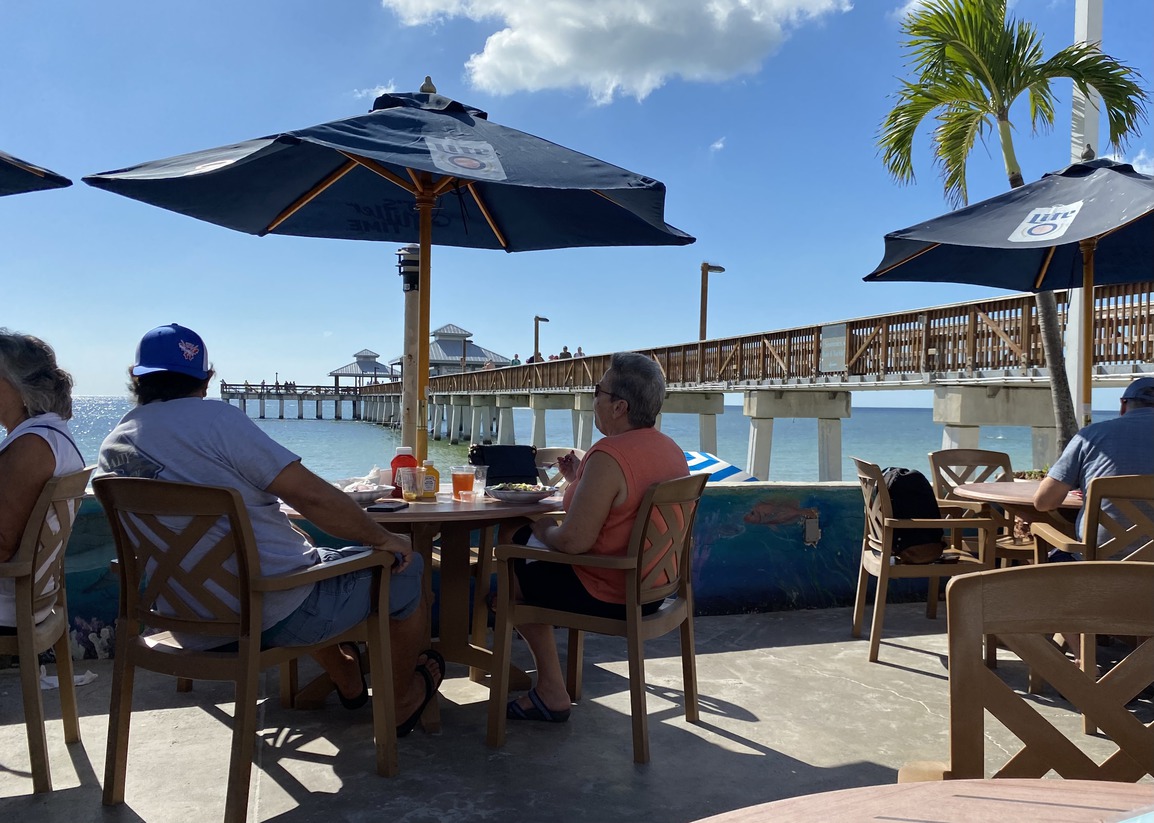 The best seat in the house comes with lunch and a pier-side view. The Gulf of Mexico is beautiful today, with barely a cloud in the sky at 85 degrees Fahrenheit (29.44 C). PierSide does not take reservations; they simply state to "come on by." PierSide has been here since 1980 or so; so says the ice-cream-cone artist at nearby Dairy Queen. There has been a fishing pier of one sort or another in this spot since the 1930s, beginning with a wooden structure.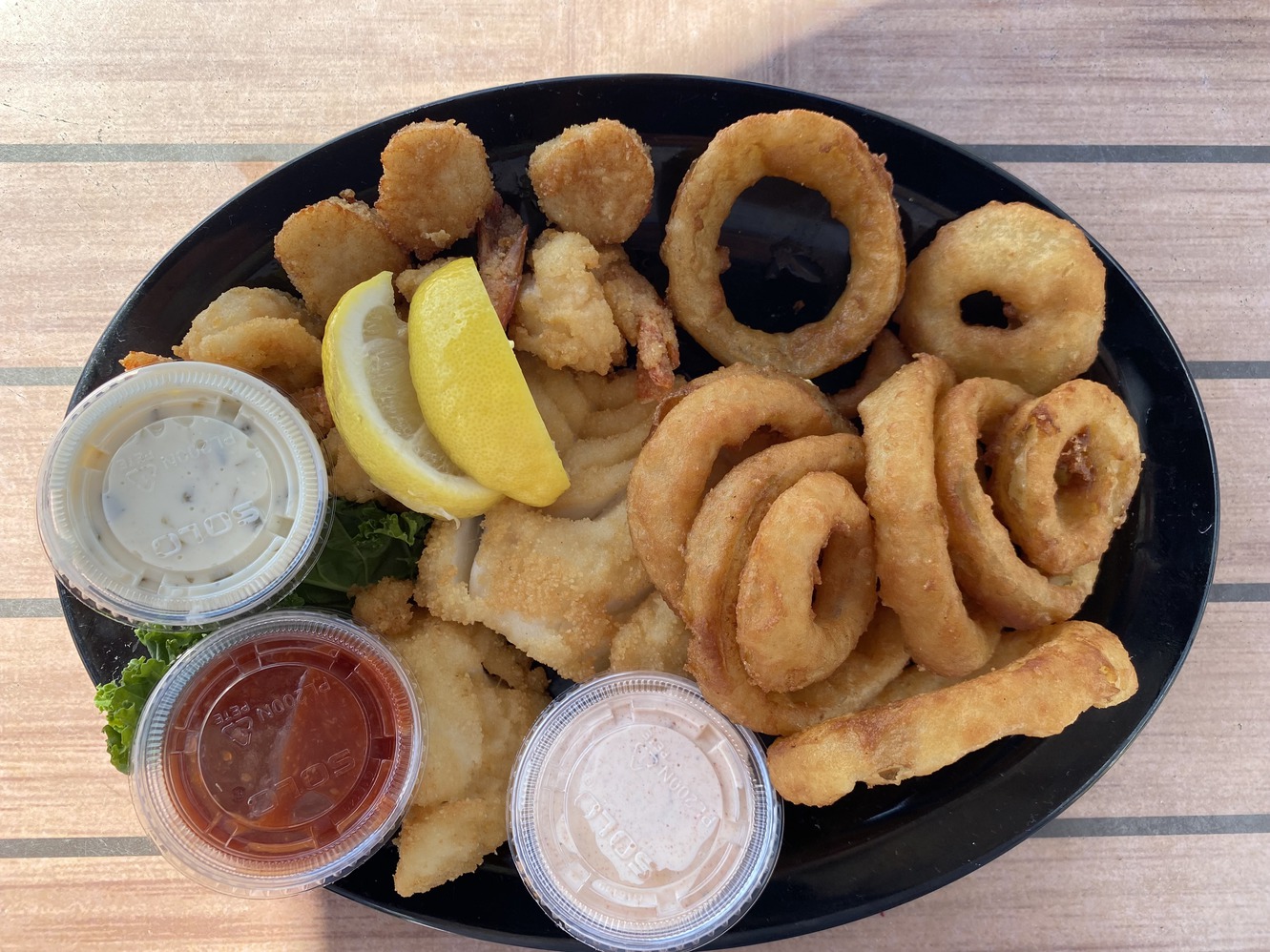 Look at that beautiful plate of golden-brown fried seafood and onion rings. This is the Fried Seafood Platter, from the lunch menu, for $18.00: "Gulf shrimp, scallops and flaky white fish fillet all flash-fried to a golden, crispy brown." Platters are served with French fries; onion rings can be substituted for a $1 upcharge. It tasted as good as it looks right here. Seafood platters (flash-fried, broiled, and blackened) were ordered several times; each platter was hot and delicious.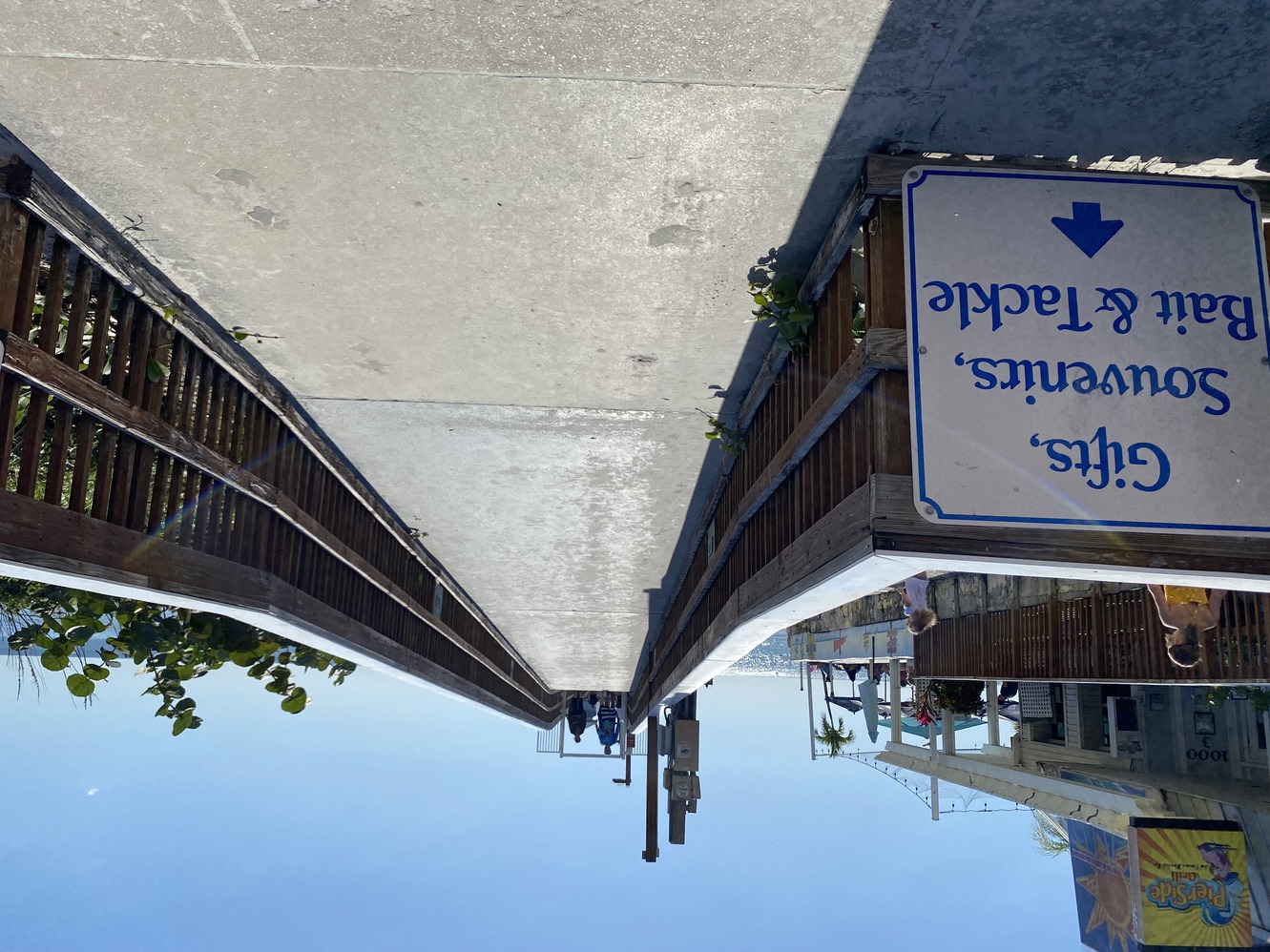 After a great lunch at the PierSide Grill, it's time to explore the Fort Myers Beach Pier. According to a local news outlet, the Pier was closed in mid-August 2021 for the resurfacing of the concrete deck. That process took three weeks, and the Pier was reopened on September 10th. Just a note on the address for this Pier: it is located at 10 Old San Carlos Boulevard. This pier, however, is right in the heart of Lynn Hall Memorial Park, but the park itself is located at 950 Estero Boulevard.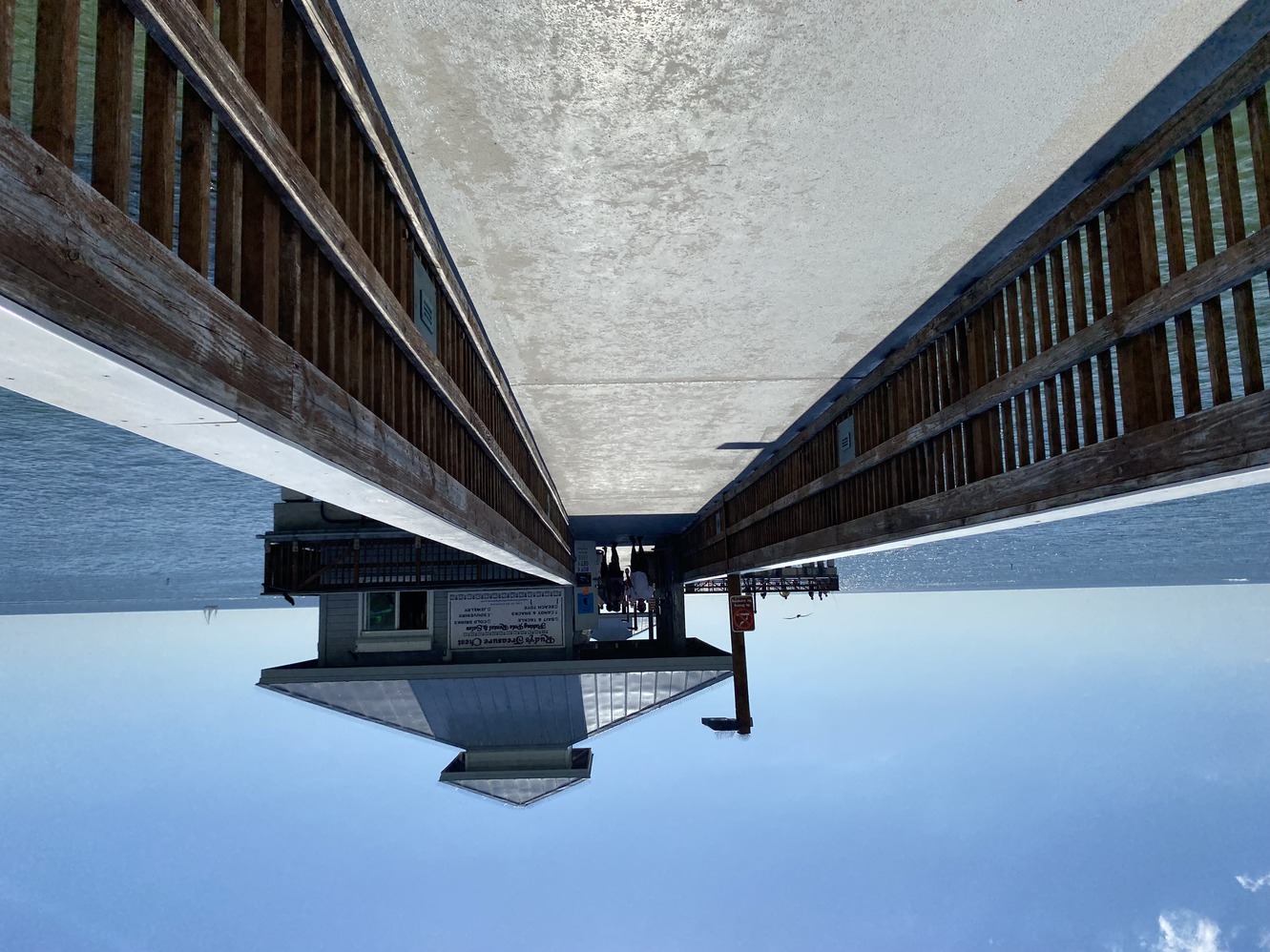 Leisure-seekers who are visiting the Pier might notice the smooth walkway as it was just resurfaced in mid-August by Lee County Parks and Recreation. Looking ahead, Rudy's Treasure Chest is a great amenity to have on the Pier. Both the Pier and Rudy's are open 9 am - 9 pm, seven days a week, and admission to the Pier is free. The Lee County website states that this is a licensed fishing pier, but according to Rudy's website, visitors do not need a fishing license to fish from the pier.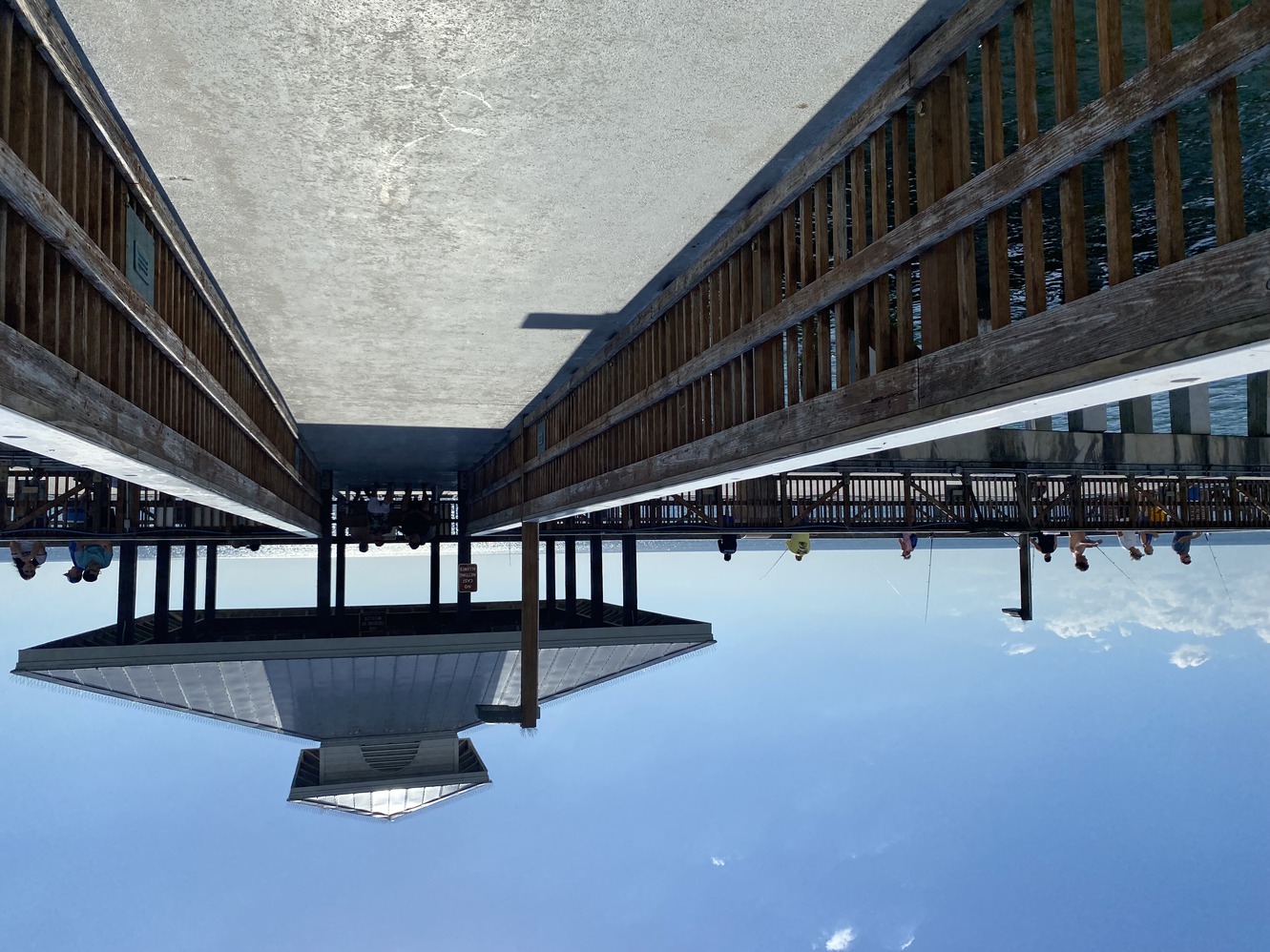 The "tail" portion of the FMB Fishing Pier was added in the mid-1970's. It can also be called the "t" portion or the "apron." The mid-1970's also saw concrete being used, replacing wooden structures. There are benches under shelter from the sun here, plus informational bulletins regarding wildlife and bronze plaques placed in 1976 and in 1991. After a terrible storm in May 1991 that caused a partial collapse, the Pier was rebuilt with a new approach and new beach access.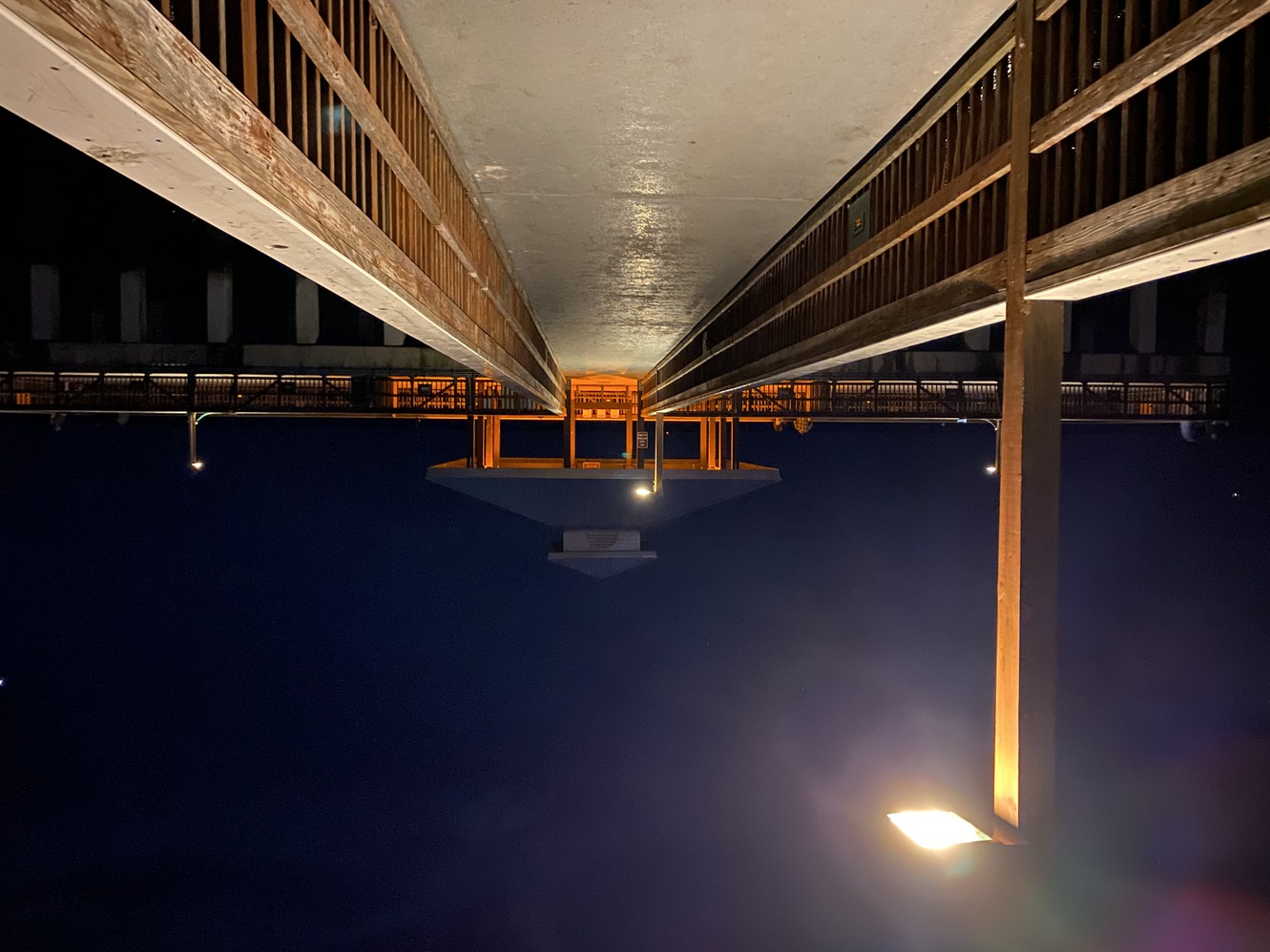 The Fort Myers Beach Fishing Pier is still the same--but different--after sunset. What a difference a few hours can make on a Gulf Coast beach. There's still a good hour left for fishing until the Pier closes for the night. Fish are abundant at the Pier, especially the delicious and sustainable Cobia, plus Pompano, Spanish Mackerel, Spotted Sea Trout, Sheepshead, and Bluefish. The view from out here is endless on what used to be called "Crescent Island."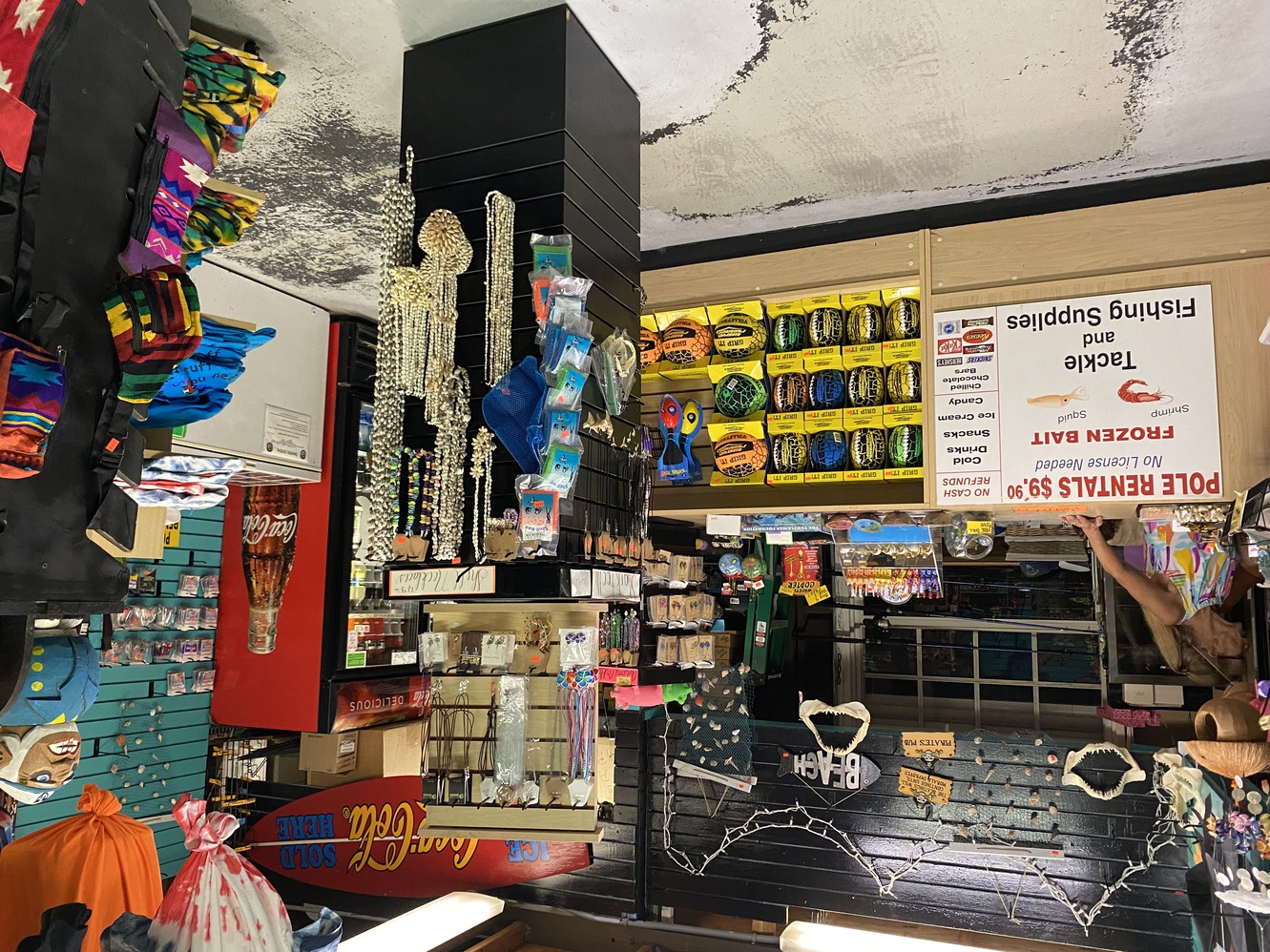 Rudy's Treasure Chest is quite possibly the most complete little knick-knack shack out in the waters of the Gulf of Mexico. There are still more shirts, snacks, and backpacks behind the camera to browse through. Pole rental is less than ten dollars and a variety of baits are sold here, right next to the front door. No license needed, says the sign. (Out-of-staters need a license to fish from the shore, however.) There are also Florida-centric souvenirs for sale on tables outside the shop, too.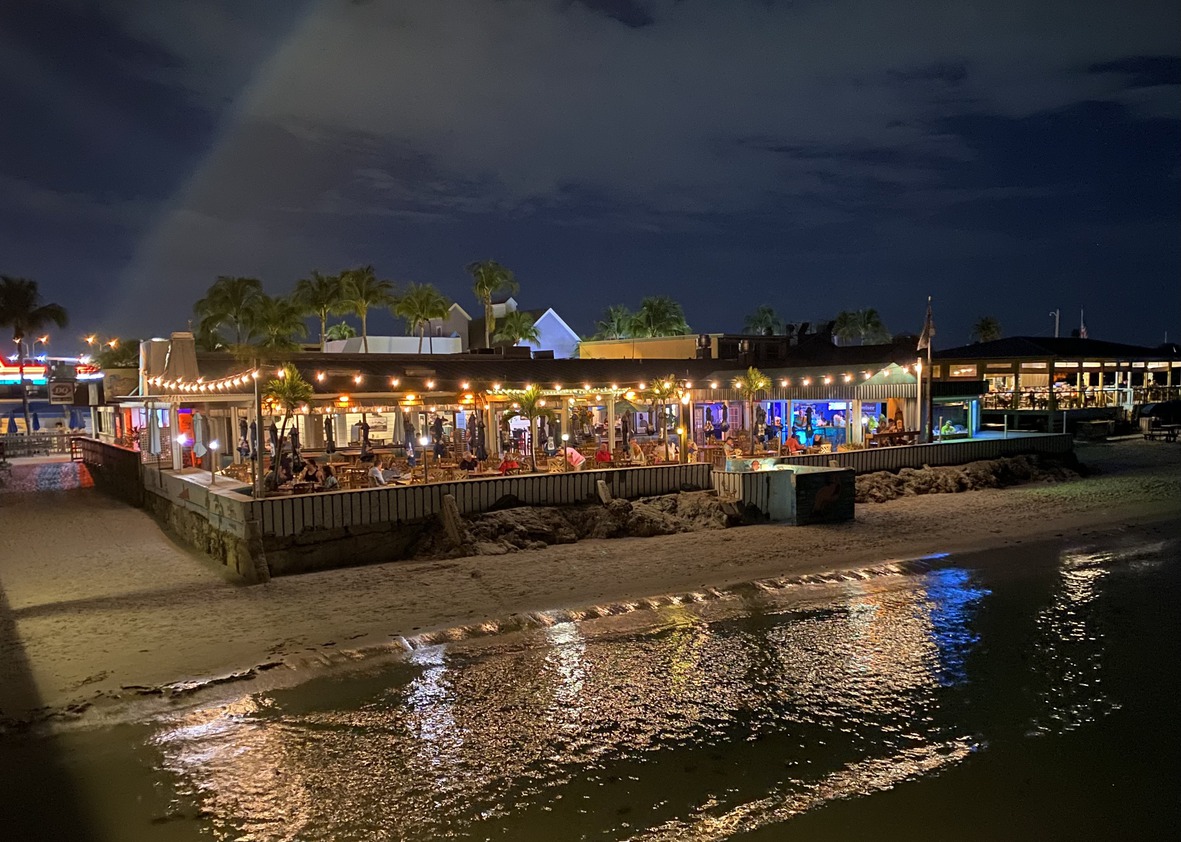 The evening is still young and there are yet many things to do just steps away from the Fishing Pier. PierSide Grill is open until ten o'clock at night and will have live music until nine. Folks are at the tables on the porch, while the wait staff brings out seafood and key lime pie. The lights and sounds are festive and the night sky is clear for miles. In this image, PierSide is in the foreground; on the right is the Sunset Beach Tropical Grill, and on the left is an open-air Dairy Queen.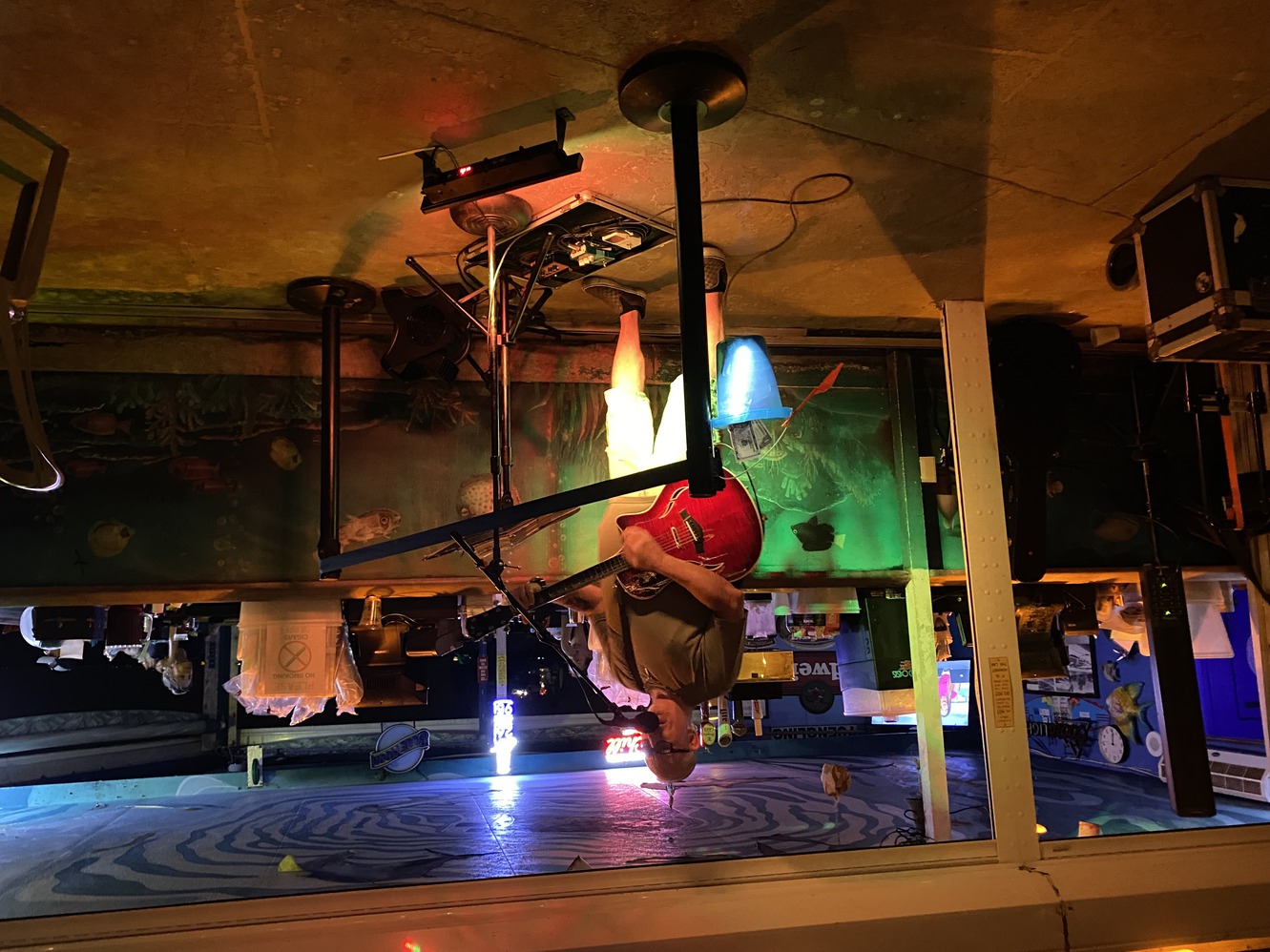 After dark, the Blowfish Bar at PierSide is really mellow. The tunes played long after sunset are less bouncy, less beachy, and more introspective. For instance, instead of Jimmy Buffett's "Cheeseburger in Paradise," guests might hear "Wicked Game" by Chris Isaak. Entertainment on the other side of Times Square might be peppier, say at Mango Rita's, but the music here is more like accompaniment for a quiet, late dinner. It's all about preference.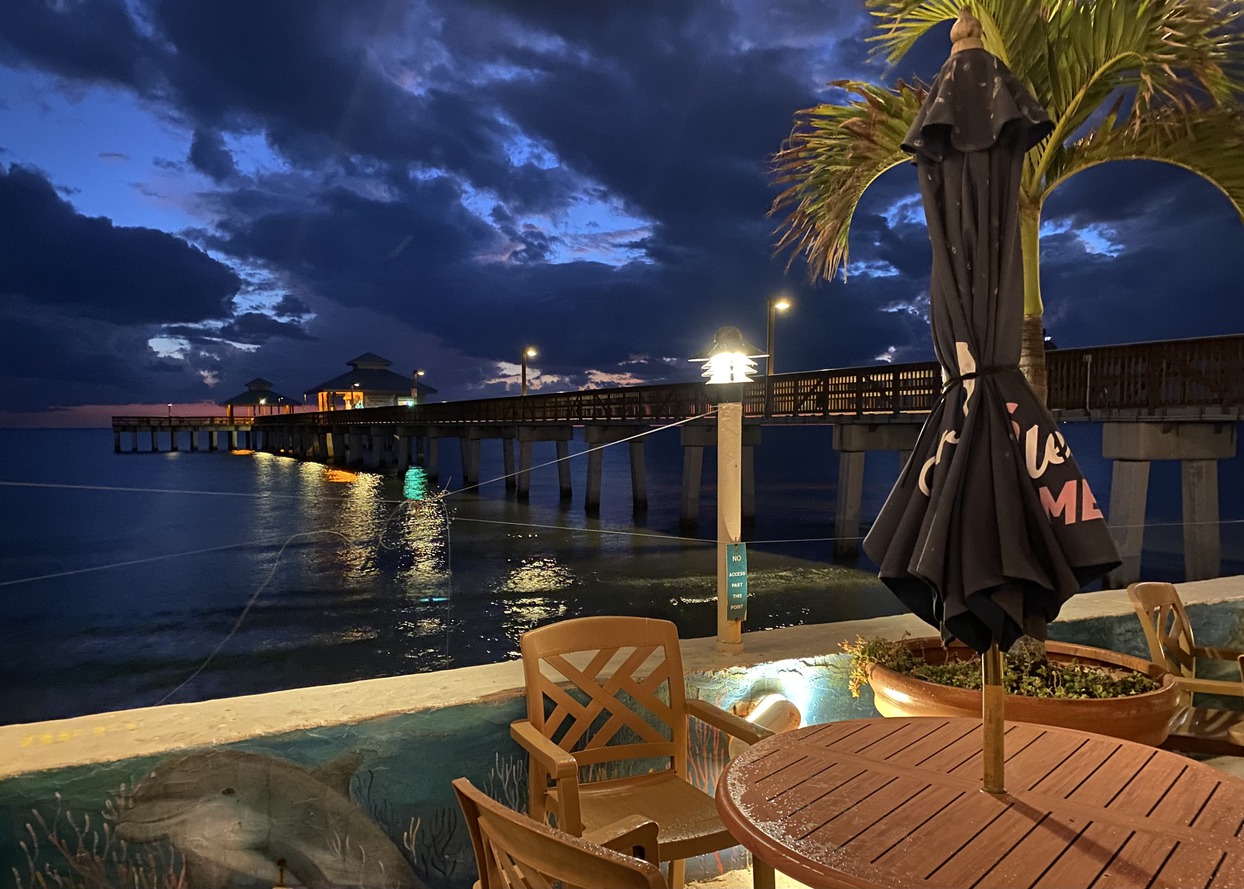 The Fort Myers Beach Fishing Pier extends about 560 feet, or 170 meters, into the Gulf of Mexico. There's a lot to see here with Sanibel Island nearby, especially with its Lighthouse Beach Park on the easternmost tip of the island. Also, there are seven miles of beach that make a beautiful view right on Estero Island. Early risers might catch a glimpse of a Key West Express ferry boat jetting off to the Florida Keys. For now, though, it's time for dinner with a view of the Pier.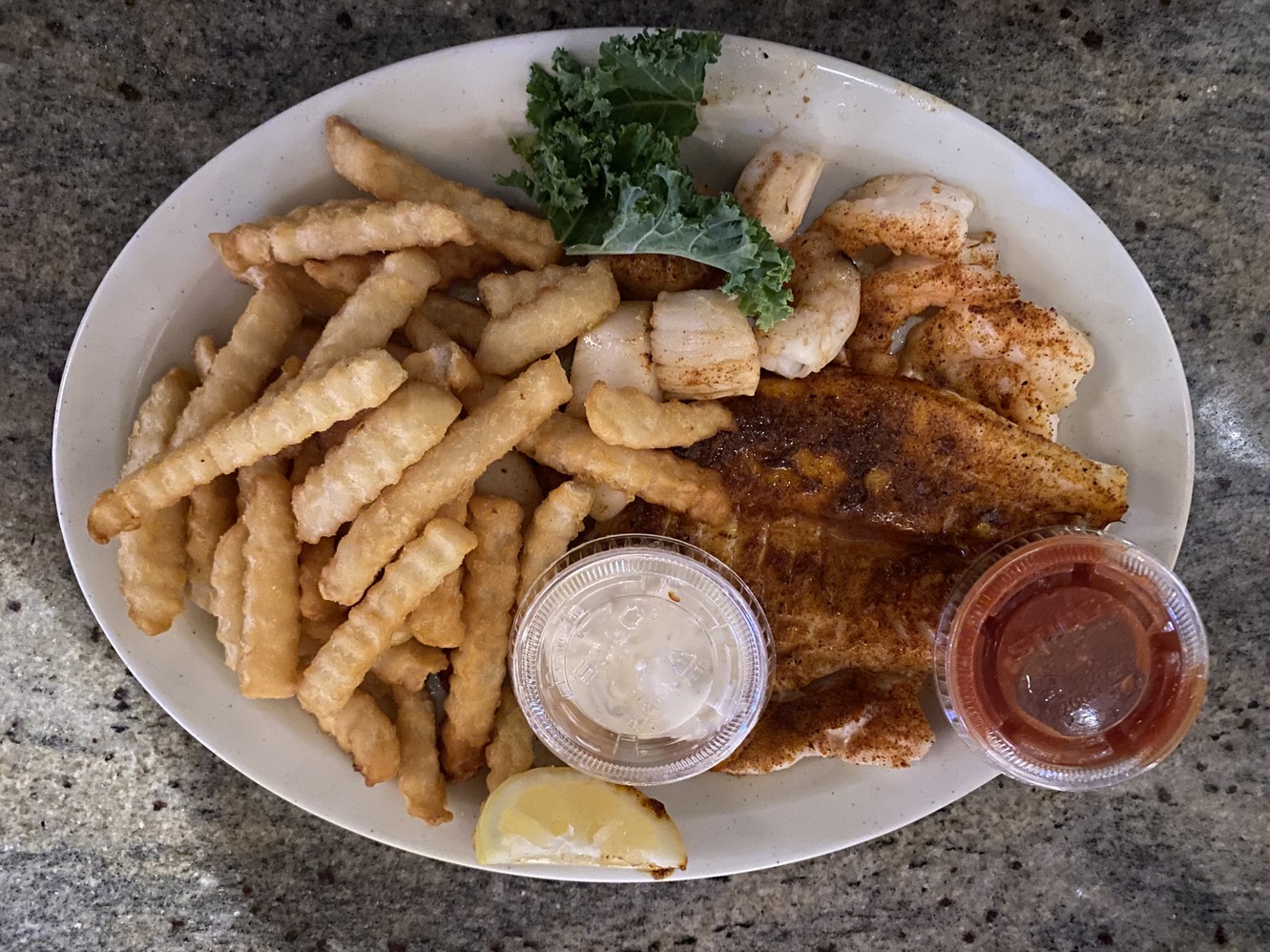 This is the blackened platter at $26.00. According to the menu, it is "fresh fish fillet, Gulf shrimp, and scallops." The blackening used was savory with just the right amount of cajun flavor. One criticism of this platter is that the menu doesn't say what type of filet is used. Nevertheless, everything is delicious. The sauces on this platter were just as mouth-watering as the seafood. Platters come with dinner rolls and two side dishes, like a house salad and French fries.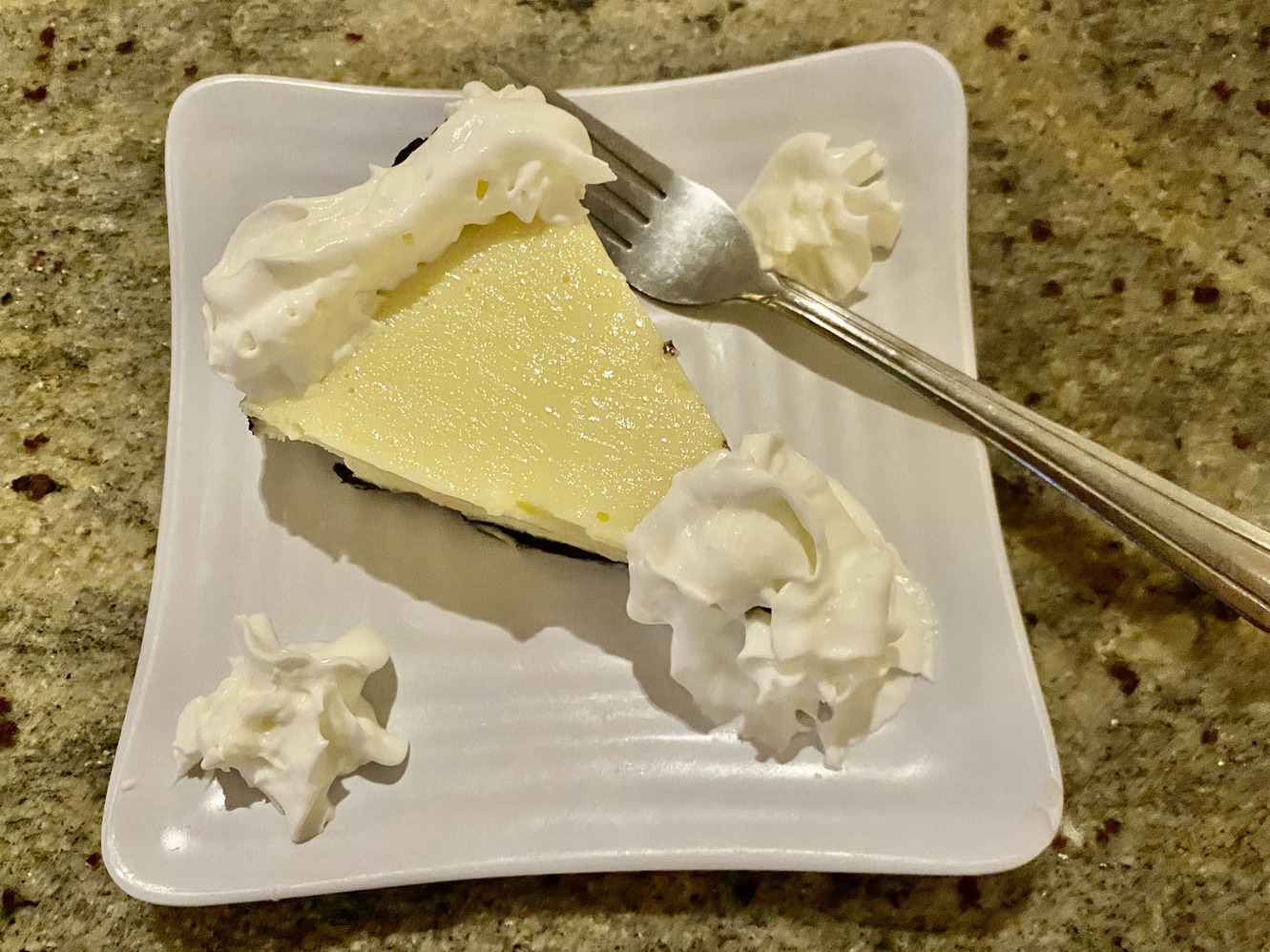 The key lime pie at PierSide Grill is delicious at $5 per slice. The texture of the pie itself has a great mouth-feel and the chocolate Oreo-crumb crust added more flavor and color contrast to this dessert. Key lime pie is the one and only dessert at PierSide. The night's total bill for dinner was $55.39 for a shrimp burger and fries ($15) with cheddar cheese ($1), one blackened platter ($26), two slices of pie ($10), water to drink ($0), and tax ($3.39).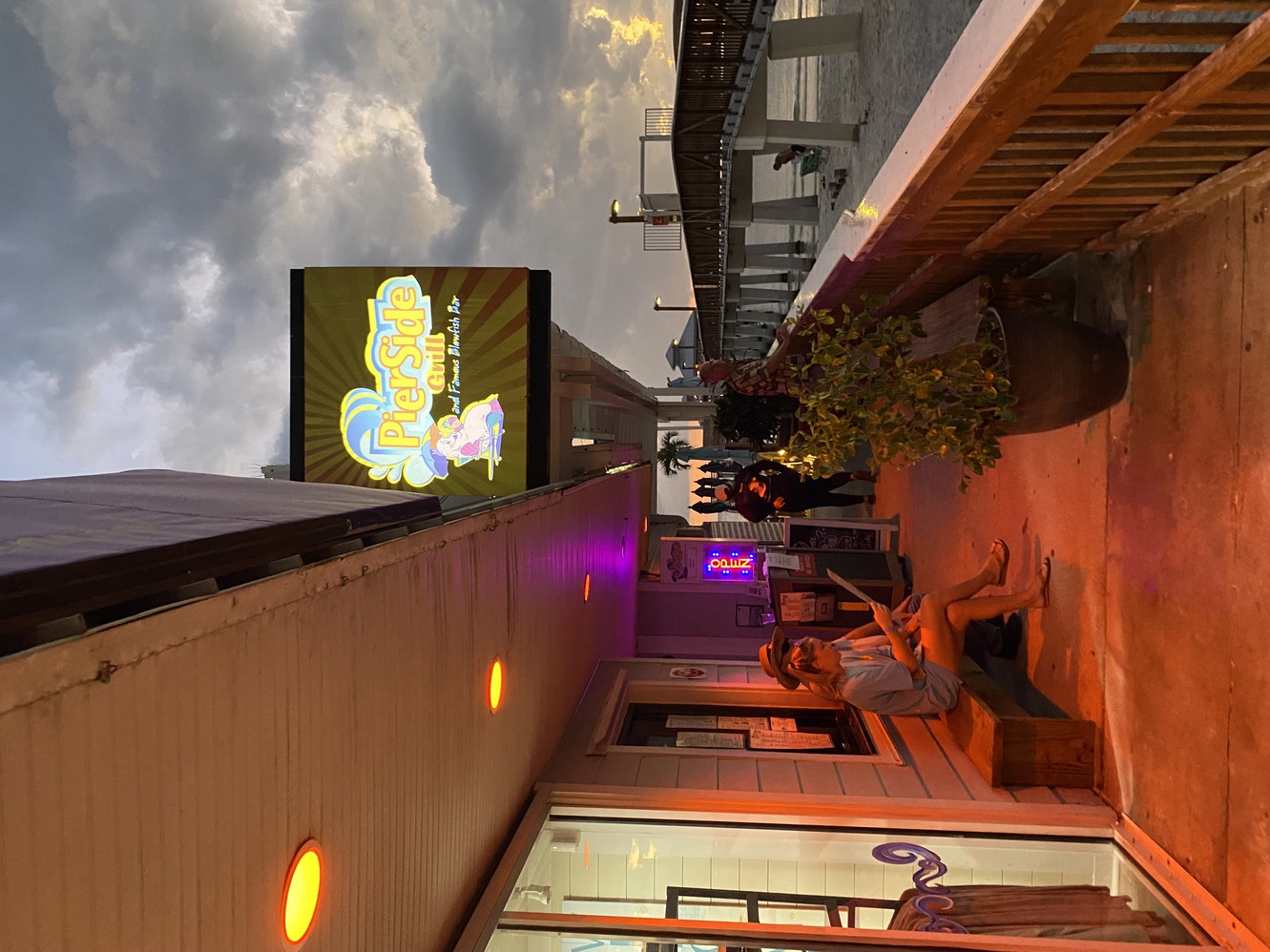 This is PierSide Grill after sunset; no windbreaker needed even at night. There's still parking available right next to the pier if arriving by car. The view from the patio shows the Gulf at its best, and the main dining room here is also nice with its Christmas decorations. After dinner and dessert are finished, it's time to enjoy the rest of the evening. The souvenir shops are open for a little while longer and there's still a lot to see on Times Square.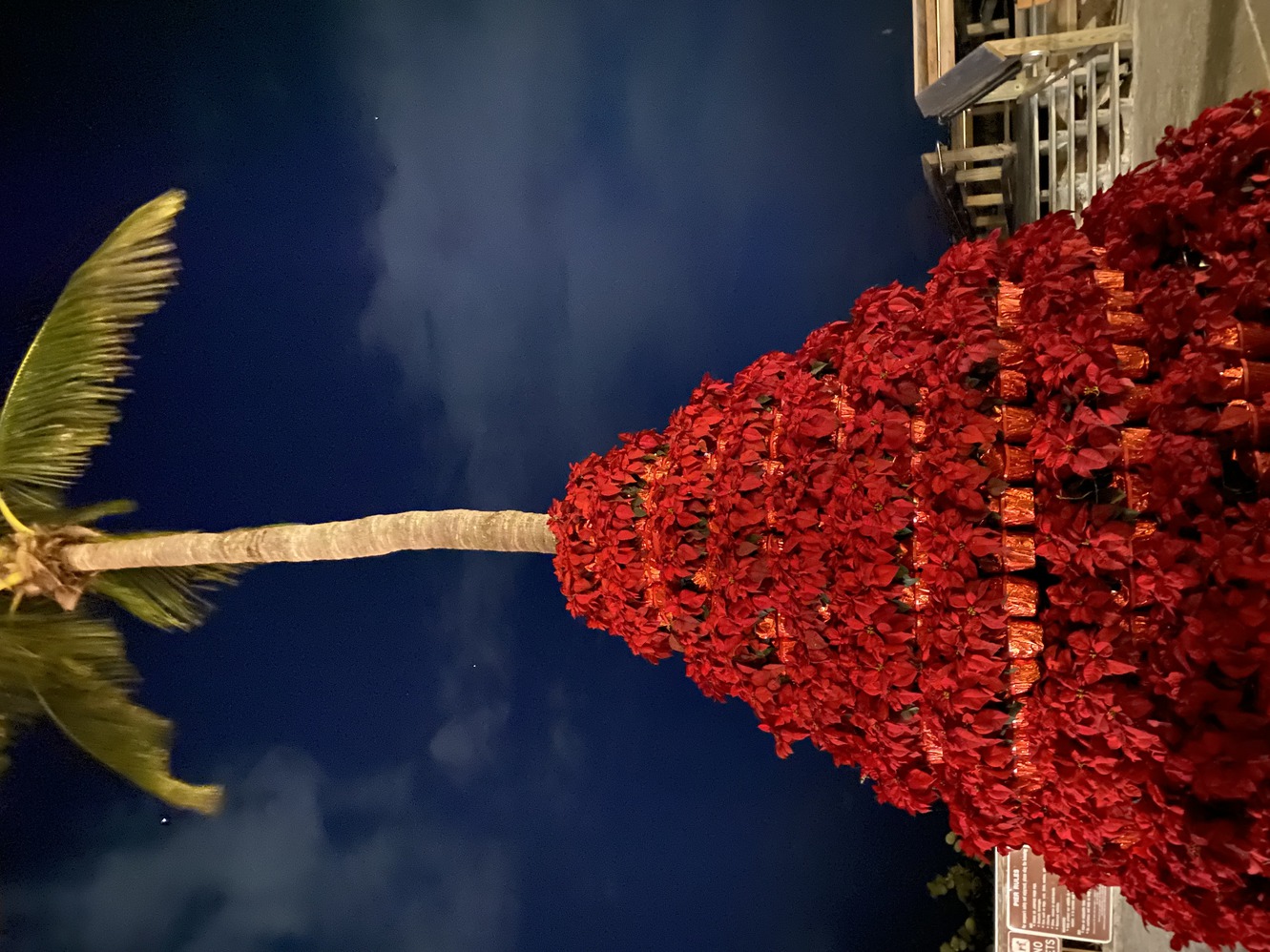 Christmas is coming to Estero Island with this beautiful palmetto poinsettia combo right in the heart of Times Square, which is just as eye-catching in the daytime. Tourists will stop and pose for a picture right here. Street entertainers come to show off their talents and collect tips for their skills. So what's tomorrow's adventure? There are dozens of restaurants right around the corner and beautiful views everywhere. Times Square is a great place to start, and to finish.