Sanibel Island, Lighthouse Beach, Florida
Sanibel Island in Florida is a great place to spend a day of your Spring Break. Lighthouse Beach Park is on the eastern tip of the island and has a beautiful beach, a lighthouse, trails, wildflowers, a fishing pier, amenities, and a lot of gopher tortoises.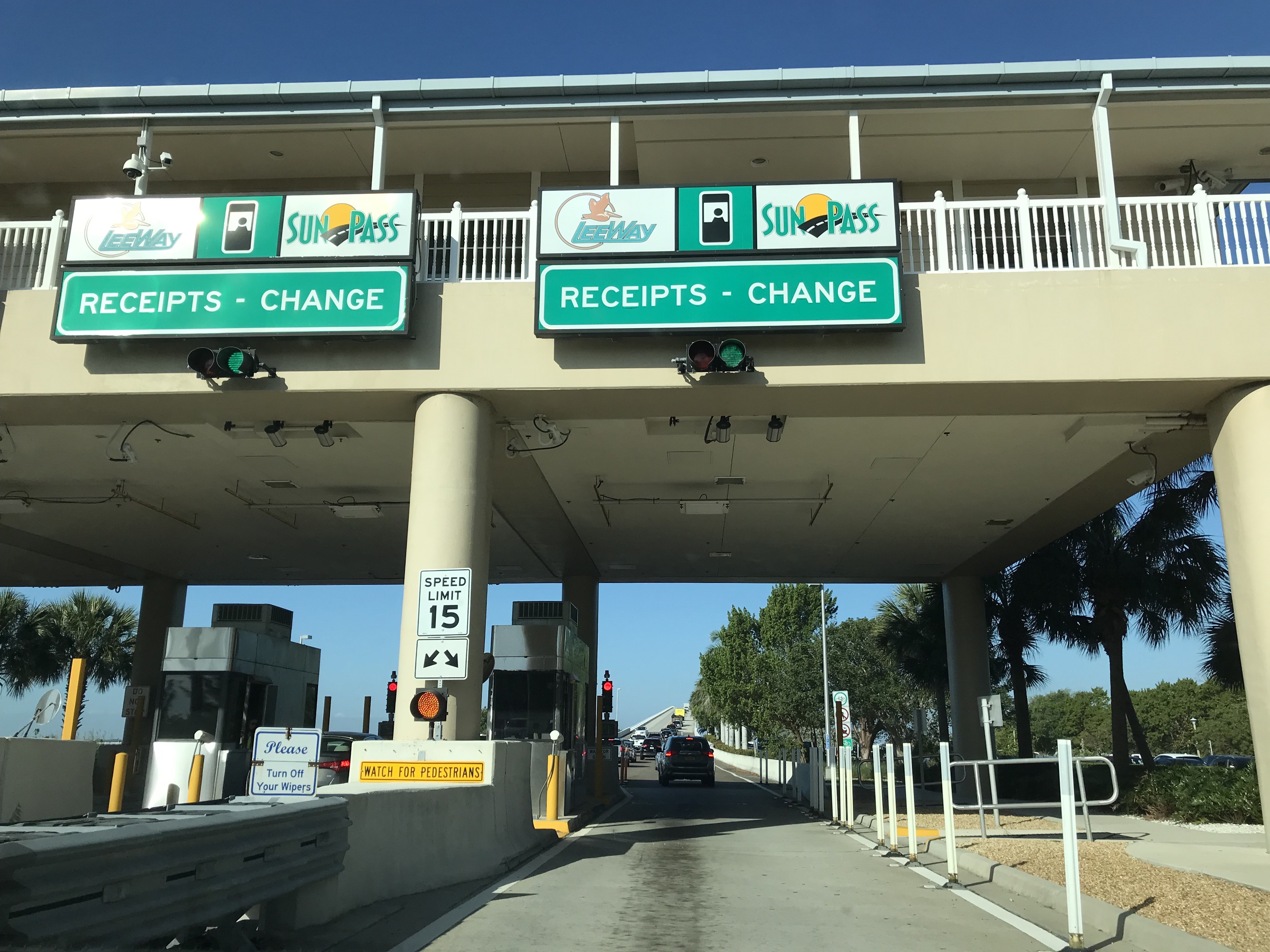 A great Sanibel Island visit starts here at the toll booth on the Sanibel Causeway. The charge is $6 to enter; there is no toll to leave. The Causeway spans three miles and connects Sanibel with Punta Rassa on the mainland.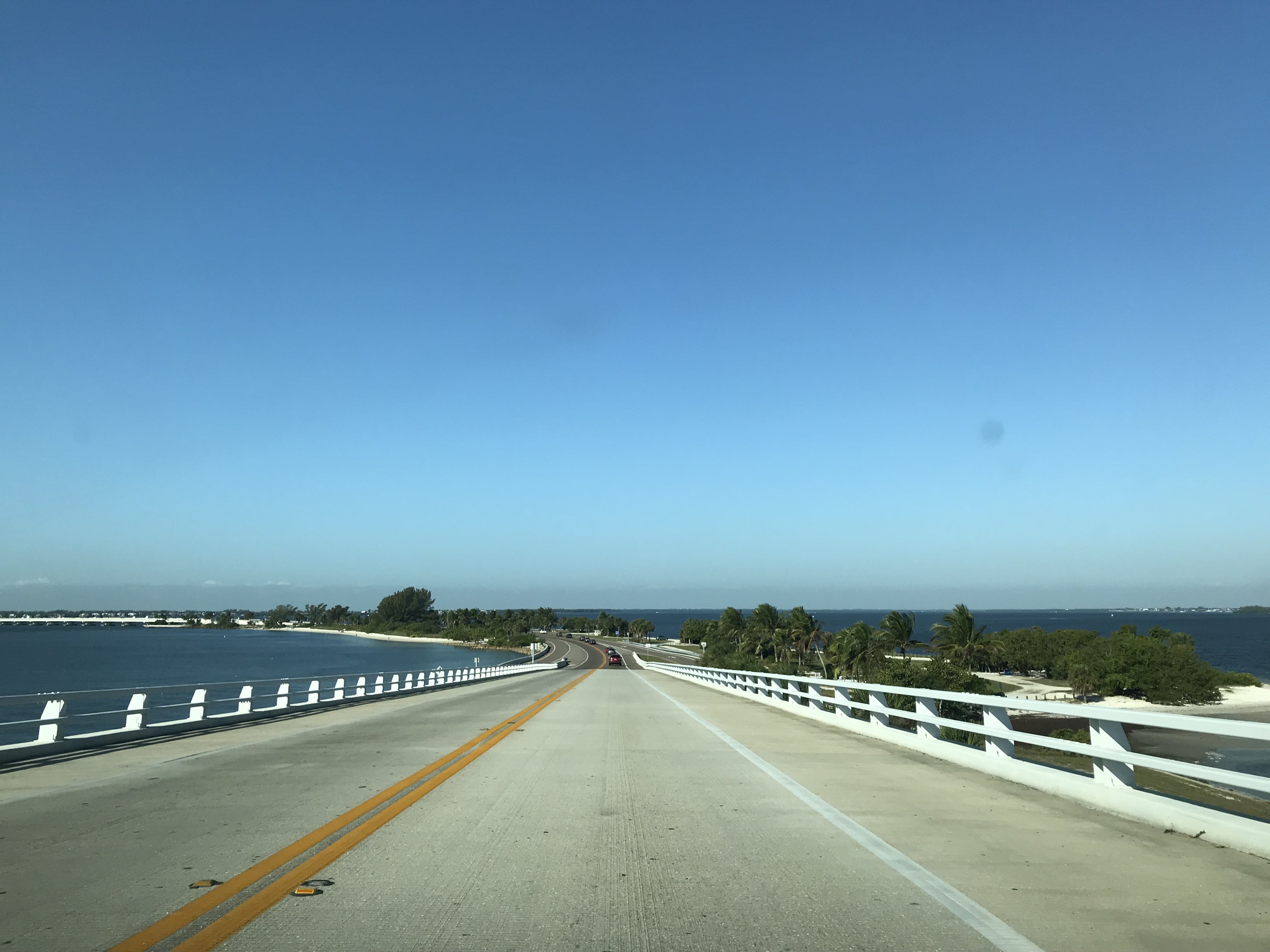 The Sanibel Causeway overlooks San Carlos Bay. There are three bridges (Bridges A, B, and C) that span two man-made islands. Lee County governs these structures. There are a couple of Island Causeway Parks with amenities and a lot of happy-looking visitors.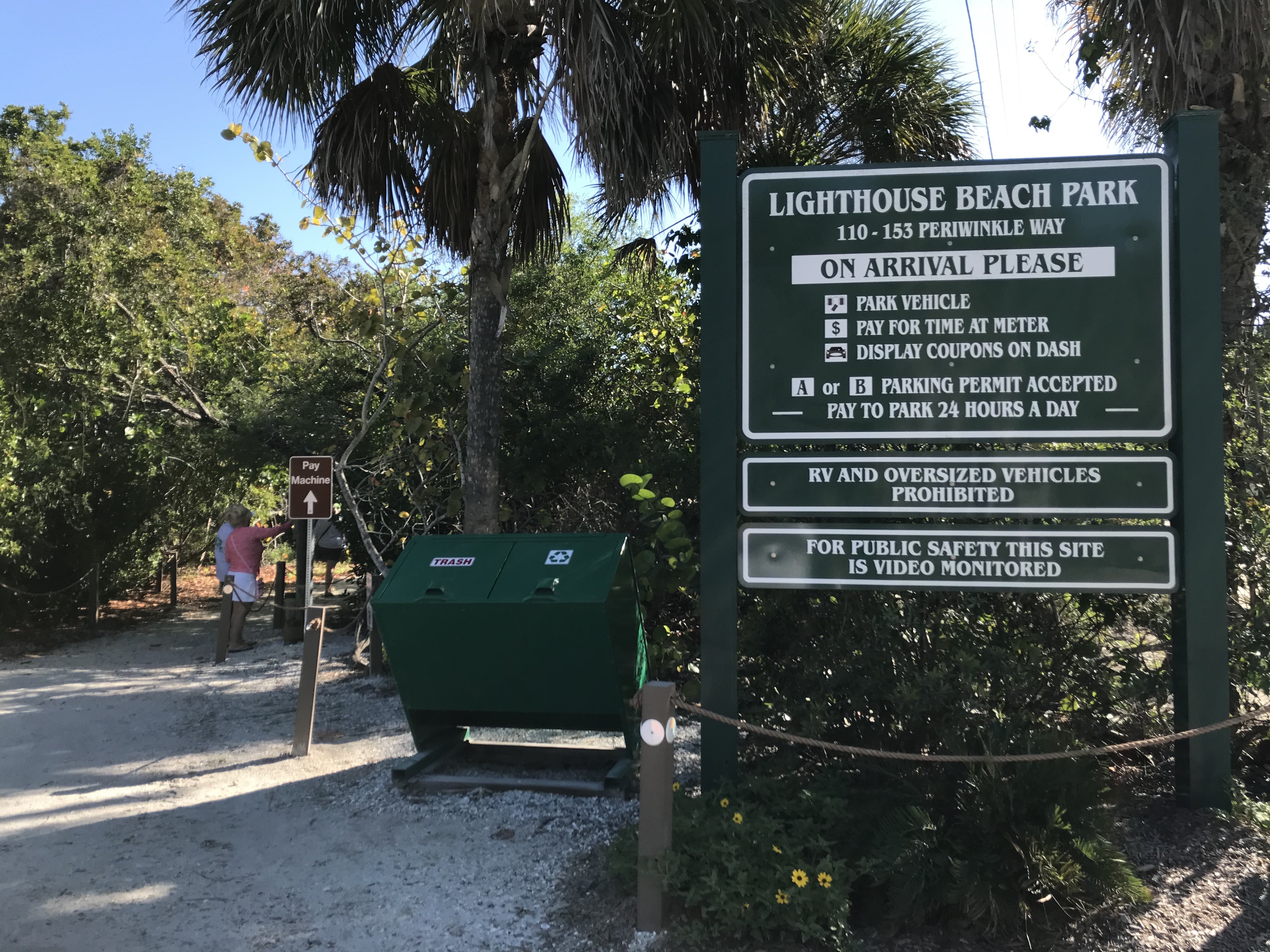 The Lighthouse Beach Park is 32 acres of beautiful southwest Florida that faces both San Carlos Bay and the Gulf of Mexico. This park is owned and operated by the city of Sanibel Island and has all kinds of amenities. There are only 170 parking spaces and it's $5 per hour to park.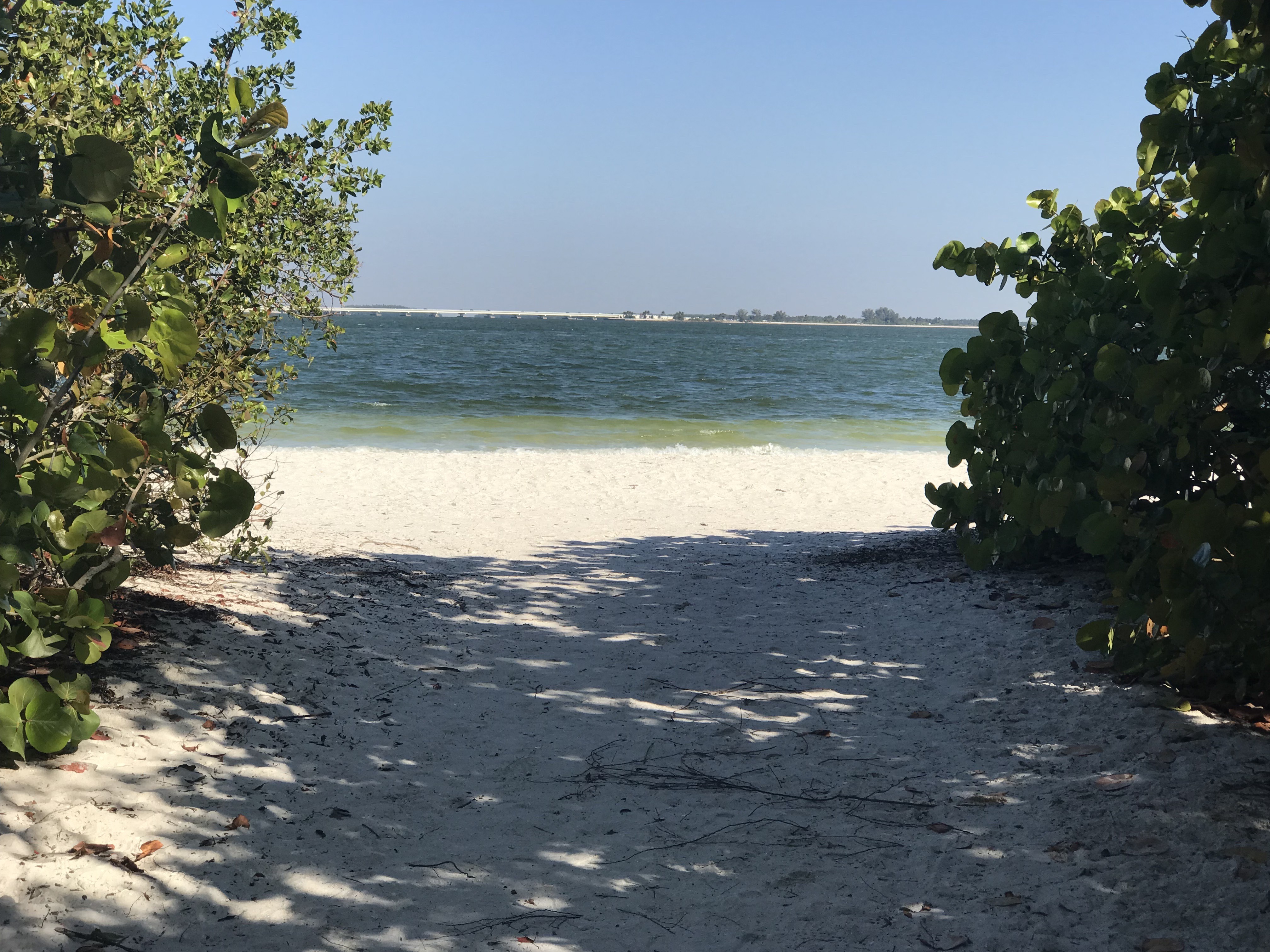 This path at the Fishing Pier parking lot leads directly to the San Carlos Bay-side beach. Lighthouse Beach is very accessible and placarded vehicles do not need to pay for parking. Beach goers need to know that parking fills up by 10:15 am and doesn't open up till about 3 pm. (You might find a spot if you circle around awhile.) Parking fees apply 24 hours per day.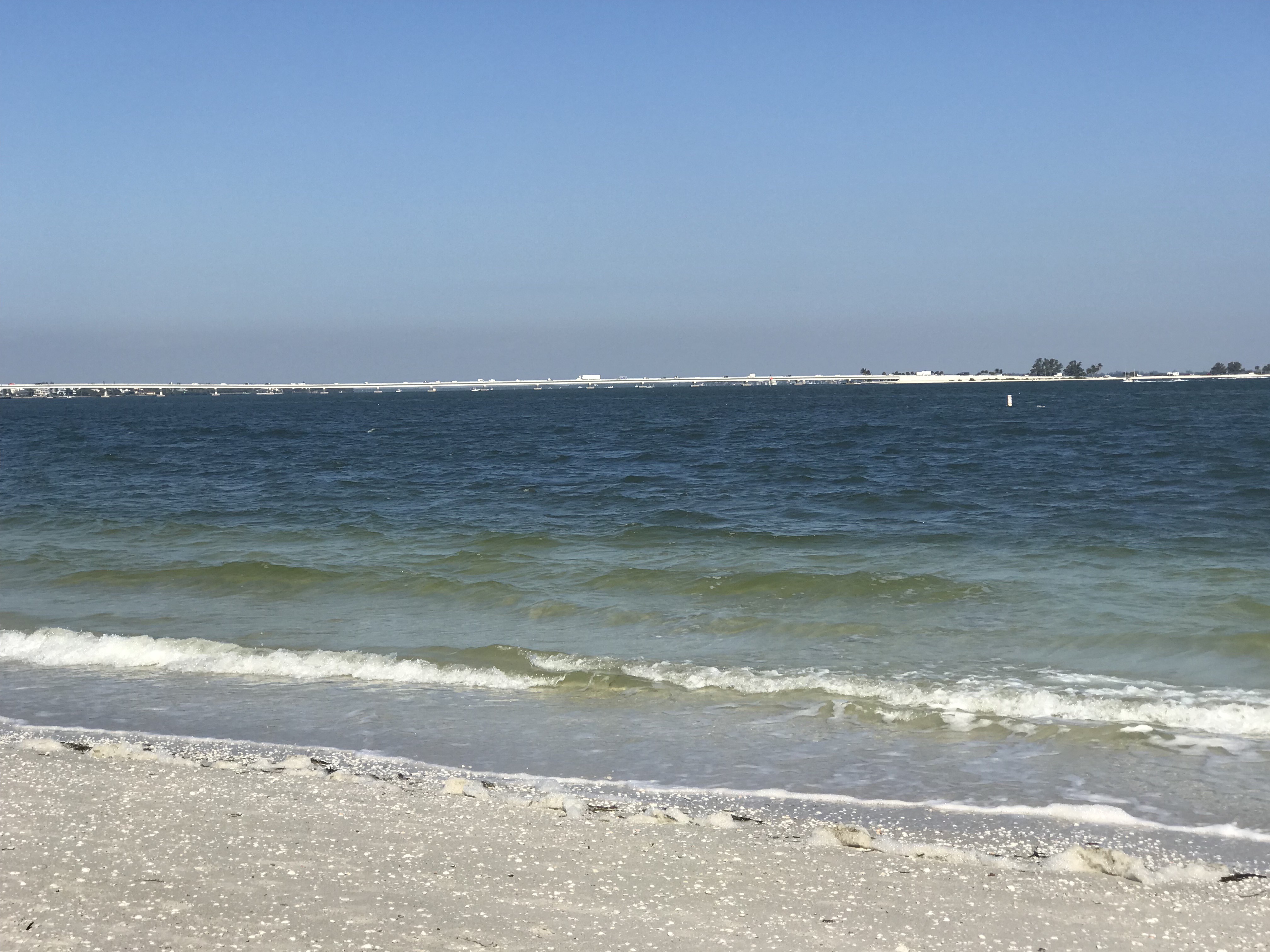 Looking out toward San Carlos Bay and the Causeway, this is a classic Southwest Florida beach. The sand is more foot-friendly over by the lighthouse, but there are so many different shells here. Live-shelling is a no-no, but you can take as many shells-ashore as you can carry.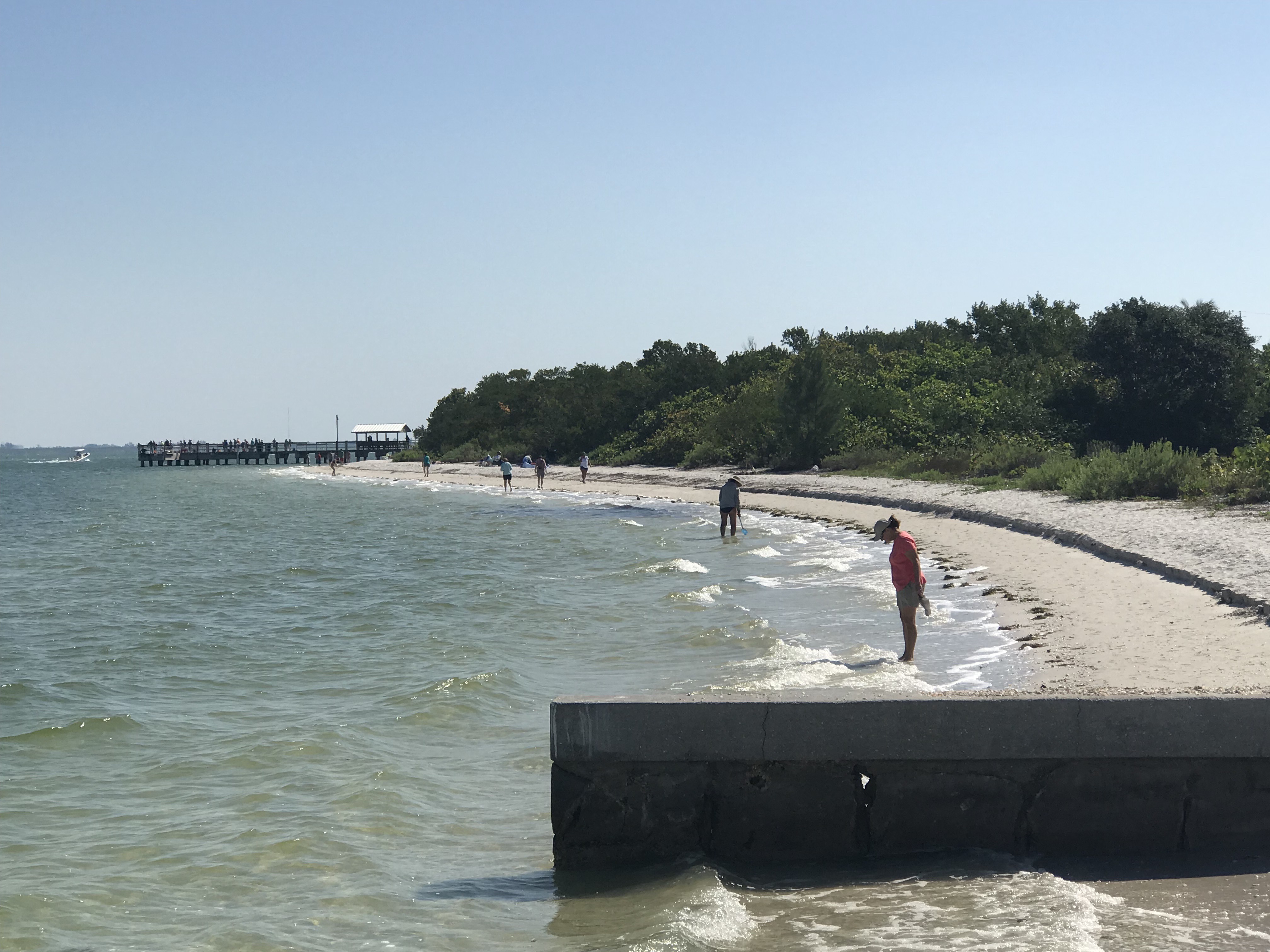 This east-facing view shows about half of the pier-side beach, including the Sanibel City Fishing pier. This is the northern beach. Periwinkle Way, which delivers beach-goers here, is off-camera to the right. Condos are behind the camera.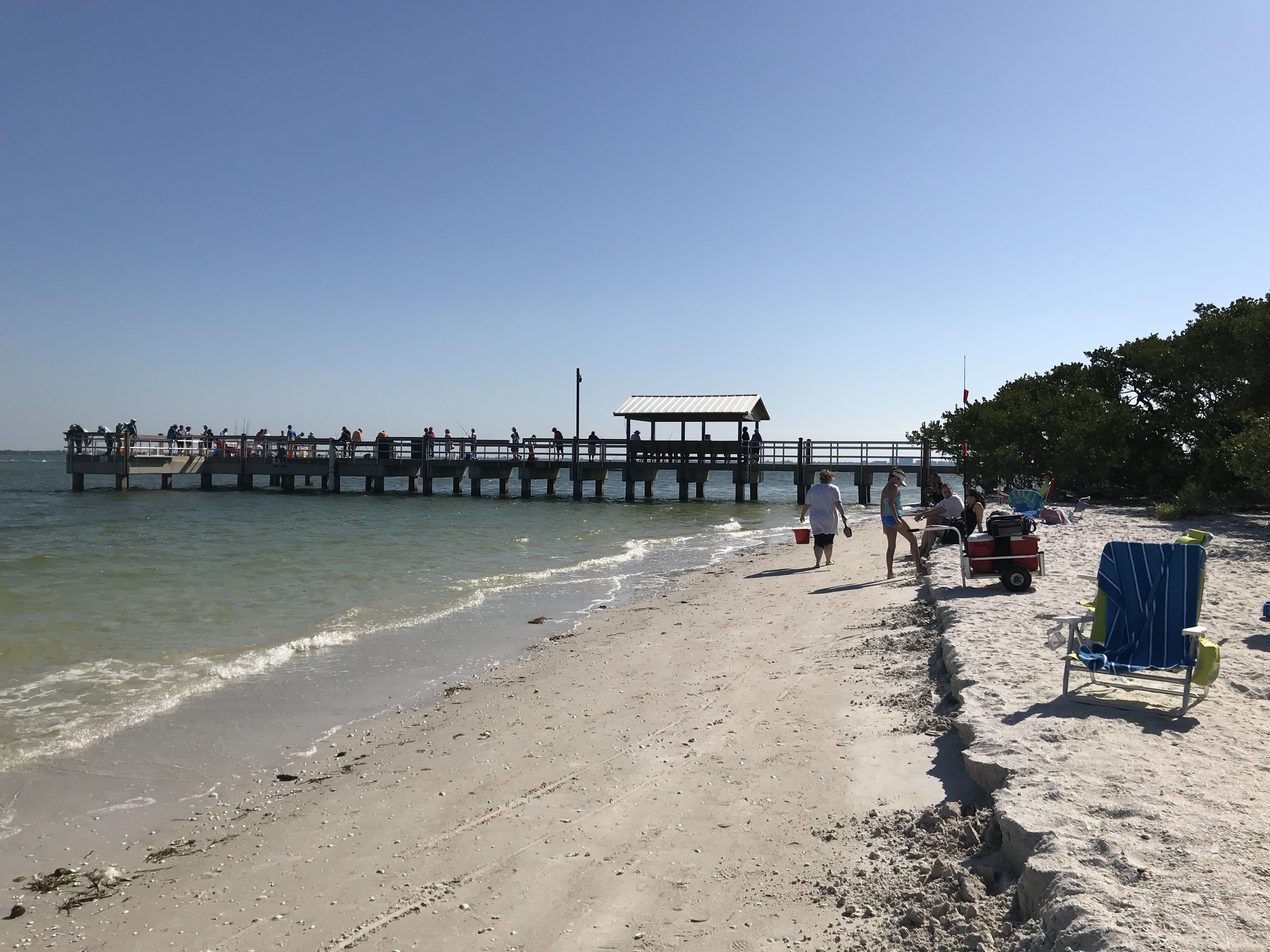 The Sanibel City Pier had a $154,000 makeover in Summer 2016 and is now ADA accessible. Under the little canopy is an AED and two comfortable benches. The view from the T-dock is amazing.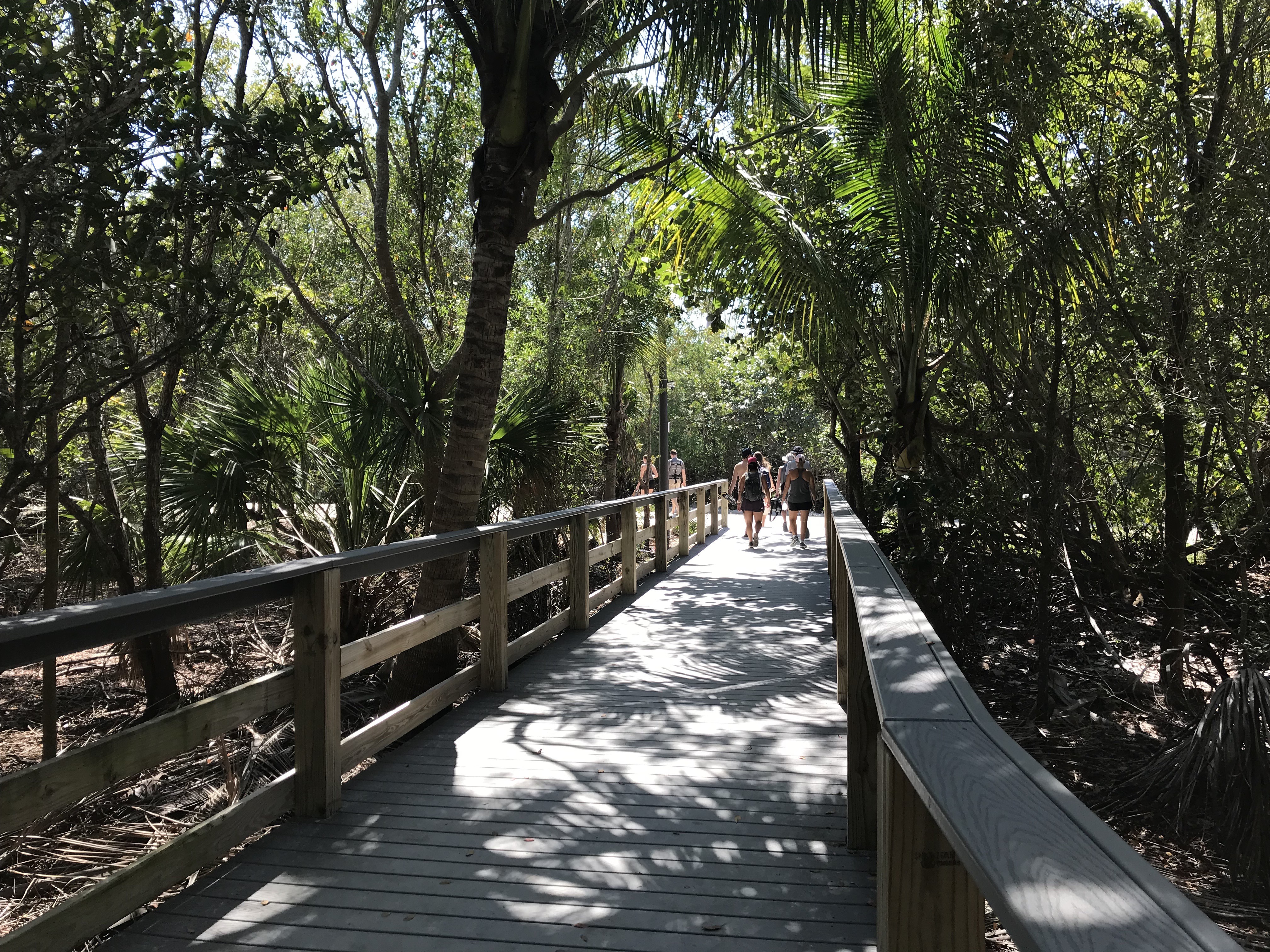 Next to the pier is a boardwalk path, which leads to this park's amenities. The pricey, prepaid parking fees are apparent here, in that the facilities are all very nice. You may see lingering damage from 2017's Hurricane Irma in the upturned roots of some trees.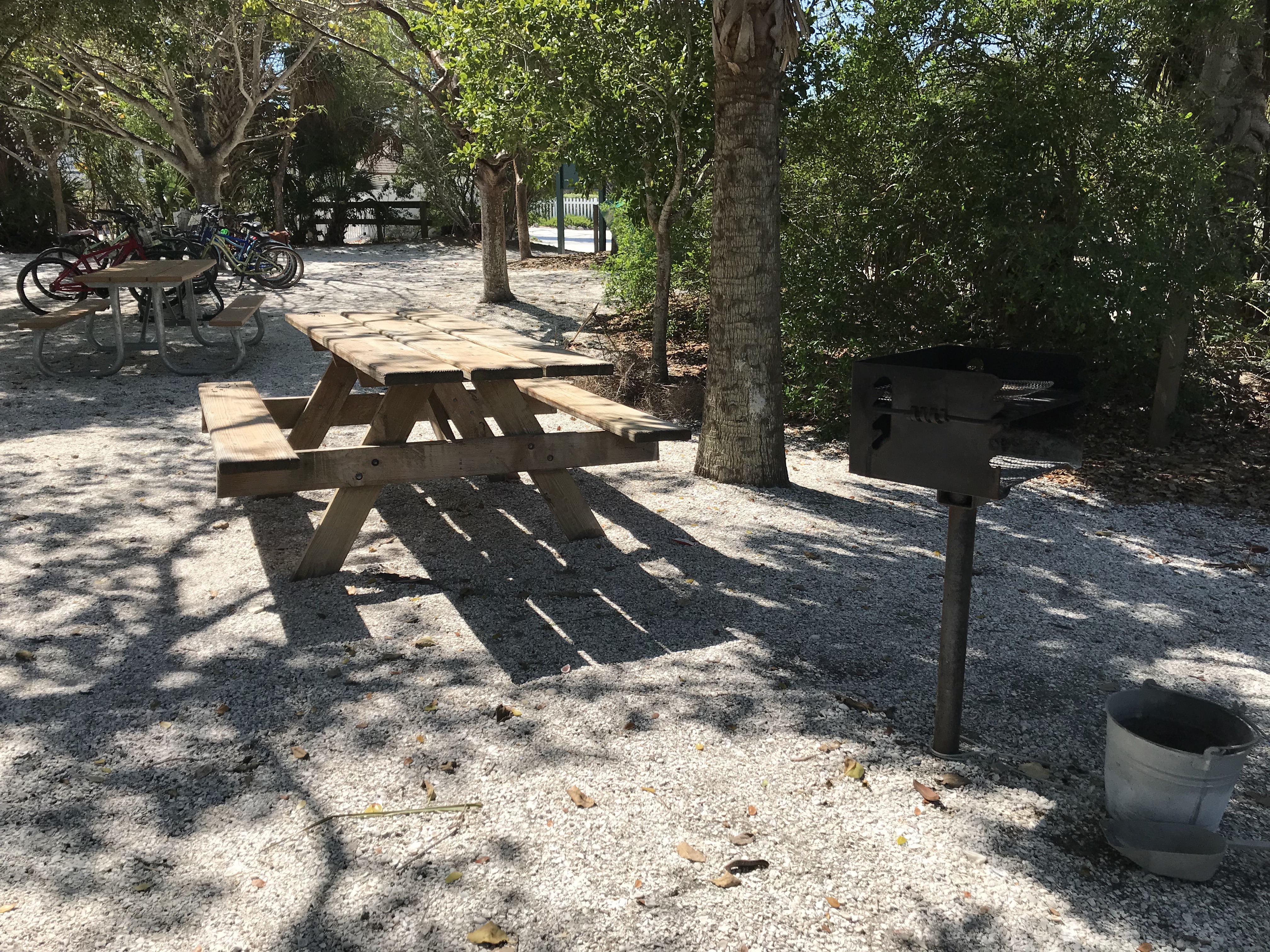 The amenities here are wonderful. There are two modern washrooms at this park plus outdoor showers, fountains, and foot baths. There is even a water-bottle filling station. Not a scrap of litter at the picnic table area was seen. Bicyclists ride the Causeway for free and also park for free at one of the multiple bike racks.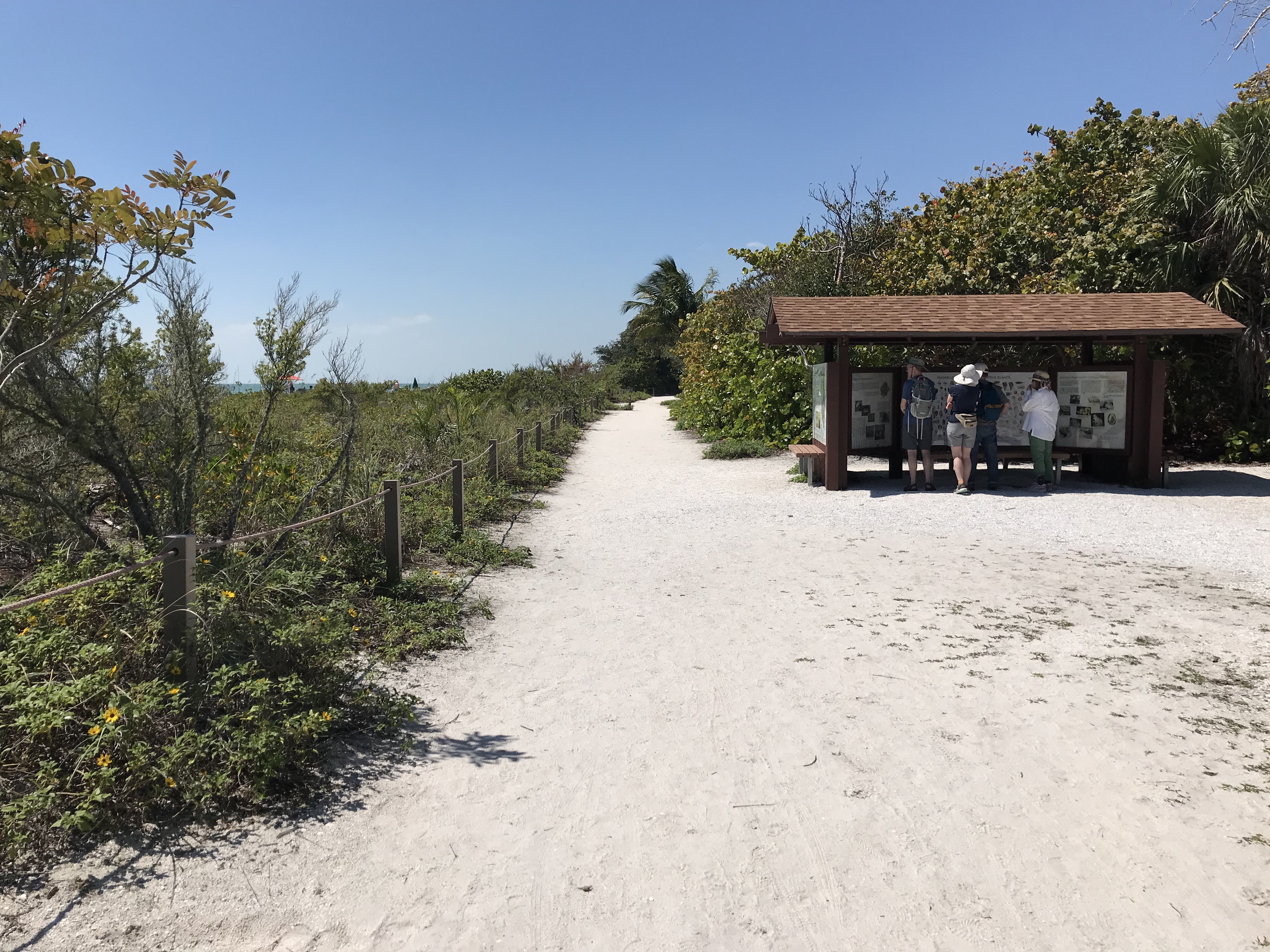 Sanibel Island is the same size as Manhattan, at three miles wide by 13 miles long, but with 61 percent of the land set aside for conservation. This kiosk shows the many shells that a beachcomber can find at Sanibel. In addition to the little white clamshells (transverse arks and ponderous arks), you can find cross-barred Venuses, corkscrew-shaped worm shells, and the purplish calico scallops.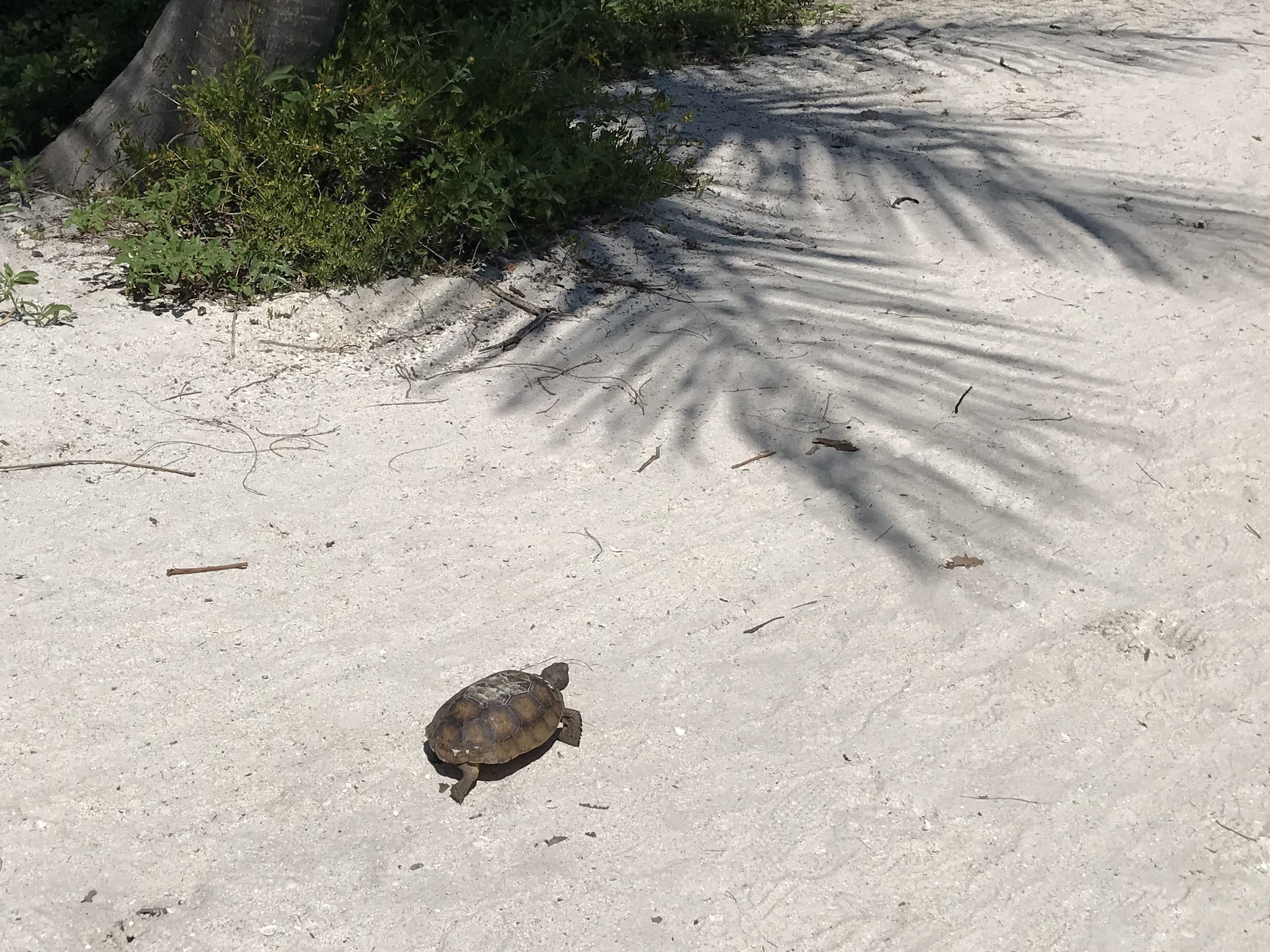 Speedy, the gopher tortoise, is obviously in a hurry to get to the beach. Speedy is a burrower, and the burrows that he digs are home to 360 additional species. Gopher tortoises are a threatened species but abound here and at other southwest Florida beaches such as Barefoot Beach in Bonita Springs.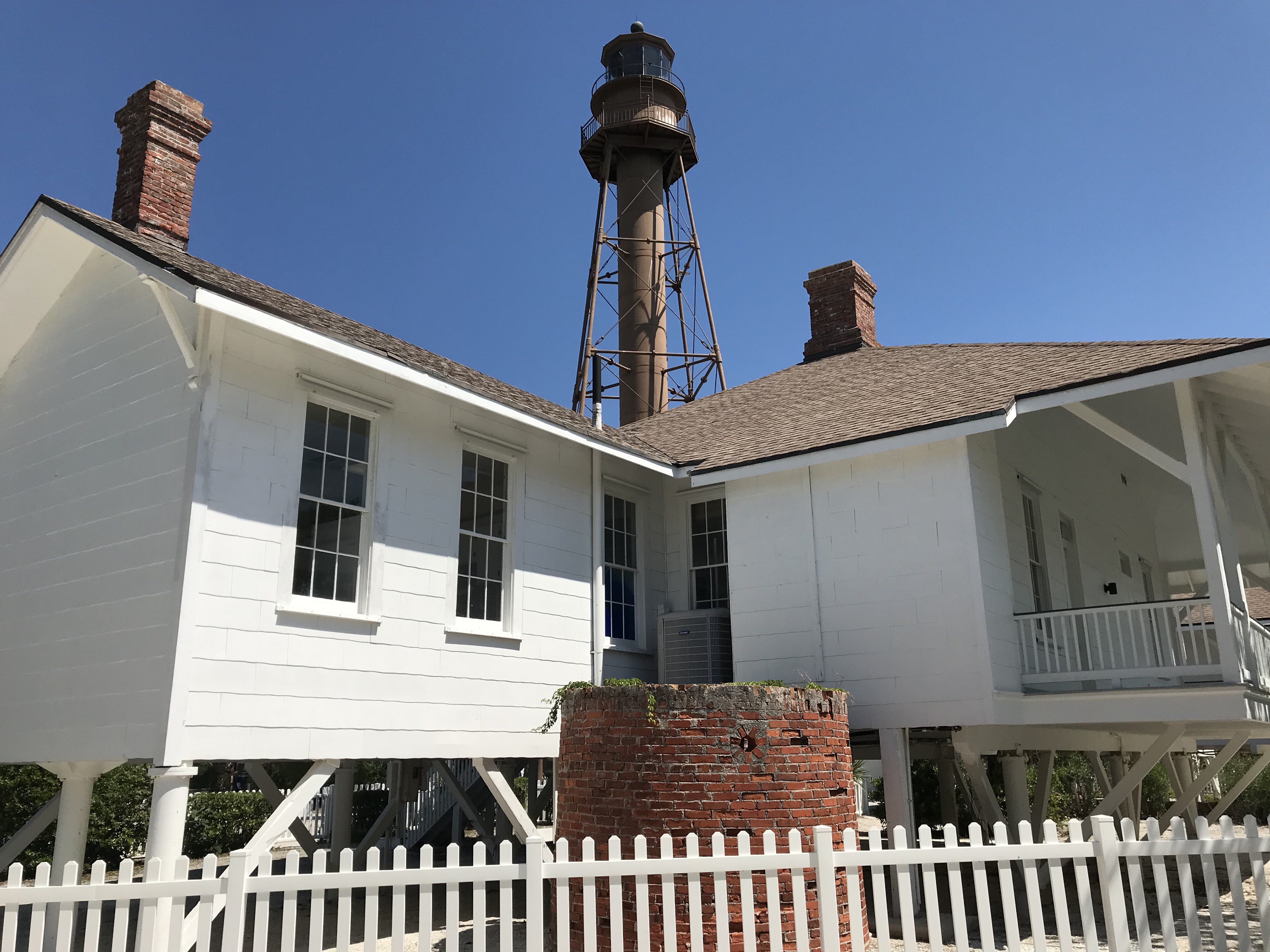 This 98-foot-tall lighthouse has a story to tell. It was built in 1884 to light San Carlos Bay going into Punta Rassa, though Sanibel residents had first petitioned for a lighthouse in 1833. The lighthouse is closed to the public but the Coast Guard still operates this structure here on Point Ybel.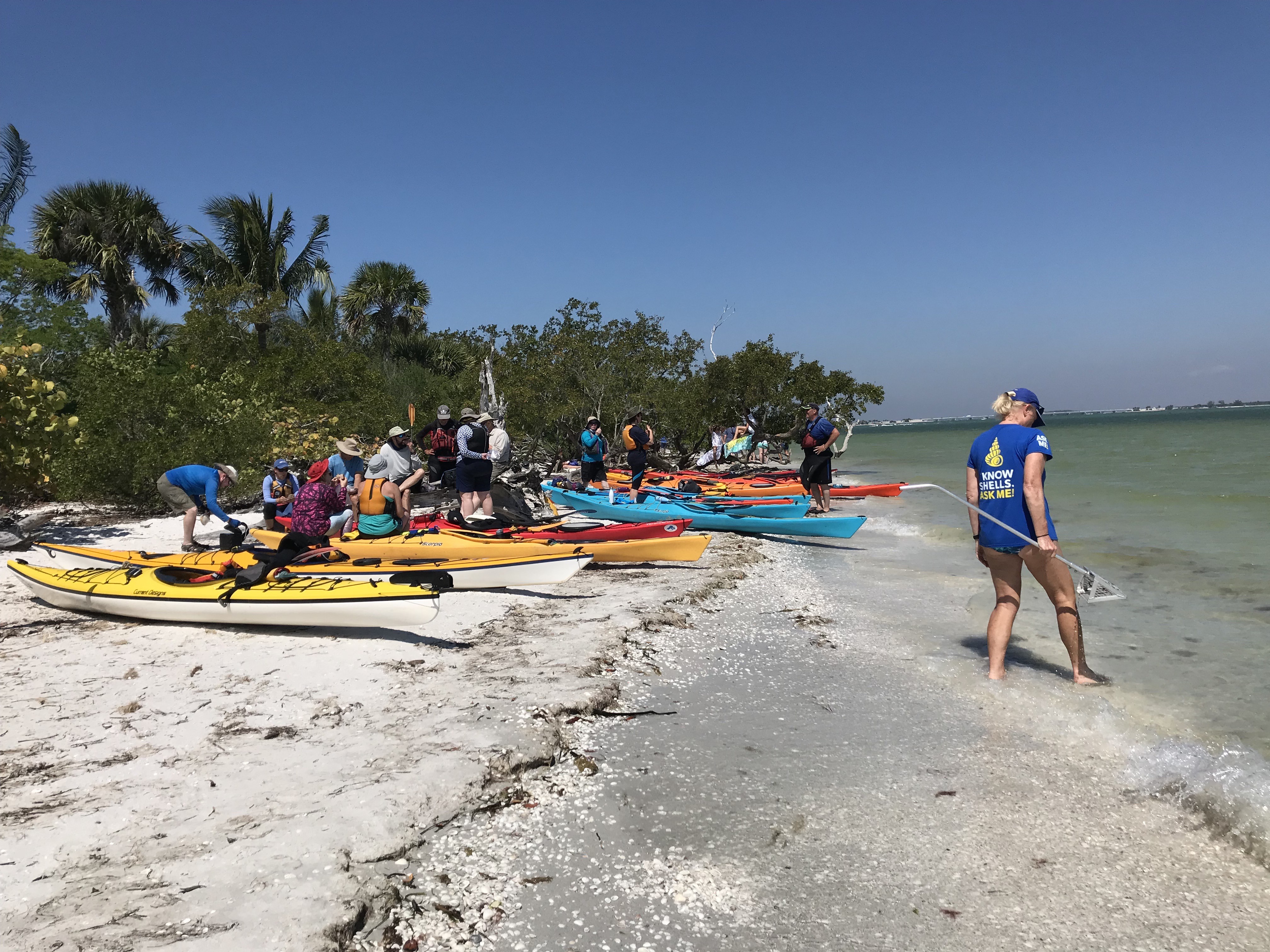 This is one of the spots on Sanibel to put in for kayaking. These kayaks are touring kayaks, which are longer and narrower than recreational kayaks. The current around Lighthouse Beach is pretty strong. Also, the shelling experience can be enhanced with a back-saving grabber-basket. Beach erosion is evident in this photo.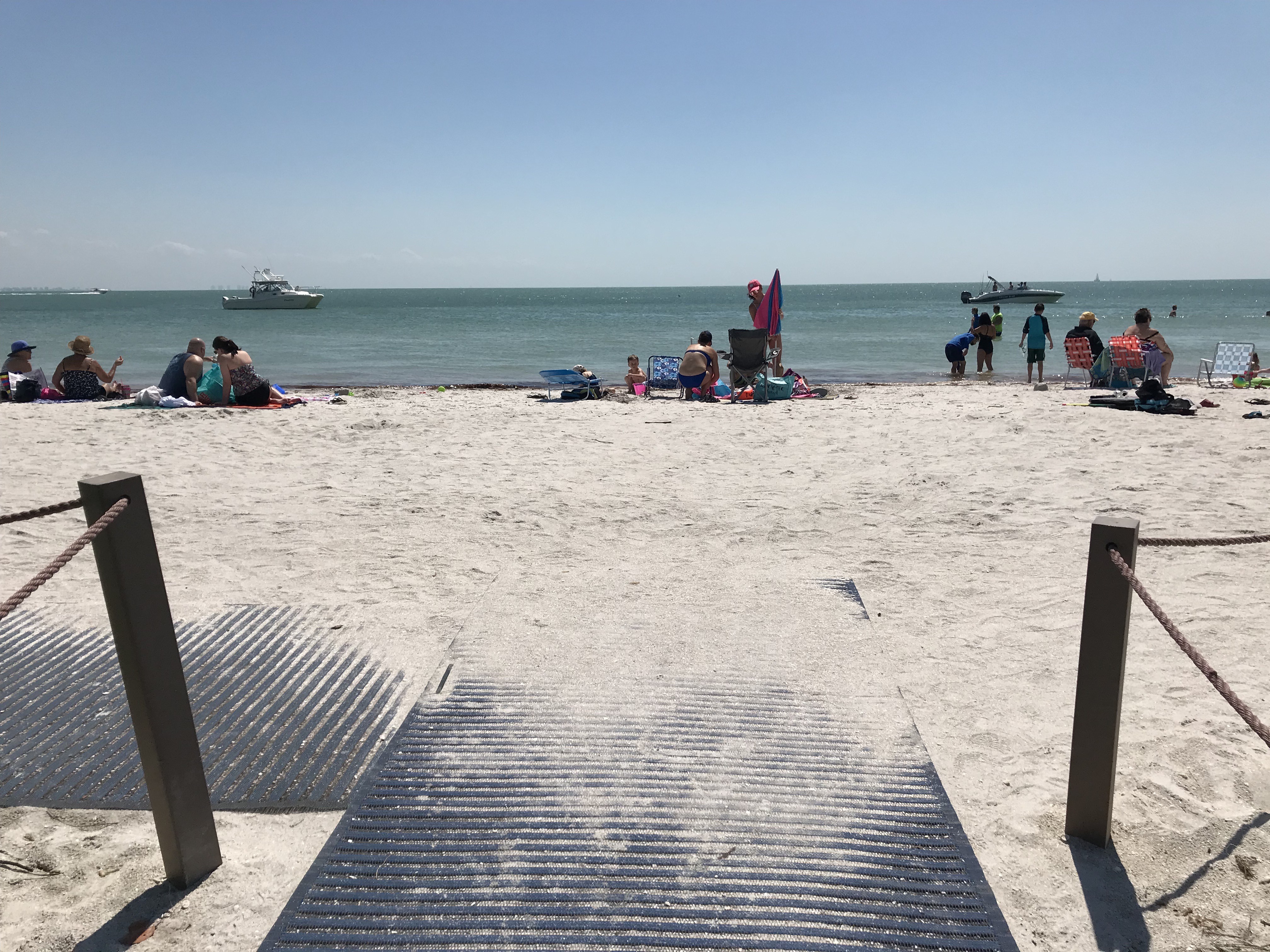 The bayside beach and the gulfside beach on Sanibel are quite different. The waves are gentler, the sand is softer, and the water is warmer on the gulfside. This visit on March 21st, 2019, saw more people on the gulfside beach too, with a daytime high of 75 degrees F. The common thinking is that Sanibel Island is named for Queen Isabella I of Spain.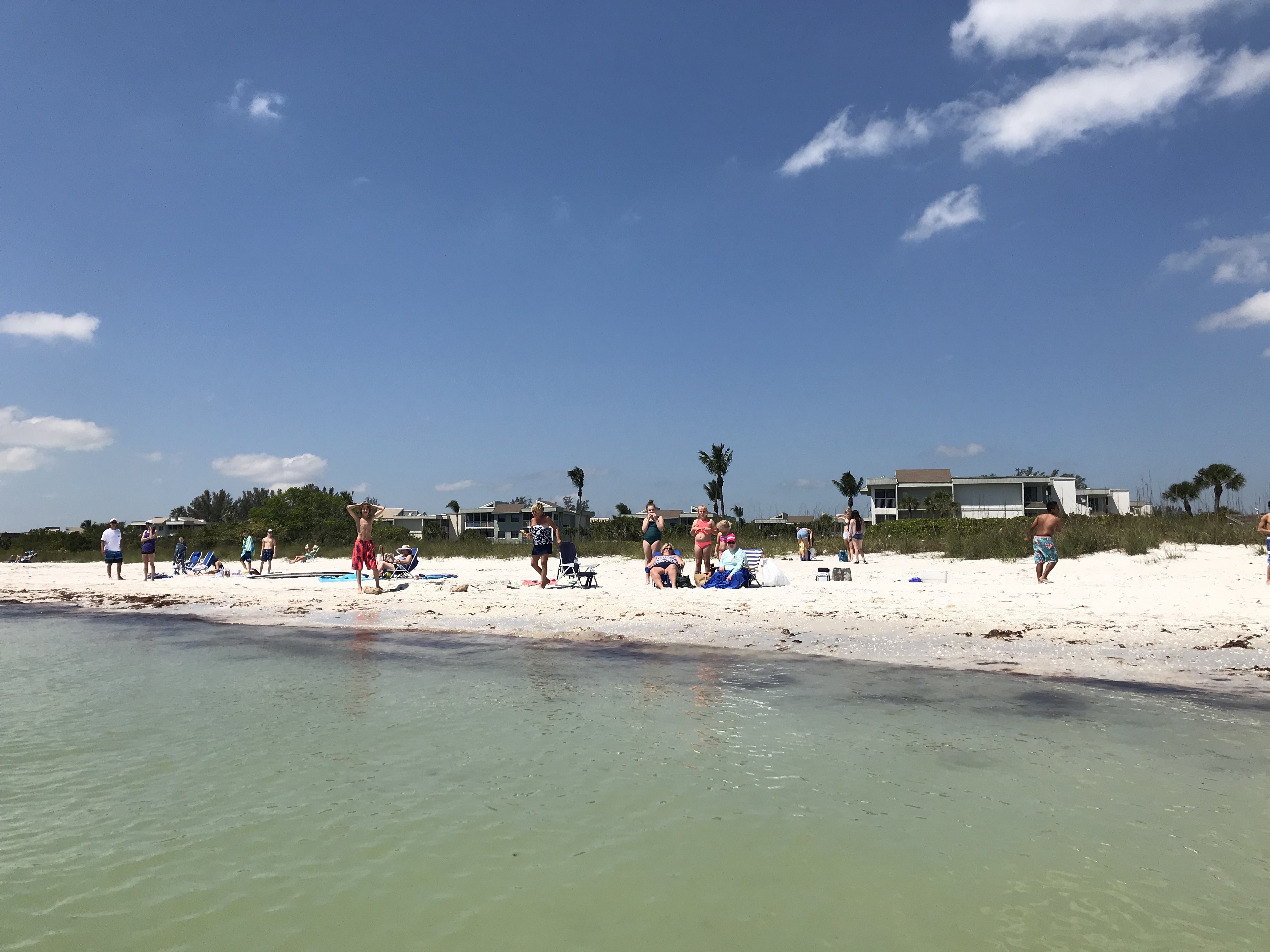 It's one p.m. and beach-goers have staked out their spots on the gulfside of Lighthouse Beach. Barefoot Beach in Bonita Springs is also a great shelling spot on the Gulf of Mexico. Barefoot has nice amenities and is only $8 to drive in. Sanibel, however, has so many beaches that can be visited with a Sanibel parking coupon. Next-door Captiva Island, however, requires its own parking coupon.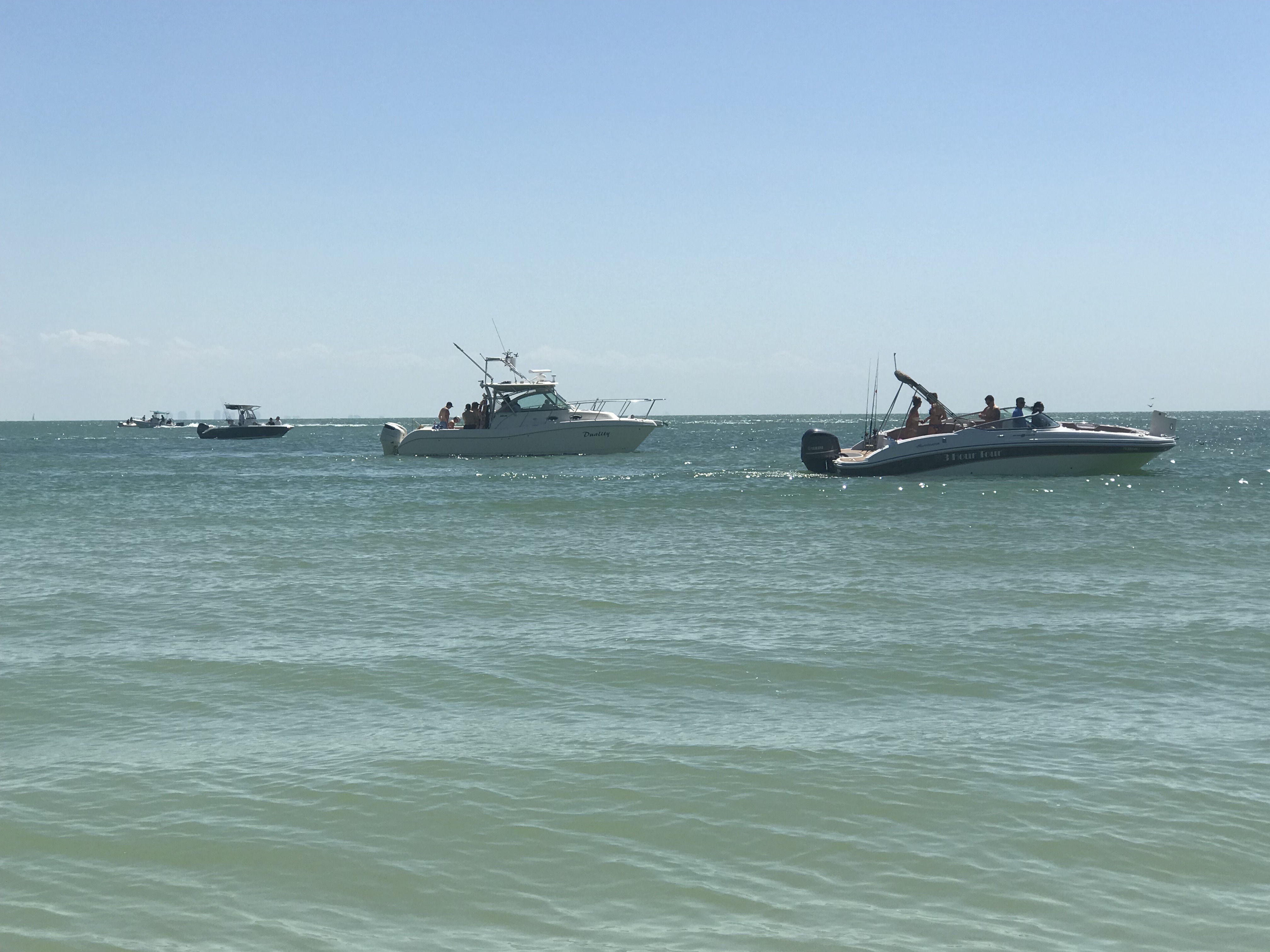 There were about as many boats off shore at Sanibel as there were people on shore. A lot of folks in this regatta of sorts dropped anchor to fish for an hour or so. Snapper, drum, and grouper are the top fish here. (Walleye is big in the Great Lakes.)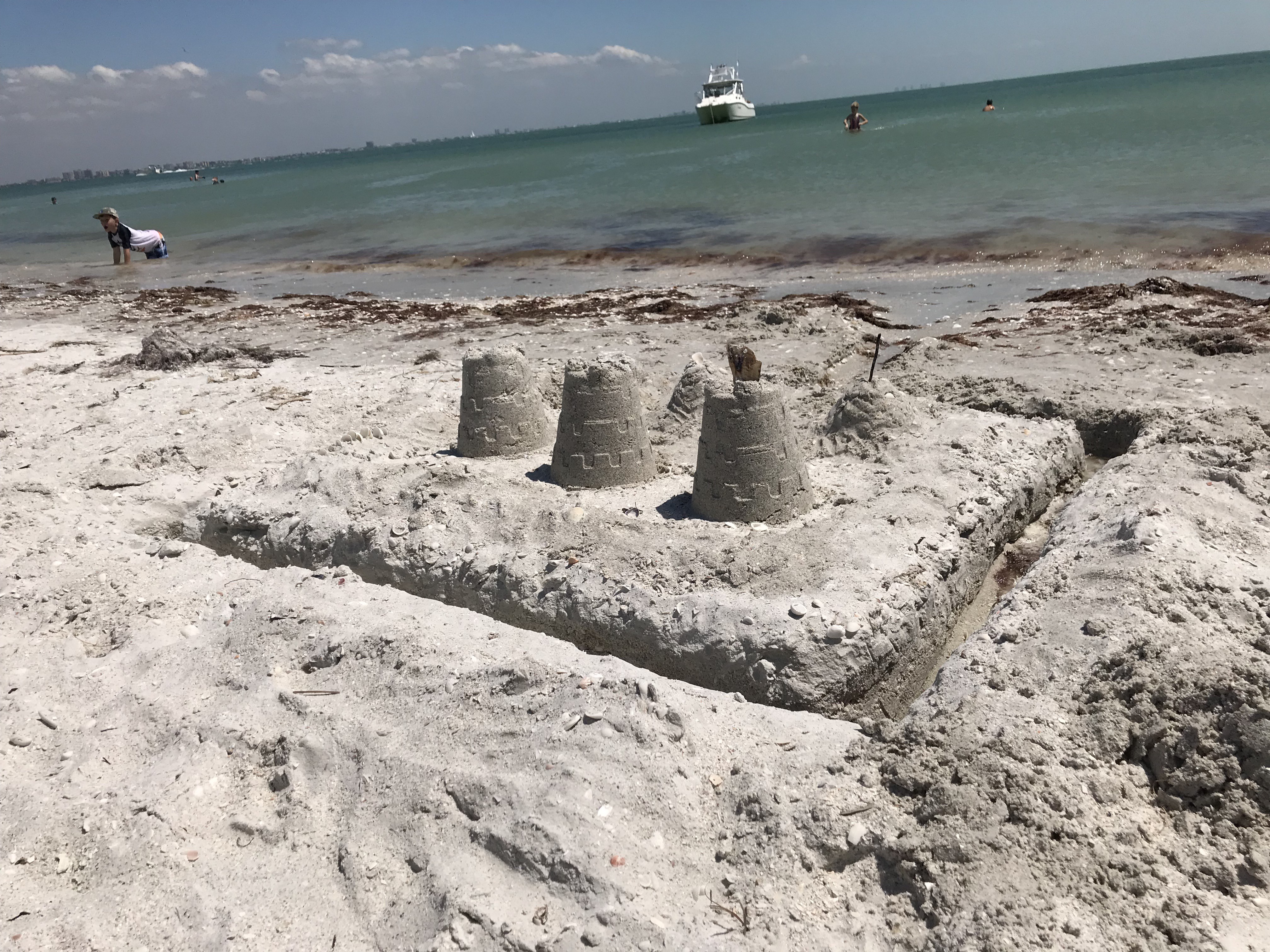 Not everyone was offshore, fishing from the stern of a sea-going vessel. Some folks, the young and young at heart, and others in-between, spent the afternoon making sandcastles. The sand here is soft and fine, perfect for sculptures of various shapes and sizes.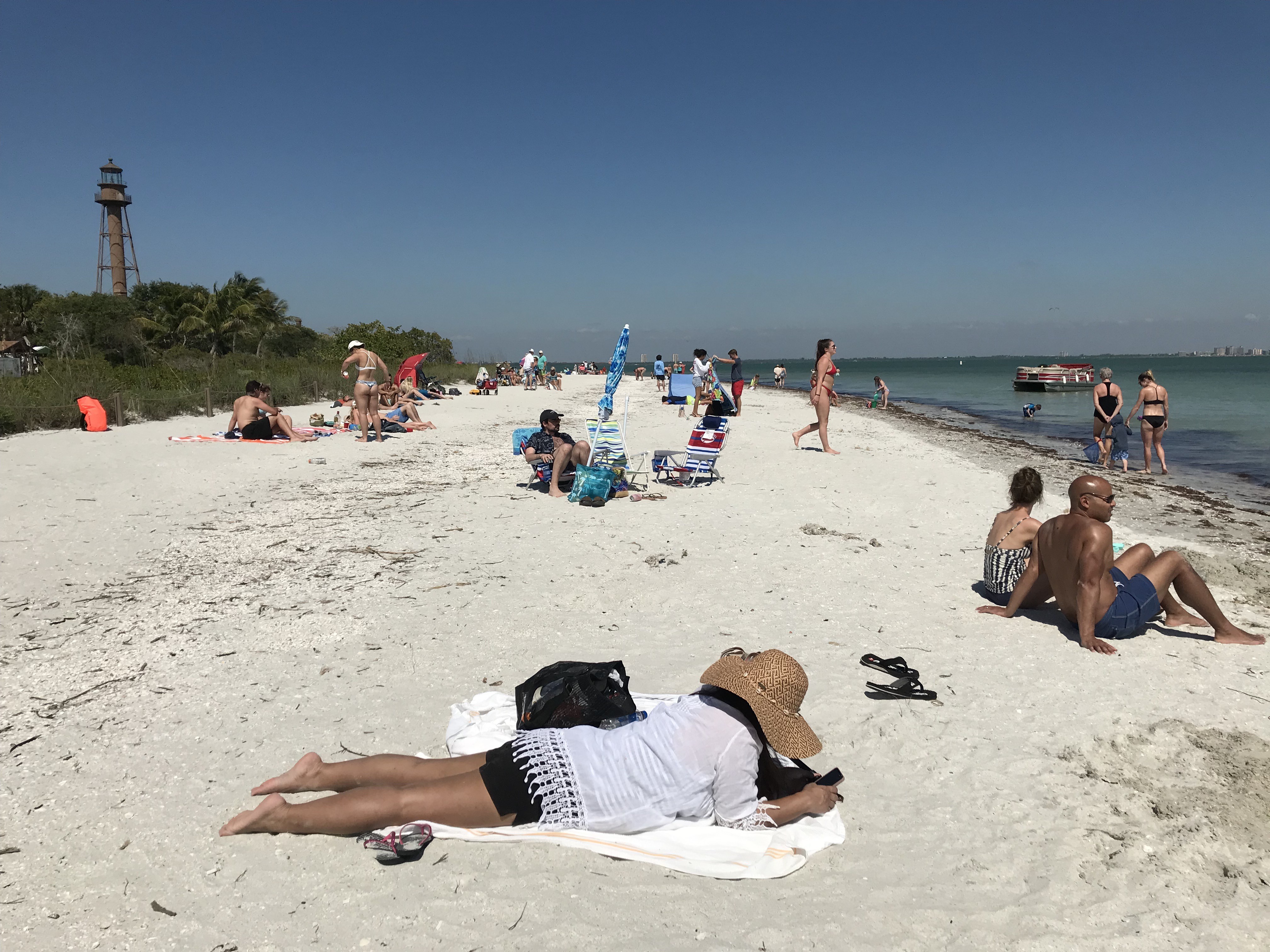 It's quarter after three p.m. and the gulfside beach is as full as it's going to get today. (The bayside beach near the pier isn't as full, but it's very windy.) Some of these folks spent time strolling around the lighthouse earlier, as it is on the National Register of Historic Places.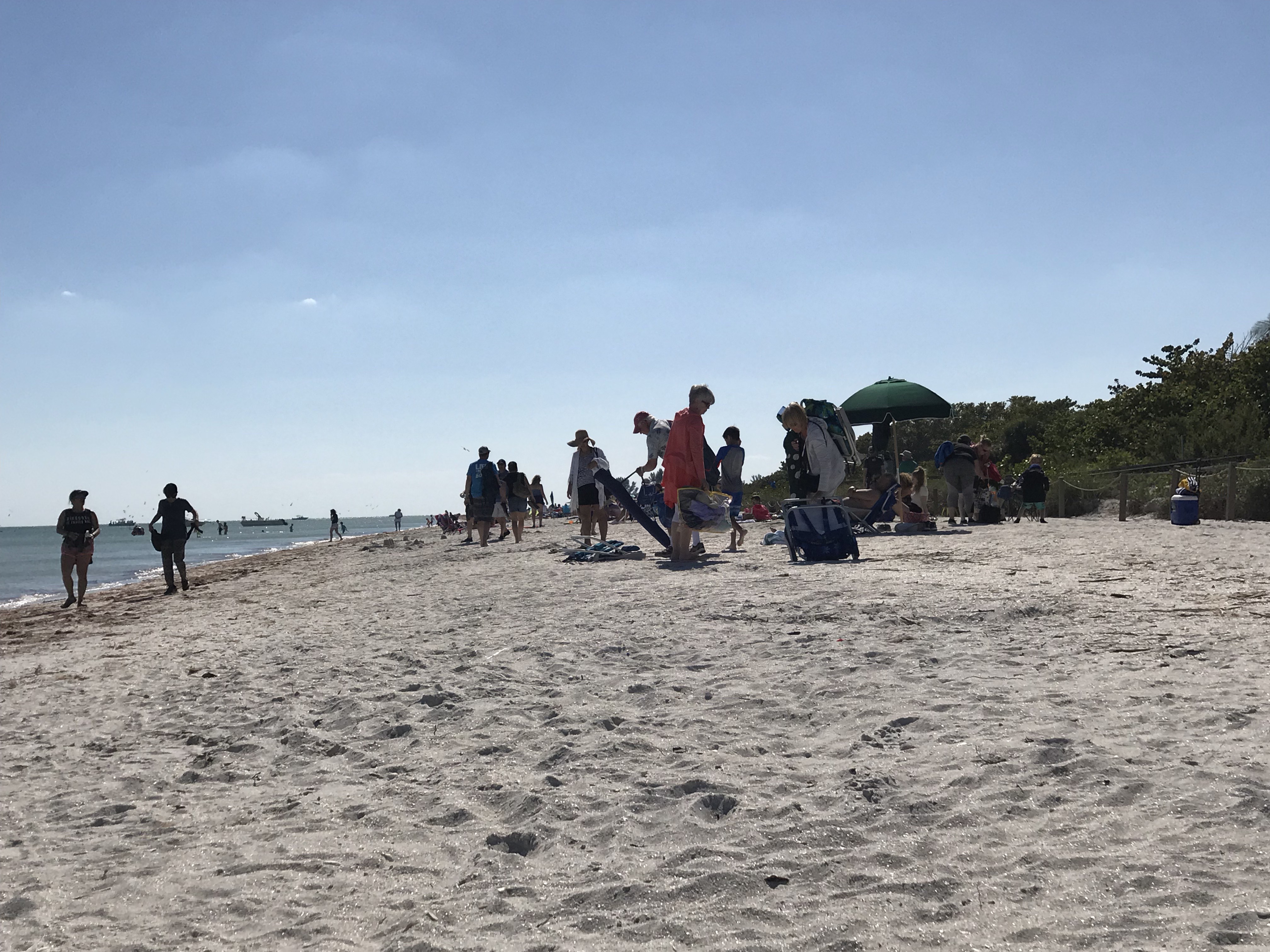 It's past 4 o'clock and people are packing up. There is no food vending on this beach like there is on Bonita Spring's Barefoot Beach but there is a cafe and an ice cream parlor on Periwinkle Way. There are only two quick-food franchises on all of Sanibel: Subway and Dairy Queen.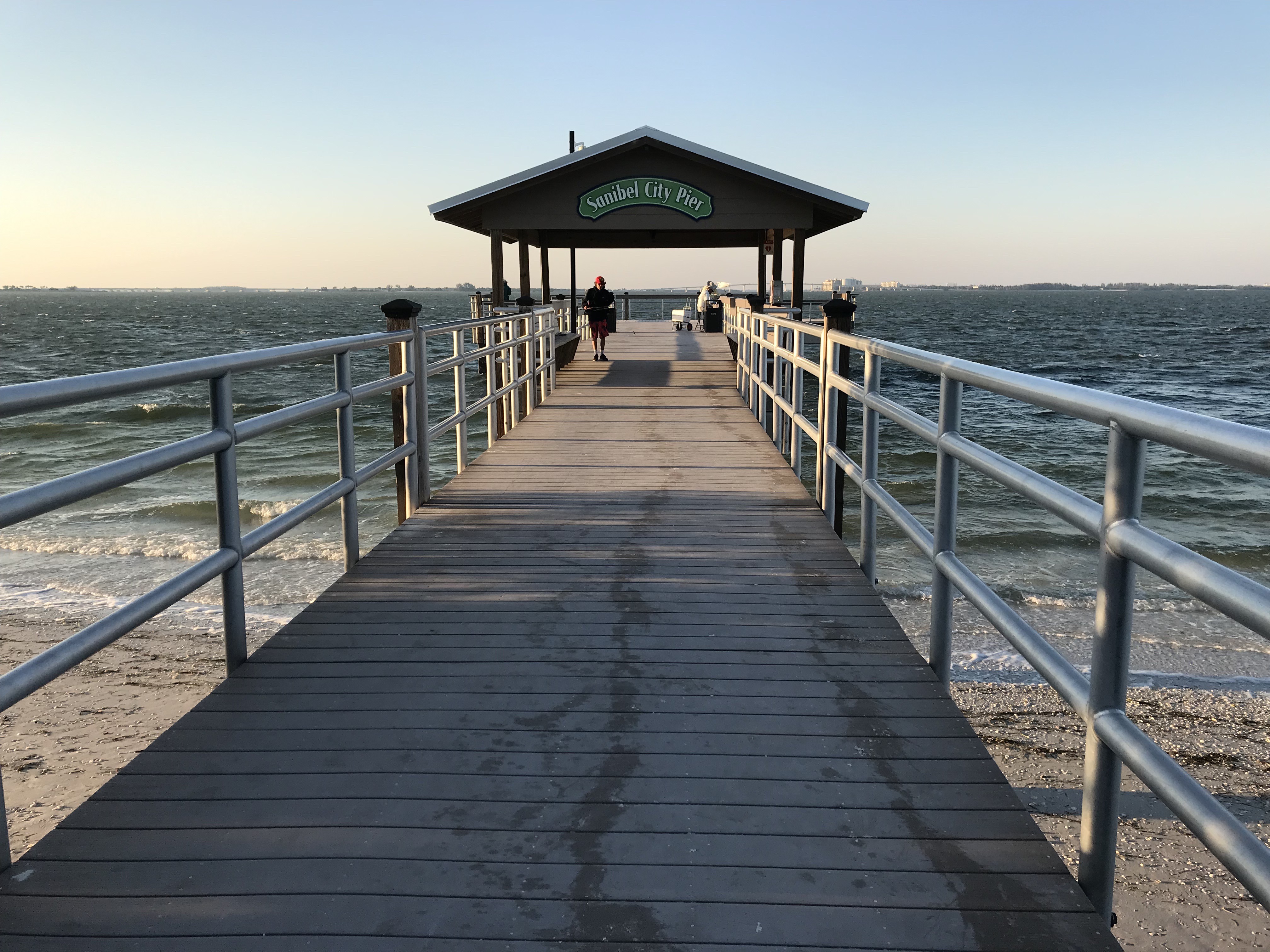 As part of its 2016 makeover, Sanibel's pier got new handrails, decking, and fish cleaning areas. (The underlying concrete was just fine.) The covered area was also expanded and there is an AED. It's after seven p.m. now, and people are coming back to catch a few fish and also catch the sunset.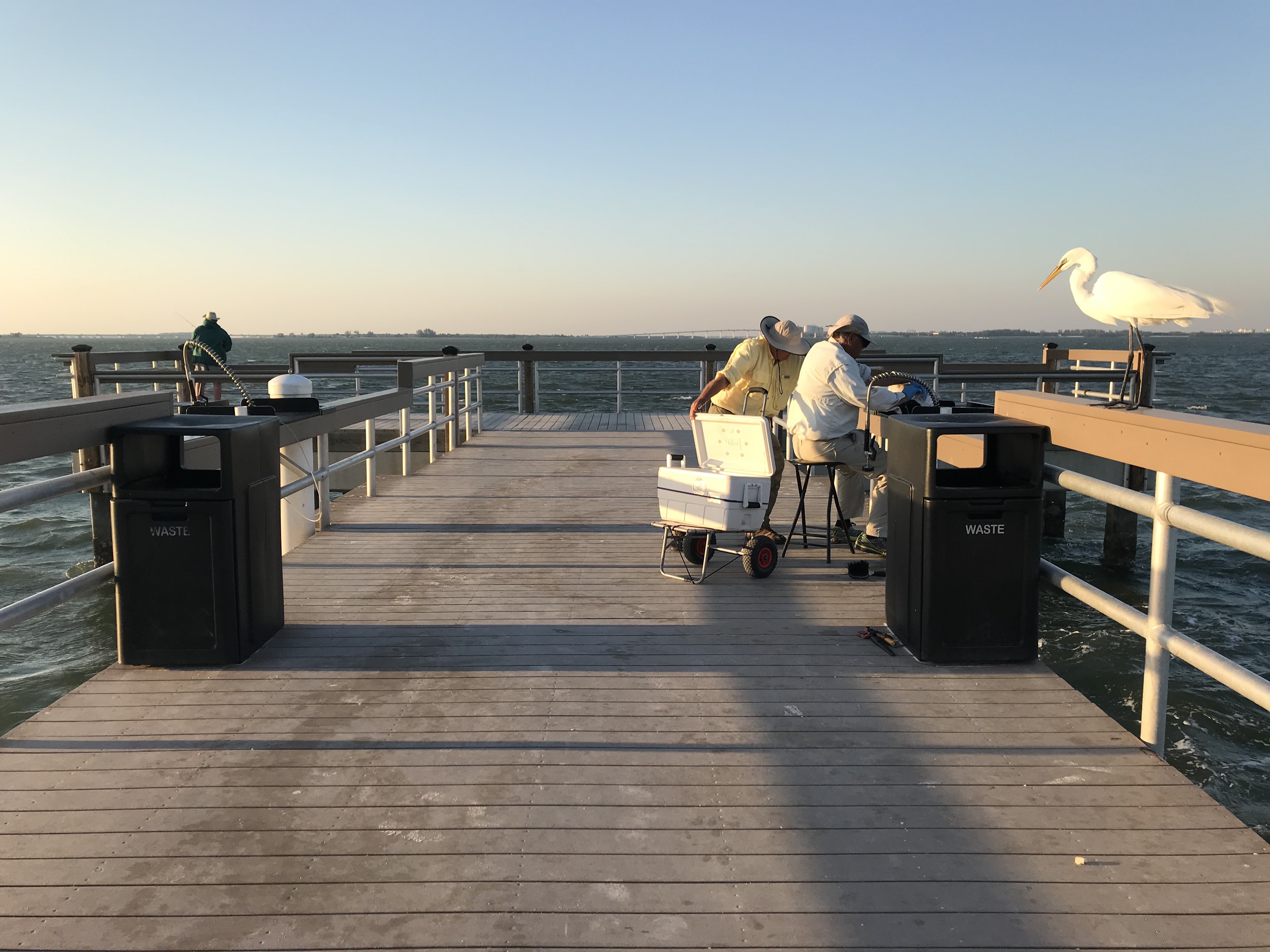 There are two fish cleaning stations on Sanibel's pier and both have a sprayer and waste receptacle. This Great White Heron, though, is going to make sure these two fishermen don't let anything go to waste. The fish below were quite active at this hour.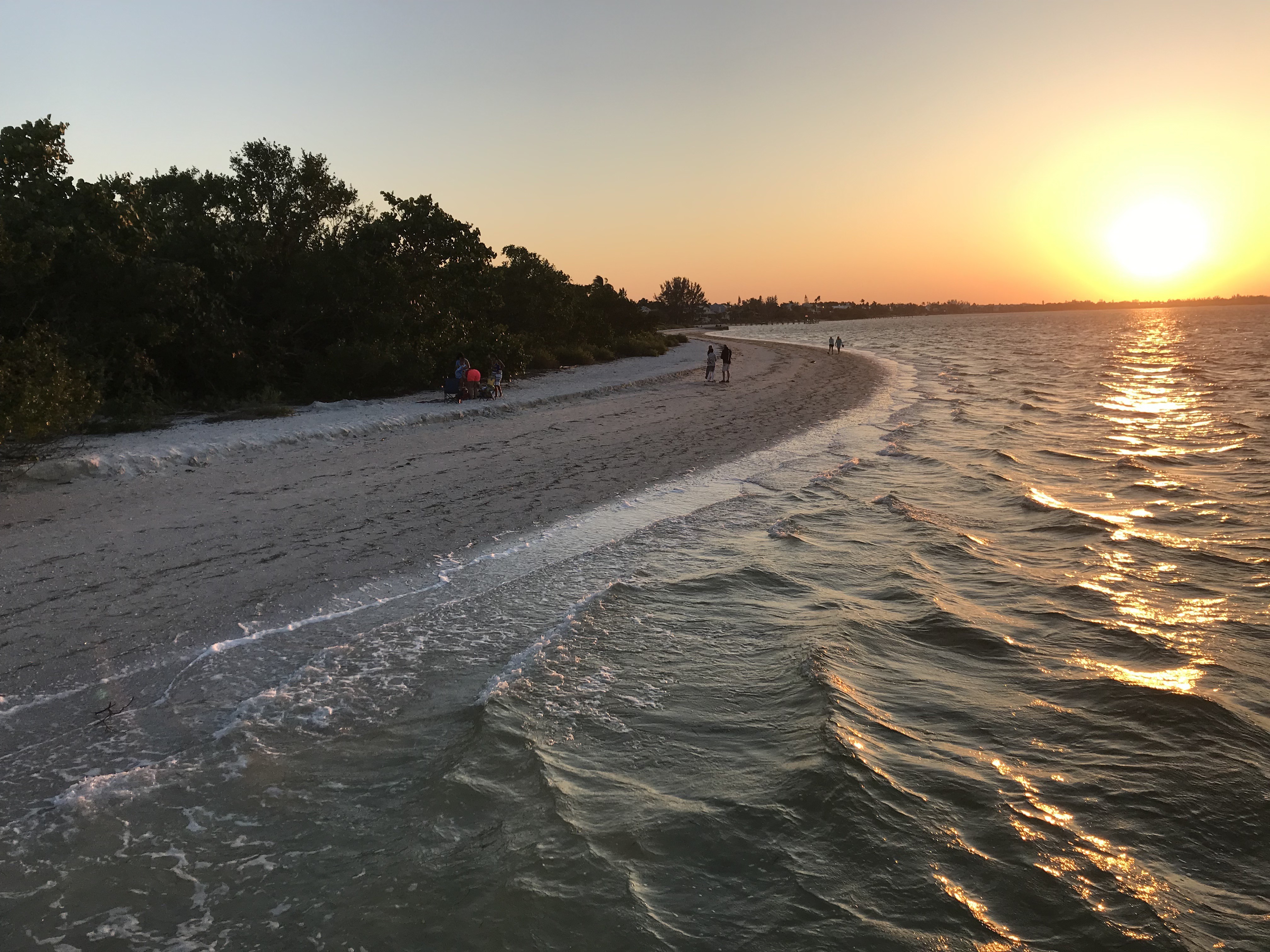 The day on Sanibel's Lighthouse Beach is ending and a few hardy souls are settling in to watch the sun go down over San Carlos Bay. To the west of that spit of land is Tarpon Bay. What's next for tomorrow? Captiva Island is just up the road, with its own beaches.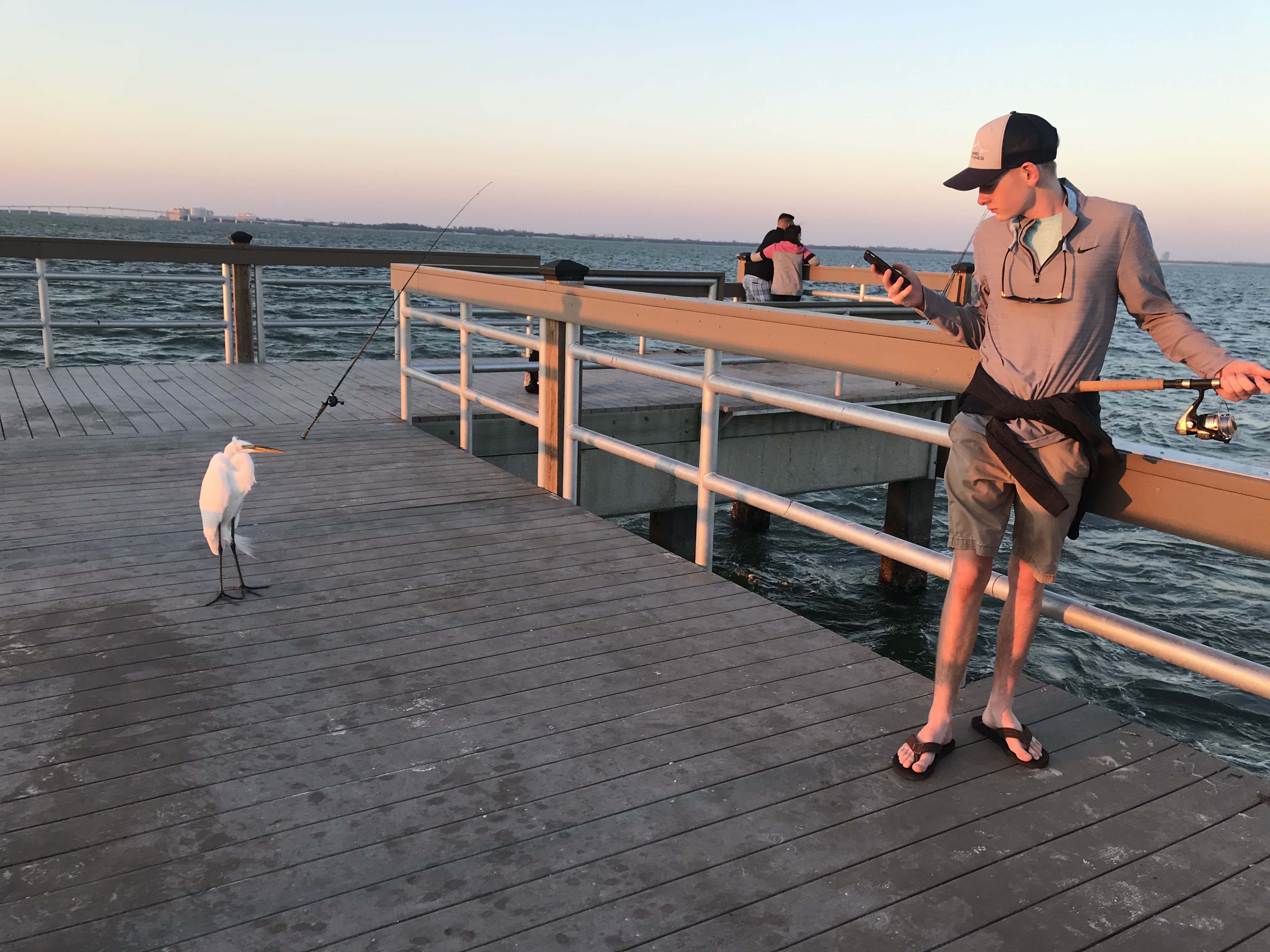 Here's looking at you, kid. This Great White Heron is probably a regular at the Sanibel City Pier. It is a breeding adult bird due to the plumage and the dark legs. It is seen only in peninsular Florida.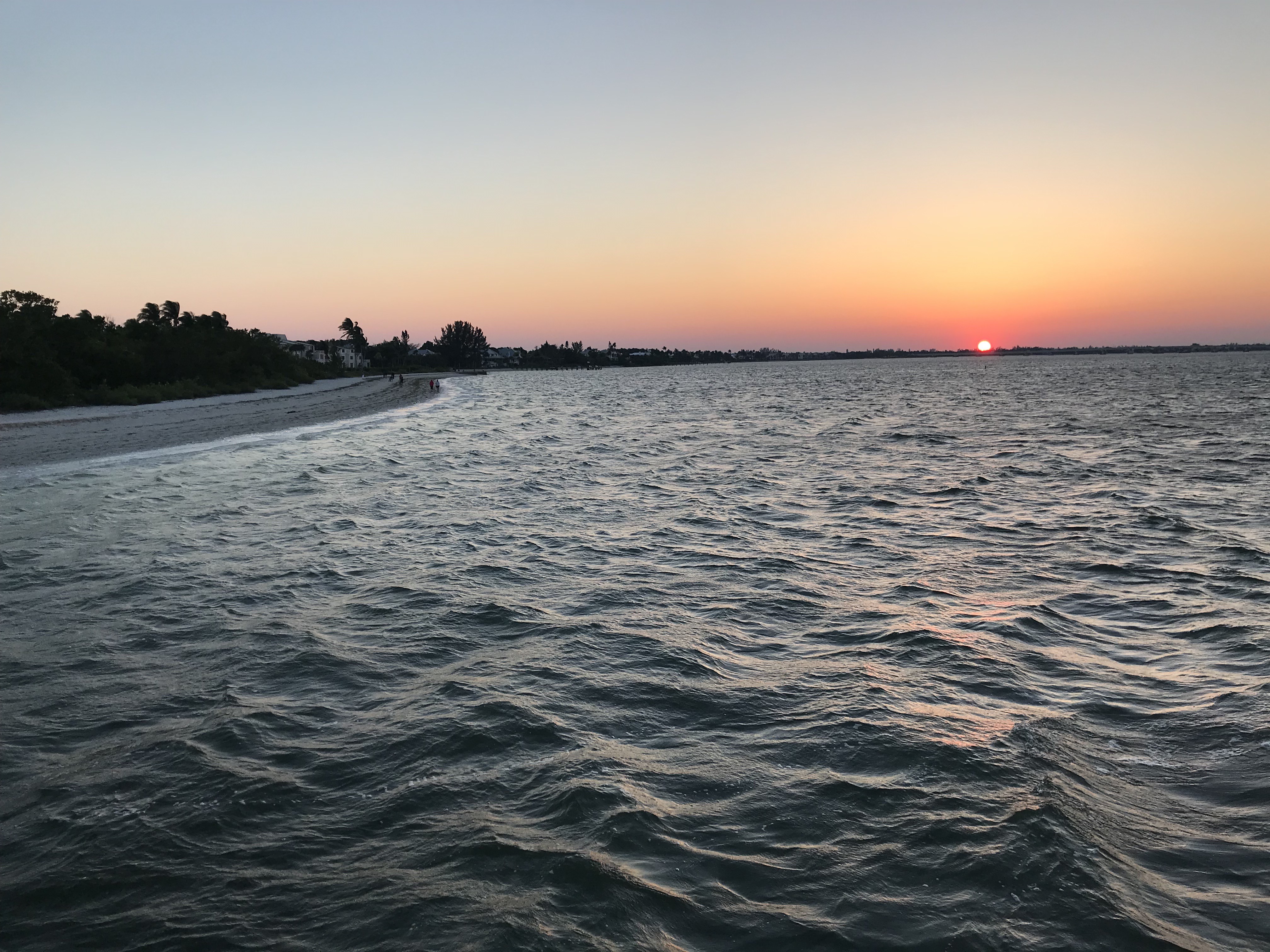 Another day on Sanibel Island has come to an end. Sunset has just occurred at 7:37 p.m. The light is fading and people are heading back to their condos and motels. Tomorrow will be another day for another beach adventure.