Sunsplash Park & Starlite Diner
Sunsplash Park is three and a half acres of fun located at South Atlantic Avenue and Revilo Boulevard in Daytona Beach, Florida. This park has an interactive water fountain, in season, with a shaded playground, picnic tables, restrooms, outdoor showers, two beach access ramps and 95 off-beach parking spaces. In short, this is the place to go.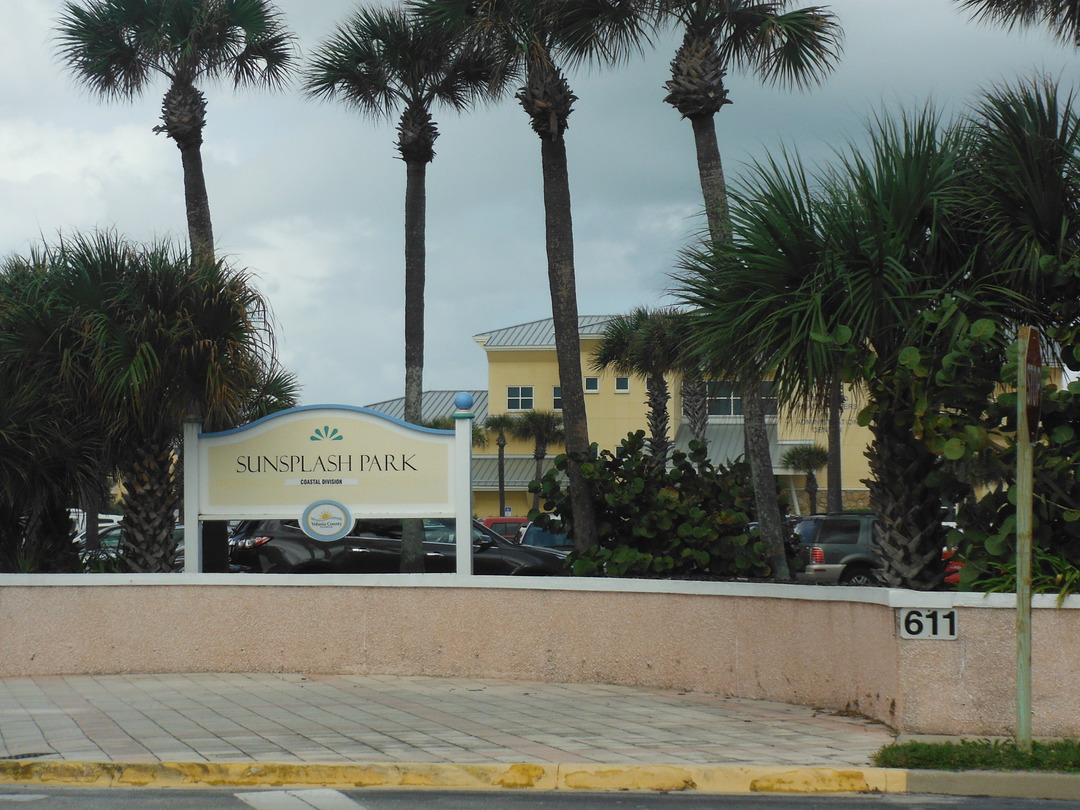 Sunsplash Park is located at 611 South Atlantic Avenue and its easy to get to either in a car or on foot from one of the nearby hotels. Drive right onto the beach. Admission to the park itself is free. Sunsplash is open from sunrise to sunset, and is a wonderful place to spend a long afternoon.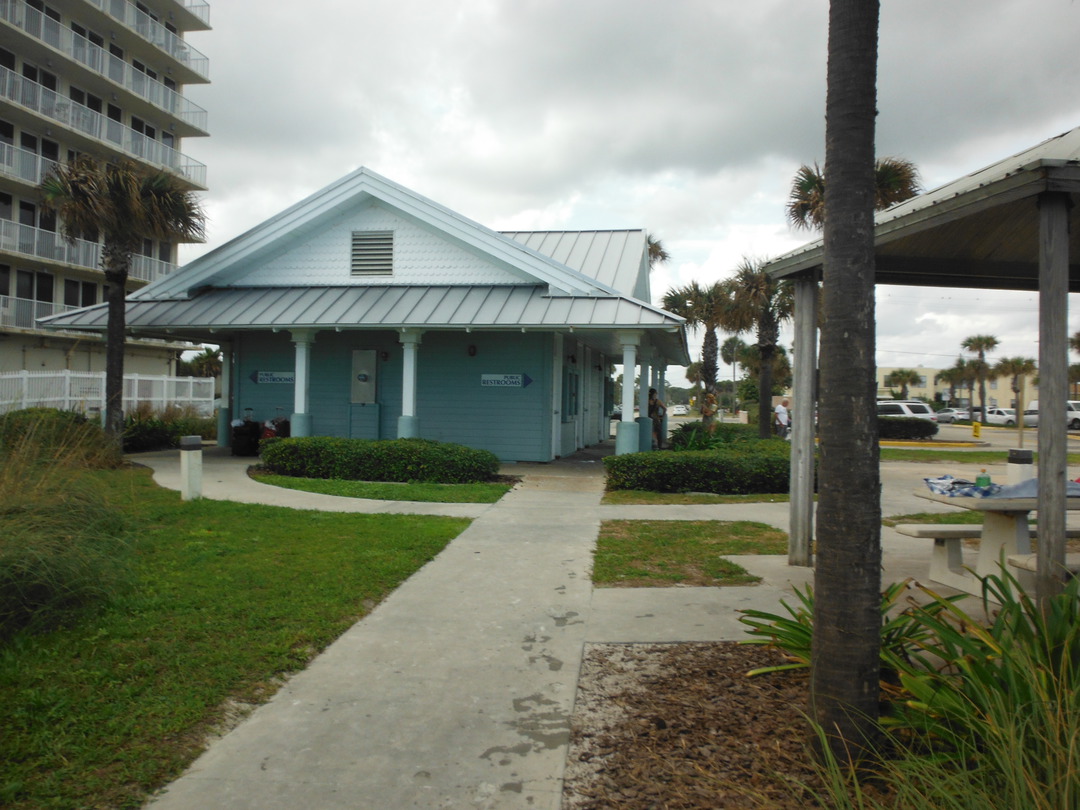 The amenities here are good for a free, public park. To the right of this image are reservable picnic shelters; to the left out-of-view are footbaths. Just a few steps from here, however, is the mighty Atlantic Ocean. Though it threatened to rain, the temps were quite warm for late December.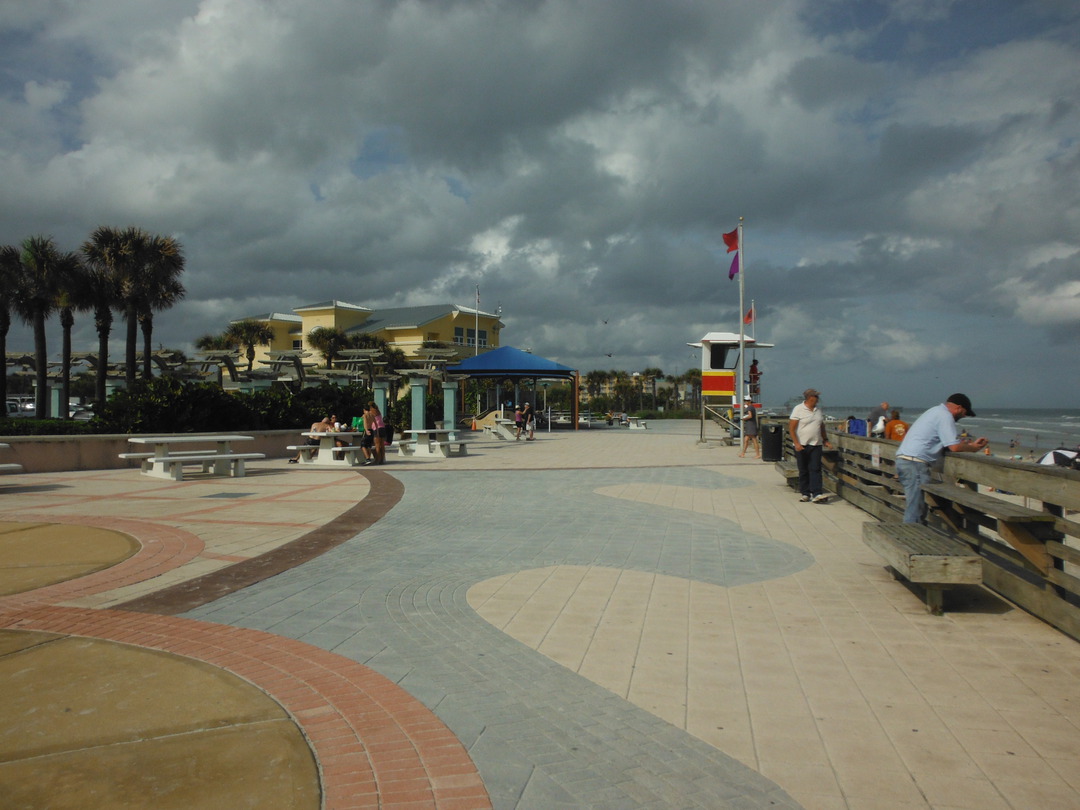 This is the promenade where it's fun just to sit on a bench and watch the surf or have a sunny picnic lunch. Fishing is also permitted here at Sunsplash. The large yellow building in the distance is the Volusia County Lifeguard headquarters. Volusia County has a junior lifeguard program.

A lifeguard is on-duty at Sunsplash Park for most of the day, which on this date was December 30th, 2015. The lifeguard hut is a mini-weather station, as the lifeguard posts any relevant information regarding the weather, the currents, and jellyfish. To the right of the lifeguard hut is one of the two beach access ramps.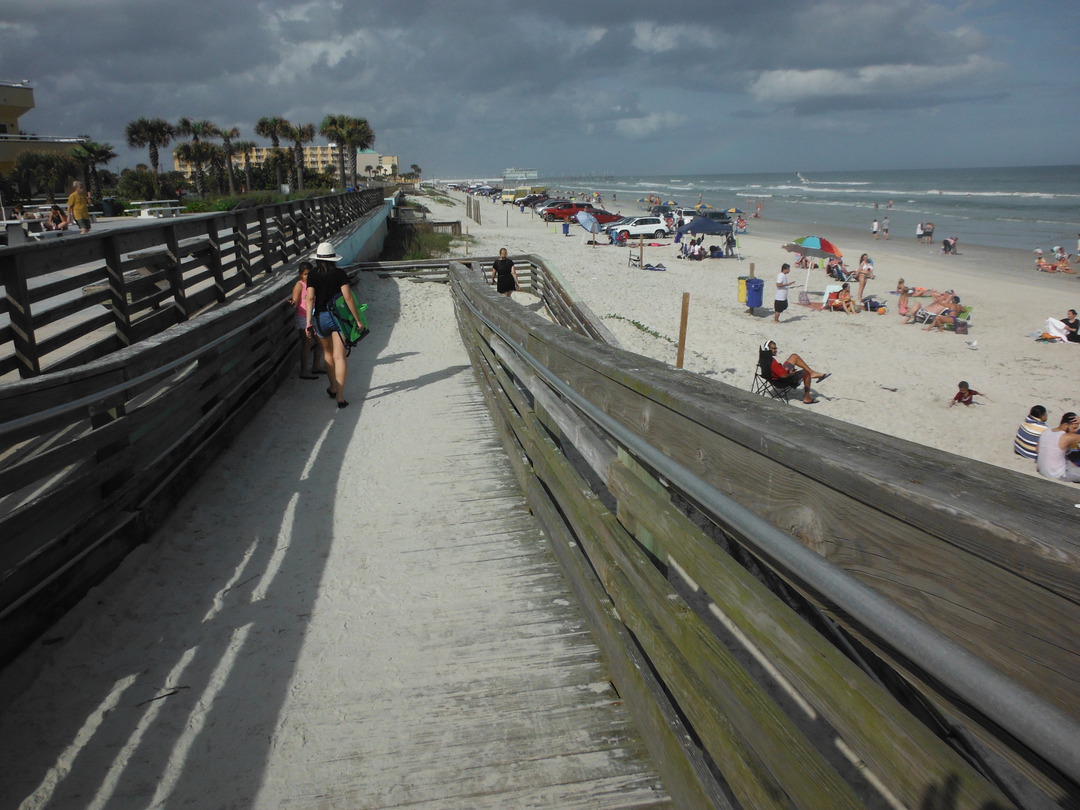 The beach access ramp leads beach-goers right down to the beach. This is a very easy park to enjoy as it has trash receptacles in which to dispose of the day's picnic lunch and the afternoon's snacks. In general, Sunsplash Park is a very well maintained facility for all ages.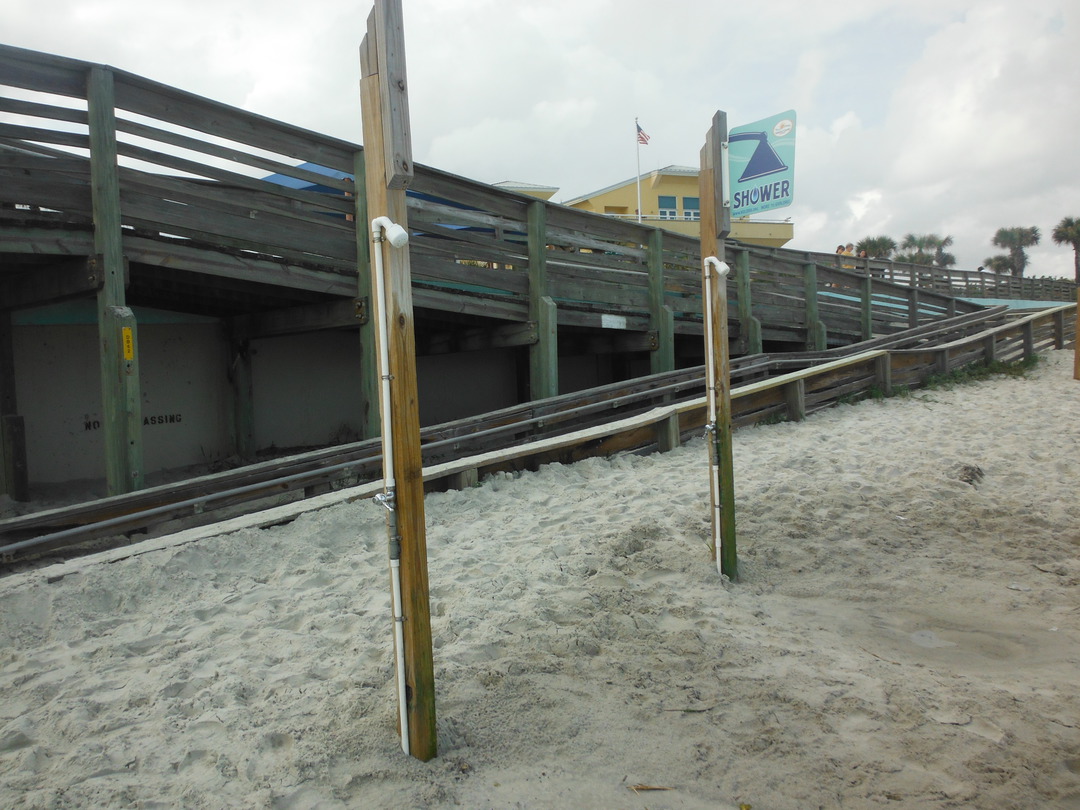 Sunsplash Park is sandwiched between many hotels on South Atlantic Avenue in all price ranges; though the priciest hotels seem to be clustered toward the Boardwalk further north. There are a few knick-knack shacks and pizza stands nearby, but there are no vendors close to the shoreline.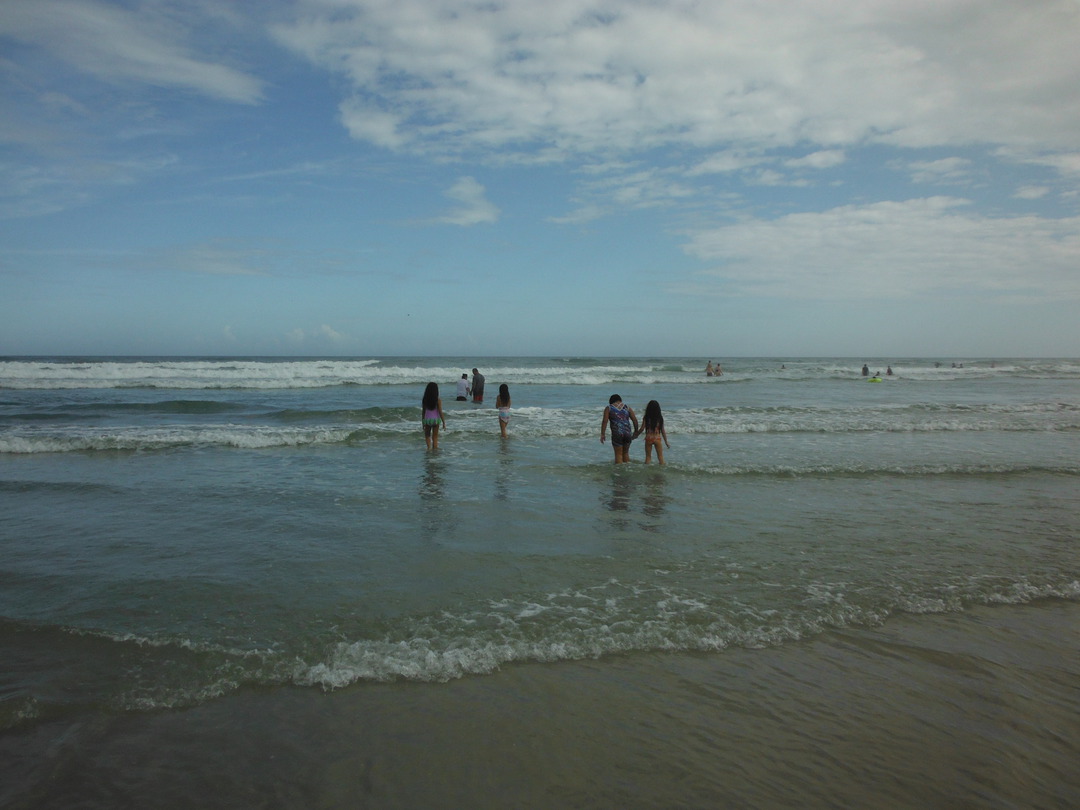 Here it is . . . the Atlantic ocean at Christmastime. Though no jellyfish were observed at Sunsplash, the lifeguard seemed to think they were enough of a concern to post a warning at her guard hut. The lifeguard also indicated that currents at that time were strong and beach-goers needed to be cautious.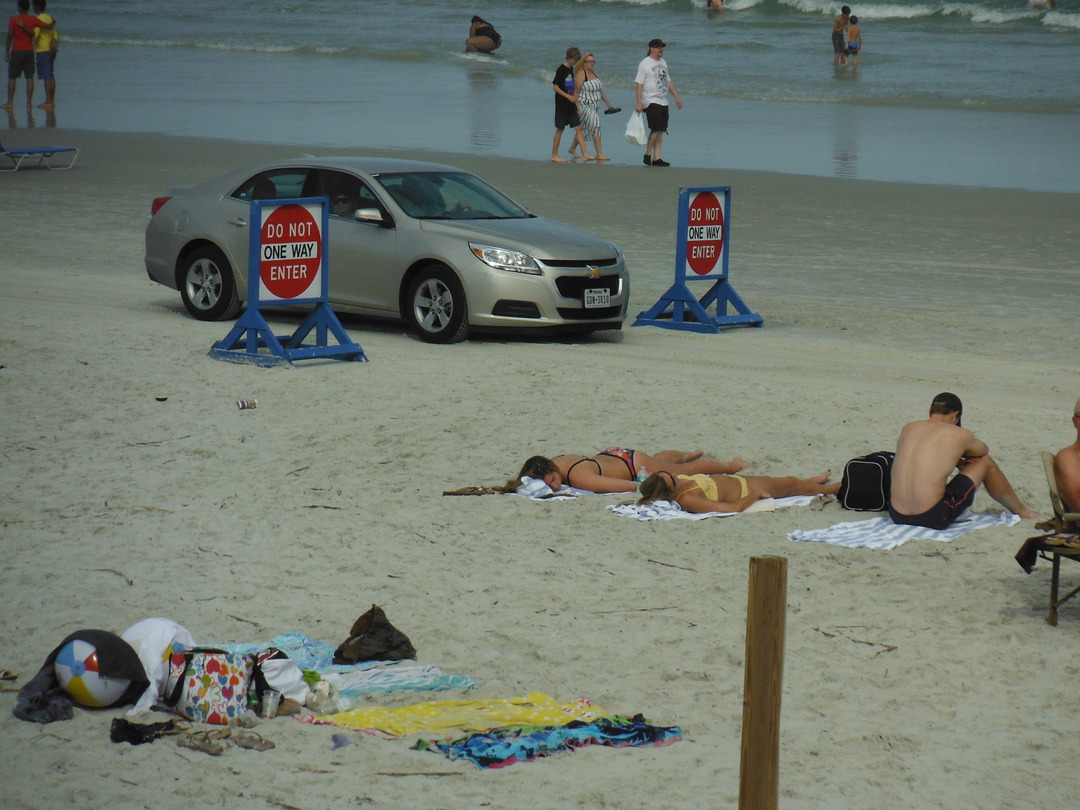 Because of the hard-packed sand, Daytona Beach is perfect for driving. In fact, Daytona speed trials were held right here until the mid-1950s, clocking in at around 100 mph on the fine white sand. Nowadays, the speed limit on the beach is 10 mph. No texting while driving, please.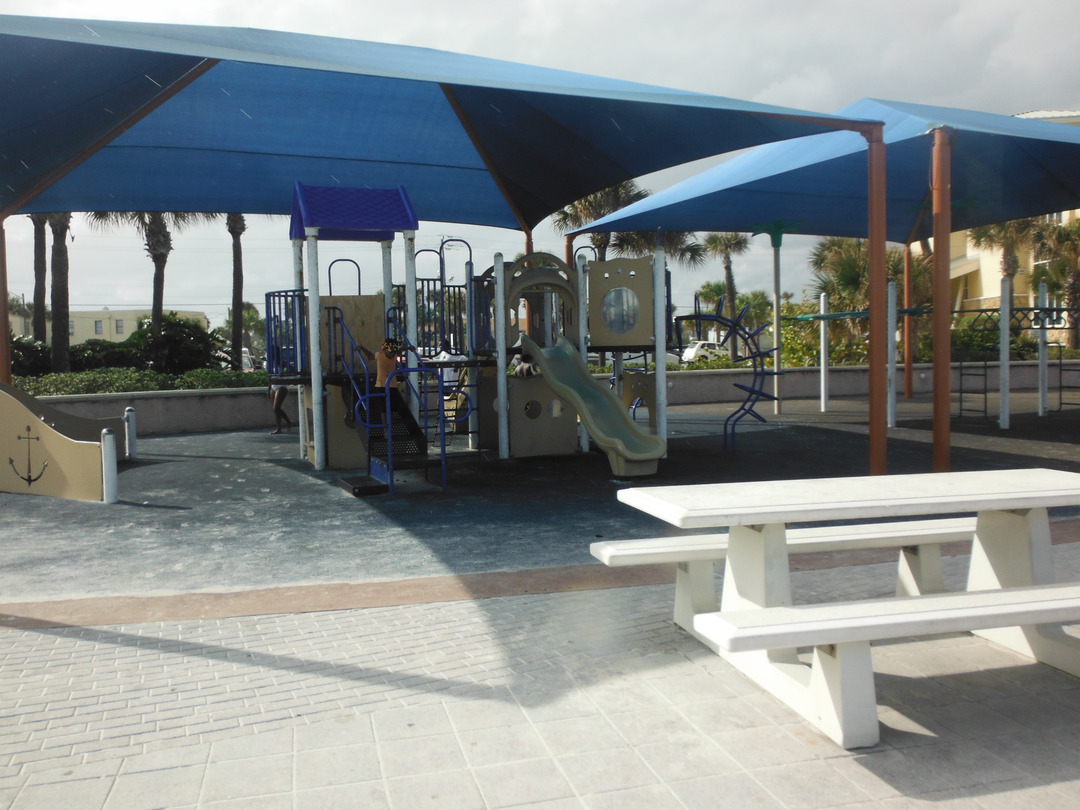 This shaded playground is a great place to enjoy Sunsplash without the sand. This playground is for supervised children between the ages of 5 and 12. There is a Coca-Cola vending area just to the right of this playground, but it is only open in-season.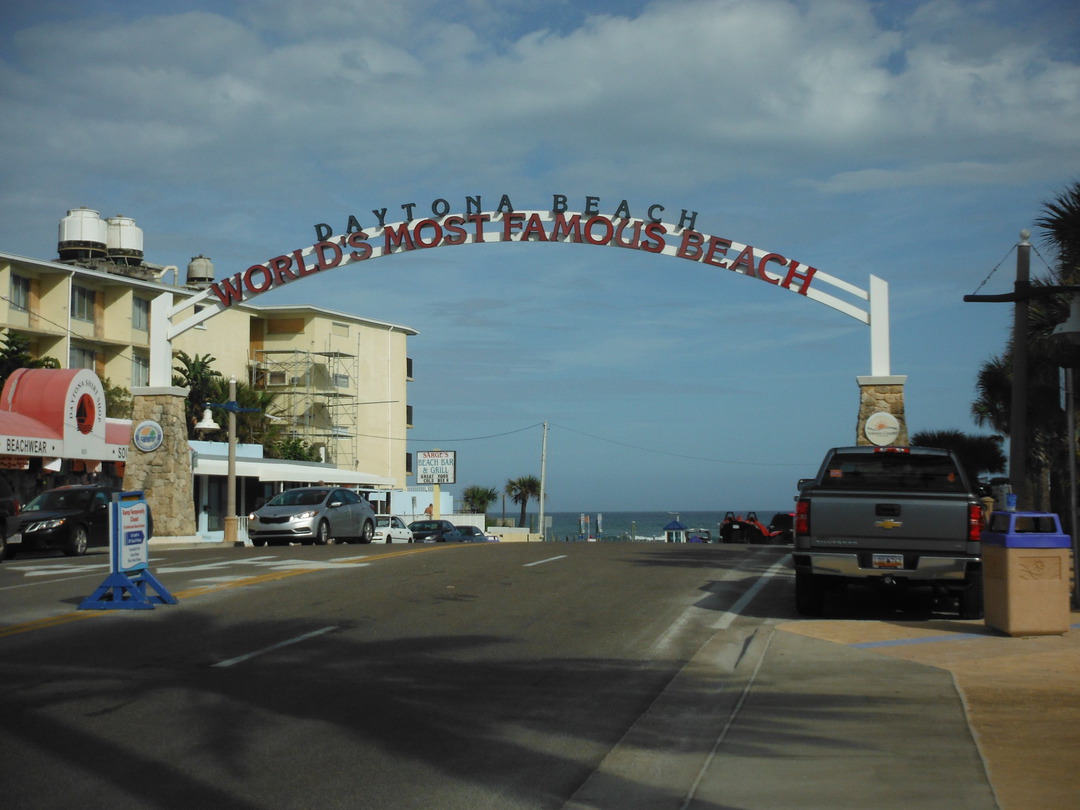 Just a couple of blocks north of Sunsplash Park is a beach ramp for cars. There is a small fee of $10 plus a few rules. Regardless, it is the best way to get sunbrellas, coolers, and blankets down to the shore . . . and get it all back home by sunset.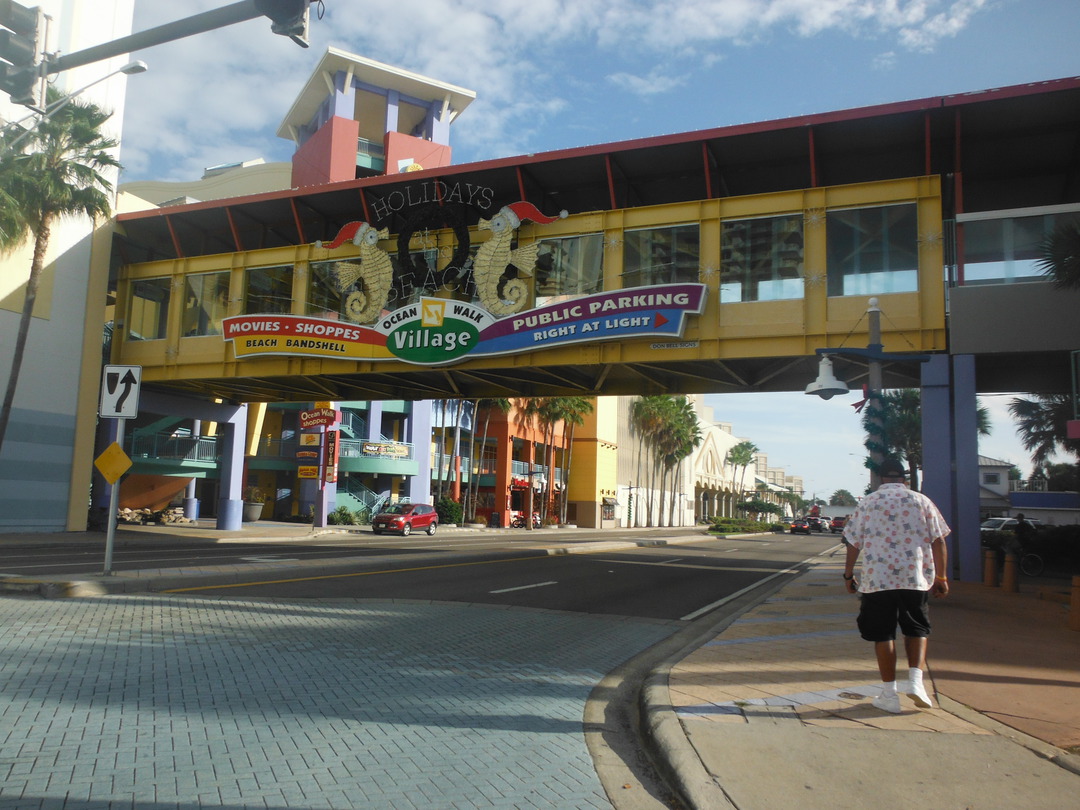 Just past this skywalk are waterfront restaurants like Bubba Gump's and Johnny Rockets. There's also a movie theater and a few higher-end shops. There is also a hidden gem up this way too, its hearty fare bathed in cool neon and hot off the grill.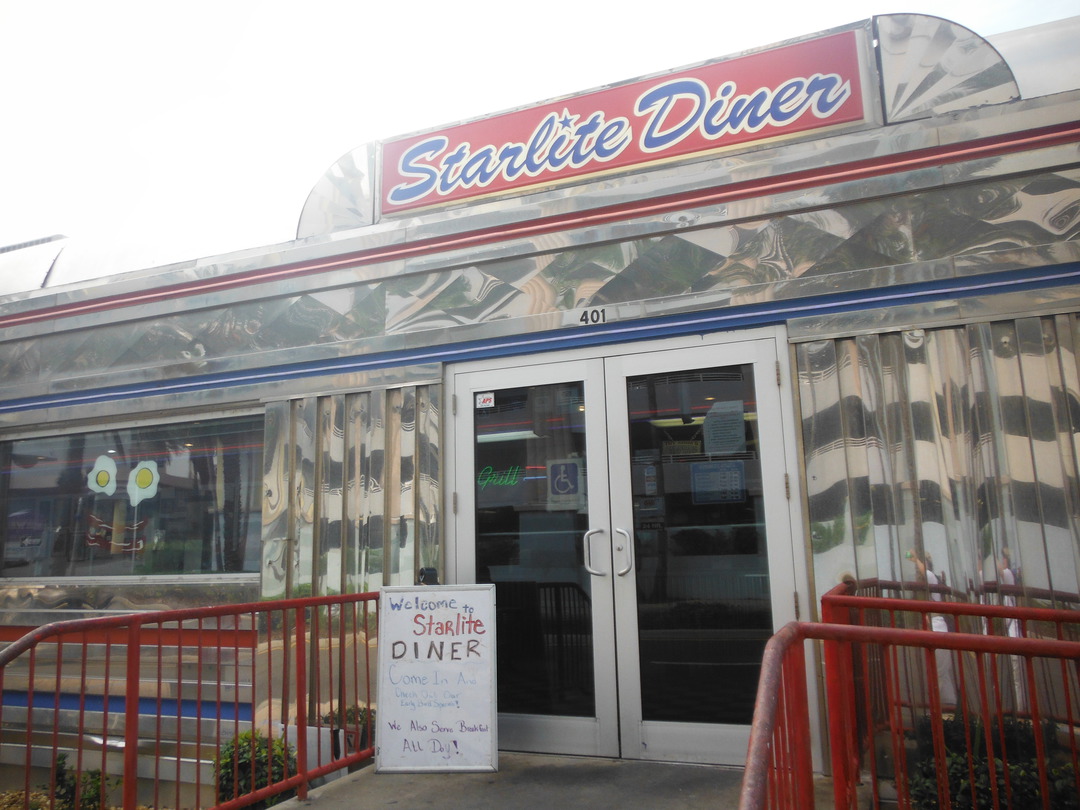 The Starlite Diner has been at 401 North Atlantic Avenue since 1948, and is located in what this restaurant calls a "traditional manufactured diner," which is manufactured like a mobile home except it uses stainless steel. Breakfast here is served all day. Patrons might wish to call ahead to confirm their hours, especially in the winter months.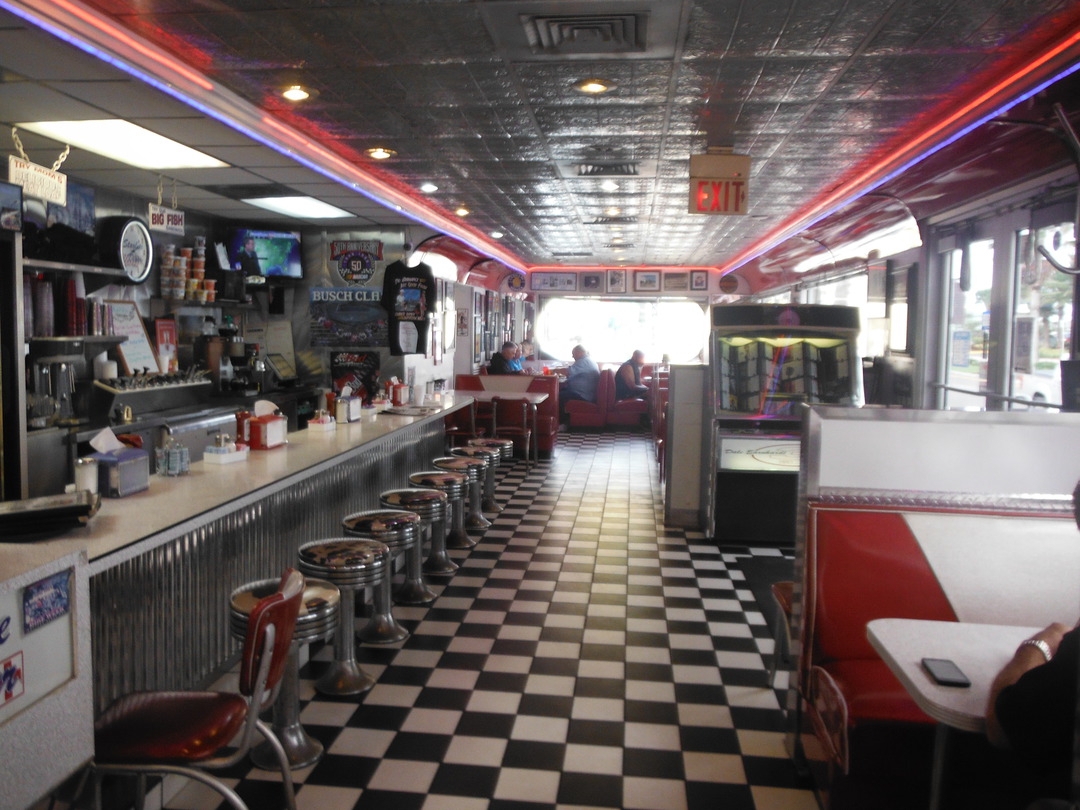 Arriving at 2 pm on the Wednesday between Christmas and New Year, the crowd was light but the juke box was playing heavy hitters like Heart and Fleetwood Mac. The food bill for a late lunch, which included spaghetti and meatballs, a salad, sodas, three big sandwiches, and a milkshake was $48.00.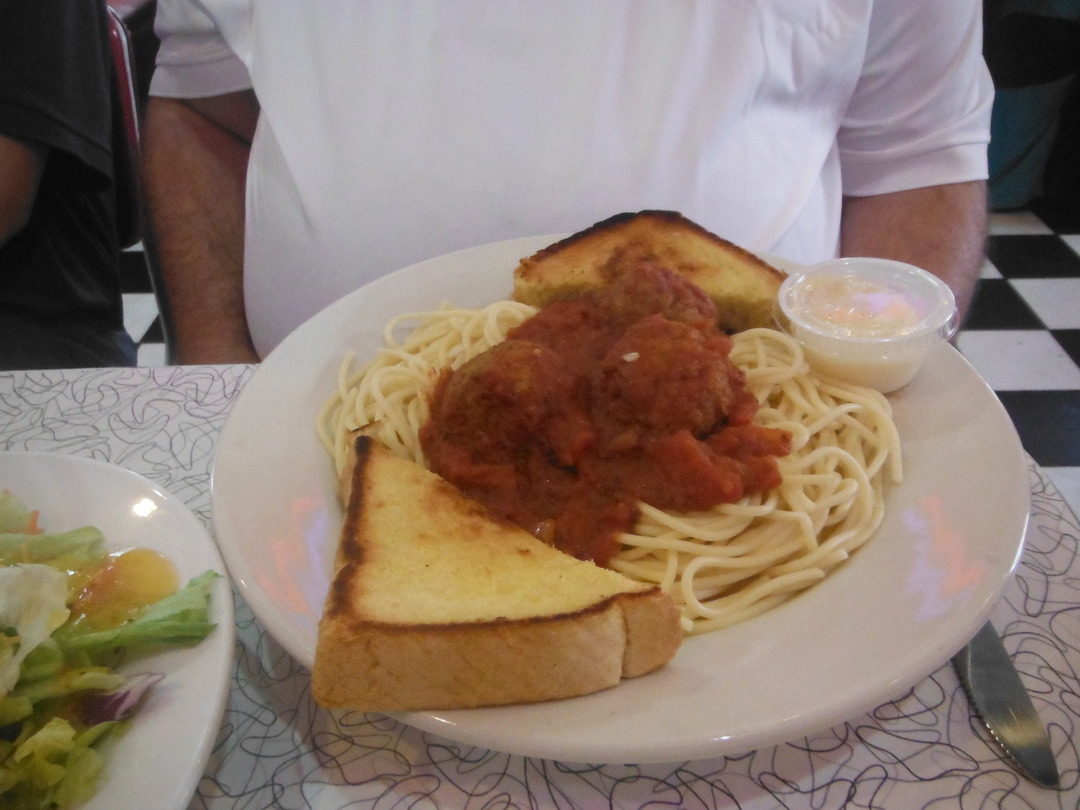 The spaghetti and meatballs, with garlic toast and an extra side salad, was delicious. All the food came quickly. Starlite Diner also has an extensive take-out menu available. The spaghetti and meatballs plate was $8.39. The salad was extra at $1.79.

This is the grilled chicken breast sandwich, with included fries, at $8.69. A philly steak & cheese with included coleslaw was $8.39; while a philly chicken & cheese with included side was also $8.39. The food was hot and came quickly.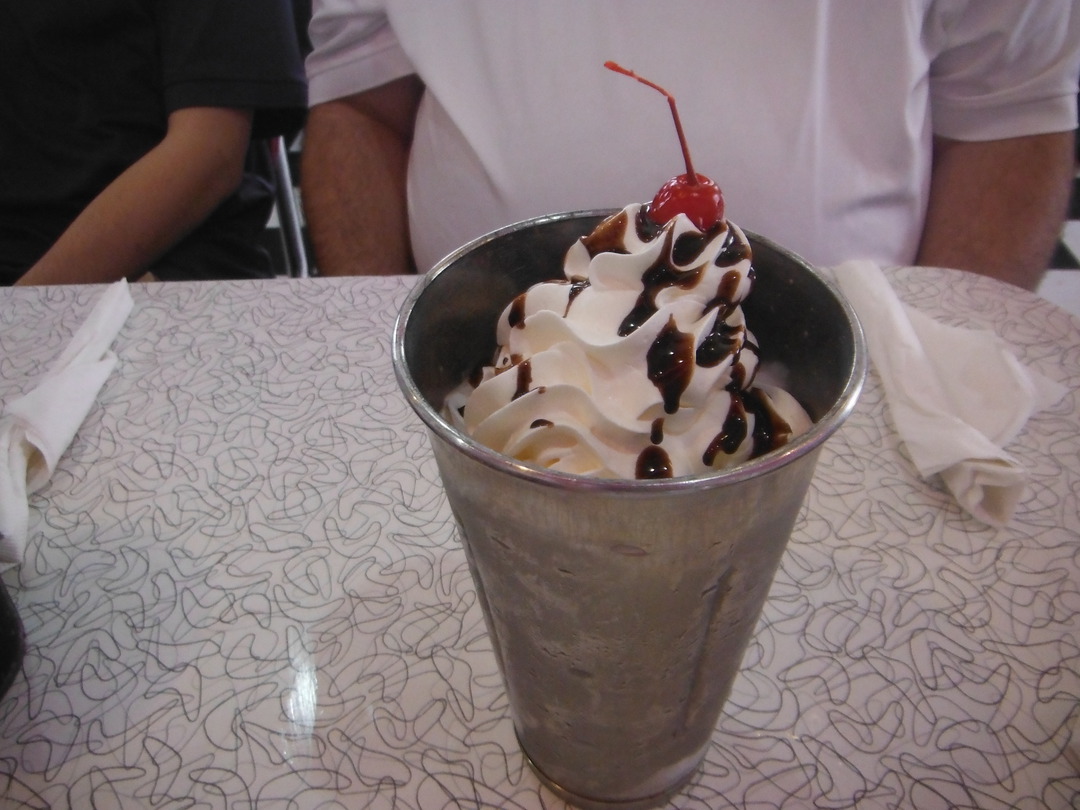 The Starlite Diner has a dessert menu, which includes chocolate, vanilla, and strawberry shakes at $3.99. There is also a "mile-high cake," which sounded amazing, right next to the banana split. There is a lot of rock-n-roll memorabilia on the walls, and if those walls could talk, they would surely sing.